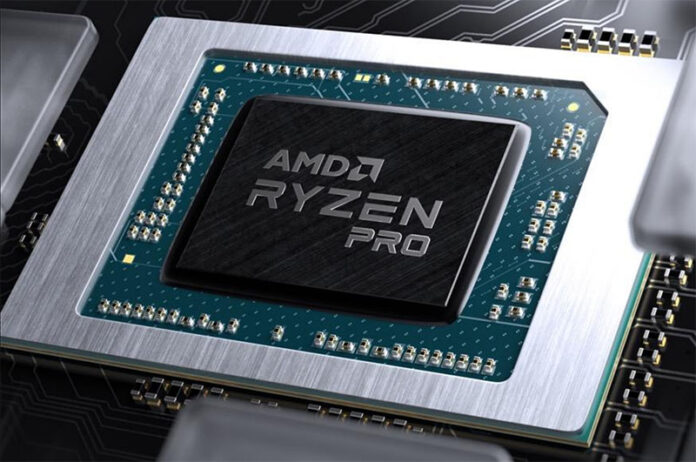 Following on from a May announcement regarding forthcoming Zen 4- and RDNA 3-powered mobile chips known as Ryzen 7040U Series, AMD is applying the Pro treatment by releasing six business-optimised Ryzen Pro models featuring much of the same underlying technology. Let's dig in to see what makes 4nm-manufactured Ryzen Pro 7040 Series tick along.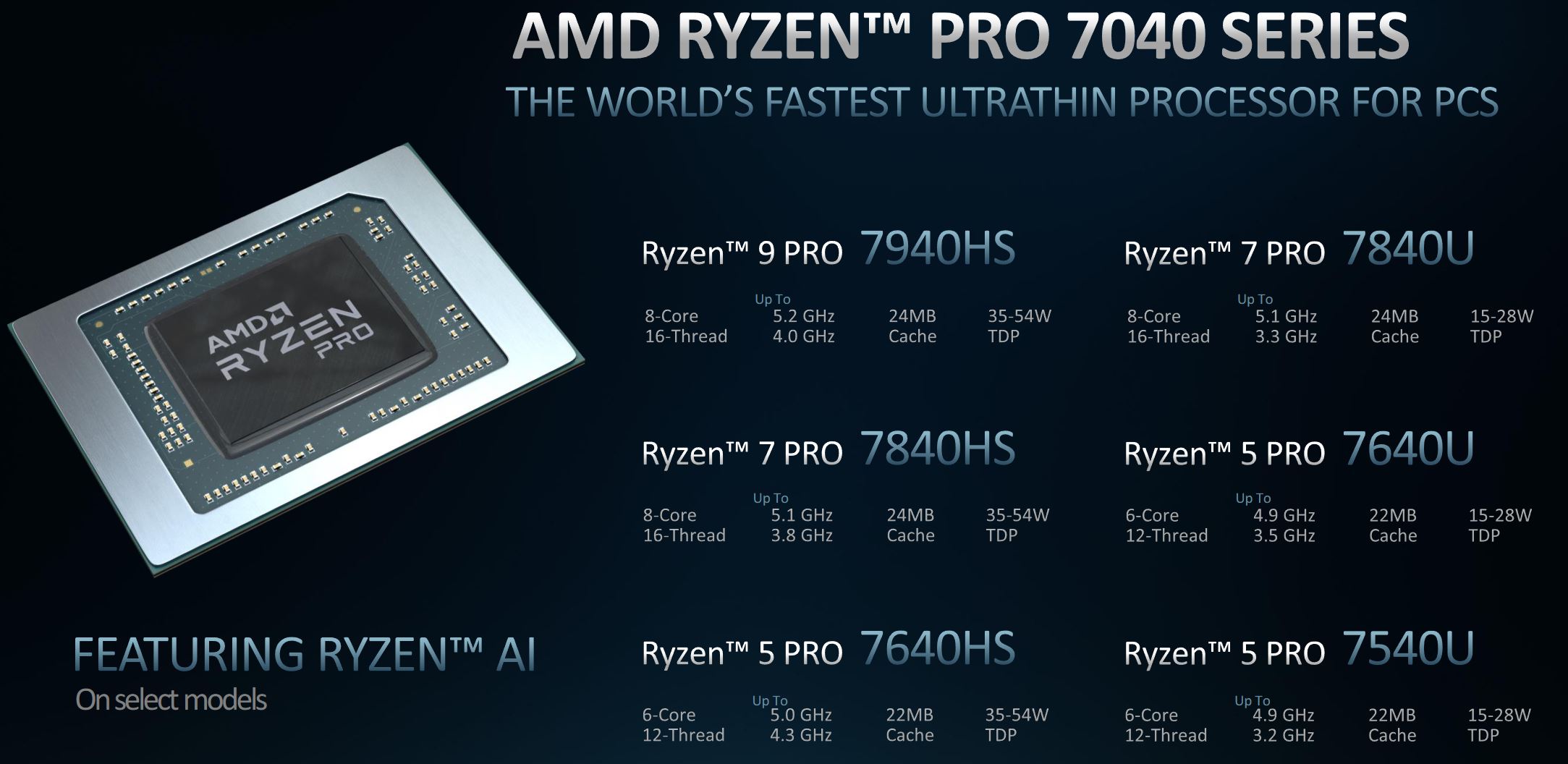 The six processors are equally split between higher-performance HS and energy-efficient U-series destined for powerful and thin-and-light business laptops, respectively. Speeds and feeds are eerily similar to non-Pro models, though being pedantic, AMD reduces the maximum TDP for U-series parts to 28W, instead of 30W.
Speaking to performance, AMD makes bold claims, citing leadership across multiple benchmarks when compared to higher-power Intel equivalents. It's also interesting that comparisons are liberally made against Apple's 10-core M2 chip.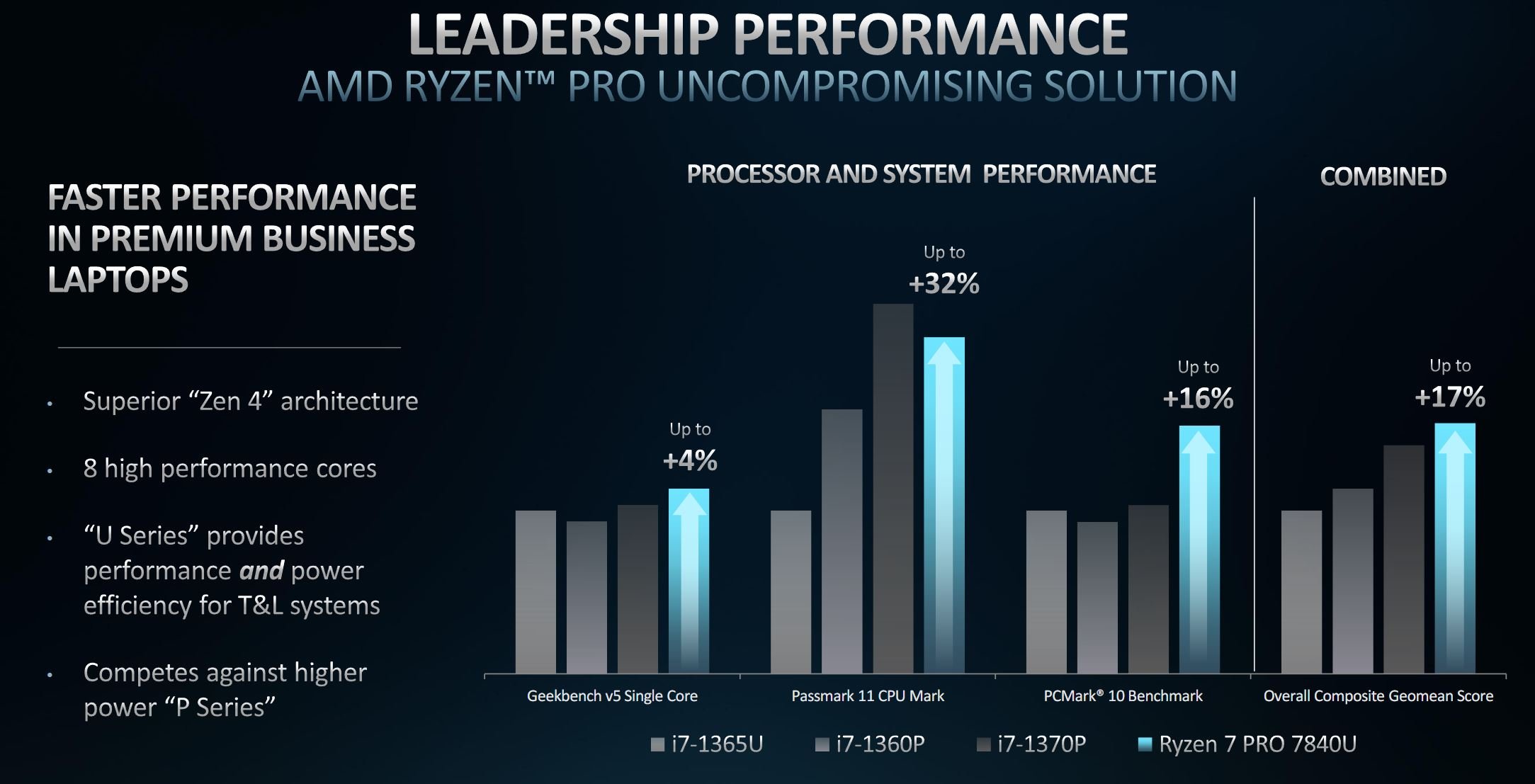 Most of these gains emanate from AMD's use of the latest Zen 4 CPU architecture that increases the amount of work done at a given frequency. You can learn all about Zen 4's improvements in our in-depth examination. As we have seen on desktop, Zen 4 is a potent architecture and one that scales rather well in the mobile space. In particular, the Ryzen 7 Pro 7840U is a star, balancing a meagre power budget against solid performance.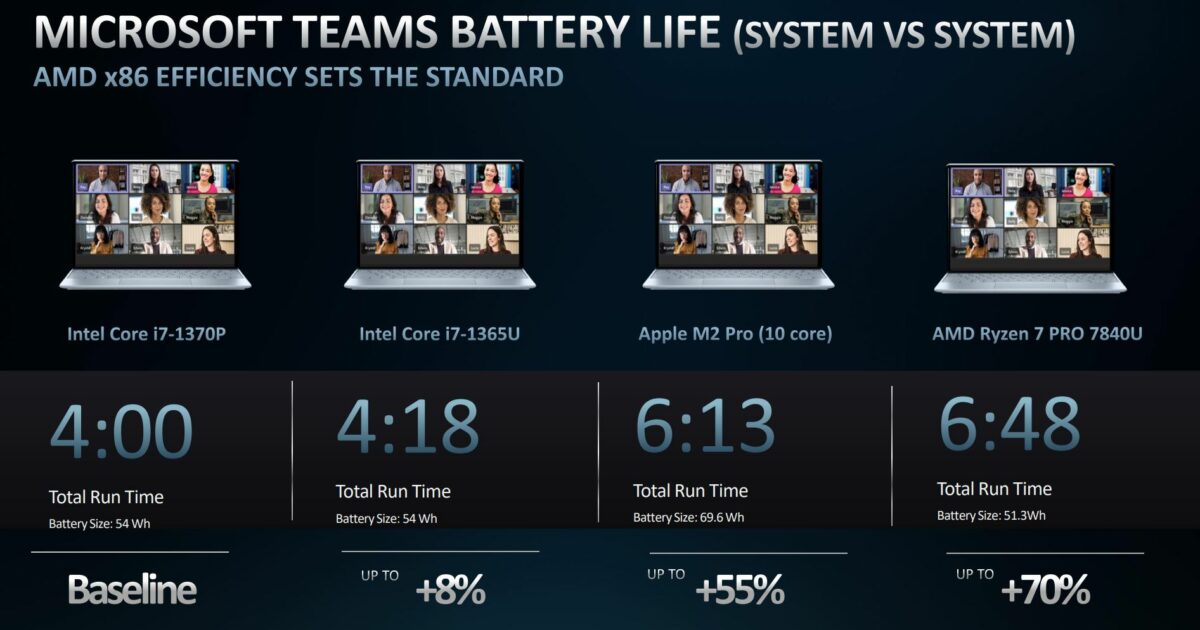 Pure oomph is one side of the mobile coin; the other is battery life. AMD's internal numbers paint a suitably attractive picture. On-the-go claims are even more impressive given AMD is benchmarking a laptop with the smallest battery out of the quartet, and we believe it is fair to use Microsoft Teams as a useful benchmark in the business environment.
Most of what's been presented thus far isn't new information insofar as regular, non-Pro Ryzen 7000 Series chips can accomplish the same performance with nigh-on identical power budgets. The clue is in the name, as Pro-equipped Ryzens offer a more robust security suite primed for business.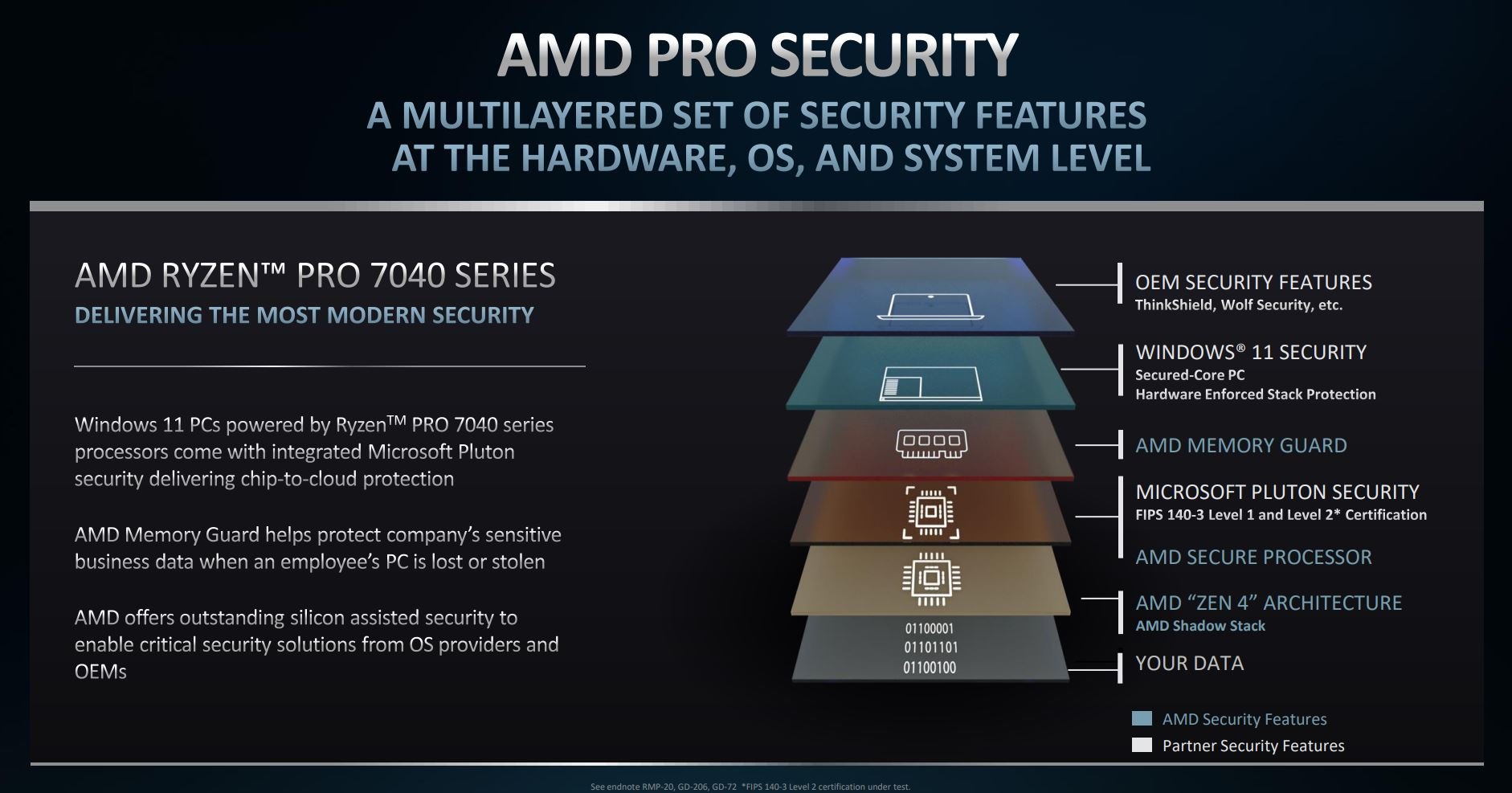 Already present on Ryzen Pro 6000 Series models, the Pro security roster includes 18 months of planned software stability, carries 24 months of guaranteed availability – which is key for large enterprises – while Pro-certified SoCs go through a more stringent QA and validation process. On top of that, Ryzen Pro 7000 Series has enhanced security and remote updating credentials, as well.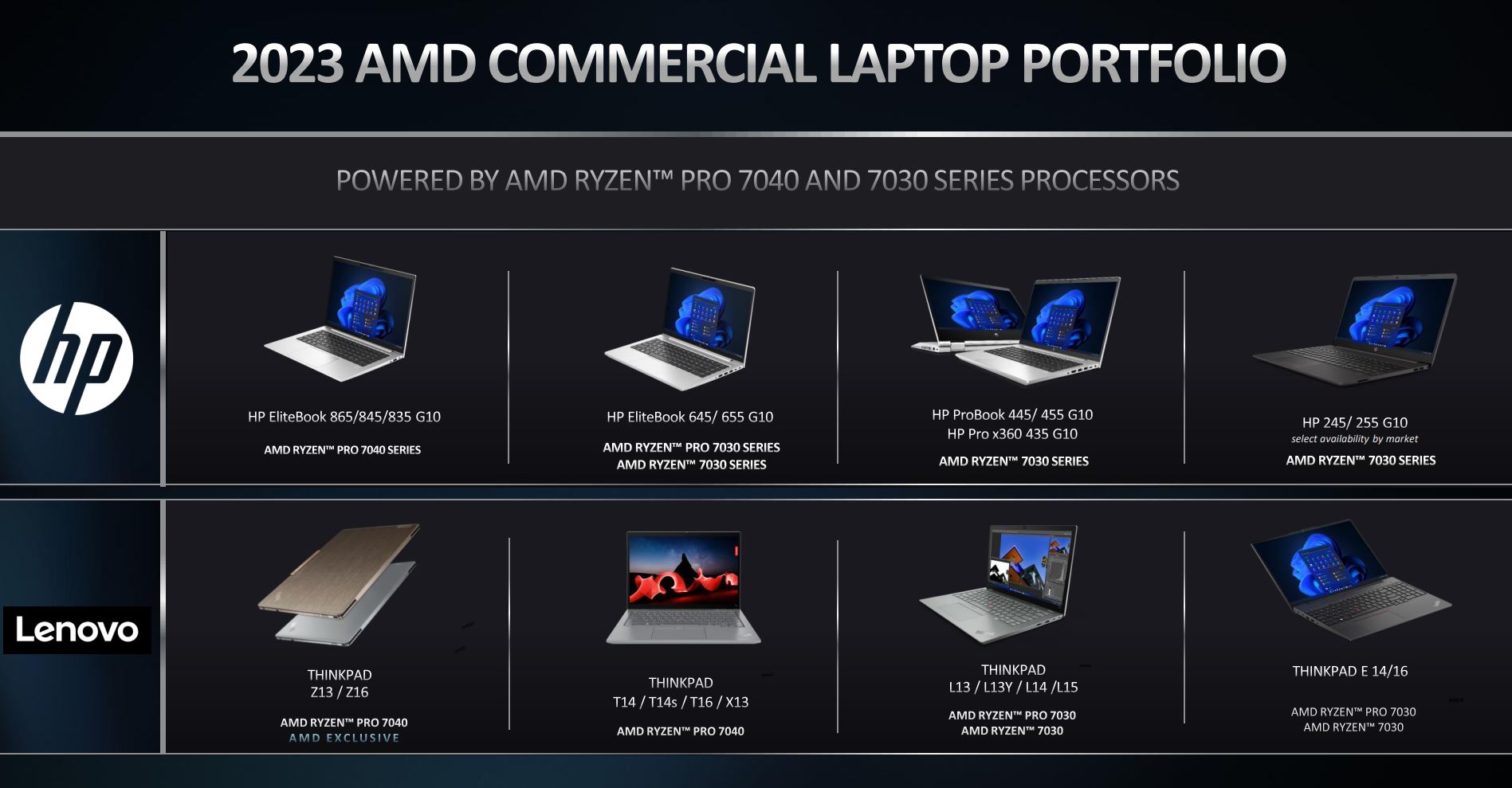 Just like last year, HP and Lenovo are the standard bearers for AMD's Pro-equipped technology, and availability will start to filter through in the coming weeks. AMD laid down the groundwork in 2022 and continues to build momentum via improved hardware availed by Zen 4 CPU chops and RDNA 3 graphics.
Nevertheless, AMD still needs more large-scale OEM customers to pick Ryzen Pro 7000 Series technology for it to become a serious competitor to Intel's dominant vPro line of business-orientated processors, yet it's good to see the company use its latest technology in the commercial laptop arena.