Jump to: WX vs Non-Pro | Models | Performance | Conclusion
Moving the content creator and workstation performance needle to the right in glorious fashion, AMD's Ryzen Threadripper range of CPUs arrived in August 2017 and quickly became the bridge between high-end Ryzen desktop and mission critical Epyc server processors. Though seemingly forgotten for a while, today sees AMD injecting serious mojo back into the workstation range with all-new Ryzen Threadripper Pro WX and non-Pro 7000 Series chips based on the latest Zen 4 microarchitecture.
2023's premier Ryzen Threadrippers enjoy a new lease of life made possible by consigning previous platforms to the dustbin of history. Out goes incumbent Pro's sWRX8 and non-Pro's sTRX4, in comes all-encompassing sTR5. With this simple stroke, AMD's cancelled any notion of upgrading from previous generations. Don't be alarmed, however, because this abrupt departure with past platforms is exactly what happened when both Ryzen and Epyc took on their shiniest and most performant incarnations we see today.
A tale of the Threadripper tape
7000 Series
5000 Series
3000 Series
Core architecture
Zen 4
Zen 3
Zen 2
Maximum cores / threads
96 / 192 Pro WX
64 / 128 non-Pro
64 / 128
64 / 128 Pro
32 / 64 non-Pro
Maximum frequency
5.3GHz
4.5GHz
4.5GHz
Variations
Pro
non-Pro
Pro only
Pro
non-Pro
Socket
sTR5
sWRX8
sTRX4 / sWRX8
Maximum power
350W
280W
280W
Integrated graphics
No
No
No
Memory
Registered DDR5
DDR4
DDR4
Memory support
8-channel Pro WX
4-channel non-Pro
8-channel Pro WX
8-channel Pro WX
4-channel non-Pro
Best PCIe
128 PCIe 5.0 Pro WX
48 PCIe 5.0 non-Pro
128 PCIe 4.0
128 PCIe 4.0 Pro WX
64 PCIe 5.0 non-Pro
Maximum price
$9,999
$6,500
$5,400
It's definitely worth peering down the rabbit hole to fully realise that sweeping changes are afoot. The theme is simply more of everything that matters for users requiring the next level of workstation performance. Non-Pro chips make a comeback, there are more cores, higher frequencies, enhanced power, better connectivity, and greater memory bandwidth. You get the idea. Befitting this bounty of more, maximum price is, well, more than any Ryzen Threadripper that's come before. The price of progress.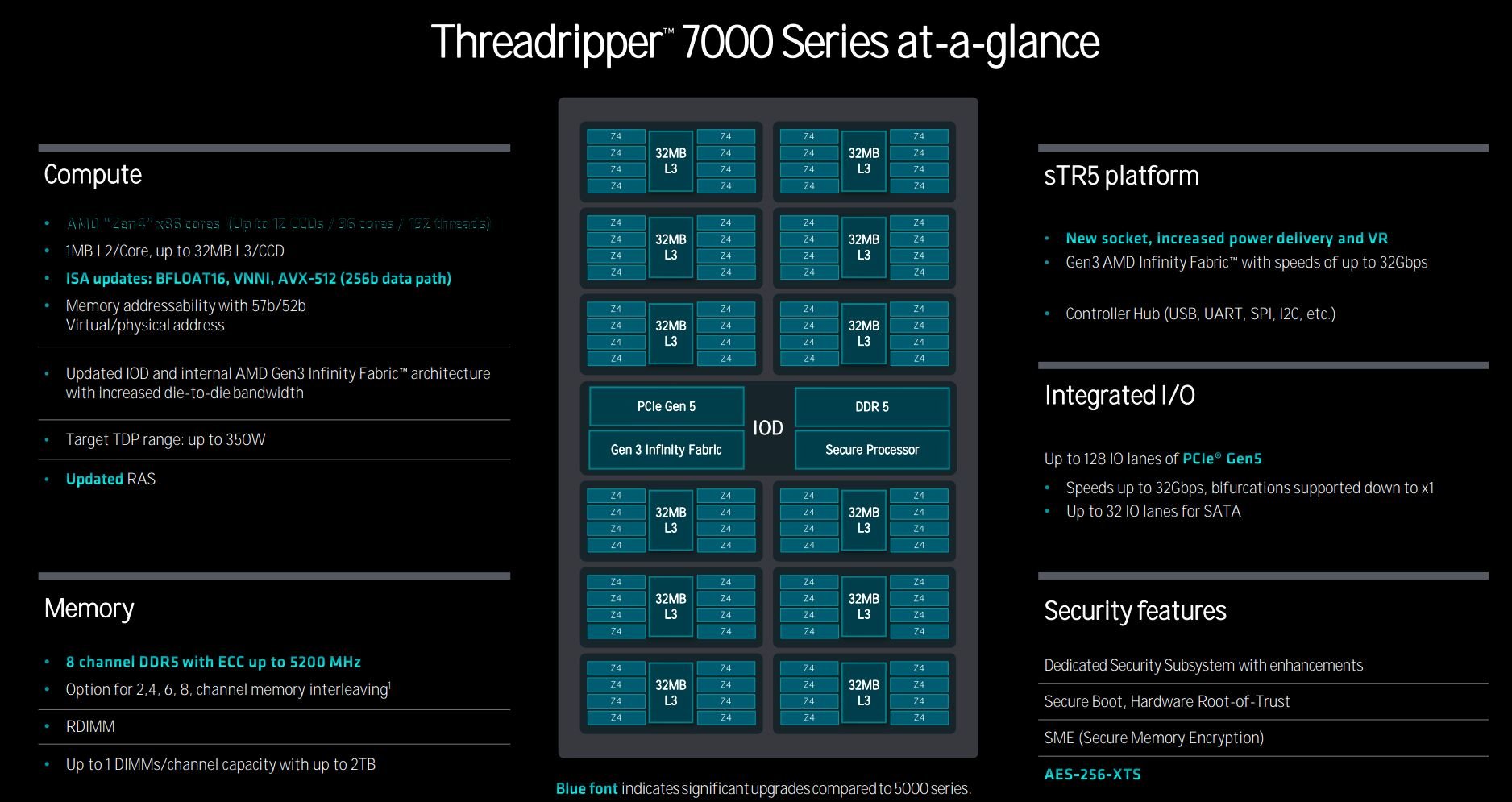 Pro WX versus Non-Pro
Drilling down further, just like the 3000 Series, AMD segments these new chips into Pro WX and regular versions. They exist to serve slightly different markets and are therefore endowed with specific features. Pro WX is the performance chief and gobbles up the headline specs of up to 96 cores / 192 threads, 8-channel memory, and 128 PCIe 5.0 expansion lanes. Standard 'ripper, meanwhile, makes do with fewer cores, less memory, and only 48 super-fast expansion lanes.
In terms of positioning, AMD's vision of Threadripper as a closer cousin of Epyc rather than Ryzen is realised with Pro WX, whereas standard models have more commonality with desktop Ryzen. This is AMD saying have it your way, depending upon budget and application use.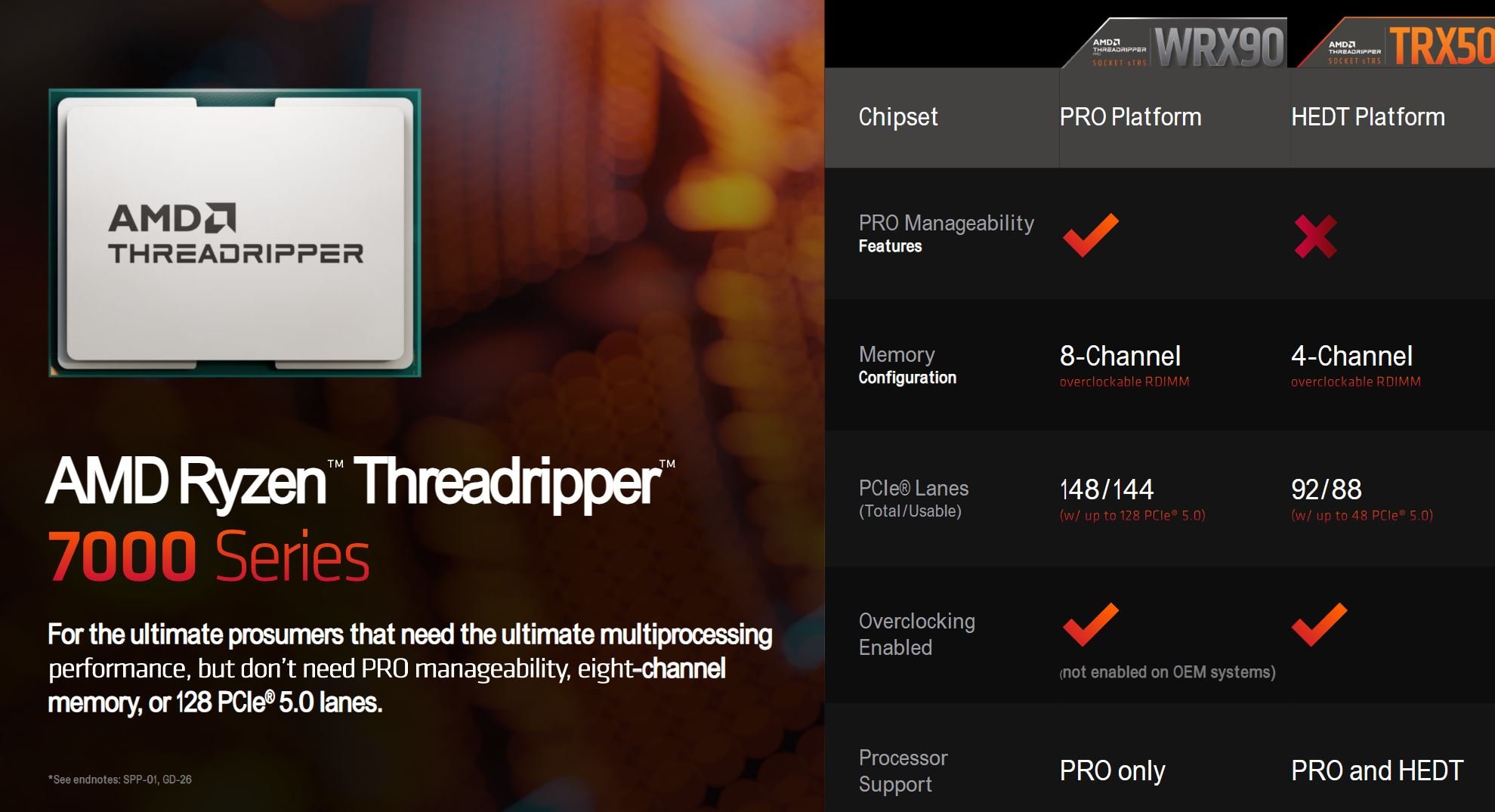 Sharing the same sTR5 socket, however, brings interesting interoperability into play. Designated WRX90, supporting motherboards primed for Pro WX naturally carry the full eight memory channels and baked-in support for heaps of expansion lanes. Cheaper models built for non-Pro, known as TRX50, carry only four memory channels and less peripheral support, befitting its stripped-down feature set.
You can't use a Ryzen Threadripper 7000 Series non-Pro chip in a motherboard designed for Pro WX. Though it plonks into the physical socket just fine, it falls short on, you guessed it, the RAM and I/O department. But the shoe fits on the other foot, as Pro WX works in any board, even if it's designed for non-Pro. Of course, you lose half the memory channels and tonnes of I/O, but the cheaper platform option is attractive for core-dense workloads that don't benefit from memory bandwidth.
In a nutshell, pair WX Pro with more expensive motherboards catering for its full gamut of features, while consider non-Pro for a cost-sensitive HEDT approach.
Models
| Threadripper | Cores / threads | Base / boost (GHz) | L3 cache | Price |
| --- | --- | --- | --- | --- |
| Pro 7995WX | 96 / 192 | 2.5 / 5.1 | 384MB | $9,999 |
| Pro 7985WX | 64 / 128 | 3.2 / 5.1 | 256MB | $7,349 |
| Pro 7975WX | 32 / 64 | 4.0 / 5.3 | 128MB | $3,899 |
| Pro 7965WX | 24 / 48 | 4.2 / 5.3 | 128MB | $2,649 |
| 7980X | 64 / 128 | 3.2 / 5.1 | 256MB | $4,999 |
| 7970X | 32 / 64 | 4.0 / 5.3 | 128MB | $2,499 |
| 7960X | 24 / 48 | 4.2 / 5.3 | 128MB | $1,499 |
The magnificent seven, if you will, split between four Pro WX and non-Pro trio. You'll need a discrete video card in every instance because these chips lack the integrated graphics present on desktop Ryzen. Core counts are replicated on both variations until the headline 96-core Pro WX exclusive. There's absolutely no technical reason why AMD can't release a similar non-Pro chip – the infrastructure is certainly there – but why do that when you can charge more for something else.
Using a modular chiplet design philosophy, up to 12 CCDs – home to eight cores and 32MB L3 cache each – connect to a central I/O die conveniently known as IOD. AMD builds various core and L3 cache configurations by massaging the number of CCDs. Simple maths informs us the top-bin Pro 7995WX 96-core chip employs all 12 CCDs and carries 384MB of L3; others will use either four- or eight-CCD bases as their blueprint.
These chips sit on an LGA 4844 sTR5 socket that's physically identical to the SP6 form factor used by AMD's latest telco-optimised Siena server processor. They're not electrically compatible, of course, because they carry different features. sTR5, actually, is also the same size as last-generation Threadripper sockets, and that's great news as the cooling that worked on them will, by and large, be fine this time around.
AMD Ryzen Threadripper 7980X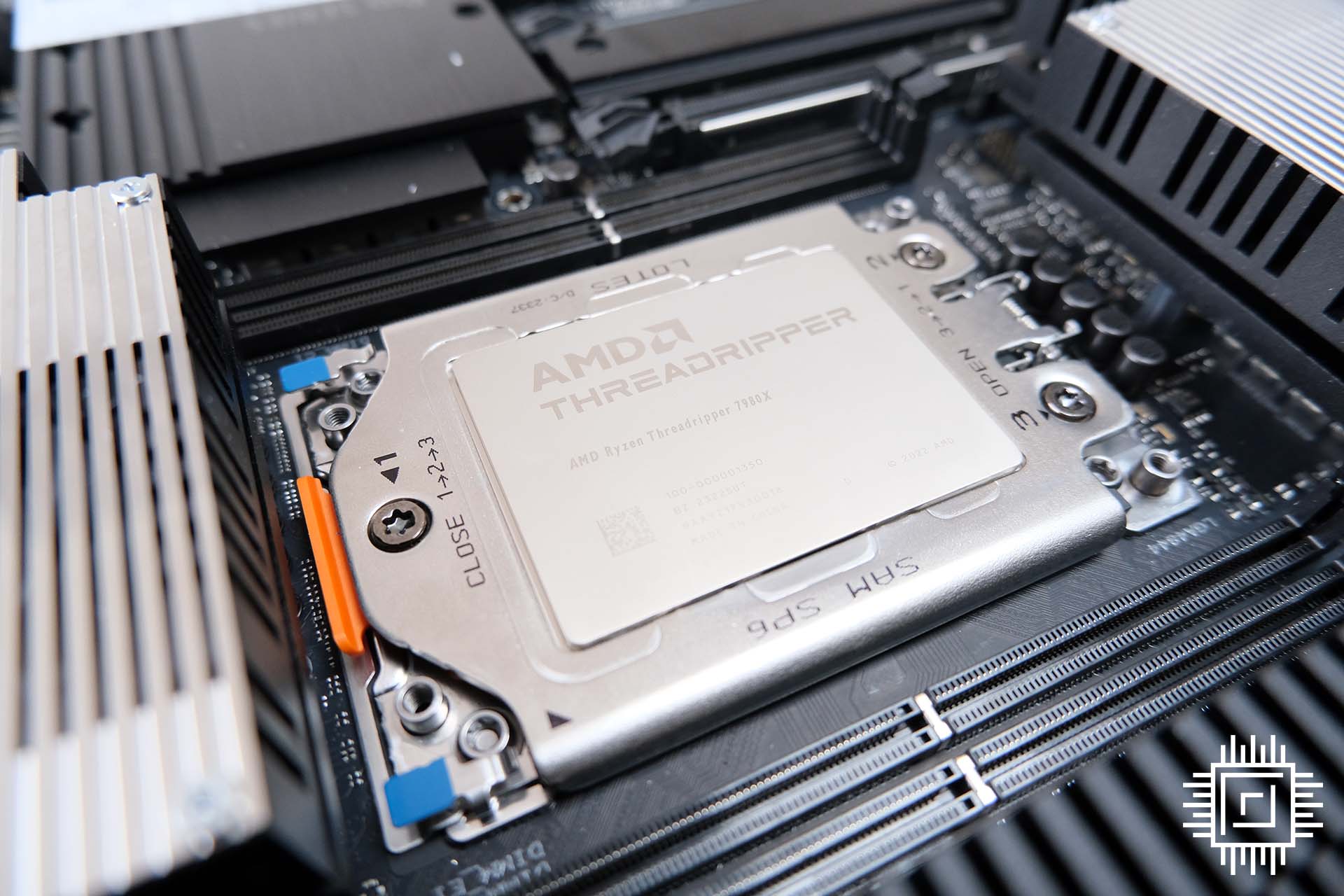 You'll need a beefy heatsink to pull heat away from monster Ryzen Threadripper 7980X. Equipped with a 350W TDP when running full chat, AMD's recommendation is investing in high-quality AIO cooling. Something like a decent 360 ought to do the trick.
Encouraging this line of thermal intervention, AMD Ryzen Threadripper 7980X is bundled with the same AIO bracket as seen on the previous generation. Working great with Asetek-built pump heads, simply twist the bracket on to the cooler and then screw in. The whole process takes fewer than five minutes for an MSI MEG CoreLiquid S360.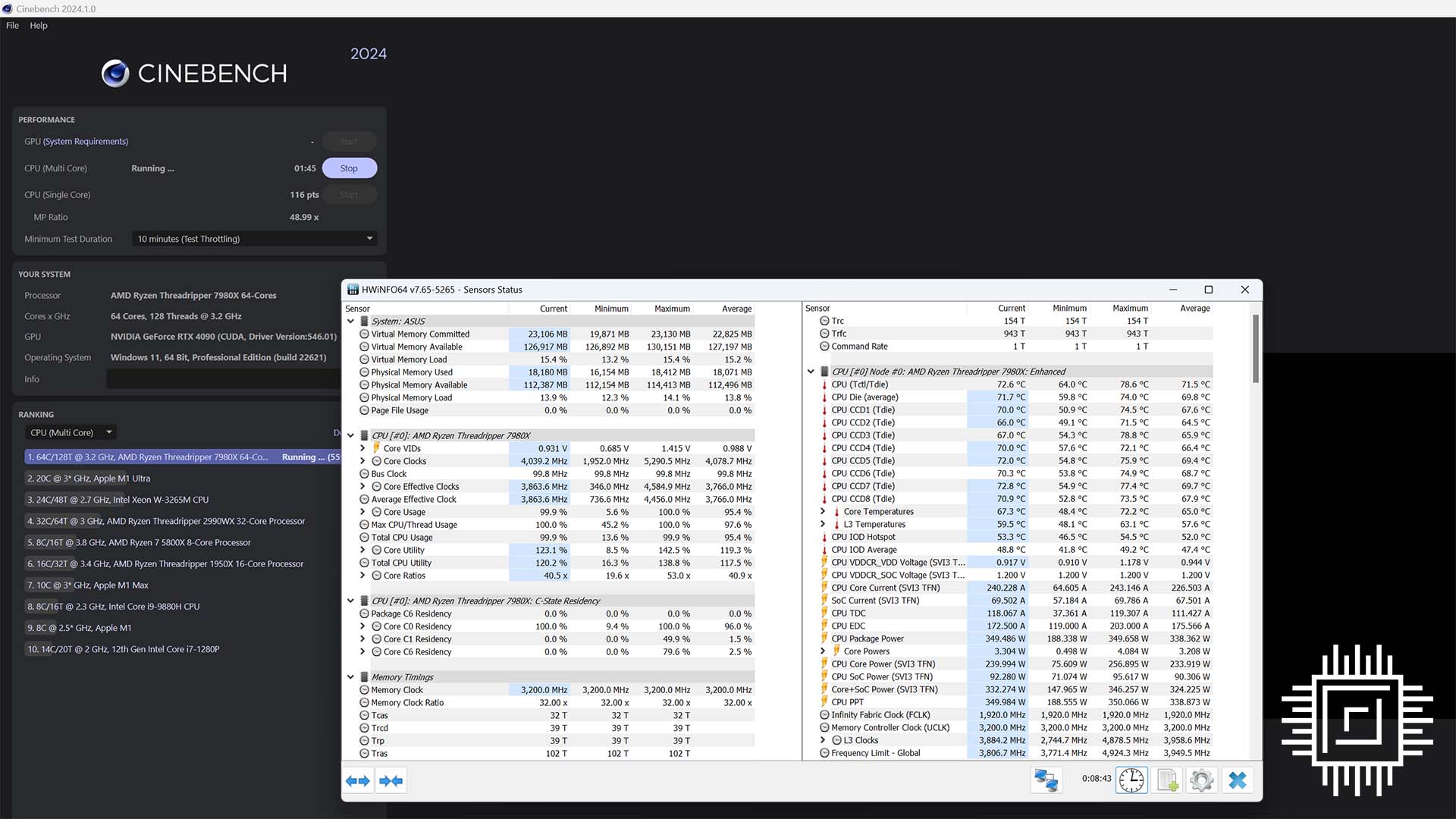 Said cooling tames the beast rather effortlessly. Temperature nudges up to around 75°C when the CPU's pulling very close to its 350W limit, leaving scope for overclocking.
Performance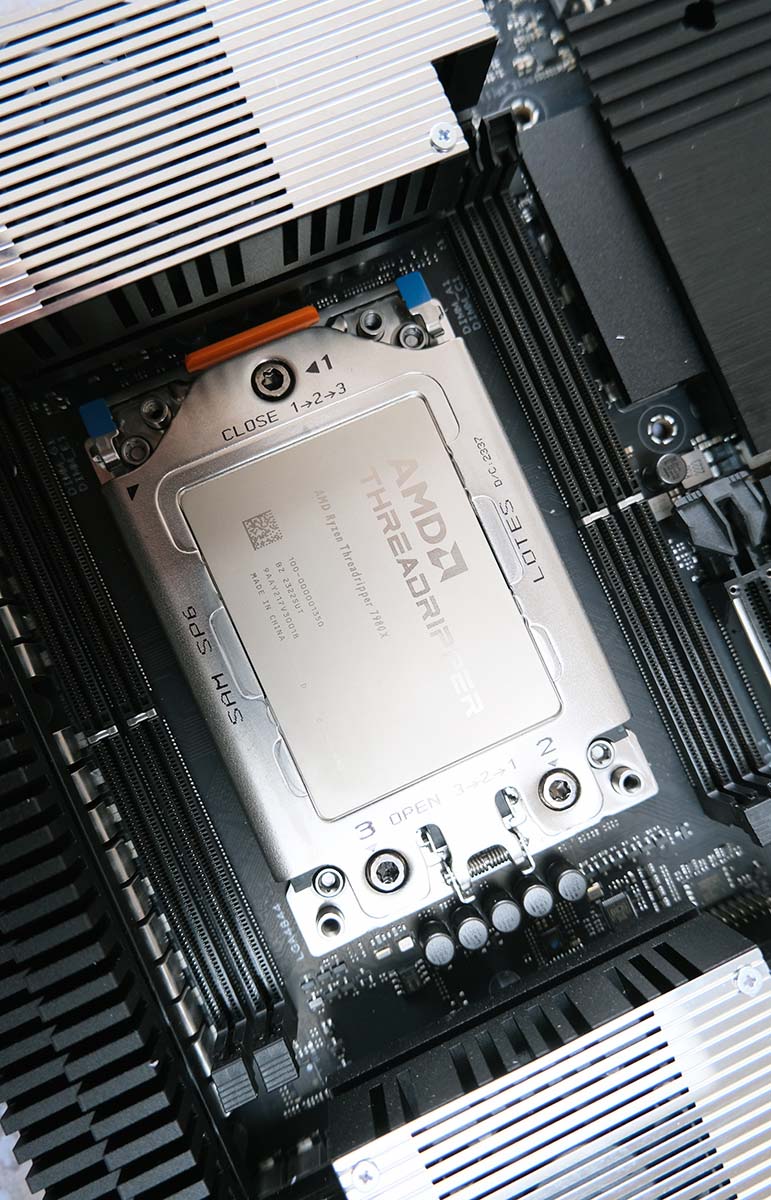 Understanding the scope of Ryzen Threadripper 7980X's power requires comparison against high-performance desktop PCs you're familiar with. Benchmarked from the ground up, we have two of the best consumer platforms to date – AMD Ryzen 9 7950X and Intel Core i9-14900K run at their manufacturer-recommended power settings of 170W and 253W, respectively.
This time around, we run specific benchmarks that are indicative of the work done on workstations and high-end desktop machines.



You'll now appreciate that AMD Ryzen Threadripper 7980X uses a quad-channel memory architecture that presents half the bandwidth available on the octo-channel Pro WX chips. Nevertheless, run at DDR5-6400, there's around double the throughput of dual-channel memory found on both leading consumer platforms.

All this talk of monster performance falls flat in the first test. Running the proven Adobe Photoshop test from Puget systems, Ryzen Threadripper 7980X is off the pace. A couple of reasons explain this performance. The test doesn't respond to more cores and threads in the same way rendering applications do. Another factor is 7980X's relatively low frequency, averaging around 4.5GHz, comparing unfavourably with the 5.5GHz achieved on consumer chips.

Yet it's all about context. 64-core 7980X comes into its own when peak utilisation nears 100%. There's every reason to expect it to be faster than the best consumer chips, but the level of victory verges on staggering. It's well over three times as fast as an Intel Core i9-14900K. Extrapolation is key in this regard, needless to say, because any rendering project taking over three hours on the Intel chip will take around one hour on Ryzen Threadripper 7980X.



A common theme reoccurs. Single-thread results aren't this beast's forte. All-core runs, on the other hand, most certainly are. Nearing 100k is truly Epyc territory.
In case you were wondering, 7980X scores 5,692 in the new Cinebench 2024 multi-core test, compared to 2,160 and 2,206 for 7950X and 14900K, respectively.

No surprises for guessing the large bar belongs to 7980X.

Benchmarks with a medium load naturally don't show huge uplifts.



Yet if the application scales well across cores and threads, performance is the best we've seen from an HEDT solution.

The underlying Zen 4 architecture and forward-looking TRX50 platform ought to do well enough in gaming, you would think.
Gaming performance is a little shy of class-leading consumer solutions because sheer frequency is lacking. Nevertheless, when the boss isn't looking, the Ryzen Threadripper 7980X and GeForce RTX 4090 combination is tasty enough for an enjoyable fragging experience.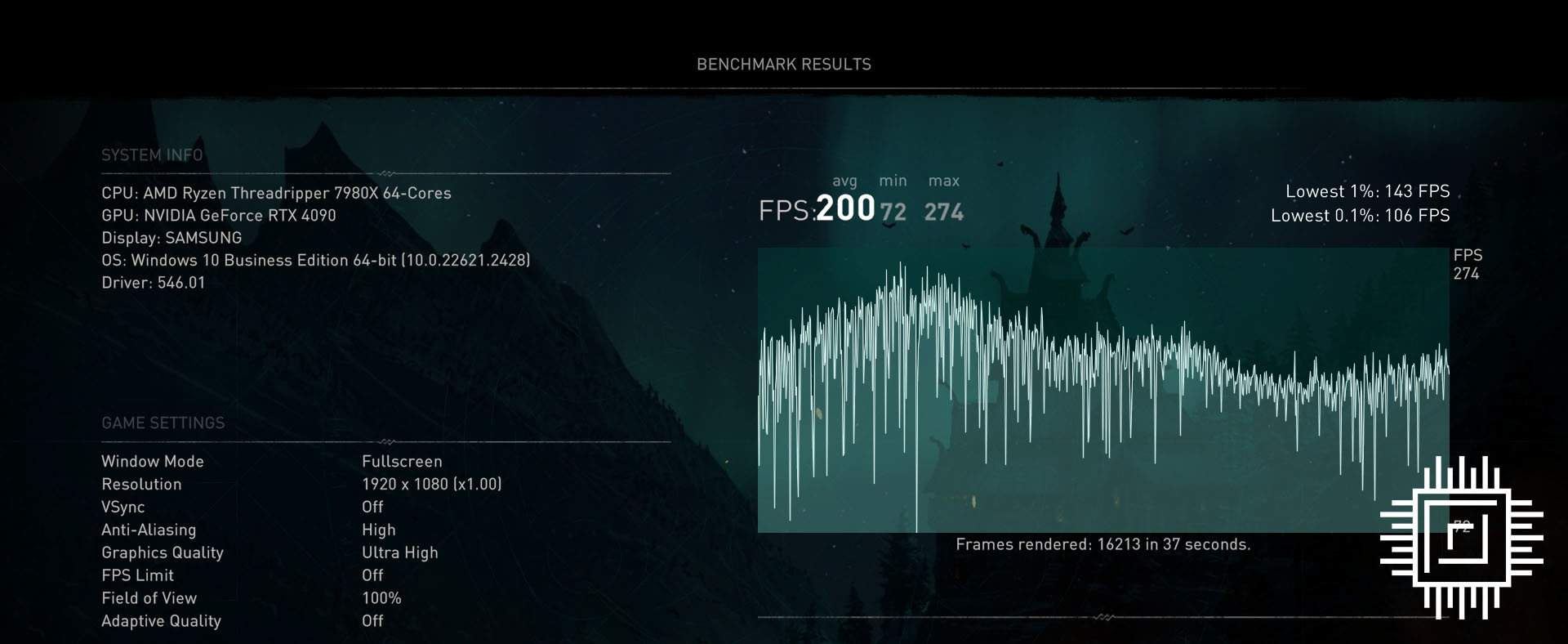 No surprises to see peak CPU-intensive power consumption is manifestly higher than consumer platforms. The slight worry is the much loftier idle consumption. Running 128GB of registered DDR5-6400 memory and a more complex platform explain a chunk of that additional power requirement.

Rendering efficiency is calculated by dividing the score achieved in V-Ray by peak power consumption. Almost doubling the score posted by Ryzen 9 7950X is no mean feat.
Conclusion
The 64-core AMD Ryzen Threadripper 7980X takes pride of place as the most impressive non-Pro chip to date. It's a beast of a processor, all right, built using the latest Zen 4 architecture. Operating at higher frequencies than previous generations, it makes short work of professional applications that scale well with core counts.
Putting performance into context, 7980X is often three times speedier than leading consumer platforms that also tout HEDT credentials. It's safe to say Ryzen Threadripper is back with a bang.
Yet there are provisos to be aware of. Breaking with the past, the brand-new platform requires investment in a TRX50 motherboard and RDIMM memory. Pushing the cost of adoption up significantly, there's no way around this hurdle, so bear it in mind before jumping in.
Make no mistake, the mainstream workstation firmament has a new CPU boss. The AMD Ryzen Threadripper 7980X is formidable chip teasing the best out of the Zen 4 architecture. But hey, if it's not fast enough, you can always chuck the 96-core Pro 7995WX in the socket. Choices, choices.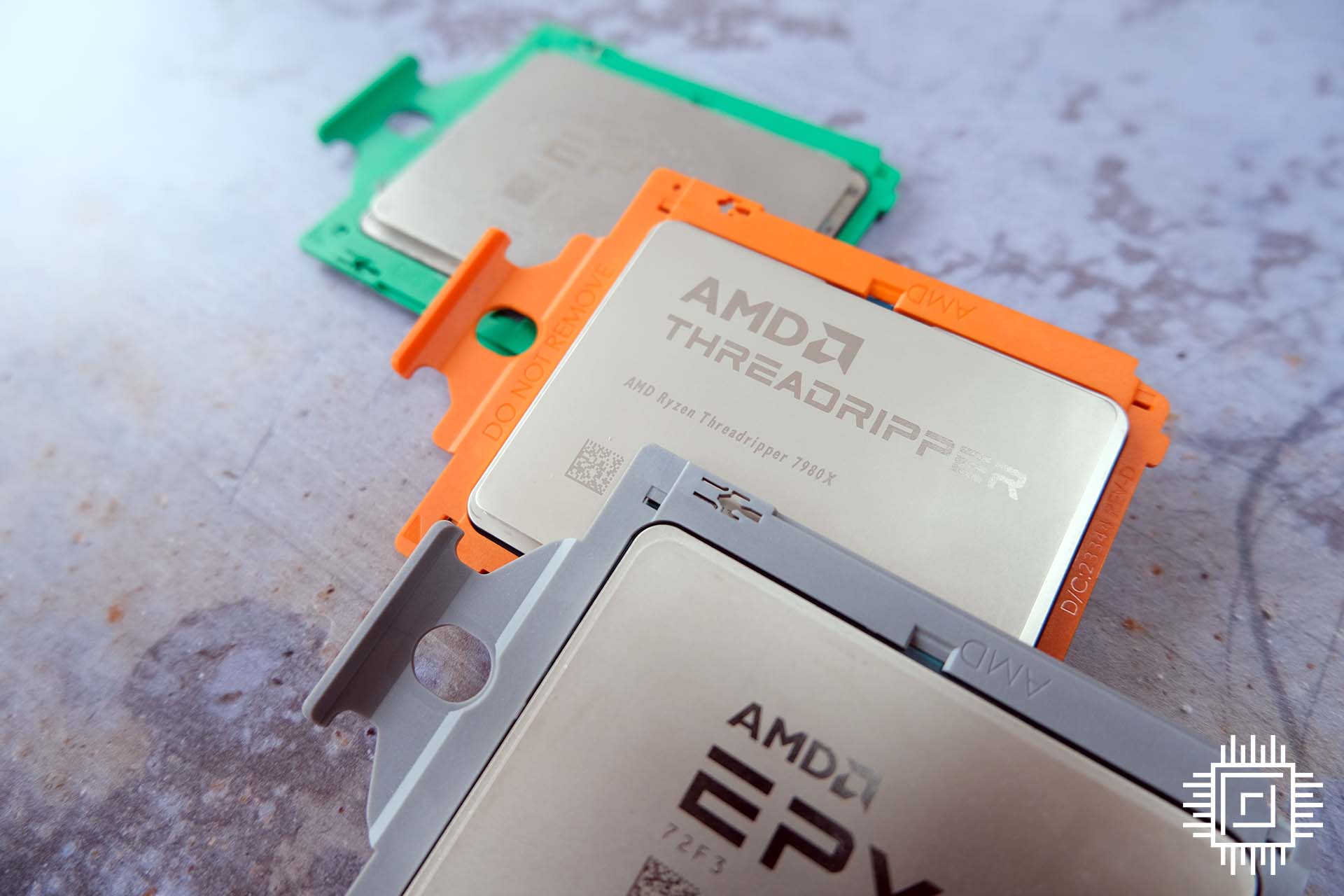 AMD Ryzen Threadripper 7980X
Verdict: A thundering-fast chip born to gobble up professional workloads.
---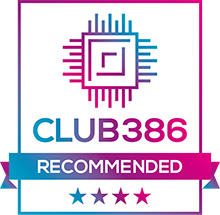 Pros
Gobsmacking performance
True HEDT dominance
Can use 96-core chip
Great multi-core efficiency
Cons
Requires new platform
---
Club386 may earn an affiliate commission when you purchase products through links on our site. This helps keep our content free for all.
Rest assured, our buying advice will forever remain impartial and unbiased.