Jump to: Comparisons | Performance | Gaming | Conclusion
The ongoing battle between AMD and Intel for the coveted title of world's fastest CPU rages on. Both sides claim victory by carefully selecting the optimal workload for their architecture, but by and large, you can't go wrong with either company's top dog. Intel seeks to cement imputed dominance with the Core i9-14900K.
Nomenclature suggests this is an all-new CPU architecture primed to raise the bar significantly from the current mass-produced champ, Core i9-13900K. Let's get something out of the way first; this is not the case, as the best of desktop 14th Gen Core is a mere refresh. Heck, it's even known as Raptor Lake Refresh in enthusiast circles, thus reinforcing a small gen-on-gen jump.
How it Compares
| CPU | Cores | Threads | L2 | L3 | Turbo | Base TDP | Max TDP | Release | MSRP |
| --- | --- | --- | --- | --- | --- | --- | --- | --- | --- |
| Core i9-14900K | 24 (8P+16E) | 32 | 32MB | 36MB | 6.0GHz | 125W | 253W | 10/23 | $589 |
| Core i9-13900K | 24 (8P+16E) | 32 | 32MB | 36MB | 5.8GHz | 125W | 253W | 10/22 | $589 |
| Core i9-12900K | 16 (8P+8E) | 24 | 14MB | 30MB | 5.2GHz | 125W | 241W | 11/21 | $589 |
| Core i9-11900K | 8 | 16 | 4MB | 16MB | 5.3GHz | 125W | 241W | 03/21 | $539 |
Comparing the last four generations of high-end desktop Core i9 chips reveals Intel made a big move in 2021 by shifting sockets from LGA1200 (11900K) to LGA1700 (12900K onwards). Now, it concurrently implements a hybrid processing approach where large, powerful cores work in tandem with smaller, energy-efficient ones. Designed to put the correct workload on the right processor, it is the job of Intel Thread Director software to marshal programs in the most effective manner. Working well for the most part now and oblivious to the user, initial teething problems sometimes confused applications and led to sub-par performance.
We witness a healthy core-and-thread uptick between 12900K and 13900K through the introduction of eight more Efficient cores, which is enough to separate those two processors when full-on power is required. Intel manages to shoehorn these additional cores without increasing the overall power budget while remaining on the same underlying manufacturing process. Kudos to the engineering team.
The i9-14900K, however, is not a recipient of more core love, mind you. Keeping to the same 24 cores and 32 threads as the last generation's top model, Intel doesn't bother tinkering with the caches, either. The sole preserve of increasing performance rests with raising absolute frequencies a notch or two above. Colour us disappointed.
Drilling down, there's very little to separate the Core i9-13900K(S) from today's head boy. Both can achieve a lofty 6GHz peak frequency but require heaps of power to do so and return near-identical results when run with exactly the same power settings. Remaining on the Intel 7 process, Raptor Lake Refresh is a missed opportunity into applying more high-end hurt to rival AMD Ryzen CPUs. To be clear, there's more innovation on the other side of the fence, as further X3D models bolster the Ryzen 7000 Series.
The High End
| | | | | |
| --- | --- | --- | --- | --- |
| | Core i9-14900K | Core i9-13900K | Ryzen 9 7950X | Ryzen 9 7950X3D |
| Cores/threads | 24/32 | 24/32 | 16/32 | 16/32 |
| Base frequency | 3.2GHz | 3.0GHz | 4.5GHz | 4.2GHz |
| Peak frequency | 6.0GHz | 5.8GHz | 5.7GHz | 5.7GHz |
| L2+L3 cache | 68MB | 68MB | 80MB | 144MB |
| Memory | DDR4/DDR5 | DDR4/DD5 | DDR5 | DDR5 |
| Socket | LGA1700 | LGA1700 | AM5 | AM5 |
| TDP/PPT | 253W+ | 253W+ | 170W | 120W |
| Release price | $589 | $589 | $699 | $699 |
| Current price | $589 | $569 | $599 | $680 |
Readers of this review naturally take interest in best-of-breed chips for each generation, and that's why it's important to line up the best offerings for easier comparison. There's more differentiation on the AMD front thanks to 3D V-Cache technology, but Intel's thinking is that for users contemplating a Core processor and coming from older systems, Core i9-14900K still makes sense for bleeding-edge performance.
Do understand 14th Gen Core in Raptor Lake Refresh guise is the last performance hurrah for high-end desktop on today's LGA1700 platform. Intel's brand-new multi-tile Meteor Lake architecture is primed for laptops and won't come to socketed desktop form next year. Instead, punters need to wait for 15th Gen's 'Arrow Lake,' built on a new process and socket, likely making its bow in the second half of 2024. Make no mistake, Raptor Lake Refresh is very much a stopgap in Intel's long-term desktop plans.
As on other Core i9 K-series chips, getting the most out of the processor necessitates cranking up the power to at least 253W, accomplished by putting the motherboard's BIOS into a state where short- and long-term power is ratcheted up alongside up to 400A of current. In fully unrestricted mode, where all power requirements are laid aside, power goes well above 300W for the chip alone, as we'll demonstrate.

Show your support for impartial Club386 reviews
Club386 takes great pride in providing in-depth, high-quality reviews built on honest analysis and sage buying advice. As an independent publication, free from shareholder or commercial influence, we are committed to maintaining the standards our readers expect.
To help support our work, please consider making a donation via our Patreon channel.
Attaining this level of power performance requires serious cooling. Our regular single-fan Noctua NH-D15 chromax.black is not up to the job of taming the i9-14900K running in either long-term 253W or the preferred unrestricted mode, meaning another solution is needed. Intel is well aware of this potential issue and advises "Even the best AIO cooler may not be able to allow the CPU to maintain 253W indefinitely without thermal throttling." Food for thought. We duly pulled out an MSI MAG CoreLiquid E360 and got to work.
Software Optimisations – AI Assist and APO
Intel knows the market expects more than a minor speed increase from one generation to the next, and it's important for volume sellers such as Dell, HP, Lenovo, et al, to have further marketing hooks to facilitate sales. Enter Intel AI Assist and Intel Application Optimisation, conveniently first supporting select 14th Gen Core processors, though there is no technical reason why the software cannot be backported to older chips.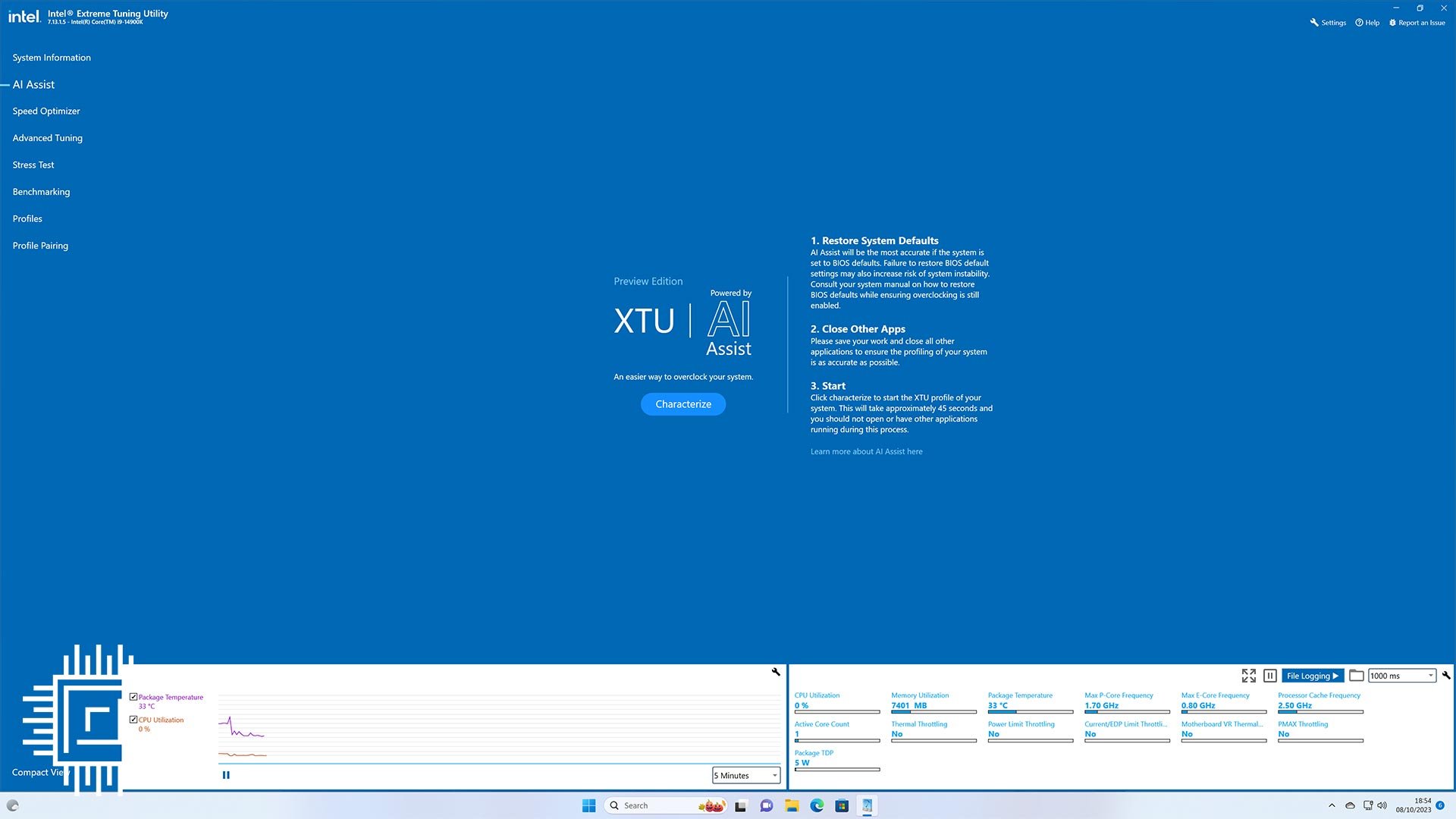 AI Assist works by running simple baseline and overclocking tests to gauge a system's potential. The data from these tests is fed into an AI-trained model at Intel labs that uses further data collection from hundreds of systems running particular combinations of CPUs, memory, motherboards and cooling. By looking at a large data set, Intel says, AI Assist provides intelligent feedback on estimated overclocking settings, such as Core overclock ratios unique to your system.
In truth, Intel doesn't need AI Assist to bump up all relevant ratios to the next multiplier; common sense dictates the chip ought to handle that load with a little extra voltage persuasion. We guess it's a handy feature to have on pre-built systems from SIs, where Intel takes the faff out of extra overclocking. Expect to see this XTU-based optimisation filter down to other 14th Gen processors in due course.
The second part of the 14th Gen Core K-series software jigsaw is Intel Application Optimisation (APO). Falling inside Dynamic Tuning Technology typically found in notebooks, APO is a new software policy that works alongside Thread Director to enhance thread scheduling and application resource allocation in real time. The upshot, we believe, is better game performance in select titles, made possible by putting the right gaming threads on P-Cores all of the time.
APO requires firmware-level support for motherboards and specific Intel-tuned optimisations for games. Not all titles benefit – some may already have excellent P-Core thread allocation – but Metro Exodus and Rainbow Six: Siege do, with Intel claiming a 16 and 13 per cent improvement at FHD, respectively, when run with an RTX 4090. This apparent hard coding of threads to cores is required due to some games arbitrarily choosing E-Cores and thus lowering performance, which naturally doesn't happen on a symmetric-core architecture like Ryzen.
From what we can gather, Intel is initially artificially limiting this technology to 14th Gen Core K-series chips for segmentation reasons alone, and at the time of writing, the relevant driver is not available for an ASRock Z790 Nova WiFi motherboard. Jury's out on APO for now.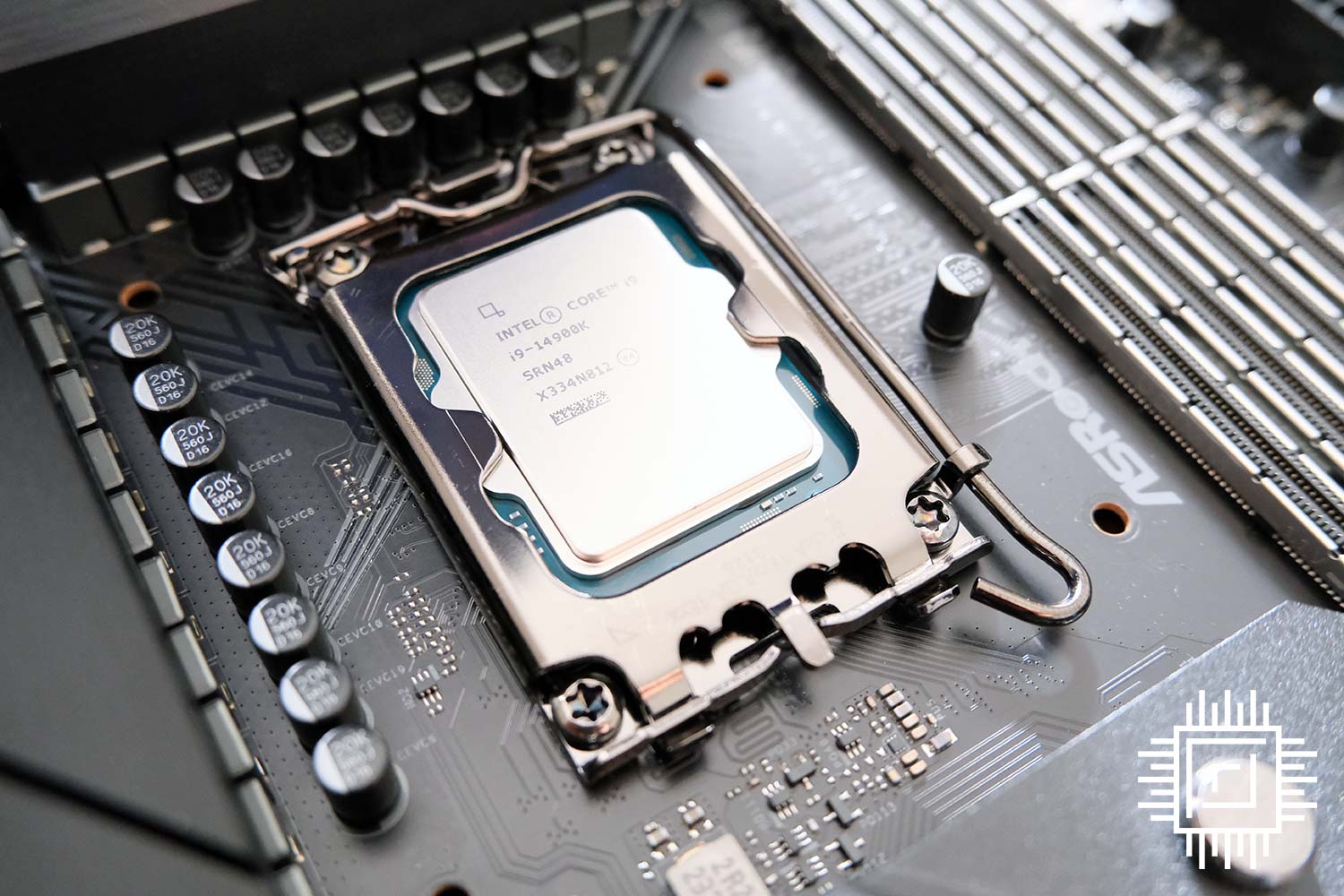 Core i9-14900K deserves to be tested on a top-notch motherboard. Enter the ASRock Z790 Nova updated to the latest 2.01 BIOS and sporting the necessary performance optimisations to get the most out of the chip, including removing all power limits. Further outfitted with 32GB (2x16GB) of Kingston Fury Beast RGB DDR5-6000 memory operating at Intel's official specification (5,600MT/s), plus Nvidia GeForce RTX 3080 FE graphics and aforementioned MSI MAG CoreLiquid E360. All posted numbers are from a fresh install of Windows 11.
Performance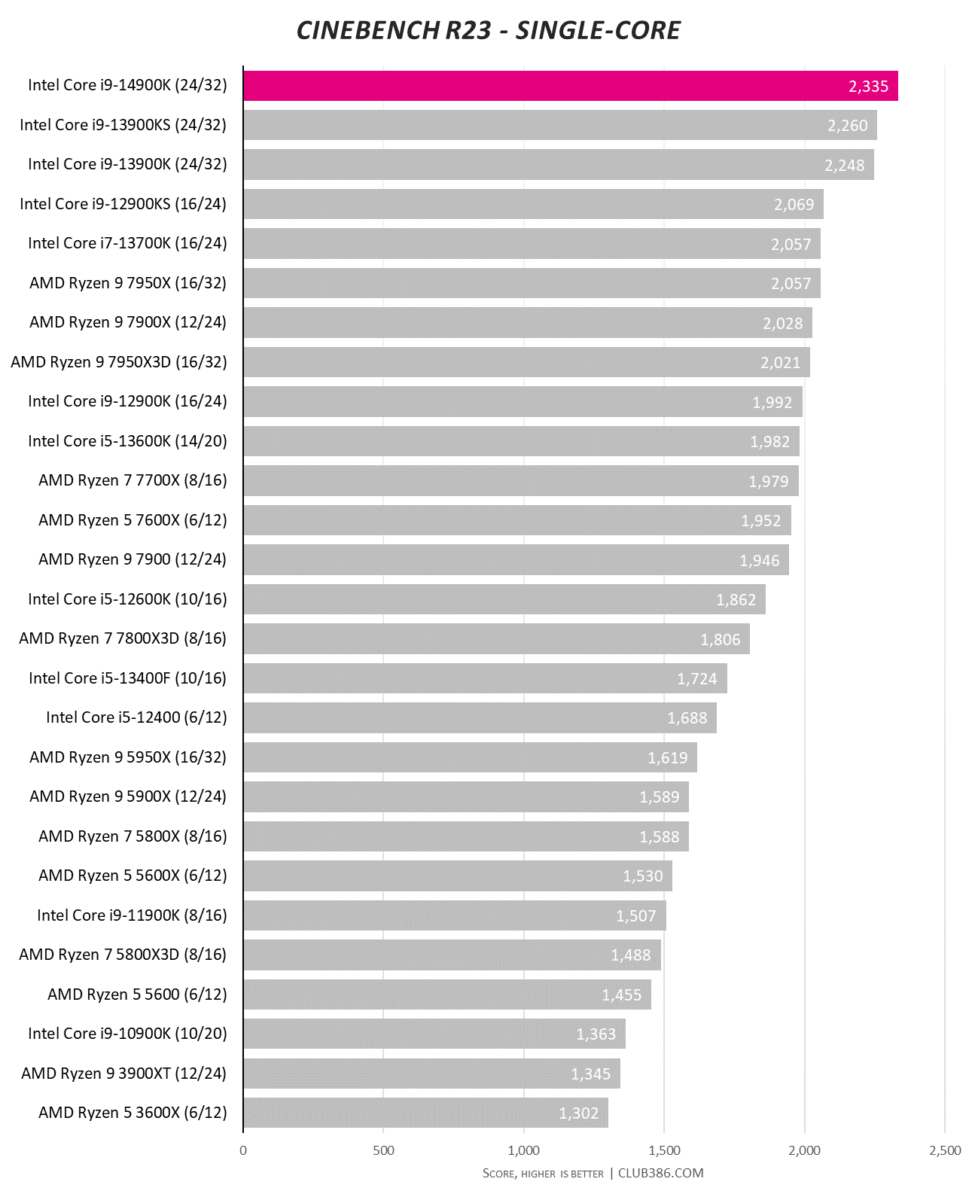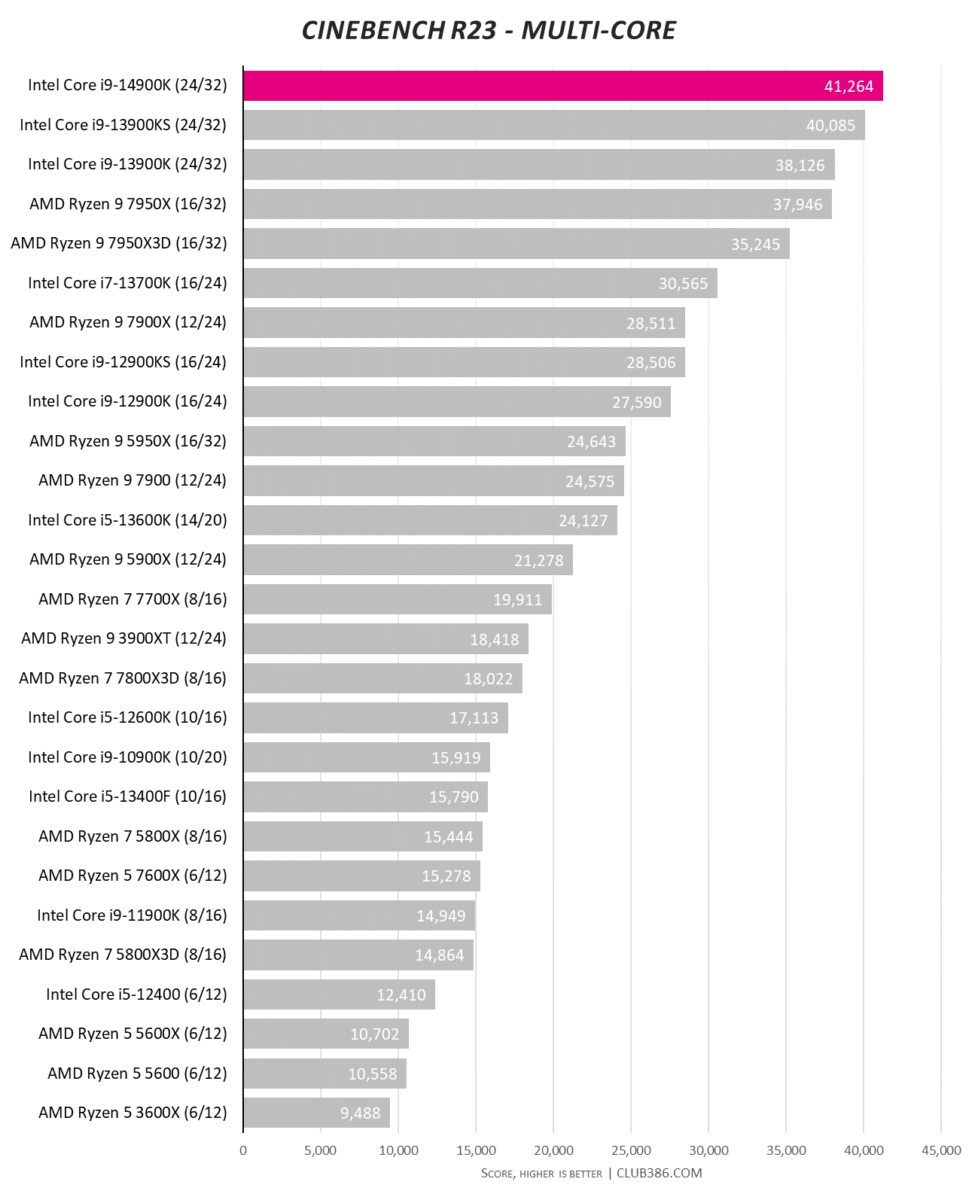 Well, hello to big numbers. Turning up the frequency wick does the job Intel intends for creators and multitaskers, and it's the first time a mass-produced desktop processor has crashed through the 40k barrier.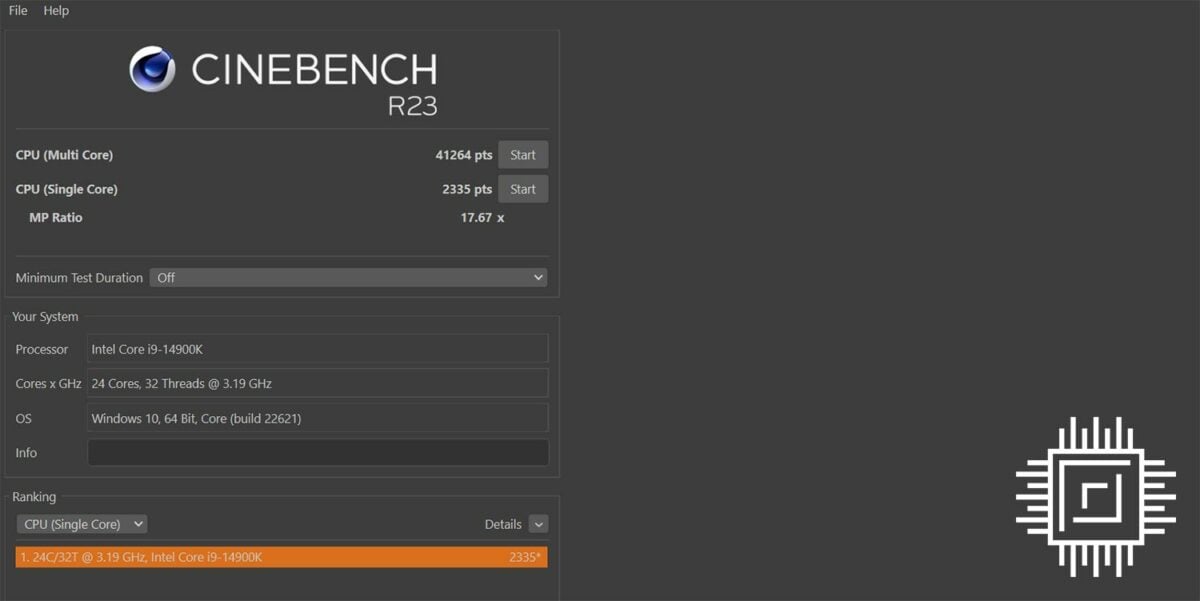 The MSI MAG CoreLiquid E360 returns consistent single-run results in Cinebench, where the processor exceeds 41k in unrestricted power mode. Running the 10-minute test suggests some thermal throttling is taking place as the score drops down to 40.2k. One has to ask the question as to whether Intel's Wild West approach to benchmark domination through excessive power is a good thing.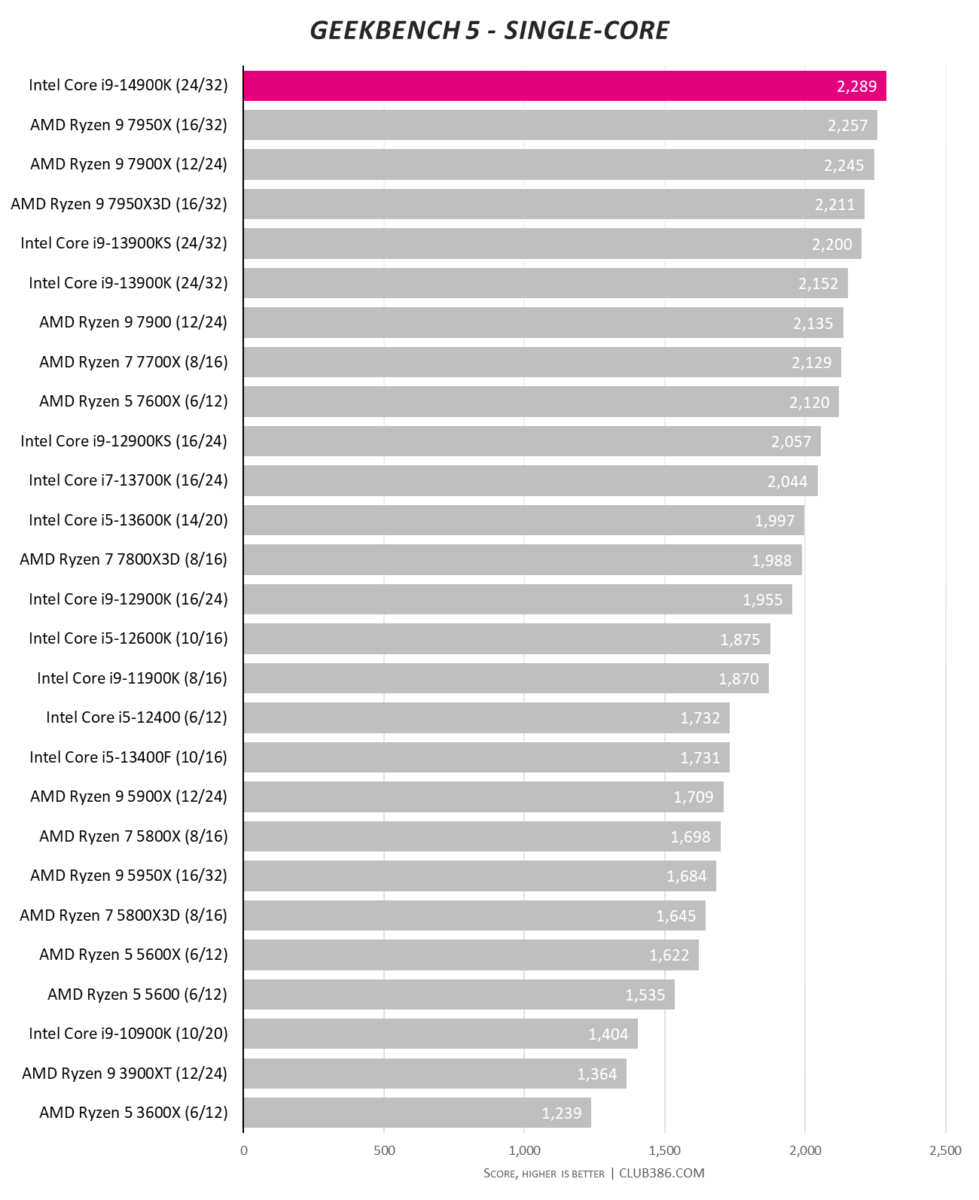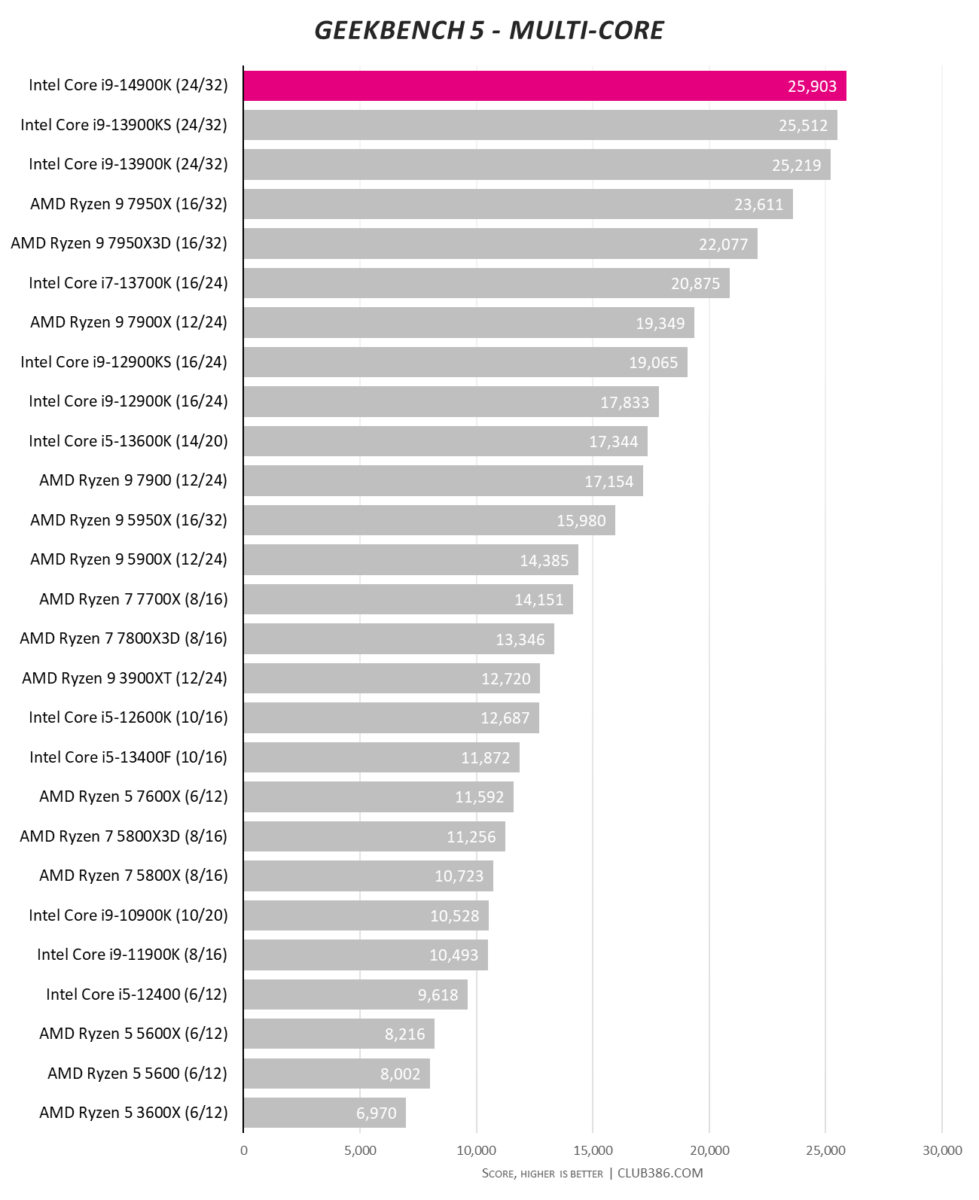 Similar findings in Geekbench, suggesting the i9-14900K becomes the premier destination for power users who care about the last drop of performance, without caring as much for power usage.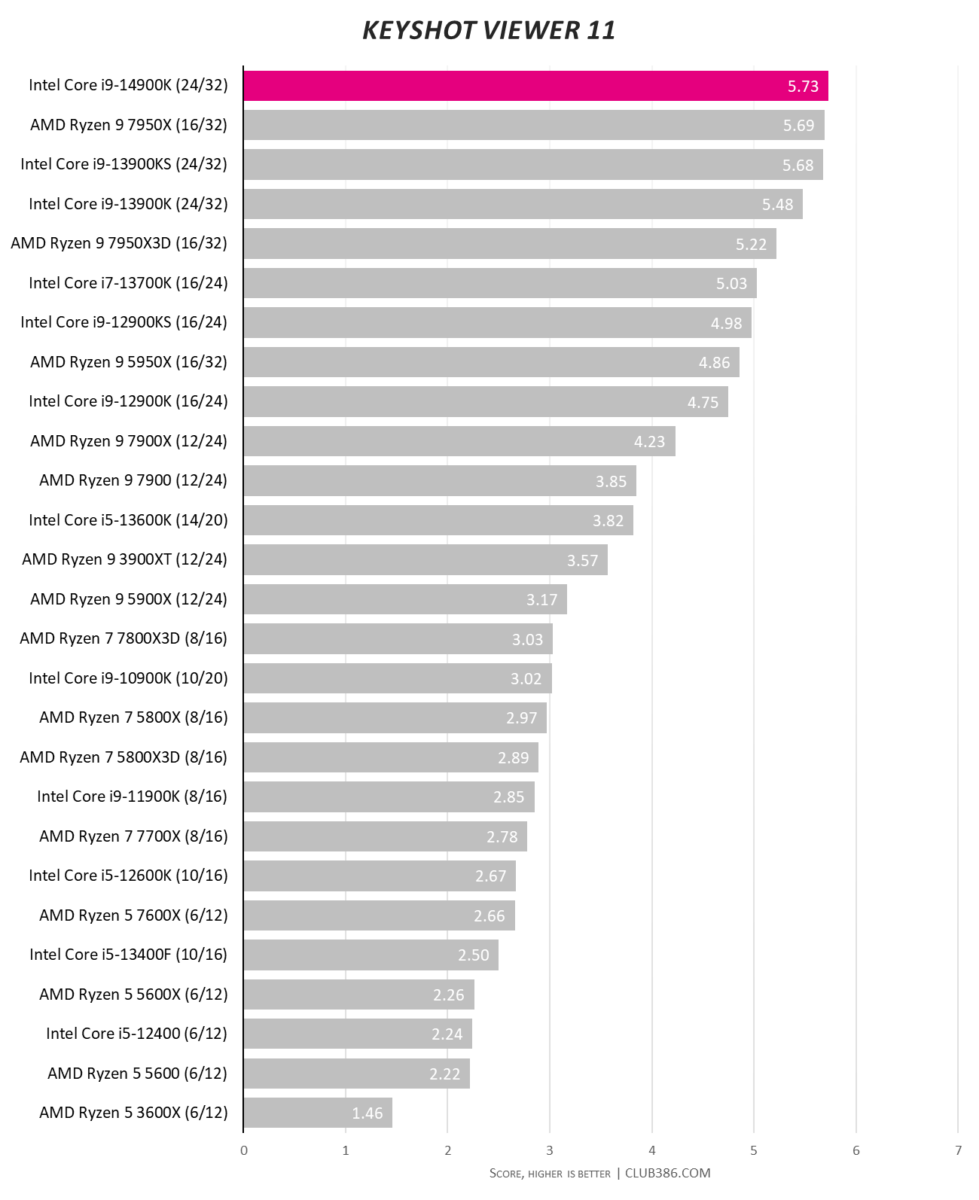 A clean sweep of the CPU-centric tests is the expected outcome of a chip running P-Cores at up to 6GHz.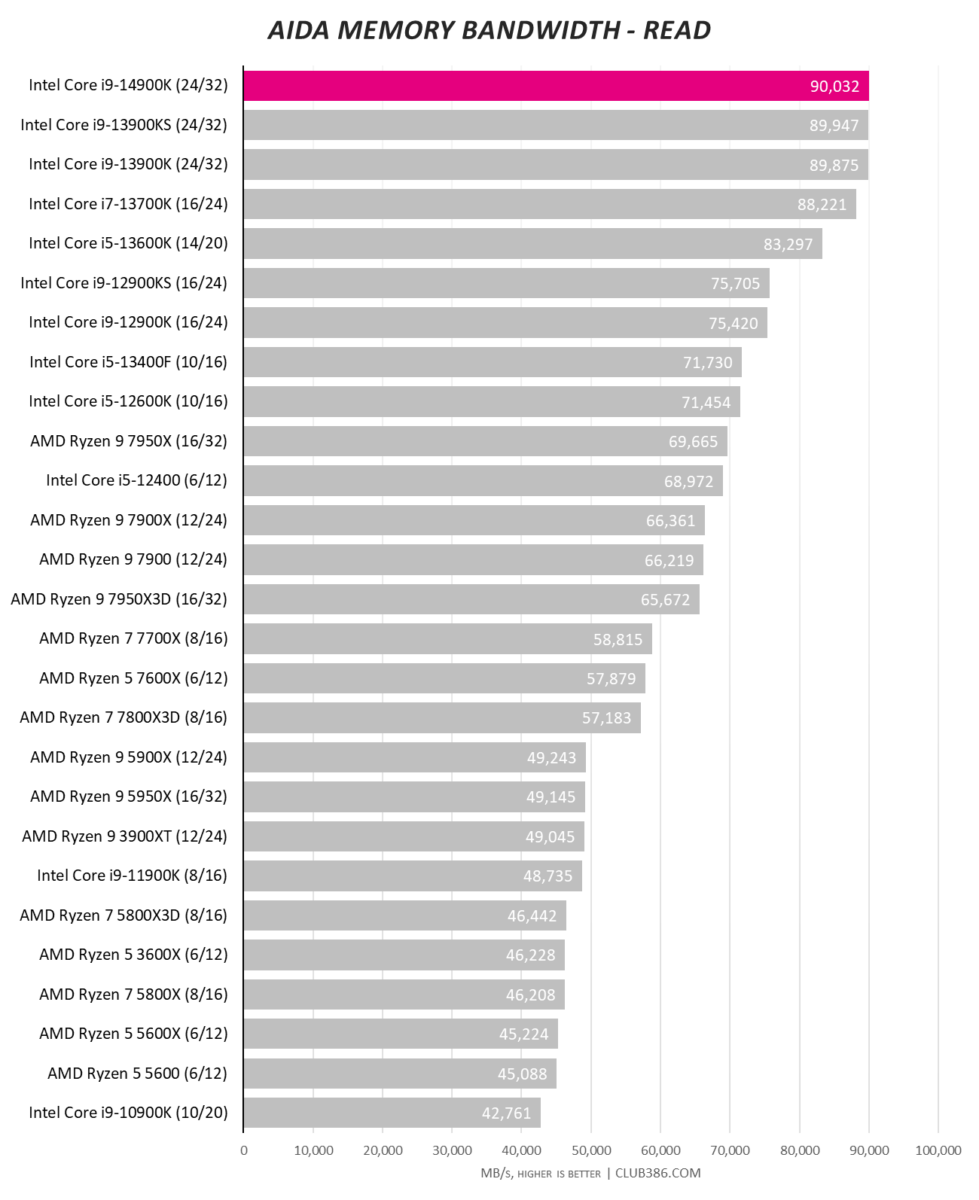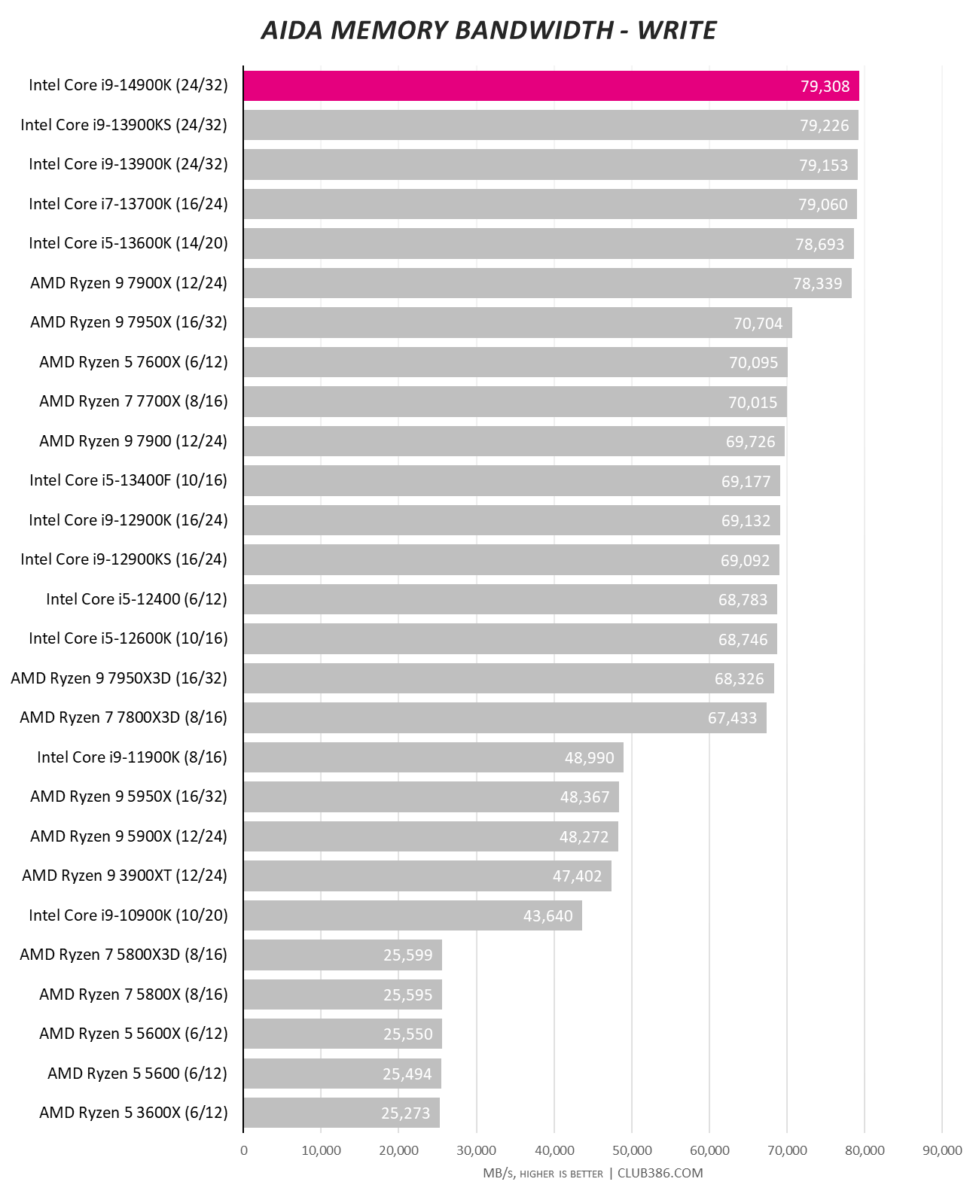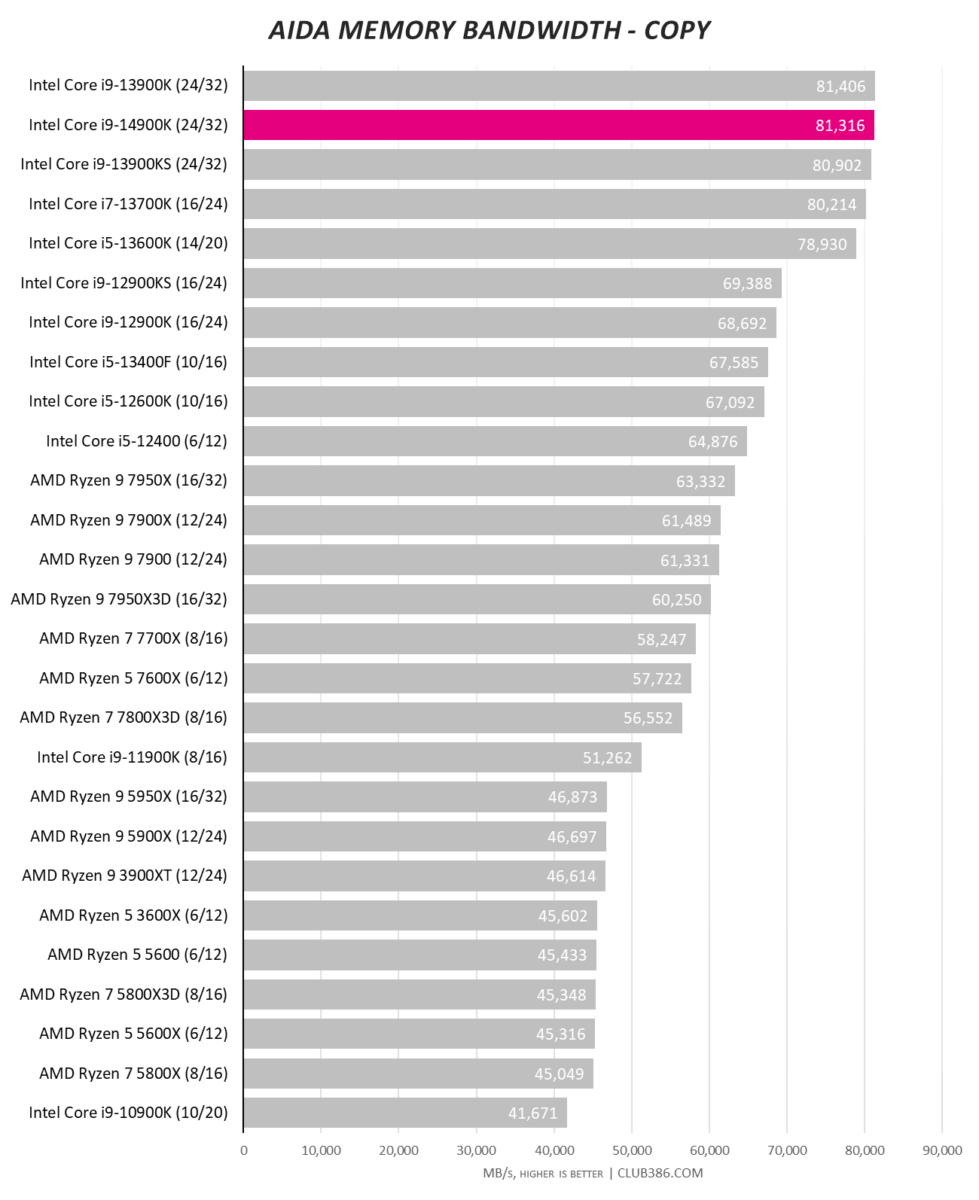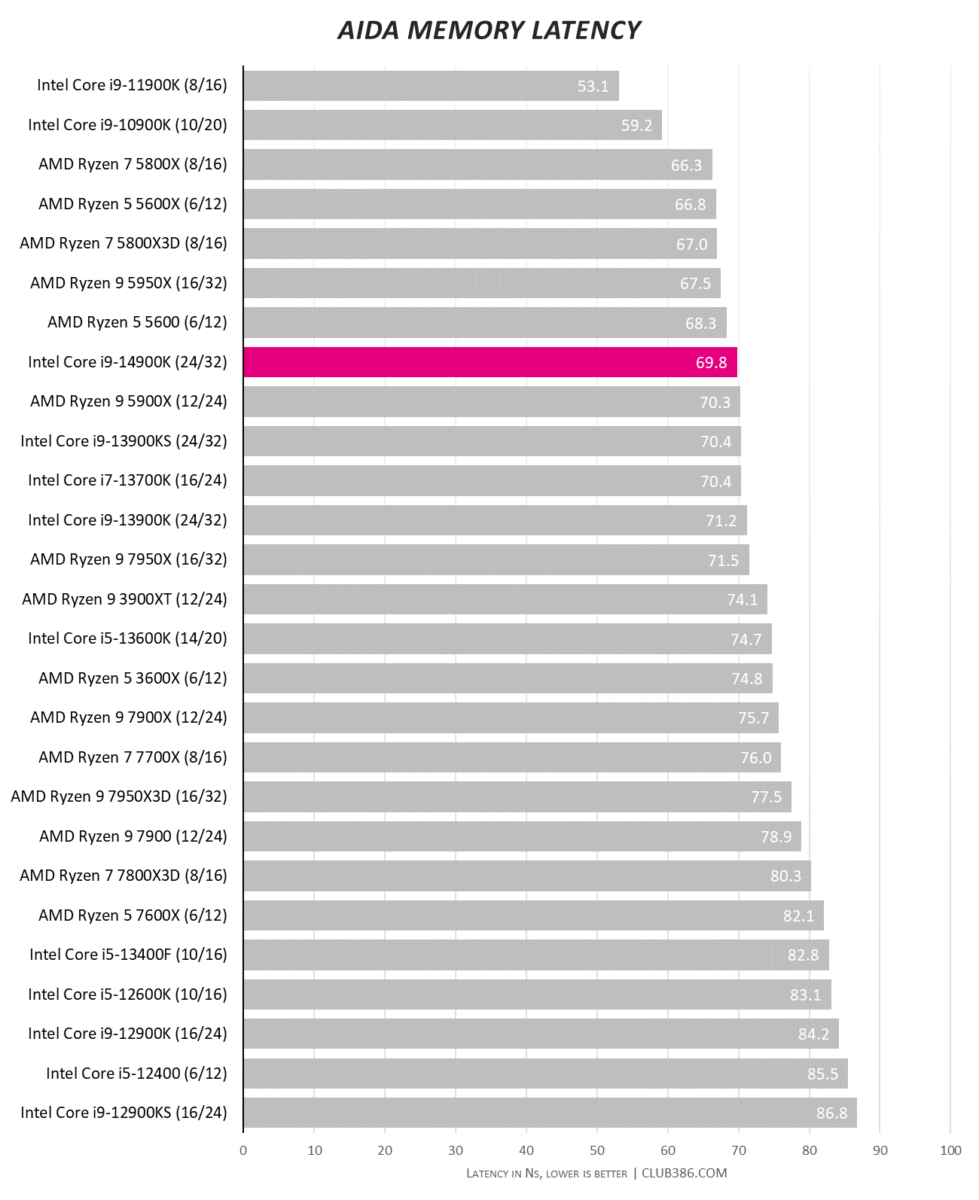 DDR5-5600 CL30 provides solid results. Intel reckons the combination of Z790 and Core i9-14900K paves the way for esoteric memory frequencies, citing multiple kit examples running flawlessly at over 8,000MT/s.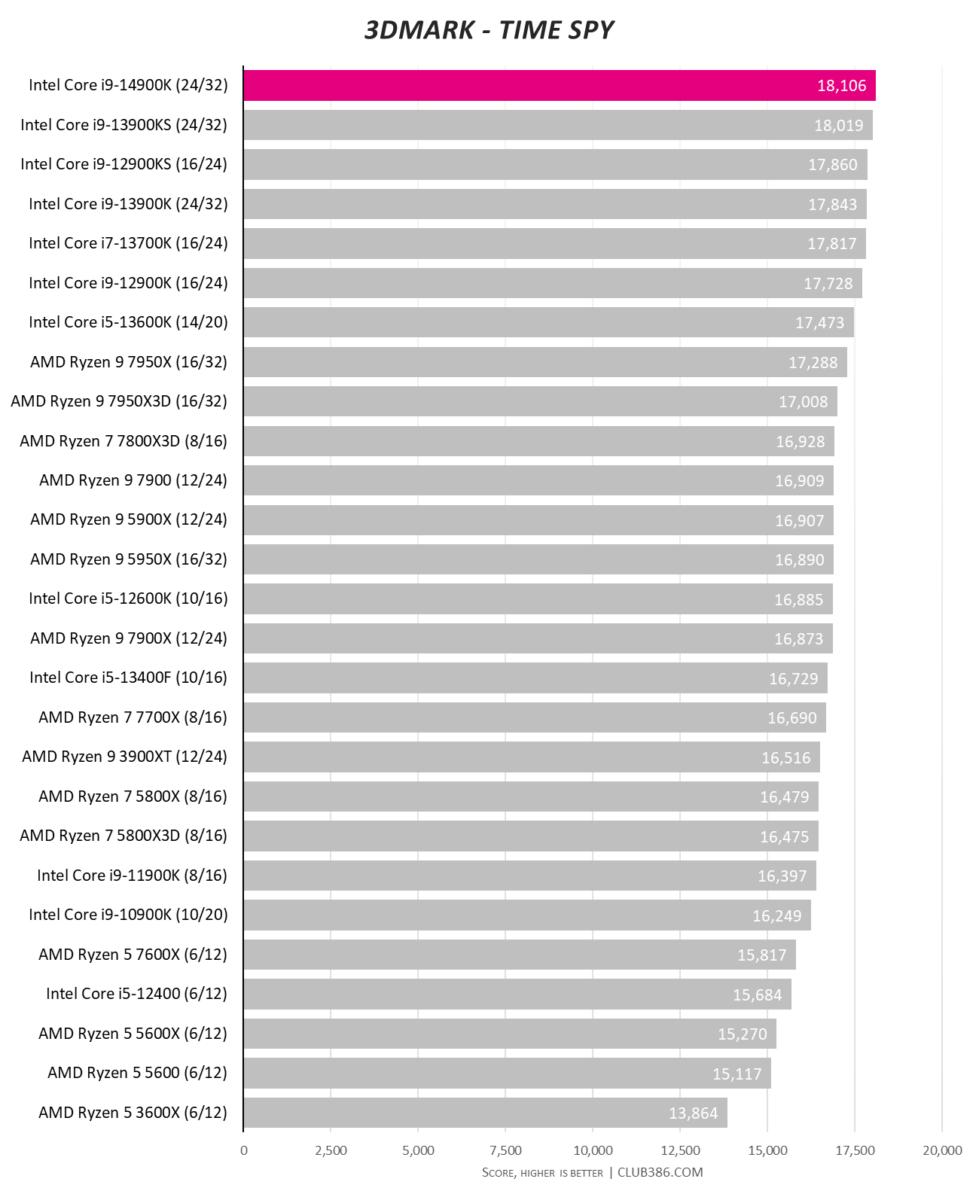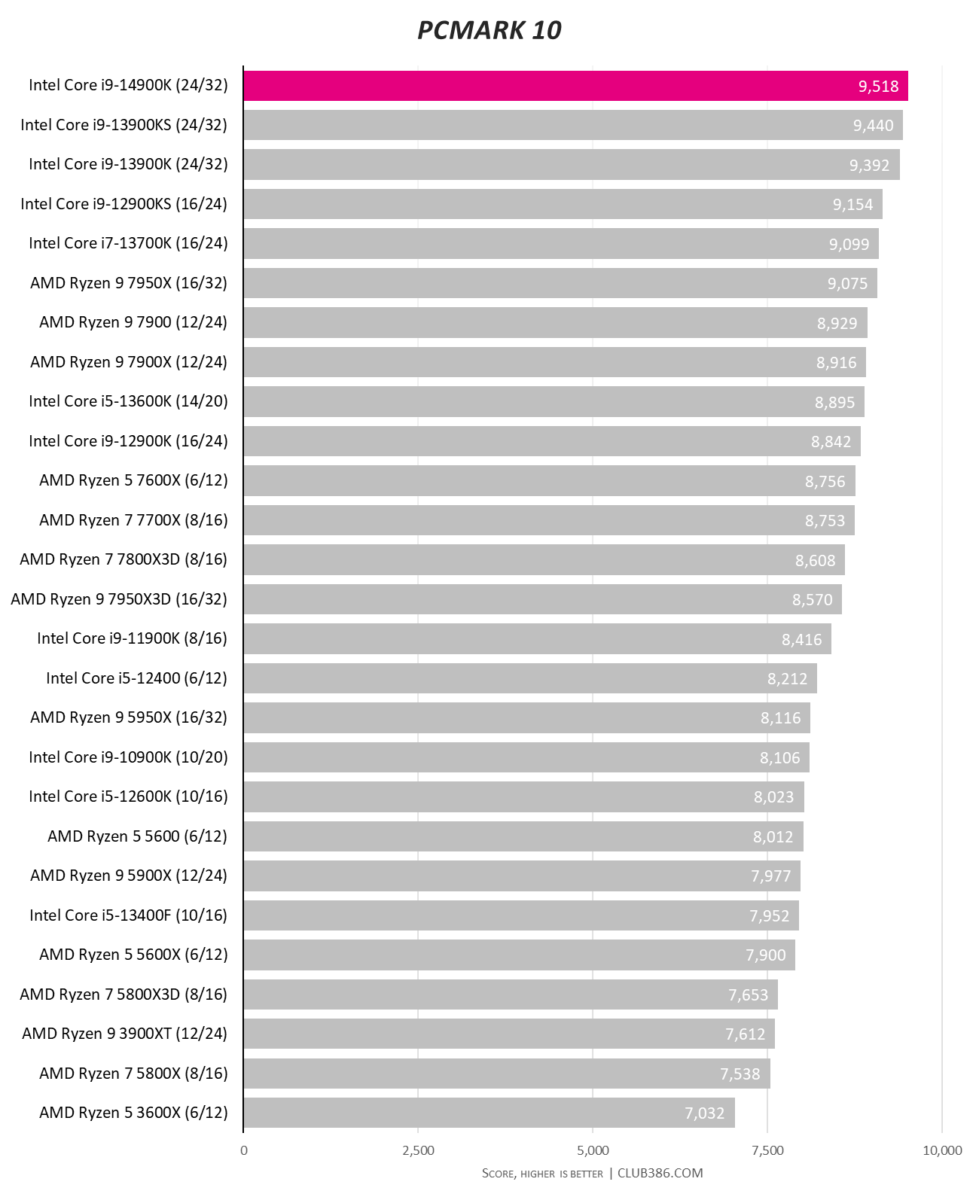 Familiar position assumed in Futuremark tests.
Gaming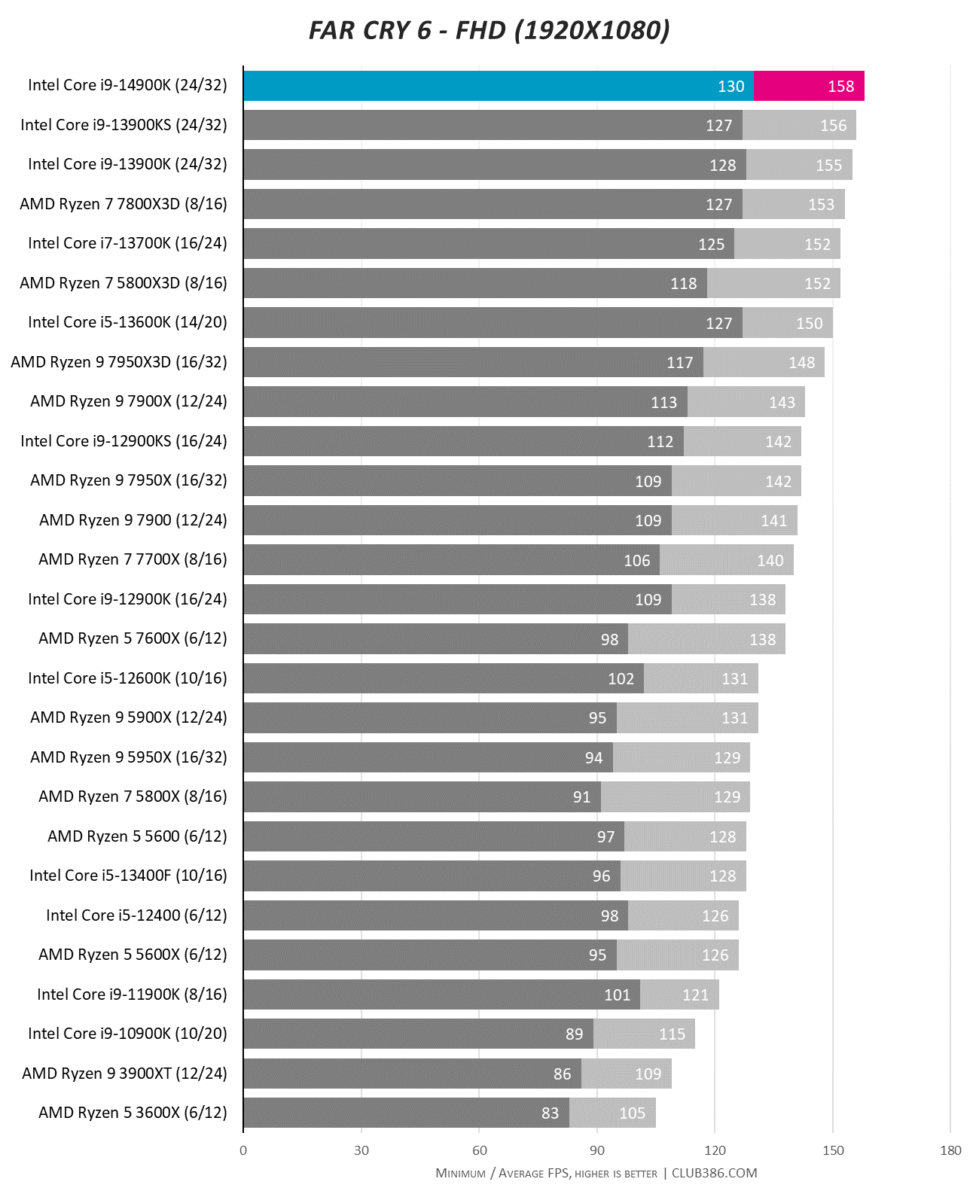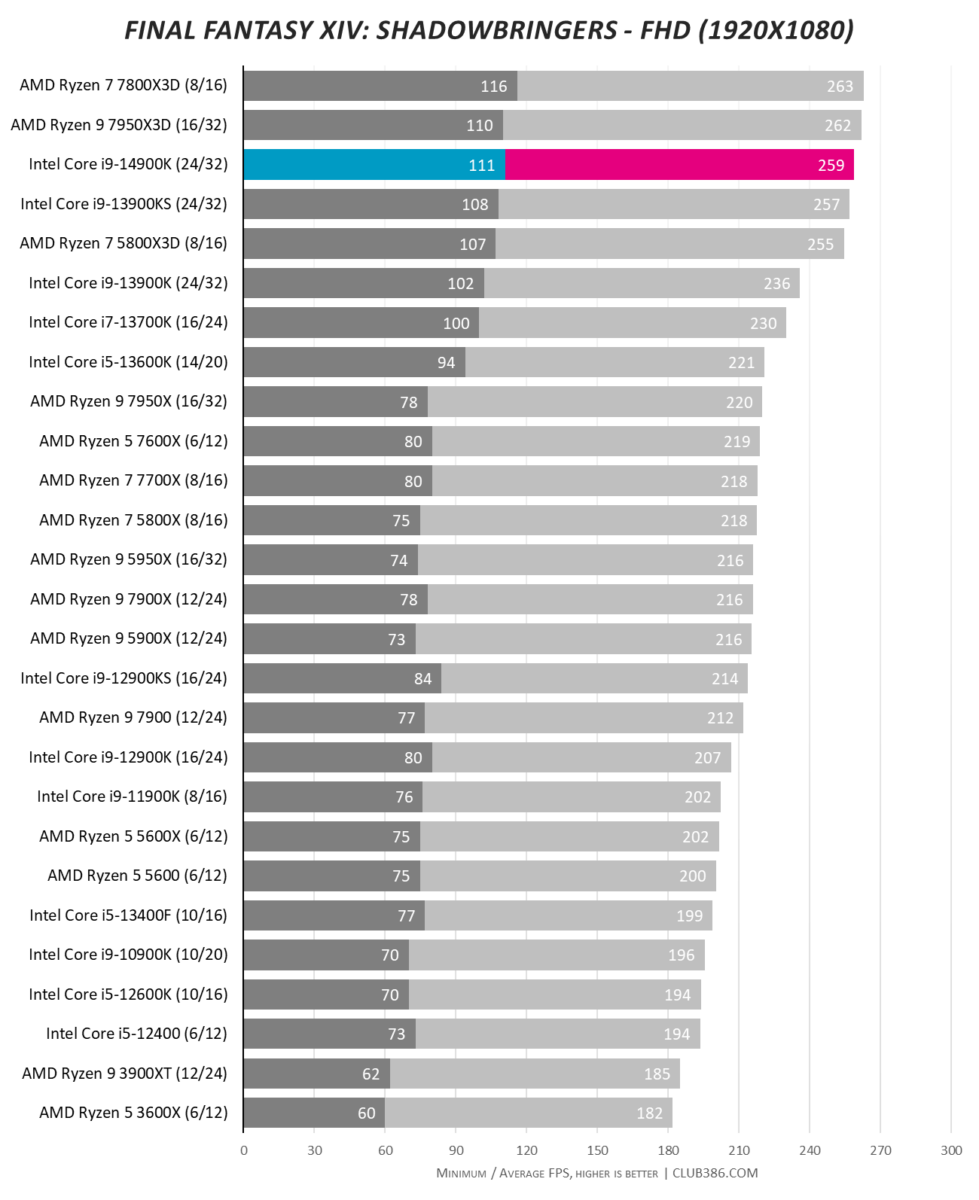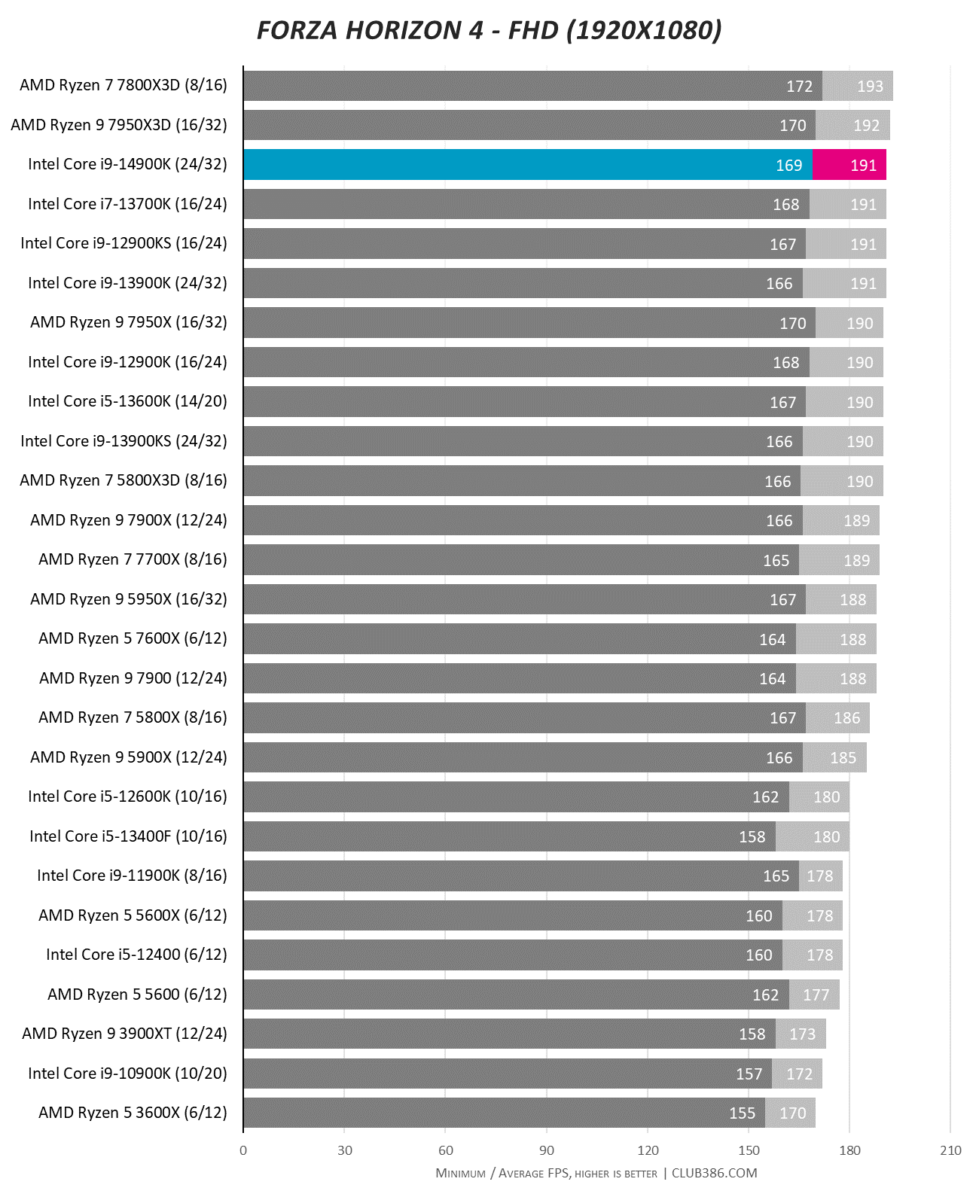 Having heaps of speed naturally offers solid framerates at FHD. However, we noted higher-than-expected CPU power consumption when compared to Core i9-13900K – up to 15W more – when running games tasking only a few cores. Perhaps this is a byproduct of having totally unrestricted power.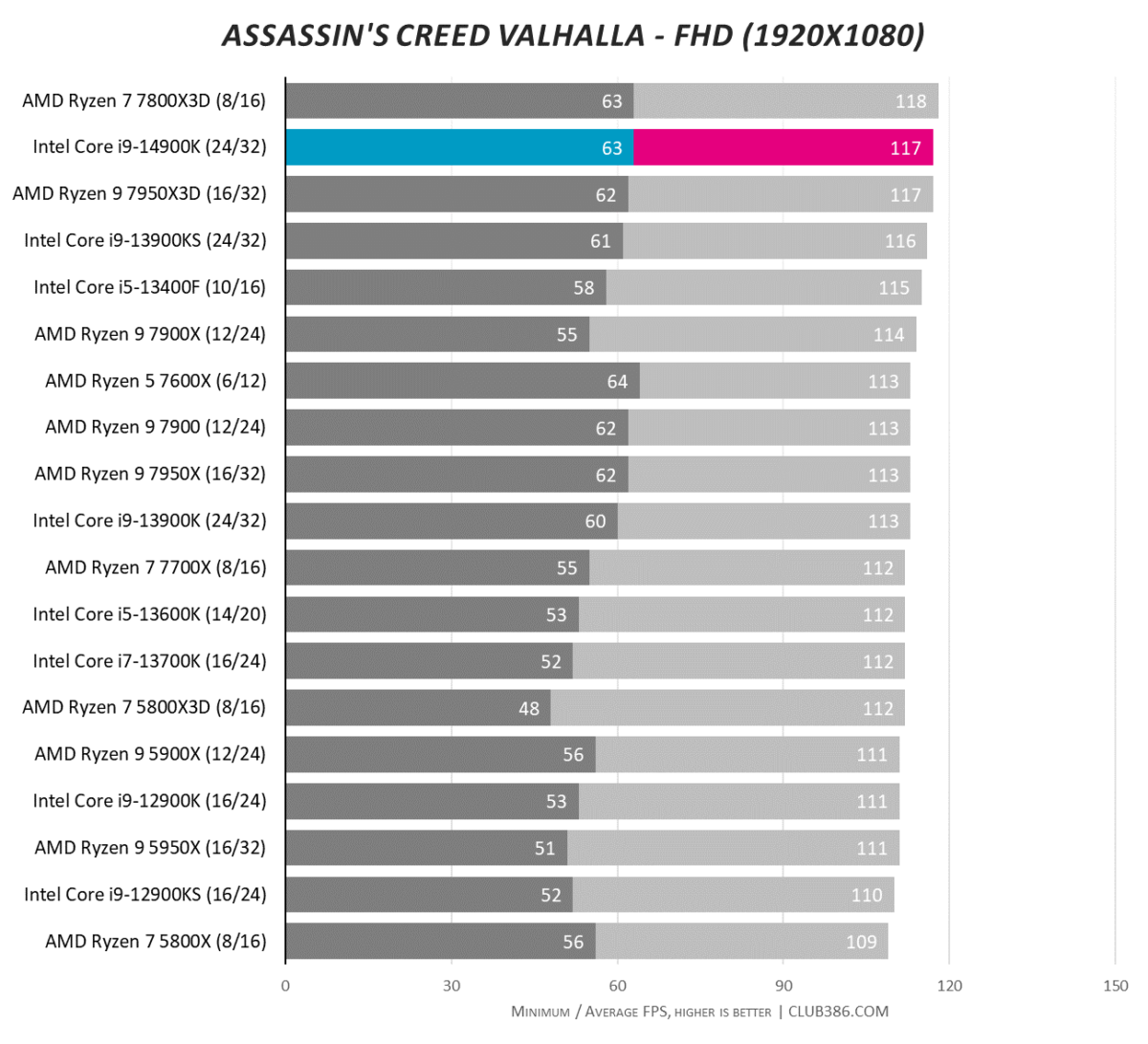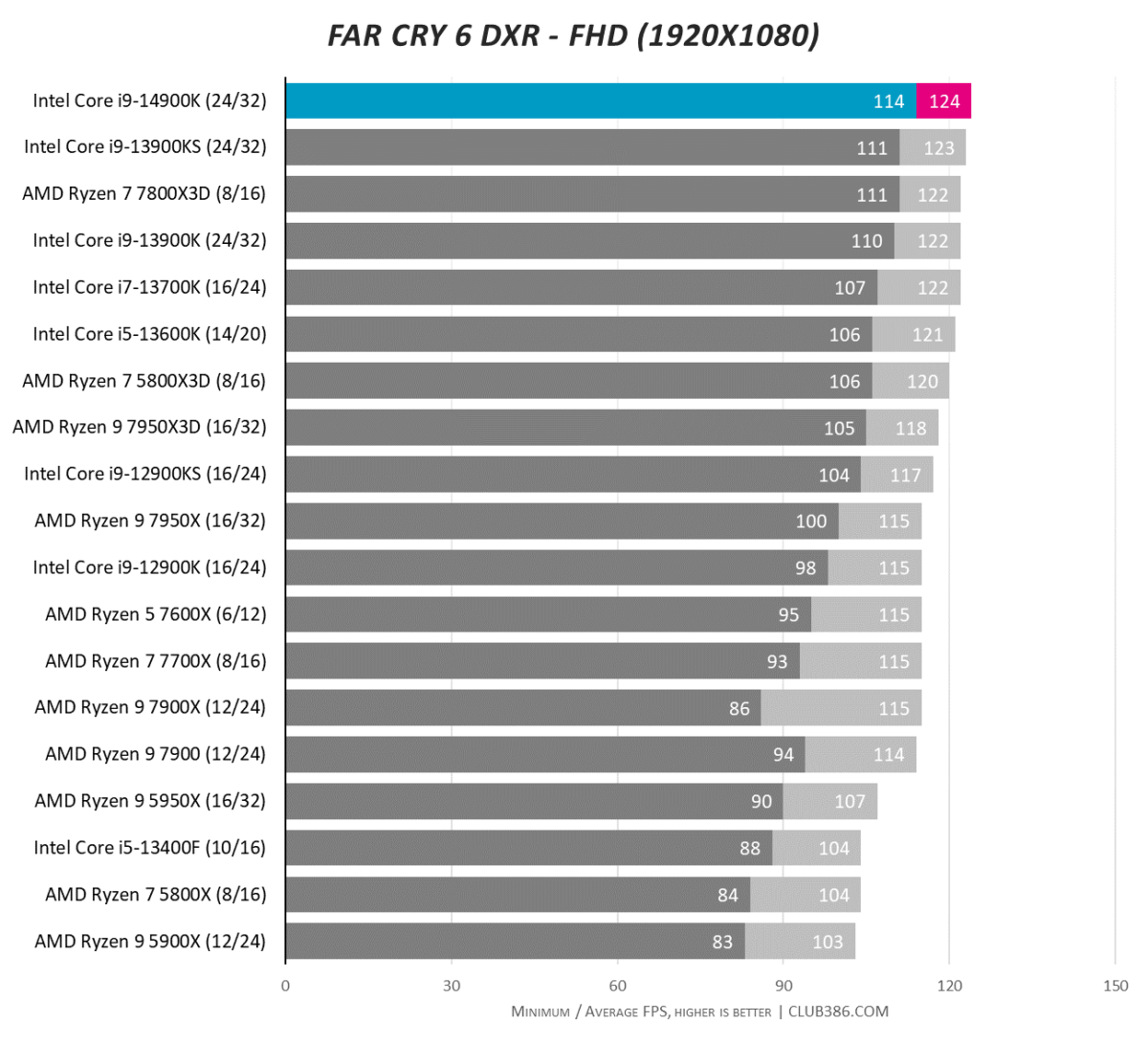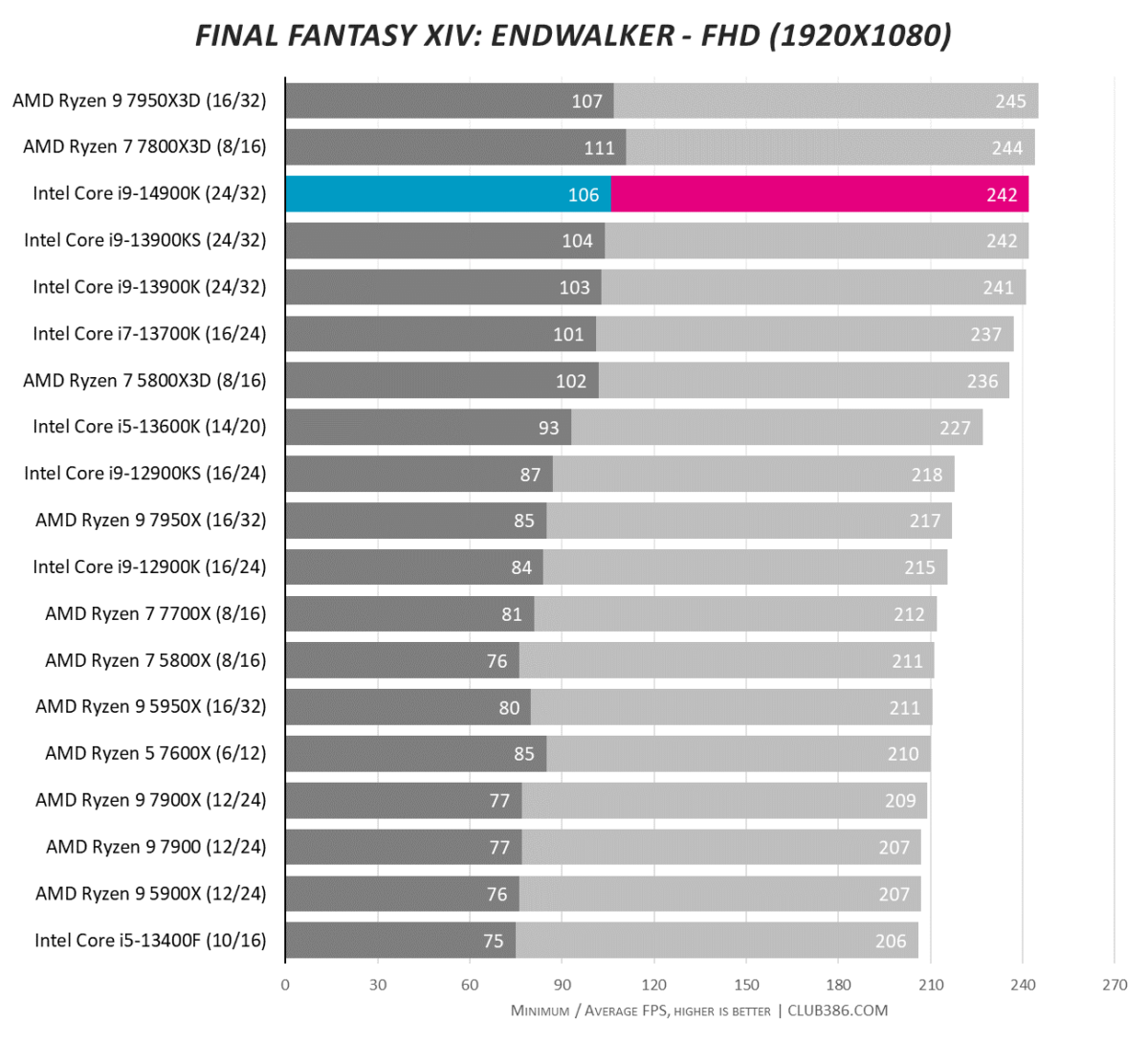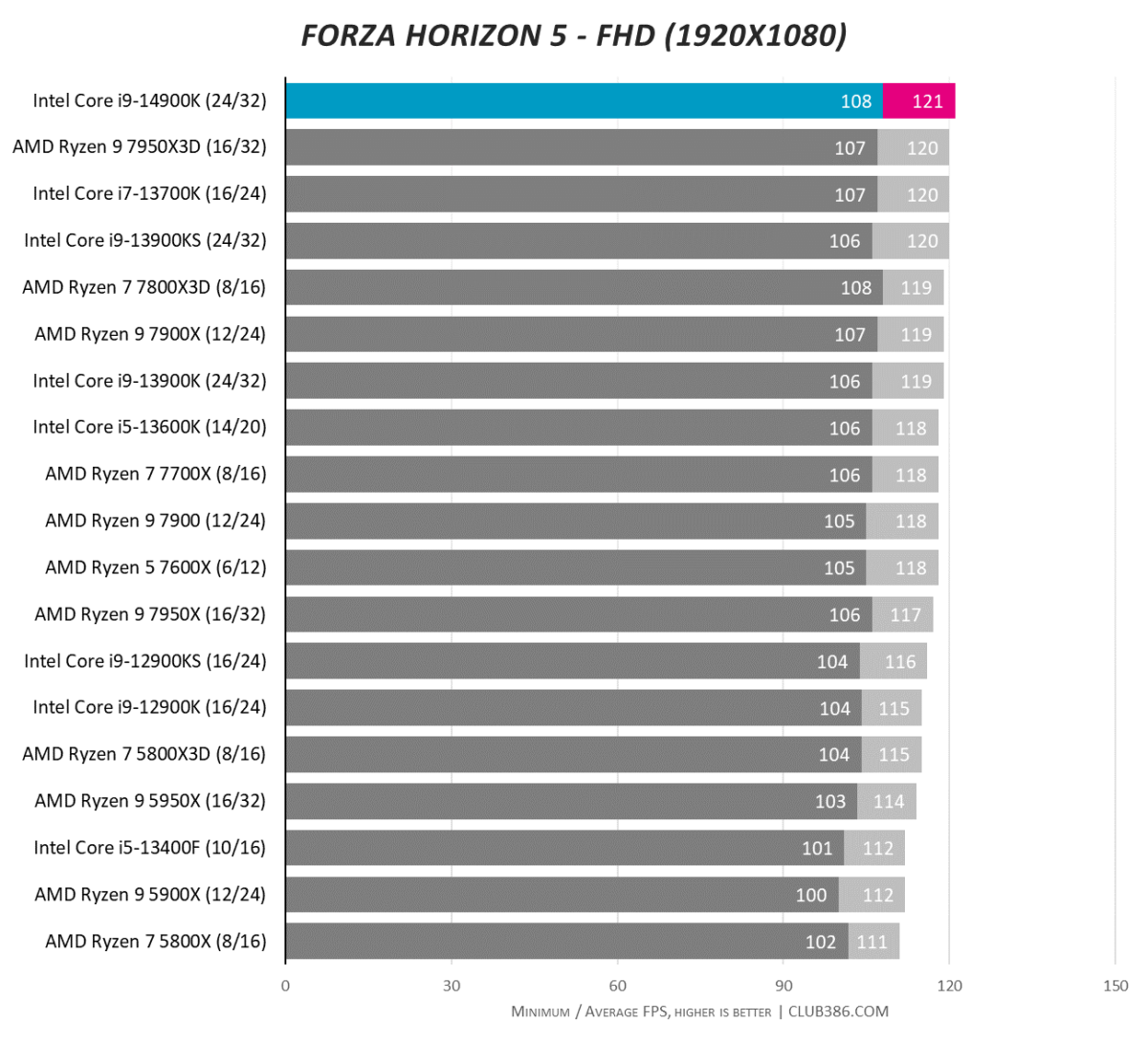 Drilling down into other games, Core i9-14900K is an excellent gaming chip.
Power, Efficiency, Value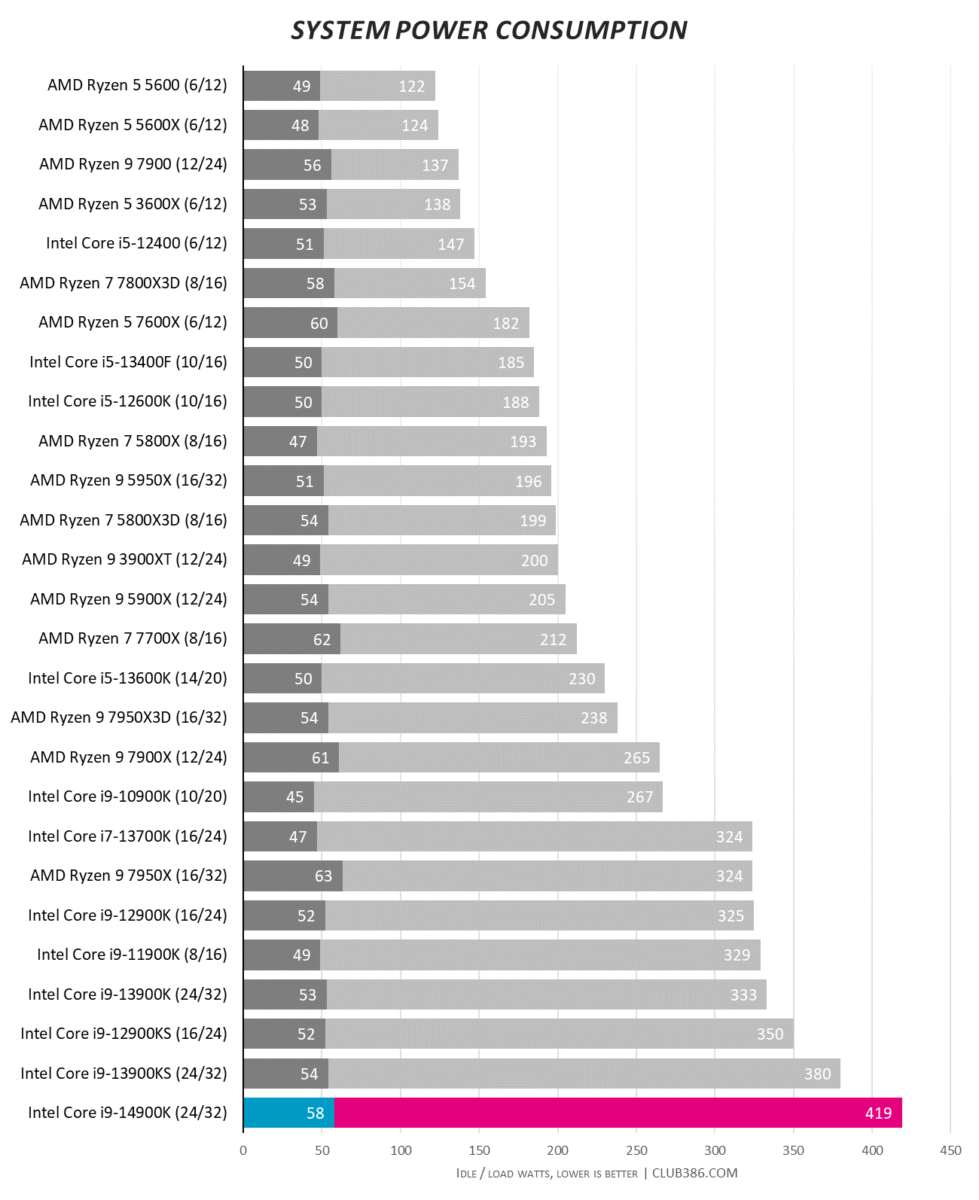 Here's where it gets hot. Core i9-14900K takes great opportunity at pushing cooling to breaking point. The MSI 360mm AIO barely manages to keep the processor in check, hitting 90°C consistently, even with fans spinning at a noticeable 1,800rpm.
The reason is simple enough. The CPU is chewing through around 330W in this no-limits guise, putting the onus on the cooling to keep up. We're confident in stating no air cooler can stop the Core i9-14900K from long-term throttling when all 32 threads are given the green light.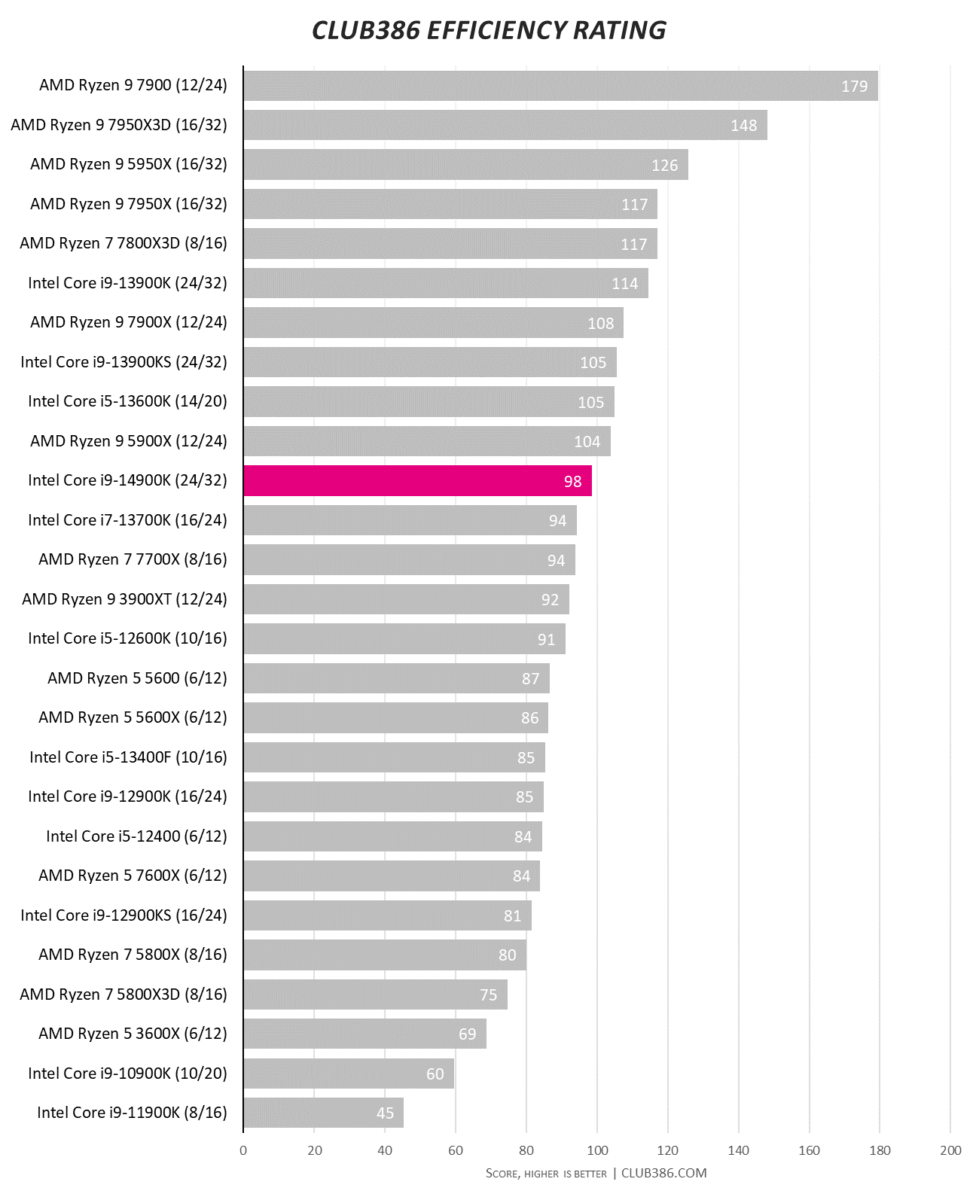 This graph divides the Cinebench R23 score by system-wide power consumption. Core i9-14900K actually isn't bad in this regard as the monstrous 40k+ performance comes in handy.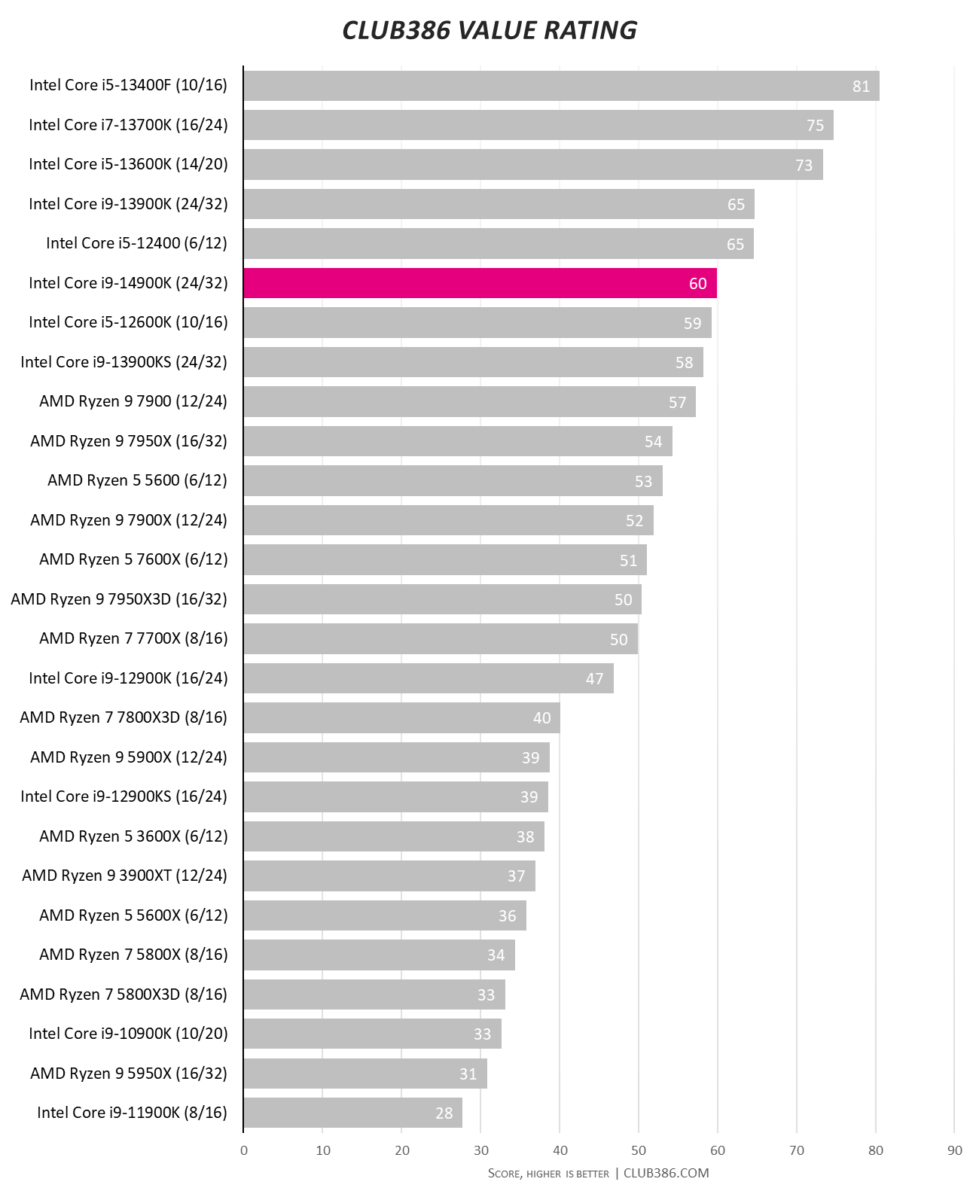 Shifting gears, this graph divides same Cinebench score by the street price of the processor. Though doing well enough, note that four 13th Gen Core processors do better still.
Conclusion
The last hurrah of Intel's LGA1700 adventure culminates in 14th Gen Core chips known as Raptor Lake Refresh. The send-off is more of a whimper than a bang, as most processors in this lineup offer scant improvement over the last generation. A good case in point is the range-topping Core i9-14900K – a 24-core, 32-thread slab of silicon that limps past its immediate predecessor through a small uptick in frequency. It's enough, however, to see the hallowed 6GHz speed achieved in light-load scenarios.
Yet expecting anything else, especially at the premium end of the stack, is fanciful. Intel's client CPU focus is trained on next-generation mobile-optimised Meteor Lake processors, meaning desktop 14th Gen is, as the codename insinuates, a basic refresh that's a checkbox exercise necessarily required to placate large-volume customers such as Dell and HP. 14 certainly sounds better than 13, right?
Running with ungodly power requirements, fully unrestricted for performance with up to 330W for the chip alone, the i9-14900K remains a formidable competitor. Topping the content-creator charts and pretty damn good at gaming, Intel demonstrates a vivid case of power trumping any notion of efficiency. Consider it a Core i9-13900KS for a hundred bucks less, fellow enthusiasts.
Nevertheless, a lack of generational improvement inevitably hurts outright recommendation. Core i9-14900K is a prime example of PC incrementalism and, as such, won't be remembered as a game-changing CPU in the annals of processor history.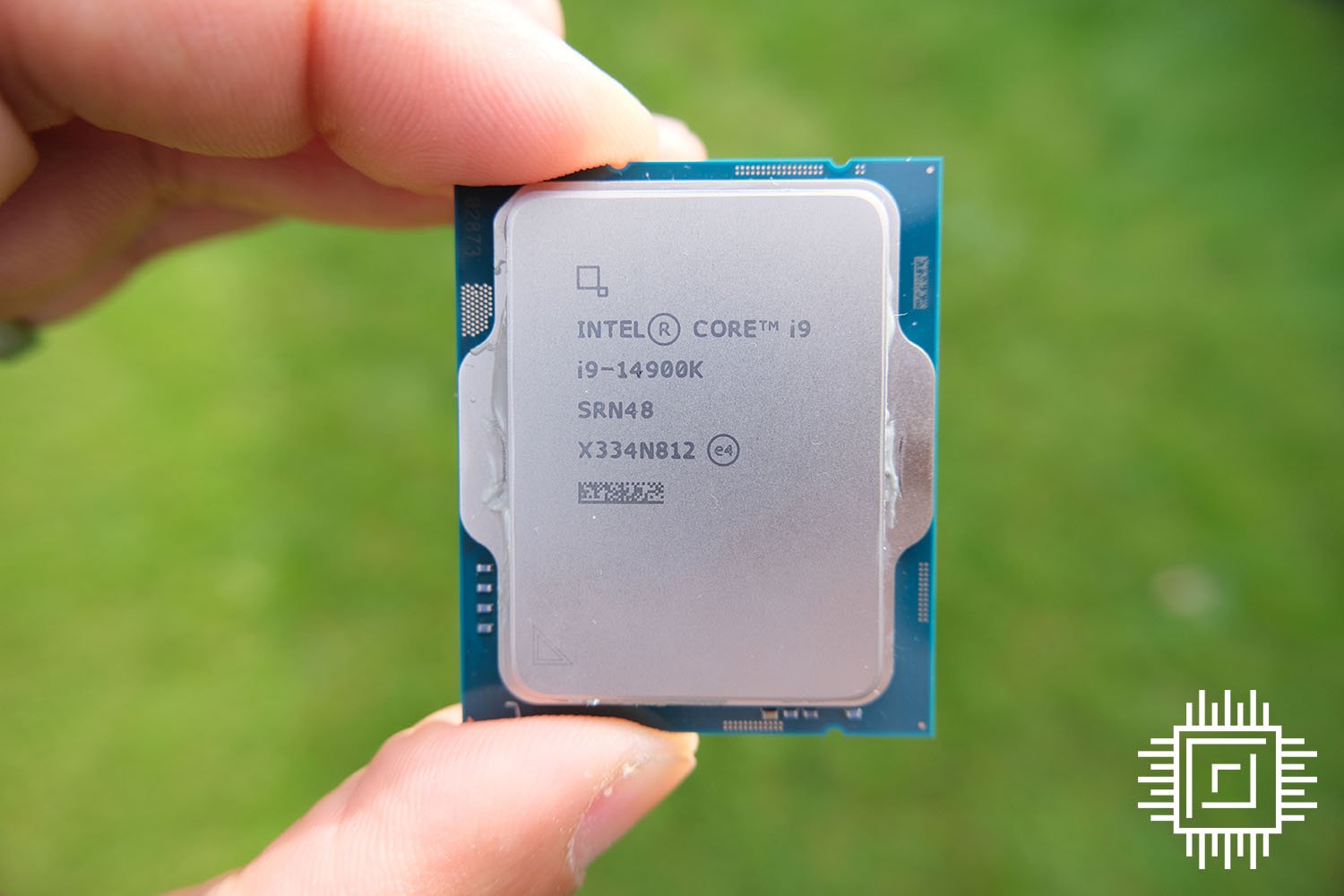 Intel Core i9-14900K
Verdict: A Core i9-13900KS in all but name, Intel resorts to cranking up the power for 14th Gen Core's finest.
---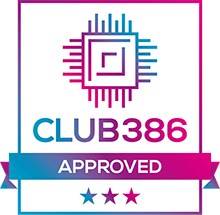 Pros
Great for content creators
Out-the-box 6GHz
Wide motherboard support
Cons
Requires massive power
Needs a 360mm AIO
Small performance jump

---
Club386 may earn an affiliate commission when you purchase products through links on our site. This helps keep our content free for all.
Rest assured, our buying advice will forever remain impartial and unbiased.