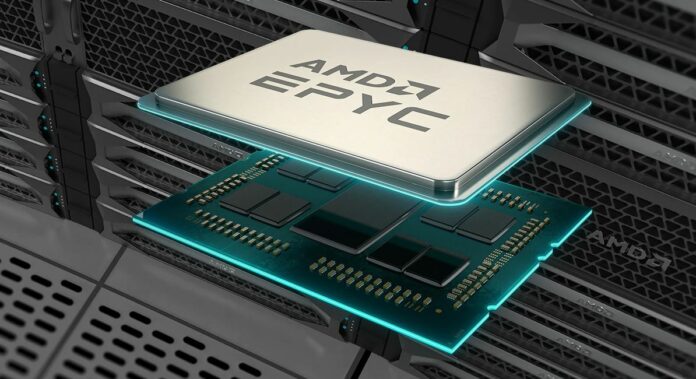 The culmination of AMD's full-scale incursion into the datacentre CPU space lies with Epyc 4th Generation chips purposely designed for telco and edge computing. Officially known as Epyc 8004 Series and to you and me by the codename 'Siena,' they follow on from performance-optimised Genoa and Genoa-X and core champion Bergamo. Now representing the fourth swim lane for the fourth generation – symmetry in numbers – the range is now complete.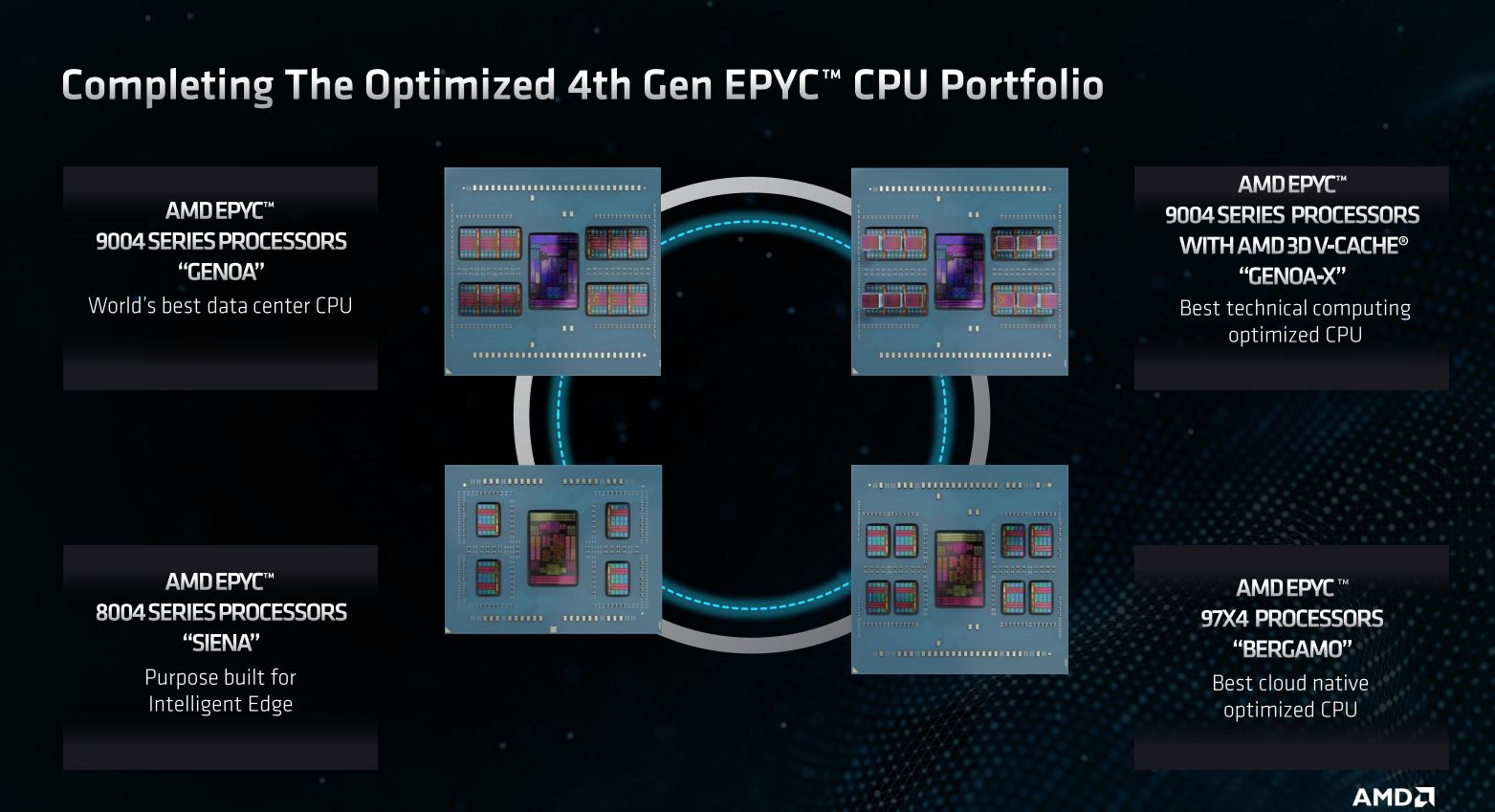 Unlike all other 4th Generation Epycs, 8004 Series' application requirements are different enough to warrant a unique socket. Upcoming Siena, therefore, uses an SP6 socket that's incompatible with SP5 used by the rest of the clan. AMD's decision makes sense as power and I/O requirements are manifestly lower than other models, with 8004 Series topping out at 64 cores and 225W whilst having half the memory channels and lower PCIe and CXL connectivity. From a high level at least, SP6 looks heck of a lot like in-market SP3 from the previous Epyc generation.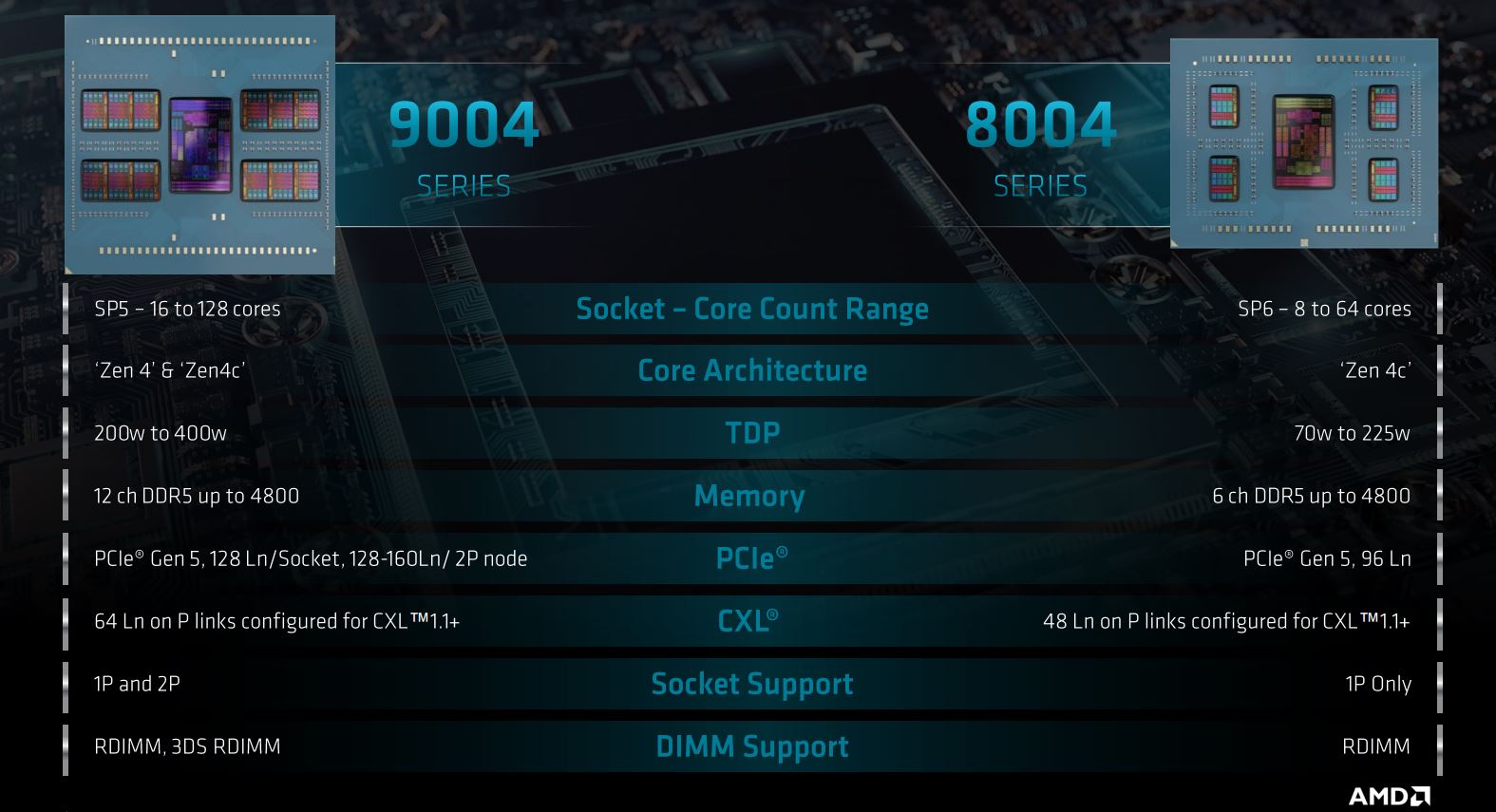 Reducing complexity further, AMD adopts the same density- and power-optimised Zen 4c microarchitecture first seen on Bergamo, meaning Siena is built with cost and efficiency very much in mind. It's a testament to AMD's progress that four specific Epyc interpretations exist at once – something for everyone.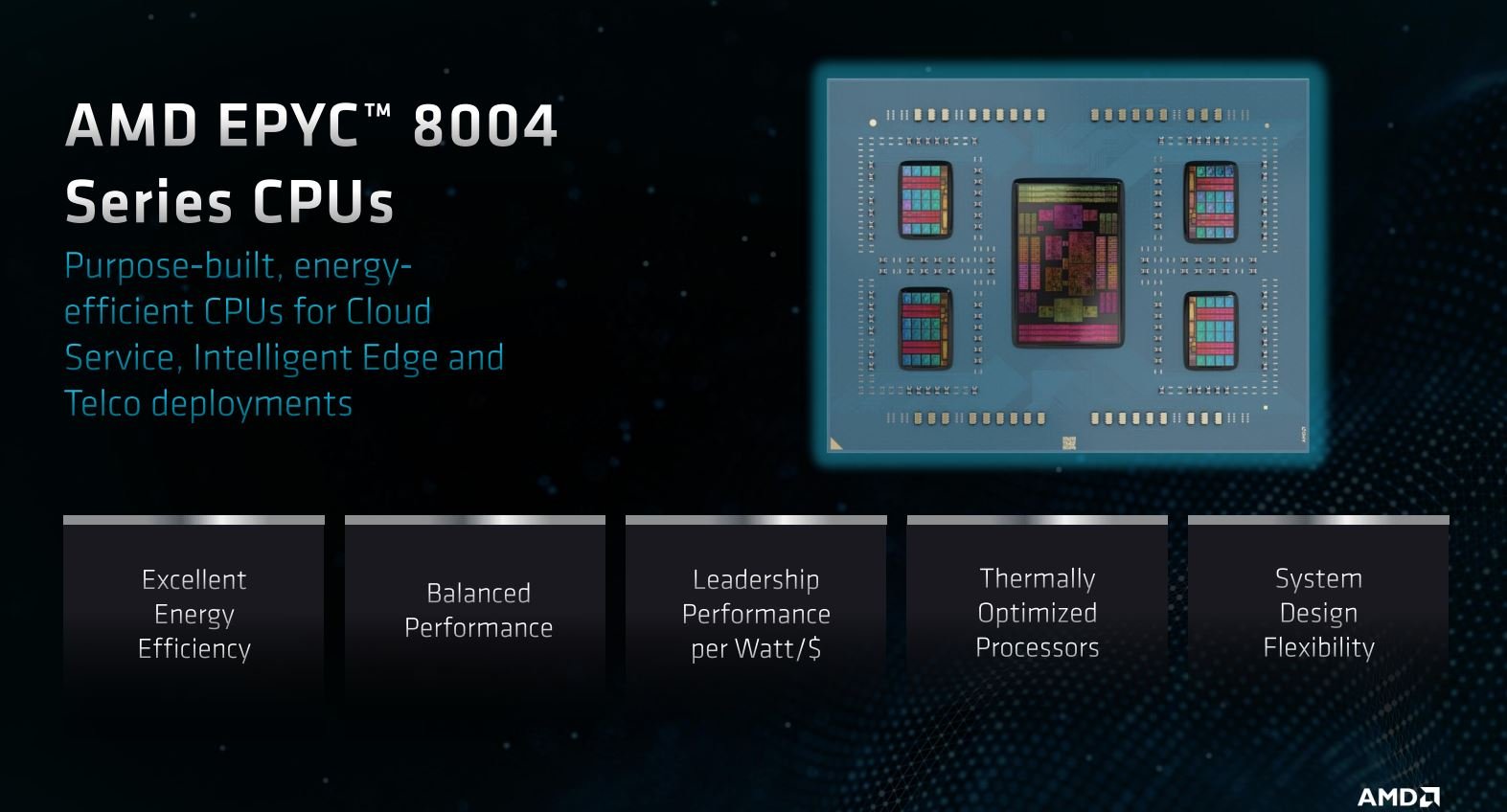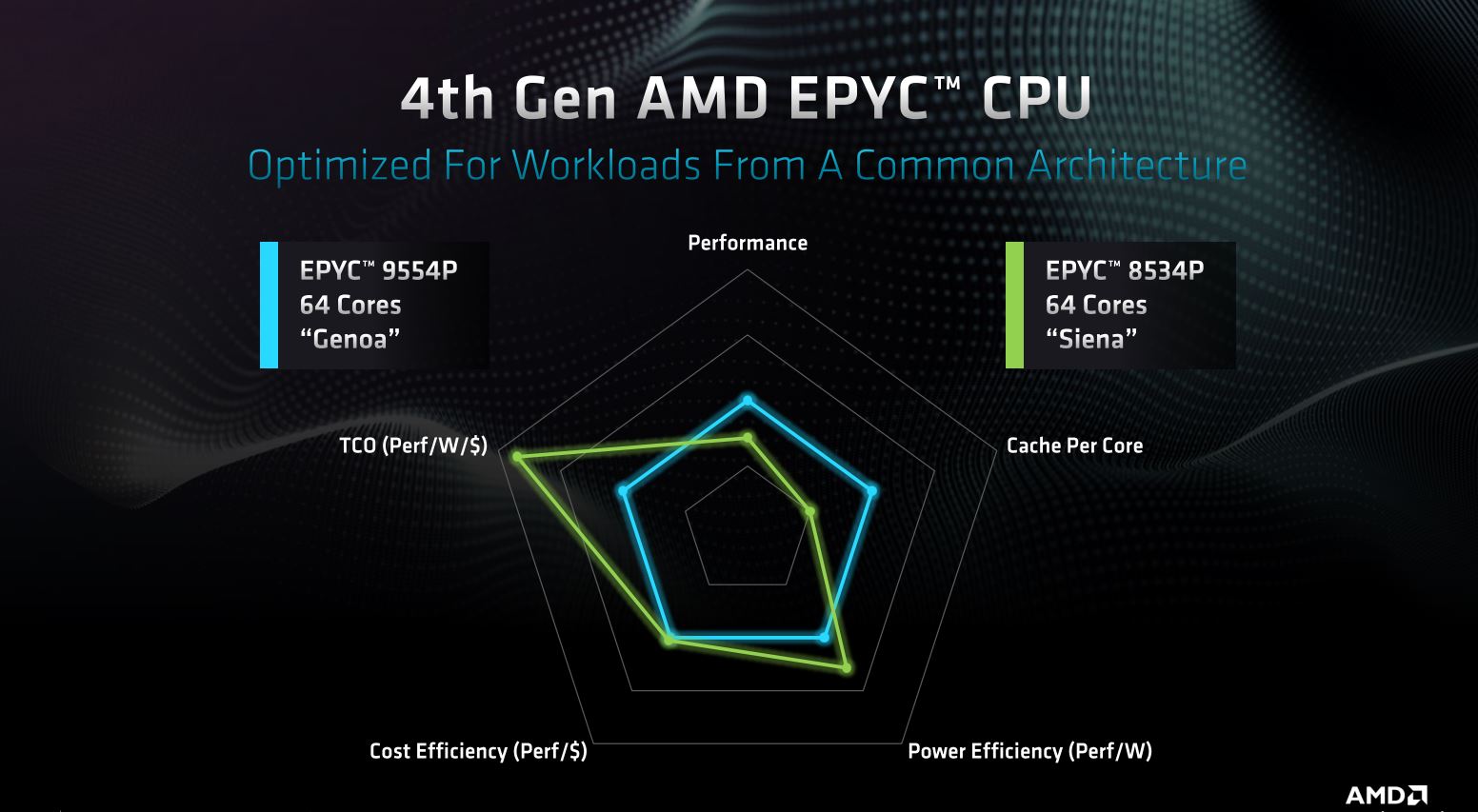 Reinforcing laser-targeted usage, a useful spider web chart shows Siena's relative strengths and weaknesses against a same-core regular Genoa outfitted with a fuller architecture and more comprehensive feature set. This is AMD saying it cannot, and should not, cater for the entire datacentre CPU market with one design and Epyc is itself evolved enough for successful segmentation.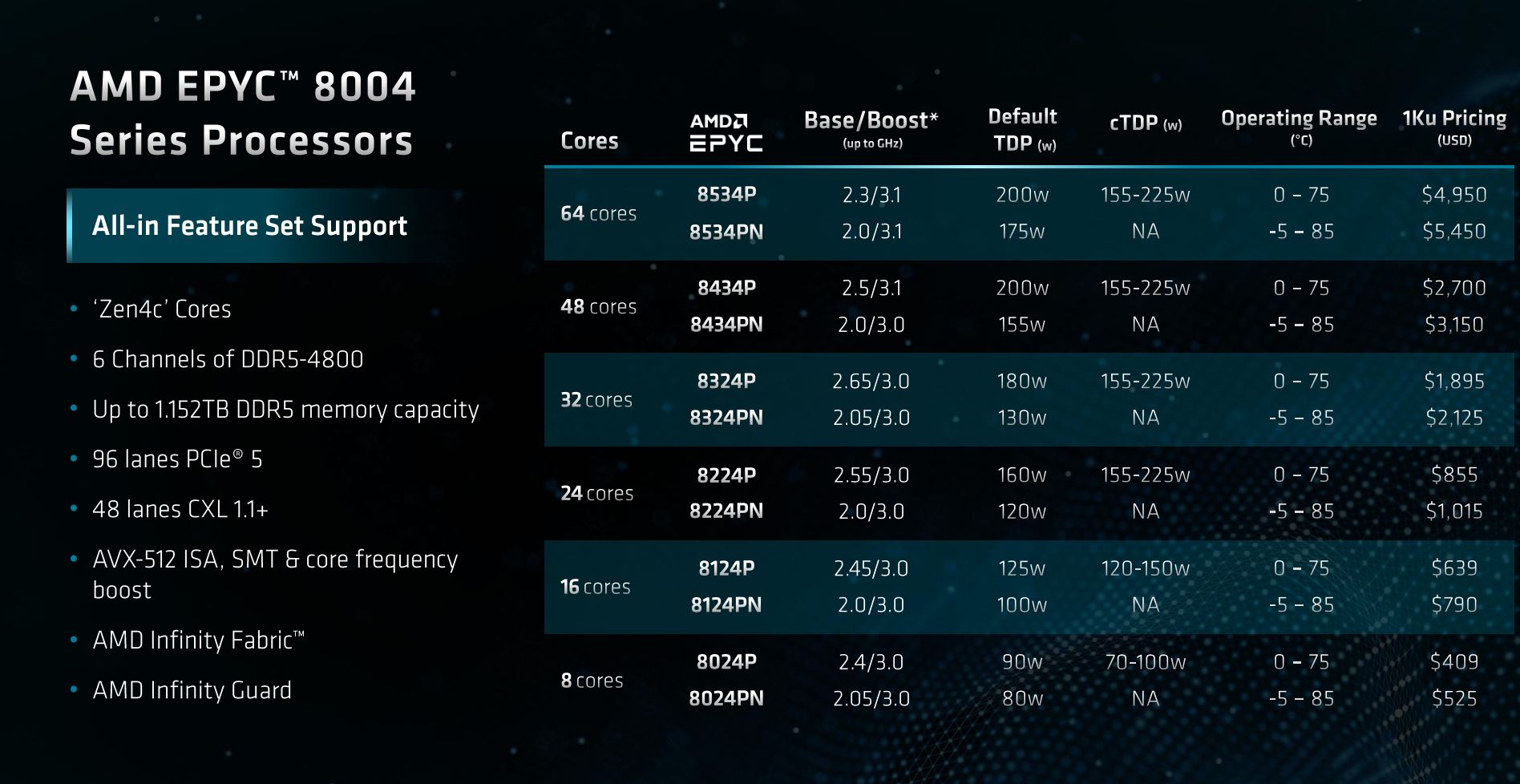 At launch, the six-CPU Siena stack offers a sensible array of chips. All are uniprocessor configurations, it is worth knowing, but there really is no need for 2P capability for the intended use cases. You'll notice a number of processors with an 'N' suffix denoting them being particularly suited to edge computing through NEBS compliance.
The purpose of Epyc 8004 Series is to combat myriad Intel Xeon D processors that have been making hay while AMD has focussed on high-performance designs first. Filling the sub-32-core stack with affordable, energy-conscious offerings has been a long time coming, and we're excited to see how this mass-market landscape shakes out. Our only reservation is with AMD not releasing any Siena processors with even lower TDPs; Xeon has multiple designs below 45W.
Citing immediate design wins, AMD says the Dell PowerEdge C6615, Lenovo ThinkEdge SE455 and Supermicro WIO system will be home to Siena systems.