Jump to: Installation | Performance | Conclusion
Every PC component manufacturer worth its salt needs to have an all-in-one liquid cooler in the product stack. Creating an AIO is simple enough – partner with a well-known ODM and then add the requisite bells and whistles, plus a decent warranty.
It's a formula we've seen work for numerous brands over the years, but some like to be more adventurous than others. The big names, in particular, are inclined to embellish such coolers with lots of eye candy, and they don't come much bigger than MSI.
The Taiwanese firm's flagship MEG CoreLiquid S360 carries a £250 price tag that puts it firmly in enthusiast territory.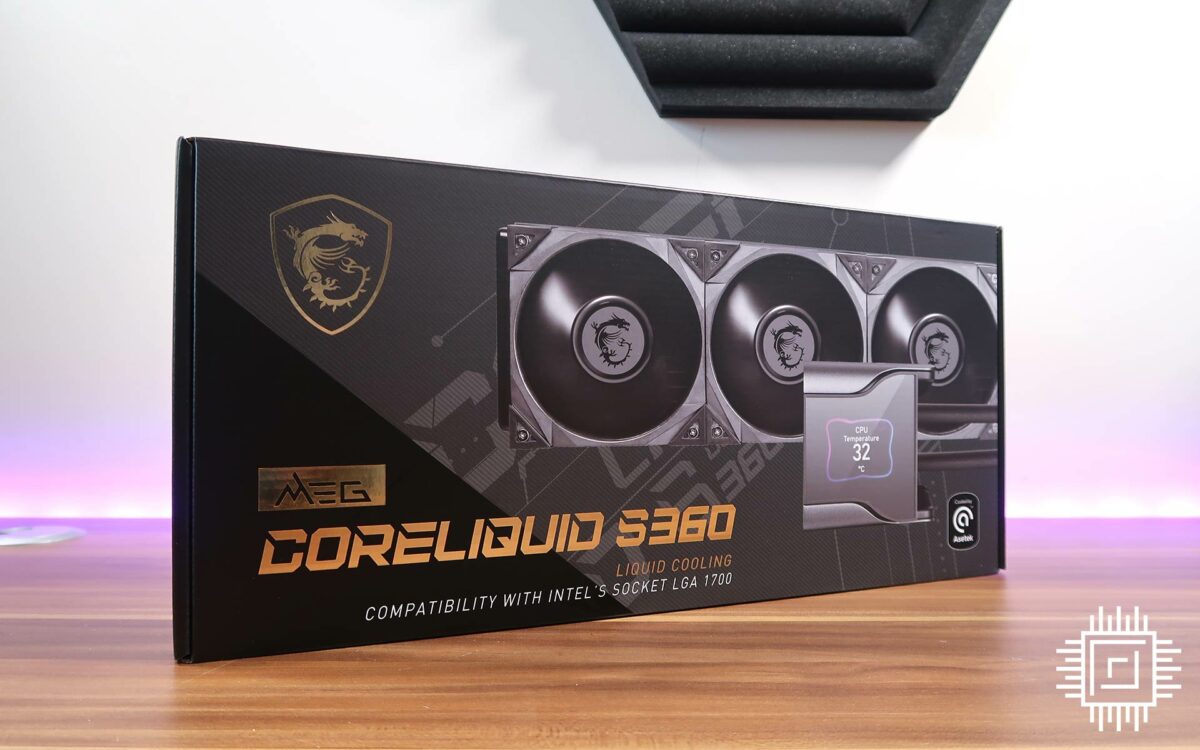 Most users would gawk at such a solution. You could buy a six-core Intel Core i5-12400 processor and, say, a be quiet! Shadow Rock 3 cooler, and still have change from a £250 budget. But that's beside the point, isn't it? MSI's CoreLiquid Series is all about maximum cooling and unmistakeable bling, irrespective of cost.
To that end, MSI follows the industry trend of integrating a small display into the CPU block. The 2.4in IPS panel can be used to display system stats such as CPU temperature or fan speed, and also offers an easy means to customise your rig with gifs or personal logos. A neat trick, yet while MSI's accompanying software is easy to use, the display doesn't quite offer the wow factor we'd anticipated – more on that later.
Continuing the high-end feel is a trio of 120mm Silent Gale P12 fans worth around £25 a pop. Each four-pin blower touts a maximum airflow of 56.2CFM at a top speed of 2,000RPM, and we're told the liquid-crystal-polymer fan blades are positioned at an optimal 32­° angle in order to retain 58 per cent of airflow. Fans are surprisingly void of any RGB lighting, but what matters more to us is the use of a hydro-dynamic bearing and chunky rubber mounts in each corner. As our benchmarks will soon demonstrate, noise levels are kept nice and low at all times.
Comprehensive out-the-box compatibility is another feather in MSI's cap. Whereas rivals are scrambling to ship LGA1700 adapters, MEG CoreLiquid S360 supports all the latest Intel and AMD sockets as standard. That includes Threadripper, too, though you will need the bracket supplied with the oversized AMD chip. Warranty is a standard five years, which is good to see.
What's missing? Well, as with most Asetek solutions there's no spare thermal paste included in the bundle – all you get is what's pre-applied to the copper contact plate.

Show your support for impartial Club386 reviews
Club386 takes great pride in providing in-depth, high-quality reviews built on honest analysis and sage buying advice. As an independent publication, free from shareholder or commercial influence, we are committed to maintaining the standards our readers expect.
To help support our work, please consider making a donation via our Patreon channel.
Installation
Ease of use is paramount to any CPU cooler, and MSI's setup process couldn't be much simpler. Installation on our AM4 test platform was merely a case of removing the motherboard's stock brackets, fixing the supplied standoffs to the existing backplate, and then securing the CPU block on top using four thumb screws. It's that easy.
Pre-applied paste helps remove any guesswork, however there are a fair few cables to contend with. These include SATA power, motherboard USB, a three-pin CPU fan header, and a three-way splitter used to drive the bundled fans. Keeping it all tidy requires a bit of work, but keeping clutter hidden from view is aided by the CPU block's large, removable top cover.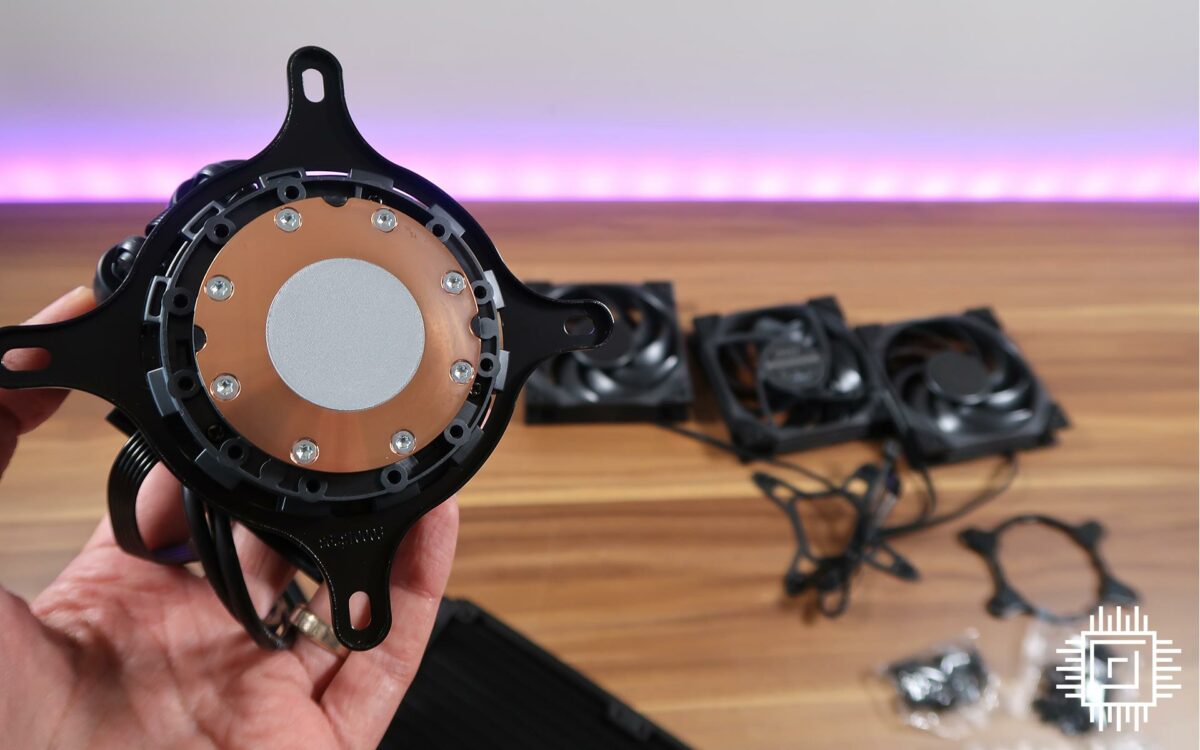 Secured by magnets, the plastic top cover comes away with ease, laying bare the 2.4in LCD display while providing a clear path to mounting screws. The entire block is a chunky assembly, but MSI puts the space to effective use. Behind the display, alongside the 7th Gen Asetek pump, is a 60mm embedded fan intended to cool nearly VRMs and motherboard components. We've seen other such implementations suffer from horrendous noise; thankfully the small fan in use here is barely noticeable, even in a quiet build.
400mm sleeved tubing emanates from the pump's side via articulated fixings and attaches to an all-black 394mm x 120mm x 27mm aluminium radiator. Do note that the display can be rotated through software to suit your orientation of choice. Factor in decent tubing length and installation ought to be a doddle in most chassis.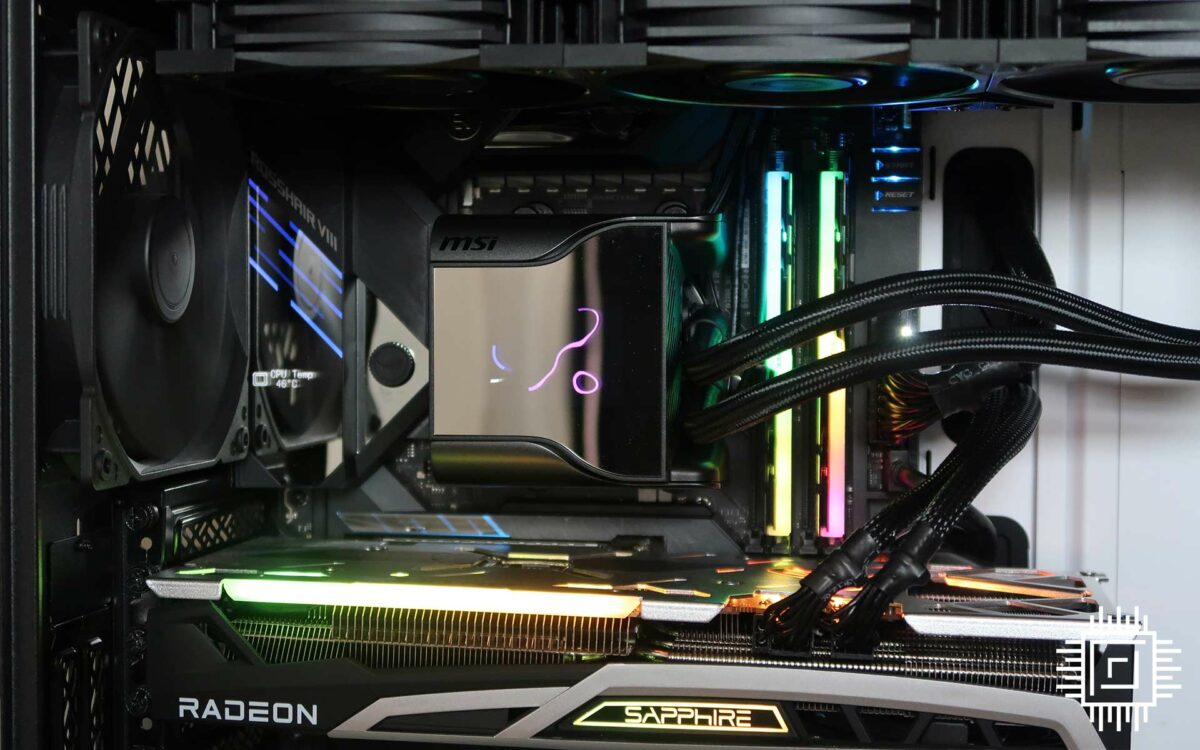 So how about that display? Well, given that it's CoreLiquid S360's signature feature, we've come away a tad disappointed. The 2.4in panel isn't bad, per se, and offers good customisation, but it is lacking in the brightness department and is far more muted than promotional pictures would have you believe.
A couple of factors contribute to this shortcoming. Firstly, the LCD panel doesn't offer the level of contrast required to make visuals pop. Secondly, the huge mirror-like top cover makes the underlying 2.4in display appear tiny in comparison – you end up with a small display area and a massive border, whose highly-reflective finish further dampens the display's already limited brightness.
MSI's panel certainly doesn't offer the vibrancy of, say, an NZXT Kraken, and by default the display repeats a nondescript pattern that serves little purpose. To get any meaningful visuals you'll need to download and install the MSI Center app.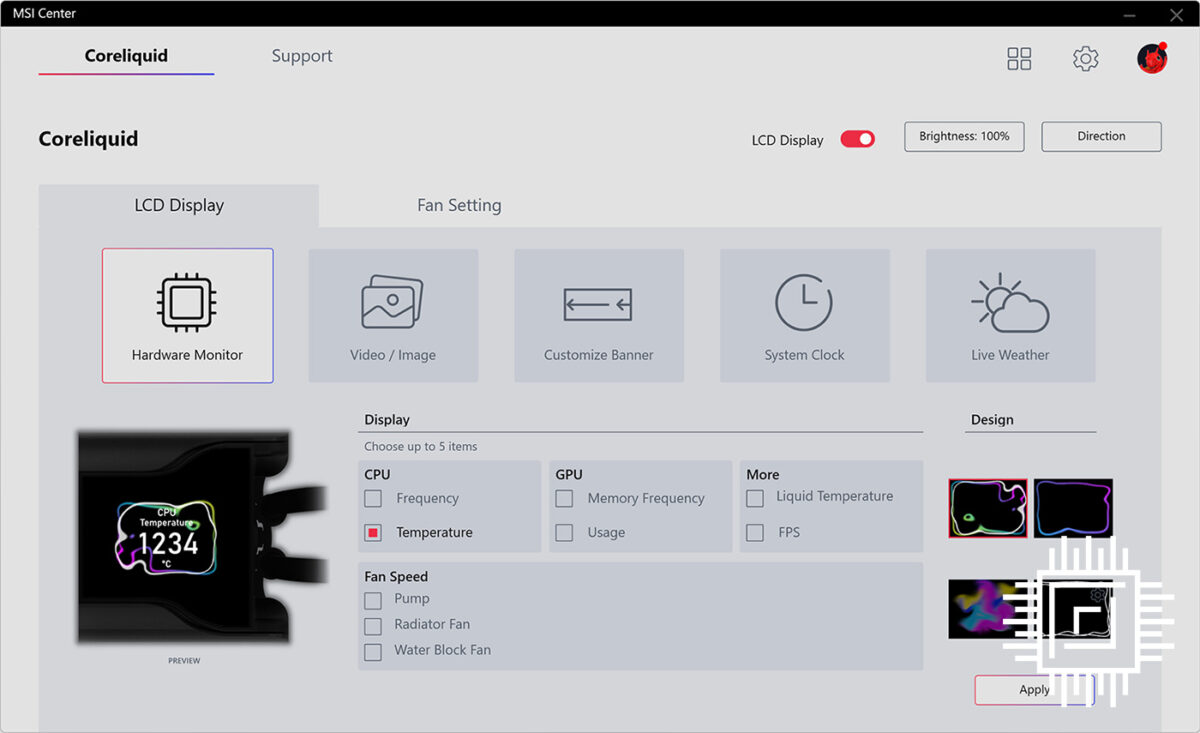 Simple to setup and clean in presentation, MSI Center covers most of the essentials without pushing the boat out. When it comes to displaying system stats, the LCD can be configured to cycle between commons metrics such as CPU temperature, GPU usage, game FPS or fan speed. Users also have the option to upload their own videos or images, though MSI's software is finickity when it comes to file formats; .png isn't supported, and though you're good to go with .jpg, .bmp or .gif, .jpeg isn't recognised.
Being able to display the time or local weather is a nice touch – though it's a shame time isn't available in a 24-hour format – and the software also offers decent fan-speed customisation. Three predefined profiles are available – Silent, Balance (default) and Game Mode – and a customise profile lets users define their own radiator, pump and water block fan speeds. The basics are there, but there's no option to save multiple custom profiles, and erring on the side of caution, radiator fan speed is fixed to a minimum of 70 per cent when core temp exceeds 80°C.
Performance
CoreLiquid S360's performance credentials are examined on the Club386 Ryzen 9 5950X test platform. Performance is compared to a 240mm Sapphire Nitro+ S240-A and a 280mm Corsair iCue H115i Elite Capellix. All coolers are tested with fan speeds configured to 600, 1,200 and max RPM. We record noise output at each setting and log temperature during an extended multi-core run of Cinebench R23.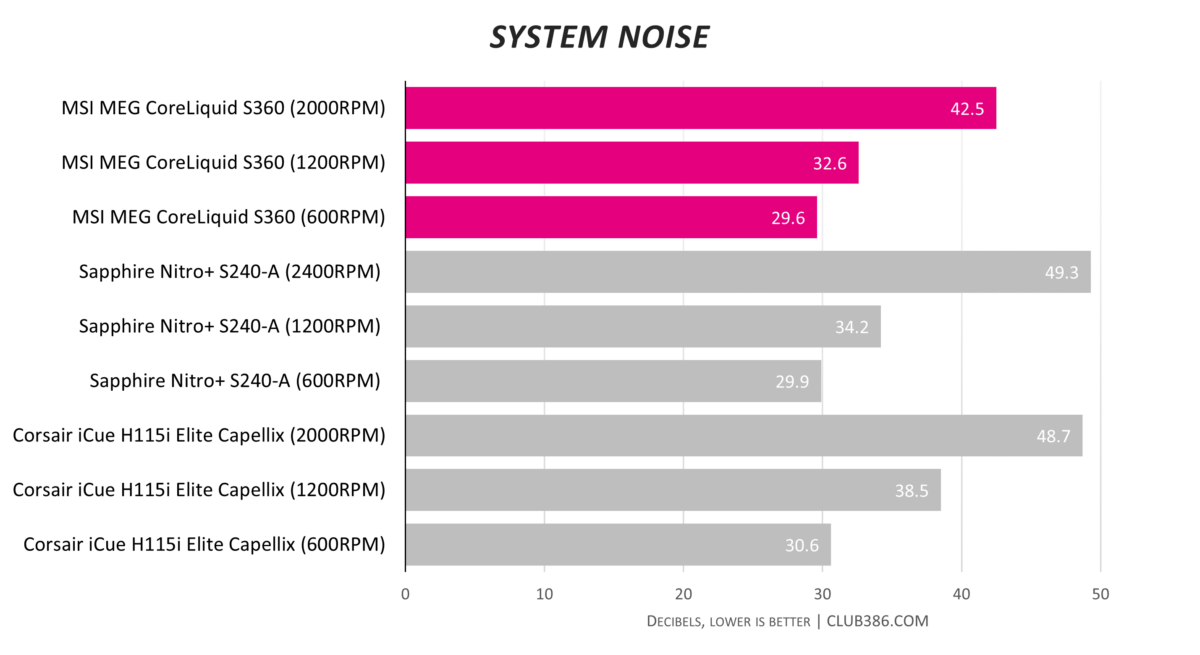 MSI's premium option gets off to an impressive start. The triple-fan setup runs quieter than the competition across all three speeds, and the Silent Gale blowers live up to their billing; the cooler is practically inaudible at 600RPM and remains wonderfully quiet at 1,200RPM.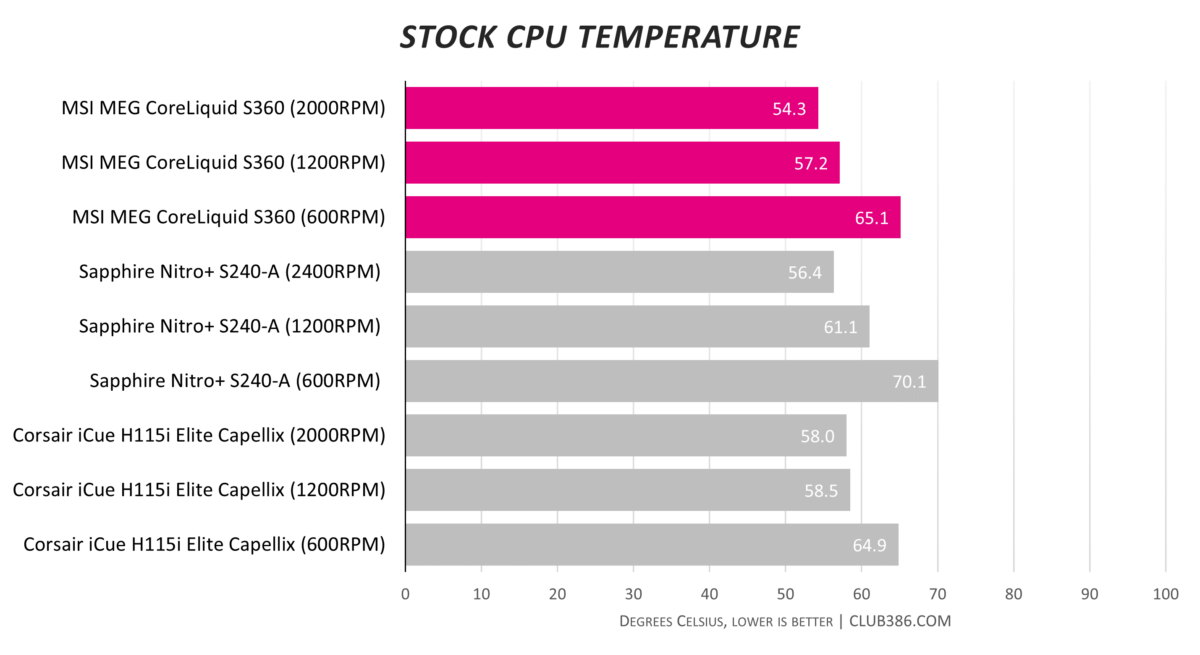 The larger radiator has benefits, too. If you have room for a 360, performance typically edges ahead of 240 and 280 alternatives. There's not a great deal in it, but under-load results are about as good as it gets for a closed-loop, all-in-one solution.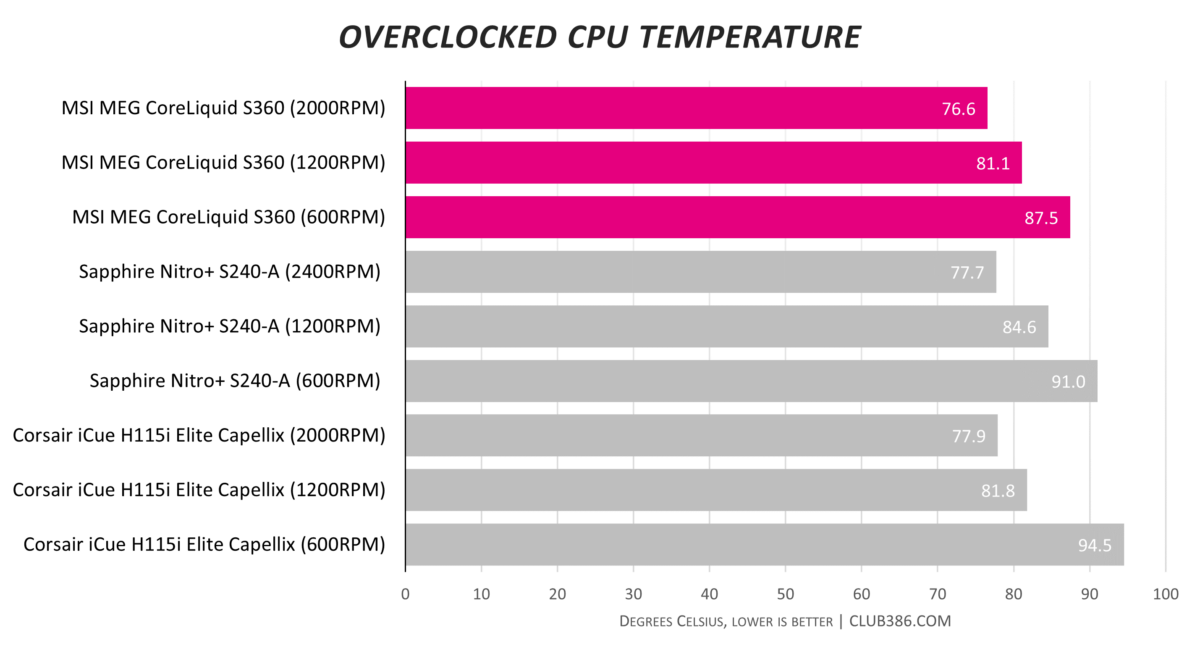 Apply 1.3V and a 43x multiplier across all 16 cores, and excess heat pushes the coolers closer to the limit. It's in this scenario that lavish liquid cooling make sense, and the MSI MEG CoreLiquid S360 delivers some of the lowest temperatures we've seen thus far.
Conclusion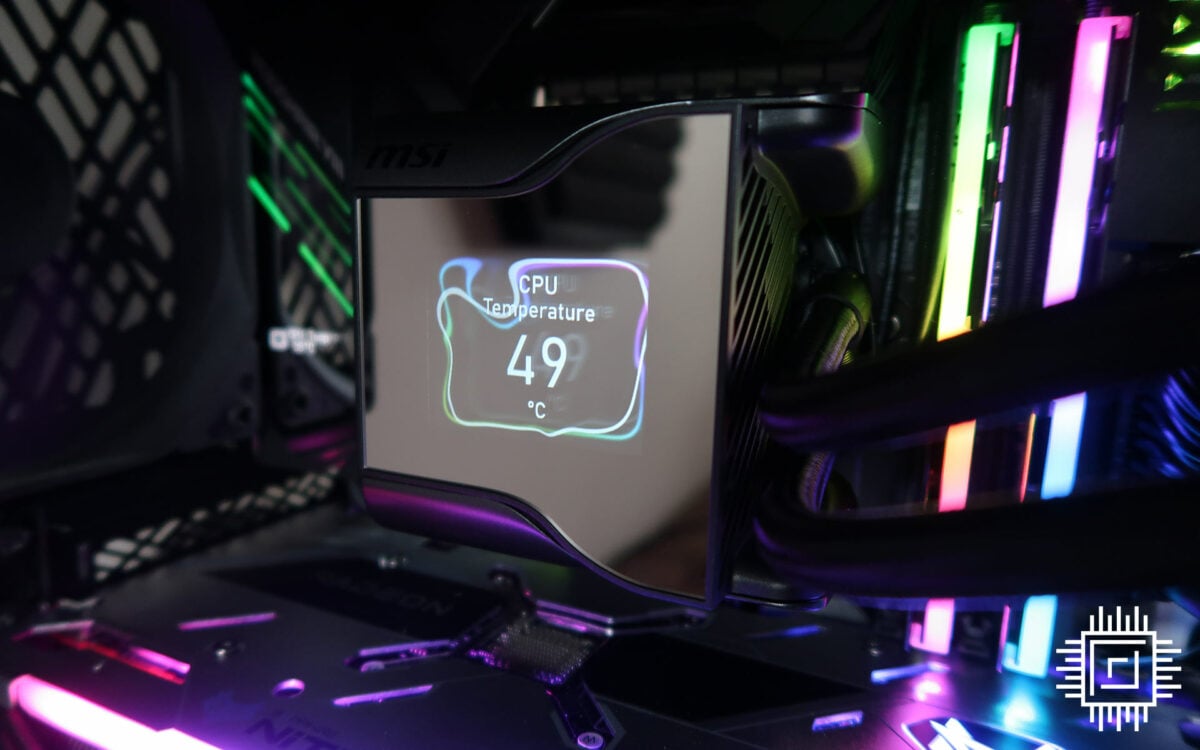 MSI's MEG CoreLiquid S360 is the epitome of modern-day liquid cooling. Built on the tried-and-trusted 7th Gen Asetek platform, the closed-loop cooler marries a 360mm radiator with a CPU block outfitted with all the trimmings.
These include a dedicated 60mm VRM fan and rotatable 2.4in LCD display offering effortless customisation. Simple installation and top-notch performance are easily achieved, yet the cooler is one small tweak away from all-round excellence; the display needs to be bolder and brighter.
There's no shortage of competition in the high-end AIO market, and though MSI has the basis of a solid cooler, a more impactful OLED would help justify the £250 fee.

Verdict: competent in most regards, the CoreLiquid S360 is a top performer in need of a brighter display.
Pros
Excellent performance
Simple installation
Easily customisable
Quiet fans
Cons
Display lacks vibrancy
No spare thermal paste
Club386 may earn an affiliate commission when you purchase products through links on our site. This helps keep our content free for all. Rest assured, our buying advice will forever remain impartial and unbiased.