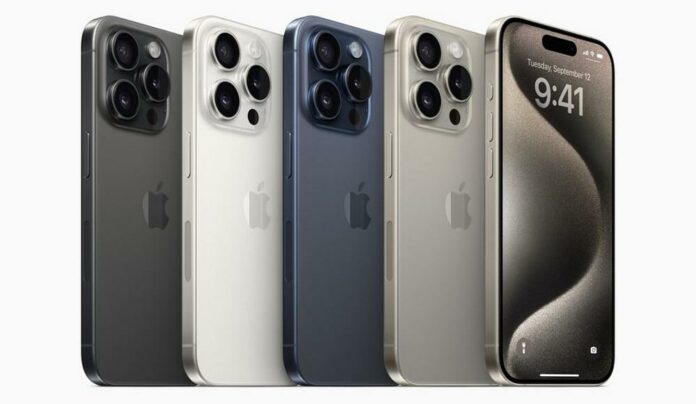 Apple has announced the iPhone 15 Pro and iPhone 15 Pro Max featuring the A17 Pro system on chip (SoC) manufactured using a 3nm node and boasting hardware-accelerated ray tracing.
iPhone 15 Pro and 15 Pro Max will be available in black titanium, white titanium, blue titanium, and natural titanium finishes, flanked by a titanium frame said to bring more rigidity and durability while reducing weight. In fact, the new Pro Max is 19g lighter than the 14 Pro Max's 240g. For me, it's going to be natural titanium, never mind, I just remembered I can't afford it. Jokes aside, I must say these colours look amazing.
Additionally, iPhone 15 Pros boast slimer bezels allowing them to be a tiny bit smaller compared to last year's flagship models. Personally, I won't feel any difference, so I am calling it a tie.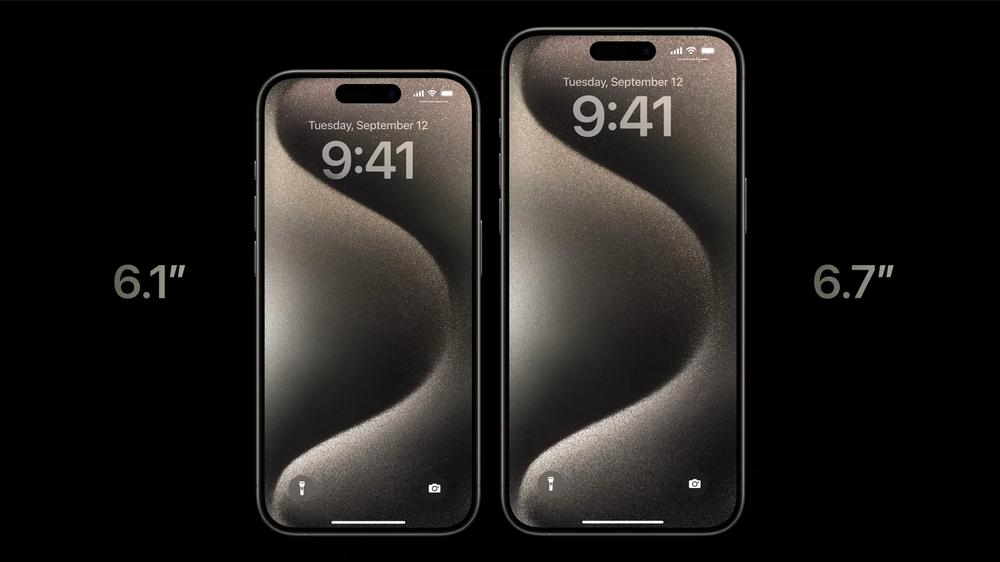 On the inside, these Pro models leverage Apple's latest A17 Pro SoC offering up to 10 per cent uplift over last year's A16, with 20 per cent more GPU power thanks to an extra GPU core. The GPU portion that has been revisited, now supporting technologies such as mesh shading and hardware-accelerated ray tracing – like flagship Android rivals rocking the Snapdragon 8 Gen 2, for example. The latter is said to deliver four times faster RT than software-based solutions. Moreover, these new models also have AV1 decoding for efficient and fast video streaming.
While we are at it, Apple has also unveiled some AAA games coming to the platform from which we note Assassin's Creed Mirage, Resident Evil 4, and Resident Evil Village. We are very intrigued to see how they perform on a mobile chip.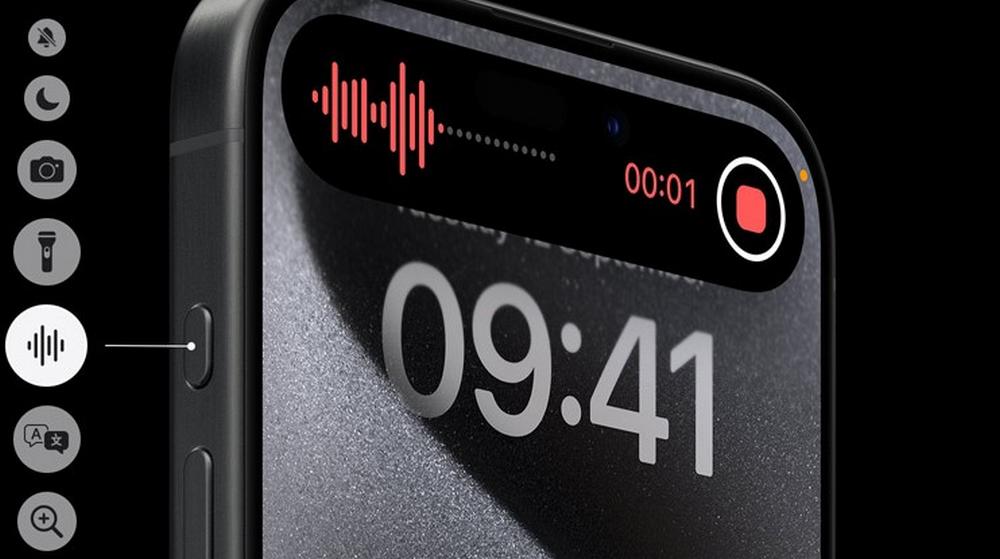 From the outside, alongside the ceramic reinforced screen and USB Type-C connection, the 15 Pro models swap the silent mode switch with what is called an Action button, which is a sort of shortcut, configurable to start the flashlight, camera, voice recording, and more – pretty much anything that can be done via Siri.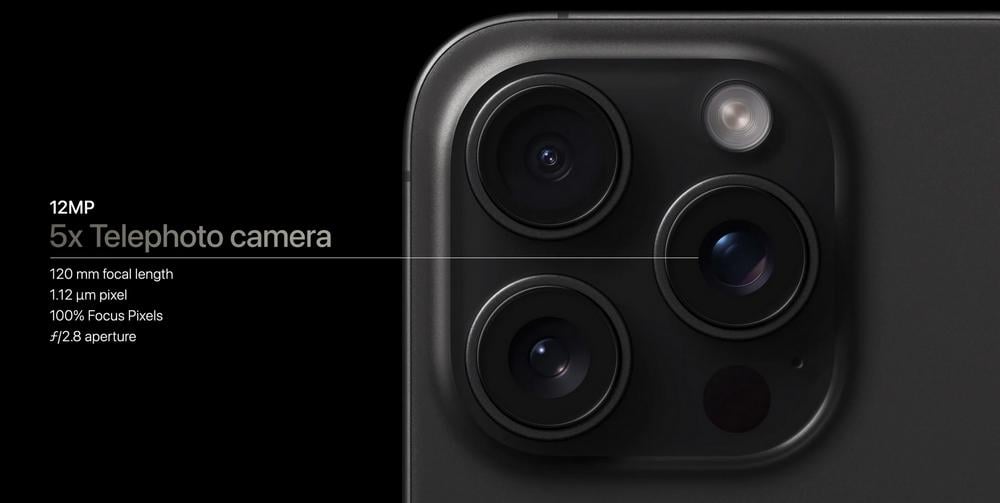 In the photography department, 15 Pro and 15 Pro Max have been upgraded to a 48MP main camera with a larger sensor alongside a 12MP ultra-wide and 12MP 3x optical or 5x telephoto sensor – the latter, somewhat unfortunately, exclusive to the flagship Pro Max, delivering 24MP (4284×5712) photos by default instead of 12MP previously. Coupled with Apple's excellent image processing, we are in for some high-quality shots.
Like the non-Pro variants, these also record 4K60 videos, but now, thanks to USB 3 speed, these files can be stored directly to an external SSD. Finally, Pro models support what Apple calls special videos, a sort of 3D video meant for the Vision Pro headset.
To store these videos, images, and games, iPhone 15 Pro will be available with 128GB, 256GB, 512GB, and 1TB storage capacities, whereas iPhone 15 Pro Max is limited to 256GB, 512GB, and 1TB.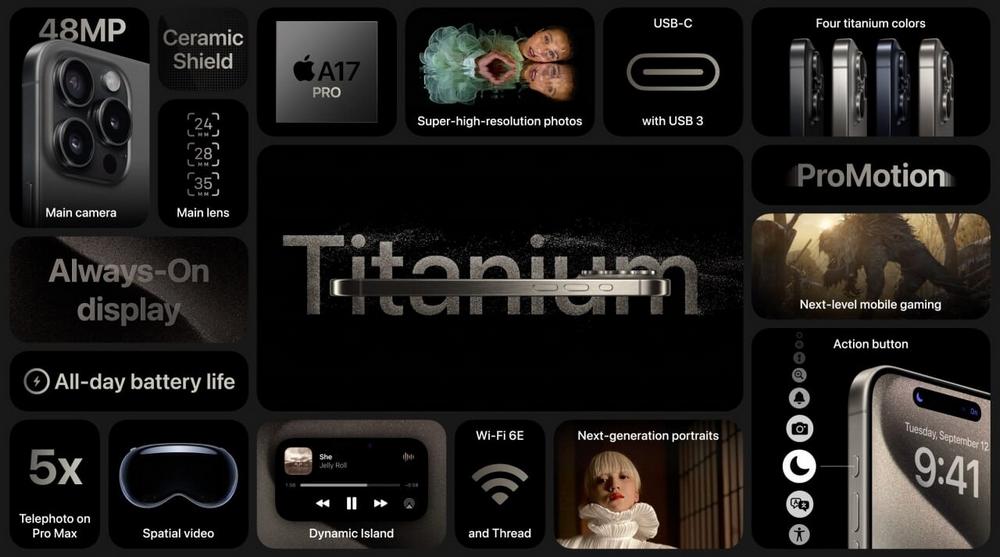 Like the iPhone 15 and 15 Plus, the 15 Pro and 15 Pro Max are also the first iPhones to include a USB Type-C port for charging and data transfer, but this time offering higher speeds reaching 10Gb/s, vastly contrasting with iPhone 14 and non-Pro iPhone 15's lacklustre 480Mbps implementation. Though again, the main benefit of this connector will be fewer cables and chargers to carry around, with the possibility to use the same power adapter / cable for your laptop, headphones, and newly acquired iPhone.
That said, even on the Pro models, Apple is still not offering fast(er) charging, maxing out at 20W, translating to 30 and 35 minutes to recharge an iPhone 15 Pro and 15 Pro Max back to 50 per cent. At least the battery life is somewhat decent, advertised for up to 23 and 29 hours of video playback, respectively, meaning it's possible to go through a day without needing a top-up.
iPhone 15 Pro and iPhone 15 Pro Max are scheduled for release on September 22 priced from £999 / $999 / €1,229 and £1,199 / $1,199 / €1,479, respectively, with pre-orders starting on September 15 at 1:00 pm.