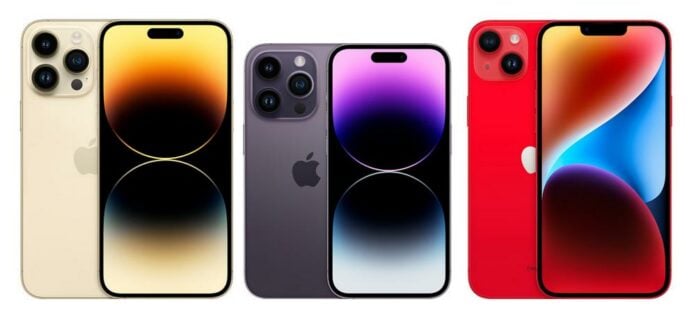 During the highly anticipated keynote, Apple revealed its iPhone 14 range of smartphones, introducing many new features such as Dynamic Island, always-on at 1Hz, and satellite emergency calls.
This year there are four new iPhones – the 14, 14 Plus, 14 Pro, and 14 Pro Max, meaning no iPhone 14 Mini. To no one's surprise, Apple is still unwilling to let go of the Lightning connector, so we find it in all models alongside MagSafe wireless charging.
Starting with the big boys: 14 Pro and 14 Pro Max. The first thing you'll notice when using them is what Apple calls Dynamic Island, which is basically your new way of interacting with notifications. Found around the selfie camera and face ID sensor, this notification space allows you to interact with new alerts in a new seamless manner, while including more information, if needed.

iPhone 14 Pro Max
Starting at £1,199, the 14 Pro Max comes with a 6.7in Super Retina XDR display boasting a 2796×1290 resolution running at 120Hz, capable of 1,600nits of brightness in HDR and 2,000nits outdoors. Inside there's an Apple's A16 Bionic processor built on a smaller 4nm architecture compared to A15's 5nm. Storage can be configured from 128GB up to 1TB, so there is something for everyone.
The new A16 chip has 16 billion transistors spread through six CPU cores, five GPU cores, Apple's neural engine, and more. This makes it the fastest chip ever in a smartphone, according to Apple.
The biggest change for many is the upgraded triple-lens camera setup which includes a 48MP main camera (up from 12MP last year) in a quad-pixel sensor mode. This means that the phone is combining four pixels into one to improve detail and reduce noise. A 12MP ultrawide doubling as a macro camera plus a 12MP telephoto with a much wider F 1.78 aperture (versus 2.8 previously) allows the pass-through of more light. These new cameras come with a new algorithm called Photonic Engine, which improves low-light picture quality by up to 49 per cent, again according to Apple.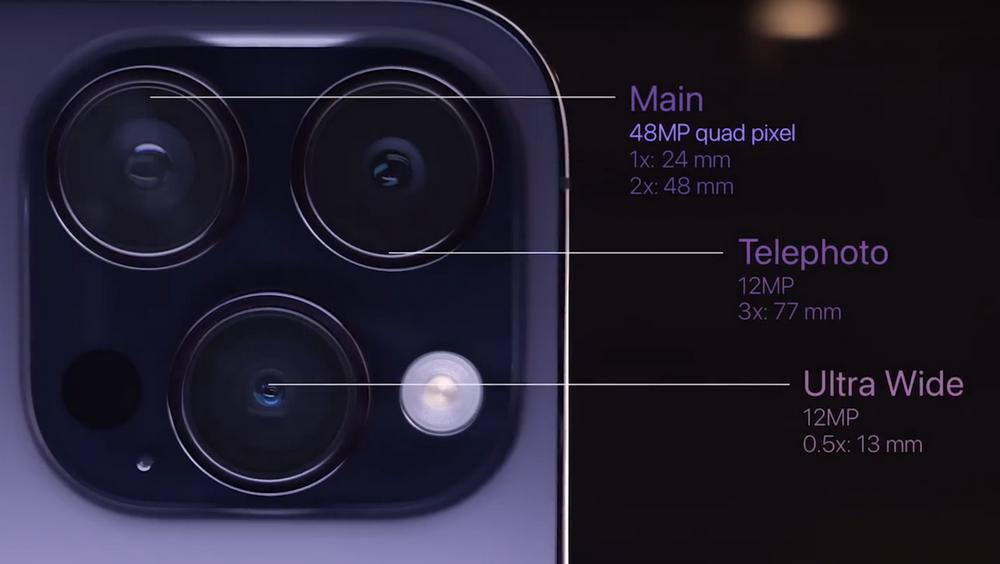 iPhone 14 Pro
Going one step down, priced at £1,099, we find the 14 Pro, which is a 6.1in phone using the same Retina XDR display but at a lower 2556×1179 resolution with 120Hz refresh rate, also capable of 1,600nits of brightness in HDR and 2,000nits outdoors. Once again, inside we find Apple's A16 Bionic SOC and from 128GB up to 1TB of storage. This one keeps the same camera system, too.
iPhone 14 Plus
Moving further down, coming in at £949, we meet the 14 Plus, featuring a very similar Retina XDR display with a slightly lower resolution of 2778×1284, but missing the very important 120Hz refresh rate, alongside ProMotion technology, and Dynamic Island. Peak brightness in HDR is down, too, at 1,200nits be it inside or outside. But that's not all, Apple uses its older A15 processor with a maximum storage of 512GB. Ah, and you also lose the 48MP camera.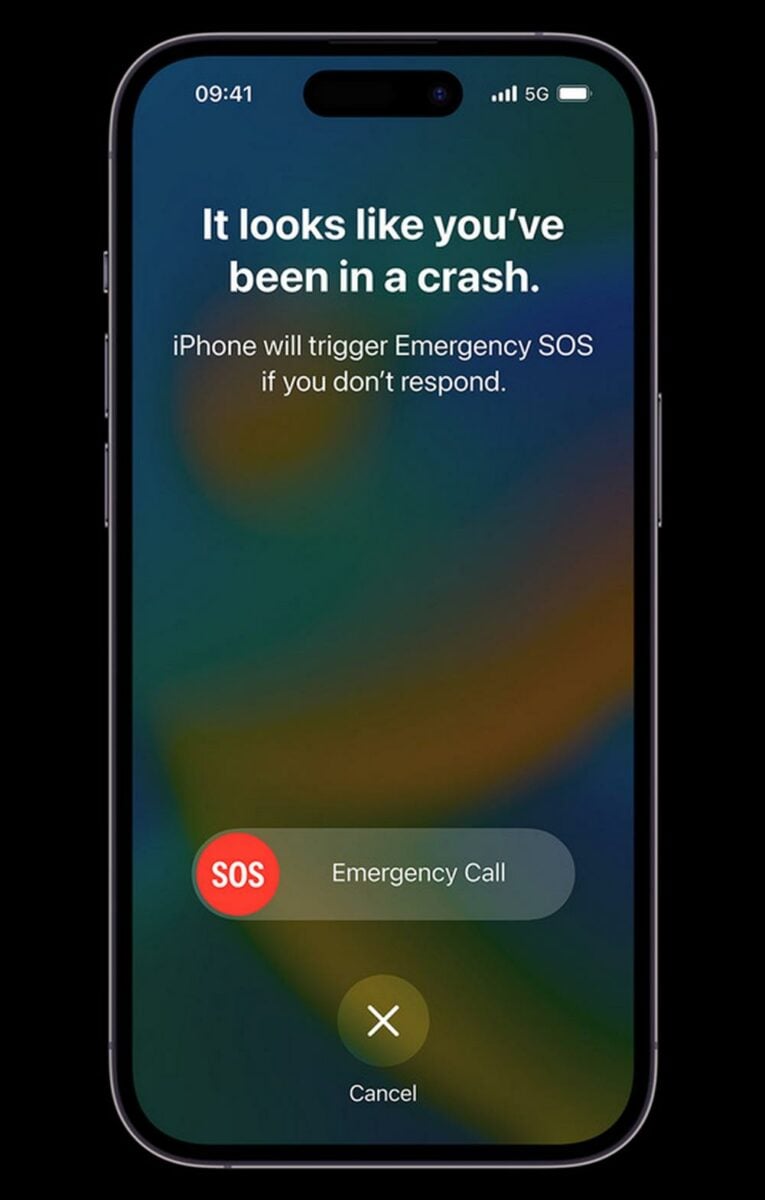 iPhone 14
The lowest spot, which is still an expensive £849, is covered by the iPhone 14, which reverts to a 6.1in Retina XDR display at a 2532×1170 resolution and 60Hz refresh. Like the one above, it's missing ProMotion technology, and as a result, Always-On display mode too. That's a bit disappointing at a time when you can find phones from other vendors costing three times less yet featuring 120Hz screens.
The gap between an iPhone Pro and non-Pro has never been so important. Where previously these models diverged only on things like camera capabilities and multitasking performance, this time around the entire SOC is different and many features are missing from the iPhone 14. That's not to say it's a bad phone, of course, but this generational leap is small for the standard model.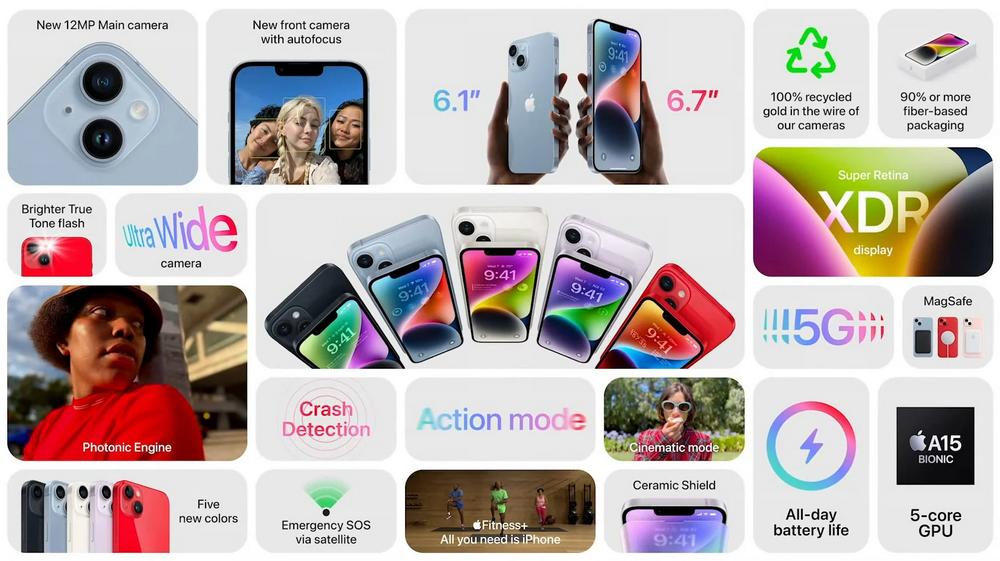 On models supporting ProMotion adaptive refresh (e.g. 14 Pro Max), screens are now able to go from 120Hz down to 1Hz, boosting battery efficiency with the Always On mode. Bringing us to our last point battery life, here the brand advertises 29 hours of video playback on the 14 Pro Max, 23 hours on the 14 Pro, 26 hours on the 14 Plus, and 20 hours on the 14.
Finally, we have two brand-new safety features called Crash Detection and SOS via satellite. The former detects car accidents using phone's gyroscope and accelerometer and calls 911, whereas the latter, only available in US and Canada for now, allows you to deliver critical information to emergency services in places where Wi-Fi and cell service are unavailable. Fantastic additions that let's hope no one will ever have to use.