Jump to: Specification | Performance | Conclusion
AMD's release of Ryzen 7000 Series CPUs and accompanying AM5 platform, touting a new LGA1718 socket and DDR5/PCIe 5.0, is a natural boon to motherboard makers looking to reinvigorate lineups. Performance X Series chipsets arrive first, and most enthusiast attention veers towards X670 Extreme, which offers the most complete feature set for AMD's nascent chips.
ASRock has a growing reputation in enthusiast-class motherboards most recently evidenced by the Intel Z690 Taichi. Offering distinctive looks and a clean aesthetic, Taichi is rife for an X670E makeover. Lo and behold, that's exactly what the Taiwanese firm has done.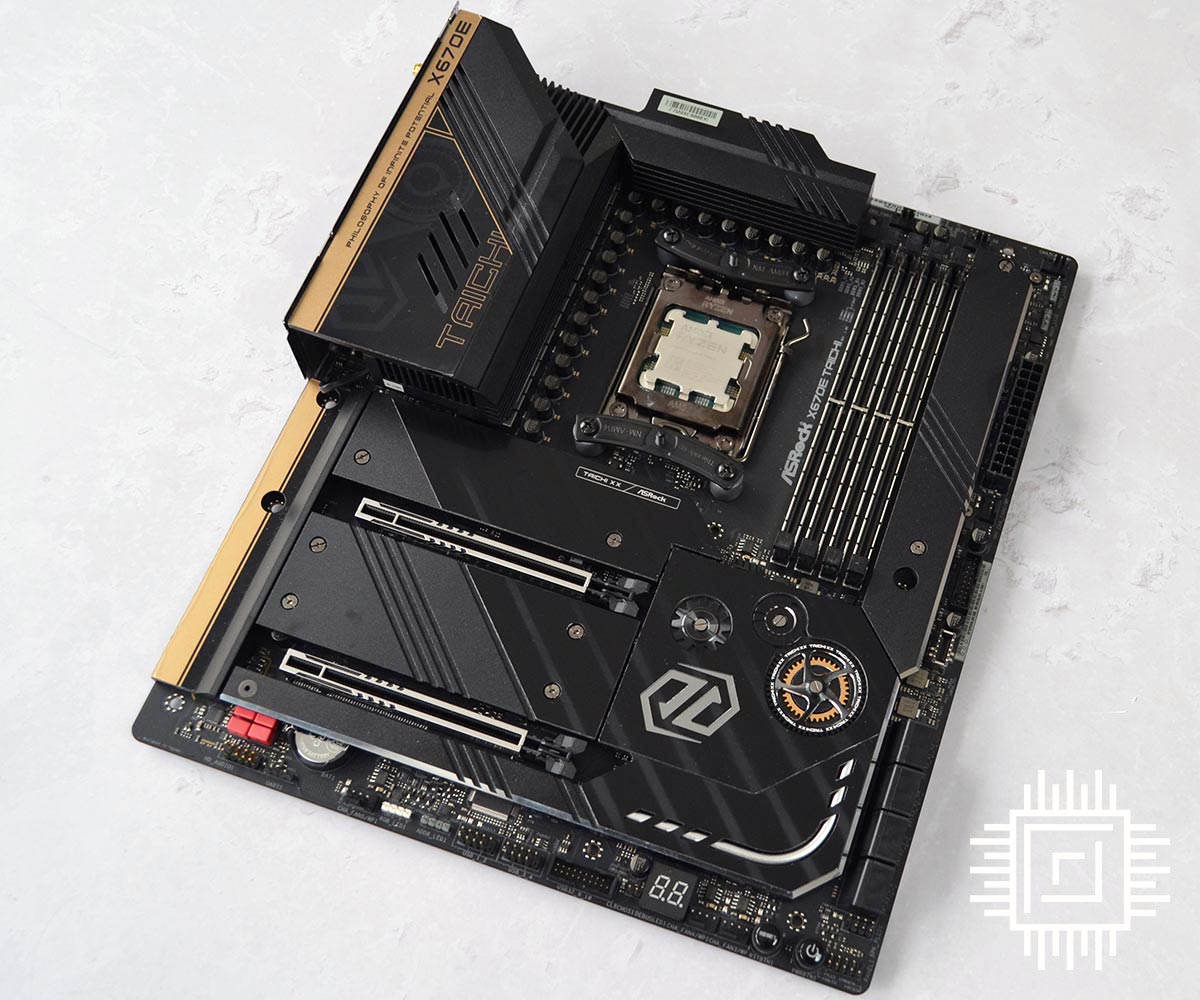 Immediately recognisable as Taichi from the cog design allied to a black-and-gold colour scheme, the board elicits a Marmite reaction. Some in the office love it, others prefer more visual pizzazz. Get past the divisive appearance and ASRock begins to show its worth for users looking to purchase a long-term AM5 board.
Bonkers Power
The 24+2+1-phase (CPU, SoC, memory) power supply is frankly bonkers in a good way, and two sturdy, heatpipe-connected heatsinks keep overvolting shenanigans from causing VRMs too much temperature stress. Renesas is the go-to provider here and this Taichi uses the same RAA 2201054 105A MOSFETs also seen on the Z690 version, though with five more CPU phases this time around. The same company is busy providing the RAA 229628 PWM controller, too.
Let's frame this extraordinary, over-the-top power capability into some form of context. The delivery system is capable of pushing out 2,520A. Run at just 1.1V you're looking at close to 3,000W before the electrical fortitude peters out. Good luck with finding a PSU that size and, more importantly, a chip that can handle anywhere near that level of power before departing to silicon heaven.
As a complete aside, there's a very satisfying click when DDR5 modules are installed. It's so nice that, for no good reason, I installed the memory a couple of times.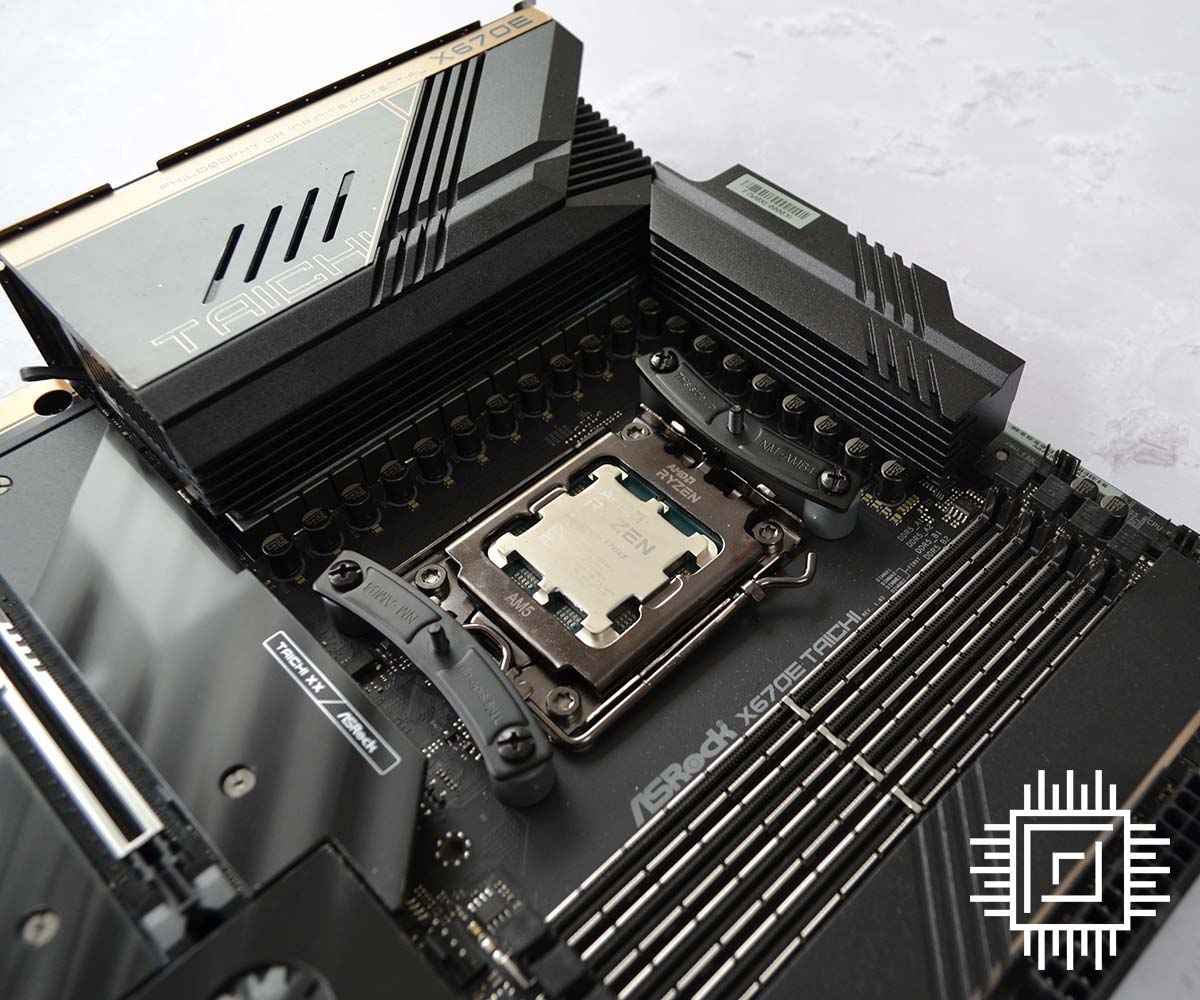 Zooming into the socket area shows AM5 in a closer light. Well-constructed and substantial, the twin VRM heatsinks don't budge a millimetre when pushing and prodding. Underscoring their solidity, one can lift the 2,094g board by grabbing hold of the heatsink alone. Don't try that with cheaper boards! Part of the overall rigidity comes from a large aluminium brace plate on the rear.
Shown with a Noctua AM4/5 bracket in situ, there's plenty of easy-access space around the socket. Our only qualm is the sharpness of the upper-right heatsink; its corner is rife for causing a bit of finger pain if cooler installation isn't done with due care and attention.
While competitors have jumped on the RGB bandwagon and gone silly, ASRock reins-in such efforts for Taichi. The sturdy heatsink/IO section on the left doesn't have any lighting but given this solution's positioning as a top-tier effort costing in excess of £600, ultra-premium features such as an OLED display are conspicuous by their absence.
Moving on down, there is no fan cooling the twin-chip X670E PCH. Welcome news. ASRock takes that opportunity to install RGB on the logo besides the cogs, which don't move on this generation. It's done tastefully, too, and can be switched off if not needed, though a downside of this location approach is lighting's mostly obscured when a dual- or triple-slot graphics card is in situ.
The only other place for baked-in illumination is a number of lightbar-diffused RGBs underneath the SATA ports. Speaking of which, quite why anyone needs eight in this day and age is a mystery. ASRock actually has to install an ASMedia ASM1061 chip for four of the eight ports. No comprende on that choice. For enthusiasts wanting a greater fix of RGB, X670E Taichi has a further four headers – three aRGB, one RGB – dotted in pairs along the top-left edge and bottom.
On first blush, it is right to wonder if ASRock is being overly stingy in only providing what is a basic M.2 heatsink for the uppermost PCIe 5.0 slot. That's true when looking across to the competition, who have chunkier heatsinks designed especially for future hot-running PCIe 5.0 x4 SSDs.
PCIe 5.0 SSDs, We Have You Covered, Literally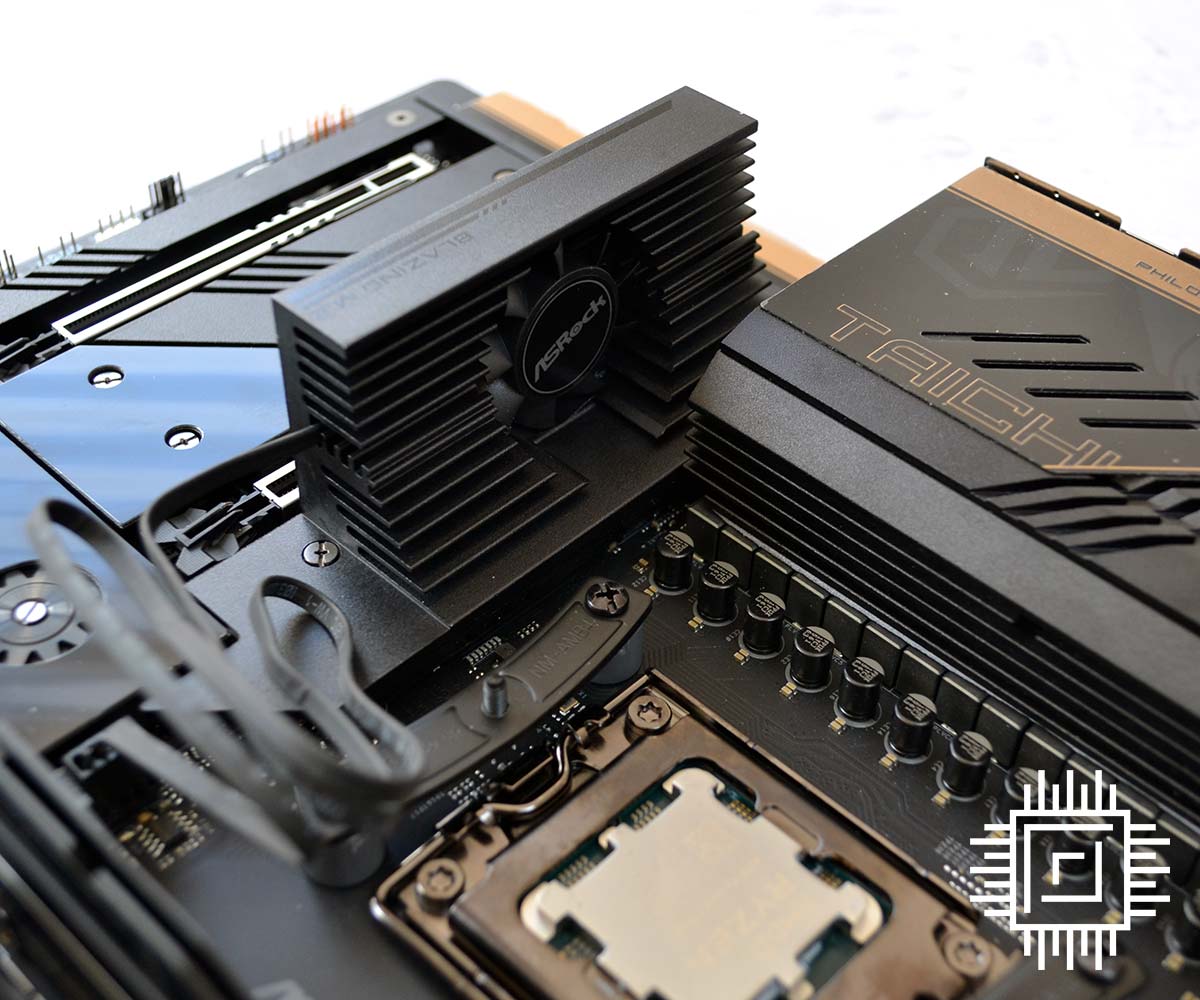 Taichi's secret weapon is a bundled M.2 heatsink that's, well, humungous. Offering, one would imagine, at least 30W of heat dissipation power, ASRock goes all in. To be fair, it looks somewhat weird when installed, as it's an uncommon sight, but brief tests show it reduces peak PCIe 4.0 x4 SSD temperature by a further 8°C compared to the pre-installed version which isn't bad to begin with. Good news is the fan switches off when the board is idling.
The idea is solid but ASRock should shorten the associated cable right down. There's a 4-pin header right next to the M.2 slot, so unless you route the cable down the side to a bottom fan header, it looks ungainly. One to think about, ASRock designers.
Removing the two heatsinks in this section shows both PCIe 5.0 x16 slots running off the CPU. It doesn't bother us there are no PCIe x1 slots as plenty of features are already integrated into Taichi. Being critical, rival Asus has thermal strips on the PCB as well as on the bottom of the M.2 heatsinks, so one can argue ASRock is missing a minor trick here.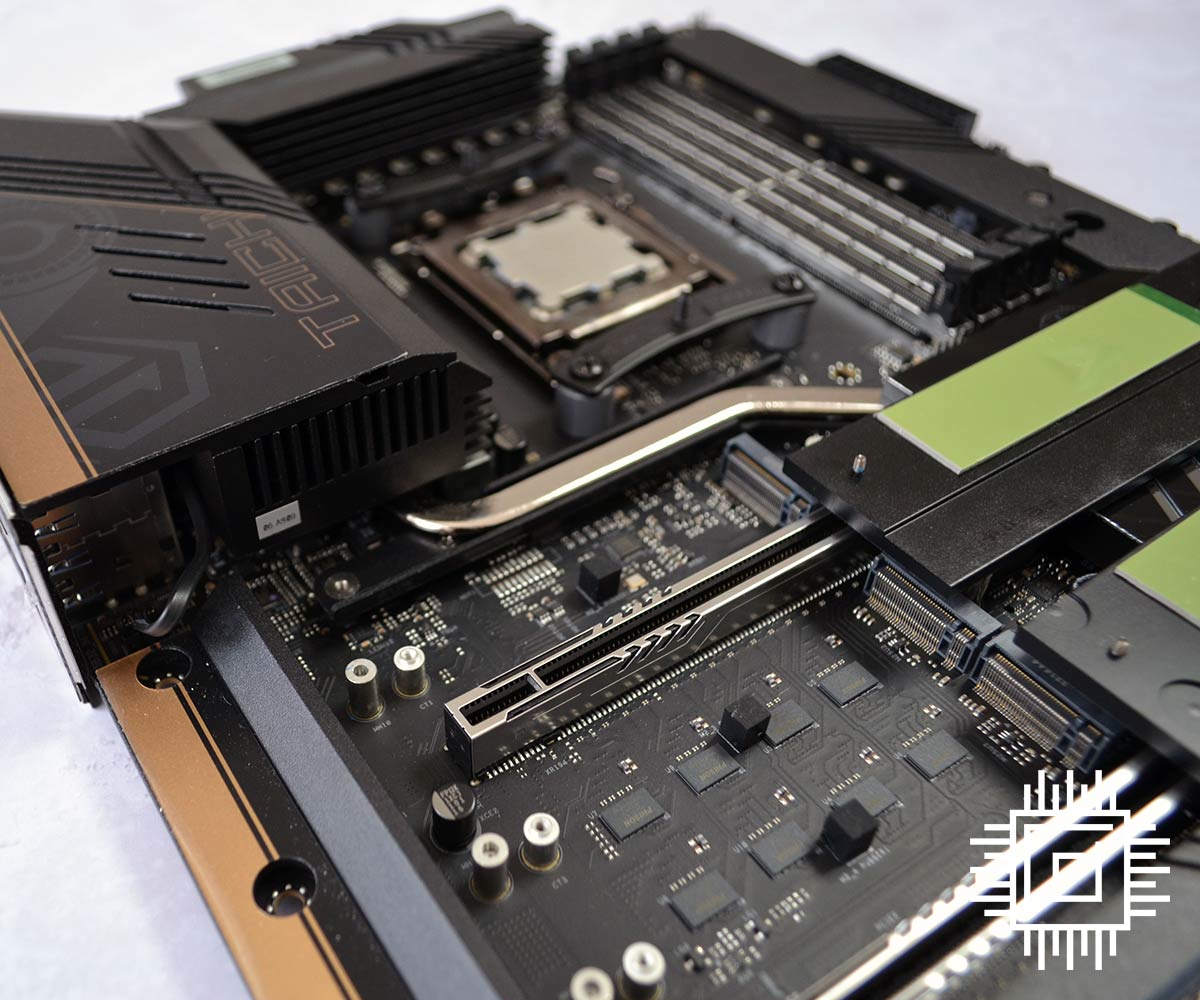 The cabling underneath the I/O section is for an integrated fan rather than lighting. It makes sense to keep active when overclocking. If not, we'd be inclined to disconnect it. Another cable goes towards the PCH but, as you may have guessed, it's for powering RGB.
On top of the discussed PCIe 5.0 x4 M.2, there are three chipset-run PCIe 4.0 x4 slots. Two are clearly located in this section and connect to the second X670 chip which is daisy-chained to the first. The third is to the left of the DDR5 slots and hooks up to the first X670 chip; take another look at the full board picture and you'll see it. Our recommendation is to use the primary PCIe 5.0 first, the one by the DDR5 slots second, and then opt for the pair further down.
Having all these goodies does lead to a wider eATX form factor, which is worth bearing in mind when looking at chassis options. It makes us happy ASRock hasn't tried to stuff the proverbial kitchen sink into a smaller ATX board.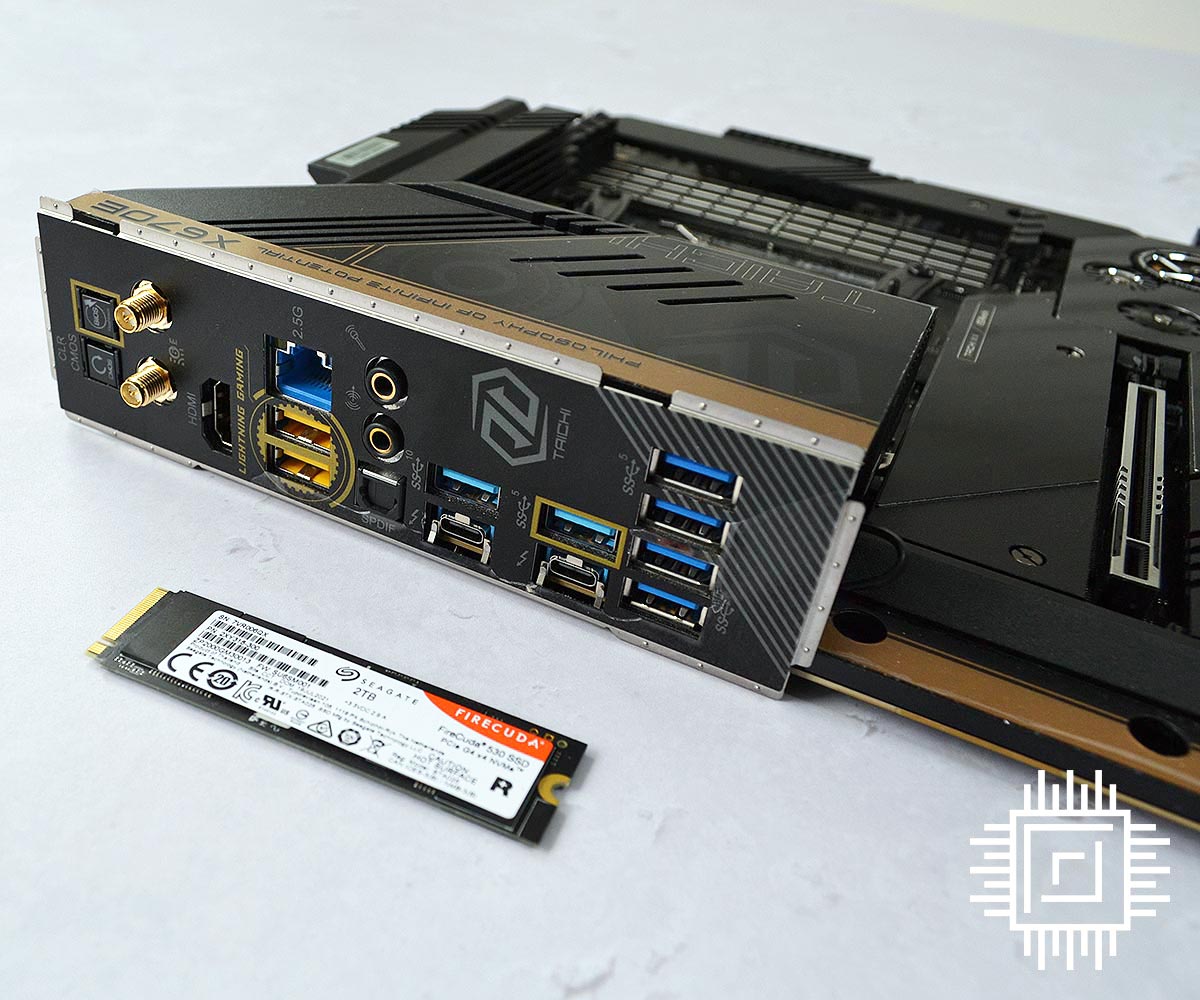 Key standouts on the I/O panel are support for two-port USB 4 shown via the Type-C ports lining the bottom. ASRock implements them by grabbing four PCIe 5.0 lanes from the CPU and then hooking up to an Intel Maple Ridge (JHL8540) chip offering 40Gbps transfers for each. The latest BIOS, v1.07, fully enables Thunderbolt 4 support, by the way.
Of the other ports, five offer USB 10Gbps and a further three dish up USB 5Gbps. ASRock uses Killer for both 2.5G Ethernet and Wi-Fi 6E, though at this price point, we don't think asking for 10G Ethernet is too much – the Asus ROG Crosshair Extreme, for example, touts both 2.5G and 10G LAN ports.
No such qualms on the audio front, with ASRock going with the excellent combination of Realtek ALC4082 codec and ESS 9218 DAC, but we sure wish the company could do something about the red caps on the PCB because they look out of place on an otherwise sleek board.
It's worth knowing ASRock does offer an alternative Taichi in the form of the unique-looking Carrara edition if the standard colourway doesn't tickle your style buds.
Specification
| | ASRock X670E Taichi |
| --- | --- |
| Price | £630 |
| Memory | DDR5 |
| CPU power delivery | 24-phase 105A |
| M.2 | 4 (1 PCIe 5.0, 3 PCIe 4.0) |
| SATA | 8 |
| USB 20Gbps | 1 (board) |
| Total rear USB | 10 |
| LAN | 1 2.5G |
| Physical PCIe | 2 x16 PCIe 5.0 |
| Audio | ALC 4082 / ESS9128 DAC |
| RGB | Yes, two sections |
| USB 4 | Yes, two ports |
| Thunderbolt 4 | Yes, same ports as above |
| Wi-Fi | Killer Wi-Fi 6E 802.11ax |
| Fan headers | 8 |
| Video output | Yes, HDMI 2.1 |
| Form factor | eATX |
Firmware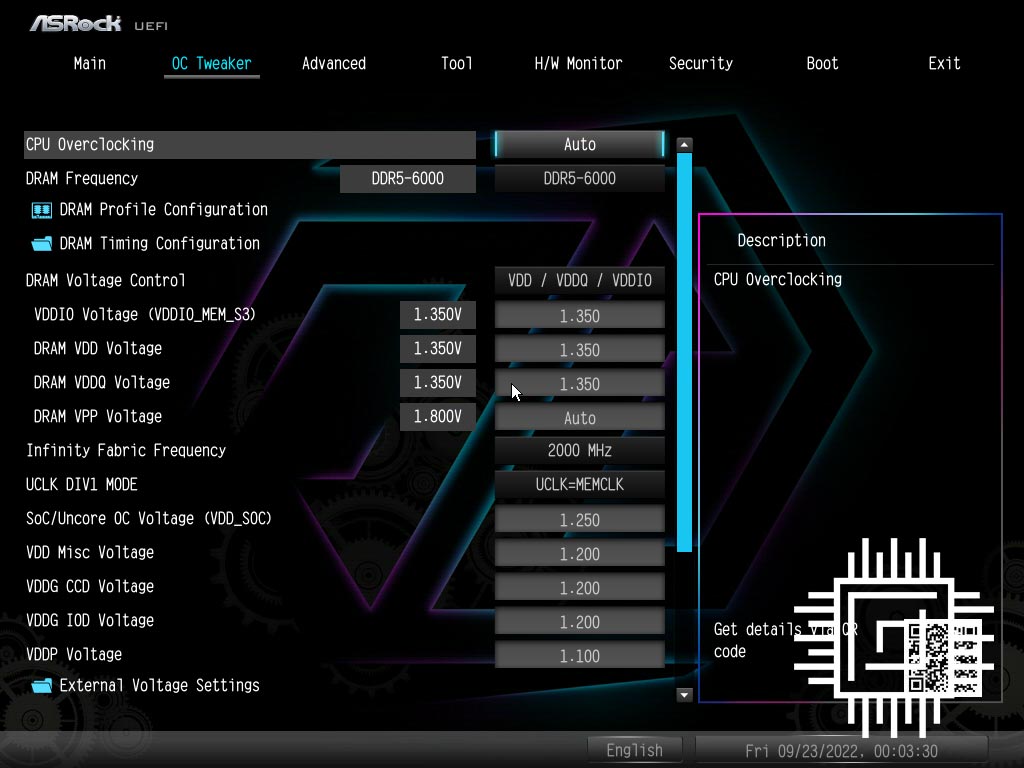 ASRock's engineers have been fine-tuning performance enough that a flurry of BIOS releases has presaged the review. Appearance and use are typical ASRock insofar everything is simply laid out and easy to get to, though a number of sub-menus and tweakable settings take some getting used do. A nice feature is the ability to find any saved BIOS update without manually looking for it, though do know the attached USB stick needs to be in FAT32 format – exFAT, for example, isn't picked up.
You may have read reports that initial BIOS boots take a while. That much is true, as the board cycles through POST codes – staying on '15' for an inordinately long time – but does eventually boot. We timed the process at around three minutes when changing processors over, and ASRock says it is working hard to reduce this process. Once configured, however, the booting sequence is more or less normal.
Performance
The two AMD platforms used a Ryzen 9 7950X whilst Intel Z690 leveraged a Core i9-12900K. Numbers were carried out using a 32GB (2x16GB) G.Skill Trident Z5 Neo memory kit operating at 6,000MT/s at CL30, plus Nvidia GeForce RTX 3080 FE graphics and Noctua NH-D15 cooling.


Running at DDR5-6000 is a cinch for premium chipsets such as AMD X670E and Intel Z690. What's telling is the sub-par copy bandwidth for the nascent AMD platform. Not much ASRock can do about that, of course, and performance in the two metrics is exactly where it's supposed to be.


It's obvious X670E Taichi is designed for Ryzen 9 7950X. Strapping one in the socket rockets mainstream CPU performance to new levels. Content creators will love this combination.

Remember the Z690 platform is using a cutting-edge Intel Core i9-12900K. It's left in the shade by the brutal X670/7950X combo.

With no PCIe 5.0 x4 SSDs on the horizon, it's good, old PCIe 4.0 x4 we turn to. A Seagate FireCuda 530 returns near-identical results on our three test motherboards comprising two chipsets.

Show your support for impartial Club386 reviews
Club386 takes great pride in providing in-depth, high-quality reviews built on honest analysis and sage buying advice. As an independent publication, free from shareholder or commercial influence, we are committed to maintaining the standards our readers expect.
To help support our work, please consider making a donation via our Patreon channel.


We can't readily separate platforms on general system tests, either, and you won't be left disappointed if using any of the trio.





Run with a powerful GeForce RTX 3080 Founders Edition and with in-game quality settings ramped up sufficiently for a good-looking experience, we can continue to throw a blanket over the results.
ASRock X670E Taichi is wonderfully strong in content creation and more than up to the task in gaming.

Having extravagant power delivery helps in an indirect way. The Renesas smorgasbord is efficient enough to keep the VRM to a maximum 54°C under load, while the sensor on the twin PCH chips registers 50°C running full gusto.
Overclocking
| | ASRock X670E Taichi | Asus ROG Crosshair X670E Hero |
| --- | --- | --- |
| Maximum all-core CPU speed at 1.292V | 5,350MHz | 5,350MHz |
| Maximum memory speed at 1.4V | 6,400MT/s | 6,400MT/s |
| Cinebench R23 multi-core | 39,114 score | 39,105 score |
| Gears Tactics – FHD | 201/165FPS | 200/163FPS |
Getting much more out of the Ryzen 9 7950X is problematic as it resides on the edge of the voltage/frequency curve in its default state. Tinkering around with per-core overclocking takes a wee while and given the sub-1,000-mark increase in the multi-core Cinebench R23 score and gaming dropping a little bit – running a set all-core frequency reduces overall boost speed – means, for us, it's just not worth it.
Conclusion
With AMD integrating so much connectivity into the two-chip X670E chipset, motherboards partners wanting to go above and beyond need to pull out all the stops. ASRock's Taichi model is primed for the enthusiast and goes to town on power delivery by supplying the most impressive setup seen thus far. Capable of providing over 2,000A at full bore, it's overengineered to the nth degree. That's a good thing as the delivery is barely tickled by an overvolted chip.
Cooling is excellent, too, as we witness tame under-load temperatures for the VRM and chipset when running Ryzen 9 7950X flat out, suggesting ASRock knows what it is doing with heat dissipation.
The BIOS may be basic and it's a shame that 10GbE or an OLED display haven't made the cut, but other than that, there's not much to quibble about. Nevertheless, ASRock do us a favour and please bring back the moving cog for the I/O section!
Fully ready for PCIe 5.0 x4 M.2 drives thanks to that massive in-box heatsink, this is a board for today and tomorrow. Knowing AM5 will remain in service for many years, the £600+ asking fee can be thought of as a multi-year investment into Ryzen.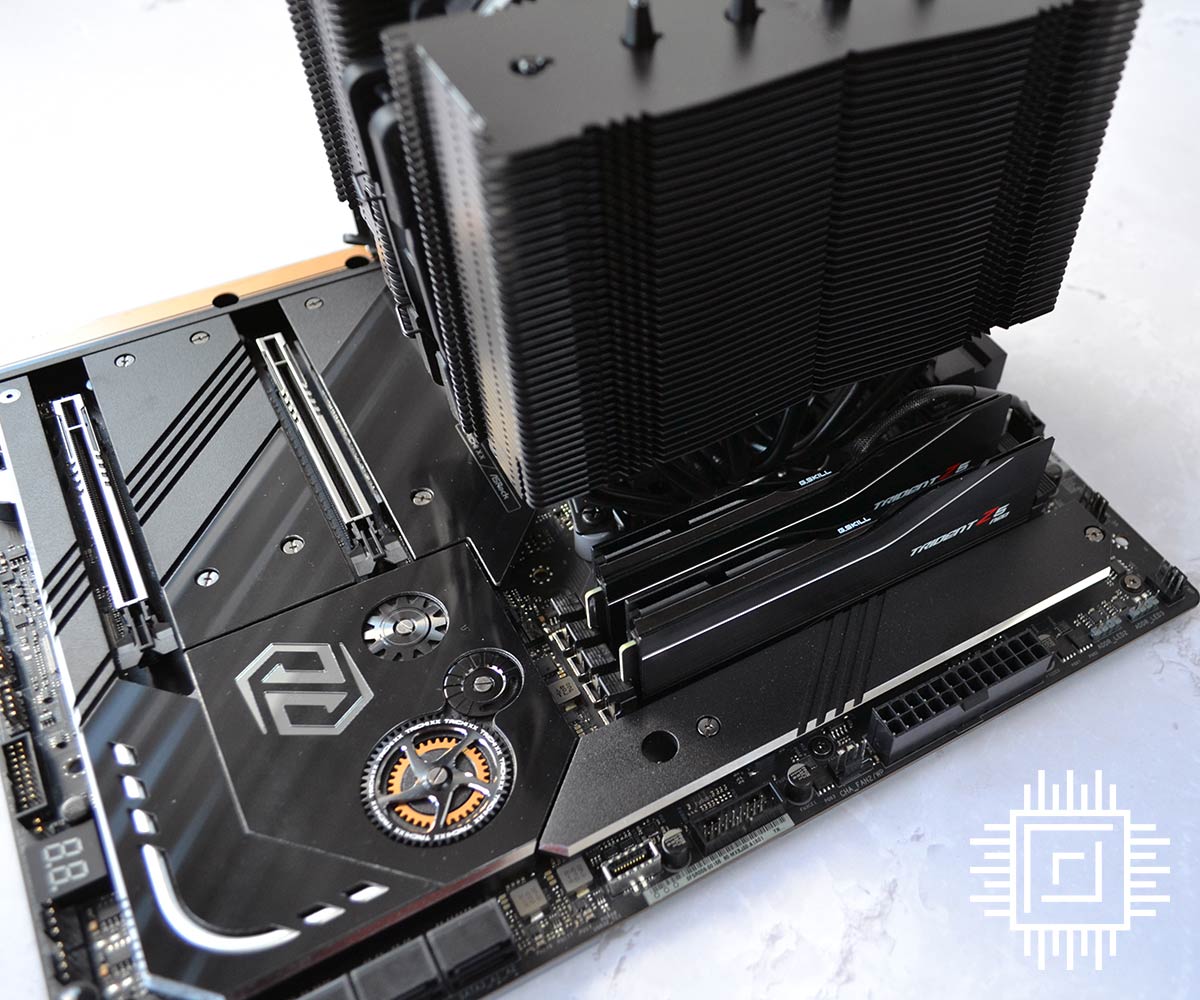 ASRock X670E Taichi
Verdict: Offering terrific performance and designed to woo the enthusiast, ASRock does a lot of things right with Taichi.
---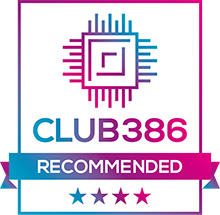 Pros
Good temperatures
Looks great
Super performance
Supreme power delivery
Thunderbolt 4
Cons
No 10GbE
Lacks OLED wow
---
Club386 may earn an affiliate commission when you purchase products through links on our site. This helps keep our content free for all.
Rest assured, our buying advice will forever remain impartial and unbiased.