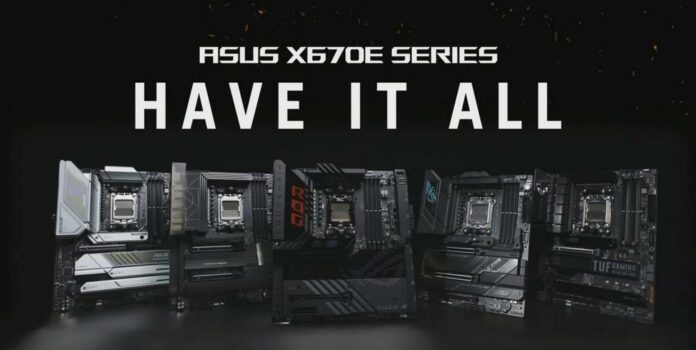 During Gamescom 2022 in Germany, Asus presented cool products from its Republic of Gamers (ROG) family, including two small-format motherboards for upcoming AMD Ryzen 7000 Series processors. Based on an X670E chipset, these boards will feature PCIe 5.0 for graphics cards and M.2 SSDs alongside DDR5 and USB 4.
ROG Crosshair X670E Gene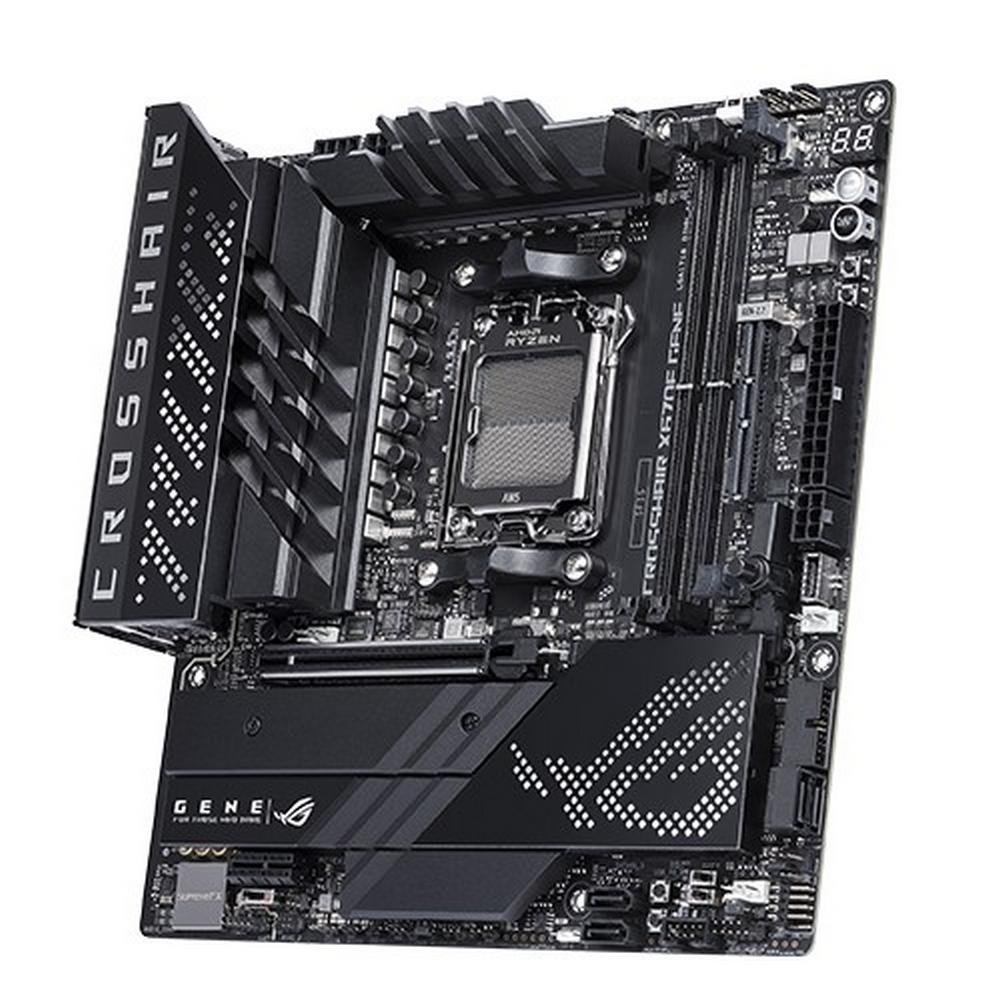 Starting with a fantastic news from this 2022 edition, Asus has just announced the return of the Gene series with the ROG Crosshair X670E Gene. Fans of Micro-ATX boards, prepare yourselves, as this model has almost all the bells and whistles found on a full-sized ATX version while keeping its footprint to a minimum. Moreover, its inclusion of only two DDR5 DIMMs means it ought to have some good overclocking potential thanks to lower signal interference caused by additional DIMMs.
With this Micro-ATX Gene variant, Asus is keeping a similar look to its previously unveiled ROG Crosshair X670E Extreme. Thus, we have a pixelated ROG icon on the chipset heatsink plus a pixelated ROG logo on the chipset cooler, alongside some customisable RGB LEDs on top of the VRM heatsink.
Spec-wise, the motherboard has one PCIe 5.0 x16 slot ready for graphics cards that don't exist yet, two DDR5 DIMMs providing high bandwidth and most likely good overclocking, plus two PCIe 5.0 M.2 slots and one PCIe 4.0 M.2 slot offering enough storage potential. With today's available hardware you can go up to 24TB (3x8TB) of fast PCIe 4.0 SSD storage, though will just cost you in excess of £4,000.
The X670E Gene should be able to support even the most powerful AMD Ryzen 7000 processor thanks to its 16+2 110A power stages. It also includes many connectivity options such as USB 4 (on the back), USB 3.2 Gen 2×2 Type-C supporting Quick Charge 4+, Intel 2.5GbE and Wi-Fi 6E.
Needless to say, the new Micro-ATX Gene will appeal to many users searching for a high-end, small machine. It will certainly become a must-have model from the ROG Crosshair series.
The ROG Crosshair X670E Gene was spotted on a German retailer for €977 (£824). Ouch.
ROG Strix X670E-I Gaming WiFi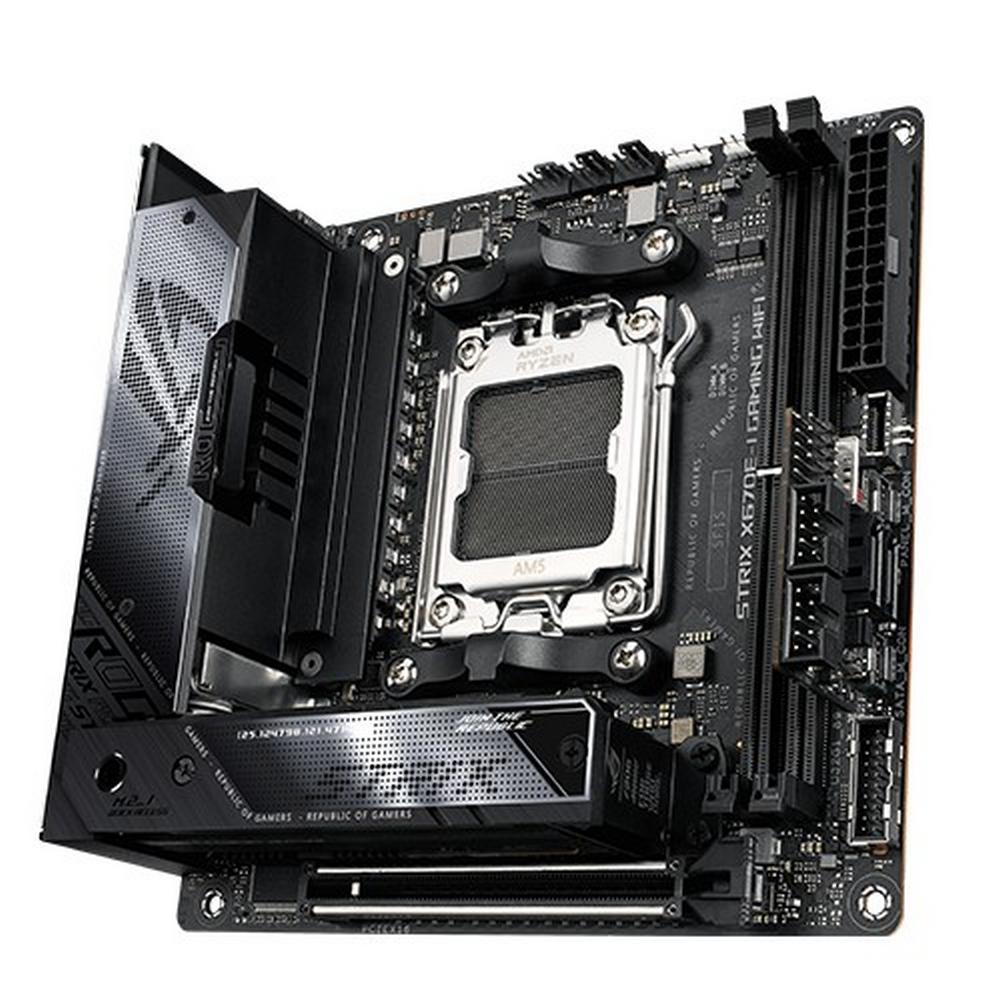 For an even smaller size, Asus has the Mini-ITX ROG Strix X670E-I Gaming WiFi offering yet another complete platform for next-gen AMD CPUs, while taking less space.
Crammed inside this tiny motherboard there is a single PCIe 5.0 x16 slot right on the edge – waiting for the latest graphics cards available – two DDR5 DIMM slots, again probably good for overclocking and memory compatibility in general, plus two M.2 slots compatible with PCIe 5.0 or PCIe 4.0 SSDs. Fans of this format will surely be conquered by this one.
The Strix X670E-I Gaming WiFi I/O shield comes pre-mounted giving this board a cleaner and premium look. This leaves just enough space for CPU cooler installation, so make sure to check for compatibility before getting one. If your chassis allows, an AIO liquid cooler could be less of a hassle to install. While we are still here, the same heatsink cools both the M.2 slot and the chipset.
Unfortunately, Asus didn't disclose the VRMs layout, but did say that it uses thermal pads to transfer heat from them, improving temperatures. Finally, the OG FPS-II card allows easy access to front-panel headers, two SATA ports, clearing CMOS and CPU overvolting, plus a PCIe mode switch for legacy expansion cards.
ROG Strix Hive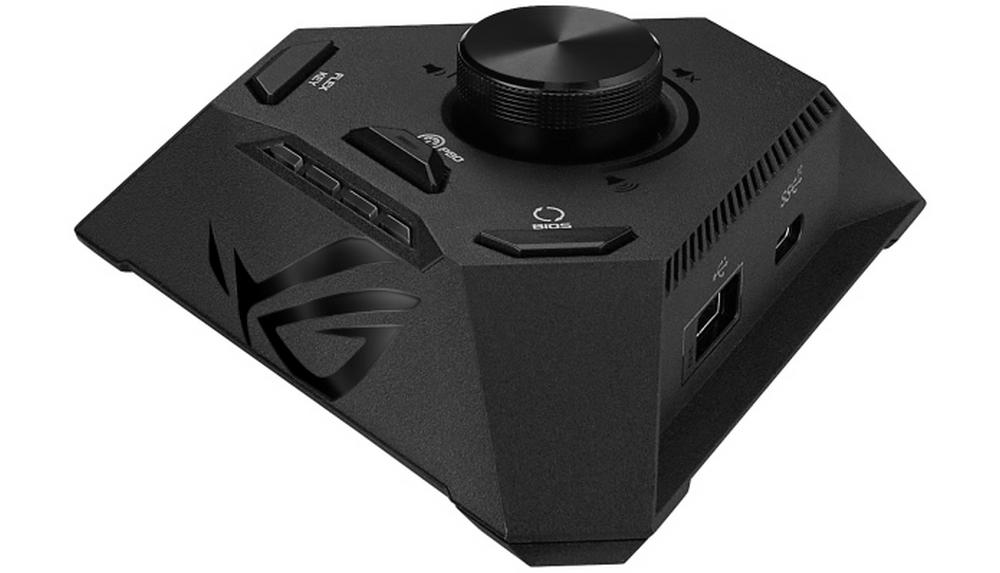 The new Mini-ITX board also comes with what is called ROG Strix Hive. It's an external peripheral allowing fine-tuning of CPU's PBO profile and overclocking directly from inside the OS without having to enter BIOS. It includes a 3.5mm headphone and mic jacks plus an optical S/PDIF, controllable via a volume dial and making use of an ALC4050 codec and an ESS Sabre 9260Q DAC. A USB 3.2 Gen 2 Type-C port is handy for any external storage or peripheral, plus a quick-problem Q-LED diagnostic seals the deal.