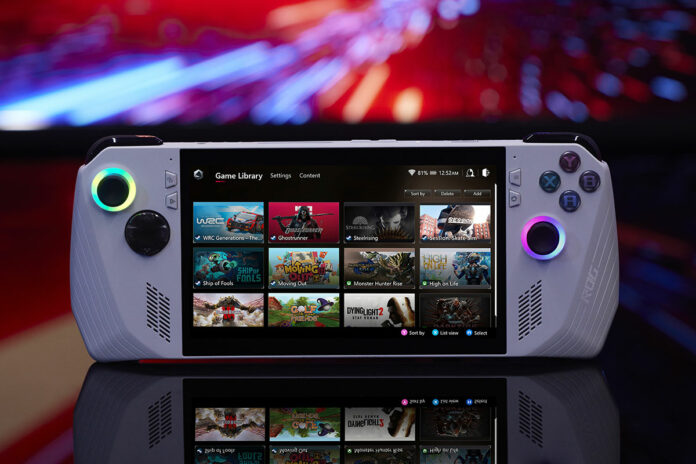 It's far too early in 2023 to be nominating the most exciting hardware launches of the year, but the Asus ROG Ally surely has to be in contention.
Despite an ill-advised teaser back on April Fool's Day, hype surrounding the upcoming handheld PC has heightened significantly, and Asus is doing a fine job of drip-feeding details in the build-up to a May 11 launch.
Today, we learn the so-called Steam Deck competitor will be powered by an all-new AMD Ryzen Z1 Series processor. Gunning for the blossoming mobile gaming market, AMD's purpose-built line of handheld console SOCs will initially encompass two models, Ryzen Z1 and Ryzen Z1 Extreme.
Based on the latest Zen 4 architecture and manufactured on a 4nm process, both models are introduced as exclusive to Asus and pack RDNA 3 graphics, up to 24MB of onboard cache and support for LPDDR5X memory and PCIe Gen 4 storage.
AMD's Extreme variant mates an eight-core, 16-thread CPU to 12 RDNA 3 compute units, delivering 8.6 TFLOPs of compute power. To put that into perspective, a Nintendo Switch sits at a mere 0.4 TFLOPS, while Steam Deck manages 1.6. Even the regular Ryzen Z1 is no slouch, with a six-core, 12-thread CPU configuration plus 4 RDNA 3 compute units totalling 2.8 TFLOPS graphics performance.
Heady numbers, and AMD is keen to point out performance in excess of 60fps at 720p in modern games, yet some of the crucial details remain murky. AMD's own internal benchmark numbers are run with Ryzen Z1 Extreme configured to Turbo Mode, whereby processor power limits are raised to 30 watts; nearly double that of Steam Deck's Zen 2-based 'Aerith' CPU.
Battery life and heat are obvious concerns, yet the elephant in the room is the absence of pricing information. ROG Ally is expected to launch in just over a fortnight and will be sold by Currys in the UK. Given the presence of a 1080p 120Hz touchscreen, up to 16GB of RAM and up to 512GB of storage, many are wondering if retail pricing will fall the wrong side of £1,000.
We're cautiously optimistic – partly because the device holds such potential – but historic ROG pricing does introduce doubt. With Steam Deck ranging from £349 to £569, we suspect ROG Ally will be playing in a different category entirely. We'll find out soon enough as Asus ensures us availability and pricing information will be revealed in full on May 11. Plan for the worst, hope for the best.