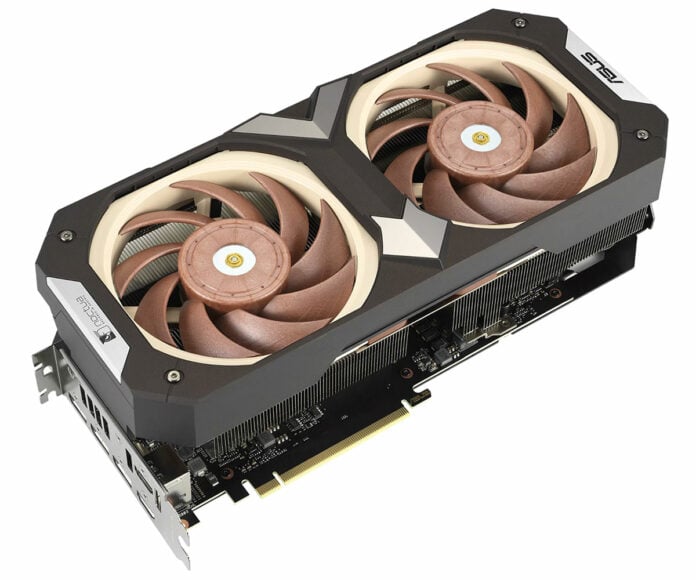 Rumours of a second Asus/Noctua collaboration have today been confirmed with the official launch of the Asus GeForce RTX 3080 Noctua OC Edition 10GB GDDR6X.
The good news is that high-quality Noctua coolers are being extended to other products after last year's first outing on RTX 3070. The bad news, as feared, is that Asus's RTX 3080 variant employs the older, 10GB version of Nvidia's GPU. A 12GB successor was launched earlier this year, and given the premium nature of the Noctua OC Edition card, Asus has missed a trick in not ensuring the full quantity of available graphics memory.

Outside of that unfortunate revelation, the cooler is present in all its gargantuan glory. Measuring a whopping 306.2mm x 144.8mm x 82.6mm in size, the super-sized card is, surprisingly, a fraction smaller than its RTX 3070 predecessor, yet still occupies 4.1 slots. It's a good thing nobody uses SLI these days.
As the name implies, there's a factory overclock as standard, with boost clock nudged from a reference 1,710MHz to 1,785MHz in gaming mode or 1,815MHz in OC mode. A convenient BIOS switch makes it easy to toggle between the two without the need for any software, though you will need some form of utility to tweak memory – the 10GB buffer is dialled to a default 19Gbps out of the box.
Commenting on the launch, Noctua CEO Roland Mossig said "The response on the first Noctua Edition graphics card was simply overwhelming, so we've been thrilled to continue our cooperation with ASUS.
"The GeForce RTX 3080 with its heat emission of up to 340W is an entirely different beast to tame than the GeForce RTX 3070, but leveraging our fan technology and a customised heatsink, we have once again managed to create a card that combines serious GPU power with excellent quietness of operation," adds Mossig.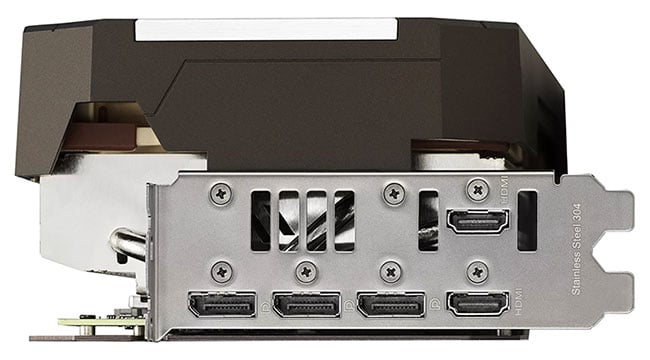 Digging into the nitty-gritty, Noctua reckons the huge heatsink can deliver lower noise combined with a modest 3°C fall in GPU core temperature, as well as up to a 22°C reduction in VRAM temperature.
Enthusiasts inclined to mine for cryptocurrency with their expensive GeForce hardware will know how limited VRAM cooling is on both the Founders Edition and most partner cards. Getting around such limitations, Noctua's custom-designed heatsink uses a vast copper base that encompasses both the GPU and VRAM in one fell swoop.
Heat is transferred to the same fin-stacks as the GPU, and then wicked away by two high-quality NF-A12x25 fans.
"These large heatsinks are much more efficient than the separate smaller ones used on the original design, which leads to a better balance between GPU and VRAM temperatures and avoids situations where memory cooling may become a bottleneck," says Noctua.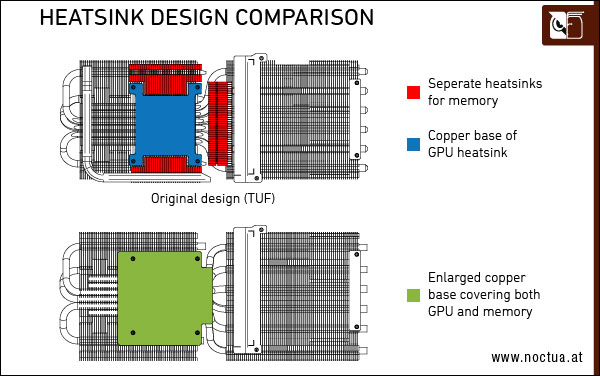 Quiet running is a key requisite for a card of this magnitude, and Noctua confirms the fans switch off entirely when core temperature dips below 50°C, making everyday tasks and light gaming a practically silent affair.
There's still no word on pricing, and worryingly, Asus UK tells Club386 the card will be "extremely limited." With eyes already shifting toward next-gen products, GeForce RTX 3080 Noctua OC Edition's belated arrival takes away some lustre, yet given our prior experience of the cooler, here's hoping the Asus/Noctua partnership continues on upcoming GeForce and Radeon products.