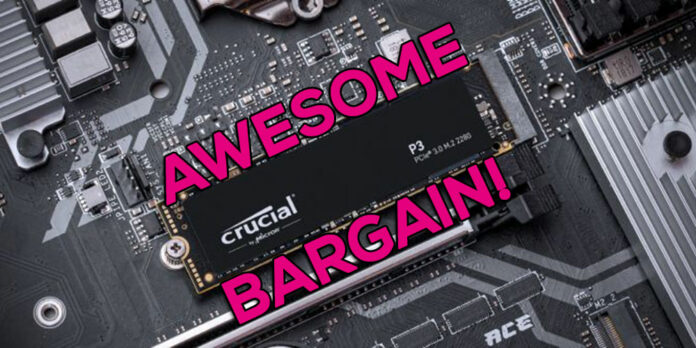 4TB Crucial P3
---
"Get faster bootups, downloads and file transfers, and store all your files, photos, videos, apps, and games with room to spare with the quality and dependability you expect from Crucial."
We earn a commission if you make a purchase, at no additional cost to you.
Those of you keeping close tabs on our Club386 deals may now have a drawer full of SSDs. Apologies, but at these prices, it's hard to resist.
Drives of varying speeds and capacities have been cut handsomely these past few months, yet we've often mentioned there's a piece of the puzzle yet to be found; compelling 4TB M.2 SSDs for under £200.
We've been getting close to that mark, but this bank holiday weekend, Crucial hasn't just stepped up to the challenge, it has well and truly obliterated the target with sweeping price cuts that bring genuine value to high-capacity drives.
Right now, a capacious 4TB Crucial P3 is available for £175 / $199, marking a massive 44 per cent reduction, and the best price we've ever seen for a 4TB NVMe M.2 SSD. Savage price cuts extend throughout different capacities – the 1TB model is now a mere £39 / $45, and if you're willing to spend more for a little extra speed, there are similar deals across Crucial's product stack.
4TB Crucial P3 Plus
---
"Valuable Gen4 performance is here. Introducing the Crucial P3 Plus Gen4 NVMe SSD, delivering impressive speed with sequential reads/writes up to 5000/4200MB/s."
We earn a commission if you make a purchase, at no additional cost to you.
P3 Plus brings PCIe 4.0 support and speeds of up to 5,000MB/s (up from 3,500MB/s on regular P3) and is arguably an even more attractive deal, with the 4TB model now better than half price at £192 / $224.
Last but certainly not least, if speed is more important than sheer capacity, a 2TB Crucial P5 Plus pushes 6,600MB/s and is also effectively half price at £122 / $129. If a PS5 upgrade is what you're after, it's the P5 Plus that is officially classed as compatible with the Sony games console.
There's no mention of how long the current deals may last, but it's hard to imagine prices will go any lower anytime soon. If you're in the market, these are scorching deals, so strike while the iron is hot.