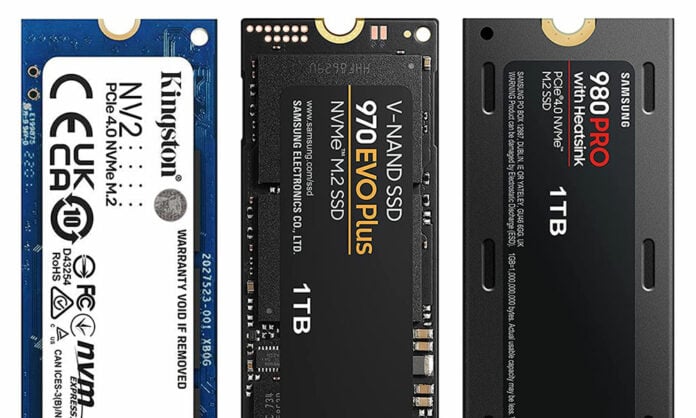 1TB Kingston NV2
---
"NV2 delivers read/write speeds up to 3,500/2,800MB/s with lower power requirements and lower heat to help optimize your system's performance and deliver value without sacrifice."
We earn a commission if you make a purchase, at no additional cost to you.
Phenomenal drops in NAND flash prices in the second half of 2022 are filtering through to retail and not a day goes by without excellent SSD bargains grabbing our attention.
It's a great time to be in the market for a new drive, and there's no need to skimp on capacity as even 4TB SSDs are now effectively half price. 1TB is likely to be the sweet spot for a lot of users, and you can pick up highly competent drives for less than the cost of a night out.
Right now, it's hard to beat the value proposition of Kingston's 1TB NV2. A modest drive by today's standards, this PCIe 4.0 solution delivers speeds of up to 3,500MB/s for a mere £38 / $49. That's the lowest price we've ever seen!
1TB Samsung 970 Evo Plus
---
"The 970 EVO Plus reaches sequential read/write speeds up to 3,500/3,300 MB/s, up to 53% faster than the 970 EVO."
We earn a commission if you make a purchase, at no additional cost to you.
Providing stern competition to the Kingston is the tried-and-trusted 1TB Samsung 970 Evo Plus, now available for £55 / $60. Despite employing an older PCIe 3.0 interface, Samsung's drive touts the same peak speed of up to 3,500MB/s but benefits from the addition of 1GB onboard DRAM cache. Both the Evo Plus and NV2 tout an identical 1.5-million hour MTBF, though while the Kingston is backed by a three-year warranty, Samsung ups the amount of cover to five years as standard.
Prefer a little more storage oomph? Not a problem, take a gander at the 1TB Samsung 980 Pro. Reduced to £90 / $100, this speedy M.2 drive will hit lofty speeds of up 7,000MB/s and is PS5 compatible. Better still, there's a heatsink included in the box, making it an effortless upgrade for the Sony games console.