Jump to: Bundle | Performance | Conclusion
There's a lot to think about when speccing a new rig. Core components typically receive a lot of attention, but other essentials are often overlooked. A good-quality PSU plays an important part, as does a competent CPU cooler, and if you really want to keep everything cool and quiet, you ought to consider better fans.
Let's face it, the default blowers supplied with many chassis and coolers are perfunctory at best. A good set of aftermarket PWM fans can help a build transition from quiet to nearly silent, and be quiet! is keen to extol the virtues of its new Light Wings series.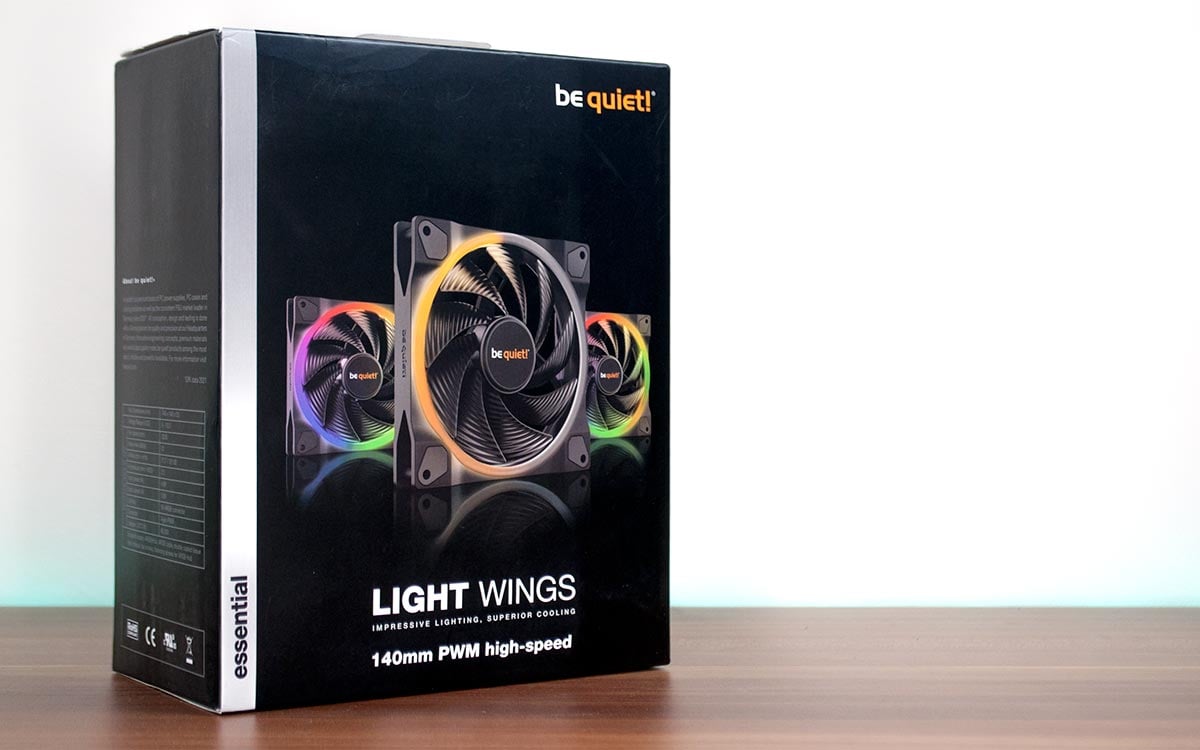 Introduced as the German manufacturer's first aRGB offering, Light Wings are initially available in 120mm or 140mm formats, priced from £23 and £25, respectively.
These are undoubtedly premium solutions, however triple packs are available to help lower overall cost of ownership, and all fans are also available in a high-speed configuration. What's the difference? While regular Light Wings models feature seven fan blades for higher airflow, the high-speed siblings employ nine blades to serve the high-pressure needs of heatsinks and radiators.
Bundle and Specification
Club386 was sent a 140mm high-speed triple pack for evaluation purposes and our initial impressions are largely favourable. be quiet!'s £66 kit comprises three fans, a six-way, SATA-powered aRGB splitter, plus all the relevant screws.
3M tape is included for sticking the aRGB hub wherever you see fit, and said hub can be screwed into a 2.5in SSD tray if you prefer. Users favouring motherboard synchronisation can instead daisy-chain the 500mm aRGB cables to a single 5V 3-pin header, and be quiet!'s focus on lighting is made clear by the absence of a PWM splitter.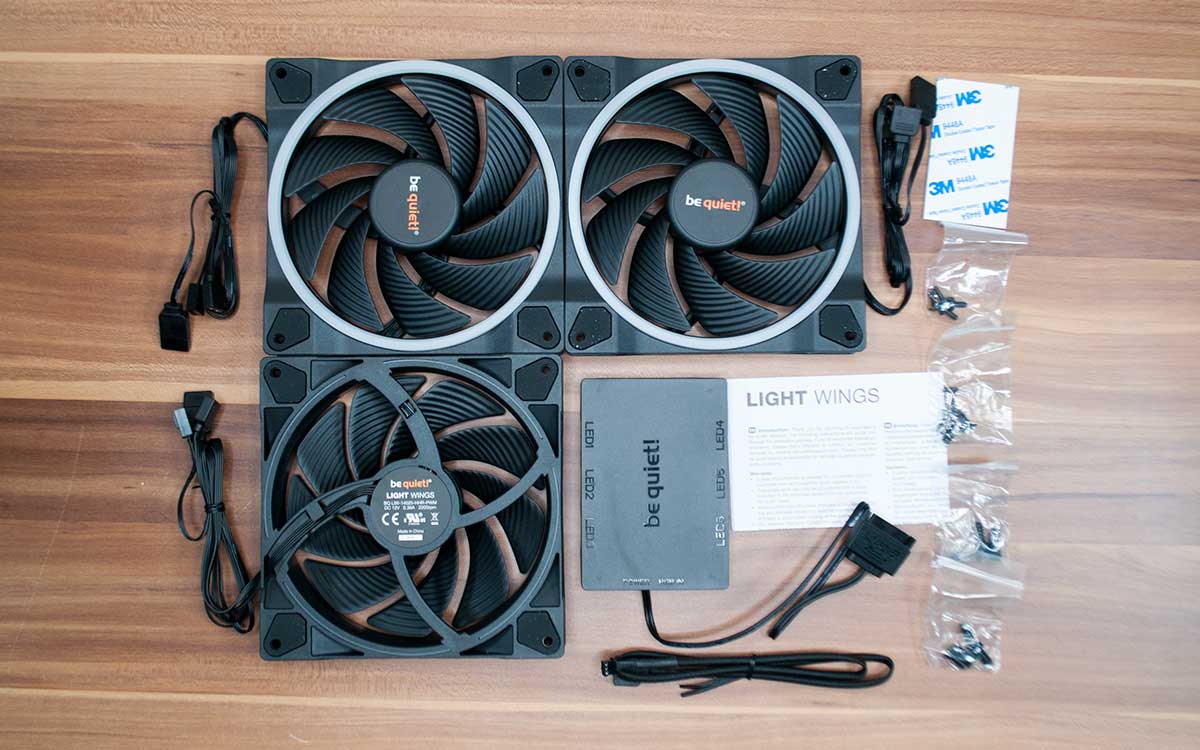 As for the fans themselves, specifications vary depending on size and configuration. Our 140mm x 140mm x 25mm high-speed review models tout a 2,200RPM top speed, creating 71.7CFM airflow and air pressure of up to 2.3mm/H2O. A 4-pole fan motor and rifle bearing contribute to an estimated lifespan of 60,000 hours, while input power is rated at 4.68 watts.
On-paper numbers only tell us so much. In the flesh, the be quiet!'s exhibit good build quality throughout, with thick plastic materials, good-sized rubber pads in each corner, and 20 LEDs that combine to create seamless effects across the diffuser.
Light Wings opts for a ring of illumination, as opposed to lighting the blades themselves, and the overall effect works well. The one caveat is the narrow ring of the light on the fans' rear; it serves a purpose on case fans, but is lost on high-speed models designed to sandwich a radiator.
Cable clutter can be bothersome, with the half-a-dozen cables totalling three metres in length, and be quiet! really should have included a PWM splitter to allow fan-speed control from a single header. While we're nitpicking, it's a shame the be quiet! logo on the sides of each fan is in the same orientation, having one side in reverse would have made it easy to ensure upright branding irrespective of mounting position.

Show your support for impartial Club386 reviews
Club386 takes great pride in providing in-depth, high-quality reviews built on honest analysis and sage buying advice. As an independent publication, free from shareholder or commercial influence, we are committed to maintaining the standards our readers expect.
To help support our work, please consider making a donation via our Patreon channel.
Performance
The big question, of course, is whether or not Lights Wings delivers on its promise of "strong performance and quiet operation." As staunch believers of real-world testing we installed two of the three fans on the Corsair iCue H115i Elite Capellix all-in-one cooler residing in our fully-built AMD Ryzen 9 5950X test platform. We then configured fan speeds to 600, 1,200 and max RPM, recording noise output at each setting, and logging temperature during an extended multi-core run of Cinebench R23.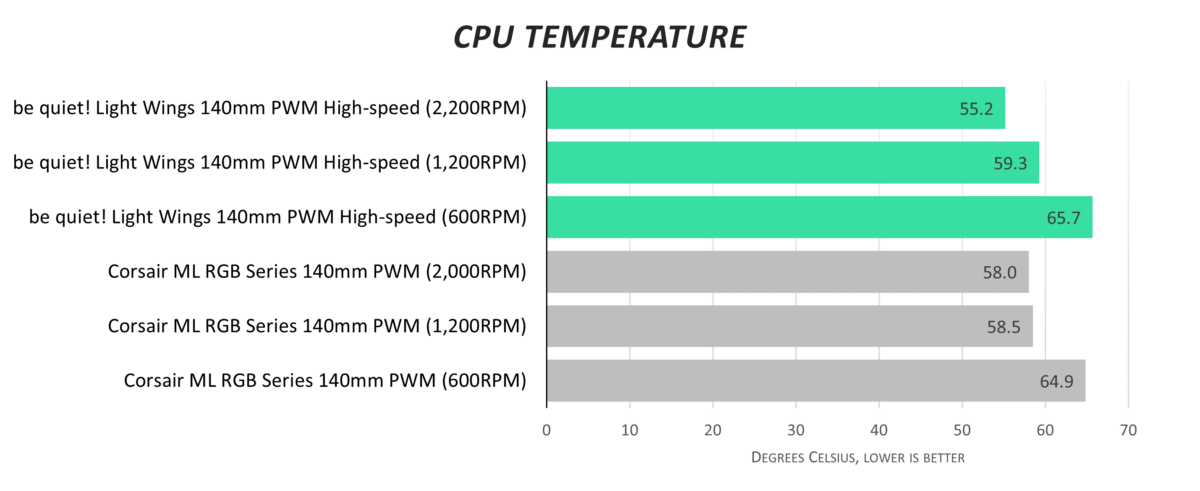 Replacing the stock Corsair ML RGB Series 140mm PWM fans returns minor adjustments to cooling performance. Corsair's default seven-blade blowers actually edge proceedings at the lower speeds but be quiet!'s higher maximum (2,200RPM vs. 2,000RPM) gives Light Wings the advantage when running flat out.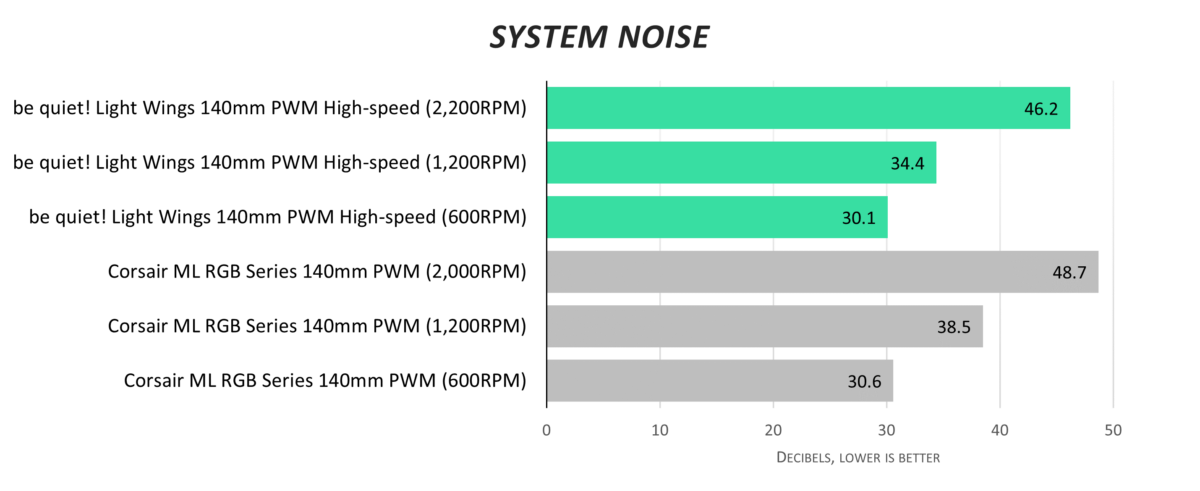 Conclusion
We don't see a dramatic shift in cooling performance in our real-world rig, however system noise is certainly improved. Light Wings is quieter at all three speeds – noticeably so at 1,200RPM – and it isn't just the din that is improved, as the nine-blade be quiet! exhibits a smoother hum that is preferable to our ear.
The importance of high-quality fans has never been in doubt. Those willing to go the extra yard on a stylish low-noise build should consider aftermarket solutions that are typically a step-up from basic bundled fans.

be quiet! Light Wings 140mm PWM High-speed
Verdict: be quiet!'s Light Wings series sit at the premium end of the market and deliver a likeable blend of capable performance, low noise and sleek illumination.
Pros
Lovely and quiet
Daisy-chained RGB
Seamless illumination
Cons
No PWM splitter included
Premium pricing
Club386 may earn an affiliate commission when you purchase products through links on our site. This helps keep our content free for all. Rest assured, our buying advice will forever remain impartial and unbiased.