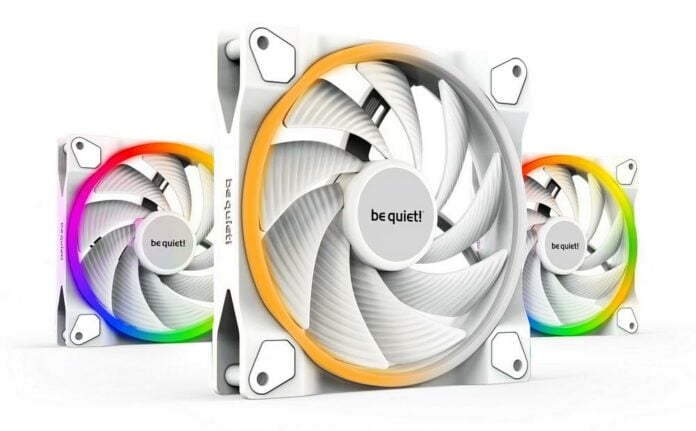 be quiet! is updating its Light Wings ARGB fans with a new white variant following popular demand, pushing RGB-focused builds to the next level.
be quiet!'s White Light Wings ARGB fans will be available in 120mm and 140mm sizes, boasting two LED rings, one in front (intake) and one on the back (exhaust). Their rings are equipped with up to 20 individually addressable LEDs plus a diffuser to spread light in both directions.
All aspects are reworked in white, from the ARGB hub to the cables, and the level of attention to detail goes further; even the vibration-dampening pads painted in white. Only the brand sticker strays away from the aesthetic. Colours aside, these should be identical to the original black models that we already reviewed the 140mm format.
Apart from the size, be quiet! will again offer two types, a normal PWM with seven blades and a high-speed with nine blades – so four distinct models in total. The former is optimised for chassis with its 1,700rpm speed plus 41.51cfm airflow on the 120mm format and 1,500rpm plus 56cfm on the 140mm, while the latter targets radiators thanks to its 2,500rpm/52.3cfm and 2,200rpm/71.7cfm, respectively, on 120 and 140mm sizes.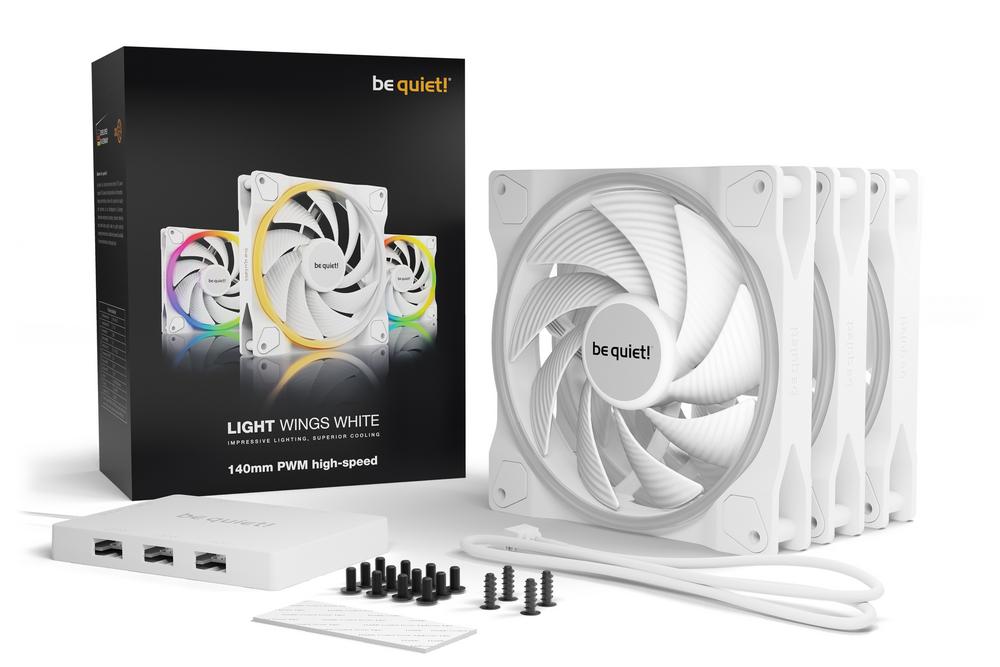 These fans will only be sold in packs of three which include an ARGB hub for effect synchronisation on up to six fans. Unfortunately, this is a bit wasteful, since if you get six fans (two packs) filling a single hub or chassis, you will end up with a second (useless) hub. Yes, it can be used as a backup, but in the meantime, you are paying for something you may never use. The best approach would have been a six-fan pack or individual fans… like the black variant.
In common with predecessors, these new models are backed by a three-year warranty and are available starting April 11:
Light Wings White 120 mm PWM Triple-Pack at £59.99
Light Wings White 120 mm PWM high-speed Triple-Pack at £59.99
Light Wings White 140 mm PWM Triple-Pack at £65.99
Light Wings White 140 mm PWM high-speed Triple-Pack at £65.99