Jump to: Performance | Conclusion
Who would want to be in the fan business? Incremental improvements often take years of development, margins aren't likely to be huge, and to top it all off, you're making critical parts that absolutely must not fail. Adding insult to injury, for most folk, a fan is just a fan, and serves a perfunctory role that is often overlooked.
A tough market, but German outfit be quiet! is not to be dissuaded and has launched its best-ever fans in the form of Silent Wings 4. Available in a litany of flavours, the fourth-gen series is described by the manufacturer as "the epitome of high-performance fans" and has been a long time coming.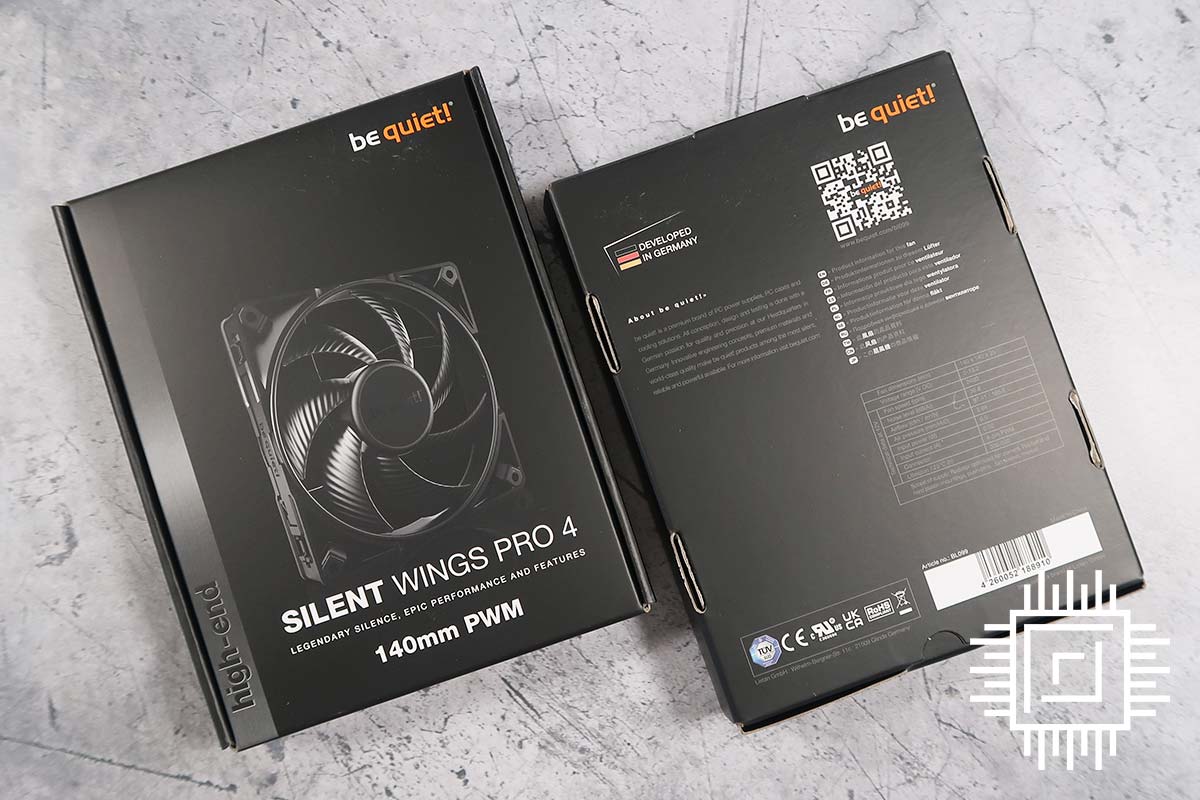 You wouldn't know it going by the packaging, but development on Silent Wings 4 started way back in 2017. The first models and simulations arrived in 2019, a year later be quiet! had its first 3D-printed prototype, and then comes testing, tweaking, patent applications and tooling. A five-year gestation period and a new fan is finally born.
be quiet! is naturally keen to make the most of that development time and is launching eight unique models from day one. Silent Wings 4 is offered in 120mm or 140mm sizes, operating at up to 1,600RPM or 1,100RPM, respectively, and each is then broken down to regular, PWM or PWM high-speed configurations that raise maximum speed to 2,500/1,900RPM. Supplementing all that is Silent Wings Pro 4. Again available in 120mm or 240mm variants – there are no 180mm or 200mm options planned – these top-end offerings represent the pinnacle of be quiet! design, so let's take a closer look.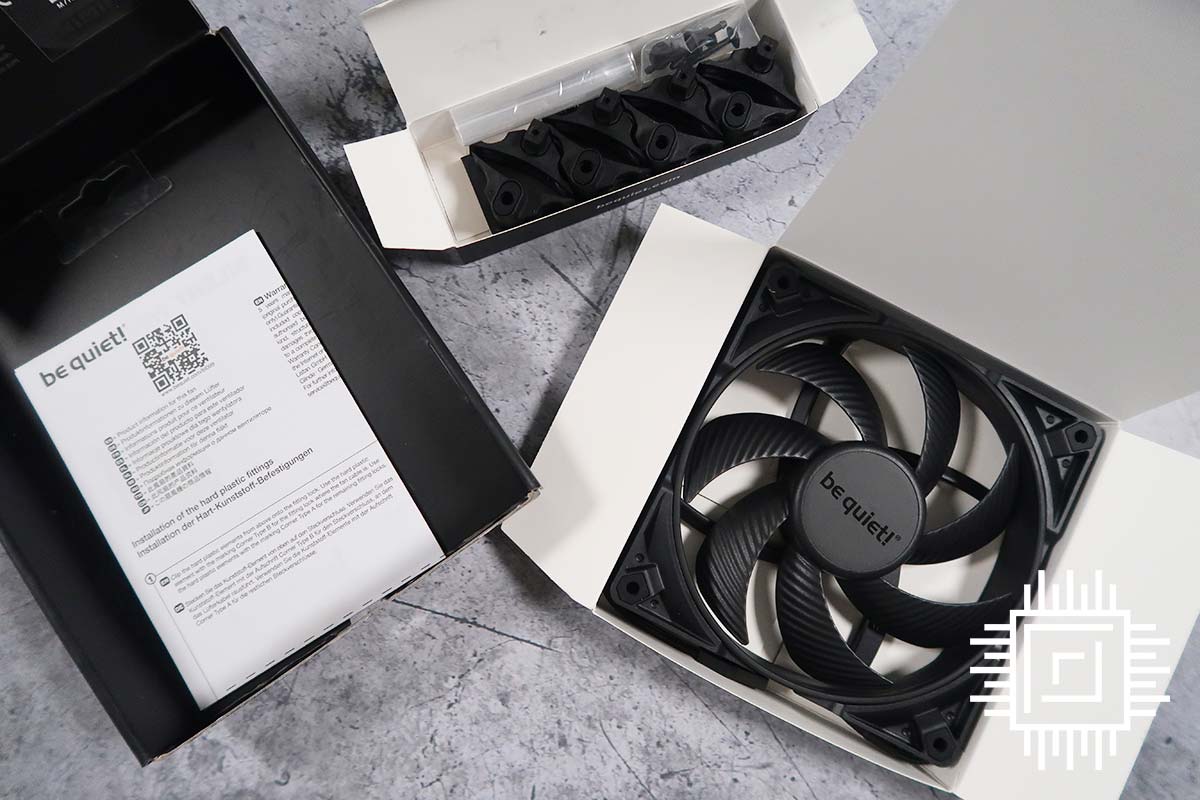 We have a couple of Silent Wings Pro 4 140mm PWM fans on the test bench and presentation and build quality is understandably premium given that a single fan fetches £30 at retail. Putting that figure into perspective, you can get a half-decent CPU cooler for similar money, and be quiet! is evidently in bullish mood as Silent Wings Pro 4 are dearer than the nearest equivalent from, say, Corsair or Noctua.
Silent Wings 4 isn't a value offering, but instead serves two purposes. Firstly, enthusiasts wanting to hone every part of their build will see the benefit of cooler, quieter fans, and perhaps more importantly, this technology will no doubt seep through to other be quiet! products in due course. A next-generation Dark Rock Pro cooler, for example, is almost certain to feature Silent Wings 4 blowers as standard.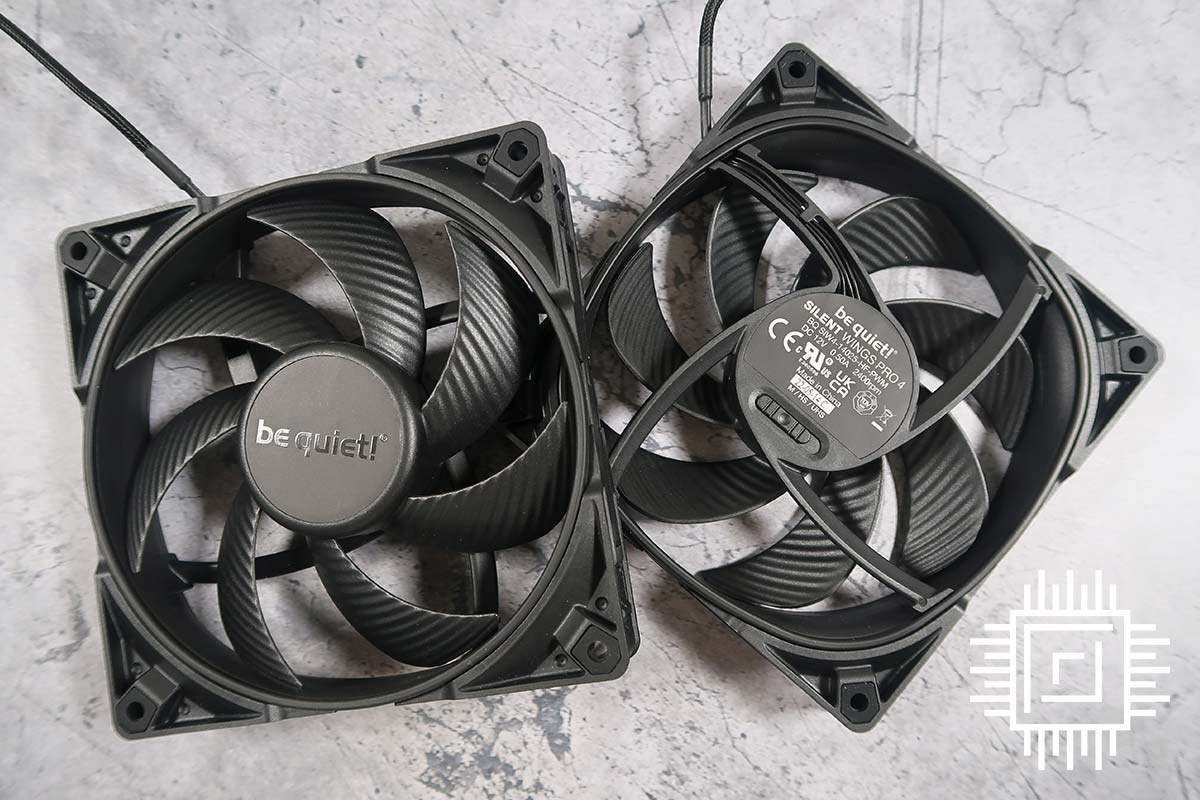 The majority of chassis and cooler manufacturers will bundle low-grade fans with their products in an effort to cut costs, and Silent Wings Pro 4 immediately feel a step-up in both quality and integration. Measuring 140mm x 140mm x 25mm, with mounting points spaced at 125mm, the fans feature a three-phase, six-pole motor for increased efficiency and reduced vibration, fluid-dynamic bearings for a 300,000-hour lifespan, and a new blade arrangement.
On this particular model, seven fan blades reside within a funnel-shaped exhaust to specifically increase performance on radiators and heatsinks by distributing air over a larger area. That same usage scenario benefits from a tighter tip clearance, with be quiet! shrinking the gap from 1.2mm on Silent Wings 3 to just 1mm on Silent Wings 4. That's not a patch on the 0.5mm clearance achieved by rival Noctua, but be quiet! reckons the added cost and complexity of going so fine delivers little real-world improvement.
Instead there's greater emphasis on the package as a whole, with Silent Wings Pro 4 marketed as "versatile and suitable for any purpose." To that end, the package includes a choice of three mounting options. The default 'radiator corners' are intended to sit flush on liquid coolers, and these are easily removed and replaced with anti-vibration corners for chassis mounting, or simple plastic corners with push-pin fittings.

Show your support for impartial Club386 reviews
Club386 takes great pride in providing in-depth, high-quality reviews built on honest analysis and sage buying advice. As an independent publication, free from shareholder or commercial influence, we are committed to maintaining the standards our readers expect.
To help support our work, please consider making a donation via our Patreon channel.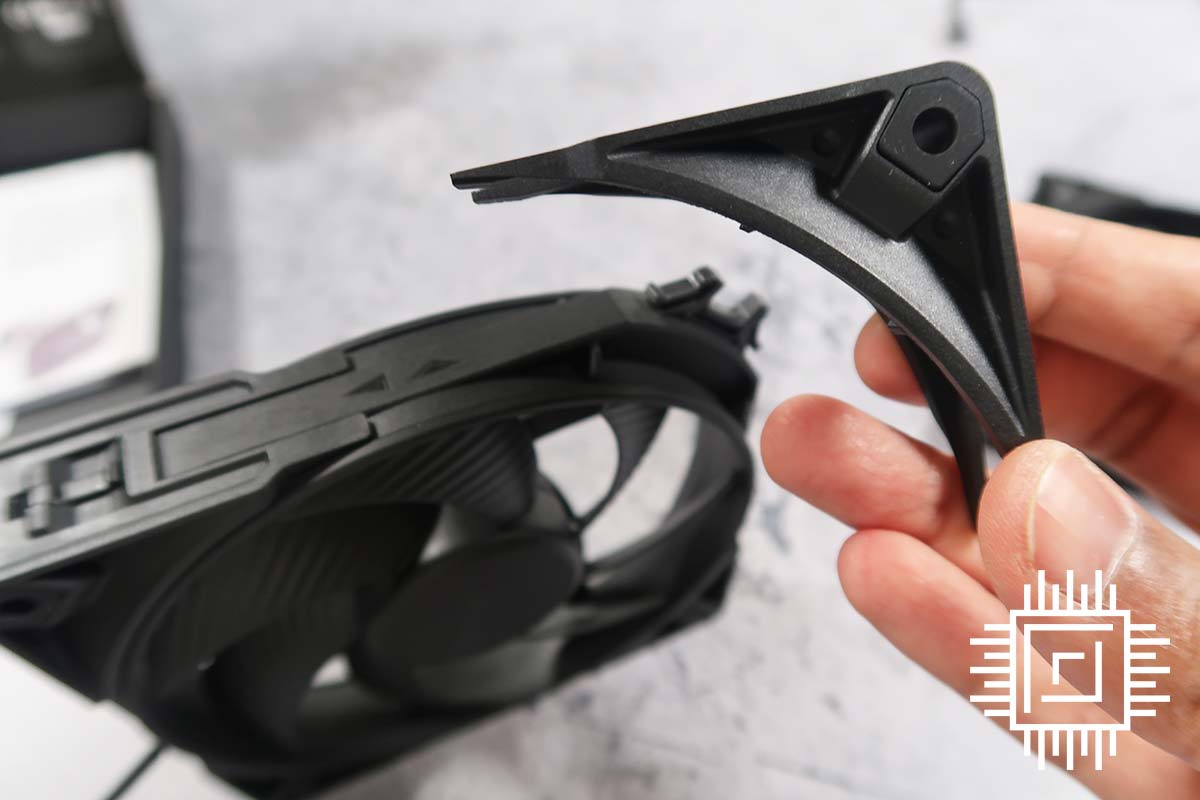 The majority of the aforementioned features are applicable to Silent Wings 4 and Silent Wings 4 Pro, but a couple of added extras help differentiate the latter. These include finely-sleeved 500mm cabling terminating in a robust four-pin connector, and a patent-pending 'Speed Switch' that allows users to limit maximum fan speed to medium (1,100RPM), high (1,900RPM) or ultra-high (2,400RPM).
be quiet! is quick to point out that a dedicated switch does away with the need for messy, low-noise adaptors, yet while it's nice to have the option, the switch becomes impossible to alter when the fans are in situ. We're told the switch is intended for users "not interested in fine-tuning their PWM fan curves," but if you're spending £60-£90 upgrading your radiator fans, we reckon you'll be inclined to leave the switch on ultra-high while tinkering in BIOS.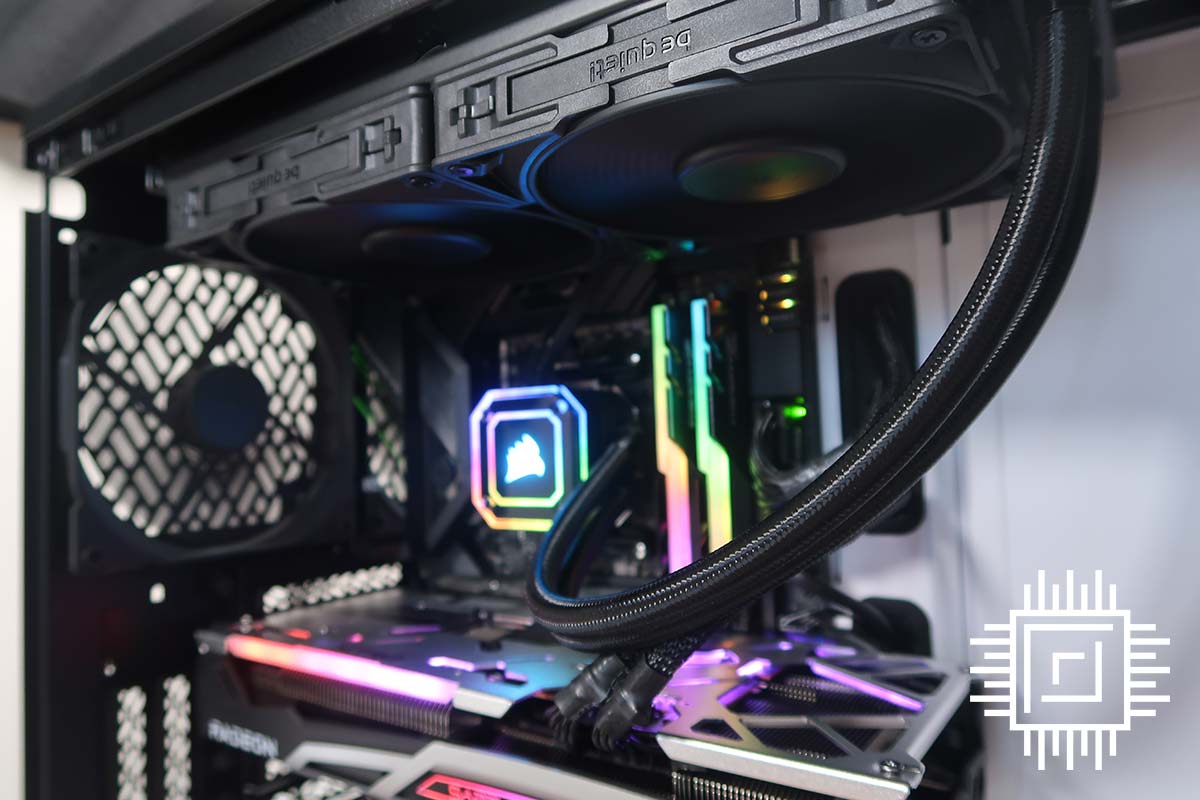 All told, be quiet!'s design delivers 165.5 m3/h of airflow at maximum speed, with air pressure rated at 3.64mm/H2O and noise levels peaking at 36.8dB. We're told to expect "virtually inaudible operation" at normal speeds, and the all-black colour scheme echoes that feeling of stealth.
Any orange highlights typically associated with the brand have been erased, leaving a simple matte sticker in the centre, and there's no LED lighting to speak of. We appreciate the minimalist demeanour, however it's a shame the be quiet! logo on the side of the fans isn't flipped on opposite ends; it'd be nice to have the branding upright when installed on a top-mounted radiator.
Last but not least, all Silent Wings 4 fans are backed by a five-year warranty. Better than average, but given the price point, one might have expected be quiet! to match Noctua with six years of cover as standard.
Performance
How does one quantify the value of a better fan? Manufacturers will be eager to extol exotic numbers and airflow characteristics, yet while such measurements hold merit, enthusiasts often want to discern real-world improvements.
To assess be quiet!'s claims of radiator superiority, we've installed both Silent Wings Pro 4 140mm PWM fans on a popular all-in-one cooler – Corsair's iCue H115i Elite Capellix – to compare performance against stock fans. The question is how much cooler and quieter does our fully-built AMD Ryzen 9 5950X test platform become following a £60 upgrade?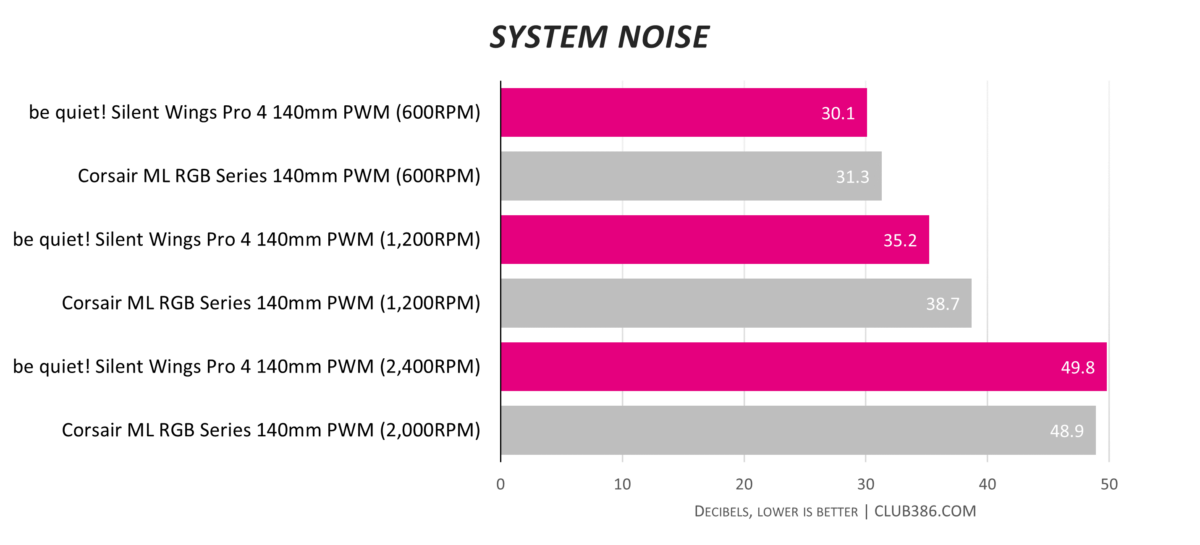 Starting with noise output, we configure fan speeds to 600, 1,200 and max RPM, recording decibel readings at each setting. There isn't a great deal separating the be quiet! Silent Wings Pro 4 and Corsair fans at low-speed – both are extremely quiet – but the gap becomes more noticeable at 1,200RPM, where stock fans are noticeably noisy by comparison.
Keeping noise levels down is a plus point, but don't expect quiet acoustics at full pelt; practically 50dB at 2,400RPM is highly distracting and, save for a good pair of headphones, unsuitable for everyday use.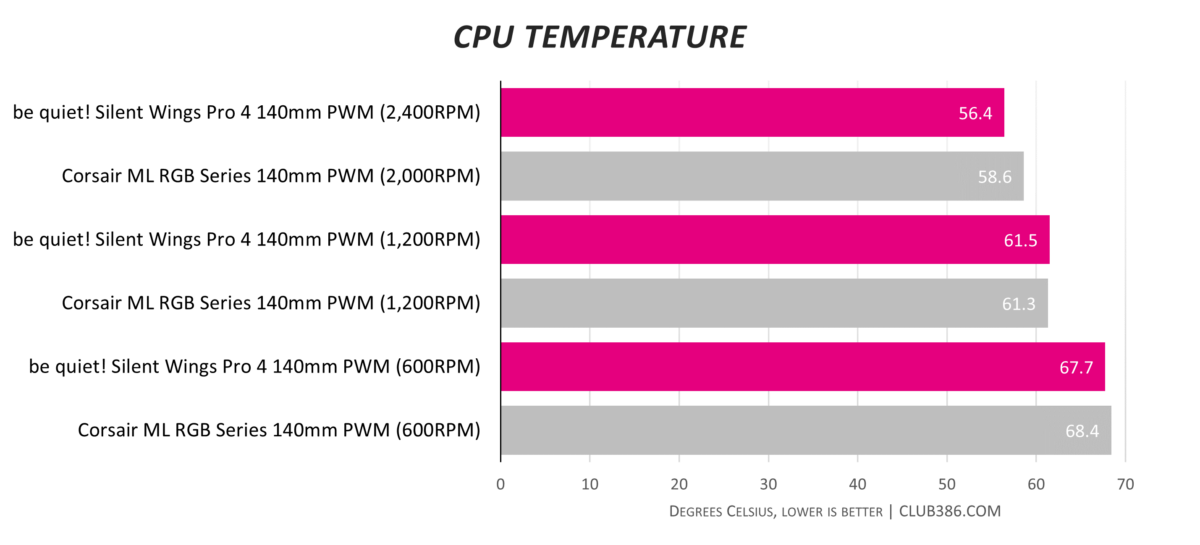 Noise levels can show a marked improvement, but don't expect miracles when it comes to cooling performance. While radiator size and pump speed can visibly alter temperatures, our testing reveals premium fans can only do so much. Numbers at low speed are similar to a stock configuration, and you need to turn Silent Wings Pro 4 up to top speed to notice a meaningful difference.
Conclusion
Silent Wings 4 will be welcomed by those who appreciate a well-engineered, high-quality fan. Promising a performance-to-noise ratio that's a cut above most competitors, the sleek, all-black fans arrives in over half-a-dozen unique models, spearheaded by Silent Wings Pro 4.
Marketed as the last fans you'll ever need, be quiet!'s premium blowers come equipped with all the bells and whistles, including finely sleeved cabling, multiple mounting options, speed switch, and that all-important 0.5mm tip clearance.
The end result is a first-rate product, but premium pricing is such that fan upgrades will continue to hold limited appeal to most users. Replacing every fan in my personal PC with 140mm Silent Wings Pro 4s would no doubt make the rig that little bit cooler and quieter, but a total cost of £150 is prohibitive to say the least.
As a standalone product, Silent Wings 4 is best suited to those enthusiasts willing to spend big just to go the extra yard. For everyone else, be quiet!'s advancements carry long-term appeal; such fans will hold the firm's next-gen coolers and chassis in good stead.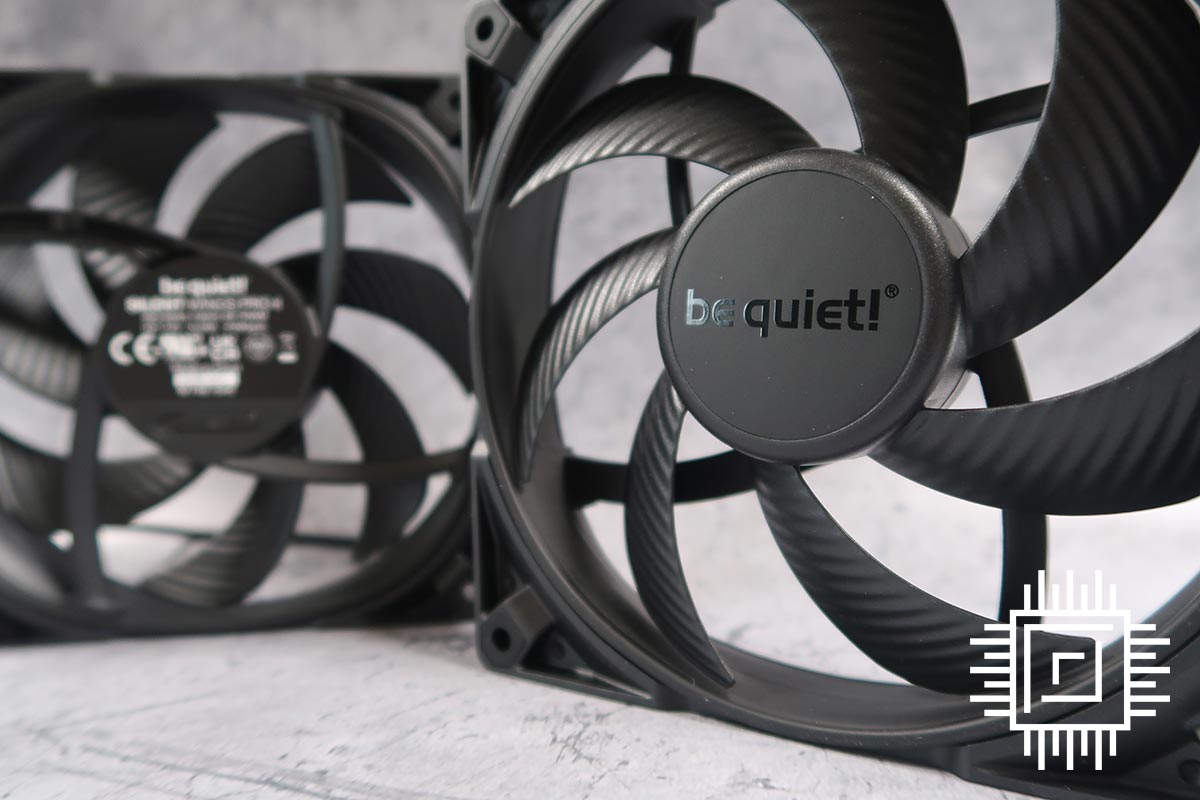 be quiet! Silent Wings Pro 4
Verdict: Beautiful build and precision engineering make these a fine fit for a high-end rig.
---
Pros
Sleek design
Excellent build quality
Very quiet at low speed
Multiple mounting options
Cons
No 200mm model
Pricey at up to £30 per fan
---
Club386 may earn an affiliate commission when you purchase products through links on our site. This helps keep our content free for all.
Rest assured, our buying advice will forever remain impartial and unbiased.