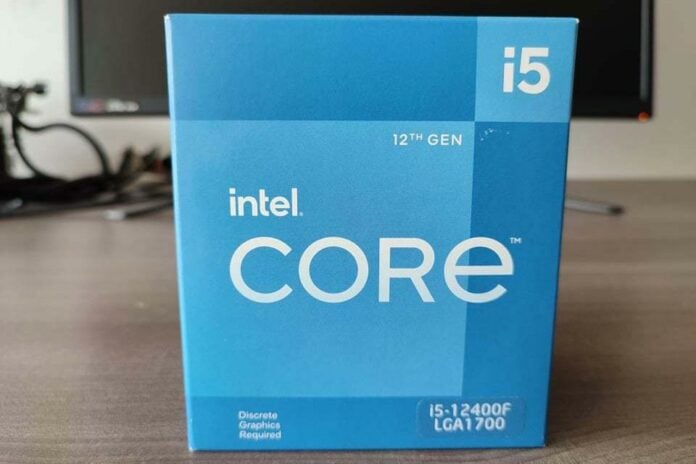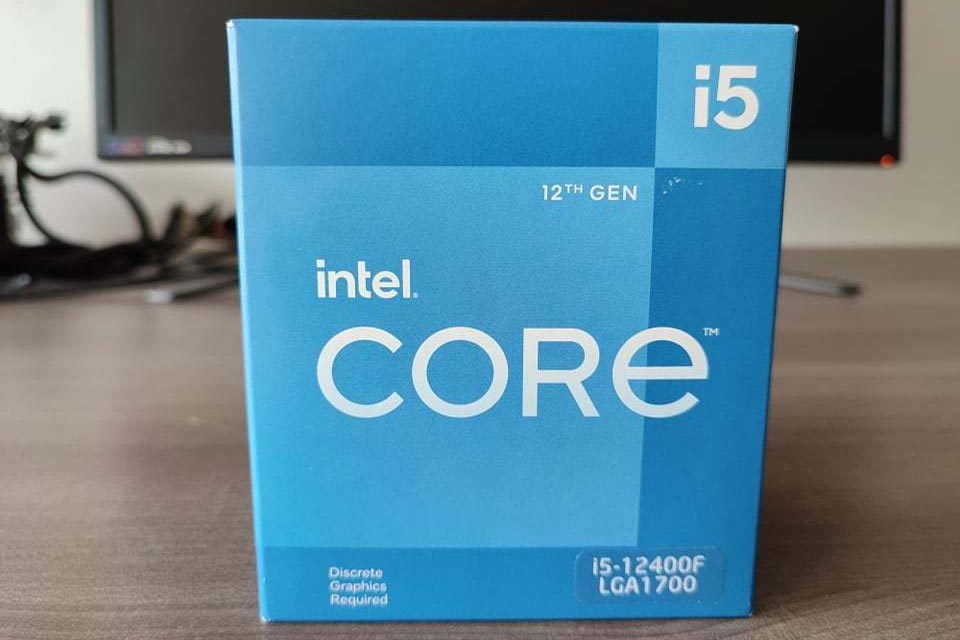 US-based etail giant Best Buy has spilled Intel Alder Lake-S non-K pricing. Twitter hardware hound momomo_us again got the scoop, sharing screenshots of the listings, before they were redacted by Best Buy webmasters. The list is extensive but seems to be incomplete. For example, there is no Core i5-12500F. Omissions may be due to some SKU stock being late, or simply scheduled for a slightly later release.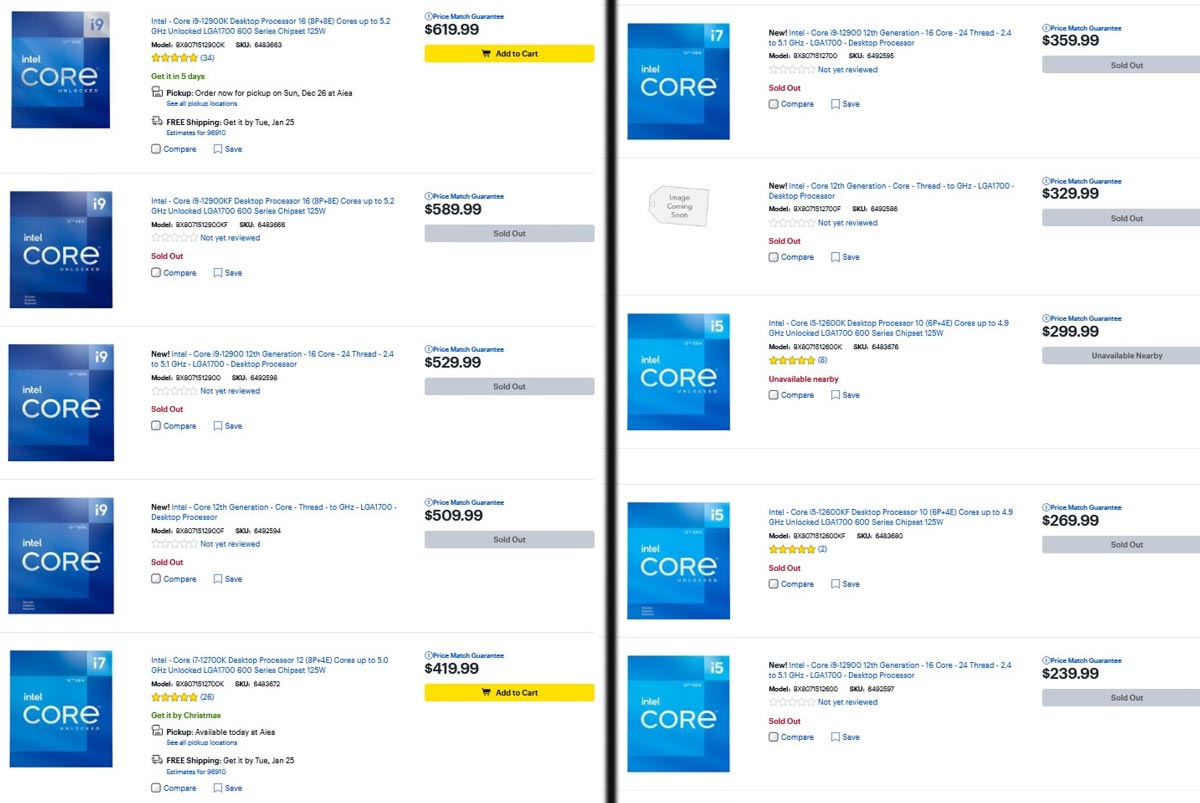 Lots of choice coming in 2022
In the screenshot above, you can see the most expensive new processor coming from Intel in January is the Core i9-12900, listed at $529.99. This is $90 cheaper than the current flagship Core i9-12900K, and $60 cheaper than the KF variant. However, if you don't care about an iGPU, you can plump for the Core i9-12900F at $509.99. UK dwellers – for reference, US$500 is approx £375 at today's exchange rate, but you will have to add 20 per cent UK VAT to the prices too.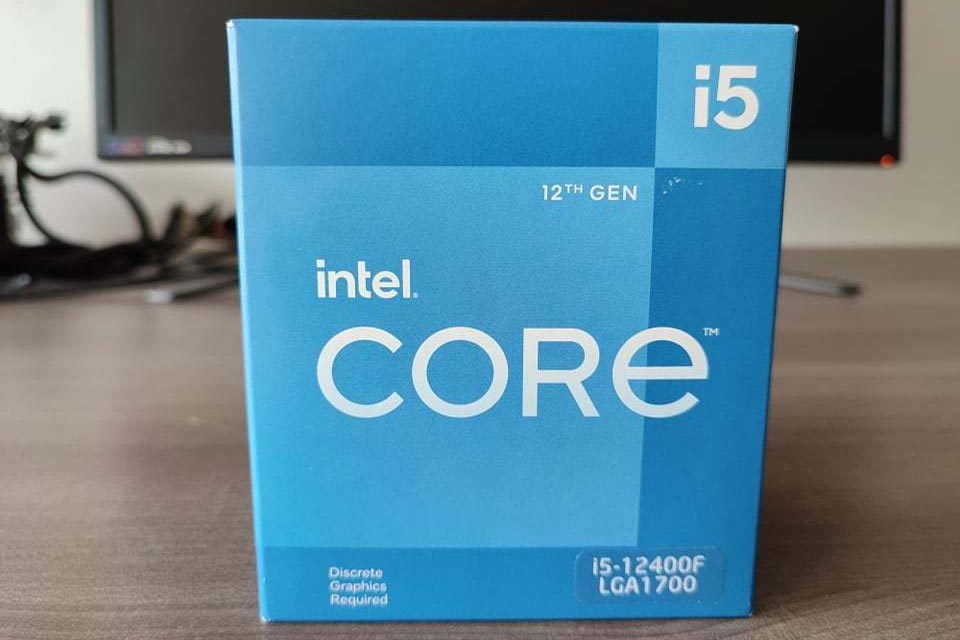 Moving down the charts you can see the likes of the Core i7-12700, with F variant option, four Core i5 SKUs, a pair of Core i3 choices, with two Pentiums to address budget builds taking on light office tasks.
TechPowerUp put together a nice list of new SKUs and their prices, with a comparison against current 11th Gen Core chips, so you can get a feel for the market we will face in January. The overview shows that Intel has upped prices somewhat at the top-end, but for the Core i5 range and lower, pricing hasn't changed much.
Core i9-12900 – 529.99 USD (Core i9-11900 – 449.99 USD)
Core i9-12900F – 509.99 USD (Core i9-11900F – 439.99 USD)
Core i7-12700 – 359.99 USD (Core i7-11700 – 339.99 USD)
Core i7-12700F – 329.99 USD (Core i7-11700F – 324.99 USD)
Core i5-12600 – 239.99 USD (Core i5-11600 – 219.99 USD)
Core i5-12500 – 219.99 USD (Core i5-11500 – 224.99 USD)
Core i5-12400 – 209.99 USD (Core i5-11400 – 189.99 USD)
Core i5-12400F – 179.99 USD (Core i5-11400F – 174.99 USD)
Core i3-12100 – 139.99 USD (Core i3-10105 – 119.00 USD)
Core i3-12100F – 109.99 USD (Core i3-10105F – 110.00 USD)
Pentium G7400 – 79.99 USD (Pentium G6505 – 75.00 USD)
Pentium G6900 – 59.99 USD (Pentium G6405 – 65.00 USD)
New boxed cooler smiles for the camera
Momomo_us strikes again, with a nice big photo of what appears to be the previously leaked (in a small photo) Intel Laminar RH1 cooler. This stock cooler is the beefiest of the new crop and is intended for the boxed Core i9 chips listed in the bullet points above, cooling a nominal 65W.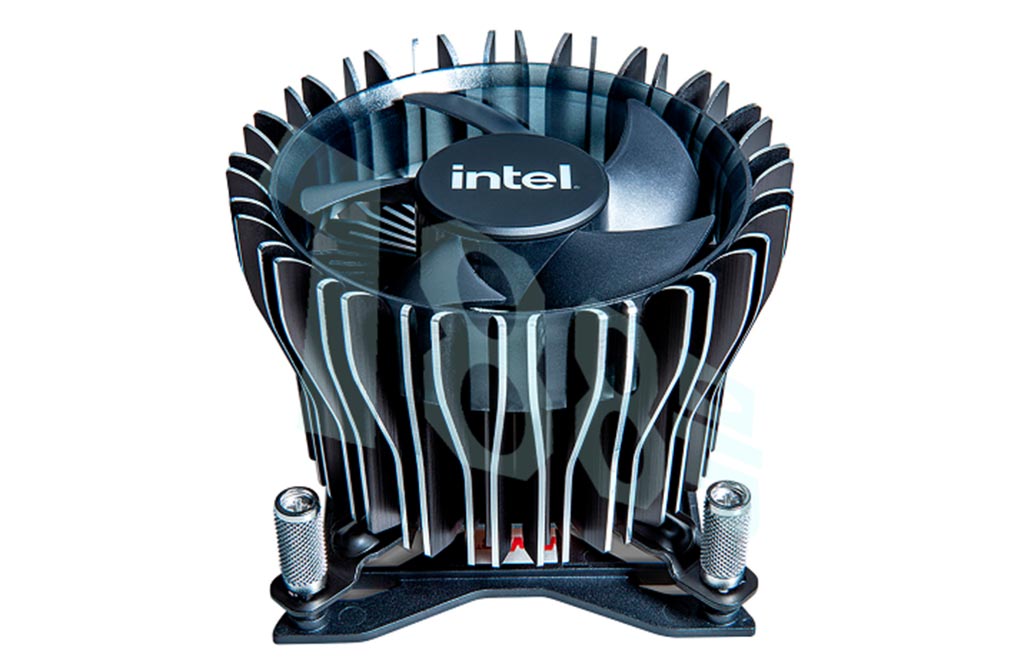 Last week, Club386 reported on the leaking of clear photos of the Laminar RM1 cooler – destined to be bundled with mid-range ADL-S parts launching in January.