Jump to: Build Quality | Sound Quality | Conclusion
No enthusiast's repertoire is complete without a decent gaming headset. While flagship cans continue to show incremental upgrades year-on-year, it is further down the ladder we feel the broadest improvements are evident. Point is, you don't have to spend a fortune for a capable headset, though you should be mindful of what it is you need the headset to do.
Corsair's blossoming portfolio has something for just about everyone, but it is the new HS80 RGB USB warranting attention of PC gamers. Built specifically with desktop gaming in mind, this latest addition sheds cordless capabilities of existing HS80 RGB Wireless to deliver many familiar qualities at a lower price point.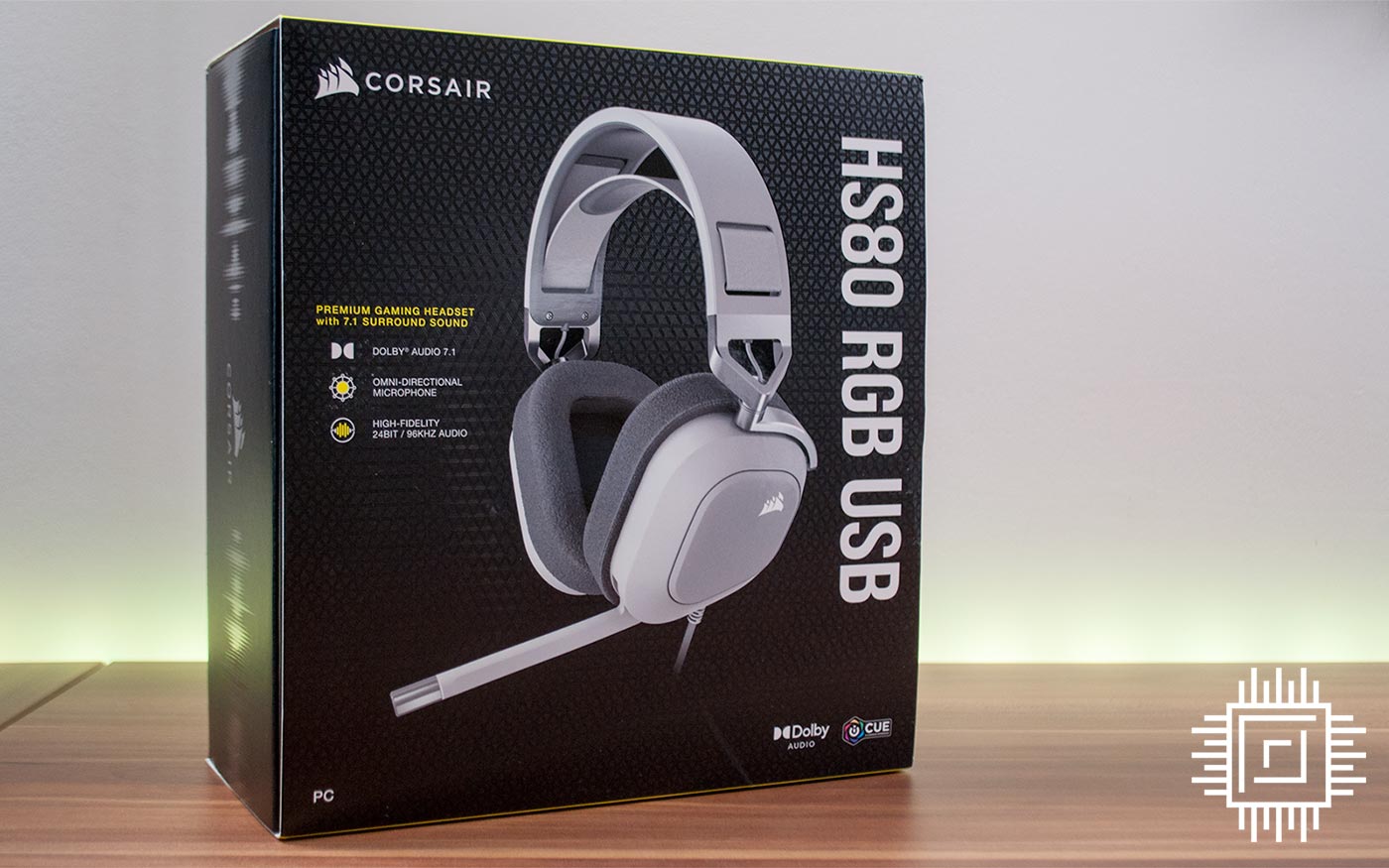 The theory is sound, but pricing in today's market can be troublesome, and a UK tag of £110 puts the latest HS80 in a tight spot from the word go. On paper, that's £50 cheaper than the wireless model, representing a healthy saving, but HS80 Wireless has been available for a while and routinely sells for less than MSRP. At the time of writing, the older, more versatile set can be had for £119; HS80 RGB USB may therefore need to drop to the sub-£100 bracket to set itself apart.
Should that happen, there's a lot here to like, starting with a subtle gamer aesthetic. The headset is available in a choice of black or white colour schemes, with the latter looking surprisingly dapper in the flesh. Despite prominence in the product name, RGB lighting is kept to a minimum with a small sails logo backlit on each earcup, and a slim status LED toward the tip of the microphone. Corsair branding across the top of the headband is elegant, as are various grey accents, and while recognisable as a gaming solution, HS80 RGB USB appears more reserved than some of its immediate competitors, and that's a good thing.
Solid Build, Stellar Mic
Build quality is robust throughout, with Corsair employing an aluminium-reinforced shell and memory-foam earpads topped with microfibre cloth. Such a configuration doesn't excel at containing audio – those in close proximity will hear the action unfold – but on the flipside, a more breathable design helps prevent sweaty ears.
Such traits demonstrate just how purpose built HS80 RGB USB actually is. There's no room for PS5 or Xbox Series S|X compatibility, you can't juggle between smartphone and other devices, and given that the headset isn't likely to be worn out and about, the microphone isn't removable. Heck, you can't even attach to a regular 3.5mm jack; the only means of connection is via a 6ft USB Type-A cord.

Show your support for impartial Club386 reviews
Club386 takes great pride in providing in-depth, high-quality reviews built on honest analysis and sage buying advice. As an independent publication, free from shareholder or commercial influence, we are committed to maintaining the standards our readers expect.
To help support our work, please consider making a donation via our Patreon channel.
PC gaming is the primary usage scenario and to that end there are a handful of noteworthy optimisations. We're particularly fond of Corsair's floating headband design. It isn't easily adjusted – the elasticated strap has to be manually moved using Velcro tabs that are fiddly to get to – yet when you do find the sweet spot you know the 373g headset is sized to fit and won't ever need adjusting again. Not ideal for multiple users, but perfect if you don't plan to share with others in the household.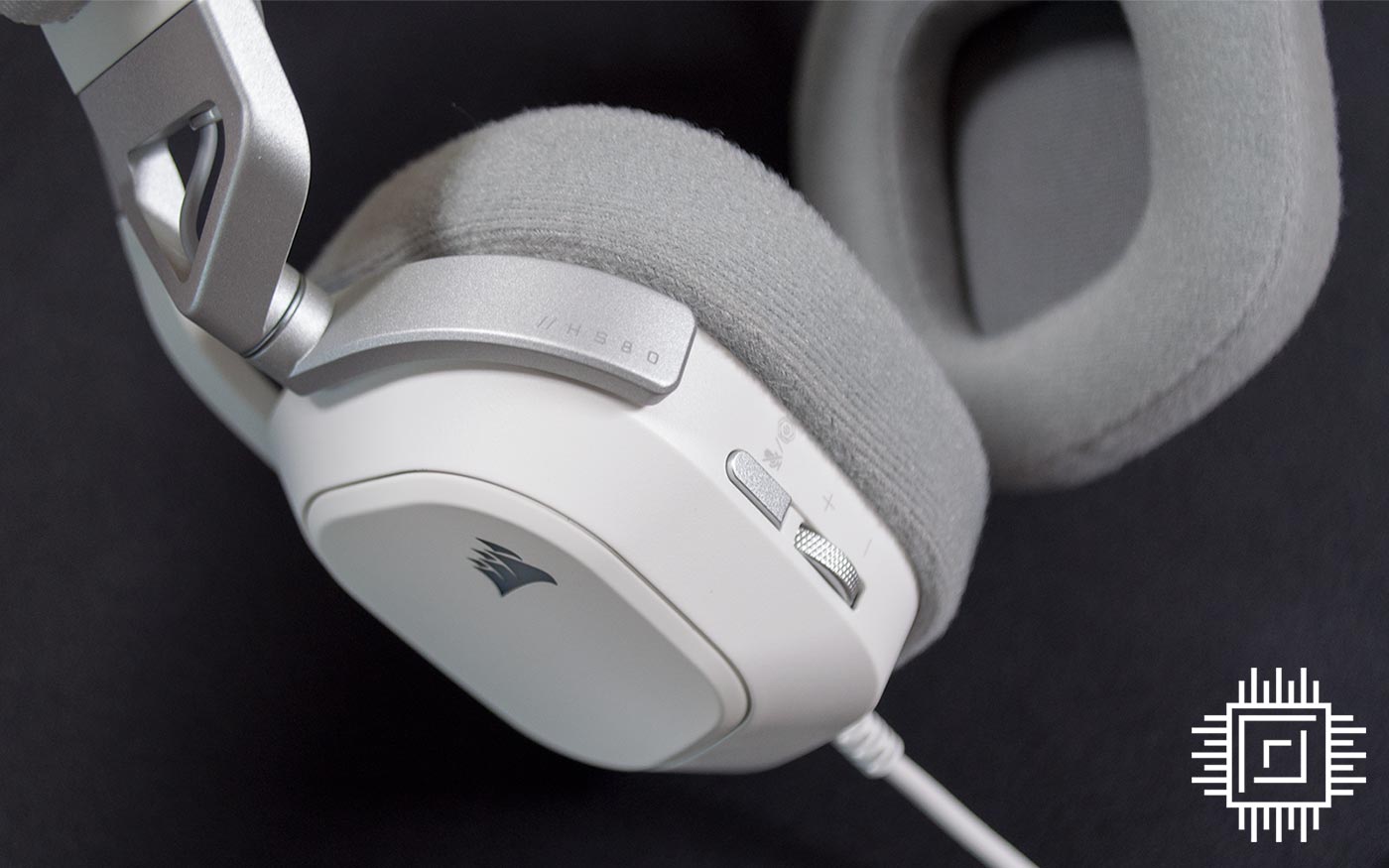 Albeit a little tight on my admittedly large noggin', HS80 RGB USB proved comfortable for over an hour's use, and I appreciate that controls are kept nice and simple. The left earcup is lined with a basic volume roller and a tactile microphone toggle button. We'd liked to have seen minimum, middle and maximum notches on the volume wheel, but we've no qualms when it comes to microphone implementation.
Corsair's "broadcast-grade" omni-directional mic lives up to its billing with excellent definition and minimal background noise. Voice clarity is about as good as it gets for a baked-in solution, and though mic volume is a little on the quiet side – we took to positioning it as close to the mouth as possible – overall implementation accentuates the user experience. Returning the microphone to its upright position automatically activates mute, or if you prefer to use the toggle button, a red LED strip near the end of the boom illuminates to let you know you're talking to yourself. Better still, the mute switch (the headset's only button) can be remapped within iCue software; Alt+F4 isn't a bad idea, ensuring you can rage quit effortlessly and in style.
One potential drawback to everyday comfort is that while HS80's earcups rotate to lay flat – a feature I'm normally fond of – the suspension-style headset makes it uncomfortable to wear around the neck; it's too snug to do so, and you get the impression users with slightly smaller heads are ultimately going to be better served.
Sound Quality and iCue Customisation
If a crisp mic and comfy suspended headset are the HS80's two best traits, enjoyable audio quality is a close third. Employing 50mm neodymium drivers covering a frequency response of 20Hz to 40,000Hz, the headset supports high-fidelity audio as well as Dolby 7.1 surround, and delivers on its promise of "excellent sound with the range needed to hear everything on the battlefield."
As a gamer-first solution, Corsair's out-the-box profile plays it safe with an emphasis on mids. Ideal for picking out dialogue and positioning in-game events; every footstep, gunshot and blast is delivered with good detail and isn't overblown in the bass or treble department, helping pinpoint everything that's happening around you. It's a satisfying experience that casual gamers won't feel the need to fine tune, however users enjoying movies and music on a regular basis may crave greater definition at the high end and a little more tightness to otherwise rumbly lows.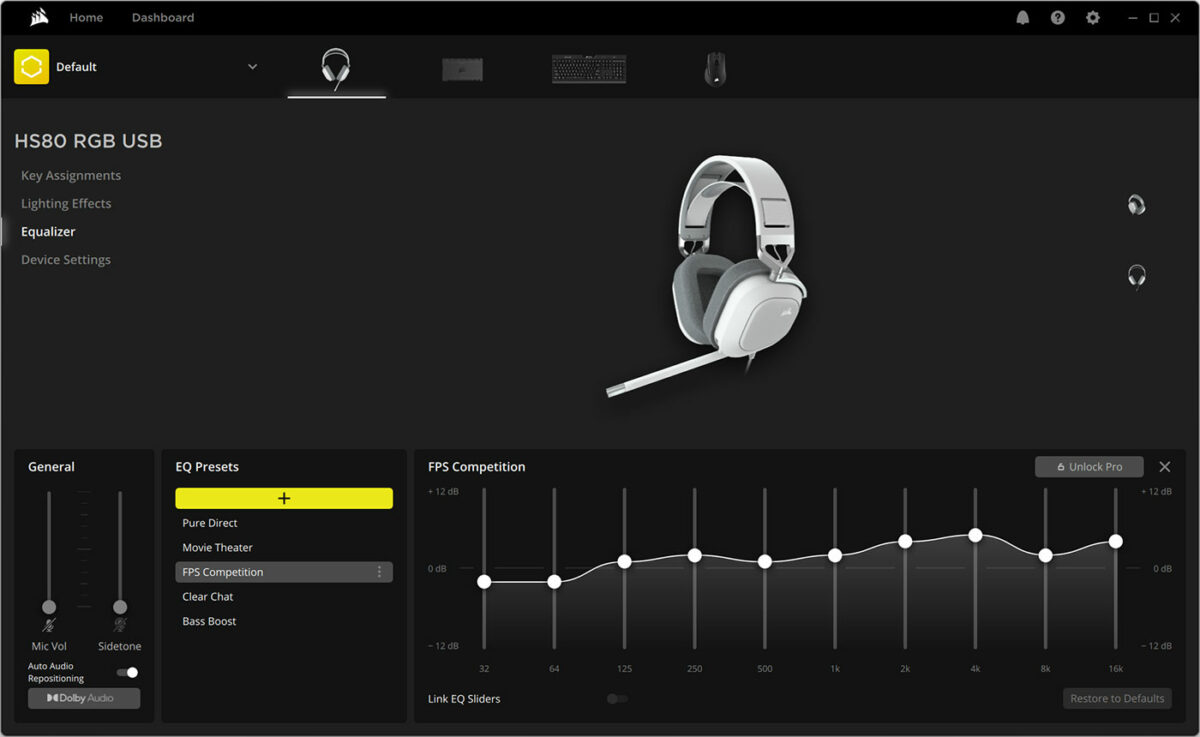 To that end, Corsair's customary iCue software handles toggling of Dolby Audio, sidetone feedback, and an audio equaliser with five built-in presets. Plenty of control, yet our experience with iCue continues to be mixed. During testing, we found the equaliser simply stopped having any effect on audio output. In the past a simple reinstall would eliminate said bug, but we've had no such luck this time around, and a quick Google search suggests we're not alone.
Here's hoping a software update will help iron out any such kinks, as the equaliser would otherwise makes it easy to massage those 50mm drivers into delivering a sound profile to suit. To be clear, the HS80 RGB USB is never likely to match the natural precision or clarity of premium audiophile solutions, yet delivers a pleasant sound that's a cut above most gaming headsets at this price point.
Conclusion
Corsair's HS80 RGB USB wired gaming headset gets the essentials right at a £110 price point. Aimed squarely at PC gamers seeking a plug-and-play solution that won't travel beyond the desk, the latest iteration of a popular HS80 formula delivers convincing surround sound via the ubiquitous USB connection.
Build quality is up to scratch, a floating headband bodes well for long-term comfort, and Corsair's restrained aesthetic is relatively sleek for a gamer-first solution. Add to that an excellent microphone that belies the price tag, and you have a competent package serving as a meaningful upgrade over regular PC speakers.
The caveat, and it's an important one, is that a wireless model offers all of the above, with the added flexibility of wireless connectivity and PS5 compatibility, for just an extra £10. That's still the HS80 to go for.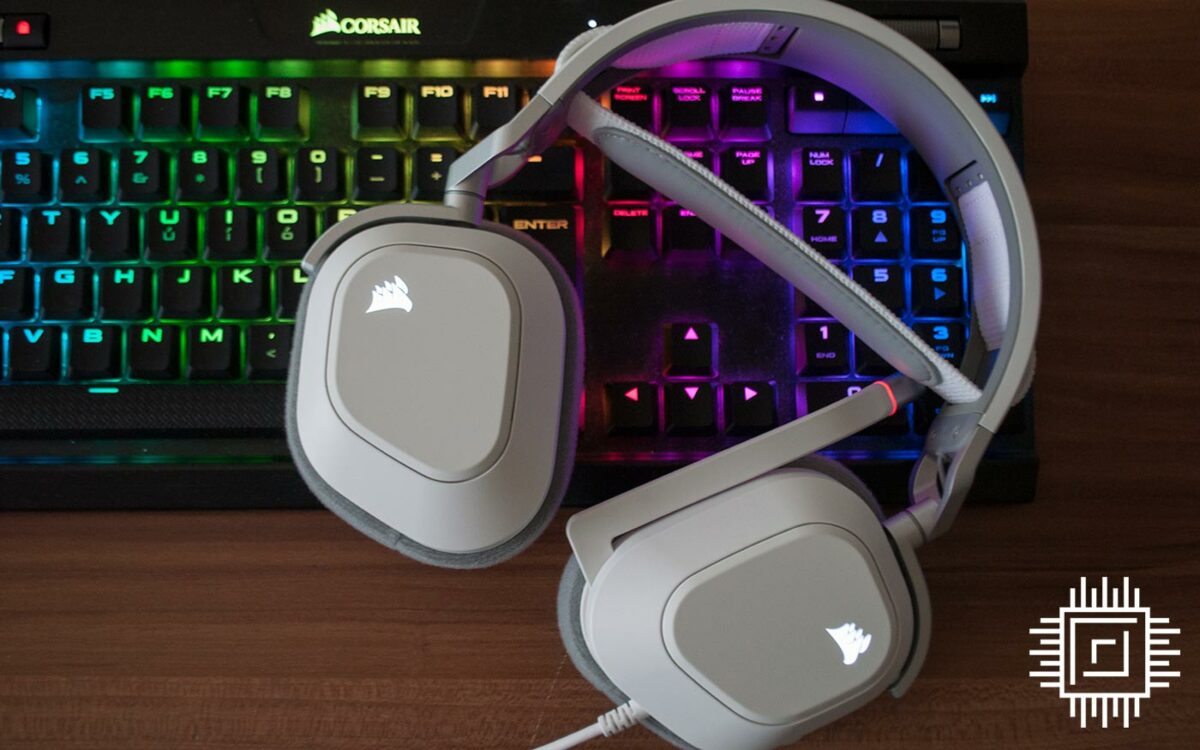 Corsair HS80 RGB USB
Verdict: A likeable, no-nonsense gaming headset destined to remain attached to a PC at all times.
---
Pros
Excellent mic quality
Comfy floating headband
Sleek design, minimal RGB
Plug-and-play USB
Punchy audio
Cons
Wireless only £10 more
A tad tight on big heads
Buggy iCue equaliser
---
Club386 may earn an affiliate commission when you purchase products through links on our site. This helps keep our content free for all.
Rest assured, our buying advice will forever remain impartial and unbiased.