Jump to: Overview | Lighting | Performance | Conclusion
What is it we seek in a PC enclosure? Some folk are inclined to keep things small. Others want to maximise airflow. These days, a fair few seem to crave as much RGB lighting as possible. Corsair's not only aware of the trend, it is leading the charge with a huge catalogue of technicolour hardware.
The latest addition to the range is the iCue 5000T RGB chassis which, wait for it, boasts a whopping 208 individually addressable RGB LEDs. Combined with a staggering £350 price tag, this promises to be an enclosure for the most extravagant of builds. Let's take a closer look, shall we?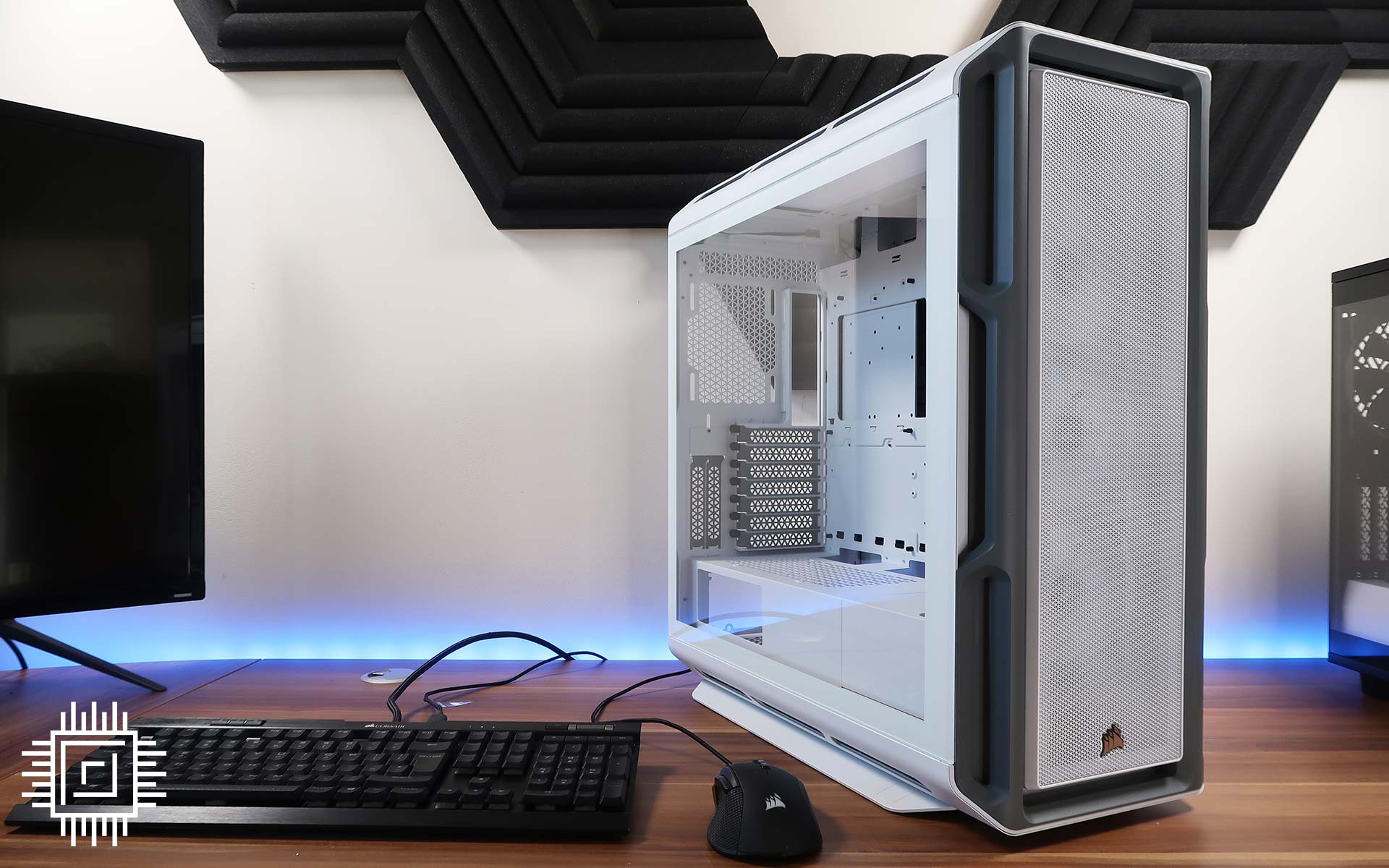 At this price point you'd expect a lot for your money, and the iCue 5000T RGB delivers, at least in terms of stature. This 'mid-tower' beastie measures 530mm (L) x 251mm (W) x 560mm (H) and represents an unexpected increase in size; the 5000D upon which it is based is 10mm less deep, 6mm narrower and a whole 40mm shorter.
Both size and pricing have ballooned, so what does Corsair's 5000T RGB do to set itself apart from the regular, £155 5000D?
New Exterior, Familiar Innards
At first glance the 5000T, available in a choice of black or white, barely resembles its earlier sibling. It's amazing what a few angular accents and contours can do to transform the look of a case, yet while aesthetics is always a case of personal preference, we happen to prefer the clean lines of the sleeker 5000D. Horses for courses, but the exterior isn't doing it for us and the plastic front surround in particular isn't the nicest shade of grey.
Appearance aside, the 5000 Series does share plenty in common when it comes to hardware potential. Motherboard support up to E-ATX (305mm x 277mm) is consistent across the range, the 7+2 expansion slot arrangement remains in place, and fan mounts are unchanged, too.
For those keeping count that means three 120s or two 140s in the front, three 120s or two 140s in the roof, three 120s alongside the motherboard tray, and a 120 at the rear. 10 mounting points ought to be deemed ample for any enclosure, yet given the sheer size of the 5000T RGB we're disappointed to find that provisions haven't been made for larger fans. On a case of these proportions we'd expect wider support for 140s throughout.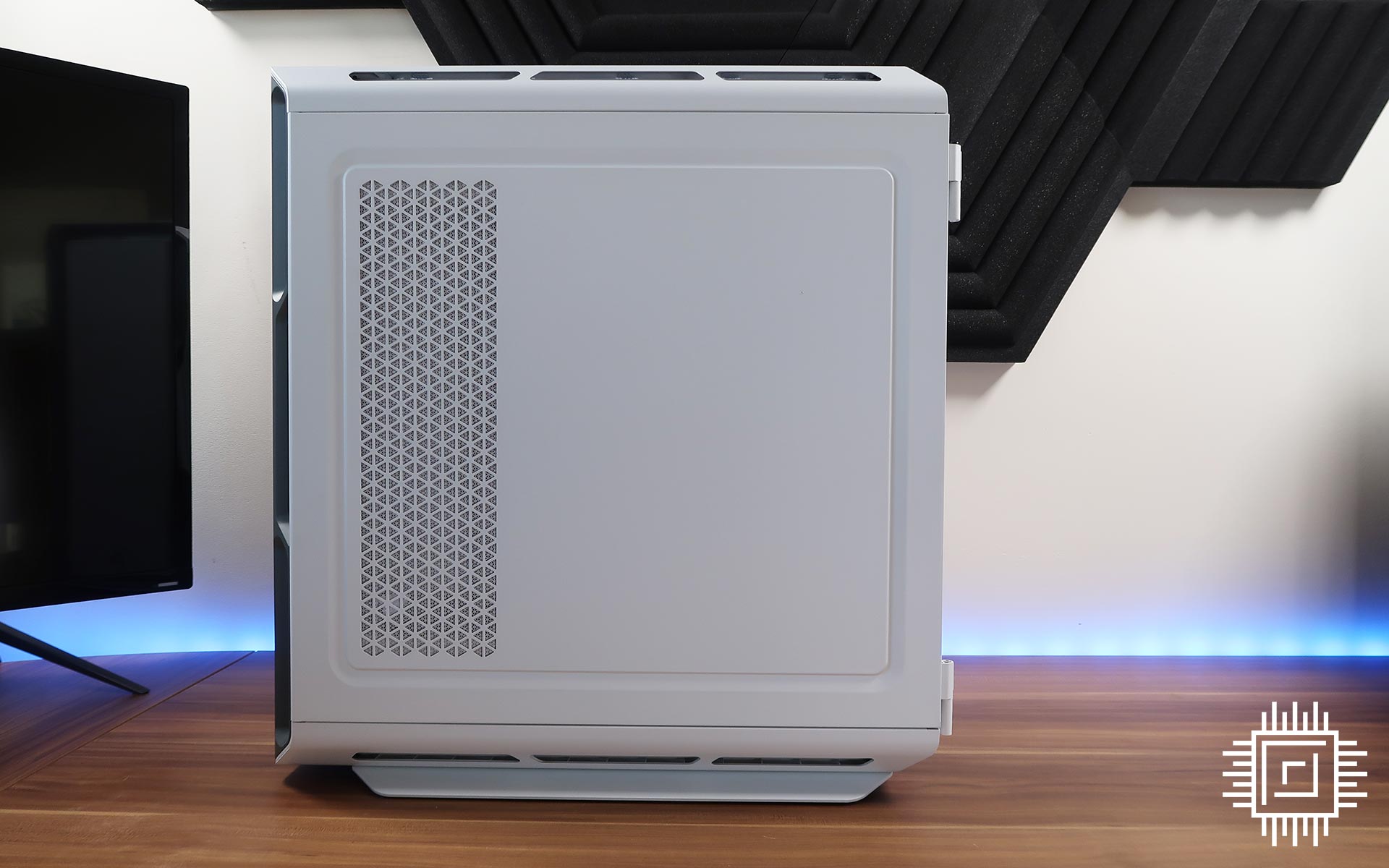 Indeed, the supplied trio of LL120 RGB front intakes looks positively tiny in relation to the case as a whole, and it's a shame cabling isn't better looked after on the production line; whoever put our sample together opted against using the dedicated cable holes. On the plus side, said fans are capable of a 2,200RPM top speed, so pulling-in air from behind that mesh front panel shouldn't be a problem.
Said panel is secured through a series of magnets, making it easy to remove for cleaning purposes, and Corsair has taken the time to bolster the selection of I/O ports. Neatly arranged along the top-front edge, these now include four USB 3.0, one USB 3.1 Type-C, a combination audio jack, and customary power and reset buttons. Plenty to go by, though do be aware you'll need a motherboard with three available headers to power all the USB; two USB 3.0 and a single USB 3.1 Type-C.
Storage is catered for via a trio of 2.5in sleds fixed to the rear of the motherboard tray, as well as a dual-bay 3.5in cage along the PSU compartment. Once again, the size of the case doesn't necessarily translate to ease of use; the power supply doesn't slot in from behind, and squeezing it through the side is very difficult without having to remove the drive cage first. We're divided on the cutout in the two-part shroud, too; on a white chassis it practically necessitates a matching PSU.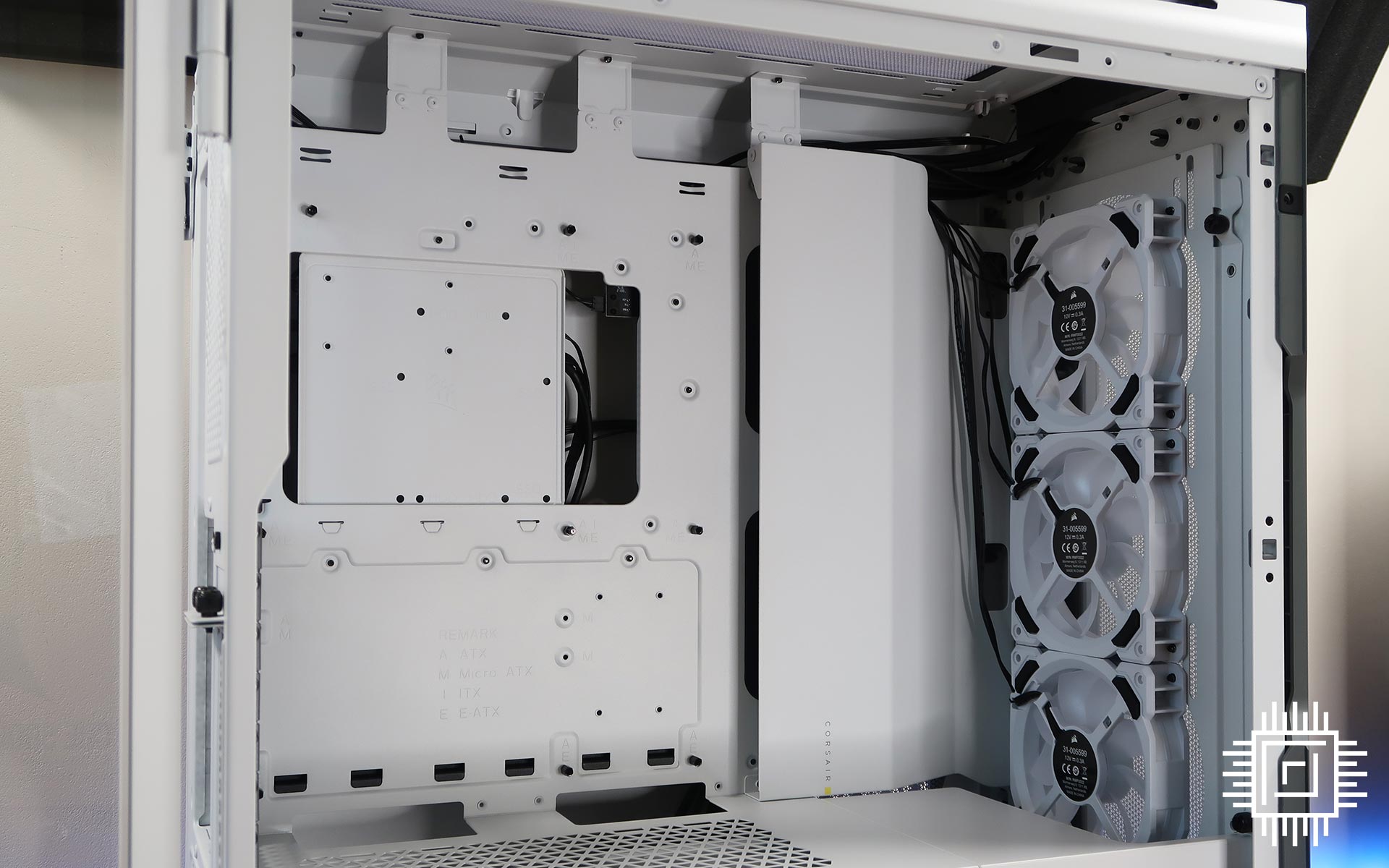 Show your support for impartial Club386 reviews
Club386 takes great pride in providing in-depth, high-quality reviews built on honest analysis and sage buying advice. As an independent publication, free from shareholder or commercial influence, we are committed to maintaining the standards our readers expect.
To help support our work, please consider making a donation via our Patreon channel.
In terms of filtration the removable mesh frontage is joined by a full-length magnetic insert up top, another magnetic filter on the side-panel vent, plus a small pull-out filter beneath the PSU. There's ample room for cabling to go over or below the motherboard tray, and the elegantly branded panel in front of the two rubber-grommeted holes does a fine job of masking cables and hiding the side 120 mounts.
All tidy enough, and there's clearly scope for an ultra-high-end build, with tool-free hinged side panels that swing open effortlessly and more than enough cable clearance around back. These are features you'd expect at a fraction of the £350 asking fee, but let's cut to the chase; you need to be an RGB aficionado for this case to make sense.
Light It Up
For those who can't get enough of multi-coloured PCs, the 5000T RGB represents a one-stop solution to massive amounts of illumination. Those three front RGB fans with 16 addressable LEDs apiece? They're merely the tip of the iceberg. The case also houses half-a-dozen LED strips; one either side of the top, one either side of the base, and another pair running down the sides of the front.
Anyone inclined to tinker with every individual LED will be frothing at the mouth right about now. There are a total of 160 addressable LEDs in Corsair's strips, plus the 48 availed through the fans. Sounds like a headache in the making, but setup is simplified through the inclusion of a Commander Core XT lighting controller worth £50.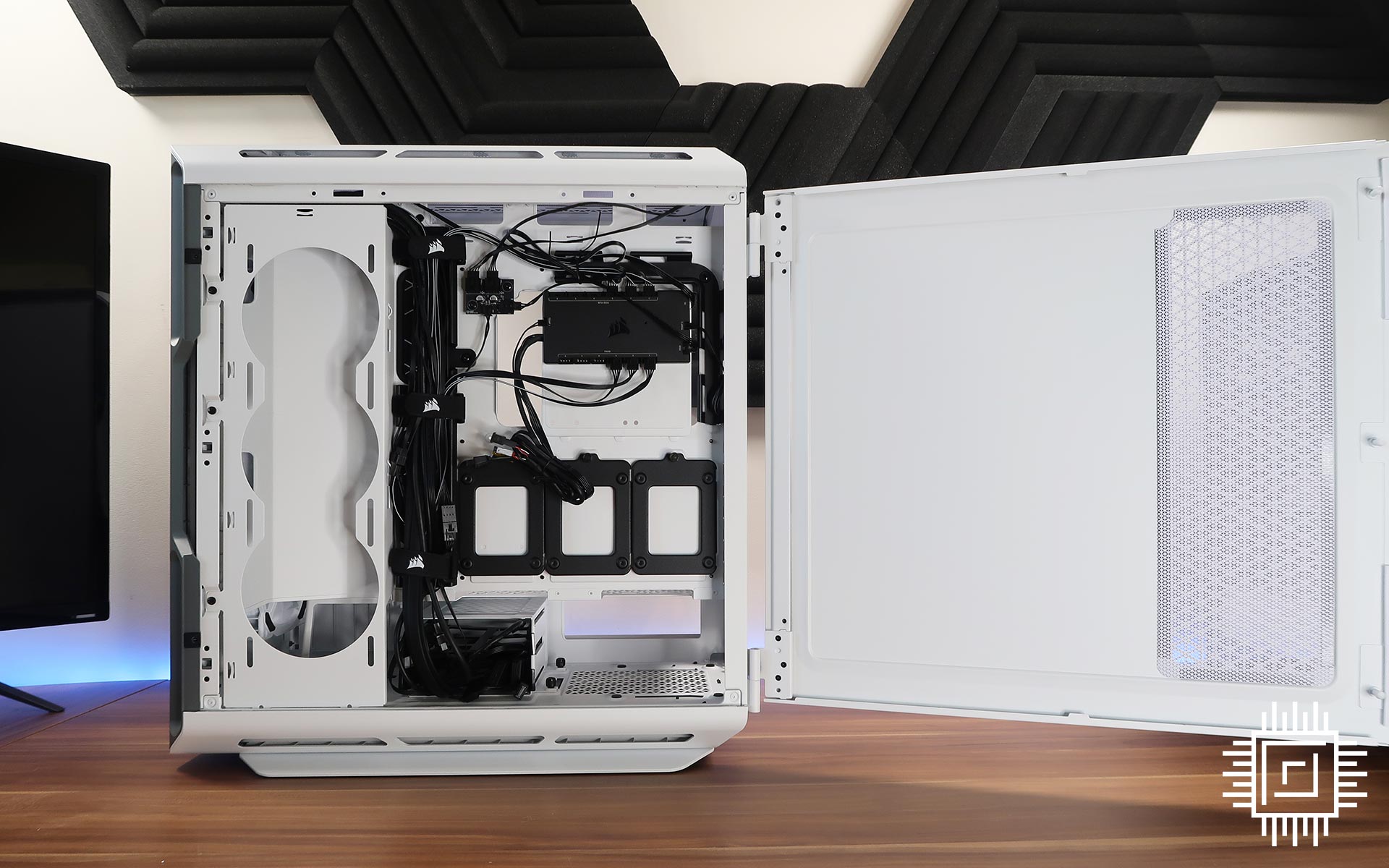 Pre-attached behind the CPU socket, Corsair's SATA-powered controller can unite up to six four-pin RGB fans, features a three-pin header used in this instance to daisy-chain lighting strips, and also comes equipped with two temperature sensors to help keep tabs on certain components or areas of the case.
Corsair thankfully hooks up every applicable cable out of the box, with the three supplied fans in sequence, meaning the end user merely needs to fire up iCue and play with myriad effects and animations. It's a fun exercise once you've mastered the app, and with a vast clear-glass panel, showing off your PC inside and out couldn't be much easier. That plastic-grey fascia that didn't look quite right makes a whole lot more sense with the lights switched on.
Performance
For the purpose of our benchmarks, a high-end Core i9-12900K processor is configured to 175W and cooled by a be quiet! Dark Rock Pro 4 operating at a fixed 700RPM. All the emphasis is shifted to the chassis, whose fans are tested in three states: 400RPM, 800RPM and maximum RPM.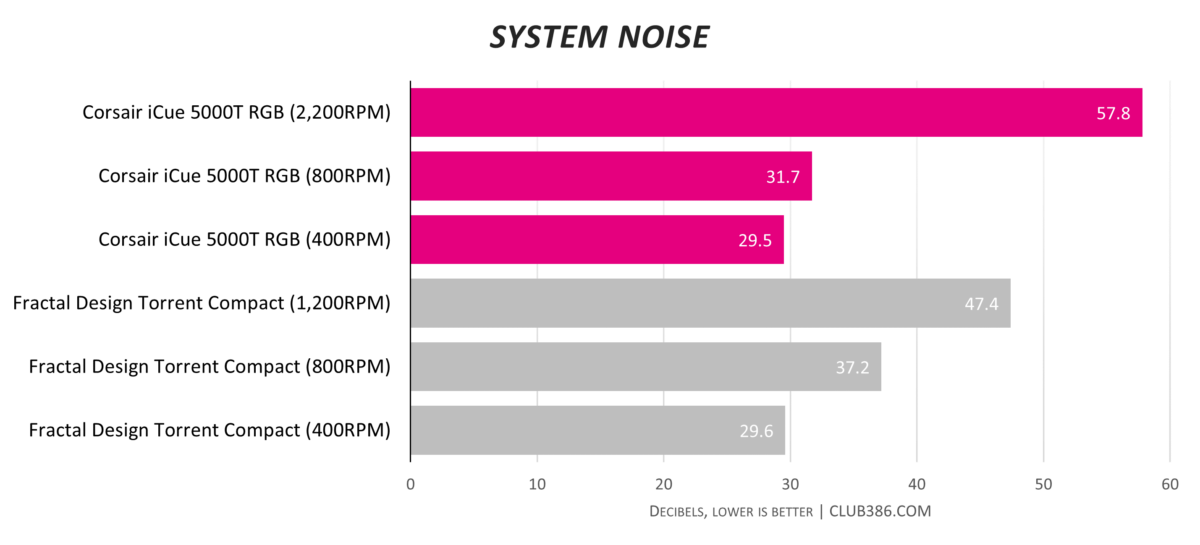 We're staunch advocates of quiet fans and Corsair's supplied trio does a good job of keeping noise levels down to a minimum at low speeds. The system is practically silent at 400RPM and remains barely audible when fan speed doubles. As you'd expect, maximum speed is met by a crescendo, but we don't imagine many users, if any, will choose to run at 2,200RPM.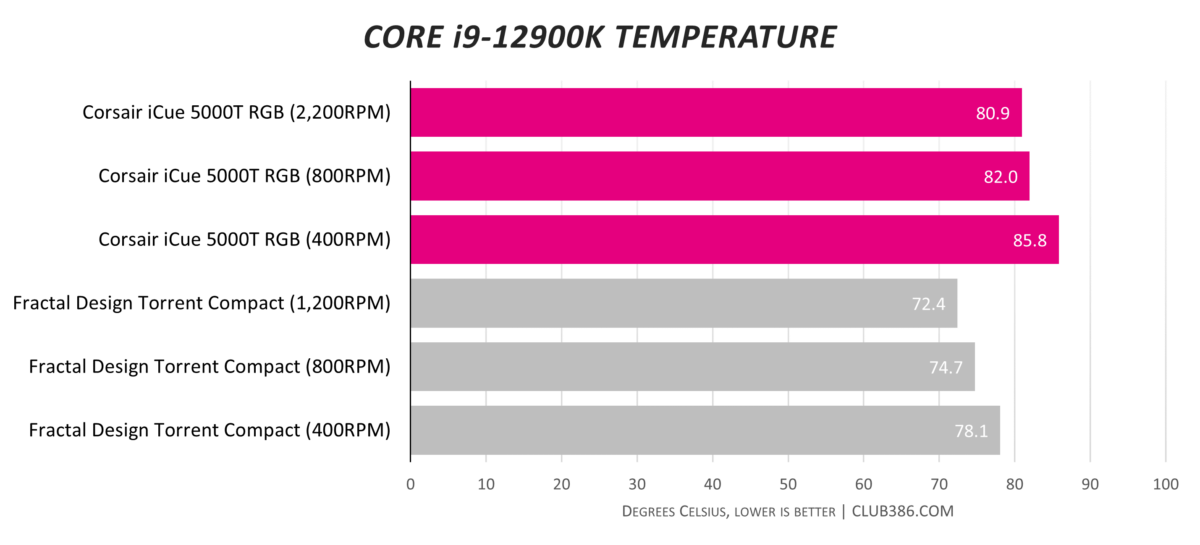 Our Core i9-12900K processor isn't exactly troubled inside the iCue 5000T's belly, but it evidently prefers the Fractal Design Torrent Compact's huge 180mm front intakes. We're amazed to find the CPU runs warmer with the Corsair fans at full speed, than the Torrent Compact at 400RPM.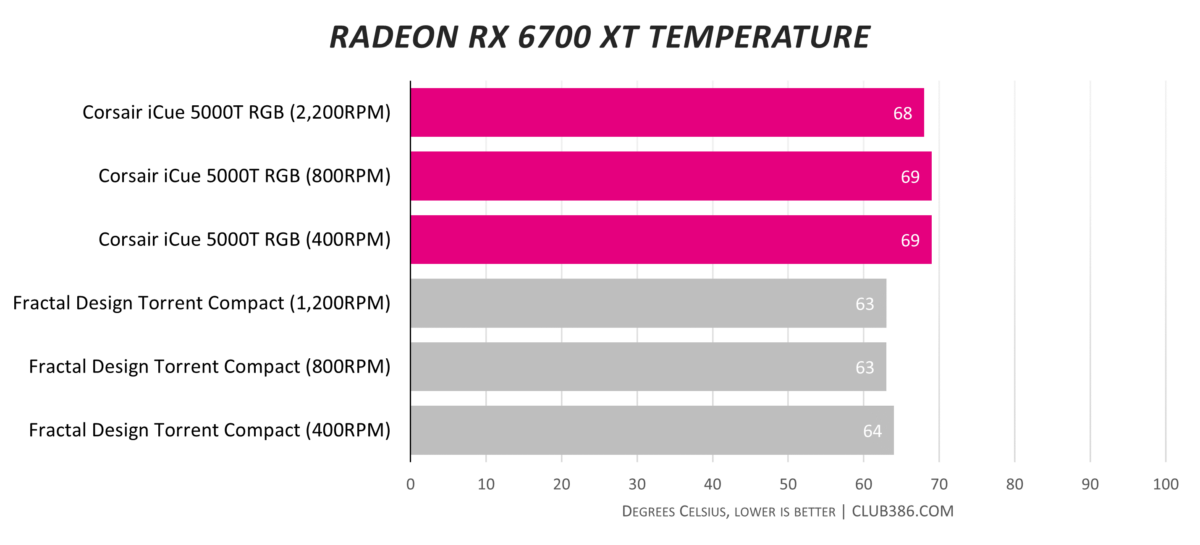 We see similar parallels in the GPU department, where our trusty Sapphire Radeon RX 6700 XT settles at around ~68°C. Well within the limit, and to no real detriment in terms of frequency, but still some eight per cent warmer than the Fractal.
Conclusion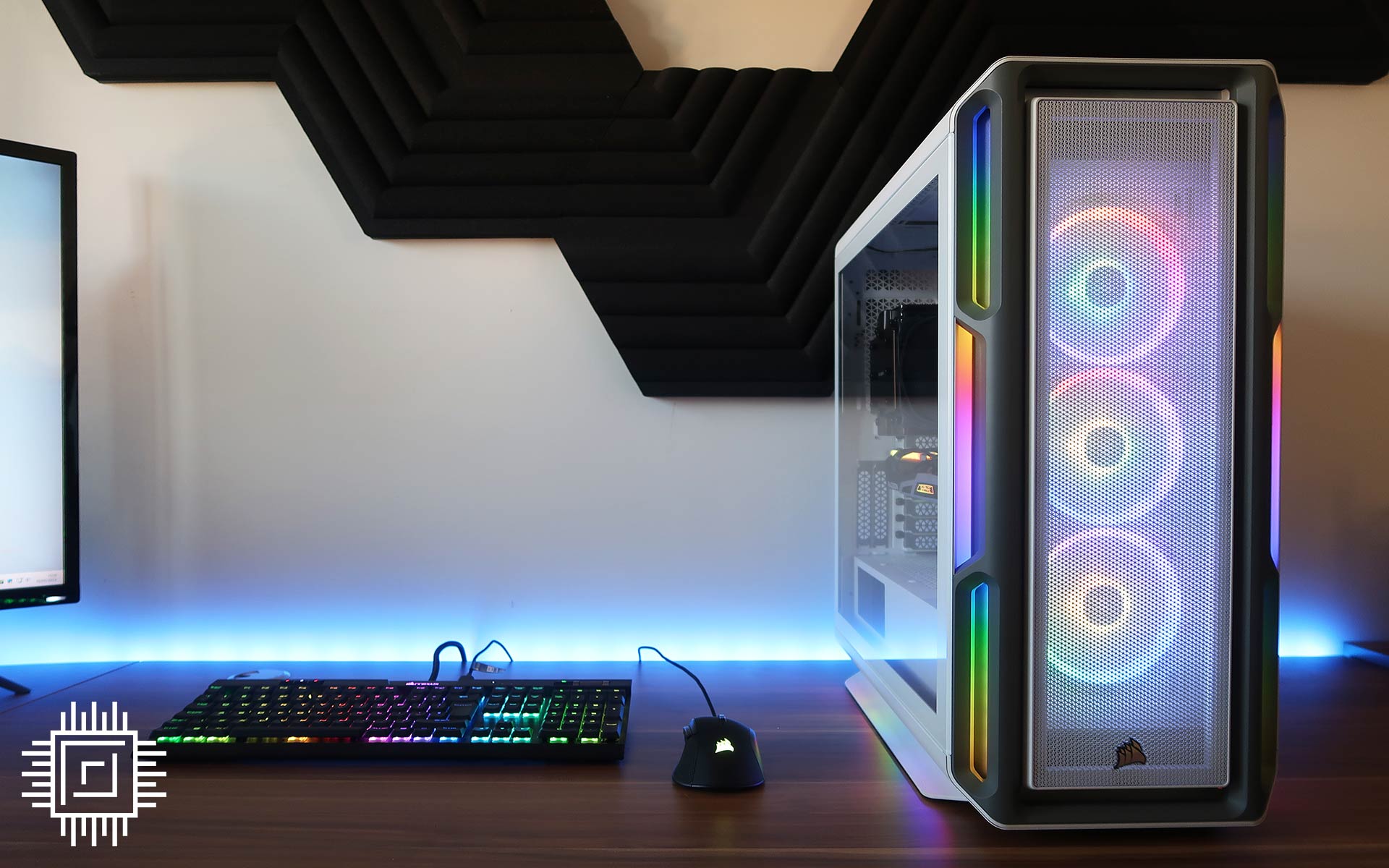 What is it we seek in a PC enclosure? Segueing back to the opening question, Corsair's mid-tower portfolio has grown to cover all bases. The mainstream 4000D will do most things for most users at only £75, a £125 5000D ups the ante with more USB ports and fan mounts in a larger footprint, and now the iCue 5000T RGB turns the lighting dial up to 11.
Expanding the price tag to a jaw-dropping £350, the latest addition to the range wraps the likeable 5000 Series interior in a contoured shape designed to accentuate a multitude of RGB LEDs. 208, to be exact, spread across three fans and half-a-dozen lighting strips. Allied to a Commander Core XT controller, the lighting is a genuine attraction for those who appreciate a well-illuminated chassis.
If there's room in your budget, creating a dazzling build couldn't be much easier, but such is the emphasis on RGB that other elements are left playing catch-up. Out-the-box cabling could be tidier, the clean lines of 5000D have fallen by the wayside, and supporting only four 140mm fan mounts in a chassis of this size suggests performance is a secondary concern.
Verdict: Like it or loathe it, RGB is going to play a big part in enthusiast systems in 2022. Corsair's iCue 5000T RGB chassis is a product of our time.
Pros
RGB looks cool, if that's your thing
Simple iCue customisation
Three fans and six lighting strips
Tool-free hinged side panels
Bundled Commander Core XT
10 available fan mounts
Cons
£350 price tag
Only four 140mm mounts
Big for a mid-tower solution
Fan cabling could be better
Club386 may earn an affiliate commission when you purchase products through links on our site. This helps keep our content free for all. Rest assured, our buying advice will forever remain impartial and unbiased.