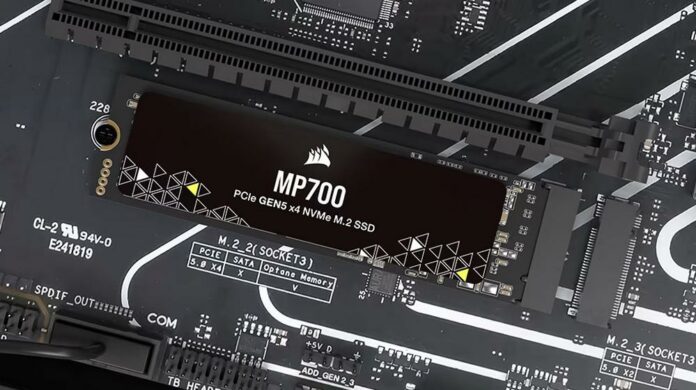 Corsair has begun selling its latest MP700 SSD series rocking PCIe Gen 5 connectivity and up to 2TB storage capacity.
As we talked about previously, the MP700 is powered by Phison's E26 controller alongside Micron 232-layer 3D TLC flash and LPDDR4 cache. Combined with a PCIe 5.0 x4 interface, this allows the 1TB model to reach 9.5GB/s read and 8.5GB/s write speeds with 1.6m IOPS and 1.3m IOPS, respectively, whereas the 2TB bumps things up a bit to 10GB/s read / write, plus 1.7m IOPS and 1.5m IOPS.
Needless to say that such speeds aren't needed for gaming, at least for now. But if you are moving a lot of data, these bad boys will do wonders, especially as they boast 700 and 1,400TBW of durability.
Unlike last time, Corsair seems to have gotten rid of the massive / active heatsink, which is a good thing regarding noise and failure points. However, there is a chance that other versions with said coolers will be offered later down the line.

Those planning to install a dedicated heatspreader on top, be it a fancy or motherboard one, should note that the MP700 – at least the 2TB variant – is double-sided, i.e. thicker than the 1TB, according to the brand's 3D renders. Something like Corsair's own Hydro X Series XM2 water blocks should perfectly fit the bill. Mind you, this is not a big deal, rather something to keep in mind as machines such as ultrabooks may not have enough space to accommodate the additional height.
Backed by a five-year warranty, the Corsair MP700 1TB and 2TB SSDs are priced at £169.99, and £279.99, respectively.