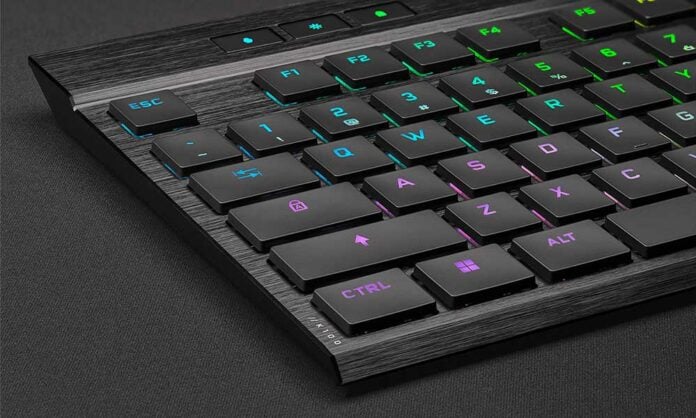 PC peripheral giant Corsair has announced its "thinnest high-performance keyboard ever" in the form of the K100 Air.
Making its way to market starting October 4 at a yet-to-be-disclosed price, the new addition to the firm's vast range of keyboards offers something different to the norm and measures a mere 11mm thick at its thinnest point.
Corsair reckons "a clean, minimalist aesthetic" makes the K100 Air a fine fit for any desktop and there's merit to such a low profile. A good number of users claim to feel most at home on a laptop, where traditionally flat keyboards offer a relatively shallow experience that some folk adore.

I'm not one of them. As an old school typist I happen to prefer keyboards of the chunky variety. Tenkeyless solutions do nothing for me. I want every available key if not more and appreciate good travel distance and a precise mechanical action. That said, I'm intrigued to give the K100 Air a whirl.
In an effort to retain a high-performance feel, Corsair has opted for Cherry MX Ultra Low Profile mechanical keyswitches to help carry over the tactile feel of full-height models. We imagine the experience is a lot like a high-end gaming laptop, and the switch shares resemblance with the infamous Apple Butterfly, albeit with a metal spring as opposed to a plastic hinge.
Measuring just 3.5mm tall, Cherry's astonishingly thin mechanical switch offers a total travel distance of 1.8mm and actuates at 0.8mm with 45 centinewtons (cN) of force. Designed and manufactured in Germany, the switch promises acoustic feedback in the form of an "unmistakeable Cherry click sound" and has previously featured in premium laptops from Alienware.

Corsair's desktop implementation has the added benefit of SlipStream Wireless (2.4GHz), Bluetooth or USB wired connectivity, the latter polling at up to 8,000Hz. An option to switch between wireless connection makes it easy to jump between, say, desktop and tablet, and battery life is rated at up to 200 hours, though this plummets to a mere 50 hours with RGB lighting enabled.
Speaking of which, Cherry managed to place its RGB LED directly under the switch's translucent thermoplastic parts, allowing for even diffusion and minimal dim spots.
K100 Air's brushed-aluminium frame certainly looks the part and Corsair's added flourishes add to its appeal. There are four G Keys above the numpad for macro shortcuts, dedicated media controls reside next to the volume rocker, and 8MB of onboard storage is at hand for up to 50 saved profiles.