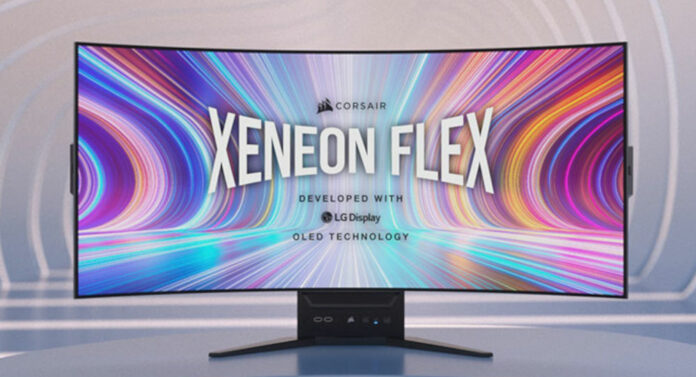 Corsair is unifying gamers who can't stand curved screens and those who can't live without them with the Xeneon Flex OLED gaming monitor.
Continuing its push in the display market, after announcing the Xeneon 32QHD240 and Xeneon 32UHD144, Corsair's latest addition offers a very unique concept consisting of a flexible panel from LG Display that can be set flat or curved at will.
Dubbed Xeneon Flex 45WQHD240, it uses a 45in W-OLED panel boasting a 21:9 (3440×1440) WQHD resolution, capable of refreshing at a fast 240Hz. Thanks to its OLED nature, the panel can achieve a 1,350,000:1 contrast ratio ensuring deep blacks, perfect for movie watching and gaming in HDR. Talking of which, Corsair didn't specify what HDR rating this monitor gets, however, looking at its 1,000-nit peak brightness, we can confidently assume that it is HDR1000.
High refresh rates and contrast are nice and all, but for a gaming monitor we need fast pixel response. On this aspect, the manufacturer advertises an ultra-fast 0.03ms (GtG) response time, and 0.01ms pixel on/off time, meaning that in theory, motion blur should be a thing of the past. But that's not all, Nvidia G-Sync and AMD FreeSync Premium adaptive sync standards are also supported, eliminating yet another annoyance for gamers – tearing.

If you think the Xeneon Flex is promising, we have yet another surprise for you. This bad boy can go from flat into an 800R curve in seconds – adjustable in as many increments as physically possible. You can keep it flat when you work or watch movies from a distance, then curve it when it's game time. If you like challenges, you can even curve one side to its maximum (800R) while keeping the other flat. Why you do that, we don't know, but it's nice to know you can. The brand didn't disclose how many (flat-to-curved) cycles this panel can sustain, but while it may feel freaky bending your monitor, it is surely stress-tested to survive regular alterations.
Since this is a PC monitor, there is a high chance of static images being displayed on-screen all the time, increasing the chances of burn-in, such as Windows taskbar or games HUDs. Corsair is aware of this problem and has integrated mechanisms to prevent it from happening. Moreover, the screen comes with a three-year zero burn-in and zero dead pixels warranty, indicating at least a minimum of confidence in the product's resilience.
"We challenged ourselves to create a game-changing display that delivers an incredible and customizable experience, and I think we've achieved that goal and more," said Dennis Jackson, senior director of systems product management and marketing at Corsair. "With the help of LG Display, XENEON OLED FLEX is the beginning of a whole new class of gaming monitor, with the performance and literal flexibility to exceed the needs of even the most discerning gamers."
Finally, the stand's back has Corsair's signature logo, with a central support mechanism terminating on each side by a handle to allow for easy screen curve modification.
From the introductory video we can see connectivity entails two USB Type-A (probably 2.0 for peripherals) and a 3.5 audio jack in the front, plus two HDMI, one DisplayPort, two USB Type-A, and two USB Type-C in the rear.
Corsair said that pricing and availability will be revealed later in 2022. But let's be real, this one will not come cheap.