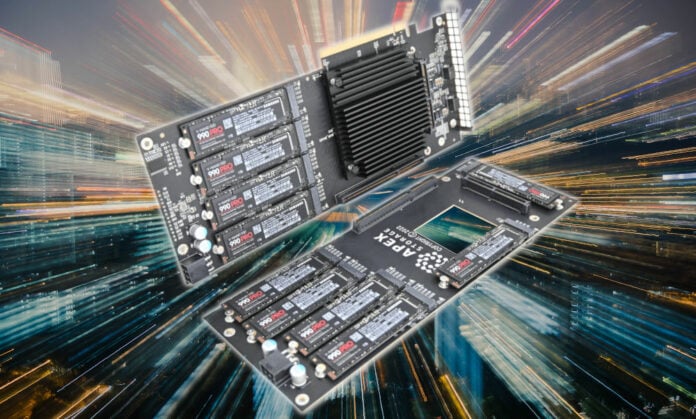 Meet the Apex Storage X21 riser card boasting 21 M.2 Gen 4 slots for a total bandwidth of up to 31GB/s while supporting Secure Boot and RAID.
Riser cards carrying multiple M.2 SSDs are nothing new, but as far as we know, no one had tried installing 21 on a single board.
It seems Apex Storage had fun slapping M.2 ports wherever free space was available, totalling 21 slots ready to be packed with all kinds of SSDs. Going balls to the wall should net 168TB of storage space when filled with 8TB SSDs – using Sabrent's expensive/fast Rocket 4 Plus 8TB.
Going more real world, something more affordable such as Crucial's P3 Plus 4TB, which recently got discounted to $224.99 – offering 4,800MB/s read and 4,100MB/s write speeds alongside 800TBW endurance and five years of warranty – is a better choice. Moreover, nothing seems to be limiting this capacity, since the brand talks about 336TB total capacity using future 16TB SSDs. Stick that in your pipe and smoke it.
The X21 is compatible with all NAND flash types, including QLC, TLC, MLC, and even Optane. It has 100 internal PCIe 4.0 lanes, though most motherboards will default to 16 lanes as the conduit between card and chipset, leading to a potential 31.5GB/s. In fact, that's the limiting factor in terms of ultimate performance.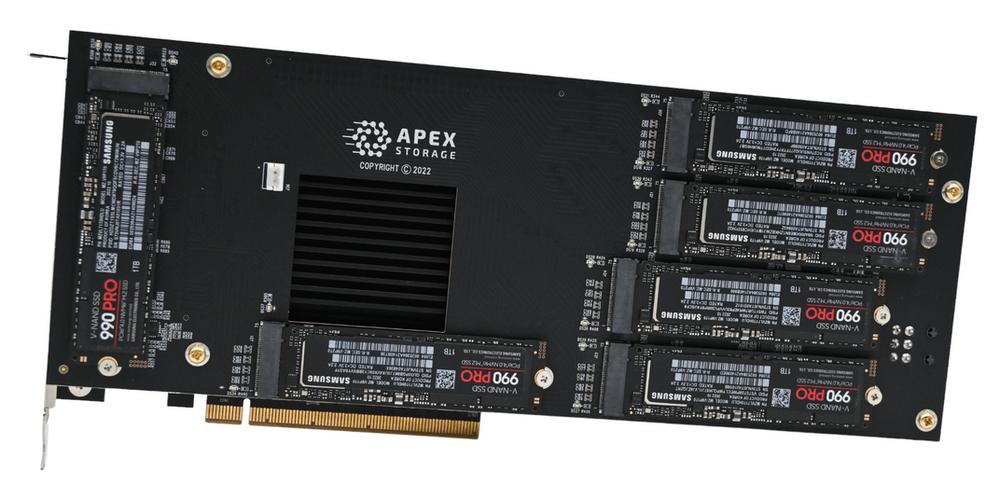 Apex Storage therefore announces 30.5GB/s read and 26.5GB/s write speeds alongside 7.5M read and 6.2M write IOPS, obviously depending on the amount and speed leveraged by on-card SSDs. The brand also claims full performance plus data protection, with rebuilds up to five times faster than traditional RAID at minimal impact to the former. Apex Storage talks about 95W of power consumption while active, explaining the need for two 6-pin PCIe connectors.
The manufacturer recommends having some amount of airflow to cool the SSDs sandwiched between PCBs.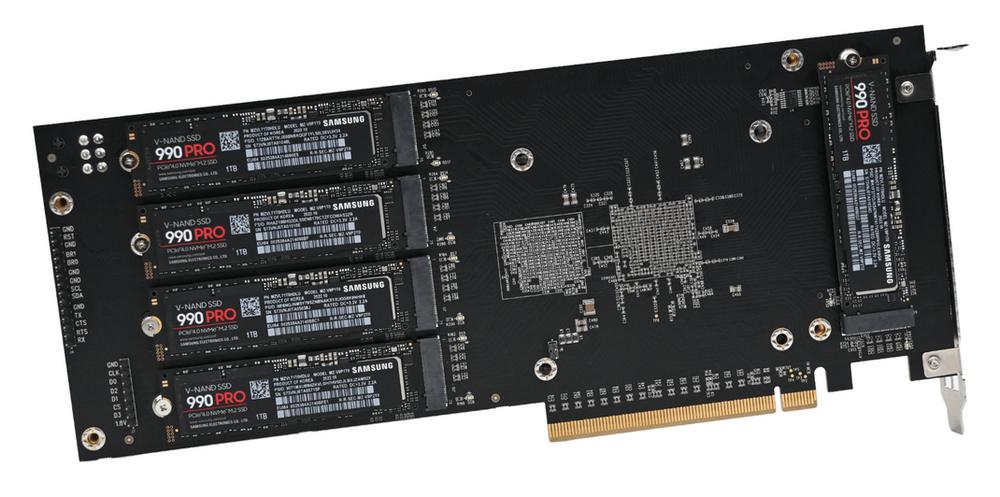 Needless to say that such a card isn't meant for gamers or small-time professionals, although nothing is stopping those who can afford it.
The Apex Storage X21 supports Windows 10/11, Windows Server, plus Linux, and comes with a lifetime warranty, priced at $2,800 with volume discounts available.