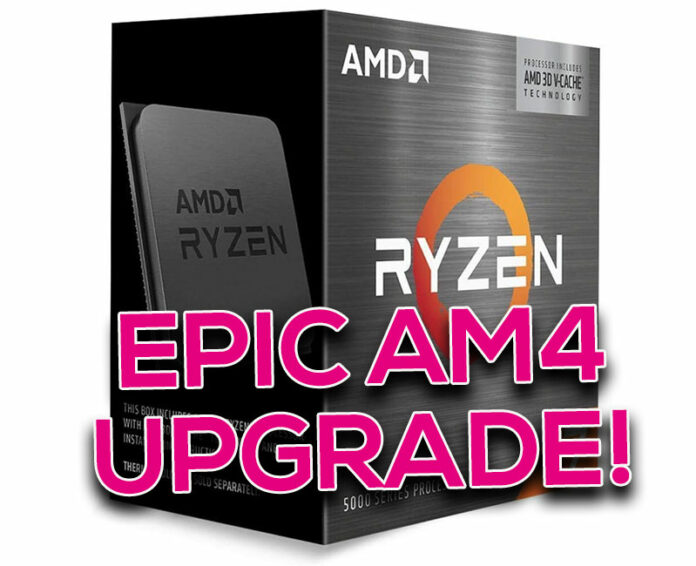 AMD Ryzen 7 5800X3D
---
"The AMD Ryzen 7 5800X3D is the first desktop processor with stacked L3 cache, delivering unmatched 96MB of L3 cache paired with incredibly fast cores to create the world's fastest gaming desktop processor."
We earn a commission if you make a purchase, at no additional cost to you.
AMD is dominating Club386's deal of the day, but with good reason; Ryzen CPU prices are plummeting across the board. Just days after the 12-core AMD Ryzen 9 7900X dropped to its lowest price ever, we've identified another corking deal in arguably one of the greatest gaming CPUs ever released.
Yep, you guessed it, the processor in question is Ryzen 7 5800X3D, which is now available from Amazon at a remarkable low of £264 / $289. Remember, this very chip arrived on the market priced at £410 / $449, meaning it is now reduced by a whopping 35 per cent.
Pricing has been forced to come down gradually since next-generation successors arrived on the scene, and that's ultimately great news for gamers wanting to bag a bargain. Despite being a last-generation part, the world's first X3D consumer CPU is only a little over a year old and remains an excellent drop-in AM4 upgrade, particularly for gamers who stand to benefit from the extra layer of cache.
This is one of the most innovative CPU releases of recent years, and it's well worth revisiting the original Club386 review to find out why AMD's unique CPU is a fine fit for gaming PCs. One last, well-deserved upgrade for your trusty AM4 rig, perhaps?
Club386 is always on the lookout for unmissable PC component bargains. Follow on Twitter or Facebook to keep up to date with the latest deals, and subscribe to our free weekly newsletter to be kept abreast of all the latest developments in the world of tech.