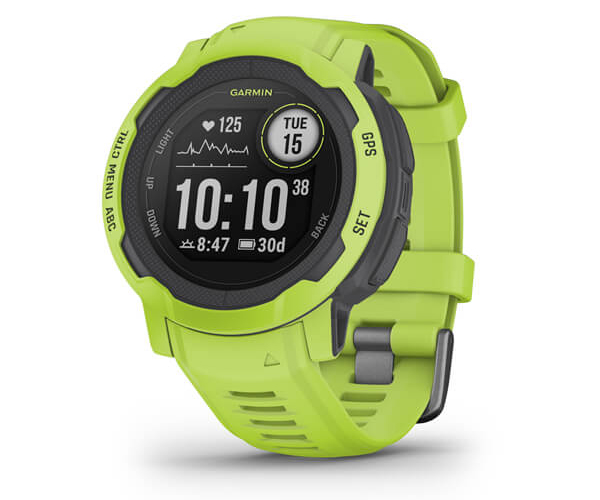 Unlimited battery life is one of the tech industry's most ambitious goals. Imagine a laptop whose power brick can stay at home, a smartphone that only needs plugging in once every other month, or a smartwatch that just keeps going.
Turns out the latter is closer to fruition than you might have thought. Garmin has launched an updated version of its rugged Instinct smartwatch that it reckons offers 'unlimited battery life.'
Bold claims indeed. The advancement is made possible through enhanced solar technology that first debuted as part of the flagship Fenix 7 Series earlier this year. In the right conditions, Garmin now reckons the tech is able to keep Instinct 2 running indefinitely.
There has to be a catch though, right? Well, there's more than one. As expected, the 'unlimited' claim only applies to the watch being used in smartwatch mode; begin any monitored activity and the battery will run down. Even in smartwatch mode, the solar tech will only keep you going on the presumption of Instinct 2 spending "three hours per day outside in 50,000 lux conditions."
To put that into perspective, indirect daylight typically peaks at around 25,000 lux. Direct sunlight ranges from 32,000 to 130,000 lux. In other words, we UK users might be lucky to get a couple of days' charge each year.
The limitations don't end there, either. 'Unlimited' battery life is only available on the largest 45 Instinct 2 Solar model, but looking beyond the headline claims, Garmin continues to lead the way in smartwatch longevity. Even the base 40mm Instinct 2S will run for 21 days in smartwatch mode, or 51 days with solar.
In addition to the size options, Instinct 2 comes in a choice of eye-catching colours including Electric Lime, Deep Orchid and Waikiki 'Surf Edition.' Outside of improved solar tech, the watch features a monochrome display (20mm on Instinct 2S, 23mm on Instinct 2) and continues the series' rugged ambitions through military standard 810 certification, as well as water resistance up to 100 metres.
Pricing starts at £300 for the base Instinct 2S, rising to £390 and above for an Instinct 2 Solar. All models are available to order starting today.