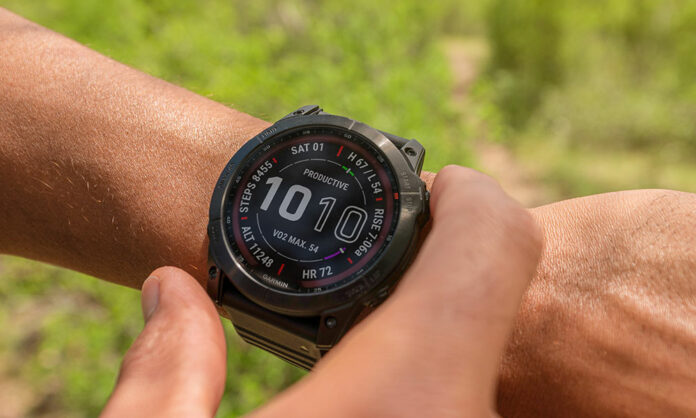 Struggling to keep up with your fitness-related New Year's resolutions? Garmin reckons its latest performance smartwatches offer all the motivation you need.
At the top of the range, the firm's seventh-generation Fenix has been revamped with the addition of a touchscreen interface intended to improve "daily smartwatch interaction and map navigation." Those who appreciate a Garmin specifically for physical buttons needn't be concerned; five buttons remain in situ, and overall ruggedness has been improved through reinforced lugs and metal button guards.
In keeping with prior generations, Fenix 7 is available in three sizes – 42mm, 47mm and 51mm – each in a choice of materials. Thankfully, there's no longer a need to pick between solar charging and display resilience as a new Solar Sapphire option provides solar capabilities in unison with a scratch-resistant display.
Speaking of solar, efficiency is said to have blossomed courtesy of a 54 per cent increase in solar surface area. That's enough for the Fenix 7X to keep on going for up to five weeks in smartwatch mode, or five complete days with GPS in use. Of course, such estimates don't factor in local conditions, and smaller models won't be quite as capable, yet Garmin's smartwatches typically hold up well in the battery-life department.
Another surprise upgrade to the Fenix 7X flagship is the integration of a multi-LED flashlight. Described as "a game-changer for sport, adventure and daily life," the flashlight sounds a simple-yet-effective addition that integrates well with everyday use. When running, for example, a built-in strobe mode is available to match the light with a runner's cadence, alternating between white and red with each swing of the arm.
The new Fenix appears to be an automatic smartwatch destination for outdoor fitness enthusiasts, but the arrival of Epix does offer an intriguing alternative. Taking the foundations of Fenix, Epix sets itself apart with the inclusion of an always-on AMOLED display. Brightness and outdoor visibility are certain to be improved, however there are trade-offs to be aware of; Epix does not offer the new LED flashlight and there's no support for solar charging.
Pricing for the Fenix 7 Series starts at £600 for a regular 42mm 7S, rising to £1,050 for the a 51mm Sapphire Solar 7X. The new Epix, meanwhile, will set you back £800.
Feeling the urge but eager to know more? DC Rainmaker has an in-depth Fenix 7 review that's well worth a read.