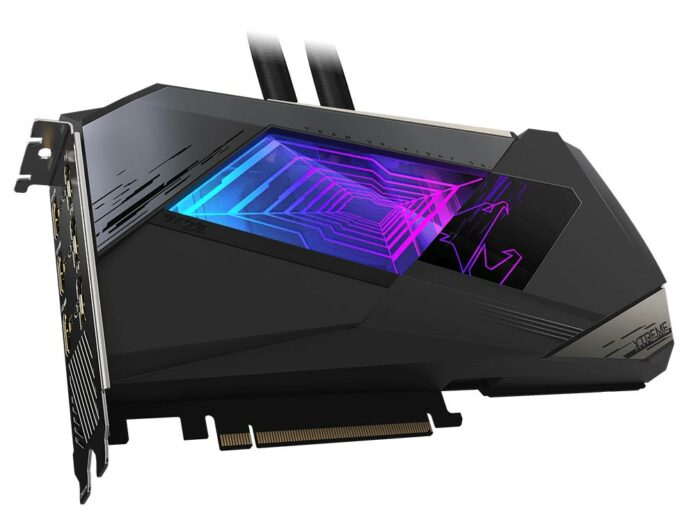 Next-generation CPUs have been hogging the limelight in recent weeks, but let's not forget the next round of GPUs are also on the horizon.
It is set to be an extremely busy, and potentially expensive, period for enthusiasts. On the GeForce front, rumours suggest Nvidia will begin its RTX 40 Series generation with a focus firmly on top-end gear. The launch card, GeForce RTX 4090, is expected to arrive October 22 and CEO Jensen Huang may well unveil the product during a GTC keynote taking place September 20.
Given the shortages that plagued RTX 30 Series parts, all signs suggest partners are ready to avoid a repeat with multiple SKUs available on day one. How many variants of an enthusiast GPU can one vendor make? You'd be surprised. According to a recent filing at the Eurasian Economic Commission, Gigabyte plans to introduce 11 different models of GeForce RTX 4090.
Gigabyte RTX 4090 Aorus Xtreme Waterforce (GV-N4090AORUSX W-24GD)
Gigabyte RTX 4090 Aorus Xtreme Waterblock (GV-N4090AORUSX WB-24GD)
Gigabyte RTX 4090 Aorus Xtreme (GV-N4090AORUS X-24GD)
Gigabyte RTX 4090 Aorus Master (GV-N4090AORUS M-24GD)
Gigabyte RTX 4090 Aorus Elite (GV-N4090AORUS E-24GD)
Gigabyte RTX 4090 Gaming OC (GV-N4090GAMING OC-24GD)
Gigabyte RTX 4090 Gaming (GV-N4090GAMING-24GD)
Gigabyte RTX 4090 Eagle OC (GV-N4090EAGLE OC-24GD)
Gigabyte RTX 4090 Eagle (GV-N4090EAGLE-24GD)
Gigabyte RTX 4090 Windforce 3X OC (GV-N4090WF3OC-24GD)
Gigabyte RTX 4090 Windforce 3X (GV-N4090WF3-24GD)
Popular Windforce and Aorus SKUs are as expected being given an RTX 4090 makeover, with both air- and liquid-cooled cards being prepped for launch.
Performance is expected to be sky high – the latest leaks paint RTX 4090 to be twice as quick as RTX 3090 in 3DMark – but the question on most enthusiast's lips is how much will cards cost? It's too early to be certain, yet a couple of retailers down under have potentially let the cat out the bag with preliminary listings.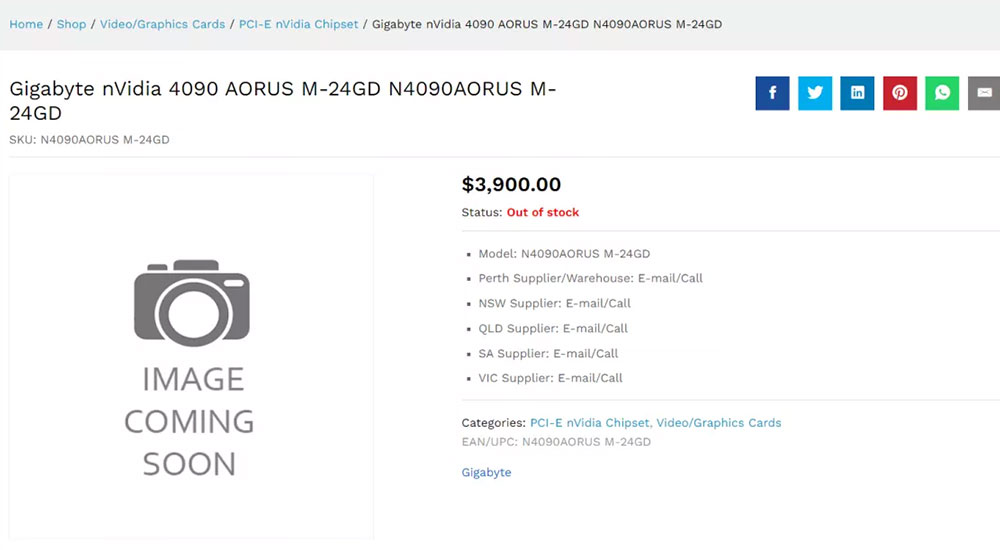 Perth Computers & Office Supplies advertised the Aorus Master model for a cool $3,900, while Computers Perth listed Gigabyte's Gaming OC at a cost of $4,270. Such figures are far from confirmed at this point, yet if true, Nvidia's latest and greatest could be set to debut on UK shores priced anywhere between £2,000 and £2,500.
A significant uptick over the previous generation, and yet there's purportedly room in the tank for more. RTX 4090 is expected to utilise 128 of 144 available SMs, leaving headroom for a potential RTX 4090 Ti further down the line. Rumours of a 3GHz top speed are being widely circulated, and with 24GB of GDDR6X memory attached via a 384-bit bus, performance from what is thought to be a 450W GPU is destined to be spectacular.