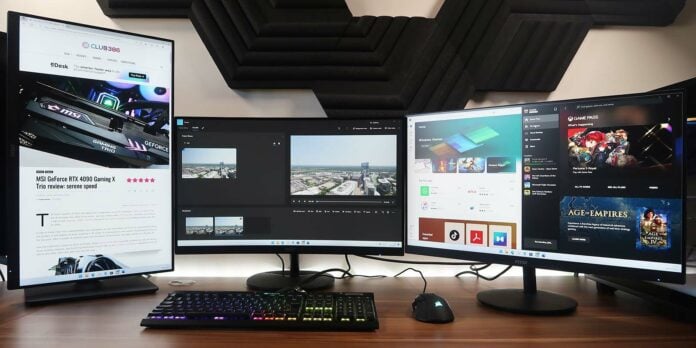 As someone who has worked from home for over a decade, I can't overstate the importance of a comfortable and functional office setup.
For those just starting out, the temptation of a high-res gaming monitor with insane refresh rates is hard to resist – particularly for long, drawn-out lunch breaks – but good luck convincing the accounts department. Despite budgets being tightened this winter, it is possible to upgrade at minimal cost, and make no mistake, a new monitor can be transformative. I'm often amazed at how many home workers continue to rely on small, low-resolution panels that stifle productivity, or worse still, a tiny laptop screen whose reflective surface is likely to give you little more than a headache.
So, what should you be looking for? There are myriad variables to contend with, but panel technology and form factor are a good place to start. To get a feel for what's currently out there, we've spent the past month using a trio of affordable 1080p MSI Pro Series monitors for our everyday work.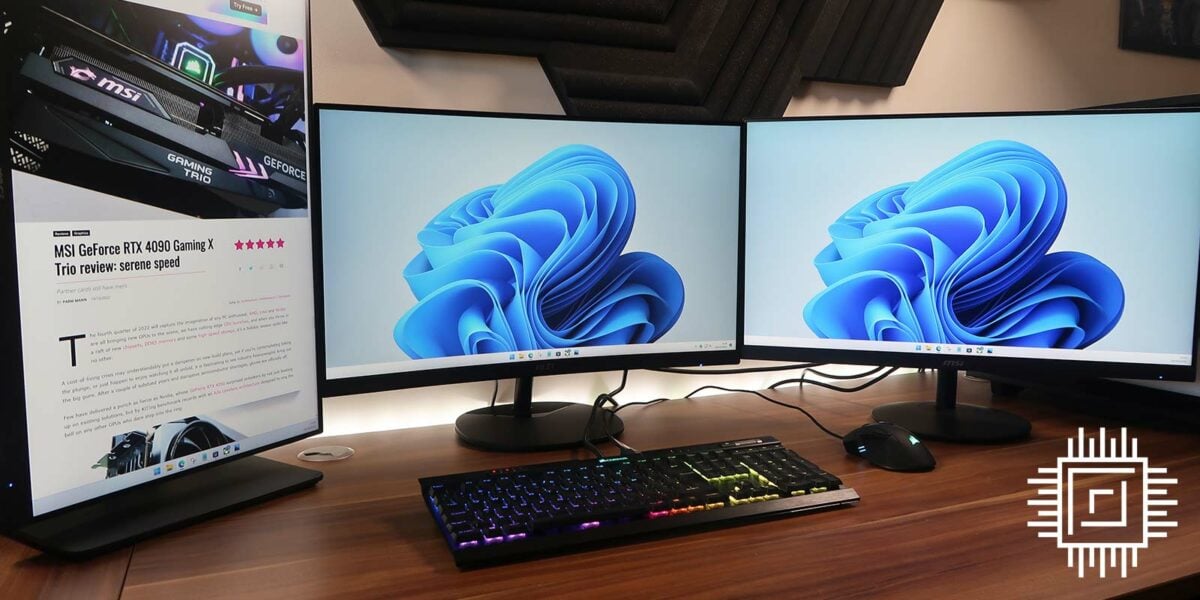 Quite a change seeing how we're typically accustomed to far more exotic displays – a perk of our trade – yet spending time at the lower end of the market always proves instructive, and our testing reveals interesting tips.
We have the Pro MP271, a flat 27in IPS panel priced competitively at £140, the Pro MP271C, a curved VA at the same price point, and also the Pro MP271P, which adds pivot functionality at a cost of £160.
An interesting trio as they each have plenty in common. MSI's panels sport a ubiquitous 1920×1080 FHD resolution, alongside a 75Hz refresh rate and 250-nit maximum brightness. Modest credentials, as you would expect at these mainstream price points, yet all three tout wide 178° viewing angles, an anti-glare surface treatment and integrated 2W stereo speakers that are fine for basic tasks. As workplace solutions, connectivity is limited to HDMI 1.4 or VGA, and an integrated power supply is paired to a bundled C5 cloverleaf cable.
To make our findings easier to digest, we'll go through the trio in order of preference, ranked from worst to best.
The curved one: MSI Pro MP271C
In third place, MSI's curved variant is in our estimation the least attractive option, which may come as a surprise given how prominently curved monitors are marketed.
Studies from some of the leading display manufacturers reckon a curved panel increases immersion while simultaneously reducing eye strain. We can't comment on the latter having spent the past few weeks examining multiple monitors up close – eye strain is part of the game – but on a 16:9 panel, the added sense of immersion is limited.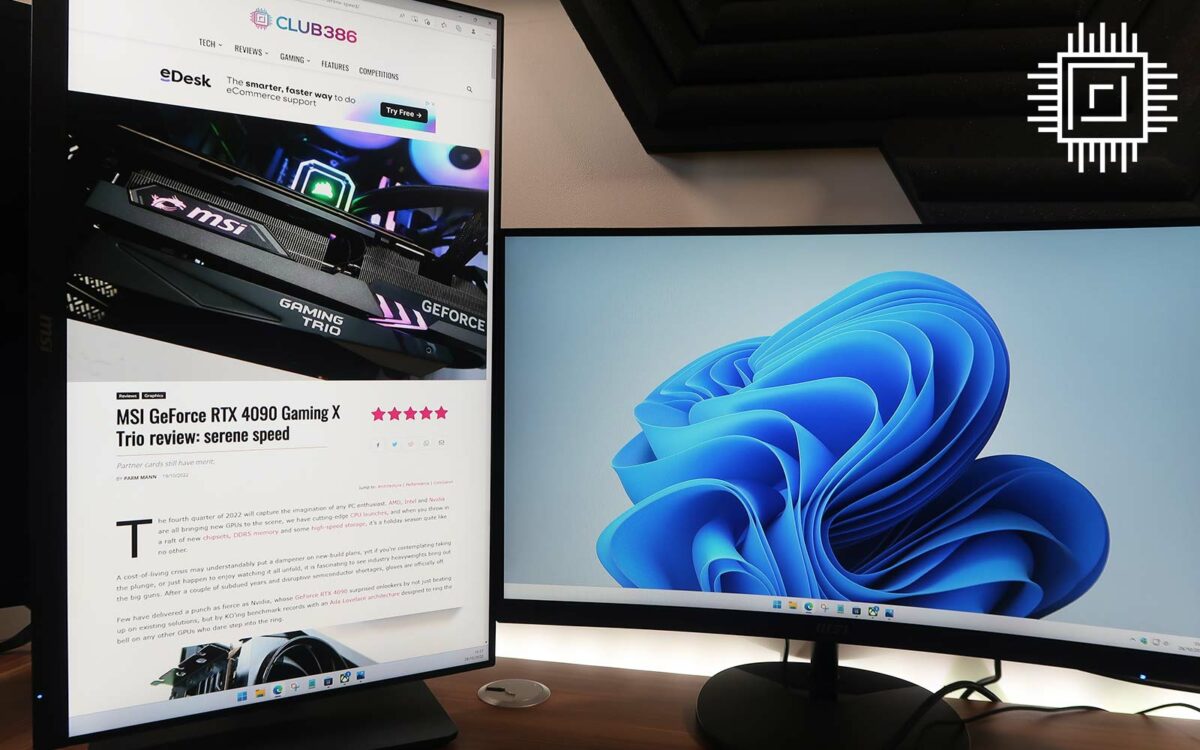 If anything, regular work such as spreadsheet editing on a 1500R curve takes some getting used to. It's fine once you're adjusted, yet on a screen of this size and resolution, you can't escape the feeling a curve adds very little of note to the actual user experience. If you do have your heart set on a curved display, consider going larger or wider to maximise the effect.
It is also worth pointing out that curved panels are often based on underlying VA (vertical alignment, a type of LED panel) technology, where the subtle arc helps mitigate against colour shift and uneven brightness. A clever workaround, yet in the case of the MSI MP271C, the resulting image looks washed out alongside IPS siblings. Colours lack that extra pop, consistency isn't great when shifting off axis, and though viewing angles are officially rated as identical, the curved model is noticeably less forgiving.
There are benefits to MSI's VA panel – contrast is superior at 4000:1 and colour coverage improves to 98 per cent sRGB over IPS counterparts – but the verdict was unanimous. Everyone in the Club386 office who tried the VA-based MP271C, be it for photo editing, web design or office work, didn't mind the curve yet ultimately preferred the flat MP271.
The flat one: MSI Pro MP271
Testing monitor variations simultaneously is telling insofar as you truly notice the difference when switching back and forth. After a few days with the curved MP271C, the regular, flat MP271 feels far more enjoyable on account of the IPS (in-plane switching) panel. Side note: don't combine curved and flat monitors in a multi-screen setup, as the transition from one to the other is more jarring than you might imagine.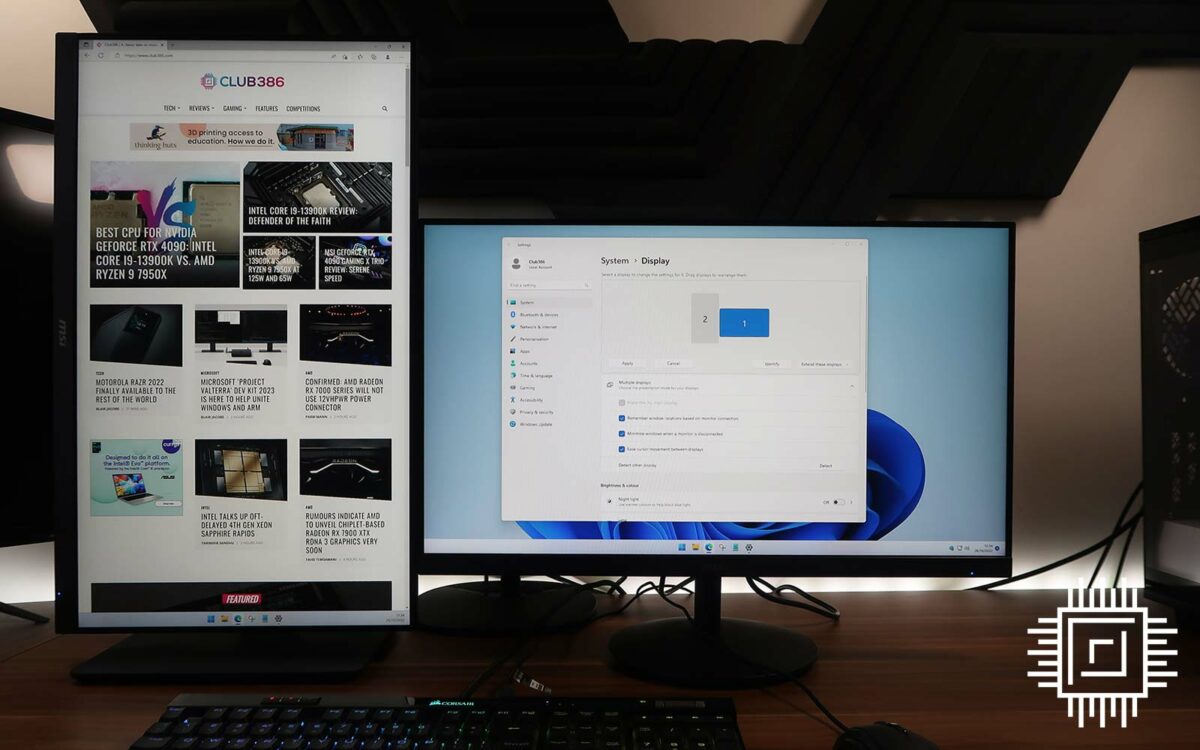 What's clear is how a competent 1080p monitor ought to be the minimum standard for workers. A 1920×1080 resolution holds up well in a 27in form factor, IPS panel tech ensures excelling visibility from any angle, and though colour coverage of 93 per cent sRGB is a far cry from true professional standards, it's a display we've struggled to criticise during day-to-day work.
An anti-glare coating, present on most workplace solutions, is a must, and any modern display worth its salt will include anti-flicker and low-blue-light features for that extra level of comfort. What you might not get at this price point is much in the way of adjustability. MP271 is limited to only tilt adjustment (-5°/+23°), and though there this is a 100mm VESA mount for compatibility with a third-party stand or arm, there's value in out-the-box flexibility.
The versatile one: MSI Pro MP271P
The pick of the bunch also happens to be the most expensive, but that extra £20 is well spent for a flat panel with a versatile VESA-compliant stand. Whereas the other two are fixed, MSI's P model allows for 120mm of height adjustment, 30° of swivel, +8°/-20° tilt, and the ability to pivot a full 90° into portrait mode.
As a tall user who spends large portions of the day sat at a desk, I truly appreciate a monitor that can be positioned closer to the eyeline, and I'd be reluctant to recommend any display that doesn't include a certain amount of height adjustability.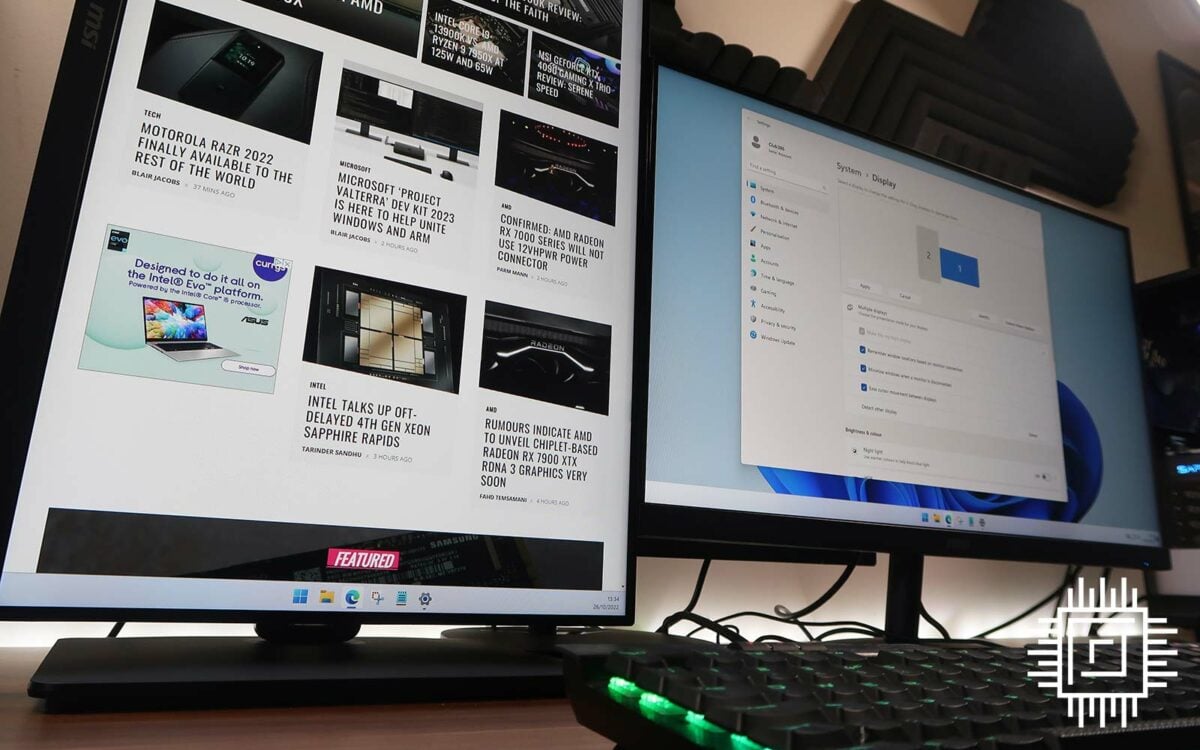 There's also the added benefit of portrait mode, but this isn't without limitation. We spent a few hours trying to use the monitor as a standalone portrait setup, and the 16:9 aspect ratio is far from ideal. The tall, narrow configuration works best as secondary display, and there are many occasions where the towering orientation proves hugely beneficial. Spend the day reading in-depth, insightful reviews? You're going to love a portrait setup.
Want to go the extra yard with a home office that's going to be used for years to come? There's a natural temptation to opt for a larger, higher-resolution panel. That approach certainly has merit, yet don't overlook the utility of a dual-screen setup. Despite having used ultrawides on many occasions, there's a lot to be said for two dedicated monitors. Being able to compartmentalise your work is a real boon, and MP271 alongside MP271P offers huge productivity smarts for just £300.
The TL;DR of all this is that a low-cost 27in display with 1080p resolution is a fine starting point for any home office. Favour IPS instead of VA if you require impactful colours and wider viewing angles over contrast ratio, don't let a swanky curve influence the decision, and if you can stretch your budget to include a second panel, consider it a job well done.