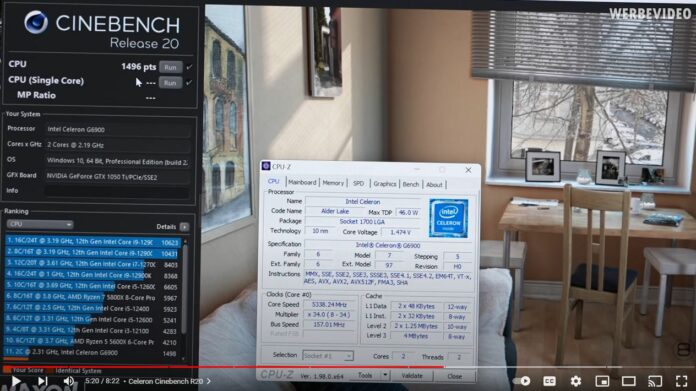 Last week we reported the baby of the 12th Gen Alder Lake bunch, Celeron G6900, had the chops to provide seemingly excellent single-thread performance required for a smooth experience in everyday applications.
Overclocked by a whole GHz through base-clock shenanigans on an ASRock Z690 motherboard, the $42 chip actually beat out our previously tested Core i9-10900K, albeit at stock speeds, in the light-load Cinebench evaluation.
Further evidence of the Celeron G6900's frequency prowess comes by way of renowned overclocker der8auer, who managed to ramp up the base clock to 157MHz, leading to an overall 5.338GHz frequency and a single-core score of 1,496 in Cinebench R20.
Running on an Asus Z690 Apex motherboard, der8auer delved into the BIOS to fine-tune the board's ability to run at higher base clocks. He also managed to crank up a Core i3-12100 – the cheapest of the proper Core bunch – to 5.3GHz using the same formula.
Of course, whilst these chips are great at single-thread performance on account of lofty frequencies achieved by base-clock overclocking, multi-core performance will remain lacking. The Celeron G6900, for example, carries only two cores and two threads, whilst the Core i3-12100 adheres to a four-core, eight-thread design.
One might question the wisdom of running cheap processors on an uber-expensive motherboard – der8auer does it for technical evaluation only – but there's hope you can nudge non-K 12th Gen chips higher on cheaper B660 boards. der8auer mentions he has come across "two B660 Boards which should technically allow non-K OC."
A low-end 12th Gen chip and BCLK-capable B660 motherboard sounds like an ideal pairing for a cheap yet competent PC build.