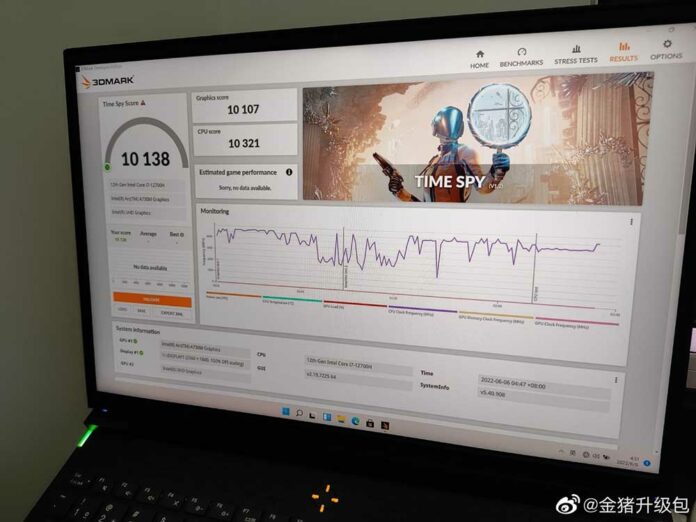 Intel's ambitions in the discrete graphics card market rest with Arc GPUs. Coming to laptops first, the first wave of benchmarks is out, and they're a mixed bag. A Weibo user has uploaded what appears to be a 3DMark Time Spy result for a laptop outfitted with an Intel Core i7-12700H CPU and, more pertinently, Intel Arc A730M GPU. The 10,138-mark overall score is impressive.
As a reminder, Arc A730M belongs to the larger, more powerful ACM-G10 silicon measuring 406mm² and using a whopping 21.7bn transistors. In its fullest form, known as A770M, it houses 32 Xe cores that translate to 4,096 shaders. A730M, however, isn't quite as powerful, as it utilises 24 Xe cores (3,072 shaders) and is clocked in substantially lower.
Going by official specifications, A730M carries 12GB of GDDR6 memory connected to the GPU via a 192-bit interface. Zooming in solely on GPU performance, the 10,107-mark score is comparable to an Nvidia GeForce RTX 3070 Ti Laptop GPU or an AMD Radeon RX 6800M GPU, both of which are considered premium solutions for gaming laptops.
Yet it is prudent to take the single result with a pinch of salt because a decent 3DMark core is not totally indicative of real-world performance. The same user, known as 'Golden Pig Upgrade,' has very recently posted numbers for Assassin's Creed: Odyssey, Metro Exodus and F1 2020. Sifting through the data suggests performance is more limited in scope, matching that of entry-level discrete graphics cards such as GeForce RTX 3050 and RTX 3060. Strong in synthetics and weaker in real games, leading us to assume Intel still has serious software tuning to do.
As is often the case, early benchmarks like these throw up more questions than answers. We ought to see more results come our way as general availability becomes widespread. Right now, Intel Arc-equipped laptops have only started to seep through into the Chinese market, yet at first blush, Arc has potential.