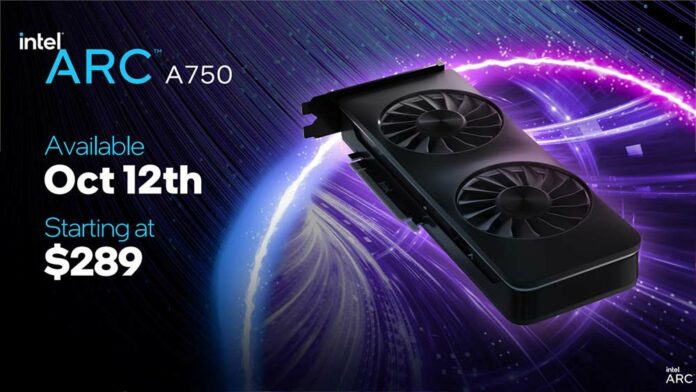 Hot on the heels of the recent announcement that Intel's Arc A770 desktop graphics card is arriving on October 12 priced at $329, we now know Arc A750 is also being released on the same date with a $289 sticker fee. Aimed squarely at taking market share away as quickly as possible from popular Nvidia GeForce RTX 3060 and AMD Radeon RX 6600, Arc A750 is definitely worth closer examination.
Arc A750 uses the same building blocks as the more powerful Arc A770, and both leverage the larger ACM-G10 die measuring 406mm² and occupying 21.7bn transistors. Arc A770 takes the best bits of that design by utilising all 32 available Xe cores, leading to a traditional 4,096 shaders. Learn more about the architecture right over here.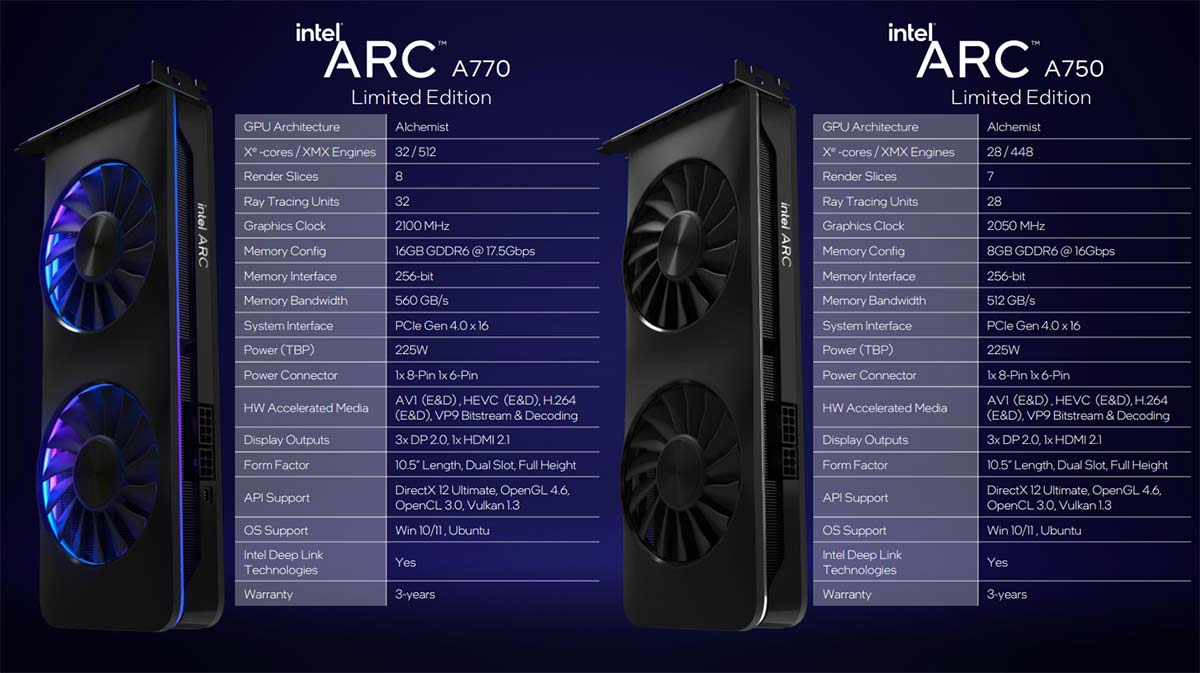 The newest GPU, meanwhile, is a binned version of A770, meaning it's built from silicon that doesn't make the grade required for the faster GPU. As the Intel slide clearly shows, Xe cores drop from 32 to 28 (3,584 shaders), the engine clock is down marginally from 2,100MHz to 2,050MHz, and memory bandwidth is also reduced from 560GB/s to 512GB/s. These cuts are entirely expected for a GPU that will benchmark at around 85 per cent of its bigger brother's level yet consume the same peak 225W power. Last but not least, there is no 16GB option for A750.
Shipping October 12, cards built by Intel are referenced as Limited Edition and priced at $289 for A750 LE and $349 for A770 LE. Third-party manufacturers have not yet been announced in full, though it is reasonable to assume those producing retail cards for lower-performance Arc A380 will be first out of the gate. We're looking at you, GUNNIR and ASRock.
Analysis
Intel's aim is simple with desktop Arc graphics cards. The company wants to financially undercut established Nvidia and AMD GPUs in the cost-sensitive $289-$349 area. Knowing that neither incumbent graphics heavyweight is bringing next-generation technology to the mainstream segment anytime soon – Nvidia's RTX 4080 is the cheapest Ada card announced, priced at $899 – there is real opportunity for Intel to gain mindshare and some market share with a brand-new product.
Gunning for GeForce RTX 3060 is a wise move because, according to the most recent stats from the comprehensive Steam Hardware Survey, it's the sixth most popular graphics card.
Of course, much depends upon Arc A750 and A770 performance, and if the plethora of recent leaks is anything to go by, both Arc GPUs seem to offer reasonable performance and good value – yesterday's presentation cites a 53 per cent improvement in performance per dollar for Arc A750 vs. GeForce RTX 3060.
Intel needs to execute desktop graphics perfectly from hereon in because any natural goodwill ascribed to a new entrant has already been exhausted through numerous delays through summer 2022.
Mark diaries for October 5 as that's when reviews are scheduled to go live for both Arc Limited Edition cards. A new player has finally entered the game.