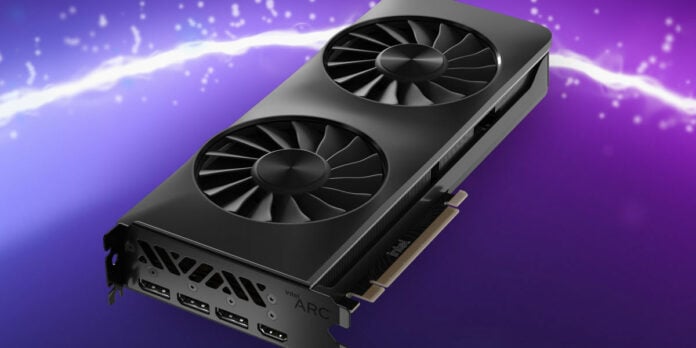 Intel is doubling down on its marketing efforts to help frame upcoming Arc desktop graphics cards in a positive light ahead of availability later this year.
The chip giant's eagerly anticipated GPUs have been considered the first major threat to the AMD-Nvidia duopoly in decades, but taking on such established competitors is no small feat. Arc products have been beset by delays throughout the calendar year, leading some to speculate that Intel may already be considering cancelling future Arc generations.
Refuting any such suggestion, a swathe of in-house benchmarks have been released via the Intel Gaming blog, providing yet another look at purported Arc A750 performance. The Limited Edition card, whose pricing and availability remain shrouded in mystery, was tested across a total of 48 titles and compared directly to rival Nvidia GeForce RTX 3060.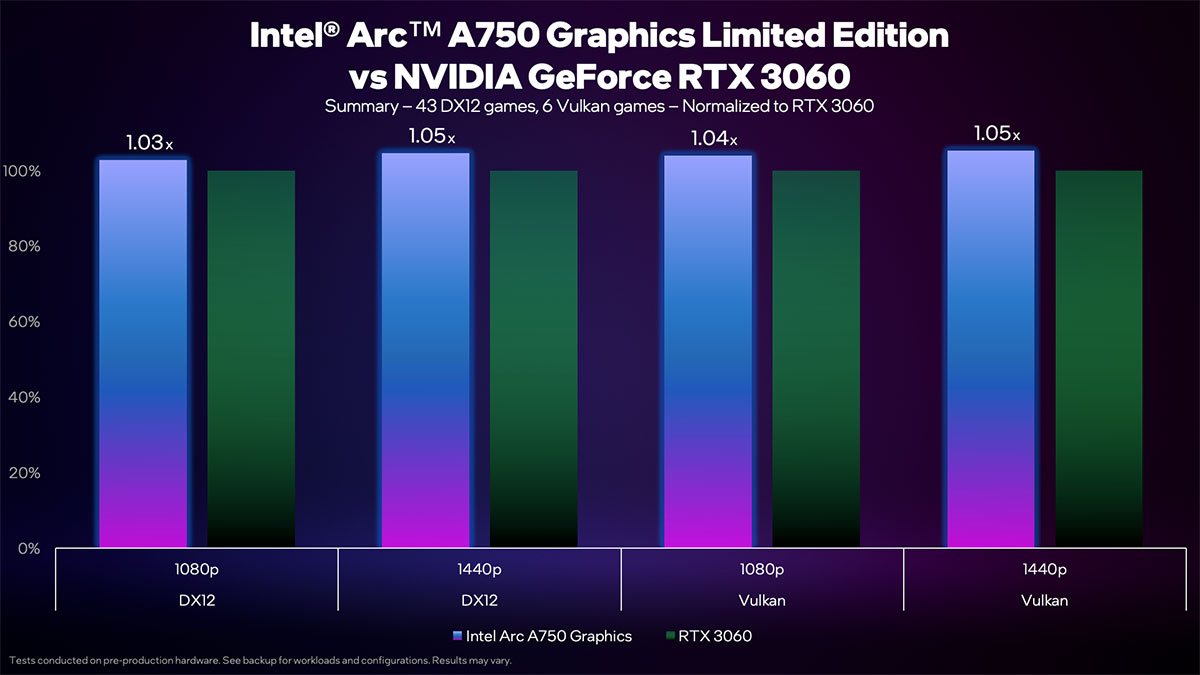 Performance victories ebb and flow depending on title, yet across the board, Intel comes out on top to the tune of three-to-five per cent. No surprise given that these are Intel's own numbers, yet RTX 3060-like performance from what is expected to be a mainstream part sounds promising on paper.
That's the thoery, however as with all things Arc, there are plenty of caveats to consider. None more so than the fact that Intel openly admits "Arc graphics will be at its best in games when running on a modern API like DX12 and Vulkan," and all 48 benchmarks are tested as such.
Early driver issues have plagued Arc performance in common DX11 titles, eroding any performance advantage, and other hardware requirements will also raise an eyebrow. Arc A750 requires at least an Intel 10th Gen or AMD Ryzen 3000 Series CPU, and motherboard support for Resizable BAR – whereby graphics memory is made accessible to the CPU – is thought to be critical in delivering optimal Arc performance.
There's also the small matter of time to market. Had Arc 750 desktop GPUs arrived at retail at the turn of the year, rival shortages might have played to Intel's advantage. As things stand, mid-range cards such as the GeForce RTX 3060 and Radeon RX 6600 XT are more readily available than they have been for some time, and Intel is playing catch-up with older parts whose next-gen successors lay in wait just around the corner.
Arc GPUs face an uphill battle, but few have the engineering or financial resources to overcome such hurdles. While significant challenges remain, we can't wait to be able to test Arc hardware for ourselves. In the meantime, Intel's DX12 gaming results, at both 1080p and 1440p, are available in full below.
| Game | Arc A750 | RTX 3060 | Arc A750 | RTX 3060 |
| --- | --- | --- | --- | --- |
| | 1080p Ultra | 1080p Ultra | 1440p High | 1440p High |
| Arcadegeddon | 127 | 108 | 99 | 80 |
| Assassin's Creed: Valhalla | 67 | 76 | 62 | 67 |
| Battlefield 2042 | 75 | 77 | 71 | 71 |
| Battlefield V | 133 | 143 | 106 | 117 |
| Borderlands 3 | 83 | 75 | 74 | 68 |
| Call of Duty: Warzone | 130 | 98 | 115 | 75 |
| Call of Duty: Vanguard | 95 | 136 | 75 | 107 |
| Chivalry 2 | 134 | 120 | 108 | 116 |
| Control | 97 | 89 | 79 | 75 |
| Cyberpunk 2077 | 75 | 69 | 59 | 54 |
| Death Stranding: Director's Cut | 132 | 131 | 102 | 96 |
| Deathloop | 108 | 115 | 77 | 82 |
| Deeprock Galactic | 249 | 222 | 181 | 146 |
| Dirt 5 | 73 | 63 | 83 | 81 |
| Dolmen | 263 | 347 | 218 | 257 |
| Dying Light 2 | 80 | 71 | 66 | 57 |
| F1 2021 | 141 | 125 | 172 | 149 |
| F1 2022 | 56 | 65 | 115 | 129 |
| Far Cry 6 | 95 | 99 | 87 | 86 |
| Fortnite | 105 | 115 | 105 | 97 |
| Forza Horizon 5 | 83 | 85 | 100 | 106 |
| Gears 5 | 85 | 94 | 73 | 79 |
| Ghostwire Tokyo | 99 | 103 | 72 | 68 |
| GRID Legends | 101 | 112 | 109 | 124 |
| Hitman 3 | 167 | 165 | 121 | 114 |
| Horizon Zero Dawn | 91 | 100 | 82 | 82 |
| Justice | 116 | 102 | 79 | 73 |
| Masquerade: Blood Hunt | 157 | 163 | 120 | 116 |
| Metro Exodus | 78 | 66 | 75 | 64 |
| Microsoft Flight Simulator | 65 | 60 | 59 | 57 |
| Monster Hunter Rise | 143 | 142 | 100 | 93 |
| PUBG: Battlegrounds | 114 | 101 | 108 | 95 |
| Red Dead Redemption 2 | 61 | 53 | 68 | 63 |
| Redout 2 | 150 | 138 | 113 | 101 |
| Resident Evil Village | 160 | 133 | 124 | 111 |
| Sniper Elite 5 | 142 | 125 | 124 | 110 |
| The Division 2 | 95 | 101 | 89 | 94 |
| The Riftbreaker | 312 | 290 | 216 | 196 |
| Tiny Tina's Wonderlands | 92 | 77 | 71 | 68 |
| Warframe | 217 | 214 | 169 | 146 |
| Watch Dogs: Legion | 71 | 66 | 81 | 78 |
| World of Warcraft: Shadowlands | 169 | 189 | 225 | 210 |