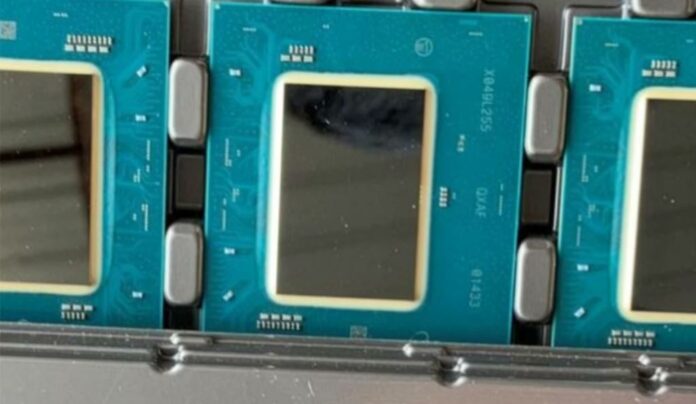 At the time of writing, we know rather a lot, but not nearly enough, about Intel Arc Alchemist GPUs. Sure, we have the technical and architectural details shared by Intel at its Architecture Day back in August, but that doesn't correlate very closely to products that will hit shelves, nor release dates or pricing. This is where leakers with a good track record come in.
This weekend, YouTuber Moore's Law is Dead fulfilled a promise to provide "everything you need to know about Desktop & Laptop Xe DG2 Releases in 2022." Well, you might need to know more, but market forces will continue to push and pull product configs, release dates, availability and so on – ad infinitum.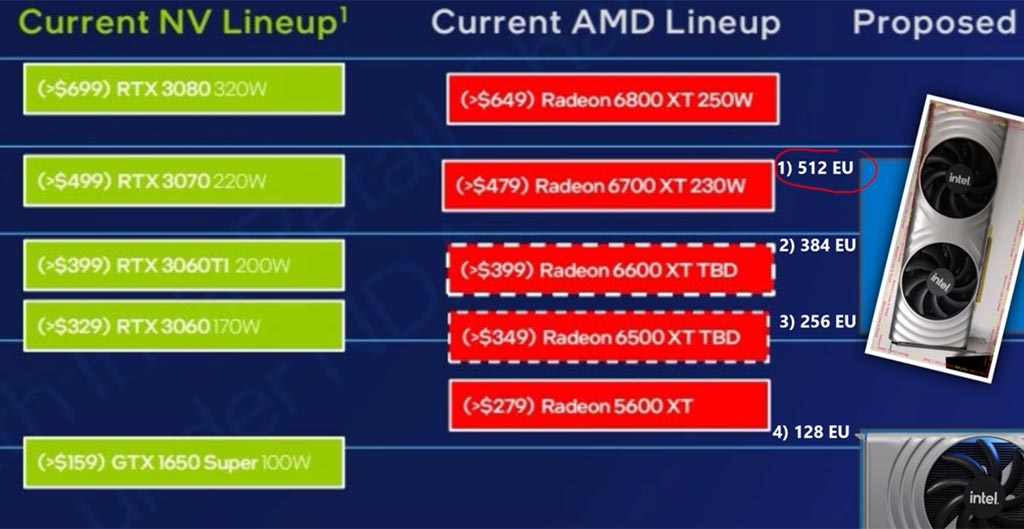 Up to five desktop graphics cards
Some of the information we have seen before, like the comparison between current AMD and Nvidia line-ups with what Intel will be offering. In this latest leak instalment, MLID sketched on indicators of where Intel Arc SKUs will fall (see above). There will be three to five desktop SKUs, five laptop SKUs and a number of workstation cards too, reckons MLID. In the slide below, shared by the YouTuber, you can see expectations for EUs, VRAM, and more.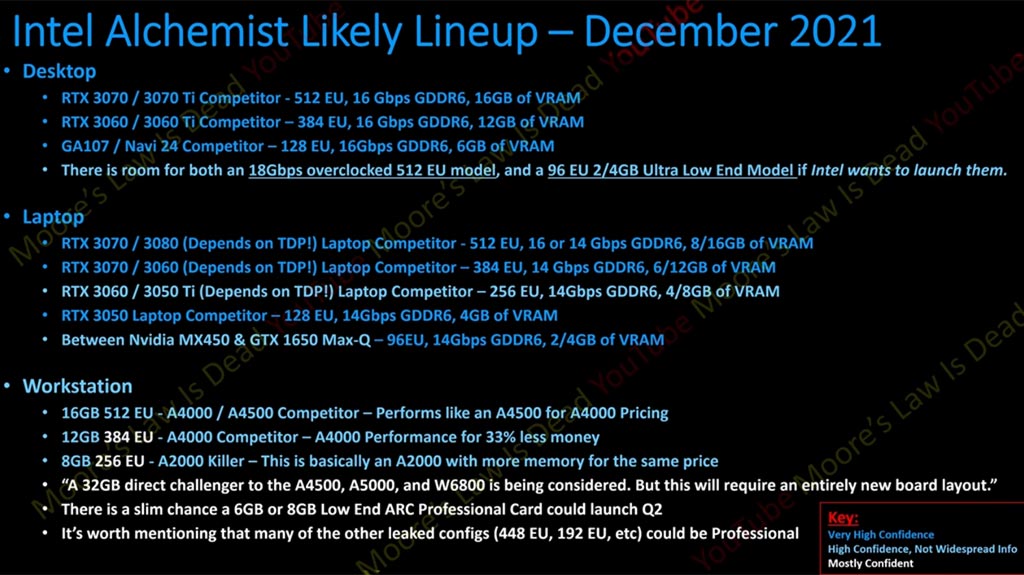 Intel was widely expected to come out guns blazing at CES 2022, with actual GPU and laptop design wins. However, according to MLID, the larger Intel DG2 SOC1 (175W-225W on desktop) isn't planned to be in production until "mid-February." The smaller die, with up to 128EUs, codenamed SOC2 (<75W on desktop), will hit mass production at the end of January.
This indicates that if we get any product announcements, they aren't likely to be shipped until Q2 at the earliest. Thus, many performance and gaming laptops at CES 2022, for example, will feature the latest Alder Lake mobile processors from Intel, but are still going to feature Nvidia or AMD dGPUs. This also suggests CES 2022 will be too early for a decent exposé of the Intel desktop/laptop GPU configurations and sharing of first-party benchmark performance indicators.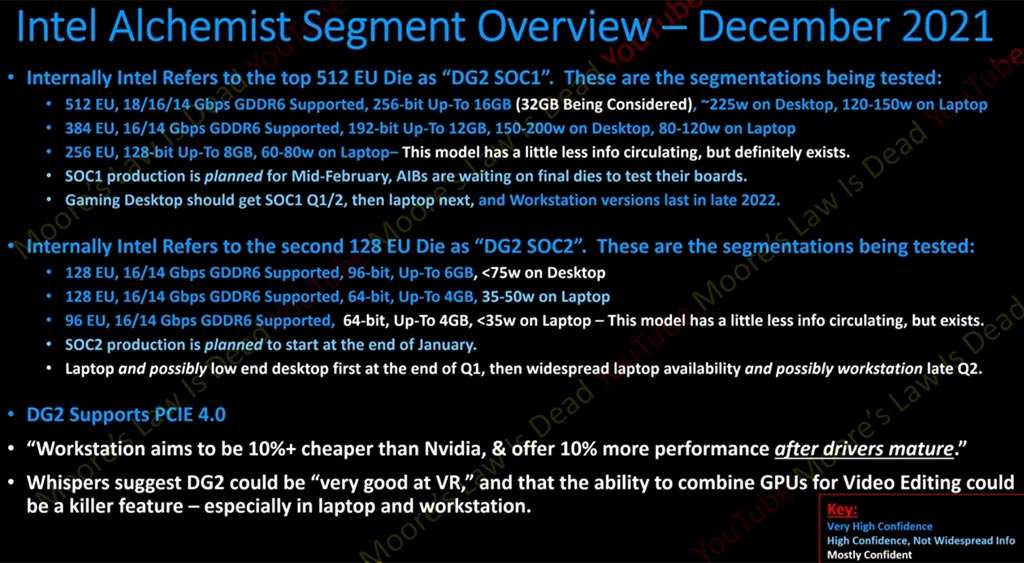 Checking through the MLID slides, you can get a handle on what Intel seems to be proposing. Basically, the SKUs it is lining up will offer similar performance to rival offerings at about 10 per cent cheaper pricing. Will that be good enough? That depends on real-world performance, real-world-pricing, and availability.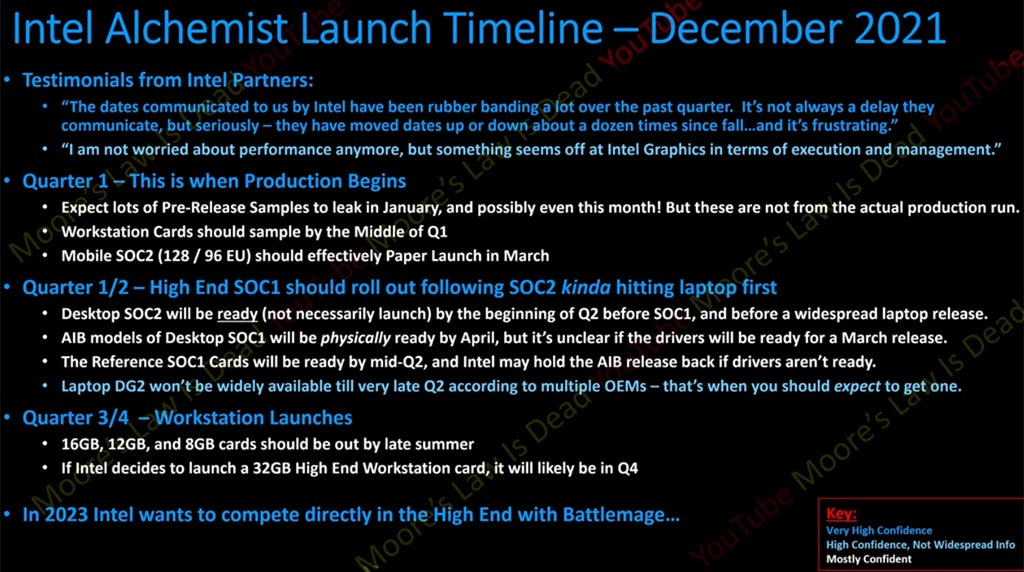 Arc punching hard at the low-to-mid end
One of the more interesting segments of the video addresses Intel putting fear into AMD and Nvidia at the low-to-mid end of the market. MLID indicates that Intel is going to be displacing Nvidia in low to mid-range gaming laptops. This is why Nvidia is still appealing to crypto miners with the likes of the recent RTX 2060 12GB, it is indicated.
Furthermore, this likely displacement is why Nvidia is now preparing some more GPUs to address the entry-level gaming PC DIY market – using GPUs that laptop-makers won't be interested in as we travel through 2022.
AMD is in a similar position, with laptop GPU win chances evaporating as Intel partners eagerly grab hold of the ADL Core processor plus Arc Alchemist graphics combo. At last, we get some entry-level Ampere and RDNA2 desktop GPUs flowing through to the desktop DIY market.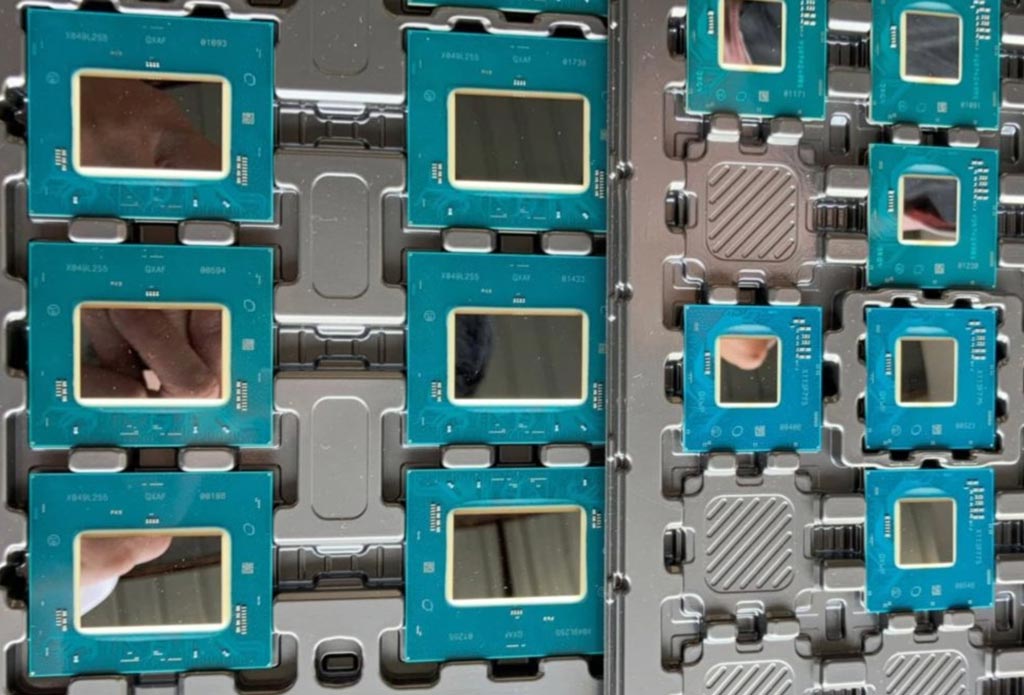 Last but not least, MLID shared some nice photos of trays of DG2-SOC1 and SOC2 processors. In the image above, you can see the larger DG2-SOC1 dies (up to 512EUs) to the left, with the much smaller SOC2 chips (up to 128EUs) to the right. These are understood to be fabricated on TSMC's N6 process.