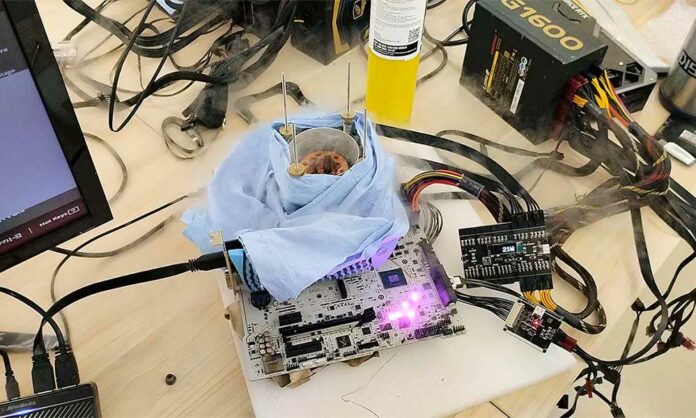 Intel's best ever consumer CPU, the Core i9-13900K, is off to a spectacular start. Having demolished most of the Club386 benchmark suite, the 'Raptor Lake' chip has gone on to smash overclocking world records.
Most notably, the 10nm CPU achieved the fastest peak frequency of all time, courtesy of Swedish overclocker Elmor who managed a blistering 8,813MHz. That's more than a 50 per cent increase over the processor's default 5.8GHz turbo clock.
Such feats naturally require a whole lot of liquid nitrogen, and most certainly should not be tried at home, yet a lofty 8.8GHz is testament to the enduring Intel 7 process. The previous record holder, an AMD FX-8370 from the 'Piledriver' era, managed 8,723MHz way back in 2014, and eight years later the eight-core, 125W AMD chip finally been beaten.
Asus, whose ROG Maximus Z790 Apex motherboard featured in the overclock, is naturally keen to point out that core frequency wasn't the only world's first. DDR5 memory was pushed to an extraordinary 11,130MT/s, and at these speeds, a whole slew of benchmark records were toppled.
The fact that such speeds have been achieved so early in Raptor Lake's life cycle leads us to believe even higher speeds will follow in the weeks and months ahead. Though 9GHz appears unlikely in this generation, surely, it's only a matter of time.