Jump to: Design | Installation | Performance | Conclusion
Blockbuster CPUs from AMD and Intel have raised the bar for desktop performance, but if you're in the market for a humdinger of a chip, be sure to leave room in the budget for an adequate cooler.
The likes of Ryzen 9 7950X3D and Core i9-13900K will run hot, and though a desktop space heater sounds a good idea as winter approaches, keeping temperatures in check will extract maximum performance, prolong the life of said chip and keep noise levels down to a more comfortable level.
Precisely why everyone who's anyone in the PC space is refreshing their portfolio with new all-in-one coolers. A model that caught our eye is MSI's upgraded CoreLiquid E Series, a relatively simple AIO that favours sleek aesthetics and capable cooling at affordable price points of £94.99 for the dual-fan E240 and £119.99 for the triple-fan E360.
There's no E280 which is a bummer for those who favour 140mm fans throughout their build, but that's about it for our shortlist of gripes, so let's take a look at everything else that's good.
Design
Our CoreLiquid E360 arrived well packaged much like all competing AIOs, though there is curiously no paper instruction manual in the box. No bother for those who're familiar with liquid cooling – installation as we'll demo shortly is a cinch – and for newcomers a PDF manual is available to download from the official product page.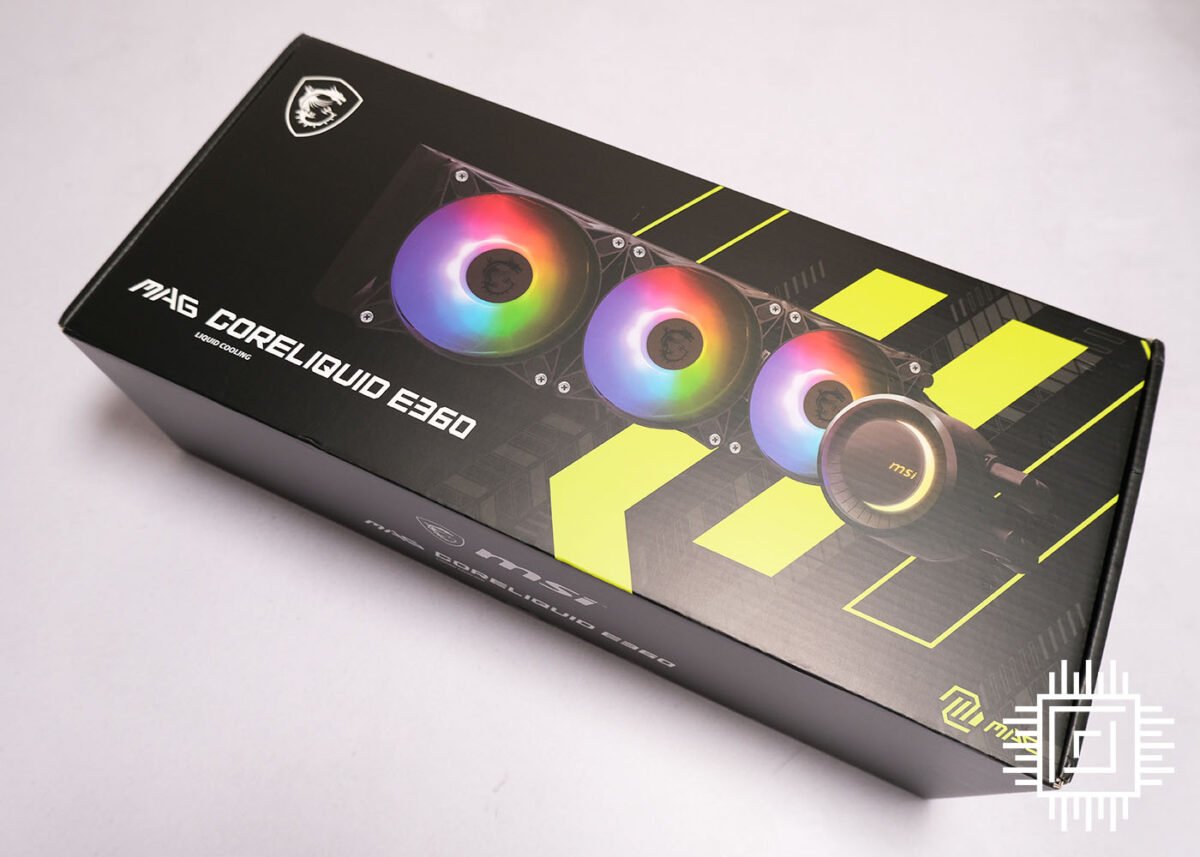 MSI's fixings are neatly separated into individually labelled bags, and we're very happy to see a small tube of thermal paste included as standard. It's good for two or three remounts and a definite plus given that many rival AIOs don't include any spare paste whatsoever.
Mounting kits for the latest Intel and AMD sockets are similarly well labelled, and build quality feels decent throughout. MSI's aluminium radiator measures 394mm x 119mm x 27mm and is joined by three 25mm-thick fluid dymanic bearing fans from Cooler Master. Designated model FD12025L12SPAA, the 120mm four-pin PWM blowers can manage a maximum speed of 1,800rpm, delivering 75.04CFM airflow while consuming 4.8W.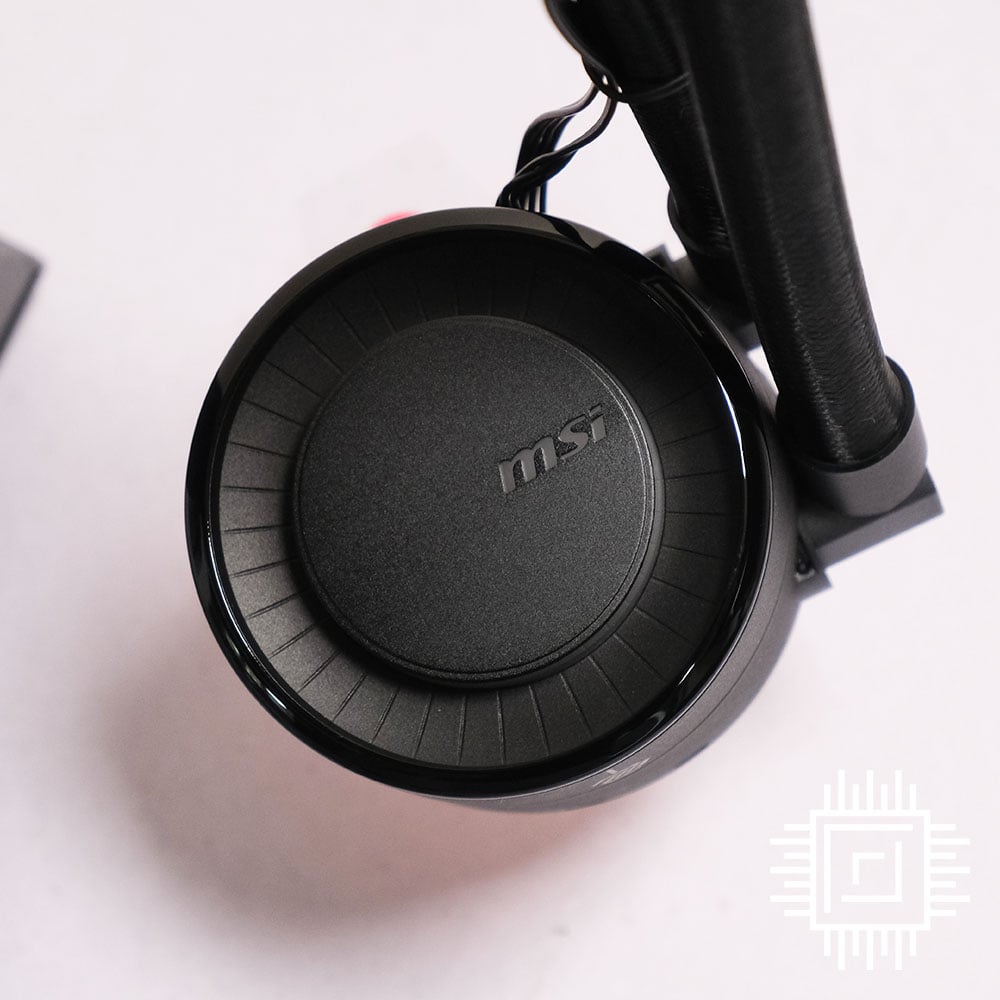 Each fan carries power and ARGB cables, and to keep it all tidy there's a three-way splitter for power while the ARGB can be daisy-chained to a single header. There's also a low-noise adapter cable if you're aiming to build as quiet a rig as possible, and a refill port on the radiator is available to keep liquid topped up. Opening the port will void the three-year warranty, however you're very unlikely to need to top up within 36 months.
The minimalist pump head is noticeably streamlined compared to MSI's more elaborate CoreLiquid S360, and at this price that's absolutely fine by me. Compact 41mm x 48mm dimensions help minimise clutter around the CPU socket and the RGB lighting, while simple, is both elegant and effective. Better yet, the pump lid can be rotated up to 270° with a simple twist, meaning you can point the braided tubes in whichever direction you prefer and still have the MSI logo pointing up.
Installation
Getting up and running couldn't be much easier. Attach the motherboard backplate using the supplied standoffs, slide the relevant mounting brackets for your CPU socket into the sides of the pump and secure using screws, then clamp the block atop the CPU using thumb screws. Do remember to add thermal paste as there's none pre-applied to the copper contact plate. On larger CPUs such as the Core i9-13900K we favour a central blob flanked by four smaller dots in each corner, but hey, we're not judging, how you choose to apply your paste is your own business.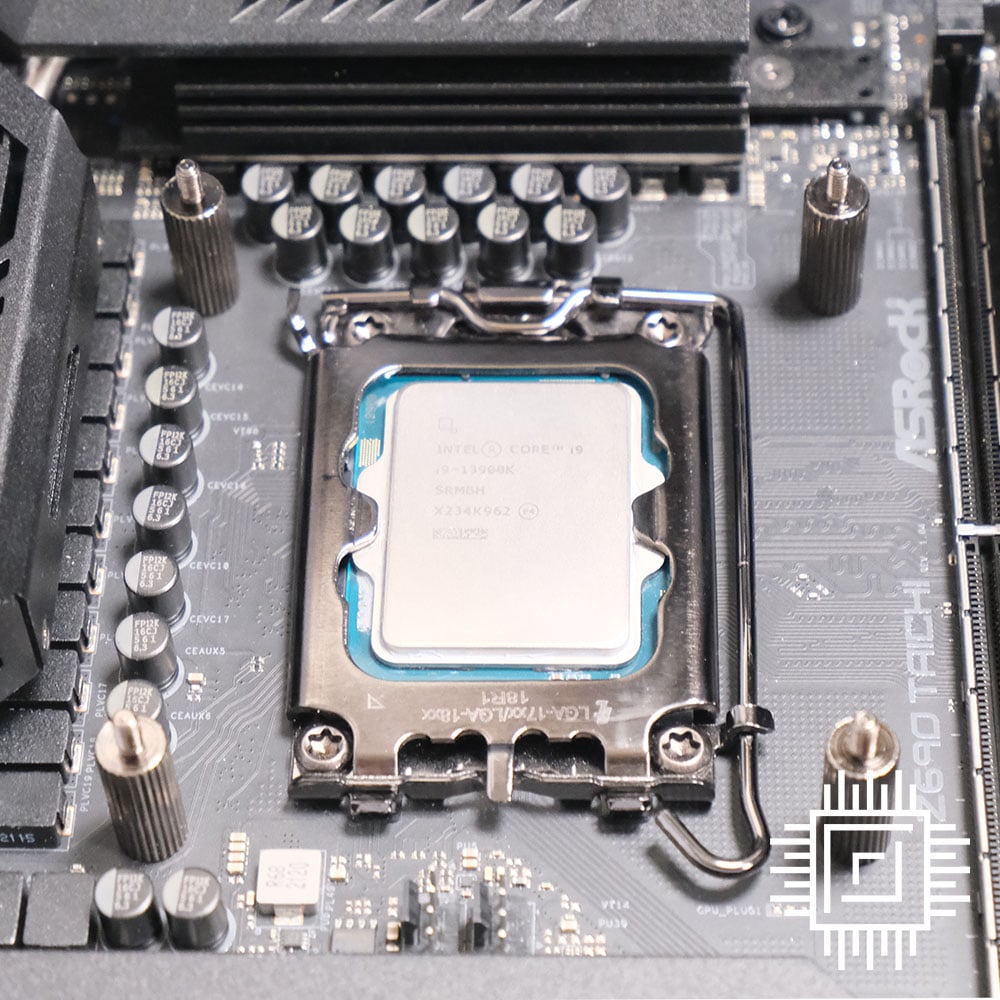 Last but not least, it's inside the CPU block that MSI's most telling upgrades take place. The three-phase motor now operates at 3,000rpm, and even at full speed, it's one of the quietest pumps we've tested this year. Add to that an enlarged contact plate with a greater number of deepened micro-channels, and MSI reckons you get a significant increase in surface area and improved efficiency.
Only one way to put that claim to the test, isn't there?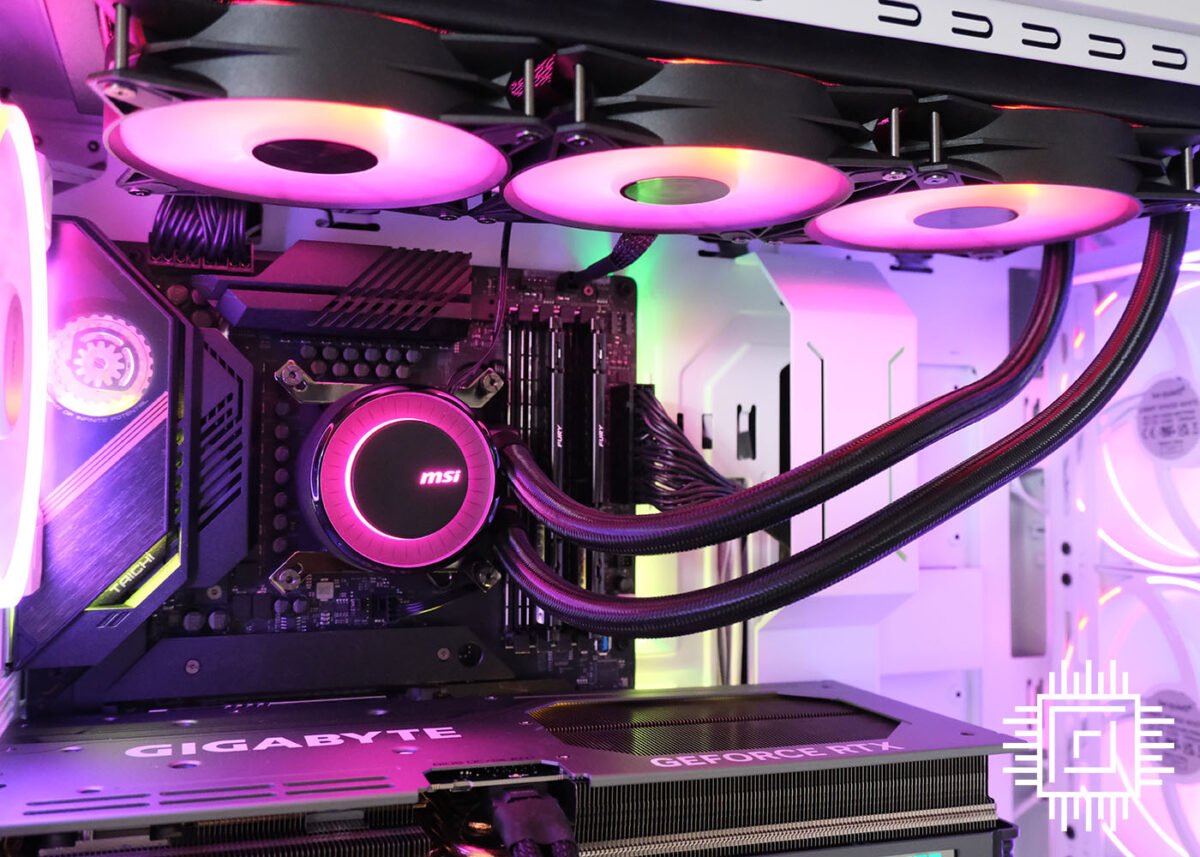 RGB lighting across the pump head and fans completes the overall aesthetic, and cabling is reasonably easy to keep tidy. Fan cables are long enough to route to our Shadow Base 800's integrated hub, and two cables emanate from the pump: four-pin power and three-pin ARGB.
Sat happily inside our test platform, CoreLiquid E360's streamlined design looks the part, and in case you're wondering, yes, it does come in black or white. There's no price premium for the latter, but while black variants are available to purchase immediately, the white E240 and E360 are both showing as pre-order only, suggesting you may have to wait a little while longer to get your hands on one.
Performance
The somewhat disingenuous nature of today's enthusiast CPUs is such that the numbers written on the box don't paint a complete picture. Core i9-13900K maximum power soars to 253W but maintaining that top level of performance and the frequencies that come with is easier said than done.
Without requisite cooling, peak performance will drop off quickly, and for that purpose we're testing the CPU configured in BIOS to remain at 253W under full load. The question we want to answer is whether each cooler can maintain that wattage, what it means for core temperature, and how it affects benchmark results.
Getting testing underway, we begin with noise readings reflective of a real-world, fully built PC. With chassis fans fixed to 600rpm at all times, noise is measured with CPU cooler fans configured in three states: low-speed (600rpm), high-speed (1,200rpm) and the maximum applicable to each model of cooler.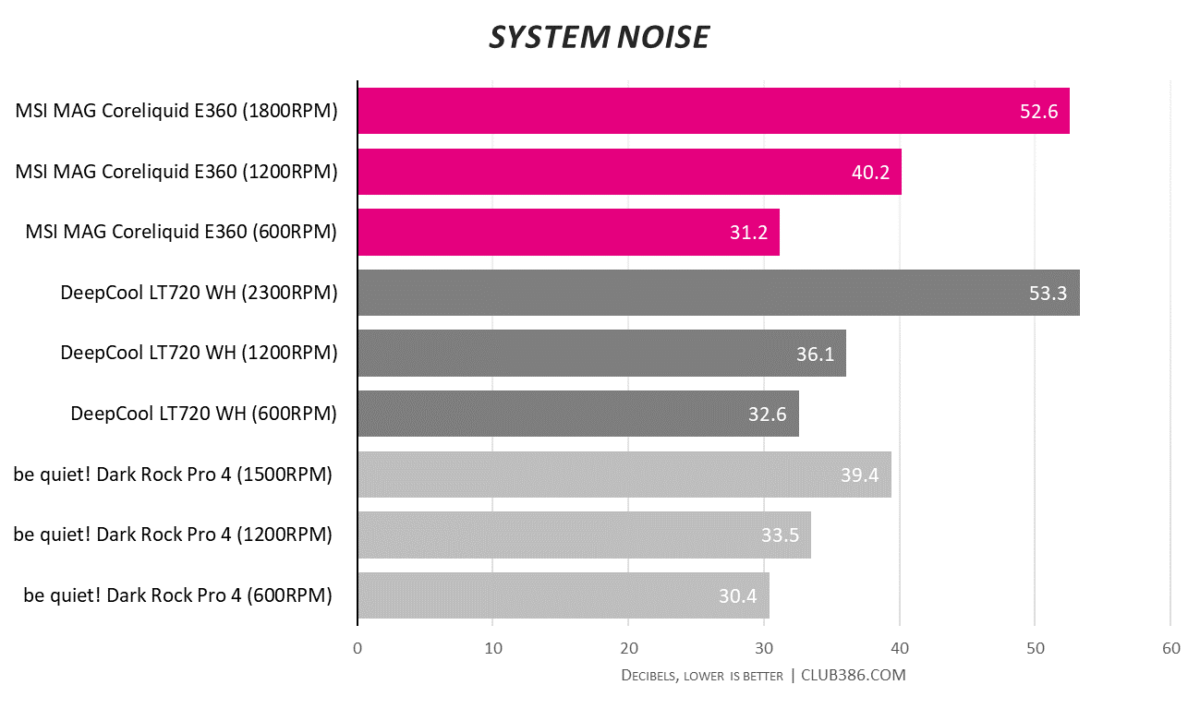 A mixed bag in the noise department, as MSI/Cooler Master's fans do become noticeably vocal at higher speeds. Dial them down and the whole package can be made to operate eerily quiet on account of the hushed pump. At low speed CoreLiquid E360 is practically as serene as a high-end air cooler.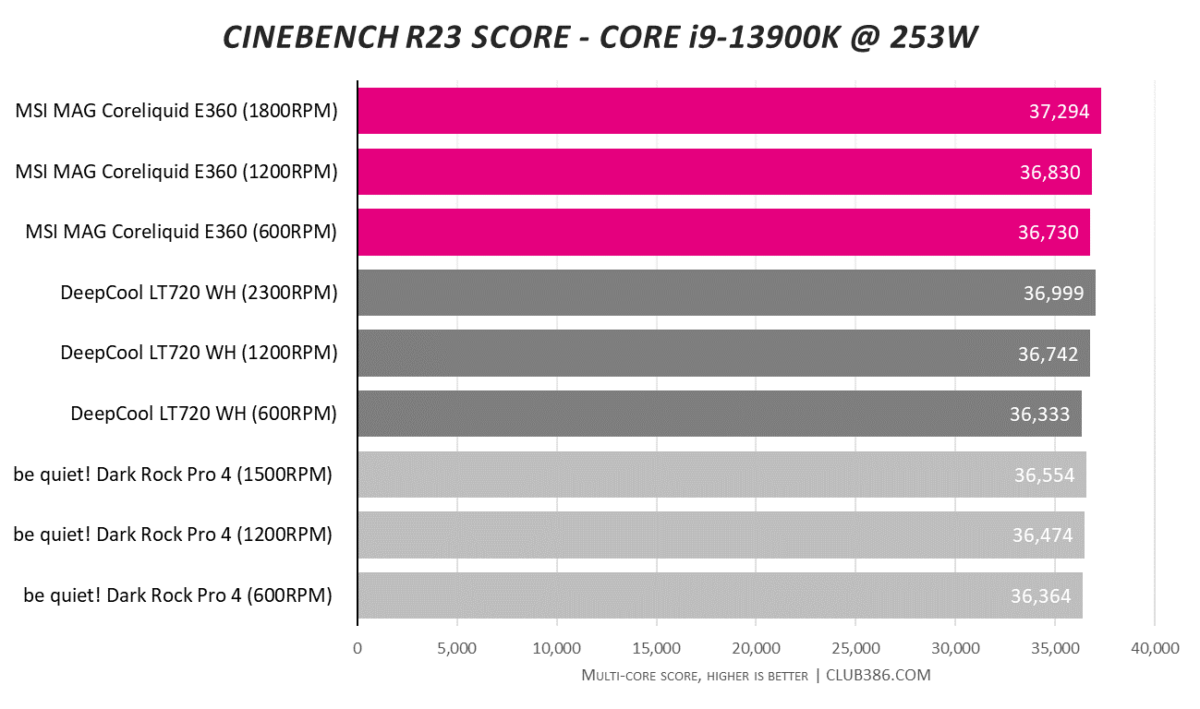 Running Cinebench R23's built-in stress test is always helpful in gauging cooling optimisation. We expect the Intel Core i9-13900K to score in the region of 38k when all cores are firing optimally in a single run but continuing that load for an extended period sees performance drop off by a fraction. There's not a great deal separating the coolers on show, yet the Core i9 does feel particularly at home beneath the MSI cooler.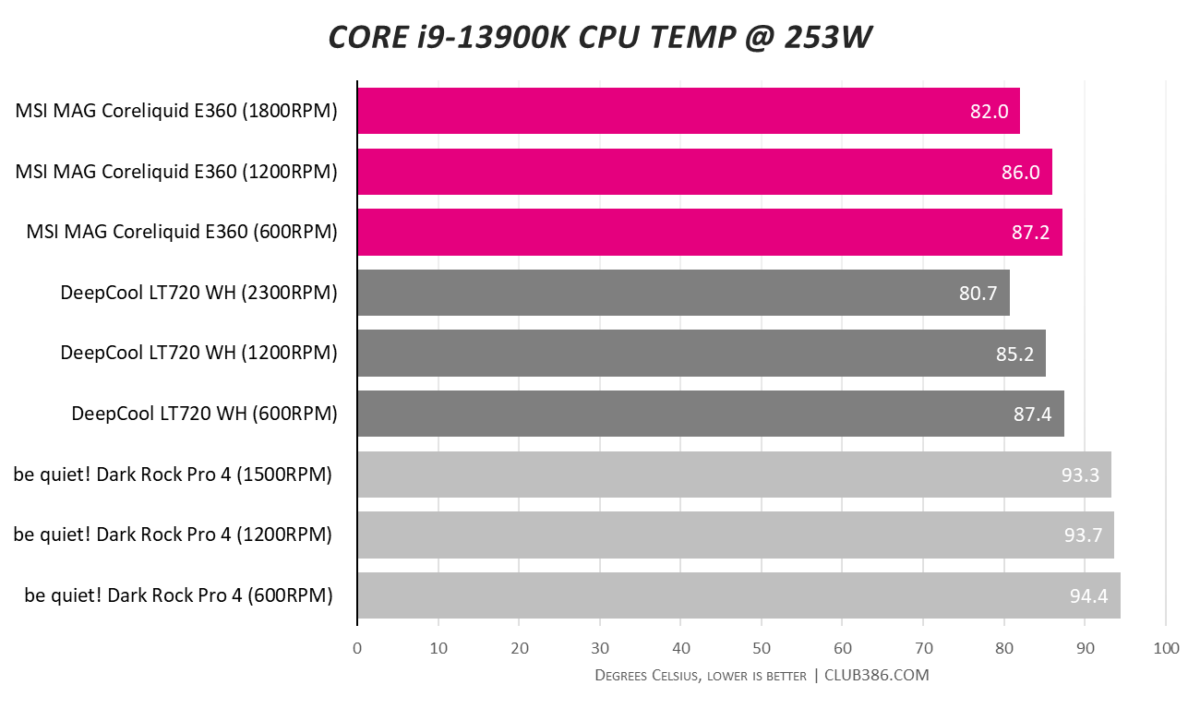 Wondering if it's worth retiring a hulking air cooler in favour of an all-in-one? On today's hottest chips the evidence clearly favours an AIO setup.
For those who favour quiet computing over extreme overclocking, CoreLiquid E360 delivers the best temperature to date at low speed. An impressive feat, and the real-world impact is even more profound as our ASRock Z690 Taichi motherboard has a built-in 'critical temperature' limit of 100°C, which when breached causes fans to instantly spin-up to 100 per cent whether we like it or not.
The above graphs depict average temperature across Core i9's eight performance cores but do note the air cooler was unable to prevent a couple of cores from hitting 100°C after a few minutes of load, causing fans to ramp-up undesirably to full speed from time to time. No such problems for either of the 360mm liquid all-in-ones.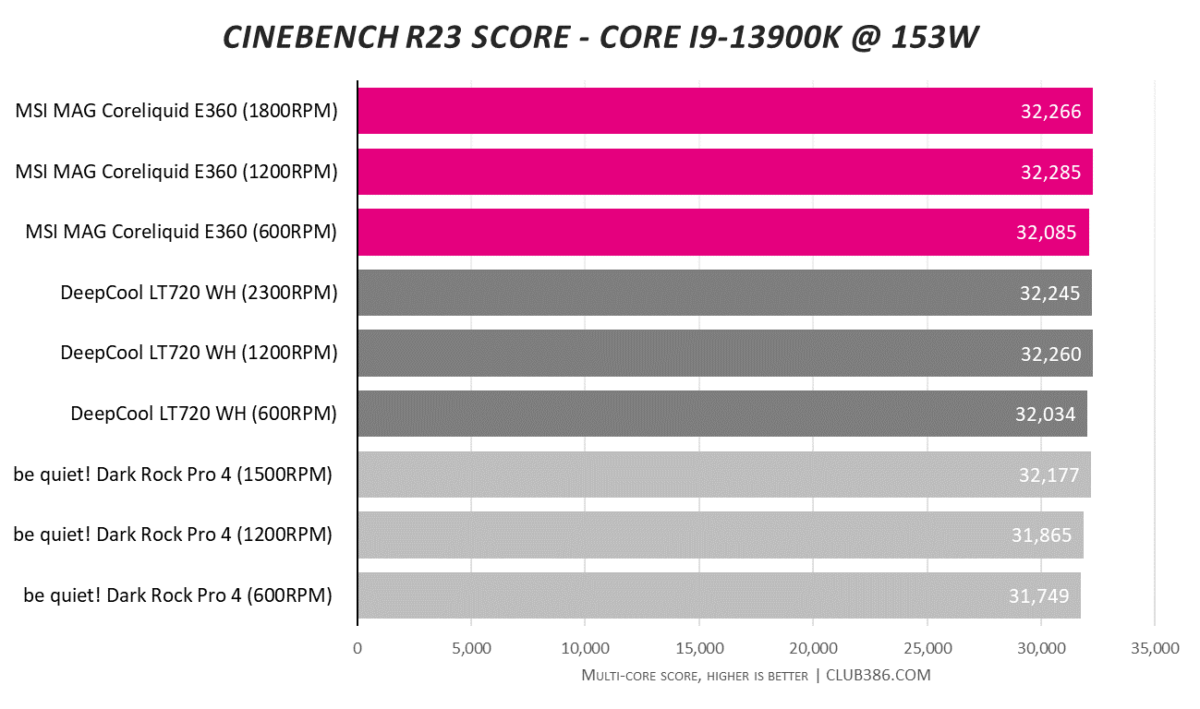 Given the alarming amount of energy consumption and heat generation at 253W, it is not uncommon in DIY circles to reduce power limits on enthusiast CPUs to more agreeable levels. Lopping 100W off the Core i9-13900K still delivers highly respectable performance and, once again, MSI just about edges it.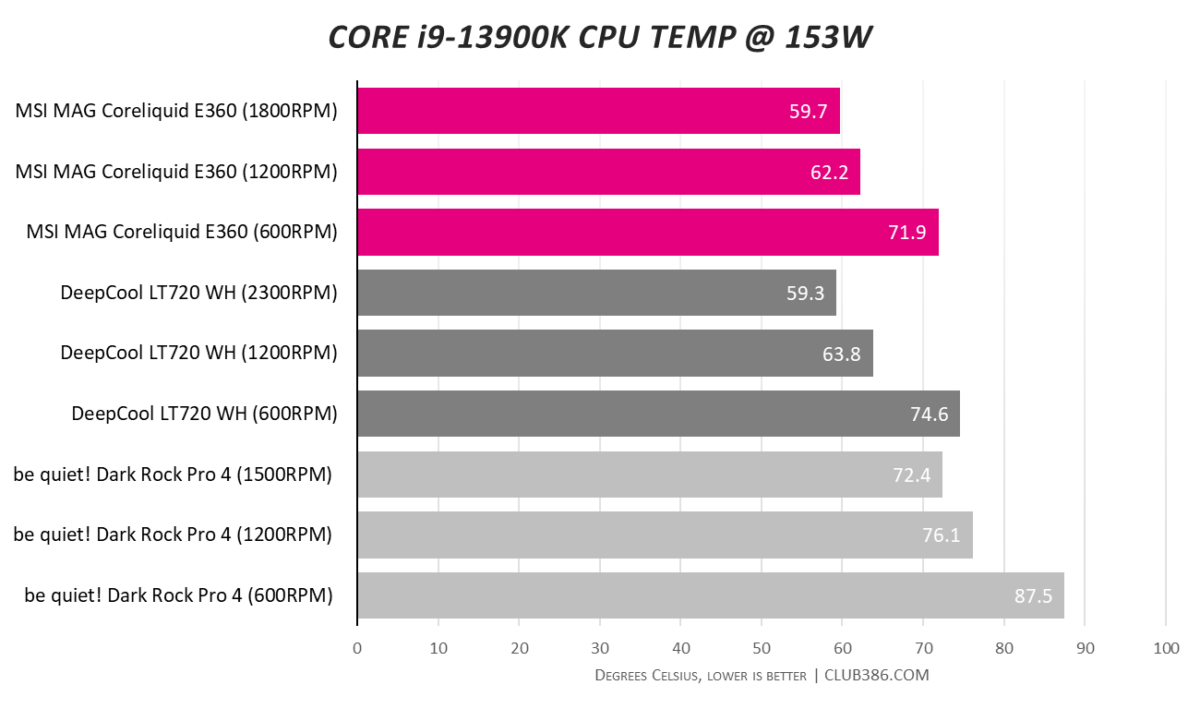 As expected, temperatures are much more comfortable at a reduced power limit, and once again we're pleasantly surprised as to just how efficient the MSI is at low speed. Stuck to 600RPM, core temperature is reduced by almost 20 per cent when compared to a high-end air cooler. That's good going.
Conclusion
Intel and AMD's determination to top the benchmark charts has resulted in blazing-fast desktop CPUs that run hotter than you're accustomed to. Even the beefiest heatsink and fan will struggle, placing renewed emphasis on all-in-one liquid cooling.
There are literally hundreds of models to choose from, and though it's easy to get carried away, you needn't break the bank for a competent cooler that performs well and looks the part.
MSI's MAG CoreLiquid E360 is a fine example. Cooling performance is a noticeable step up from a traditional air cooler, RGB lighting across both pump and fans lends a modern aesthetic, and installation couldn't be much simpler. It is most effective at low speed, where the combination of quiet pump and efficient fans deliver a healthy reduction in core temperature while creating little in the way of noise.
MSI MAG CoreLiquid E360
Verdict: simple, streamlined and effective all-in-one cooling at an agreeable price.
---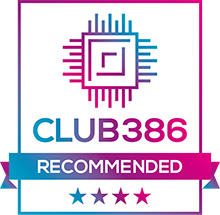 Pros
Enthusiast-grade cooling
Comes in black or white
Spare paste included
Quiet pump and RGB fans
Cons
No 280mm model
Fans noisy at high speed
---
Club386 may earn an affiliate commission when you purchase products through links on our site. This helps keep our content free for all.
Rest assured, our buying advice will forever remain impartial and unbiased.