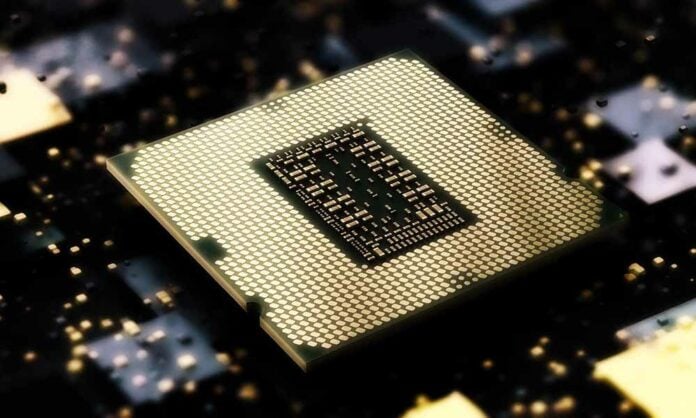 Aren't leaks great? We're at least two months off Intel releasing 13th Gen Core for desktops, codenamed Raptor Lake, but leak upon leak suggests range-topping i9-13900K is going to be a real monster performer. Said chip has popped up on the popular Geekbench database and cranked out impressive numbers.
Getting to the detail, some pesky tester has managed to obtain the highest scores seen for the 24-core, 32-thread head honcho. A single-core result of 2,314 is nothing to sniff at, but it's the multi-core score catching the eye. How does 26,464 marks sound?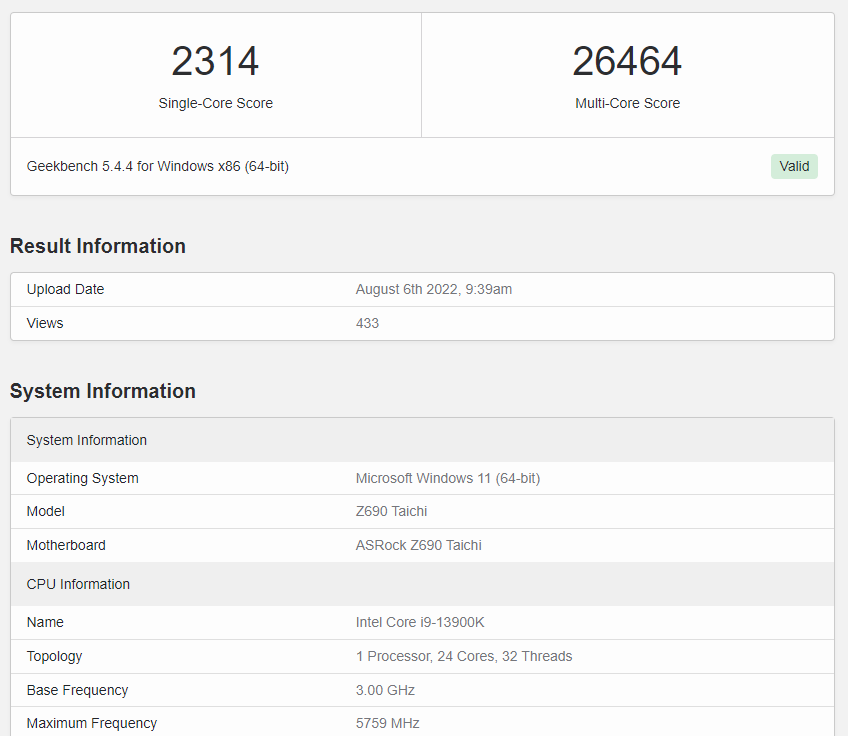 Run on an ASRock Z690 Taichi motherboard, the chip achieved a maximum 5,759MHz frequency, suggesting boosting smarts are working overtime. Multi-core speed is unknown, but going by the posted numbers, should be in the region of 5.5GHz.
It's worth graphing up the relative results in order to understand where Core i9-13900K sits in the pecking order. It just so happens Club386 uses Geekbench 5 in CPU reviews, so without further ado, with the usual provisos in place, let's get to it.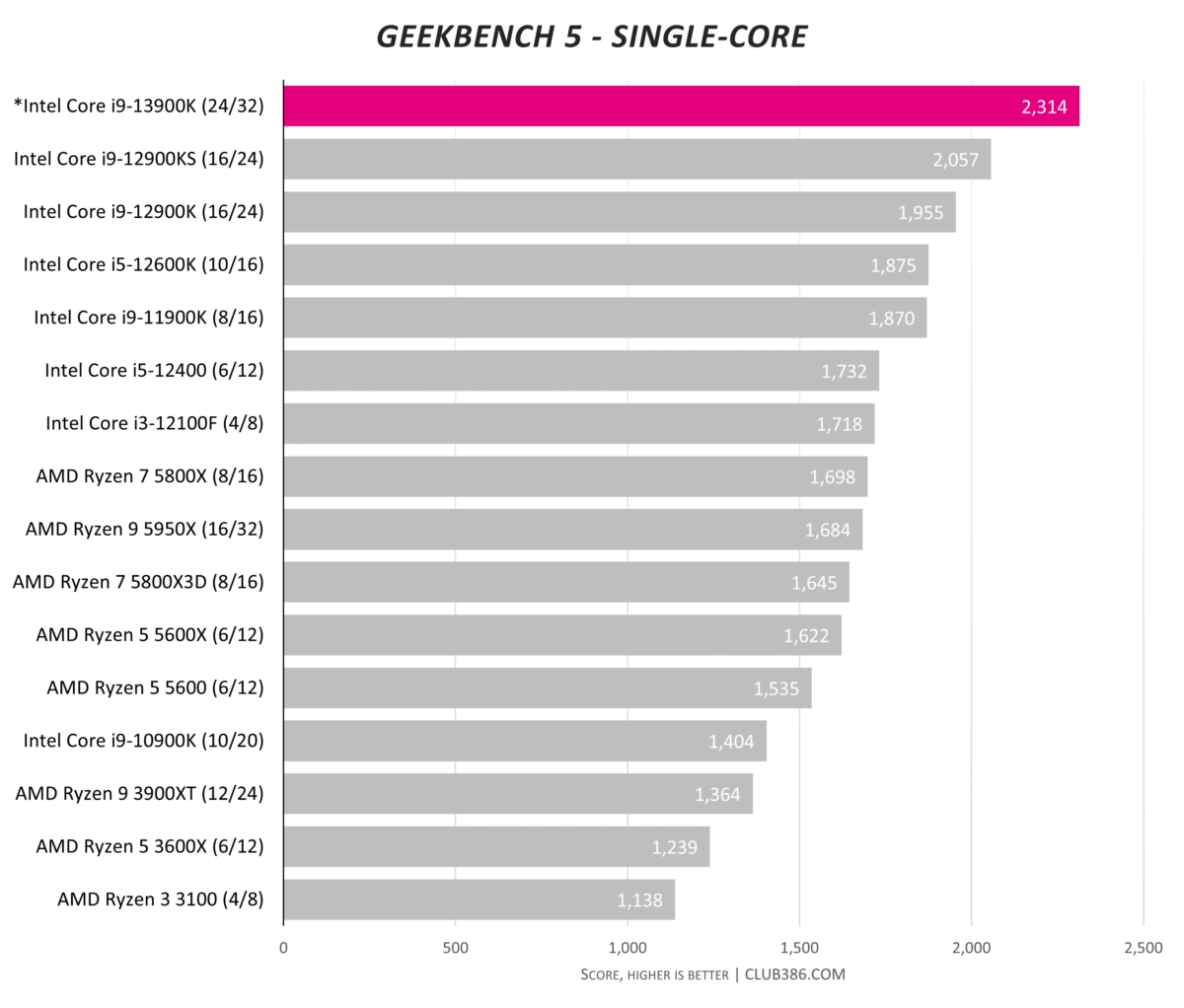 Intel's own Core i9-12900KS set the standard for the current generation and remains, up until now, the only desktop chip to exceed the 2,000-mark barrier. The latest Core i9-13900K result – we don't know of a KS model as of now – ups performance through a combination of IPC and frequency, adding 12.5 per cent to the previous best-in-class score.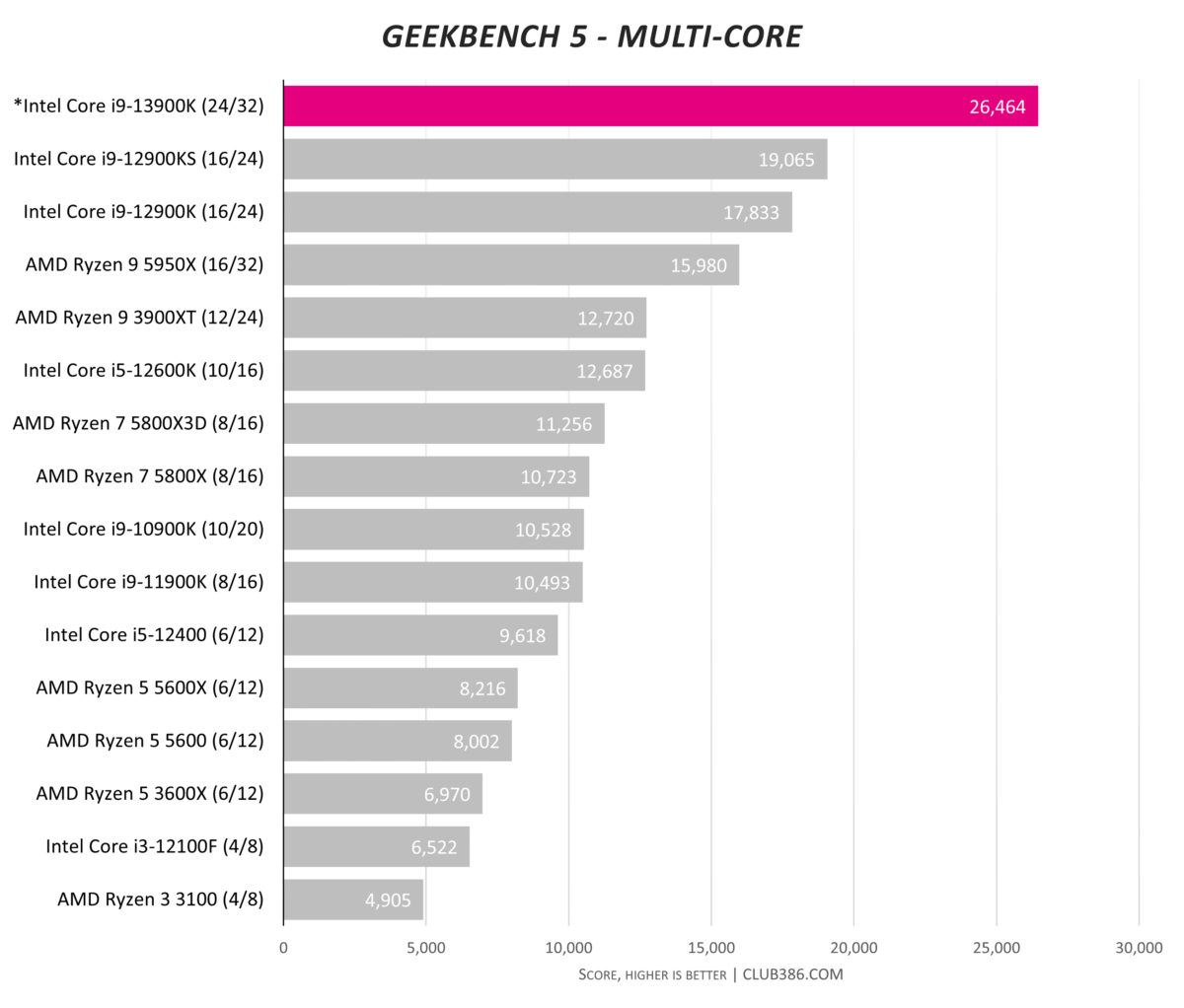 More cores, more IPC and more frequency combine ever so nicely. Core i9-13900K is 38.8 per cent faster than Core i9-12900KS and a whopping 65.6 per cent quicker than AMD's current desktop champ, Ryzen 9 5950X. You know, mooted Ryzen 9 7950X, employing the same 16C32T topology as this generation, simply cannot compete with Raptor Lake's finest in multi-core workloads. That's a bold statement, alright, but we're sure time will prove us right.
Core i9-13900K's other ace in the hole is that it doesn't, unlike AMD Ryzen 7000 series, absolutely require a new motherboard to operate. As you can see, a Z690 motherboard was used for these numbers, and even though upcoming Z790 is a better fit from a connectivity point of view, we see 13th Gen Core as an in-platform upgrade for many enthusiasts who jumped on the Alder Lake bandwagon a little under a year ago.
Intel or AMD: which is to be your next PC upgrade?