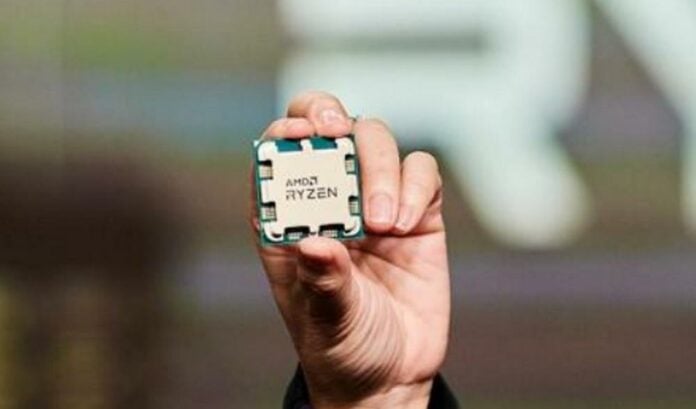 A fresh, new leak reveals upcoming Ryzen 7000 series CPU launch models, specifications and pricing.
According to wccftech, AMD is planning to launch four SKUs initially – Ryzen 9 7950X, Ryzen 9 7900X, Ryzen 7 7700X, and Ryzen 5 7600X. Coming in September, they are manufactured using TSMC's 5nm process – 6nm for the IO die – and use AMD's Zen 4 architecture, which brings eight to 10 per cent IPC uplift over Zen 3, going by reports.
Other hallmarks are high frequency and elevated TDPs in comparison to the previous generation, translating to some nice overall gains. AMD claims more than 15 per cent single-threaded and 35 per cent multi-threaded performance increases, which seen plausible, alongside 25 per cent performance-per-watt gain from Zen 3 to Zen 4. Unlike Intel, AMD is not planning on increasing the total number of cores and threads between generations – 16C32T is the maximum.
Zen 4 is keeping a shared L3 cache structure but will offer double the L2 cache – 1MB instead of 512KB per core. It also features DDR5 and its EXPO (Extended Profiles for Overclocking) for a one-click OC, plus PCIe 5.0 for graphics cards and M.2 SSDs, meaning a CPU and platform upgrade in one fell swoop.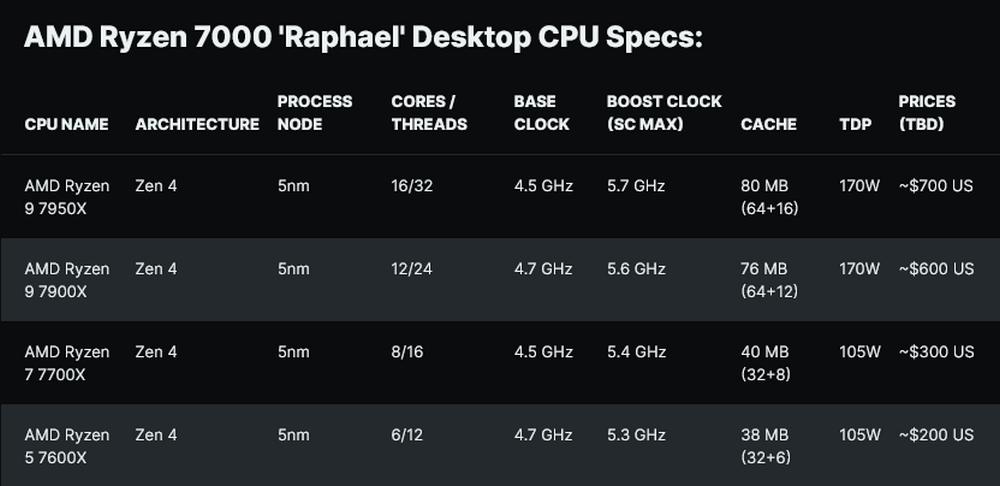 Ryzen 9 7950X
Representing the crème de la crème, Ryzen 9 7950X offers said 16 cores and 32 threads clocked at 4.5GHz base and 5.7GHz boost. There's also 80MB of traditional cache (64MB L3 plus 16MB L2) and has a TDP of 170W. Pricing is said to be $700. For reference, Ryzen 9 5950X launched $99 higher at $799, while being clocked 28 per cent lower at 3.5Ghz base. Assuming these speculated prices are correct, value appears to be robust, but competitor Intel, with 13th Gen Core, will have a large say in how good Ryzen 9 7950X looks.
Ryzen 9 7900X
Taking the next step down, Ryzen 9 7900X features 12 cores and 24 threads – two cores per CCD are inactive – running at 4.7GHz base and 5.6GHz boost. It contains 76MB of cache (64MB L3 plus 12MB L2) and has also a 170W TDP. Pricing for this one could be $600. Looking at its predecessor, Ryzen 9 5900X launched at $549 back in November 2020, but is available for a whole lot less right now.
Ryzen 7 7700X
Arguably a sweet spot for gamers, Ryzen 7 7700X has eight cores and 16 threads set to 4.5GHz base and 5.4GHz boost. It houses a smaller 40MB of cache (32MB L3 plus 8MB L2), as AMD uses only one CCD on CPUs with eight cores or fewer, thus half of the L3 cache is chopped with the 'missing' CCD. On the other hand, TDP is lower at 105W thanks to powering fewer cores and threads. Pricing is expected to be $300. Looking at its current counterpart, the Ryzen 7 5700X was also launched at $299, albeit with a 32 per cent lower clock, at 3.4GHz base.
Ryzen 5 7600X
Finally getting to the one a lot of people are waiting for, Ryzen 5 7600X is a 6C12T CPU running at 4.7GHz base and 5.3GHz boost, with 38MB of cache (32MB L3 plus 6MB L2) and 105W TDP. Said to cost only $200, it would seemingly make for a fantastic gaming machine, all without breaking the bank. Compared to its analogue, Ryzen 5 5600X, the new chip's MSRP is lower by $99 while frequency is up by 27 per cent, from 3.7GHz to 4.7Ghz base.
If these prices turn out to be correct, they surely will help alleviate a some of the cost emanating from an entirely new platform. As you know, this time around RAM must be changed to the new DDR5 standard. Some may even seek a new PSU with their build to prepare for upcoming graphics cards packing that fancy 16-pin connector.
No overvolting?
According to wccftech's source, Raphael desktop CPUs may have limited voltage control, in other words like the Ryzen 7 5800X3D, only undervolting would be available. Is it because AMD has already squeezed every necessary drop of power so more doesn't serve any purpose, or because the architecture doesn't handle high voltages very well?