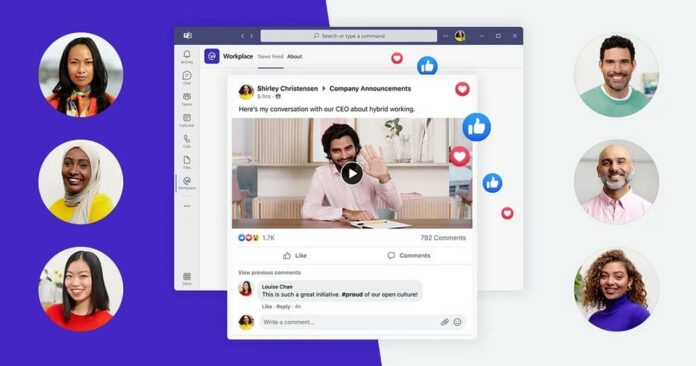 Meta and Microsoft are competitors in the enterprise communication software market – Meta with Workplace and Microsoft with Teams. However, the different platforms don't overlap completely, so there is some scope to improve either experience with some collaboration/integration. As well as enabling folk to access content from either Workplace or Teams within the rival app, there's ability to stream from Teams Meetings (live meetings) into Workplace groups, for example.
Microsoft's CVP of Product & Engineering on Teams, Jeff Teper, contributed to Meta's post on the topic of integration by explaining how useful the partnership will be to users. "One thing I learned from the pandemic is that companies don't just rely on one tool to get their work done, so it is our responsibility as leaders in the space to make sure the tools they use integrate and interoperate with each other," said Teper. He went on to explain how Meta and Microsoft have a "shared vision of offering our customers choice and flexibility."
The above all sounds well and good, but perhaps a practical example might better illustrate the appeal of the integrated services. Luckily, Meta provides an example of Workplace and Team integration from one of the companies that has been trialling the change ahead of general release.
Flight Centre Travel Group has built a community hub (Workplace) and teamwork hub (Teams), and thanks to the union of technologies opened up new communications routes. "Employees will be able to access the most important information, whether they're in an office or in the field, and feel connected at all times," said Flight Centre Travel Group's head of digital, Nick Williams. Mr Williams enthused that the integration thus helps foster "community and collaboration across all of our employees."
This cosying up of Workplace and Teams doesn't come out of the blue. Last year, other cross-platform integrations started to emerge, such as the use of SharePoint, OneDrive, and the Office 365 suite in Workplace. Moreover, Microsoft Azure AD integrations for Work Accounts are being put in place. In December, you will see the immersive video-calling experience of Teams become available in the Meta Portal. The other, headlining integrations are scheduled for next year.
Stepping back and considering the deal between Meta and Microsoft, it is curious that Microsoft's Yammer enterprise social network software, with "tens of millions of monthly active users" isn't mentioned in the Meta/Microsoft news. Yammer has lots of overlap with Workplace in its social network qualities.
Has the company formerly called Facebook done some kind of deal in the background, to allow it to basically replace Yammer functionality? With such a lopsided deal (Workplace has 7 million paid subscribers, and Teams has 250 million monthly active users, according to CNBC) we expect that Meta has had to offer something significant to Microsoft to play so nicely.