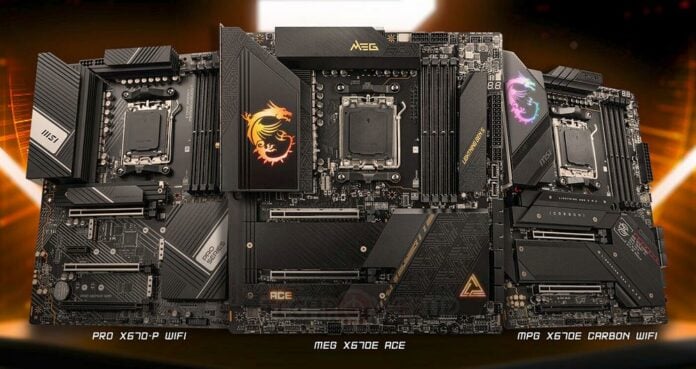 MSI has unveiled three boards featuring AMD's upcoming X670E and X670 chipsets for next-generation Zen 4 processors, which are to be productised as Ryzen 7000 Series.
While X670E supports PCIe 5.0 through both PCIe and M.2 slots, X670 supports PCIe 5.0 through the M.2 slot exclusively. That's no biggie in the larger scheme of things.
MEG X670E Ace
Getting to the meatiest and dearest one first, MEG X670E Ace is an eATX motherboard boasting 24+2 VRM phases, each catering for 105A, cooled by a passive heatsink with an integrated heatpipe to transfer heat effectively. The board also has a metal backplate providing extra rigidity.
The MEG series motherboards are equipped with up to four (on-PCB) M.2 slots, one of which is PCIe 5.0 x4, alongside two additional PCIe 5.0 x4 M.2 slots using the bundled XPander-Z Gen 5 dual add-on card.
MSI doesn't indicate PCIe slots generations and wiring, but from the look of it, we guess all of them are Gen 5, with only the top one being full x16.
We can also see six SATA ports and wireless antennas – probably Wi-Fi 6E plus Bluetooth 5.2.
MPG X670E Carbon WiFi
The MPG X670E Carbon WiFi is an ATX board featuring 18+2 90A VRM power phases cooled by a less dense heatsink.
It features two PCIe 5.0 x16 slots plus another x16 (Gen 4 probably) and four M.2 slots split into two PCIe 5.0 x4 plus two PCIe 4.0 x4.
We can also see six SATA ports, eight USB Type-A, two Type-C, HDMI, DisplayPort, 8-channel audio, Wi-Fi and 2.5GbE Ethernet.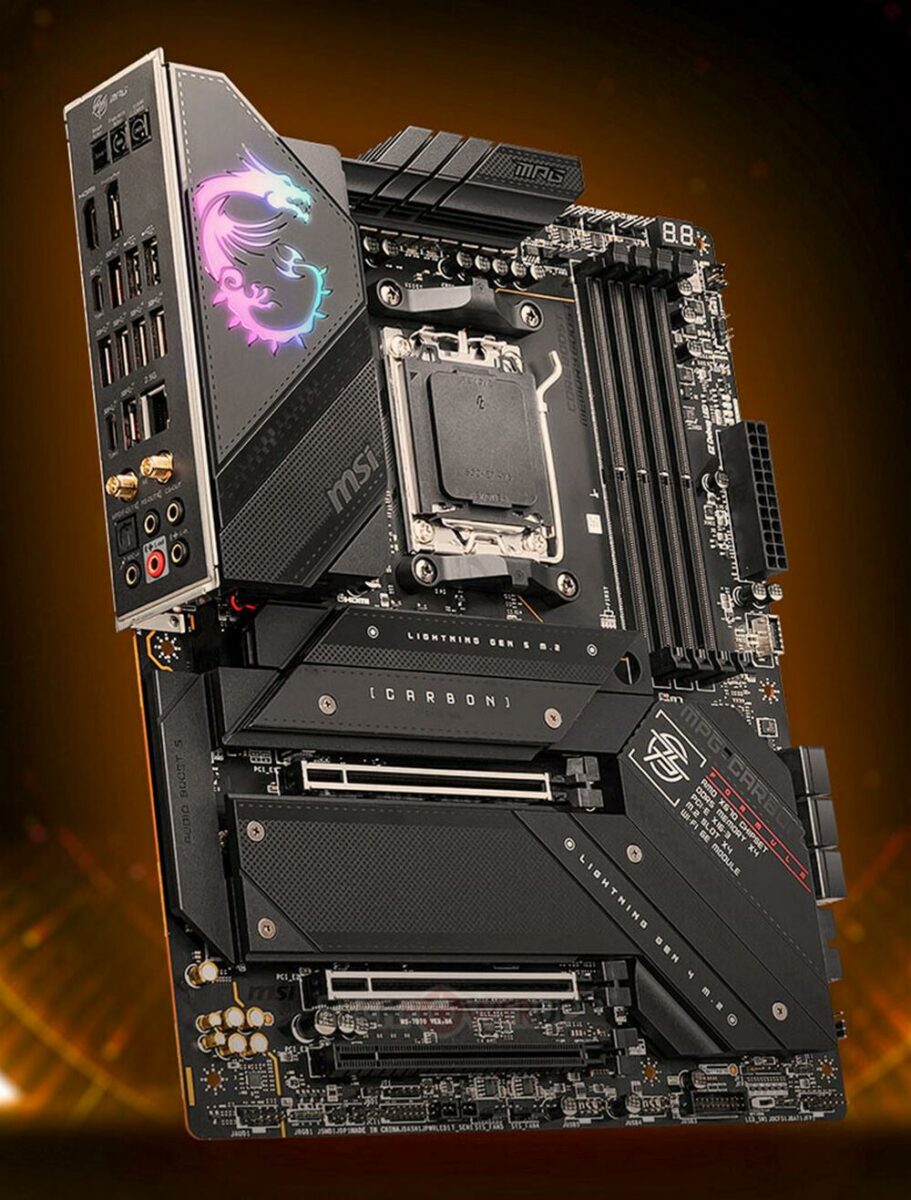 Pro X670-P WiFi
The Pro X670-P WiFi is another ATX board, albeit this time powered by 14+2 phases and cooled by a sleek heatsink, with no RGB, which makes it more attractive if you ask me.
Here we have four PCIe slots, four M.2, of which one is PCIe 5.0 x4, six SATA, 2.5GbE LAN and Wi-Fi 6E. Unfortunately, the useful POST code indicator and extra M.2 heatsinks go by the wayside in the name of cutting cost.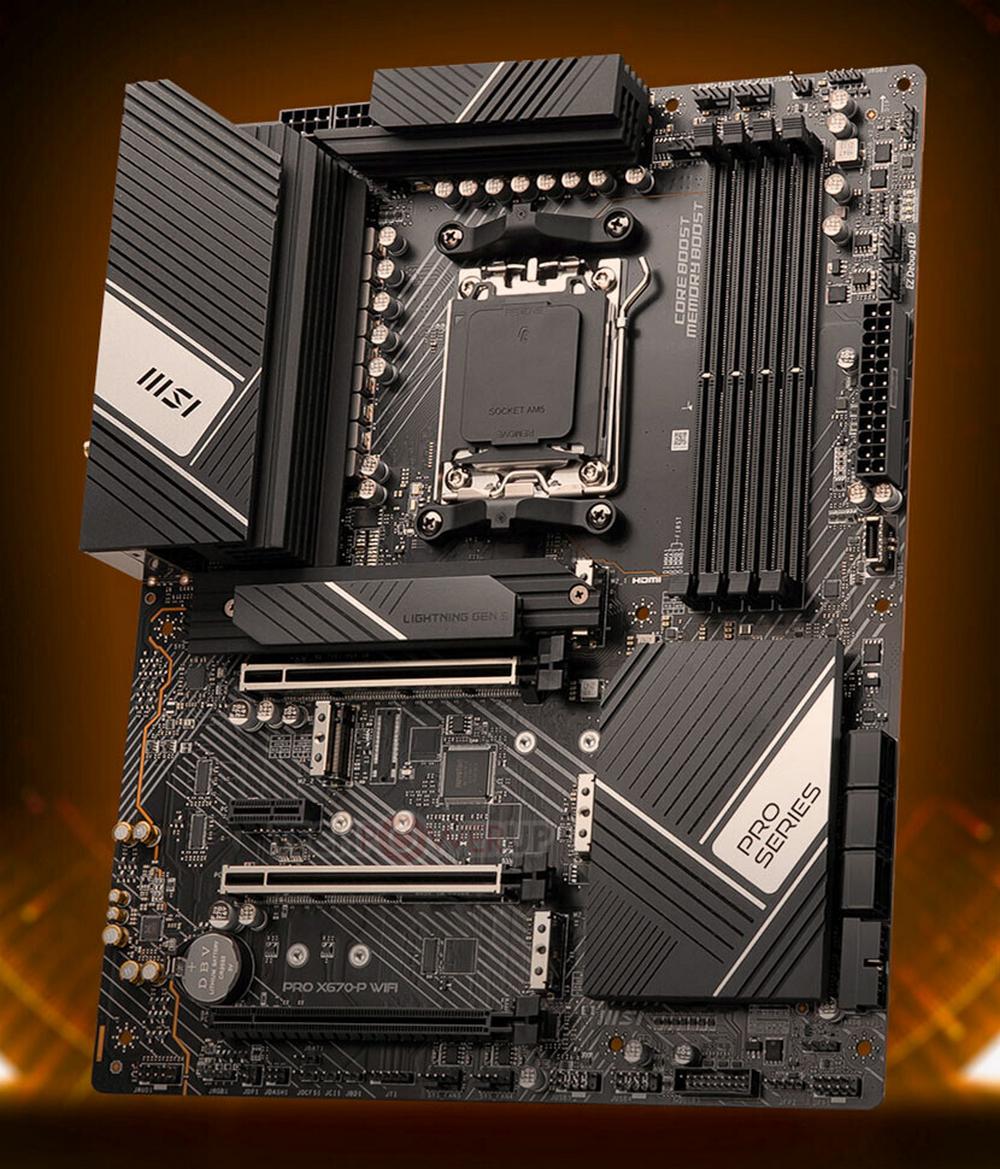 All MSI X670 motherboards will support ARGB Gen2 devices and should be compatible with AM4 CPU coolers.
MSI is planning to launch X670E and X670 motherboards in autumn 2022.