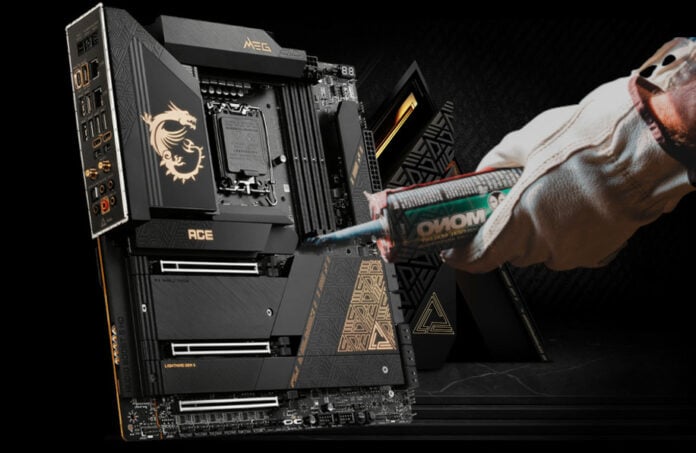 MSI has published a new BIOS update tackling the recent 'Unsupported Processor' BSOD error message on Intel 700 and 600 Series motherboards.
Rearing its ugly head about two weeks ago, the bug caused many of MSI's Z790 and Z690-based systems to crash with a BSOD error message saying 'Unsupported Processor'. The issue appeared on machines using MSI's latest BIOS after being updated to Windows KB5029351 preview. Users have reported experiencing these BSODs on machines featuring Intel Core i7-13700K / 13700KF / 13700F and Core i9-13900K / 13900KS CPUs coupled with MSI Z690 and Z790 motherboard updated to the latest BIOS.
The brand was quick to provide a temporary workaround in the form of a downgrade to previous BIOS versions, and today MSI board owners are finally getting a permanent solution to this bug.
MSI has determined that this issue was caused by the firmware setting of Intel Hybrid Architecture, affecting systems featuring Intel's 13th Gen Core i9 CPUs paired with Windows 10 KB5029331 update or Windows 11 KB5029332 / KB5029351.
Users facing this problem, or simply wanting to avoid it altogether, can download the latest BIOS update for MSI boards via the official portal or by using the links below. Find and download the version stating 'Updated CPU uCode to fix "UNSUPPORTED PROCESSOR" issue caused unexpected BSOD' then follow MSI's instructions.
| | |
| --- | --- |
| Motherboard Models | BIOS Version (Release on Sept) |
| MEG Z790 Ace | Link |
| MPG Z790 Carbon WIFI | Link |
| MPG Z790 Edge WIFI | Link |
| MAG Z790 Tomahawk WIFI | Link |
| PRO Z790-A WIFI | Link |
| PRO Z790-P WIFI | Link |
| PRO Z790-P | Link |
| PRO Z690-A WIFI | Link |
| PRO Z690-A | Link |
MSI also added that BIOS updates for any remaining Intel 600 and 700 boards will become available by the end of September, so stay tuned.