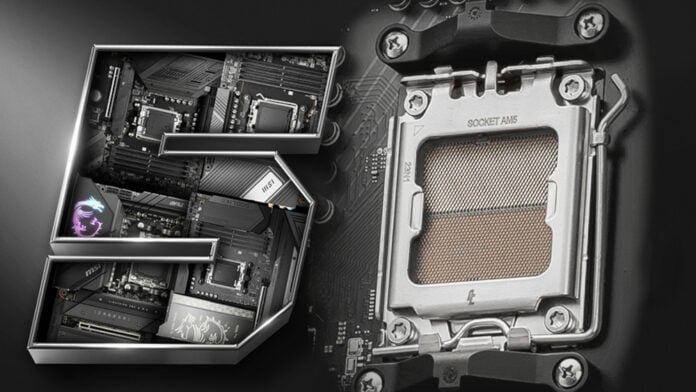 MSI has announced BIOS updates for a range of AM5 motherboards mitigating recent AMD Ryzen 7000X3D series CPU deaths attributed to high SOC voltages.
The story seems to have started on April 20 when a Reddit user named Speedrookie published a picture of dead Ryzen 7 7800X3D CPU and burned AM5 socket, something that is unusual even when extreme overclocking, let alone on a CPU running at stock speeds with EXPO enabled.
While both EXPO and XMP are considered overclocking and thus outside of the CPU's intended use, operating with these settings active are often accepted for warranty as they are mandatory to unlock the maximum performance of said chips. Brands themselves brag about how, with one click, you can unlock more performance, and EXPO/XMP have become second nature to many DIY builders.
The puzzling part of this saga is that EXPO or XMP host memory profiles should not interfere with anything related to CPU voltages. However, after further testing by Gamers Nexus and igor's lab, it would seem the SOC was running at very high voltages causing some protection mechanisms to fail which allowed the motherboard to keep feeding current to the CPU, generating enough heat to melt the IHS solder and crack the chip itself – in some instances even burning the AM5 socket.
AMD has since issued an official statement, identifying the crux of the issue while announcing an incoming fix.
"We have root caused the issue and have already distributed a new AGESA that puts measures in place on certain power rails on AM5 motherboards to prevent the CPU from operating beyond its specification limits, including a cap on SOC voltage at 1.3V," said the company in a statement.
"None of these changes affect the ability of our Ryzen 7000 Series processors to overclock memory using EXPO or XMP kits or boost performance using PBO technology," adds AMD.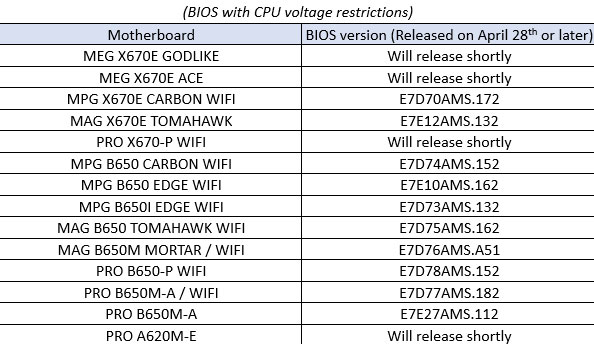 BIOS updates are expected to follow swiftly from all the major players, and MSI is quick off the mark with a plethora of new releases. The updates, detailed in the snapshot above, are also applicable to Ryzen 7000 non-X3D models, to be safe. MSI recommends all AM5 board owners to install this update and ensure sufficient CPU cooling is applied.
Finally, AMD adds that anyone whose CPU may have been impacted by this issue should contact AMD customer support, as the service team is aware of this situation and prioritising such cases.