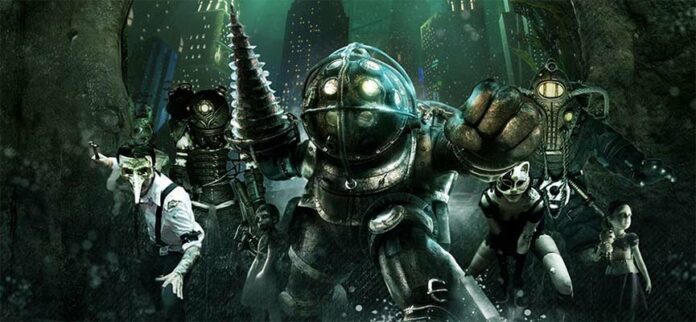 Let's face it, film adaptations of video games have not only struggled at the box office, they're often panned by critics and viewers, too.
Studios aren't to be deterred, mind, and in this age of remakes and reruns, no high-profile video game is free from the grasp of Hollywood. Whether it's Lara Croft, Sonic the Hedgehog or Master Chief, you're going to end up on the big screen one way or another. We're of the opinion some titles are better suited than others.
2007's BioShock is undoubtedly one such title and Netflix has picked up the mantle. Following on from the success of its live-action Witcher adaptation, the streaming giant is said to have spent the past year trying to secure rights to BioShock and has now officially confirmed a partnership with 2K and Take-Two Interactive.
Would you kindly…get excited because Netflix is partnering with 2K and Take-Two Interactive to produce a film adaptation of the renowned video game franchise BIOSHOCK! pic.twitter.com/lUqfaNlbc4

— NetflixFilm (@NetflixFilm) February 15, 2022
Based in the 1960s, the award-winning game took place in the underwater city of Rapture and thrilled players with an often gorgeous and occasionally terrifying art style that elevated its absorbing soundtrack and provocative storyline.
Fans have been longing for a film adaptation ever since, and it might have happened sooner. Back in 2008, Universal Studios announced a deal to produce a BioShock movie written by John Logan (Gladiator, The Last Samurai, Skyfall) and helmed by none other than Gore Verbinski (Pirates of the Caribbean).
That initial hype soon died down as Verbinski dropped out, reportedly after the studio suggested the film aim for a PG-13 rating. The project was scrapped shortly after, but in today's world there are plenty of streaming firms looking to take on projects that traditional studios have abandoned.
Part of us is just a tad disappointed to learn BioShock will be a film adaptation rather than a TV series, but we're intrigued to learn more. No director or cast has yet been announced, and a release is likely to be at least a year away.
To this day the original BioShock holds a 96 rating on review aggregator Metacritic, placing it sixth on the list of highest-rated PC games of all time. Two sequels followed – BioShock 2 in 2010 and BioShock Infinite in 2013 – and a fourth game in the series is currently in development by Cloud Chamber.