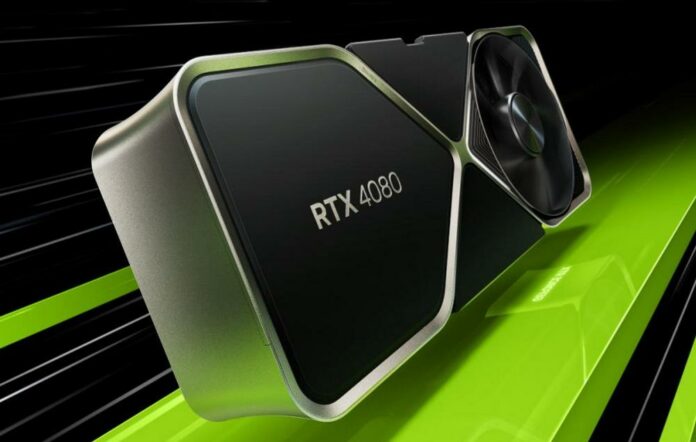 In a surprise move, Nvidia is pulling the plug on the upcoming GeForce RTX 4080 12GB graphics card by 'unlaunching' it. One of the best graphics cards will no longer receive a cut-down version.
Today, Nvidia has said: "The RTX 4080 12GB is a fantastic graphics card, but it's not named right. Having two GPUs with the 4080 designation is confusing. So, we're pressing the "unlaunch" button on the 4080 12GB. The RTX 4080 16GB is amazing and on track to delight gamers everywhere on November 16th. If the lines around the block and enthusiasm for the 4090 is any indication, the reception for the 4080 will be awesome."
Initial Line-up
GeForce
RTX 4090
RTX 4080
16GB
RTX 4080
12GB
Launch date
Oct 2022
Nov 2022
Nov 2022
Codename
AD102
AD103
AD104
Architecture
Ada Lovelace
Ada Lovelace
Ada Lovelace
Process (nm)
4
4
4
Transistors (bn)
76.3
45.9
35.8
Die size (mm2)
608.5
378.6
294.5
SMs
128 of 144
76 of 80
60 of 60
CUDA cores
16,384
9,728
7,680
Boost clock (MHz)
2,520
2,505
2,610
Peak FP32 TFLOPS
82.6
48.7
40.1
RT cores
128
76
60
RT TFLOPS
191.0
112.7
92.7
Tensor cores
512
304
240
ROPs
176
112
80
Texture units
512
304
240
Memory size (GB)
24
16
12
Memory type
GDDR6X
GDDR6X
GDDR6X
Memory bus (bits)
384
256
192
Memory clock (Gbps)
21
22.4
21
Bandwidth (GB/s)
1,008
717
504
L1 cache (MB)
16
9.5
7.5
L2 cache (MB)
72
64
48
Power (watts)
450
320
285
Launch MSRP ($)
1,599
1,199
899
Partners Get Hurt
As shown on the right, GeForce RTX 4080 appeared to be the odd man out in the initial Ada Lovelace-powered trio. Built from the smallest die possible, AD104, many commentators, including Club386, reckoned it should have been named GeForce RTX 4070, better befitting its specifications. That message appears to have gotten back to Nvidia HQ, going by today's announcement.
Fair play to whoever made the call to bench RTX 4080 12GB for the time being; it's a brave one, but it's also the right one, as having two cards using the same name, but rather different in makeup and performance, doesn't help the consumer and risks reputational damage.
The move will hurt add-in card partners the most, of course, as there is no Founders Edition model planned for RTX 4080 12GB. Let's see if Nvidia goes back to the drawing board and releases this GPU later with the expected RTX 4070/RTX 4060 Ti name.
Another strand that may have forced Nvidia's hand is, by all accounts, there are plenty of RTX 30 Series cards still sitting in the channel. What better way of ensuring they look more attractive than by removing the $899 GeForce RTX 4080 12GB option from the equation altogether?