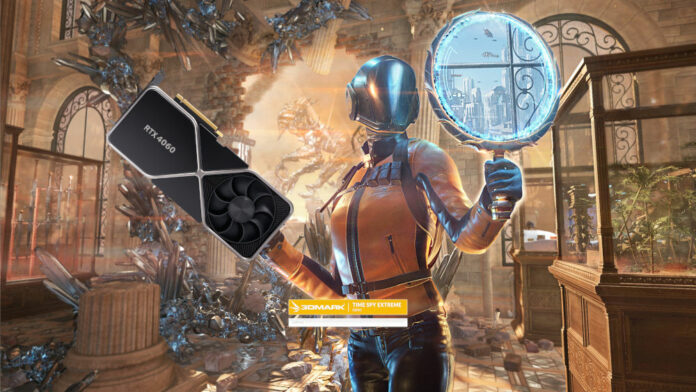 After high-end RTX 4080 and RTX 4070 performance rumours, mid-range RTX 4060 and 4060 Ti are getting a moment under the spotlight thanks to @QbitLeaks on Twitter revealing some potential 3Dmark scores.
According to QbitLeaks, the RTX 4060 achieved around 6,000 points in the demanding 3DMark Time Spy Extreme benchmark, putting it alongside an RTX 3070 (6,300 points), while the RTX 4060 Ti managed a much higher score at 8,600 points, putting it in comfortably ahead of RTX 3080 (8,000 points). Note that these scores are overall (not GPU only), meaning the CPU will influence the final result. Add to that the fact that these are only rumours, and we're inclined to recommend the usual pinch of salt.
Nevertheless, the numbers stack up quite well with previous rumours about Nvidia's RTX 4080 and 4070, with an exception. The RTX 4060 seems to be a bit lower than we would expect for a non-Ti variant. If we take an RTX 3070 Ti at 6,900 points as example, the RTX 3070 (non-Ti) is only nine per cent slower.
Spec-wise, the RTX 4060 average clock was 2.7GHz with a power draw of 230W to 240W, whereas the RTX 4060 Ti was set at about 2.6GHz with a 270W to 280W power draw. Once again, the RTX 4060 is an outlier, consuming (about 20W) more power while offering similar or lower performance than an RTX 3070. On the other hand, this consumption is close to what previous rumours have led us to believe.
QbitLeaks also indicates that these cards are test boards offering multiple configurations, thus, they do not represent the final product to be available on shelves. Moreover, knowing that RTX xx60 cards may release much later compared to flagship SKUs, these numbers even if true, have enough time to change. As a reminder, the RTX 3060 launched five months after the RTX 3080 on Feb 25, 2021.
Finally, Nvidia's RTX 4060 is expected to feature 3,968 CUDA cores and 8GB of 17Gbps GDDR6, whereas the RTX 4060 Ti would ship with 6,144 cores and 10GB of slightly quicker 17.5Gbps GDDR6.
In any case, if at least one of all these rumours is true, we are on the verge of some hefty uplifts on next-gen cards. We just hope it's not at the expense of high power, heat or cost.