OneXPlayer has announced the OneXFly rocking an eight-core AMD Zen 4 CPU plus up to 64GB of RAM in a compact and light frame, starting at $799.
Like the Ayaneo Kun, OneXPlayer's new handheld is based on AMD's Ryzen 7 7840U processor featuring eight hyperthreaded Zen 4 cores clocked at 3.3GHz base / 5.1GHz boost alongside 12 RDNA 3 compute units topping at 2.7Ghz. The machine can be configured with 16GB, 32GB, or even 64GB of LPDDR5X-7500 memory, plus 512GB, 1TB, 2TB, or 4TB of PCIe 4.0 storage.
All OneXFly variants arrive with a 120Hz 1080p IPS screen rated for 450nits, 48Wh battery and Windows 11 operating system, tucked inside a 263.6mm x 98.25mm x 22.6mm chassis weighing 580g, which is smaller and lighter than both the Steam Deck and ROG Ally. A 65W GaN charger is also included for a fast top-up.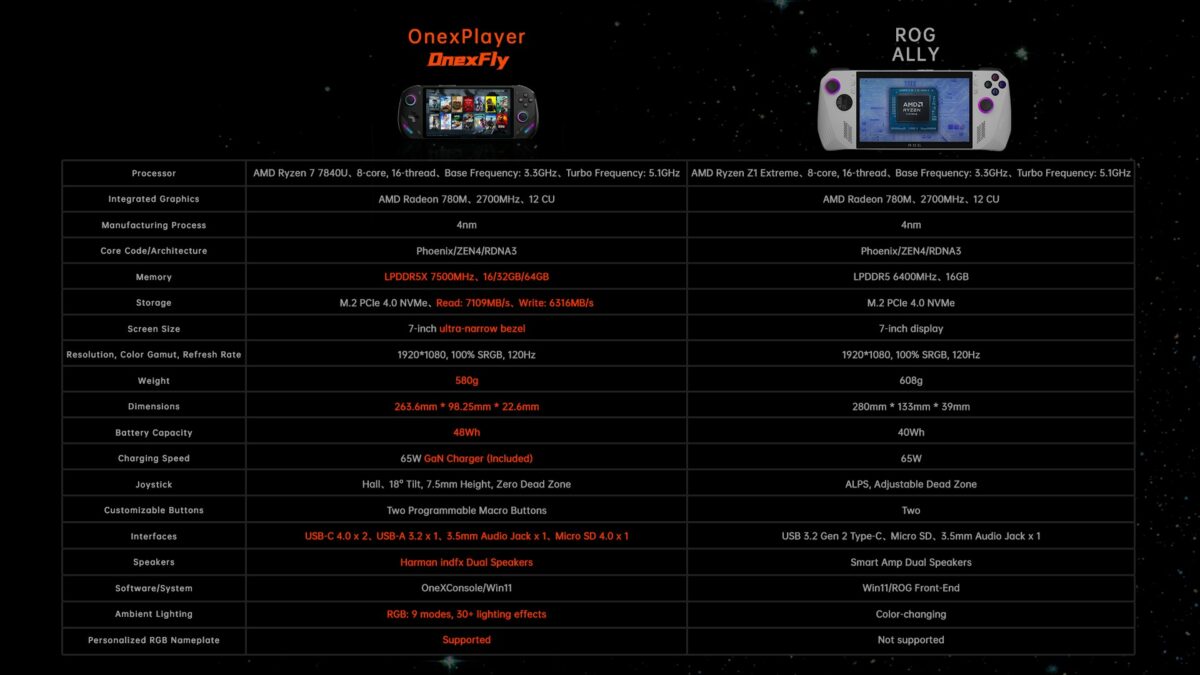 Controls are as usual, so four buttons, a D-pad, triggers, and joysticks, alongside some dedicated menu and volume buttons, with I/O covered by two USB 4 Type-C ports, one USB 3.2, one Micro-SD card slot, and a 3.5mm audio jack. Audio punches through two down-firing stereo speakers tuned by Harman Kardon. Those interested can ask for a customised RGB illuminated text on the bottom left and right, though it is not clear if we are free to write whatever or if we must choose from a pre-defined list.
Talking of customisability, power can also be tuned from 30W all the way down to 4W. However, 4W may be insufficient even for video playback, let alone gaming. Obviously, the fan curve, vibration levels, and RGB illumination can all be modified to each one's liking, too.
The fact we can switch resolution on the fly (no pun intended) using the OneXFly Player Menu is very handy, and it takes effect instantly. There is even an option to clean up RAM, if, let's say, a game crash leaves some residue.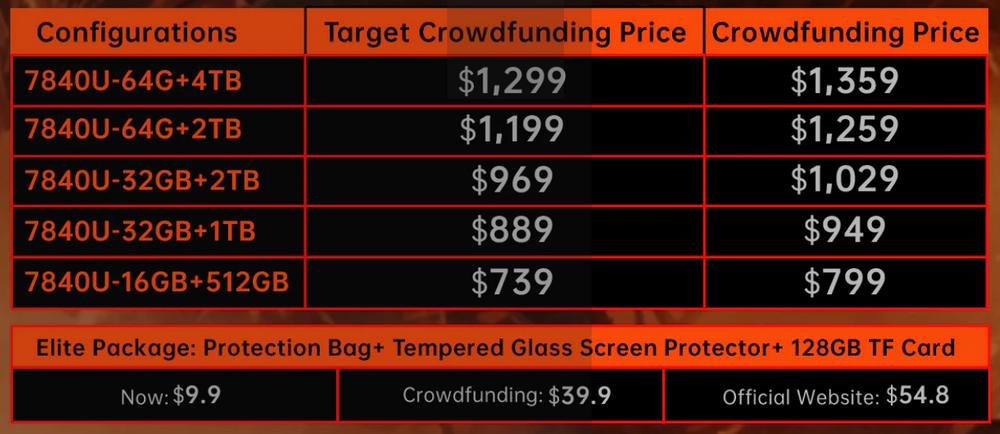 According to ETA Prime's testing of a prototype unit, the OneXFly delivered above 60fps in Spider-Man: Miles Morales at 28W 720p low settings, 61fps in Shadow of the Tomb Raider at 28W 1080p low, 60fps in Hogwarts Legacy at 28W 720p low, and again above 60fps in Cyberpunk 2077 at 28W 1080p low. The latter shows even more impressive results when lowering the resolution to 720p, now requiring only 20W to reach 80fps, which in turn gives extra playtime. Impressive results for such a compact machine.
OneXPlayer is launching the OneXFly via Indiegogo starting at $739 for a 16GB RAM / 512GB storage model, assuming the 2,000-supporter goal is reached. Default pricing ranges from $799 to $1,359. For more details, check the table above.