Jump to: Performance | Value | Overclocking | Conclusion
Nvidia's recent release of the GeForce RTX 4060 Ti – at the time, the cheapest of the RTX 40 Series Ada clan – was interesting insofar as it launched during unprecedented upheaval among the best graphics cards. RTX 4060 Ti's $399 tag stood at stark odds with the bruising price cuts administered on a bevy of last-generation cards, rendering the new entrant hard to recommend in spite of sporting class-leading technology.
Team Green isn't finished with desktop Ada just yet, mind you. Regular GeForce RTX 4060's express aim is to entice more gamers into the Nvidia RTX fold. Priced from $299 / £289, let's first do the right thing and examine vital specs through the illustrious, fabled Club386 Table of Doom™.
| GeForce | RTX 4090 | RTX 4080 | RTX 4070 TI | RTX 4070 | RTX 4060 Ti | RTX 4060 |
| --- | --- | --- | --- | --- | --- | --- |
| Launch date | Oct 2022 | Nov 2022 | Jan 2023 | Apr 2023 | May 2023 | June 2023 |
| Codename | AD102 | AD103 | AD104 | AD104 | AD106 | AD107 |
| Architecture | Ada | Ada | Ada | Ada | Ada | Ada |
| Process | TSMC 4N | TSMC 4N | TSMC 4N | TSMC 4N | TSMC 4N | TSMC 4N |
| Transistors (bn) | 76.3 | 45.9 | 35.8 | 35.8 | 22.9 | 18.9 |
| Die size (mm2) | 608.5 | 378.6 | 294.5 | 294.5 | 187.8 | 158.7 |
| SMs | 128 of 144 | 76 of 80 | 60 of 60 | 46 of 60 | 34 of 36 | 24 of 24 |
| CUDA cores | 16,384 | 9,728 | 7,680 | 5,888 | 4,352 | 3,072 |
| Boost clock (MHz) | 2,520 | 2,505 | 2,610 | 2,475 | 2,535 | 2,460 |
| Peak FP32 TFLOPS | 82.6 | 48.7 | 40.1 | 29.1 | 22.1 | 15.1 |
| RT cores | 128 | 76 | 60 | 46 | 34 | 24 |
| RT TFLOPS | 191.0 | 112.7 | 92.7 | 67.4 | 51.0 | 35 |
| Tensor cores | 512 | 304 | 240 | 184 | 136 | 96 |
| ROPs | 176 | 112 | 80 | 64 | 48 | 48 |
| Texture units | 512 | 304 | 240 | 184 | 136 | 96 |
| Memory size (GB) | 24 | 16 | 12 | 12 | 8 | 8 |
| Memory type | GDDR6X | GDDR6X | GDDR6X | GDDR6X | GDDR6 | GDDR6 |
| Memory bus (bits) | 384 | 256 | 192 | 192 | 128 | 128 |
| Memory clock (Gbps) | 21 | 22.4 | 21 | 21 | 18 | 17 |
| Bandwidth (GB/s) | 1,008 | 717 | 504 | 504 | 288 | 272 |
| L1 cache (MB) | 16 | 9.5 | 7.5 | 5.8 | 4.4 | 3.1 |
| L2 cache (MB) | 72 | 64 | 48 | 36 | 32 | 24 |
| PCIe interface | 4.0 x16 | 4.0 x16 | 4.0 x16 | 4.0 x16 | 4.0 x8 | 4.0 x8 |
| Power (watts) | 450 | 320 | 285 | 200 | 160 | 115 |
| Launch MSRP ($) | 1,599 | 1,199 | 799 | 599 | 399 | 299 |
Analysis
You'd be wrong to think Nvidia has designed an entirely new GPU for the fledgling part. GeForce RTX 4060 exists already in laptop guise and is present in a bunch of thin-and-light gaming offerings. This is great news for Nvidia, for whom the transition from laptop to desktop GPU is remarkably straightforward.
Pulling across the 158.7mm² AD107 GPU manufactured on custom 4N silicon from foundry partner TSMC, GeForce RTX 4060 touts full potential by housing 24 SM units collectively home to 3,072 shaders. That remains some way behind different-die RTX 4060 Ti, so performance is naturally lower. To that point, Nvidia remains steadfast that RTX 4060 is a great card for FHD gaming and a formidable upgrade from, say, a GeForce GTX 1060.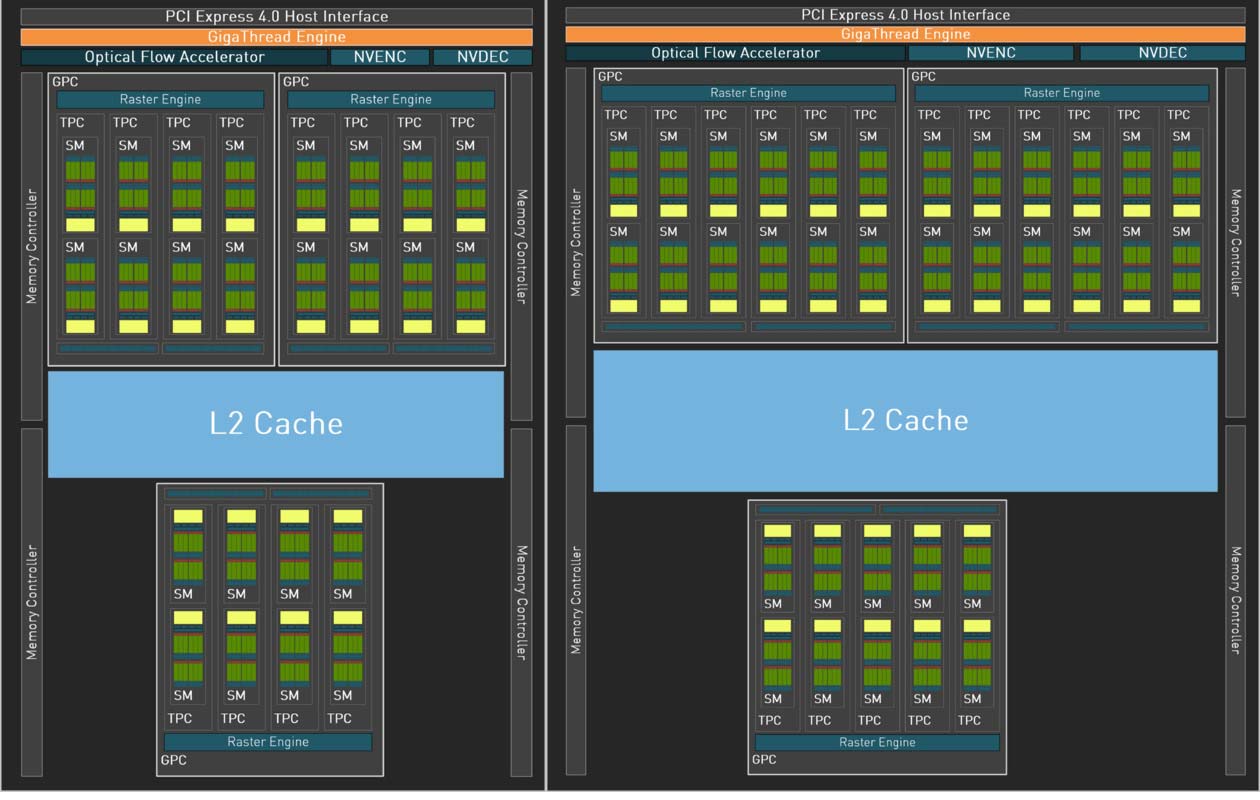 This is a lean architecture built with energy efficiency very much to the fore, evidenced by measly board power of 115W. Like most RTX 40 Series parts, Nvidia believes traditional specification tabulation doesn't do the forward-looking architecture appropriate justice; innovations are, at best, editorial footnotes more than headline features.
Speaking of which, rather than place most of the eggs in the traditional rasterisation basket, Nvidia continues to devote precious and ever-growing die space to RT and Tensor cores. Offering about half the capability of RTX 4070, the persistent expectation is that these technologies combine to unlock the door to next-gen visuals and performance through smarts instead of brute force.
Ada's cache-heavy strategy is also present and correct. Accommodating 128KB of L1 per SM and a whopping 24MB of L2 overall – recall last-generation RTX 3060 ships with merely 3MB of L2 – the latest GeForce is an advocate of keeping as many workloads on-chip as possible. As we have seen time and time again in the CPU world, more cache is a good thing.
Framebuffer size is one issue that remains a challenge for Nvidia. Unlike its bigger brother, RTX 4060 Ti, there is no 16GB option, and such is the consternation in enthusiast camps, 10GB or 12GB options make sense from a public relations perspective, even if real-world use is less useful than on premium GPUs usually tasked with rendering at higher resolutions and image-quality settings. Feel free to insert any '8GB is not enough in 2023' meme here.
Fundamentally viewed as a competent upgrade solution for gamers rocking much older cards, rather than a performance and value champion amongst peers from the last generation, let's view a retail interpretation from Palit.
Palit GeForce RTX 4060 Dual 8GB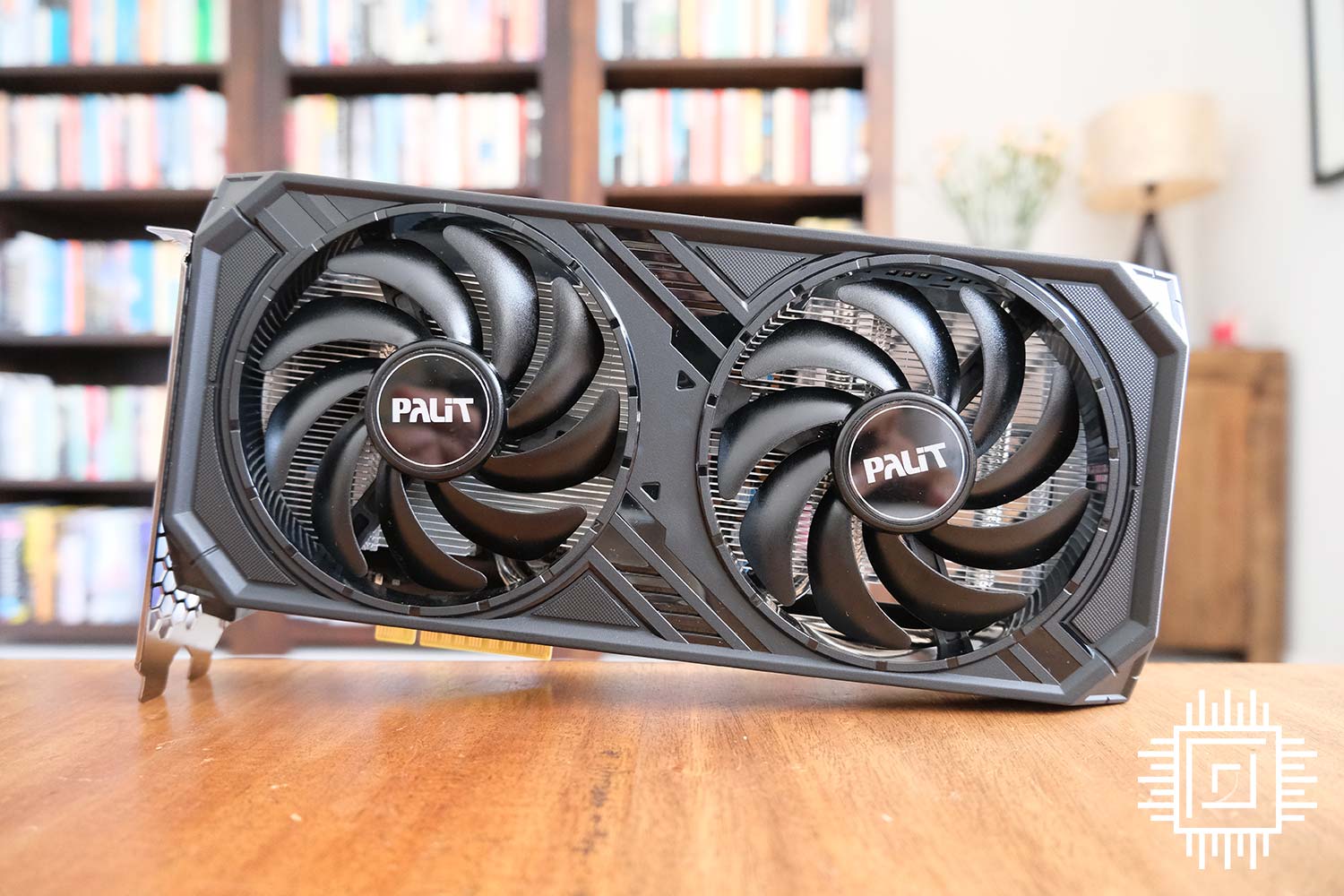 Specifications lend themselves to petite retail cards aping a Mini-ITX form factor, but Nvidia's partners have larger, established solutions currently employed on mainstream last-gen cards. Palit's initial foray into RTX 4060 territory is appropriately named Dual, but it's likely we'll see a single-fan StormX soon.
Pulling no punches, Palit uses what appears to be the same cooler present on the more powerful RTX 4060 Ti, and that's good news. Measuring 250mm long, 123mm high, 40mm thick and weighing 648g, the dual-slot design is visually inoffensive and more utilitarian than fancy. The logic is straightforward enough: build a card able to achieve MSRP prices, which is especially important as there's no sublimely built Founders Edition to worry about this time around.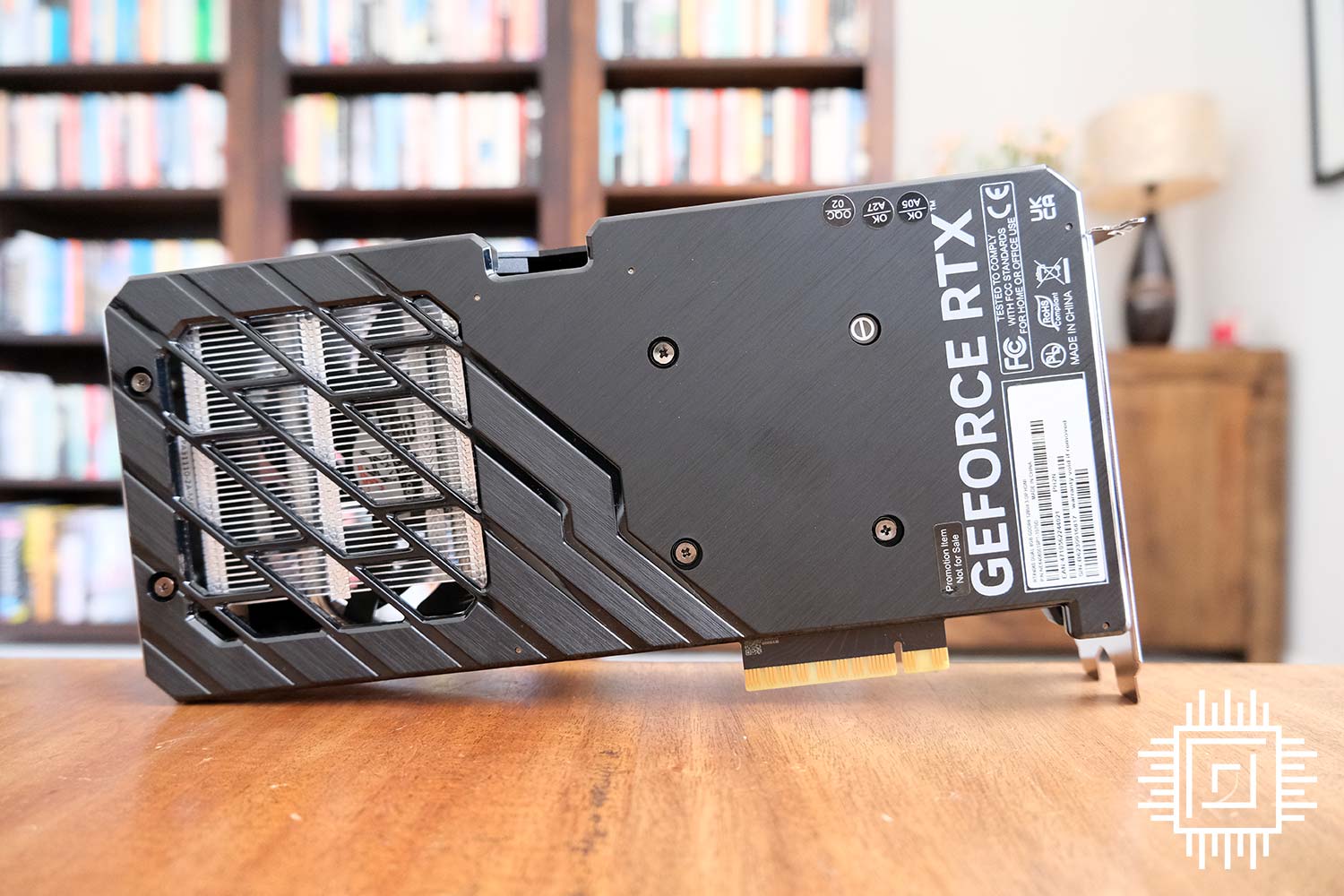 Costs are kept in check by using plastic for both the shroud and rear bracing plate. Palit needs to include the latter as the PCB is tiny. Barely 15cm long, it finishes before the large cutout section used for through-the-board airflow.
While looking the same visually, RTX 4060 Ti and non-Ti Dual don't share the same cooling design. Palit drops the heatpipe complement from three to two and simplifies the heatsink in the process.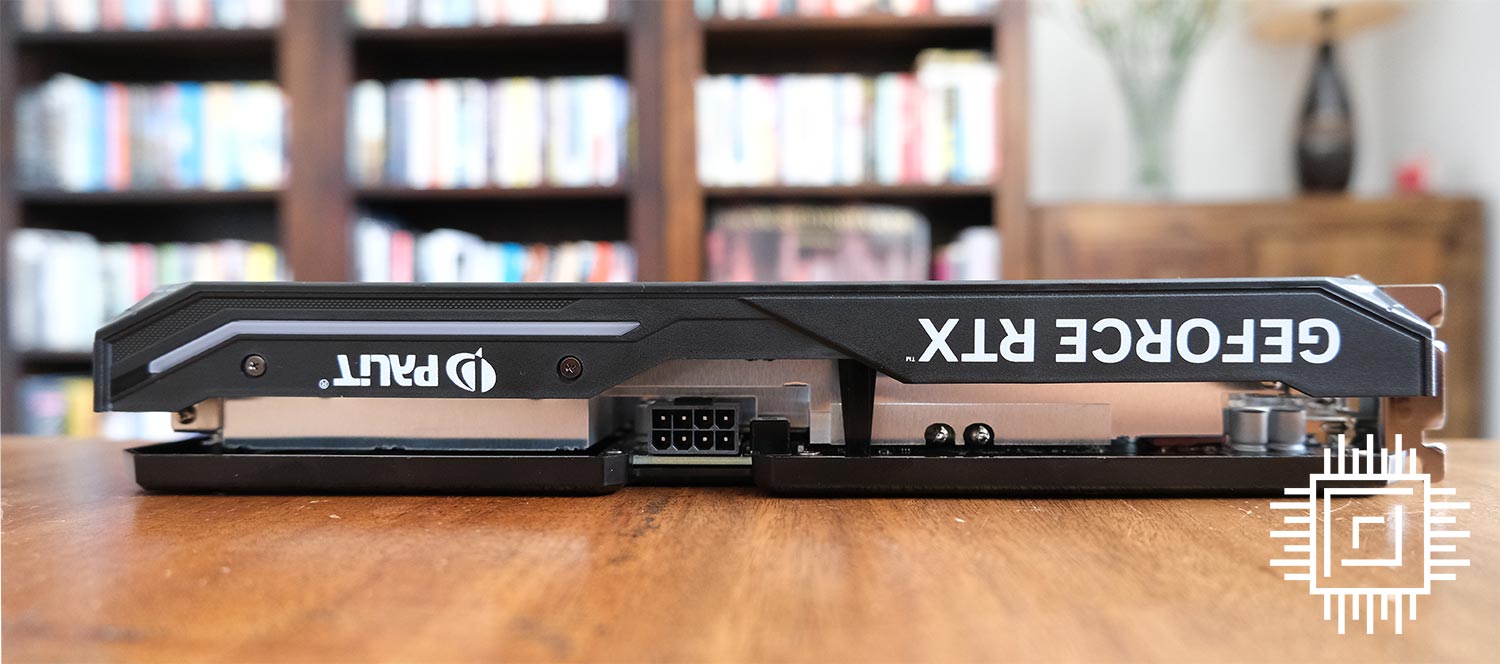 An exercise in visual restraint, the card says 'see you later' to the 12VHPWR connector and uses a traditional single eight-pin instead. There's just about enough room to engage / disengage the connector without risking fingernail carnage.
A peek by the Palit logo highlights the presence of an RGB light strip that adds, one can argue, necessary illumination to a staid design.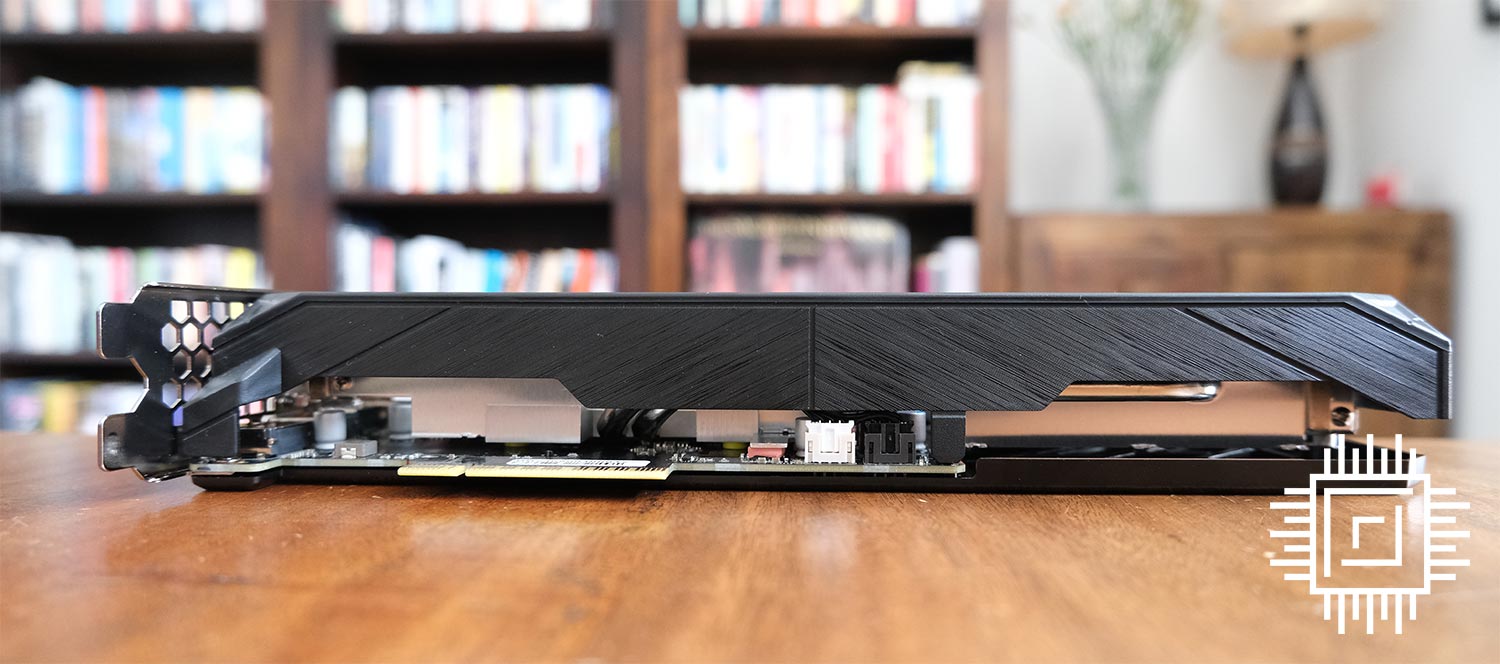 Did you notice the half-width PCIe connector? Like the RTX 4060 Ti, the baby of the Ada bunch uses a PCIe 4.0 x8 connection to the motherboard, saving costs and routing complexity wherever possible.
Being a standard card, Dual toes the reference company line by installing a boost clock of 2,460MHz and memory operating at an effective 17Gbps. Like almost all Nvidia cards before, the boost speed is indicative only; our sample changes the frequency order by actually running at 2,640MHz in real-world games.
According to logs, the fans switch from completely off to 900rpm in an instant, and then spiral up to 1,600rpm under sustained load. This shift isn't as smooth as on some cards, but given the entire proposition is quiet, the off / on transition isn't jarring.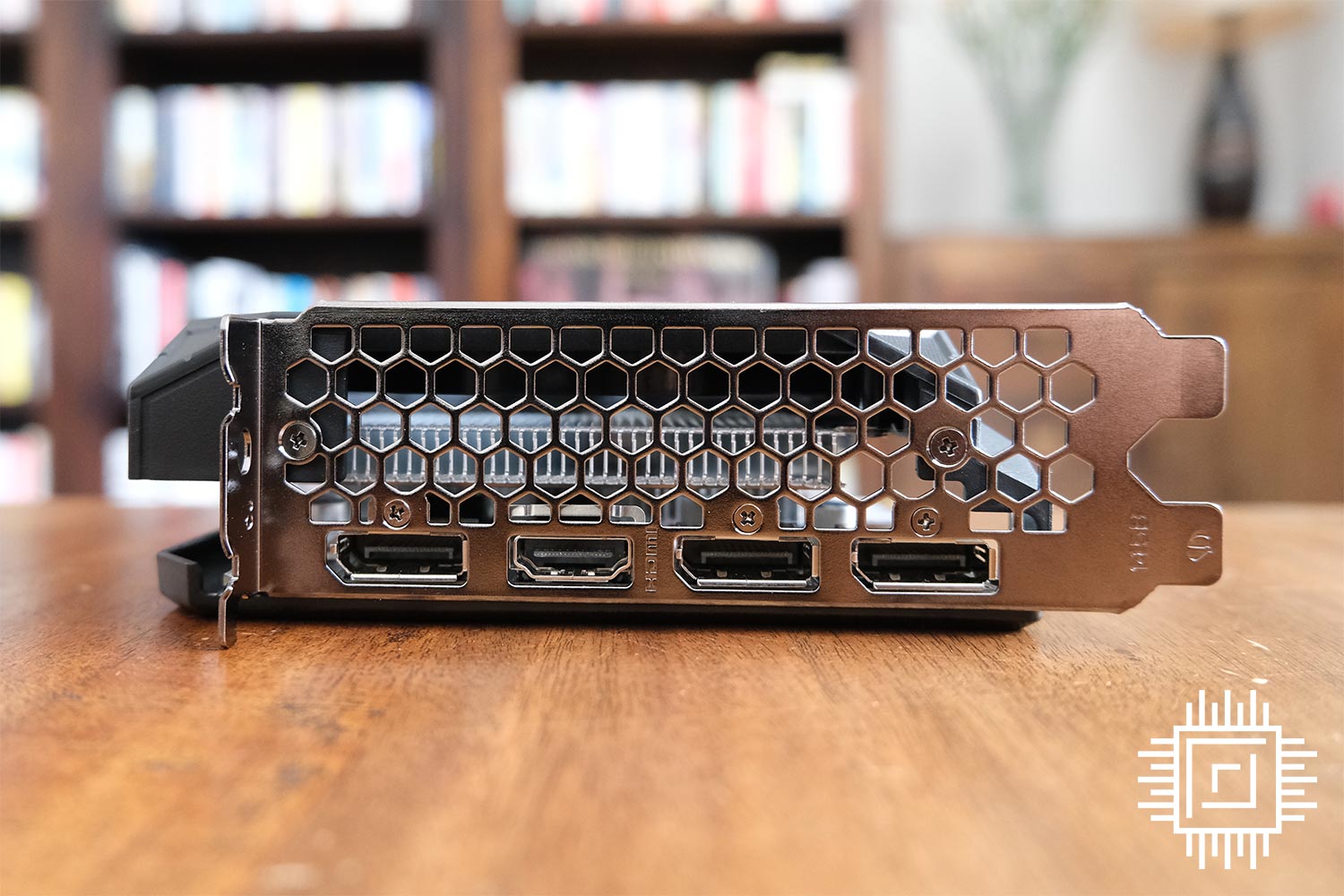 No messing around with outputs. Palit goes the Nvidia standard allocation of three DisplayPort 1.4 and a single HDMI 2.1a.
The card goes on sale today at $299 / £289. There's plenty of cut-price competition from last-gen cards, so without further ado, let's get to the all-important benchmarks for this vital mainstream segment.

Show your support for impartial Club386 reviews
Club386 takes great pride in providing in-depth, high-quality reviews built on honest analysis and sage buying advice. As an independent publication, free from shareholder or commercial influence, we are committed to maintaining the standards our readers expect.
To help support our work, please consider making a donation via our Patreon channel.
Performance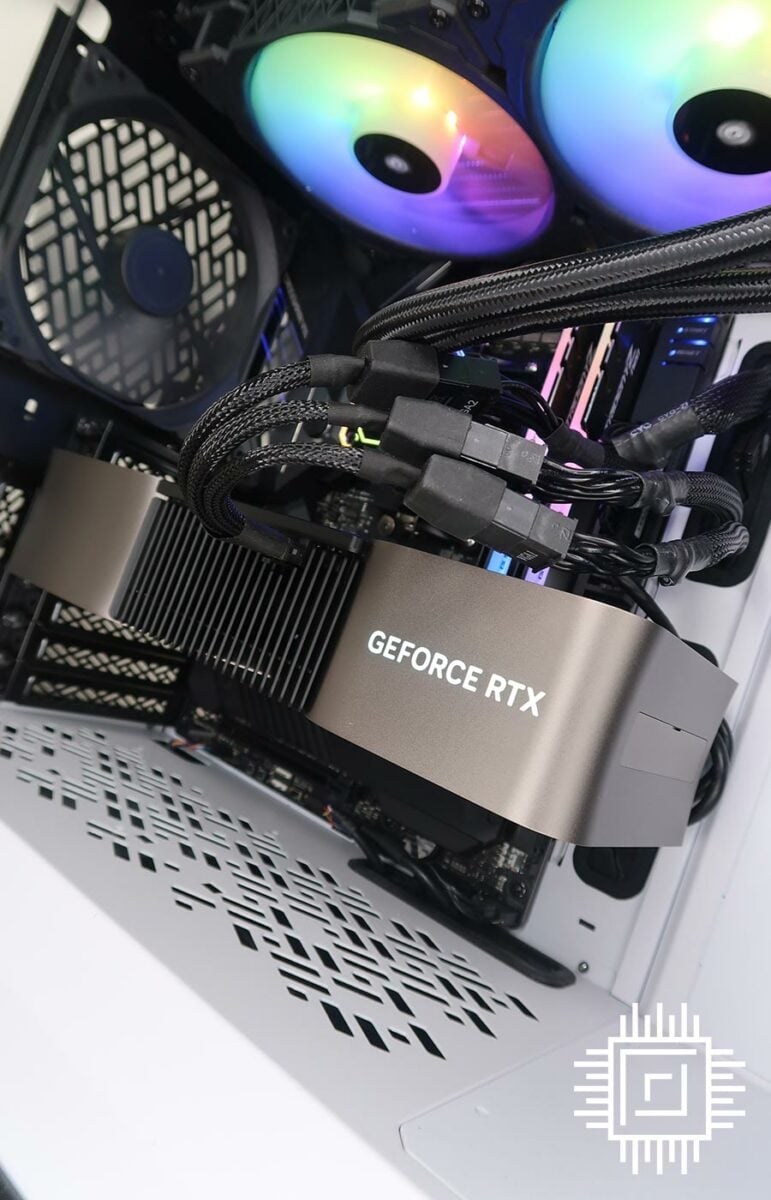 Our trusty test platforms have been working overtime these past few months, and though the PCIe slot is starting to look worse for wear, the twin AM4 rigs haven't skipped a beat. Readers wanting to see how RTX 4060 compares to high-end products can cross-reference earlier Club386 reviews, but for the purpose of this editorial, we're focussing exclusively on mainstream GPUs slotting in below RTX 4070.
Some of the world's most popular cards – GTX 1660 Ti, GTX 1060 and RTX 3060 – have been tested for your perusal.
Futuremark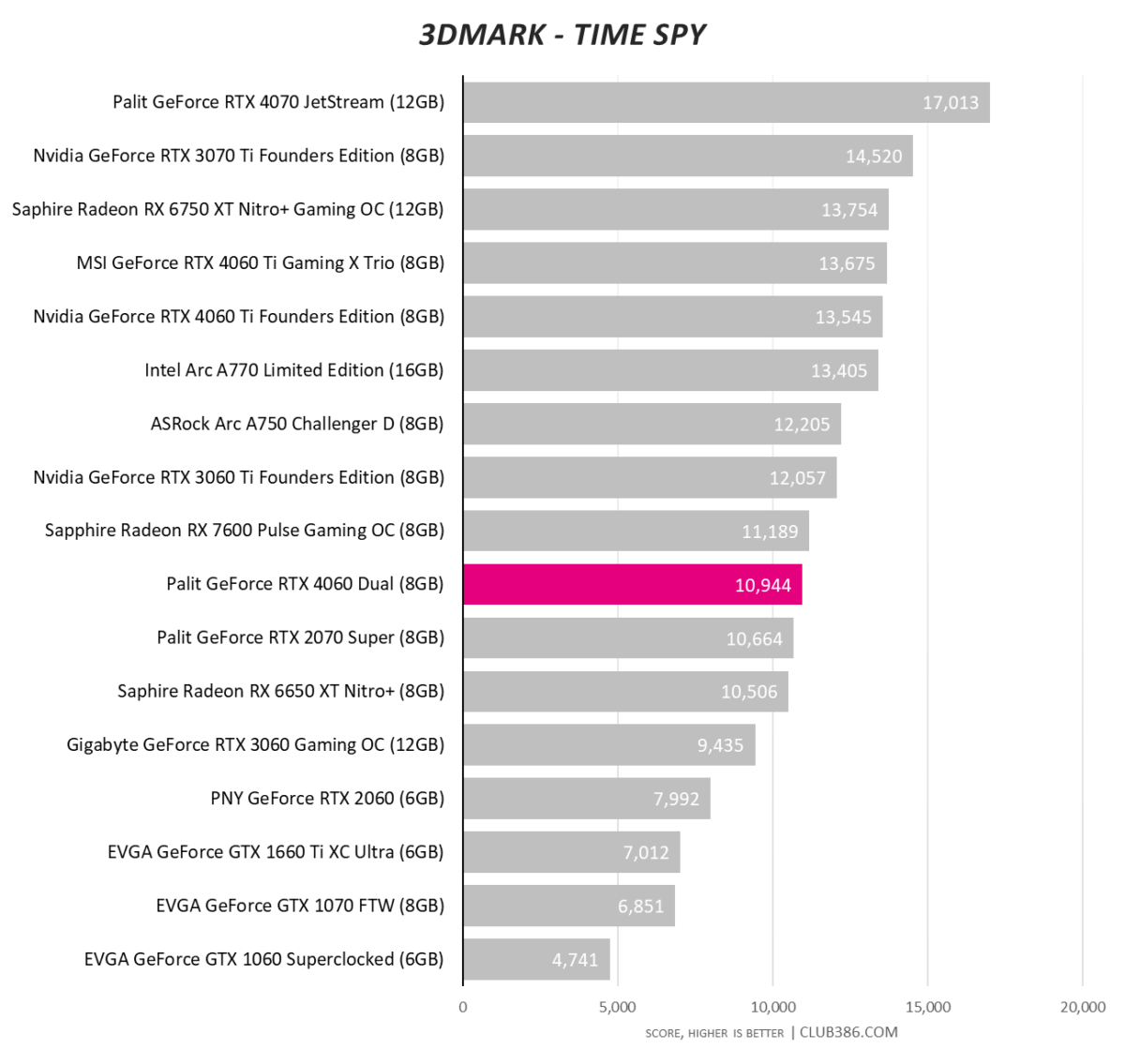 If you're considering graphics cards up to £300 right now, choices are RTX 4060 8GB, price-cut RTX 3060 12GB and RTX 3060 Ti 8GB, along with recent Radeon RX 7600 8GB. Keep these four GPUs in mind when comparing results.
It just so happens three of the four are grouped next to each other in the first test.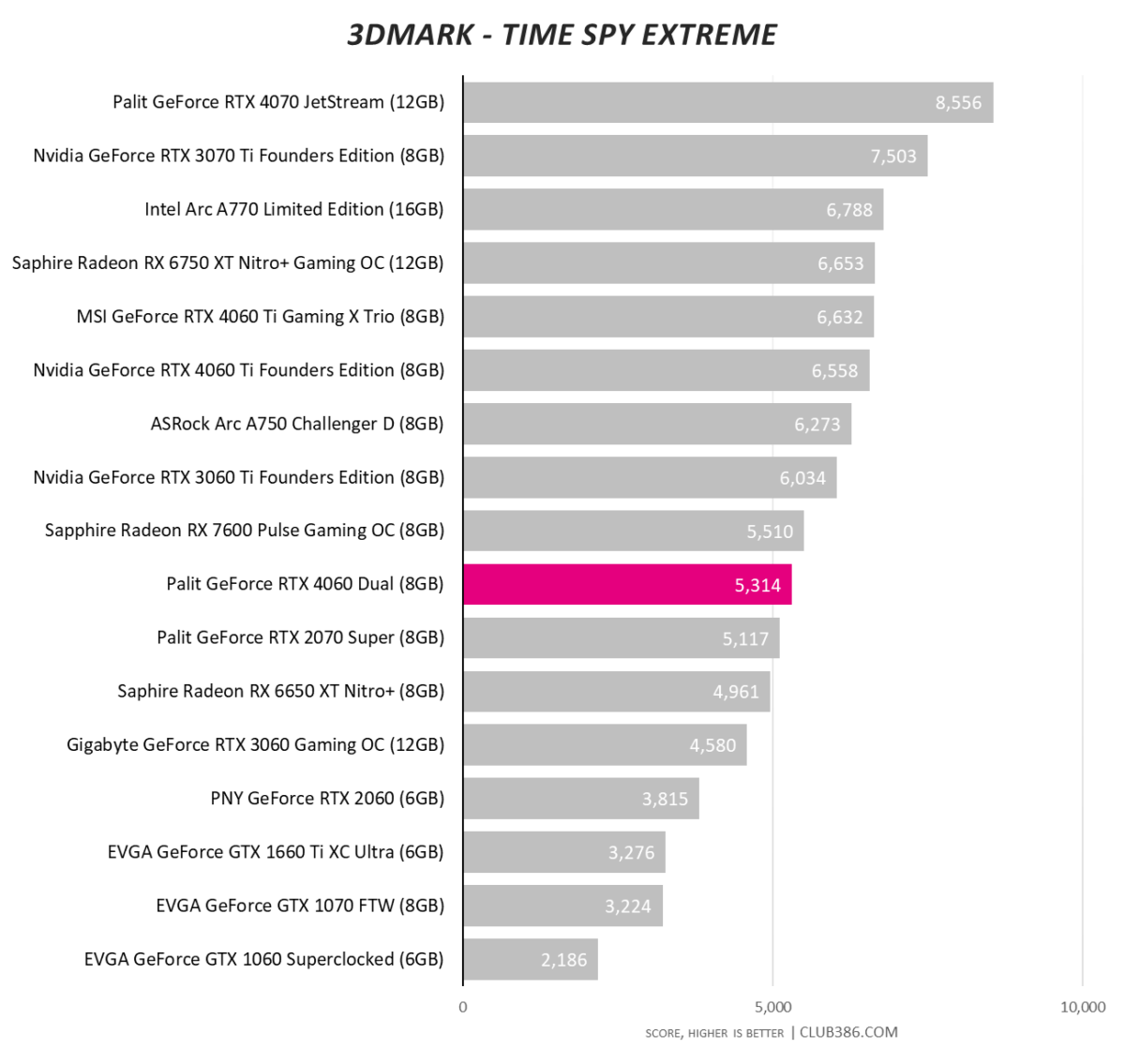 Raising the hurt by running at 4K, RTX 4060 puts in a good-enough showing. Sure, RTX 3060 Ti is faster, but it's from an older architecture that isn't as energy efficient and lacks the latest AI-upscaling technology. Nevertheless, there is a cogent argument to be made for Nvidia not providing expected generation-upon-generation performance uplifts.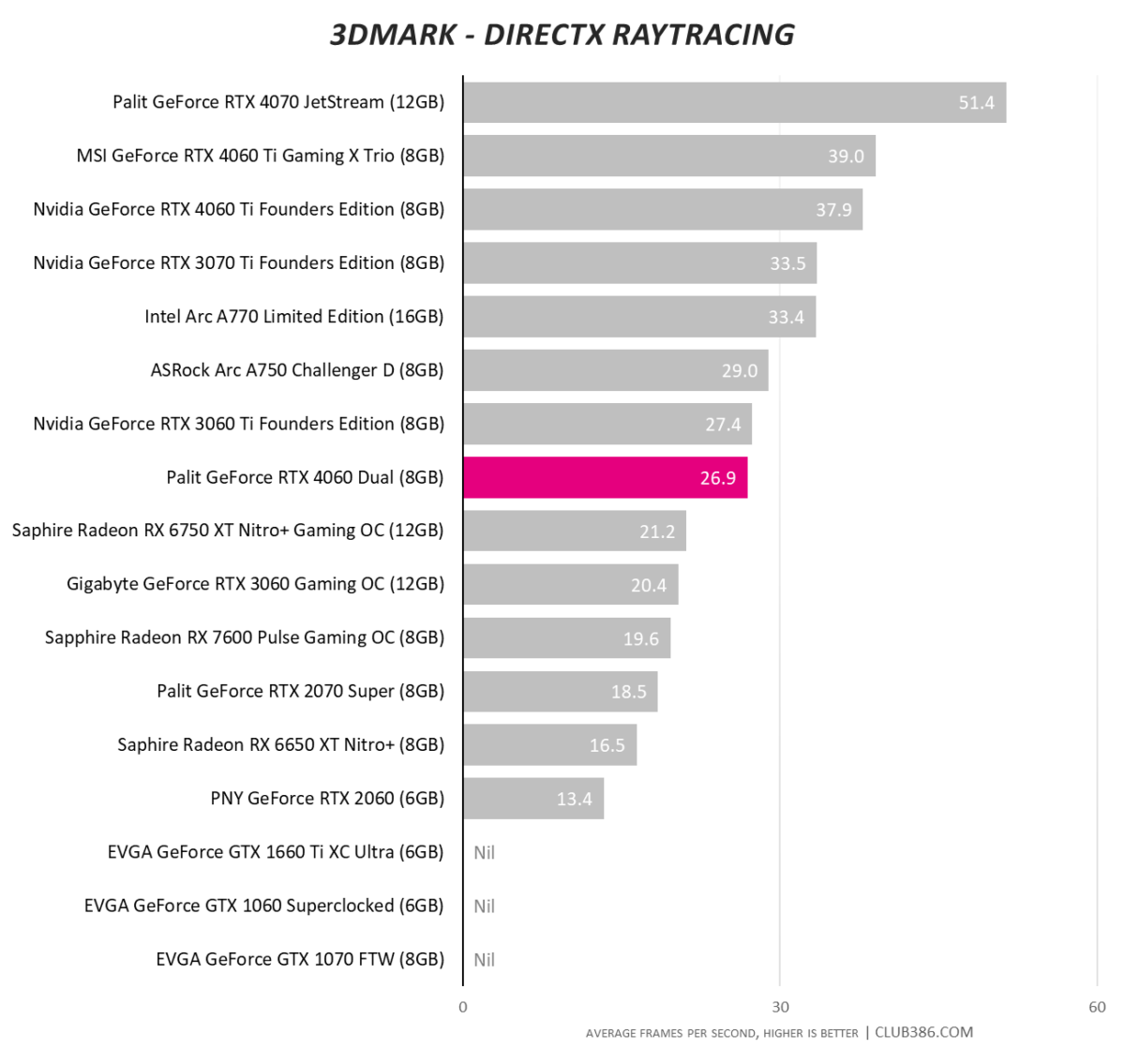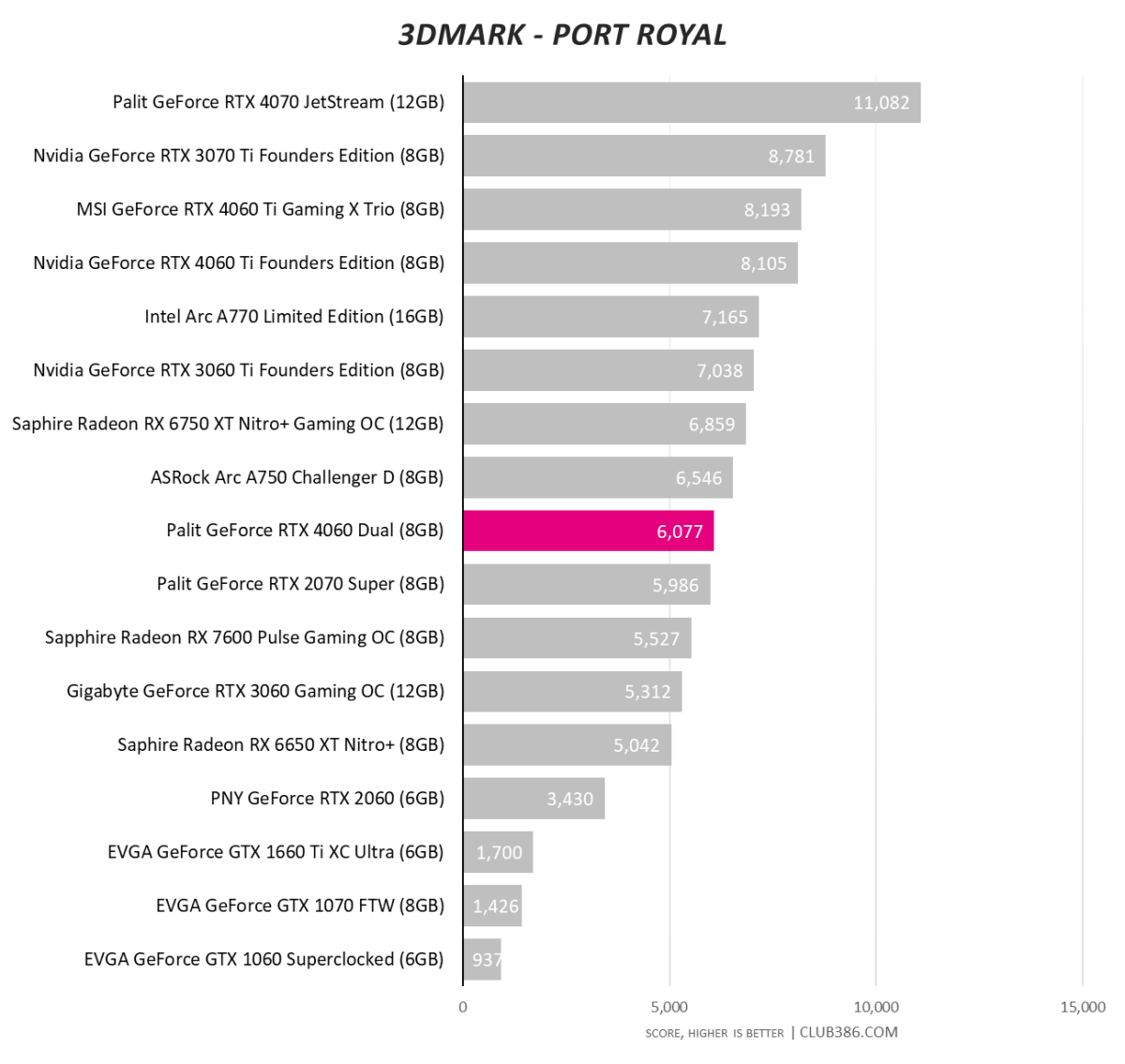 Comparing new with old, RTX 4060 is faster than two key GPUs but slower than one.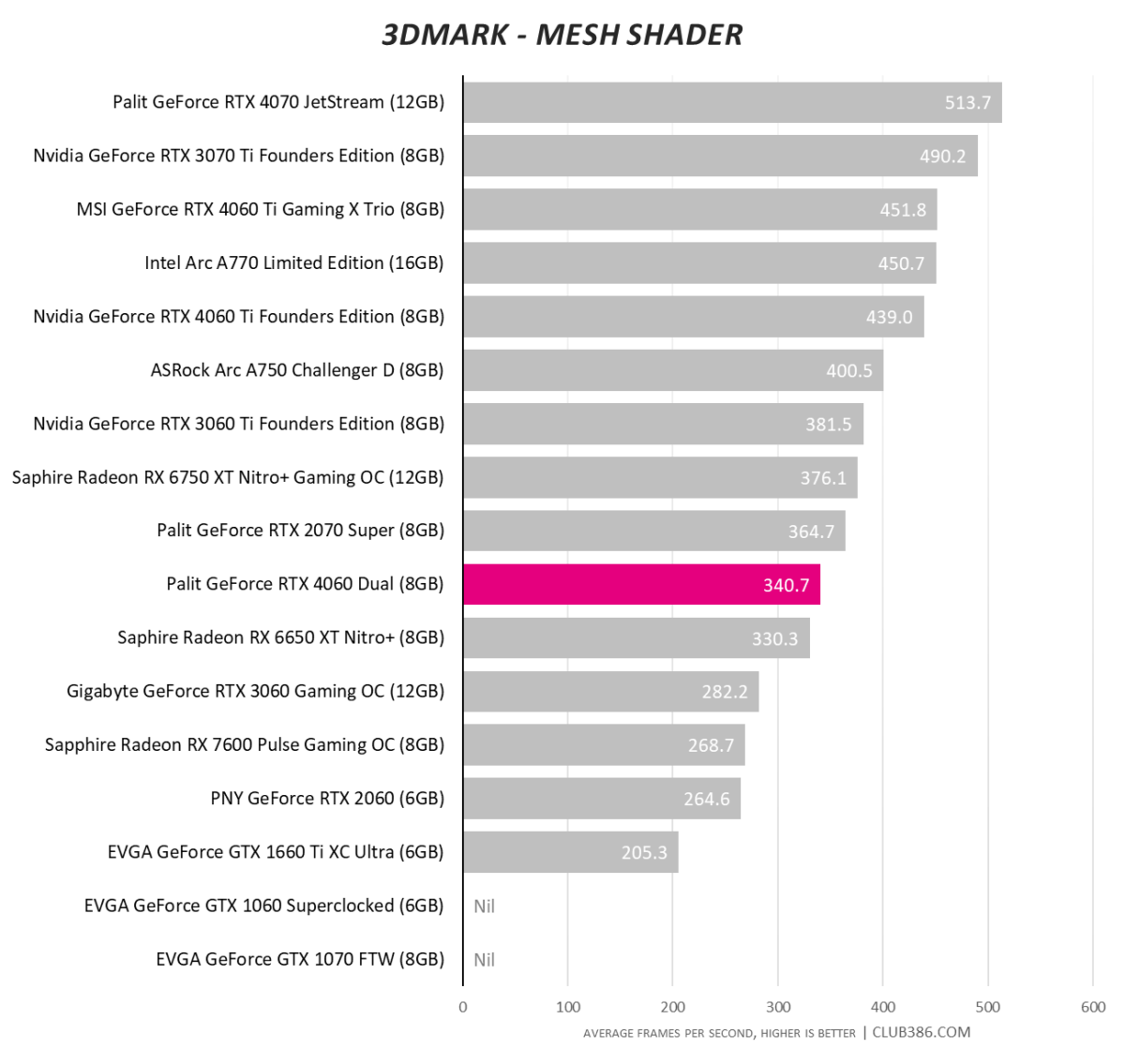 Assassin's Creed Valhalla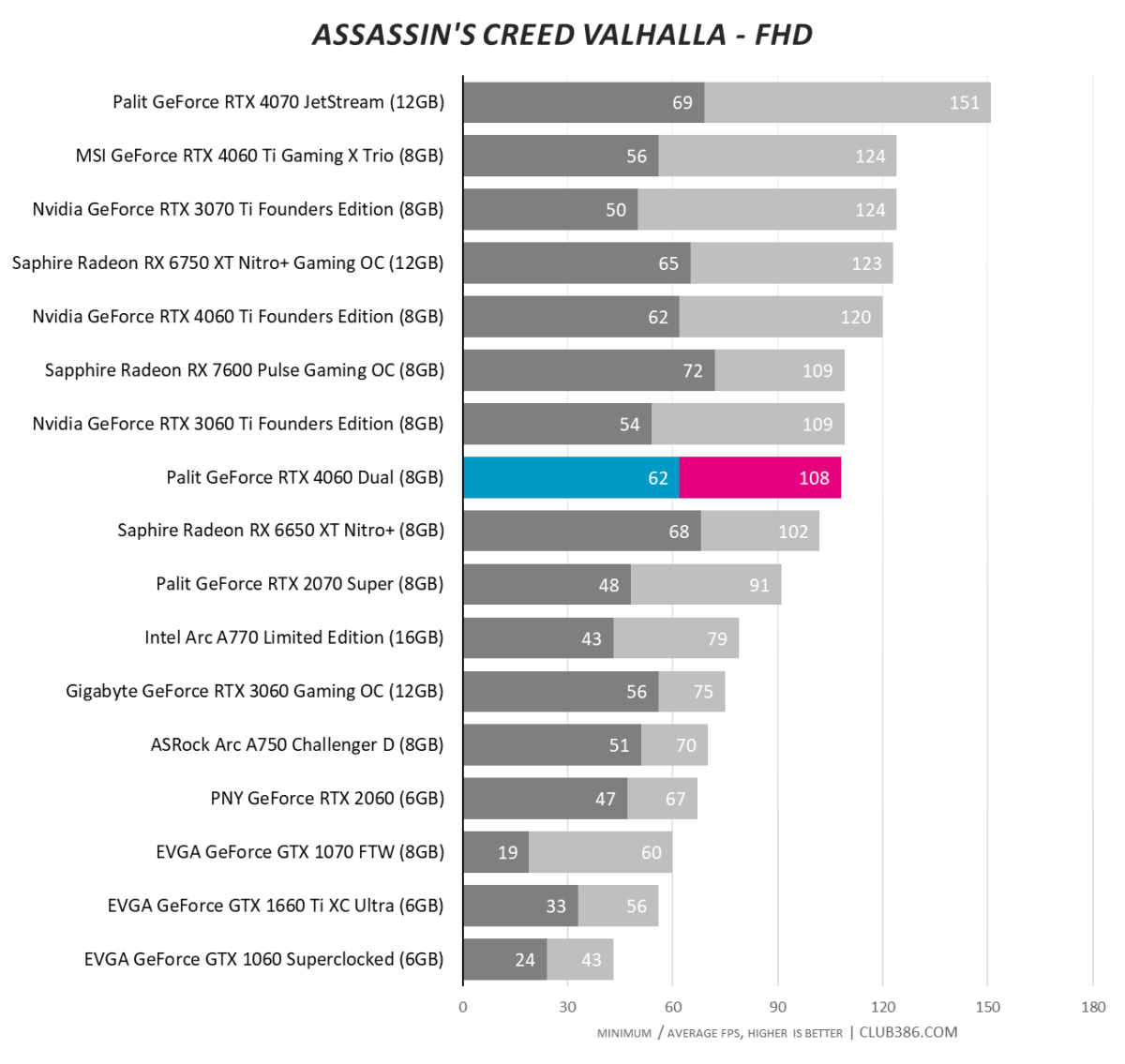 Real games is where it's at. Nvidia frames RTX 4060 as the ideal card for FHD thrills and spills, especially so for users upgrading from, say, a GeForce GTX 1060 or 1660 Ti. In that regard, the upgrade makes sense, but moving from RTX 30 Series to 40 Series less so.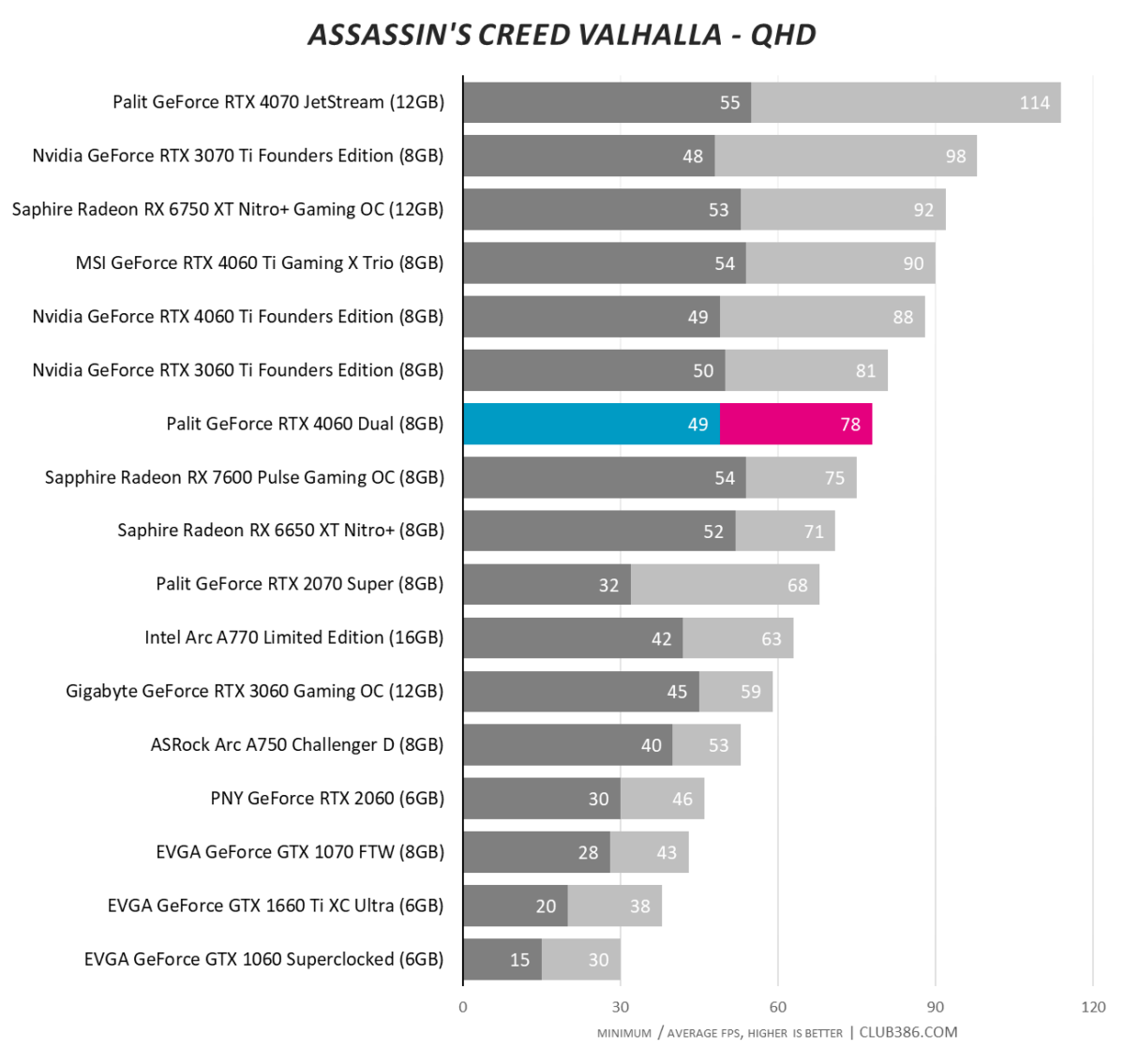 It's also decent at QHD. Getting very close to RTX 3060 Ti, baby Ada is over twice as fast as GTX 1660 Ti… without taking ray tracing smarts into account.
Cyberpunk 2077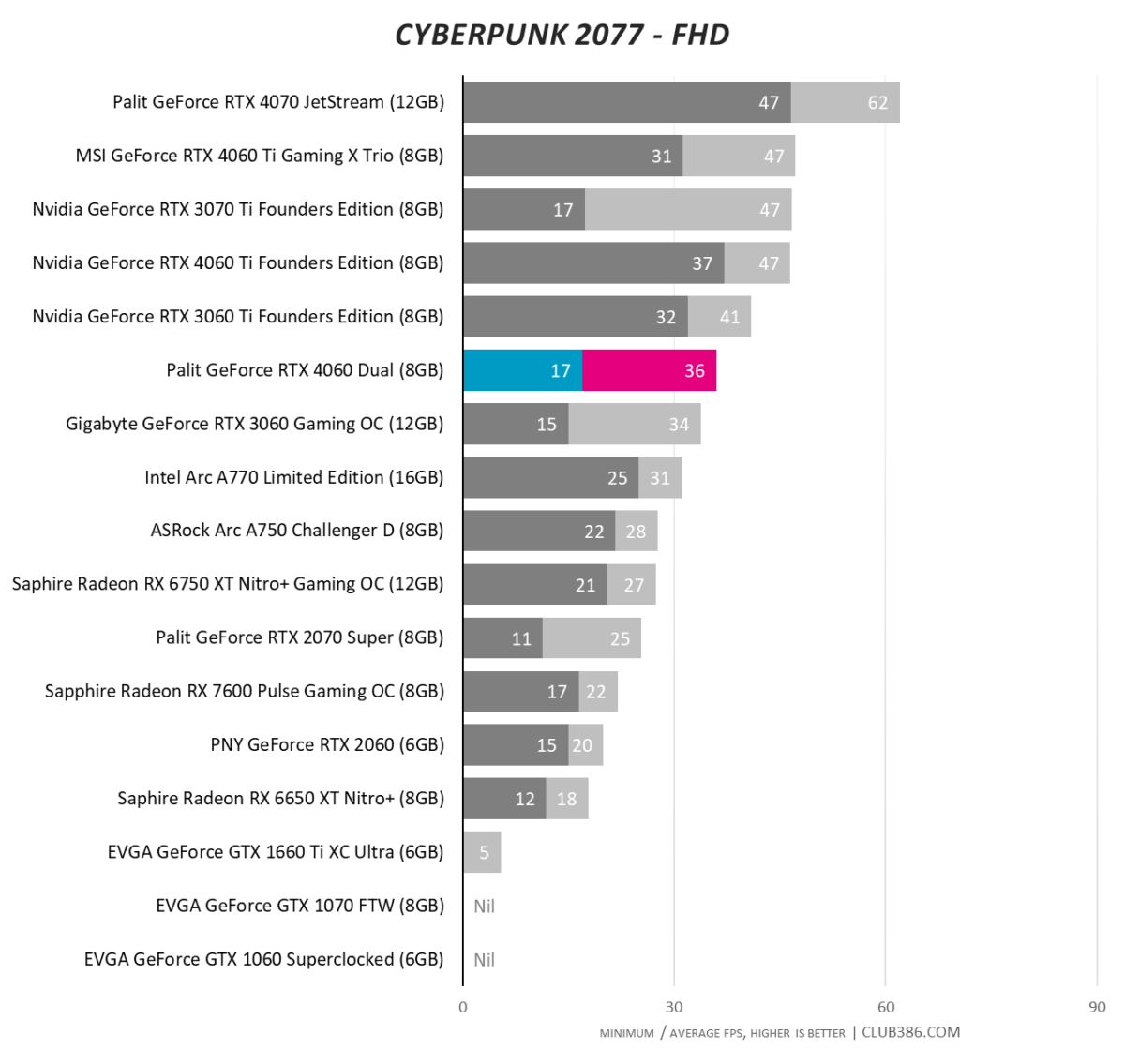 Add ray tracing to the mix and older cards fare badly, but then only the RTX 4070 manages to exceed 60fps.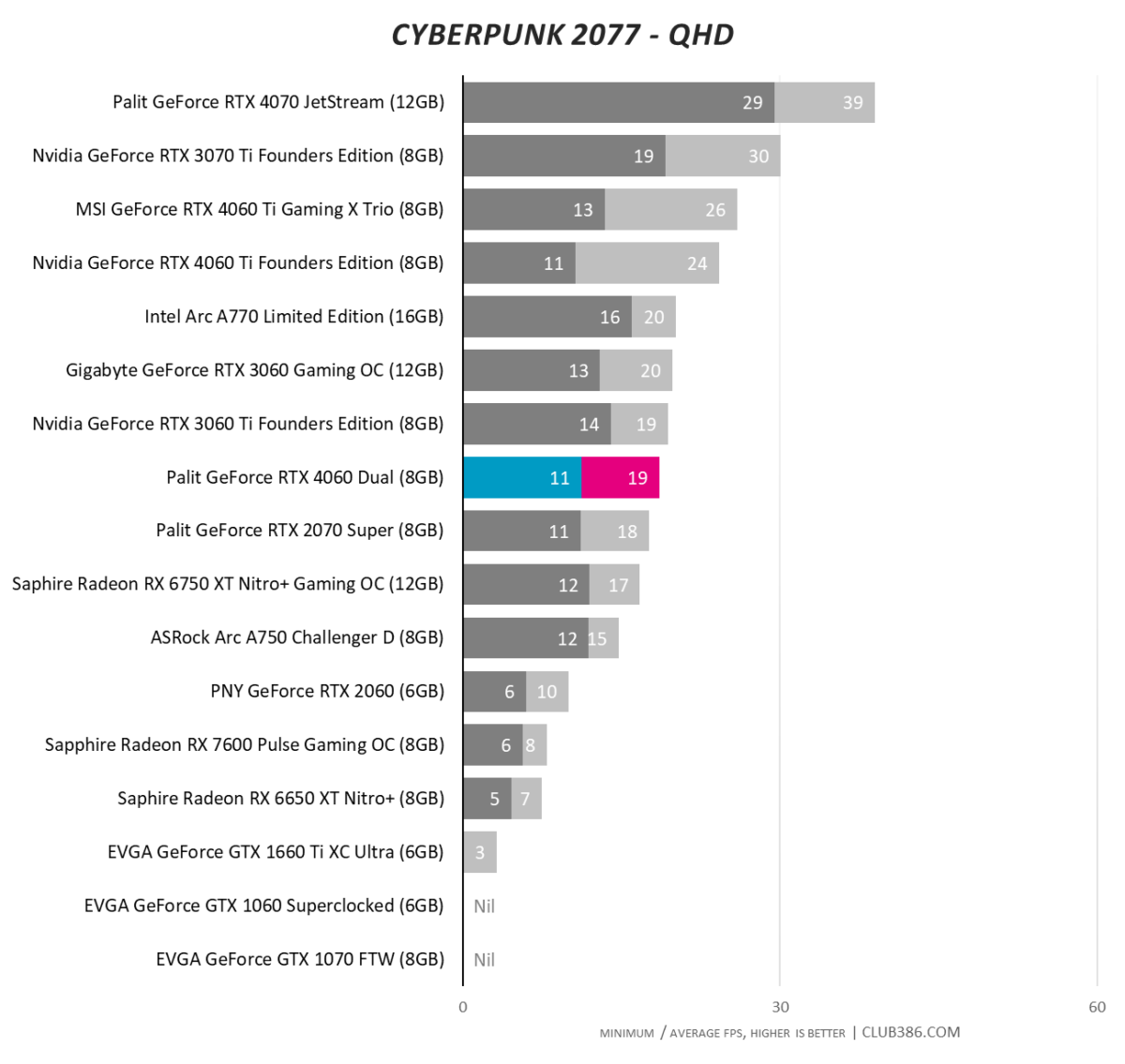 One can rightfully argue no card is fit to run Cyberpunk 2077 when set to RTX Ultra. Yet RTX 4060 Dual has a trick up its sleeve in terms of boosting framerate.
Running at otherwise the same settings, invoking DLSS 3 Frame Generation boosts performance to 53fps average and 37fps minimum, representing a huge gain over what's shown above, and literally rendering the game from unplayable to relatively smooth.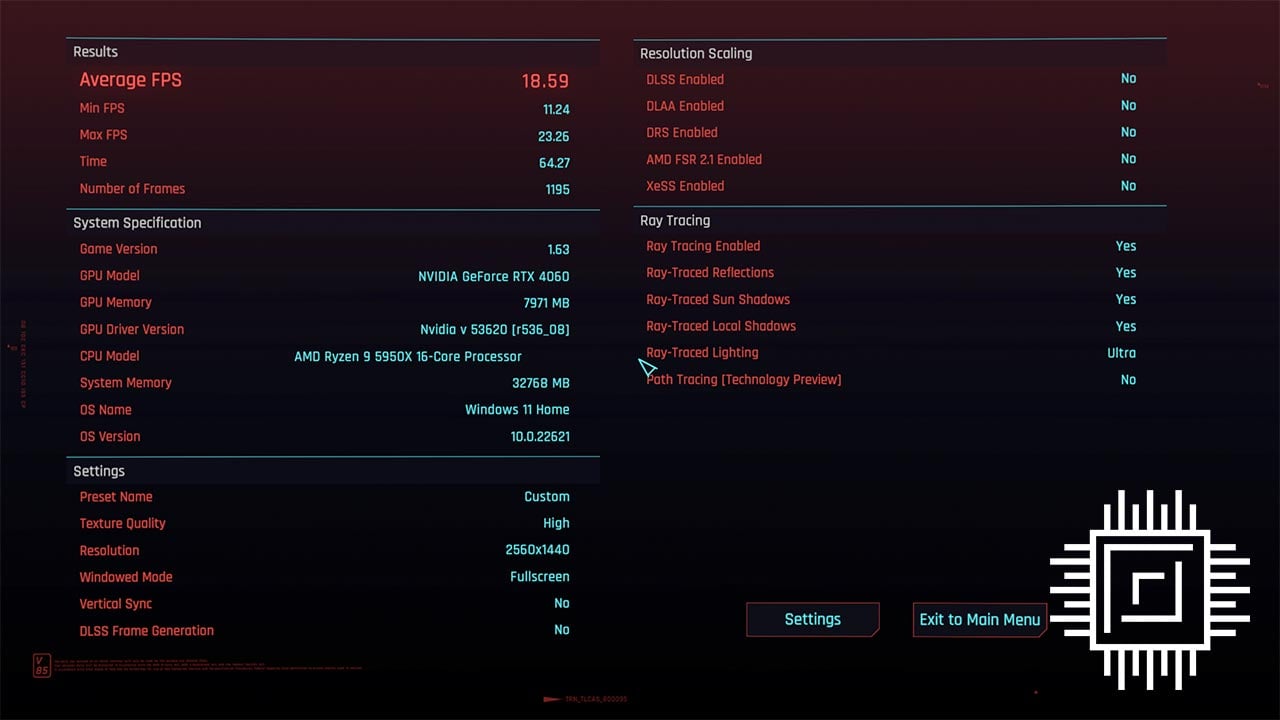 Far Cry 6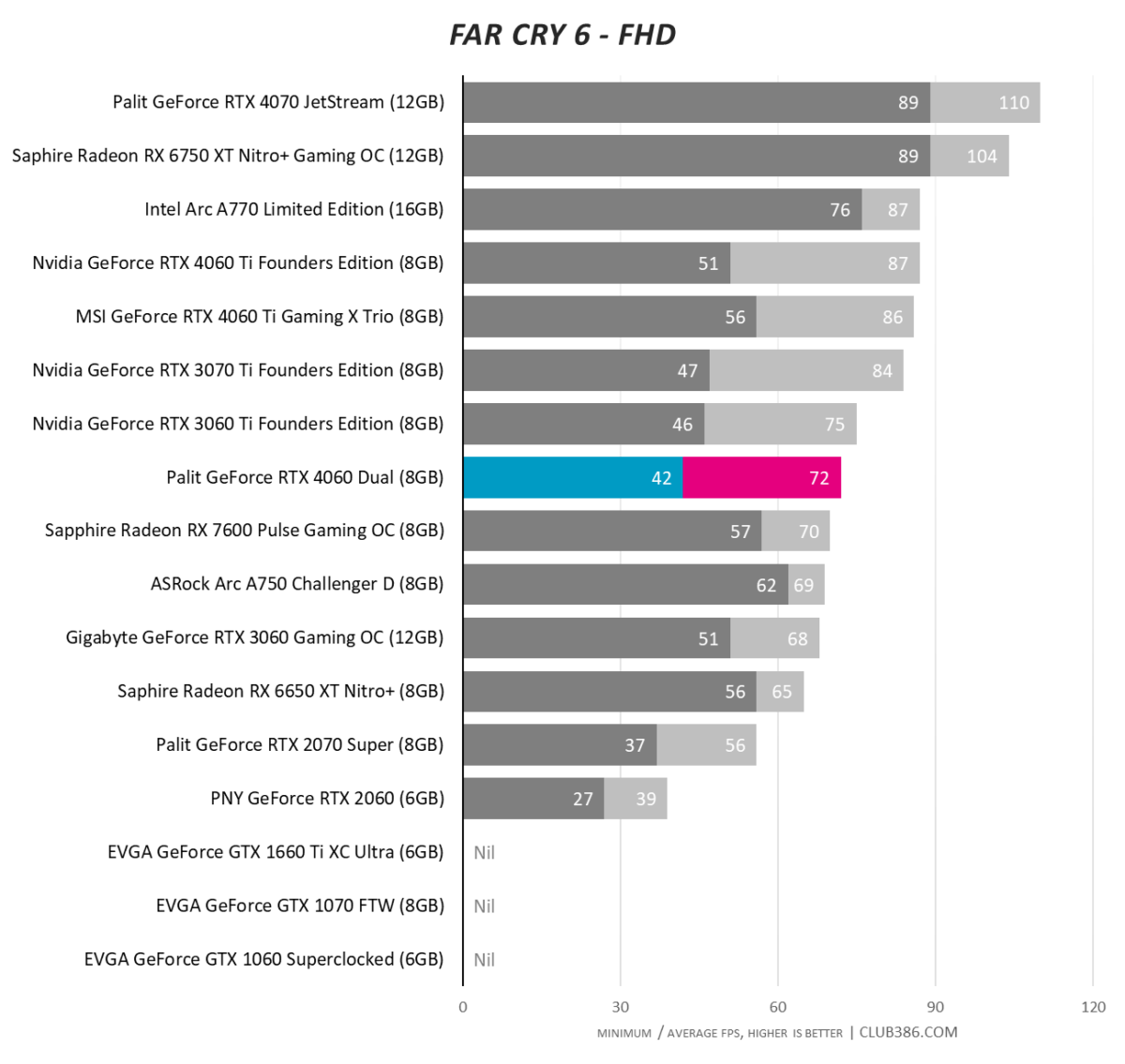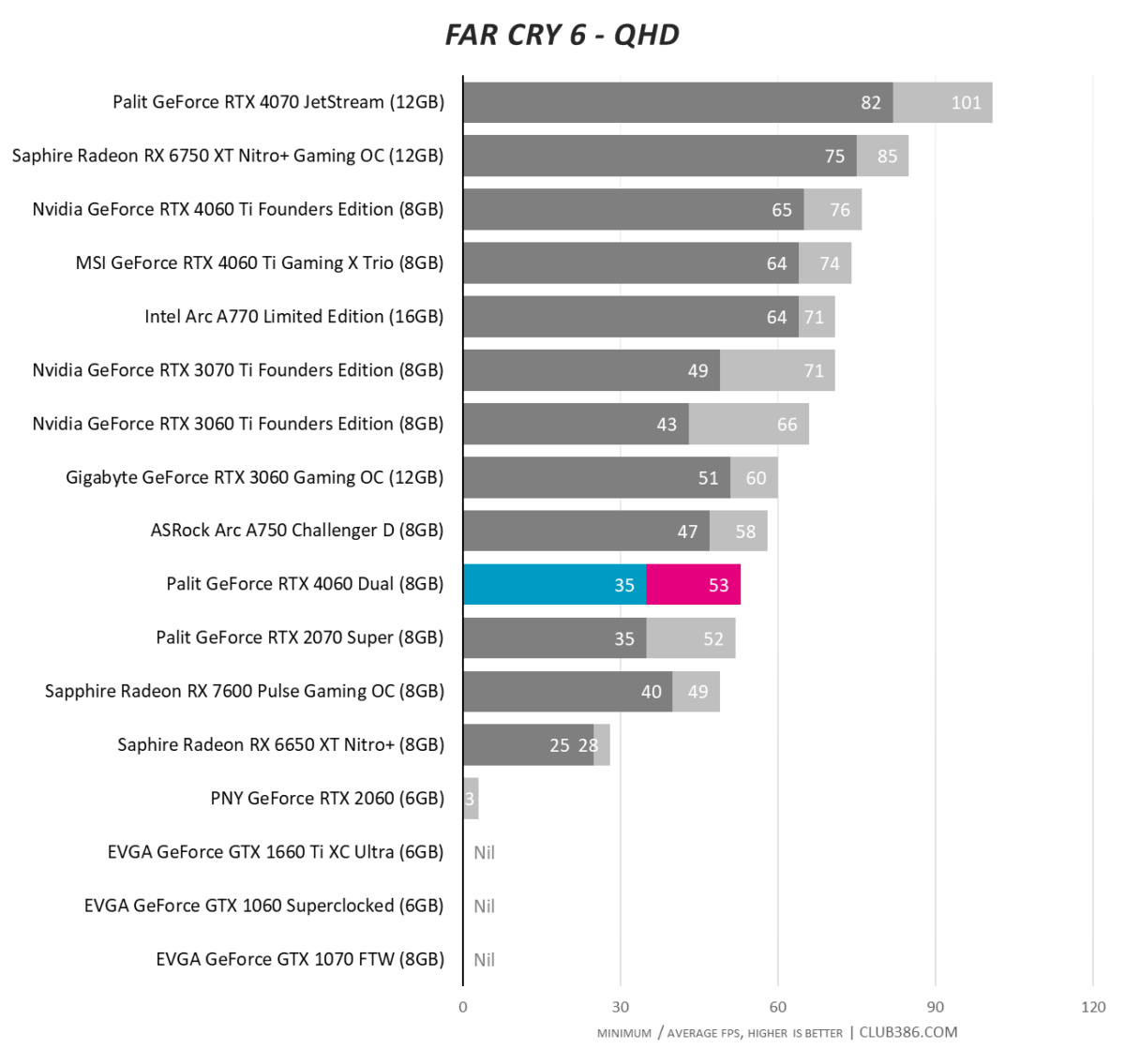 We're hoping to see FHD100 and QHD60 from a card of this ilk when games are set to maximum eye candy. What's interesting here is that RTX 3060 12GB, previously behind in all other benchmarks, leaps ahead. There can be no coincidence that the larger framebuffer is helping here.
Final Fantasy XIV: Endwalker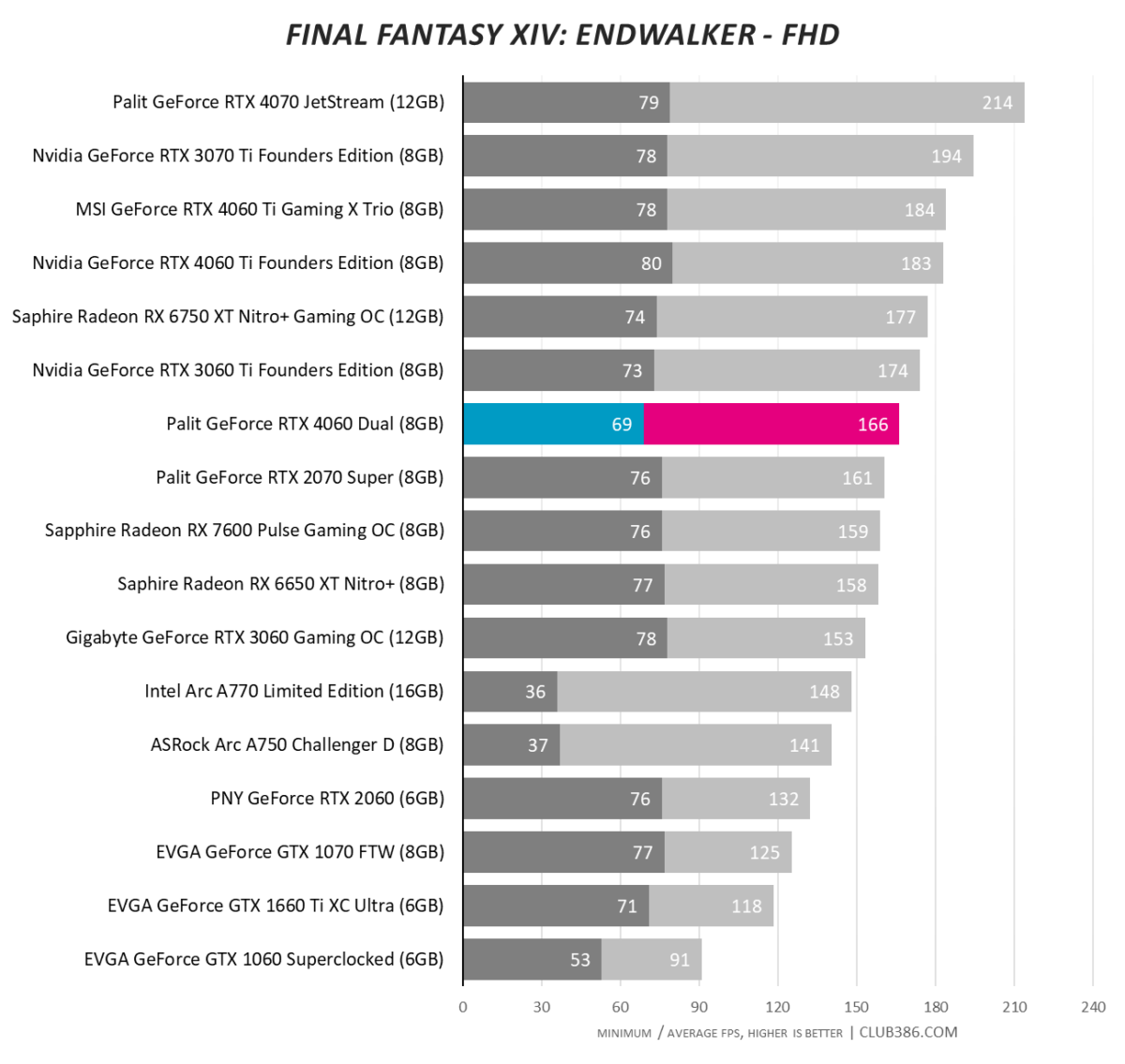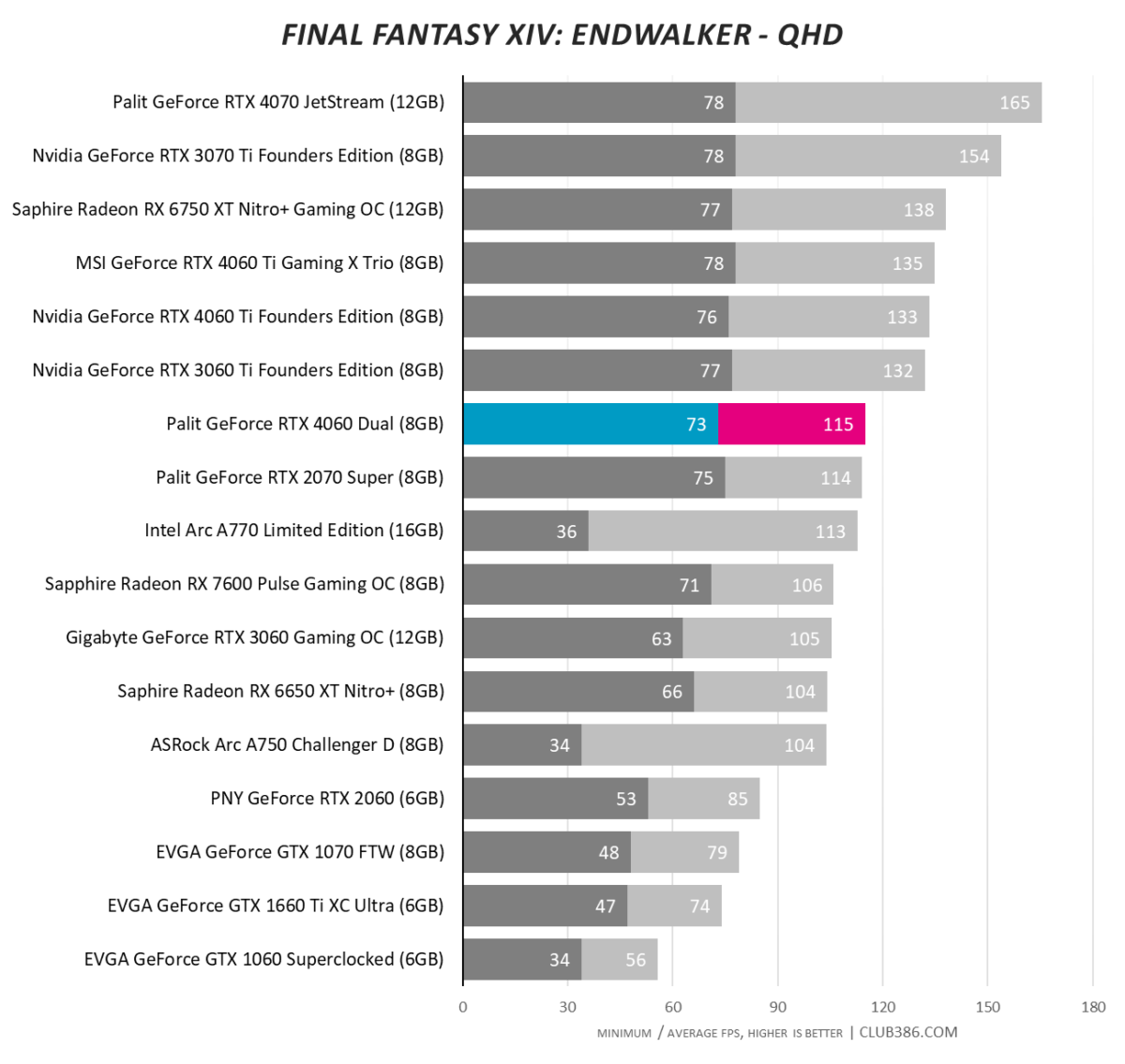 I'll take your QHD60 and give you QHD115, says RTX 4060 Dual. No complaints when rendering an older game.
Forza Horizon 5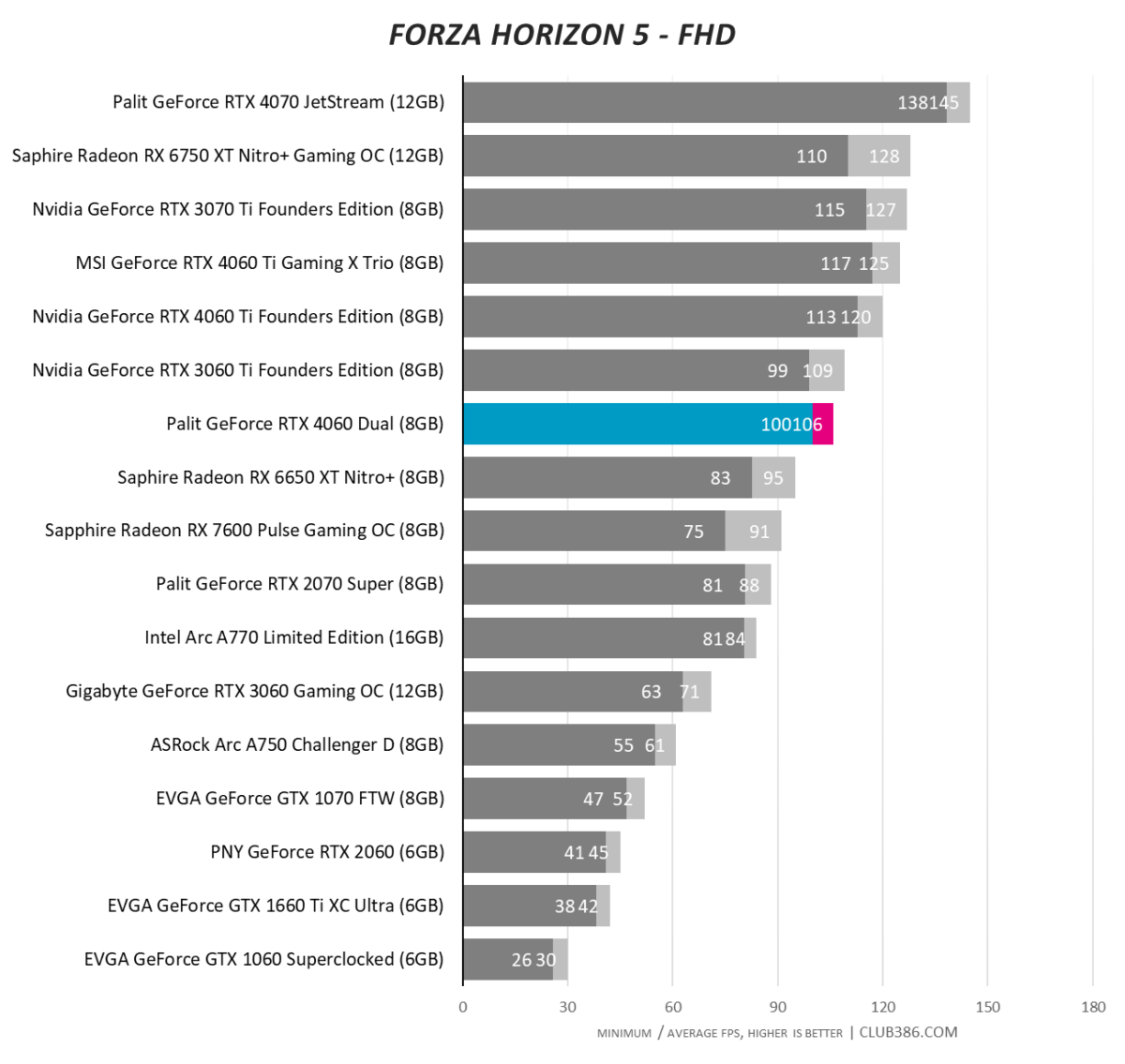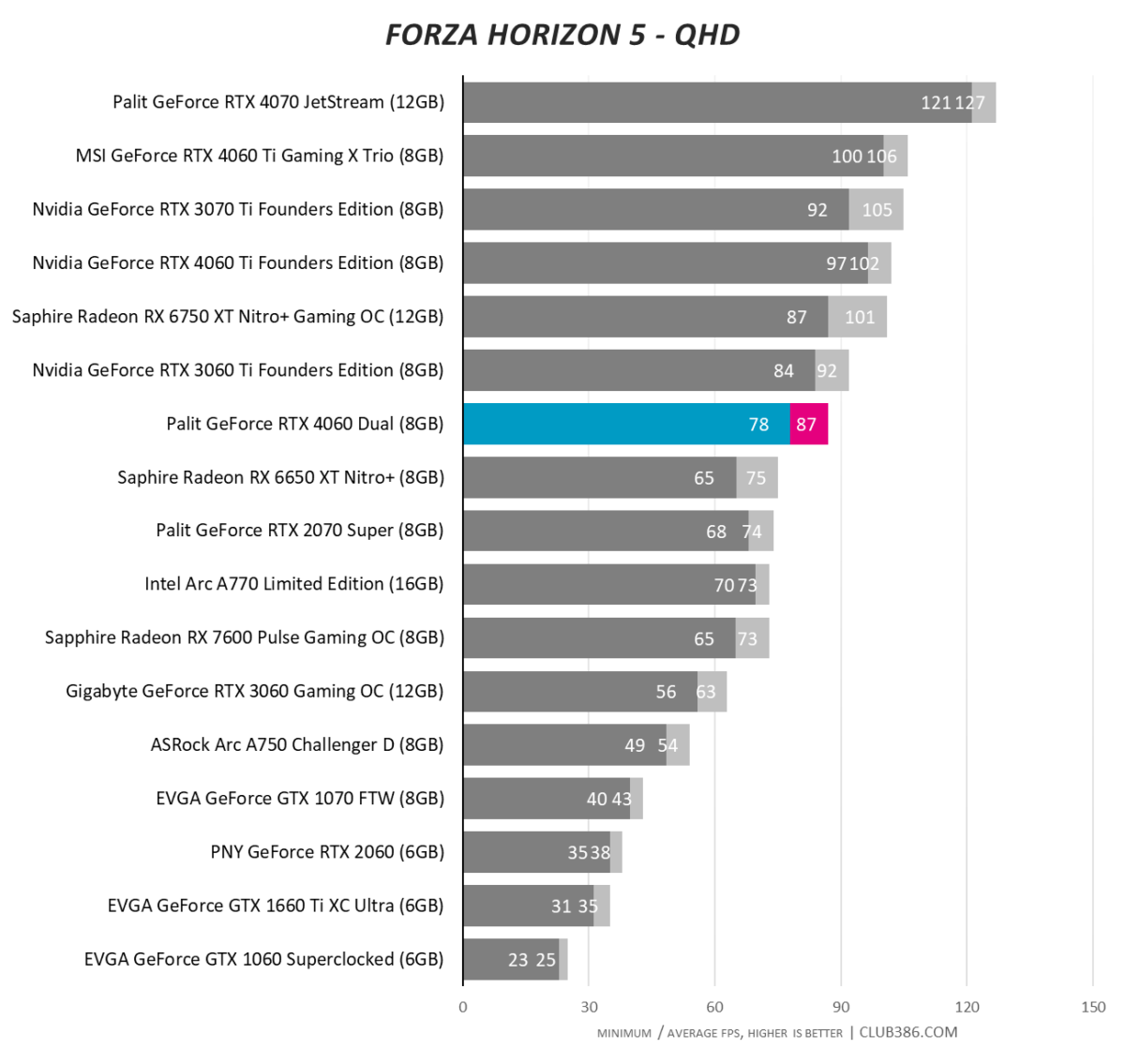 Almost on a par with RTX 3060 Ti is a statement we're saying often. RTX 4060 continues to stake claim as the best all-round GPU south of $300.
Tom Clancy's Rainbow Six Extraction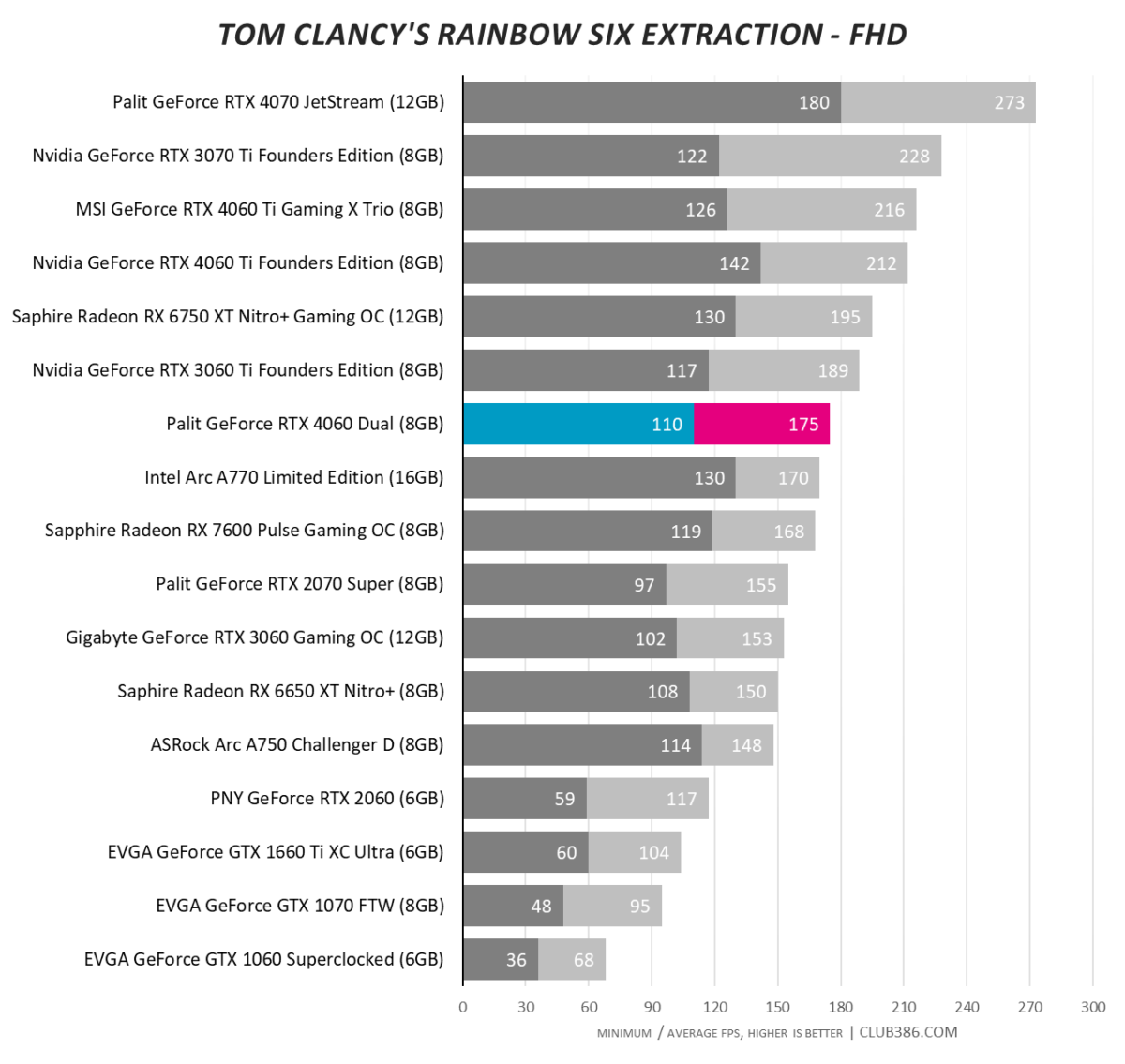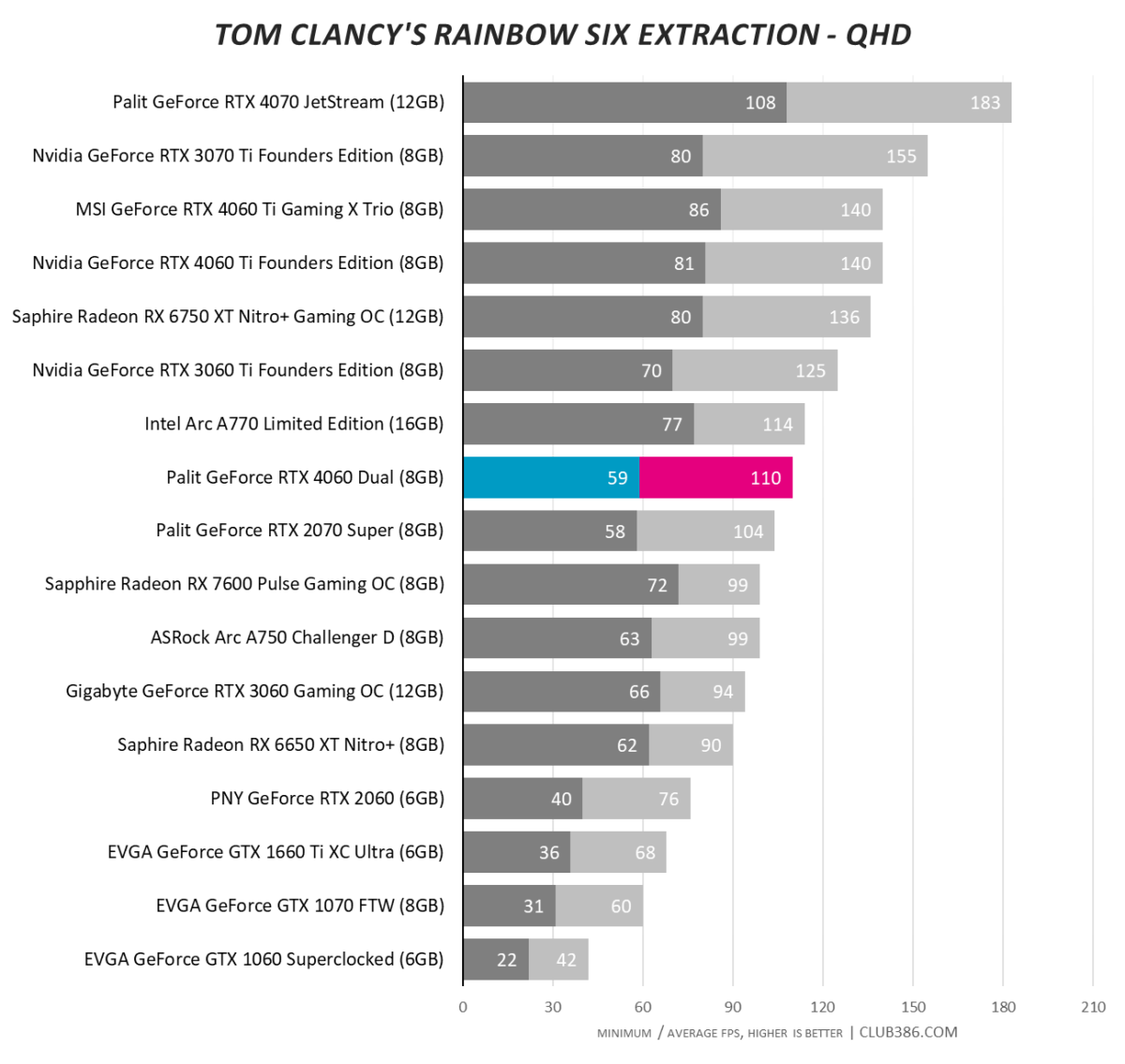 Labouring important points, readers with, say, GTX 1070 or even RTX 2060 will find RTX 4060 a worthwhile upgrade, but those with RTX 20 Series or 30 Series will find far less incentive.
Power, Temps and Noise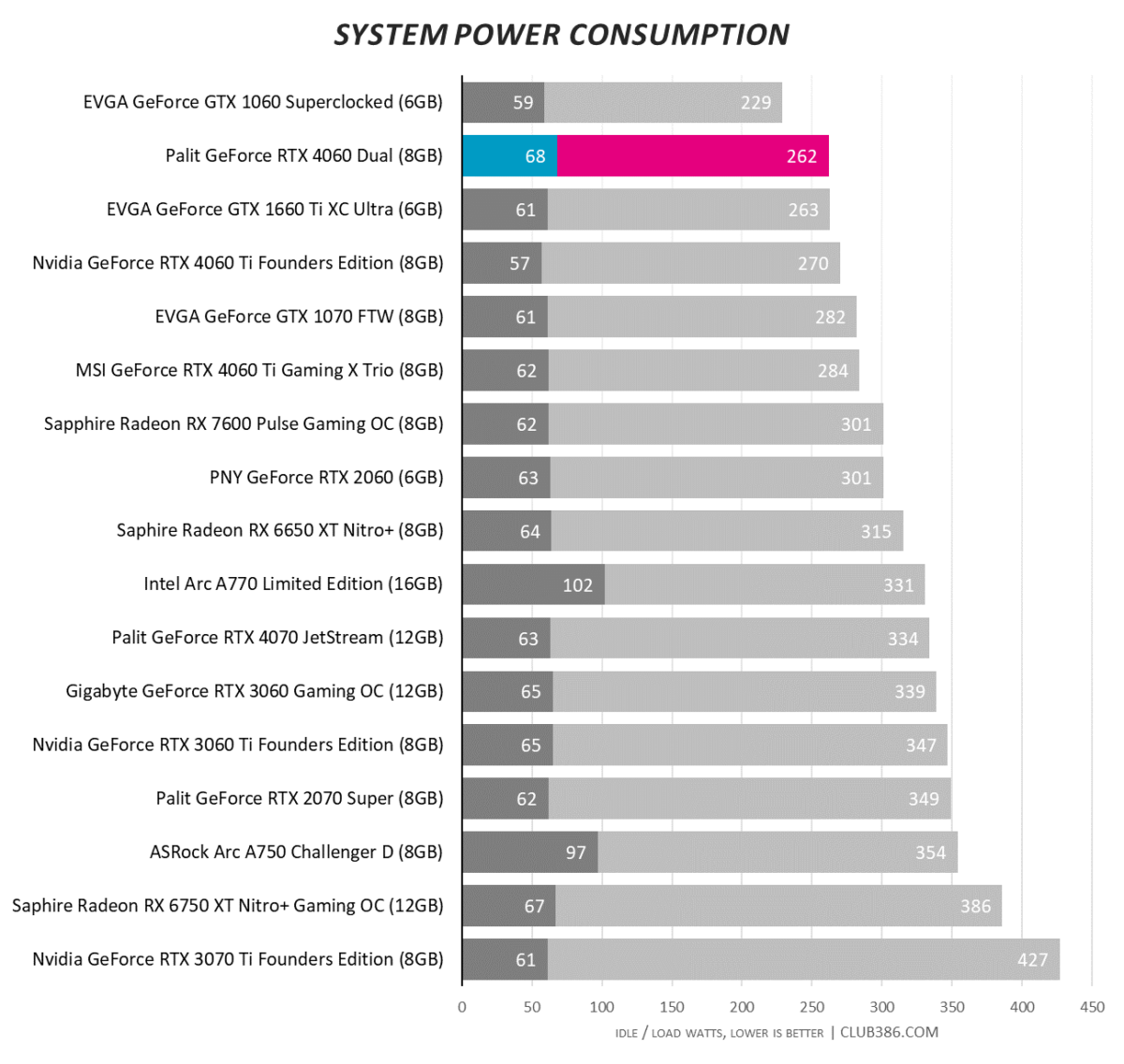 Idle power consumption is strangely high, but no complaints on the overall proposition.
Nvidia is keen to explore the energy efficiency angle emanating from baby Ada, and it's a fair point. The laptop-cum-desktop GPU is frugal by modern standards, and is more or less on a par with mainstream solutions from yesteryear.
Let's investigate value in another way. Assuming our system-wide power consumption is indicative of real-world gameplay, and ardent gamers spend a while gaming every week, do energy savings, when compared to aforementioned RTX 3060 12GB, RTX 3060 Ti 8GB and RX 7600 8GB, add up to a meaningful amount over the course of 12 months?
| | | | |
| --- | --- | --- | --- |
| Annual PC running cost | 10 hours per week | 20 hours per week | 30 hours per week |
| GeForce RTX 4060 Ti | £40.87 | £81.74 | £122.62 |
| Radeon RX 7600 8GB | £46.96 | £93.91 | £140.87 |
| GeForce RTX 3060 12GB | £52.88 | £105.77 | £158.65 |
| GeForce RTX 3060 Ti 8GB | £54.13 | £108.26 | £162.40 |
This can be determined by the relative running cost over other, relevant cards. Your unique numbers will vary depending upon system and game, but for us, as an example, RTX 4060 Dual consumes 85 fewer watts than RTX 3060 Ti. Assuming one plays 10 hours per week, every week, that's a yearly saving of 44.2kW. Consider the UK's July 2023 electricity price cap rate of 30p per kWh, £13.26 is saved. The more you game, the more you save, of course. Food for thought.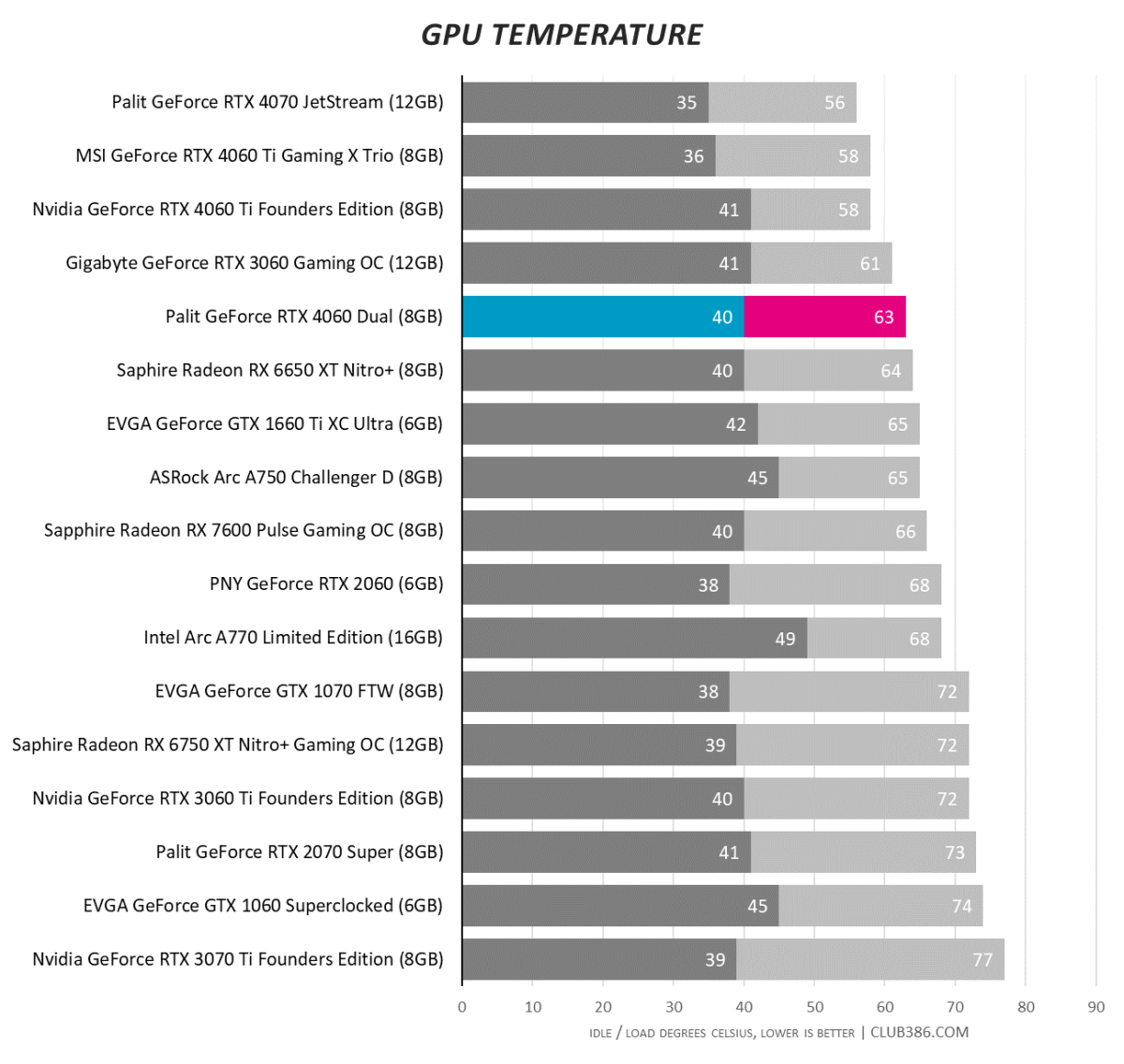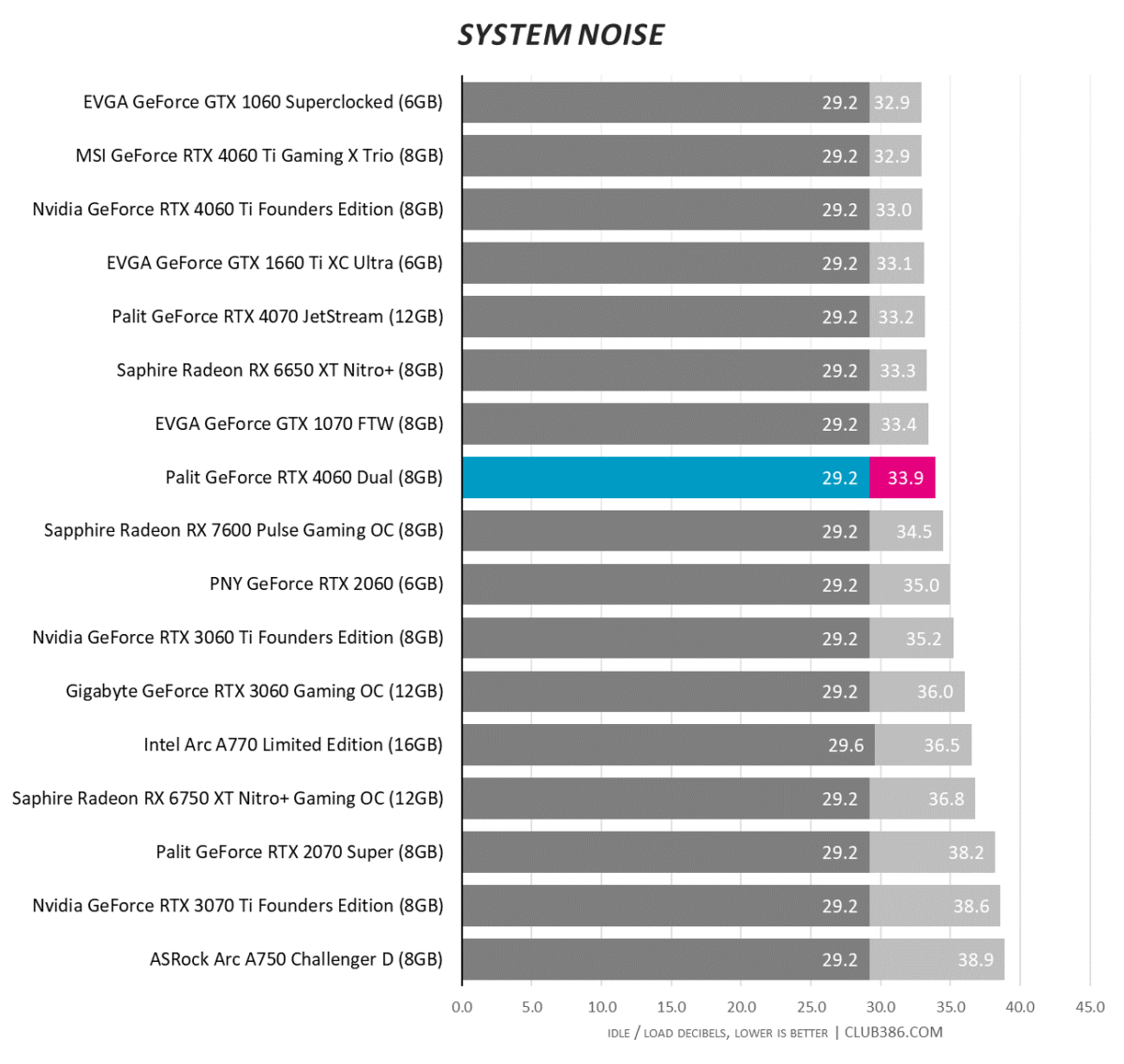 Cool and relatively quiet; just the way we like it.
Relative Performance, Efficiency and Value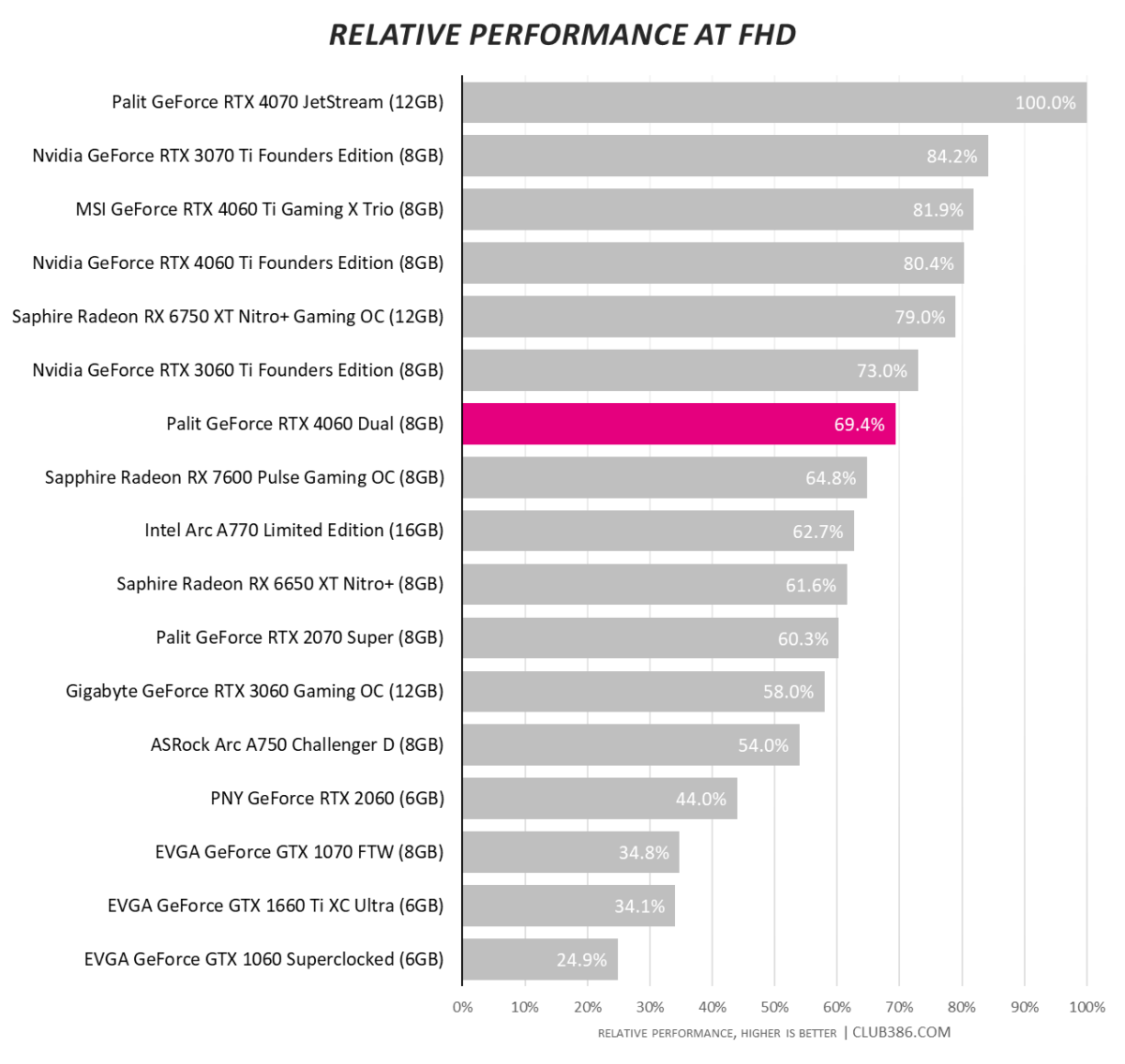 Evaluating relative performance across all benchmarked games reveals the Palit GeForce RTX 4060 Dual offers close to 20 per cent more performance than the RTX 3060 12GB, a bit more than the £249 Sapphire Radeon RX 7600 Pulse, and a little less than RTX 3060 Ti.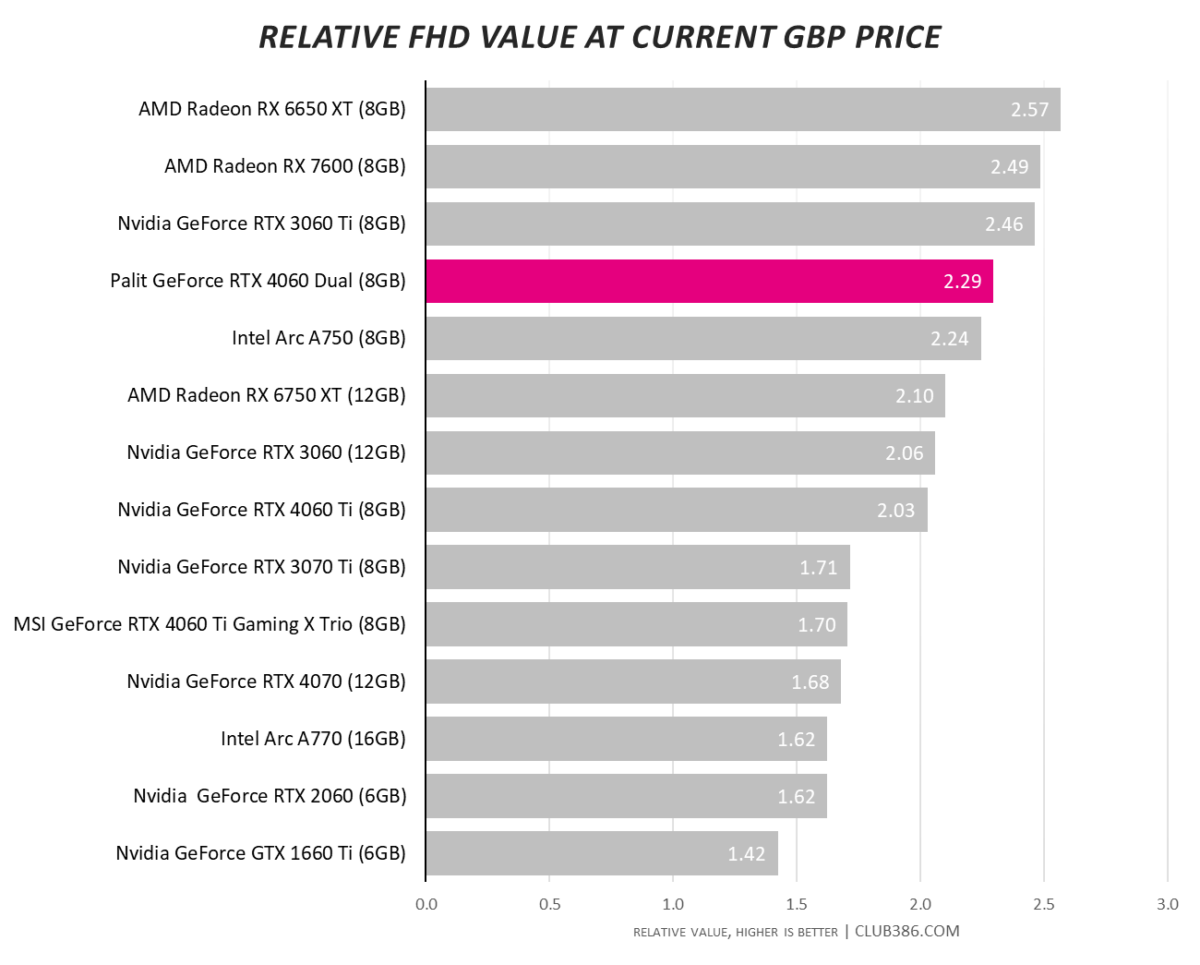 Plotting in value by looking at today's best pricing for cards still available to buy – a few aren't listed because they're not currently available – RTX 4060 Dual does reasonably well by matching RX 7600. Nevertheless, the sub-£300 RTX 3060 Ti is a painful thorn in the RTX 4060's side – not only is it faster, it offers marginally better value.
Therein lies the rub. Do upgraders opt for RTX 3060 Ti, RTX 4060, RX 7600, or Arc A750? There is no standout winner once today's value is duly taken into account.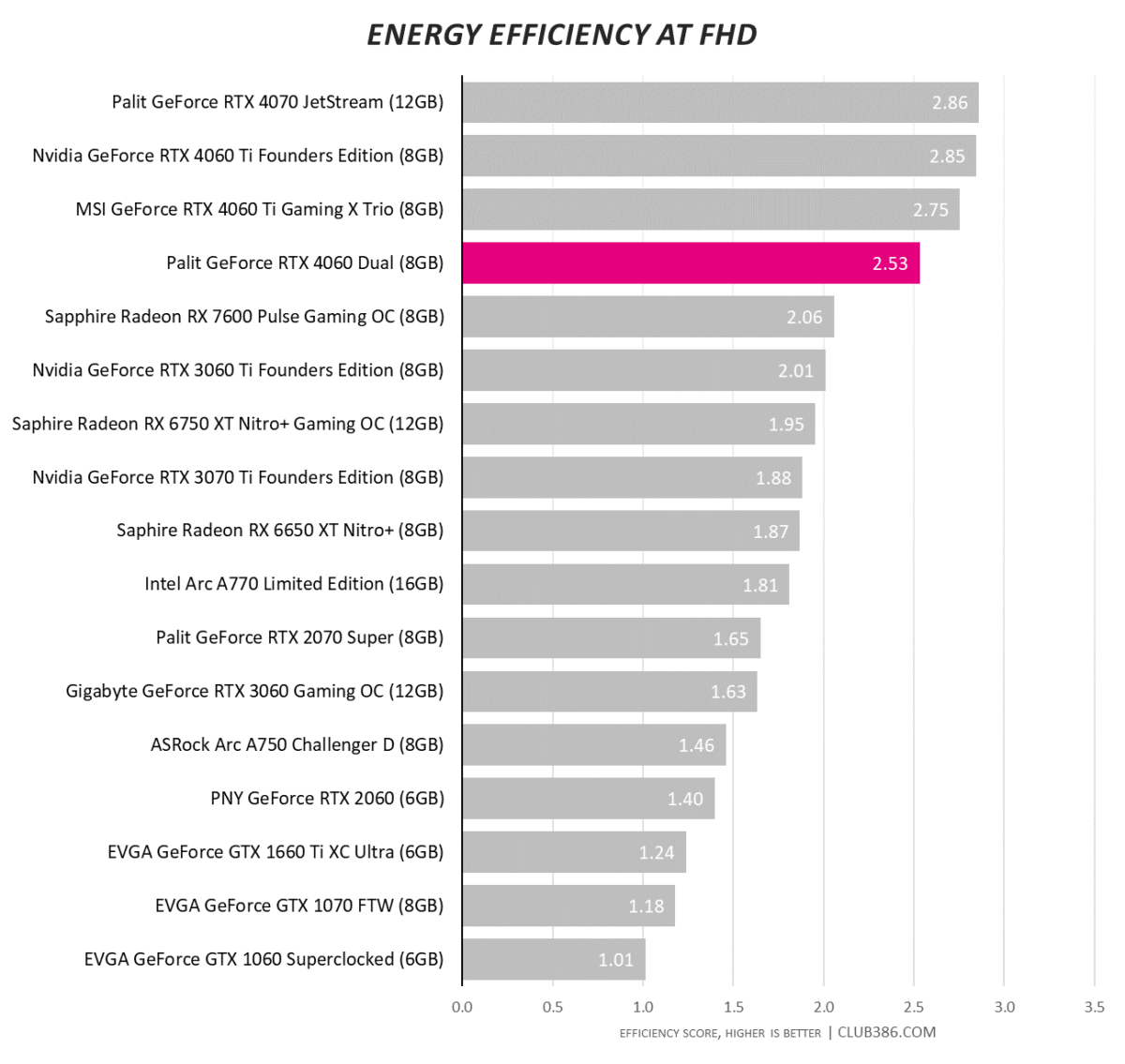 Looking at energy efficiency the conventional way, RTX 4060 relies on the Ada architecture to deliver top-notch results.
Overclocking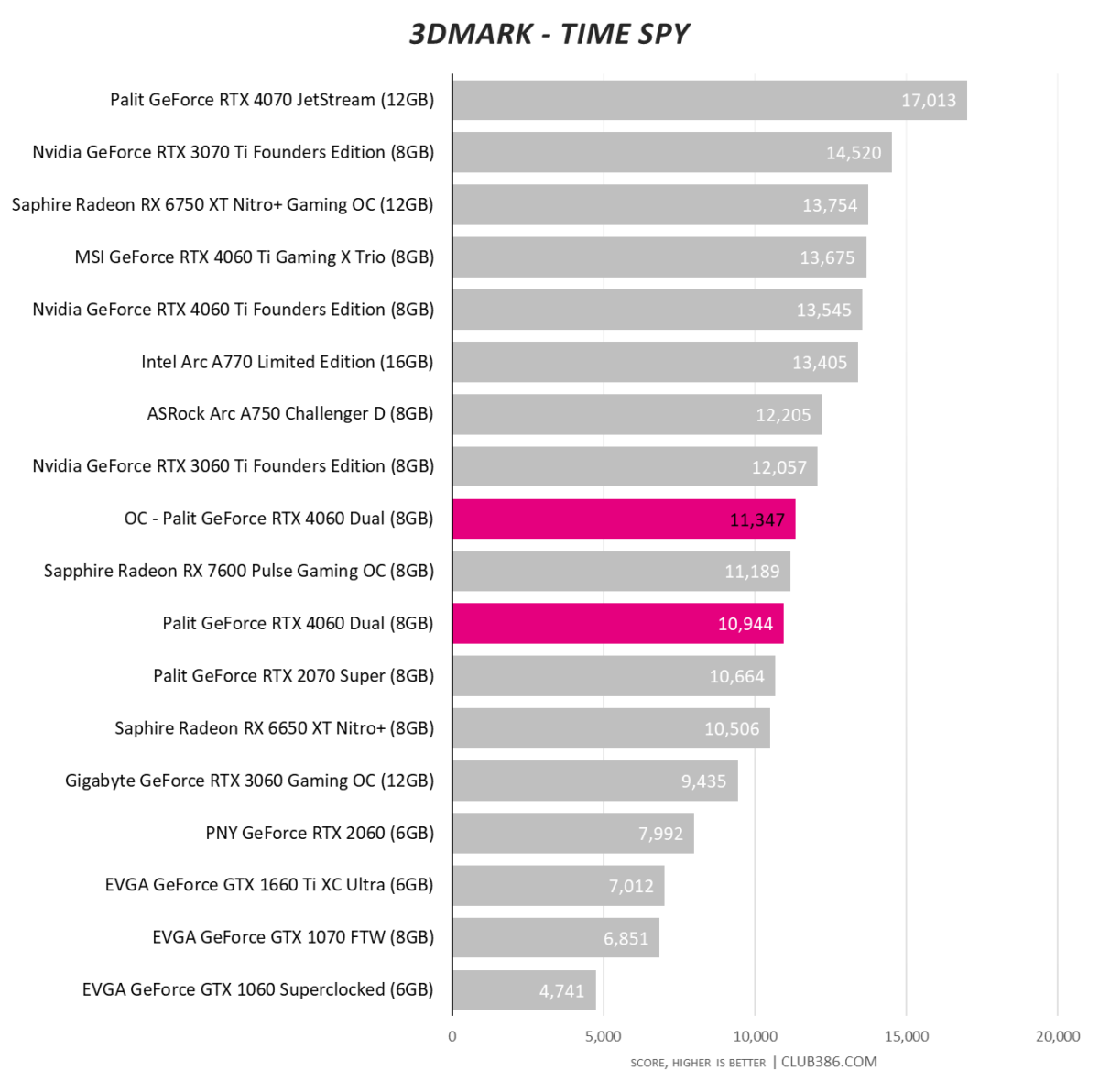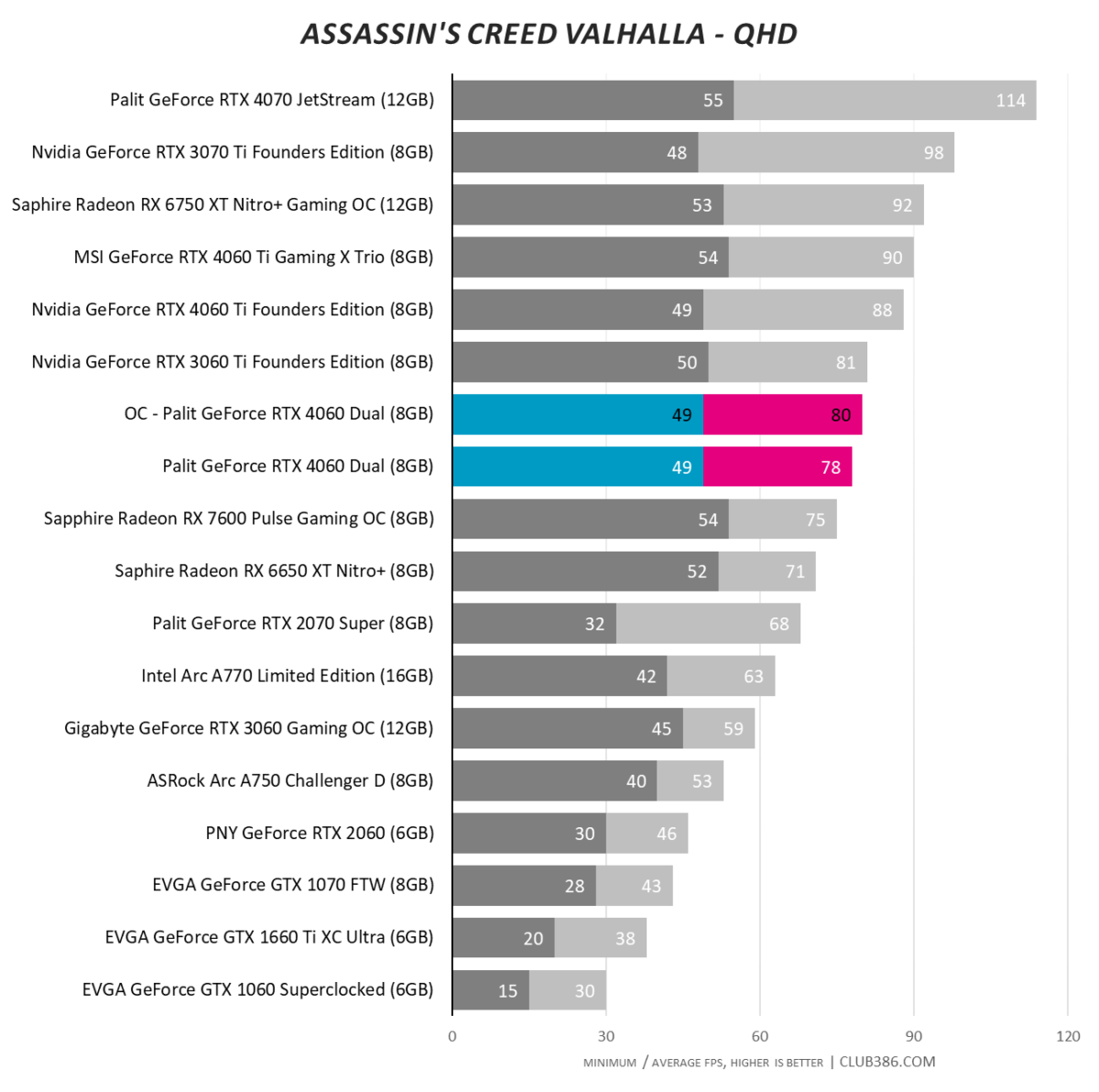 No adjustment available on the power limit means there's less scope for overclocking than usual. That said, we managed a boost speed of 2,870MHz and memory running at an effective 18.1Gbps.
DLSS 3

We can see the benefits of technology outside of the traditional raster engine by examining what happens to performance when DLSS is activated. Switching out to solely DLSS Quality increases minimum framerates by 2.76x and 2.82x at FHD and QHD, respectively. That's absolutely meaningful, too, as minimums dictate how 'sticky' a game feels. Average framerates also go up by a decent amount. Adding in Frame Generation provides even more: average framerates are well over twice as high.
Conclusion
Nvidia's GeForce RTX 4060 represents the most affordable way of obtaining the latest technology for mainstream desktop graphics cards. The tiny AD107 GPU uses a blueprint pulled over from the existing mobile space to deliver premium FHD performance alongside acceptable oomph at a more taxing QHD resolution. All good so far.
Contextualised against what's available in the market today for any budding upgrader, the $299 / £289 RTX 4060's inability to move the overall performance needle in a large swathe of games, from one generation to the next, is laid bare once value is taken into account. Similar-priced RTX 3060 Ti is faster, RTX 3060 offers 12GB of memory, while AMD's Radeon RX 7600 is cheaper. This feels like an RTX x50-class of GPU artificially upgraded to the next model rung up.
For me, some of the x60-class of cards were truly special. GTX 1060 in particular was fantastic. This doesn't have the same impact, which is a real shame. I wanted RTX 4060 to be brilliant, as it's the de facto gateway for proper mainstream gaming. It falls short in this regard.
Nevertheless, majoring on efficiency and great tech, Nvidia still has an alarmingly easy method of immediately making RTX 4060 a better all-round proposition in mid-2023. Dropping to $249 / £239 negates onerous comparisons to price-ravaged last-gen cards and provides appropriate incentive required to reinvigorate the huge gaming market still playing at FHD on much older GPUs. PC gaming needs Nvidia to set the tone by launching a must-have, no-brainer mainstream graphics card.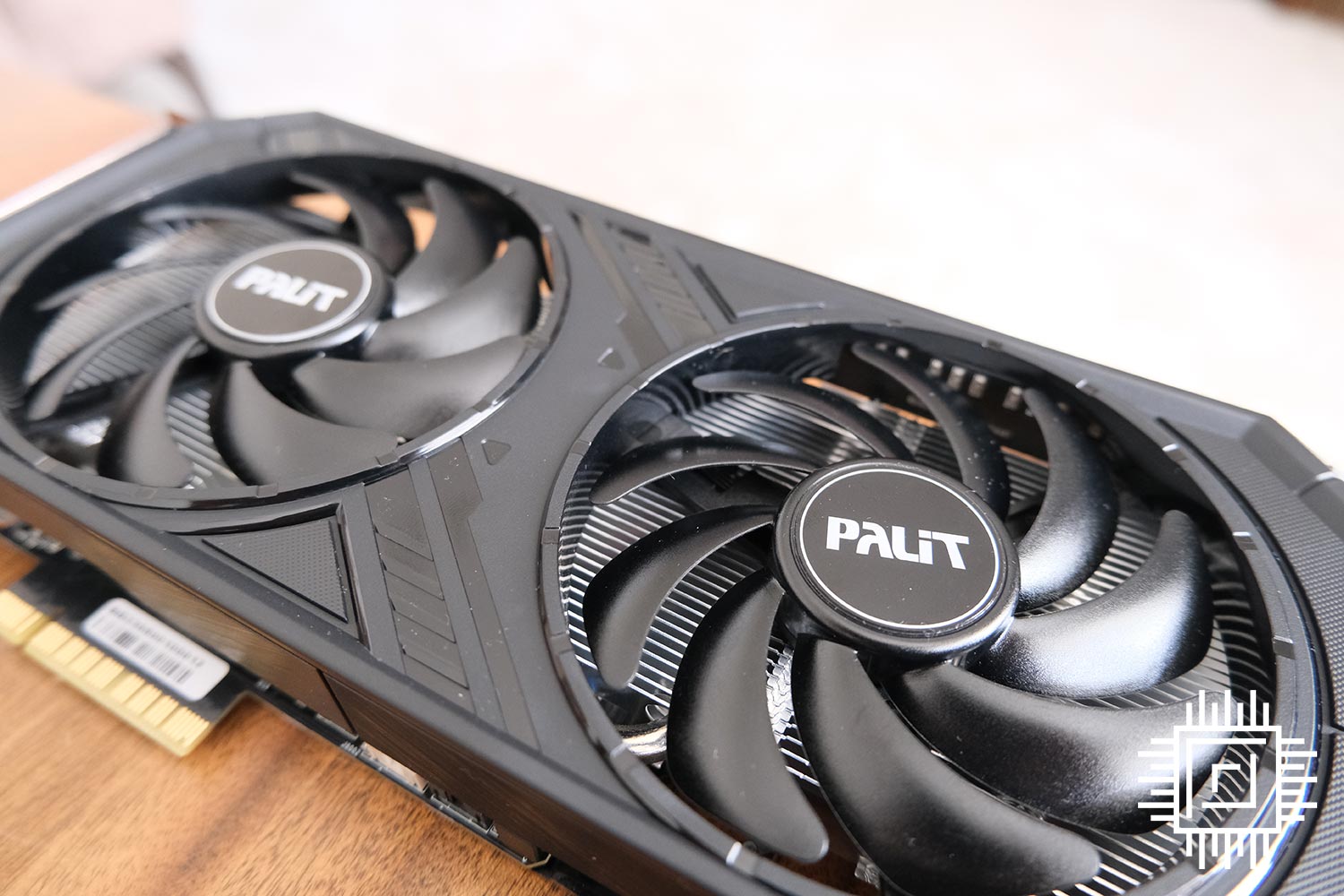 Palit GeForce RTX 4060 Dual
Verdict: a solid, capable FHD graphics card that suffers from inter-generational value comparisons.
---
Pros
Consummate 1080p performer
Excellent efficiency
DLSS 3 technology
Cool and quiet
Cons
Small gain over last-gen
Stuck at 8GB
Value needs to be better

---
Club386 may earn an affiliate commission when you purchase products through links on our site. This helps keep our content free for all.
Rest assured, our buying advice will forever remain impartial and unbiased.