Jump to: Analysis | The Card | Performance | Conclusion
After releasing high-end Radeon RX 7900 Series GPUs late last year, AMD has taken a while to offer further desktop cards based on the current RDNA 3 architecture. The wait is officially over, as mainstream Radeon RX 7600 takes to store shelves armed with an agreeable $269 (£259) price tag and promise of great performance at FHD with all the bells and whistles turned on. This is a card that deserves your attention if coming from a mid-range GPU at least three years old.
Working out exactly what Radeon RX 7600 brings to the table is a job fit for the Club386 Table of Doom™, so let's take a closer look when compared to other mainstream peers from the previous two generations.
Radeon
RX 7600
RX 6600 XT
RX 6600
RX 5600 XT
Launch date
May 2023
Aug 2021
Oct 2021
Jan 2020
Codename
Navi 33
Navi 23
Navi 23
Navi 10
Architecture
RDNA 3
RDNA 2
RDNA 2
RDNA
Process (nm)
6
7
7
7
Transistors (bn)
13.3
11.1
11.1
10.3
Die size (mm2)
204
237
237
251
PCIe
Gen 4 x8
Gen 4 x8
Gen 4 x8
Gen 4 x16
Compute Units
32 of 32
32 of 32
28 of 32
36 of 40
ALUs
2,048
2,048
1,792
2,304
Boost clock (MHz)
2,625
2,589
2,491
1,560
Peak FP32 GFLOPS
10,752
10,605
8,928
7,188
RT cores
32
32
28
N/A
ROPs
64
64
64
64
Infinity Cache (MB)
32
32
32
N/A
Memory size (GB)
8
8
8
6
Memory type
GDDR6
GDDR6
GDDR6
GDDR6
Memory bus (bits)
128
128
128
192
Memory clock (Gbps)
18
16
14
14
Bandwidth (GB/s)
288
256
224
336
Bandwidth inc IC (GB/s)
476.9
444.9
412.9
NA
AV1 encode
Yes
No
No
No
Display outputs
HDMI 2.1a
DP 2.1
HDMI 2.1
DP 1.4
HDMI 2.1
DP 1.4
HDMI 2.1
DP 1.4
Power (watts)
165
160
132
160
Launch MSRP ($)
269
379
329
279
Analysis
Being the most price-conscious Radeon 7000 Series to date, the standout feature is moving architecture along from RDNA 2 to RDNA 3. First debuting with Big Boy Radeon RX 7900 XTX and XT, it's worth reading all about what makes AMD's latest GPU tick.
Unlike its bigger brothers, Radeon RX 7600 eschews the pioneering chiplet approach and goes instead for a monolithic design based on TSMC's 6nm process. That makes sense as the 204mm² die won't benefit much from being broken down into smaller chunks. Though marginally larger from a transistor point of view than equivalent RX 6000 and RX 5000 GPUs, the $269 recommended pricing feels about right for a card with these innate capabilities.
Radeon RX 7600 is the full implementation of the Navi 33 die, meaning any supposed XT model will need to use a larger, more expensive implementation. It's curious, too, that AMD has gone from the range-topping Radeon RX 7900 class of chiplet-based GPUs to this model, leaving prospective GPUs such as RX 7800 / 7700 to an undermined date. Nvidia, on the other hand, has run in the opposite direction by releasing $399 RTX 4060 Ti before $299 RTX 4060, destined for a July bow. Divergent strategies.
Compared to the immediate nomenclature predecessor, it's a case of evolution instead of revolution. AMD bumps up memory speed to 18Gbps, offering marginal gains over RX 6600 / XT, but don't expect huge in-game performance increases. Knowing DRAM bandwidth is a little higher and Infinity Cache is effectively the same, total throughput inches up. Power, too, is consistent, though partners are likely to push up a few watts with inevitable overclocked models. Expect to see variants topping out at around 200 watts.
Display is one area where Radeon RX 7600 is a marked improvement over what's gone before. Using what is dubbed the Radiance Engine, AMD provides hardware acceleration for AV1 encode, all the way up to 8K60, matching the decode side. Depending upon configuration, it also supports up to four displays through either HDMI 2.1a or DisplayPort 2.1. Exact implementations vary, so be sure to check out granular specs before purchase.
Here's the rub. AMD doesn't see Radeon RX 7600 as a replacement for RX 6600 or even RX 5600, and we have zero issues with that line of thinking. Rather, this new GPU is positioned as a substantial upgrade to, say, a 2016 GeForce GTX 1060 or 2017 Radeon RX 580. Can't argue with that logic; mainstream upgraders rarely flit from one generation to its immediate successor.
The spectre of releasing mainstream GPUs in mid-2023 equipped with 8GB of VRAM continues to cast a shadow. Perfectly fine for high-quality FHD gaming now, framebuffer limitations are less of a consideration when total GPU outlay is a more modest £250 or so. Are you reading this, Nvidia?
Value, rather, is the key focus – Radeon RX 7600 represents AMD's best chance to break into Steam's coveted top-20 spots, where currently no discrete Radeon resides – so it is prudent for add-in board partners to launch stripped-down models that use company-specific features to beat out the most basic designs. Sapphire does exactly that with the Radeon RX 7600 Pulse Gaming OC 8GB.
Sapphire Radeon RX 7600 Pulse Gaming OC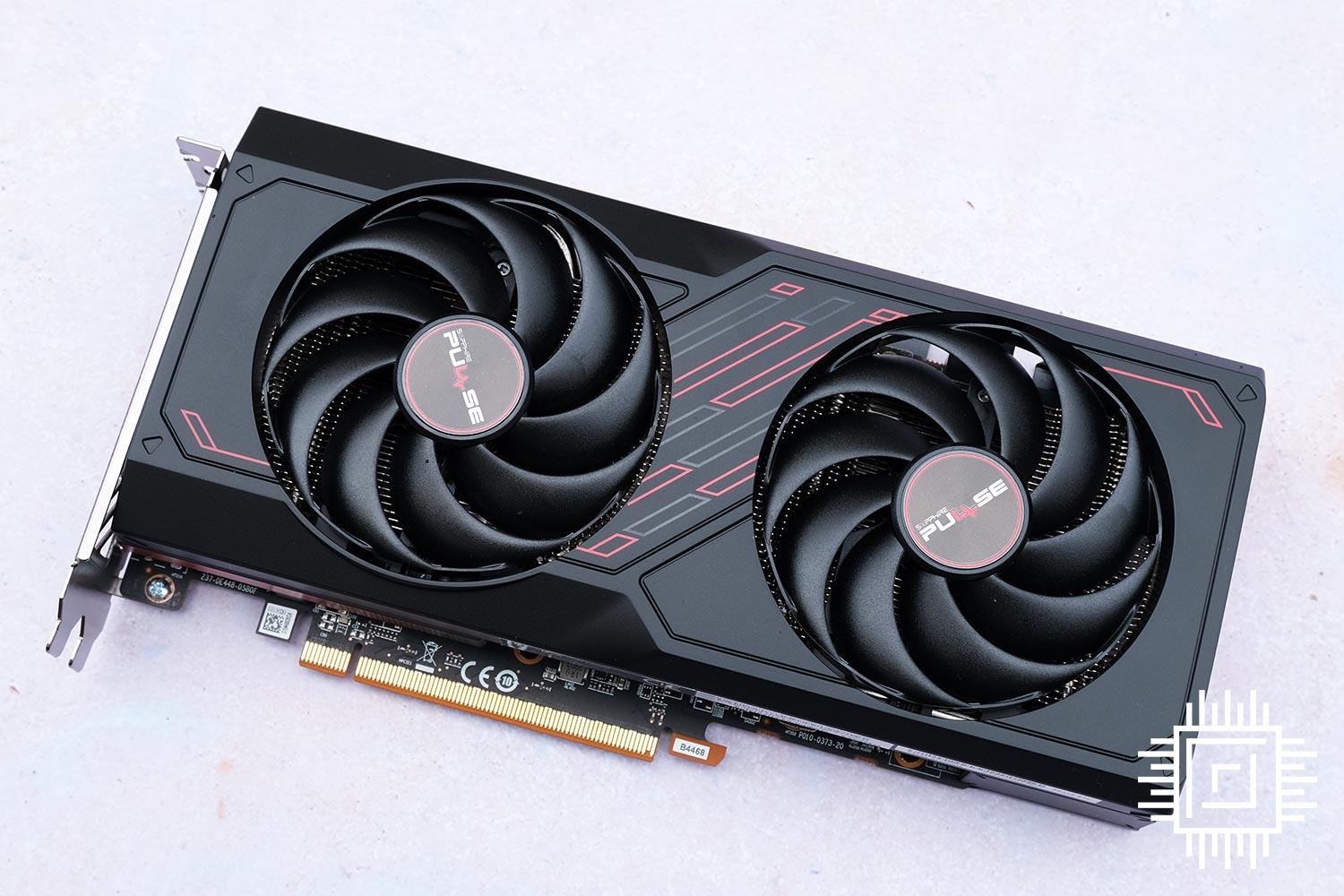 An exercise in restraint, Pulse Gaming OC is a strict dual-slot card measuring 240mm long, 106.5mm high and 44mm thick. The geometric design on the front is nice, but don't expect any meaningful illumination as the card doesn't feature RGB, which is understandable given Sapphire is keen to launch at $269 / £259.
Twin 88mm fans turn off when the PC is idling. Going by our testing, they switch on at around 50°C and increase to approximately 1,000RPM (15 per cent) immediately, though the transition is smooth and hard to discern in a quiet system. Gaming at an ambient 21°C, the duo spins up to 2,000RPM. Sounds like a lot, yet understand the design is such that it's represented by a constant hum more than an annoying whine. Speaking of the latter, our sample exhibits average coil whine when tasked with high-FPS loading screens.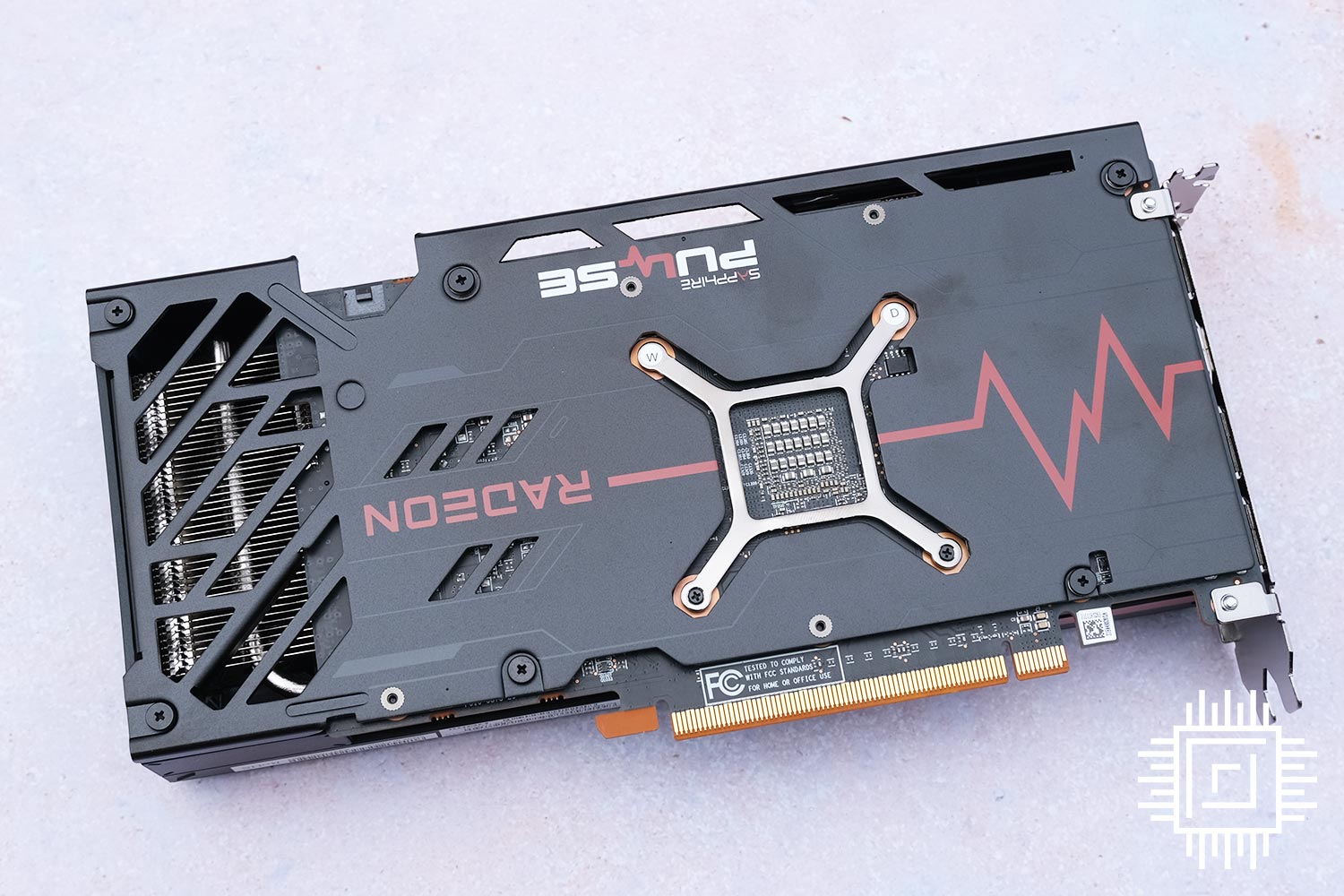 The top section is reinforced by a metal backplate with appropriate cutouts for through-the-heatsink cooling. The PCB is about 200mm long, with the extra 40mm used to house overhanging cooling. A little design change could lead to a mini-ITX version of the card, though the second fan would have to go.
Always looking to eke out an advantage over reference AMD specs, Sapphire increases engine boost clock from 2,635MHz to 2,754MHz, representing a 4.5 per cent increase. That's enough, one would assume, to get an extra FPS or two at the target FHD resolution.
Boost clocks rarely correlate perfectly with what we observe in games, as GPUs opportunistically run faster, though in this instance the Sapphire Pulse Gaming OC achieves a consistent 2,741MHz during our tests. It's unusual for a card to be this close to the mandated speed, suggesting there might not be too much frequency headroom in the Navi 33 XL die. Memory, meanwhile, remains at a reference 18Gbps.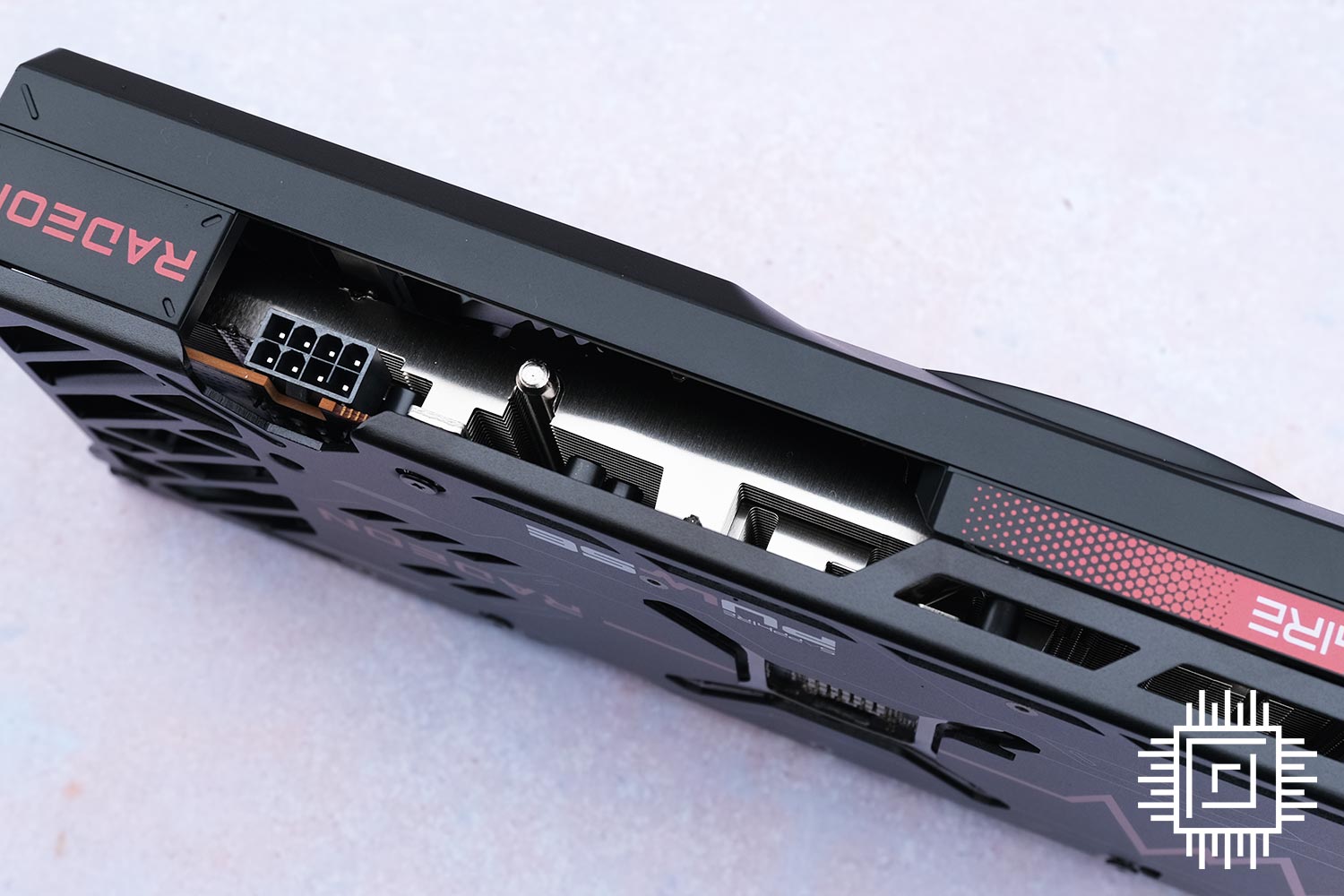 Pushing the frequency wick has the side effect of increasing power from 165W to 185W here, so this is why Sapphire needs an AMD-beating design. A 550W PSU is recommended, which makes sense if paired with a decent subsystem.
Using a solitary eight-pin connector, the design feels like a shrunken-down version of the RX 6700 XT Pulse, and that's no bad thing. Sapphire does the right thing and purposely cools the VRMs with dedicated heatsinks, while memory resides under the same block as the GPU. If it ain't broke, don't fix it.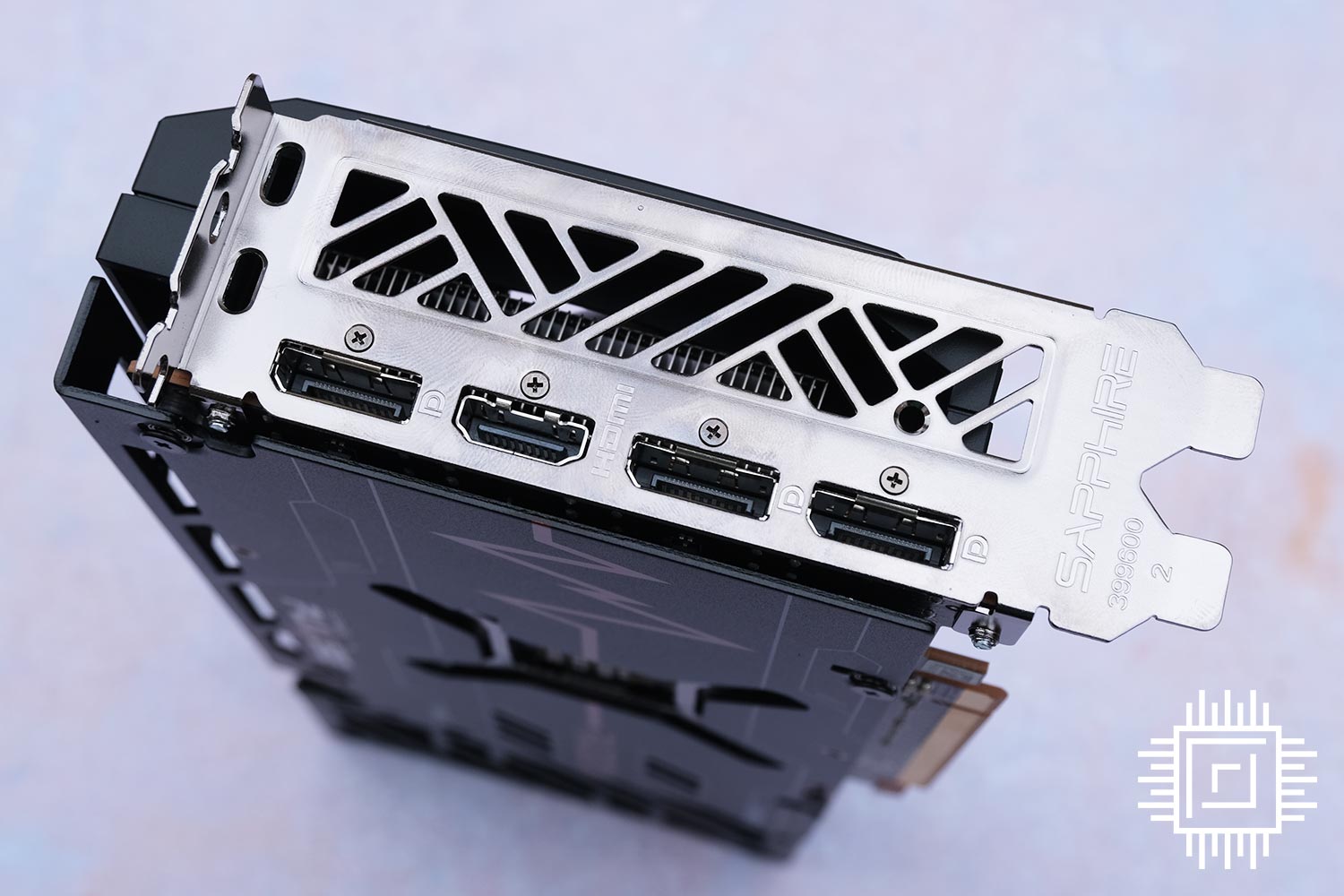 Wouldn't it be nice if the I/O shield was a matching black? A trio of DisplayPort and a single HDMI toes the reference line, but the devil is in the details. Notice on the spec table that AMD has DP 2.1 listed, but Sapphire uses version 1.4 instead. The wrinkle here is it's up to the add-in board partner to specify what they see fit, meaning DP 2.1 is not a mandatory requirement laid down by AMD. The difference is in absolute bandwidth, where DP 2.1 offers 67 per cent more, though don't get too carried away by this figure as DP 1.4 is plenty good enough for 4K120.
Of slightly more concern, and a roadblock emanating from AMD rather than Sapphire, is the PCIe 4.0 x8 connection that defaults down to PCIe 3.0 x8 on older systems. But that's a potential story for a different day.
Performance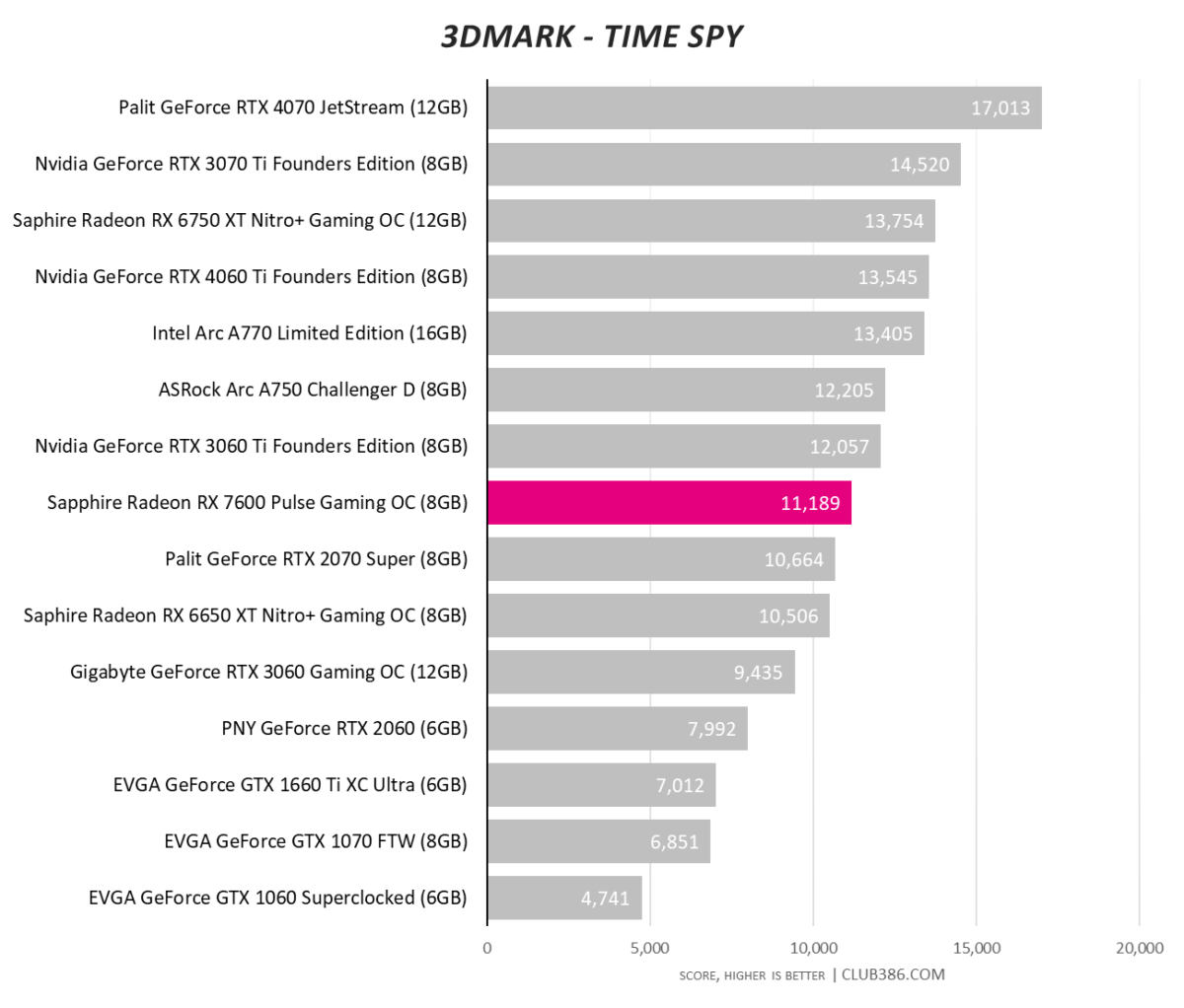 We've benchmarked, from scratch, a wide range of mainstream cards for this review, going all the way back to venerable and popular GeForce GTX 1060. Upgrading from these GPUs is the key appeal for Radeon RX 7600.
Let's get some key comparisons noted. Radeon RX 7600 and RX 6650 XT share similar specifications other than being based on RDNA 3 and RDNA 2, respectively, so it makes sense the review model is marginally faster. Looking back to much older cards, we're seeing a decent, if not spectacular, uptick. The first benchmark affirms AMD / Sapphire is on the right track for a $269 card.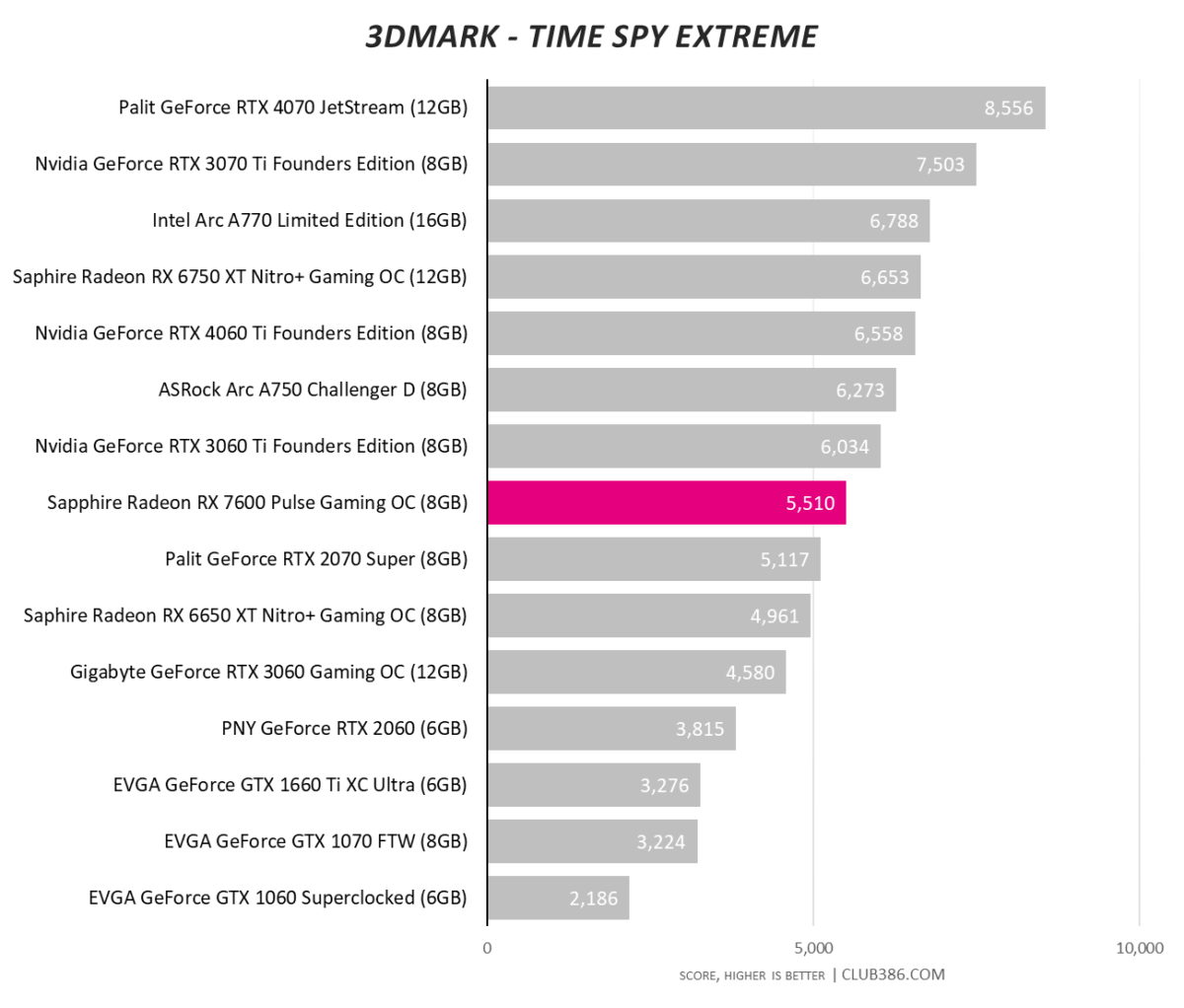 Raising the load to 4K doesn't do much to change relative position. Going by these first two benchmarks, there's little point in changing up from, say, a GeForce RTX 2070, but owners of RTX 2060 can definitely benefit.
AMD says it has improved ray tracing capabilities for RDNA 3. An easy way to validate this is by looking at numbers for it and Sapphire's very own RX 6650 XT, where we see a 19 per cent increase. That's all well and fine in isolation, of course, but leaves AMD still struggling.
Looking wider, it's surprising to see how well the £230 Arc A750 does, and it's clear that GeForce RTX 40 Series is on another level.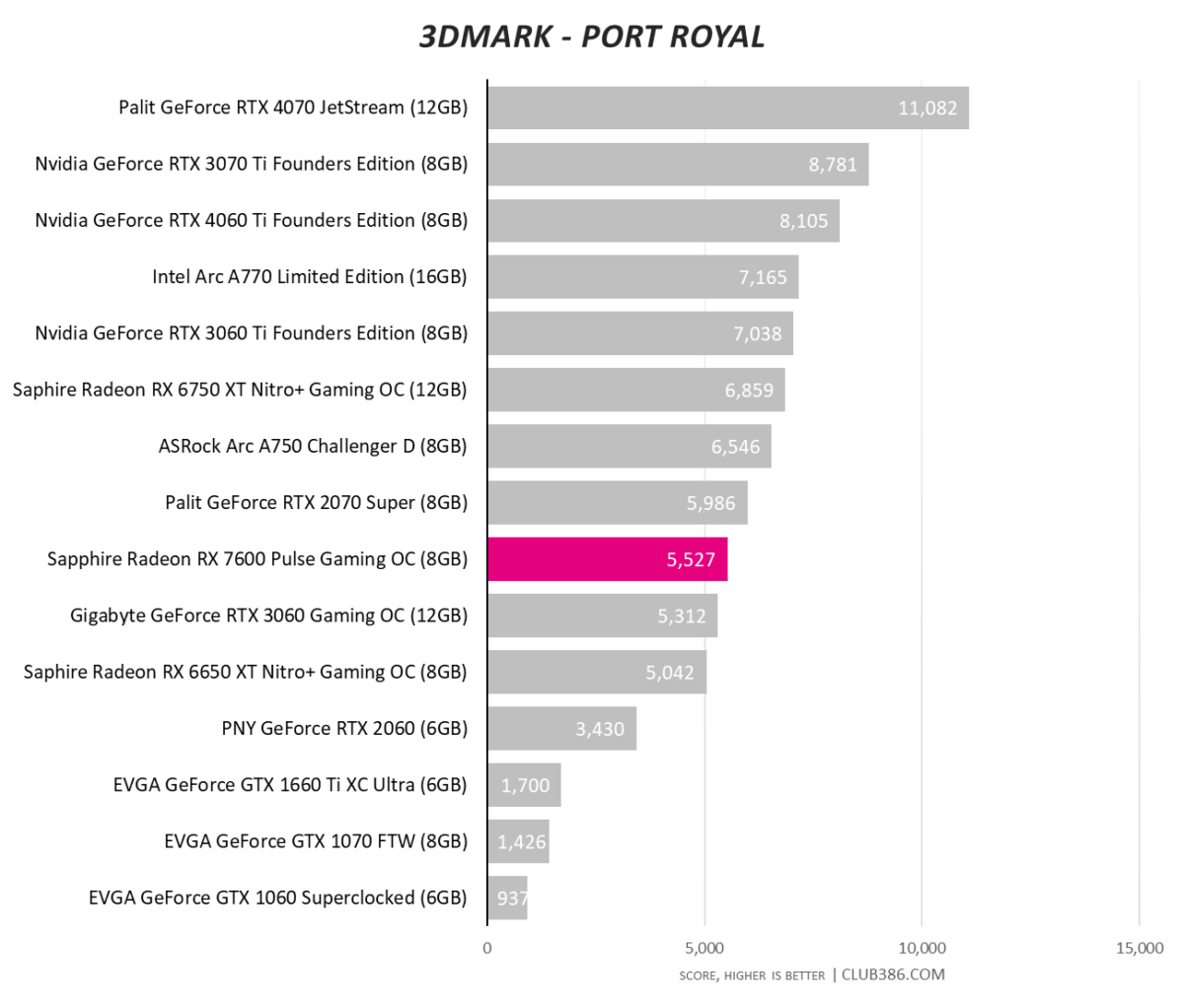 $269 leads to mid-pack performance, just as one would expect. Nothing wrong with that.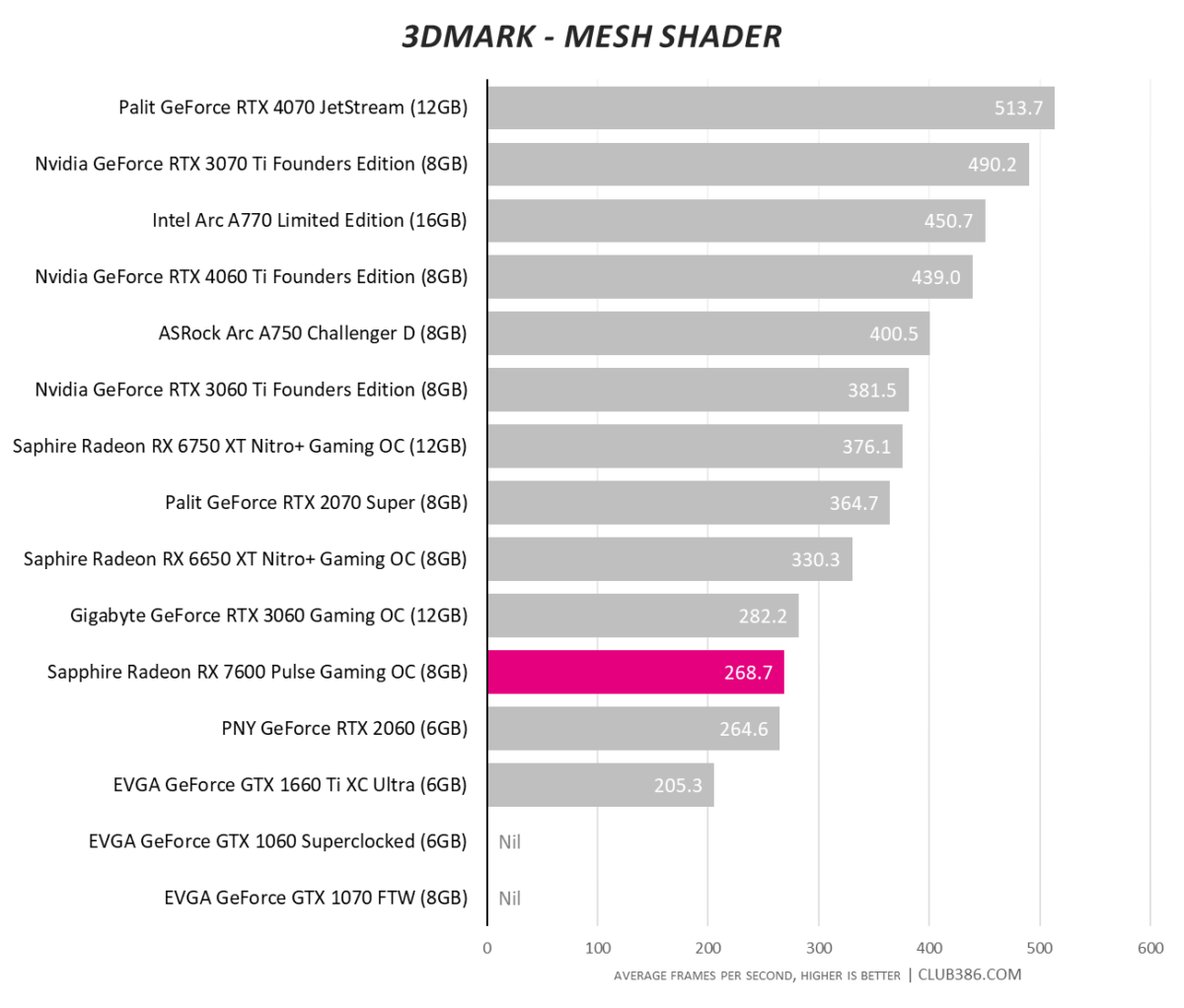 Rounding out the synthetic tests, we've previously seen that RDNA 3 doesn't do so well in the shader test, which helps explain why it's slower than RX 6650 XT.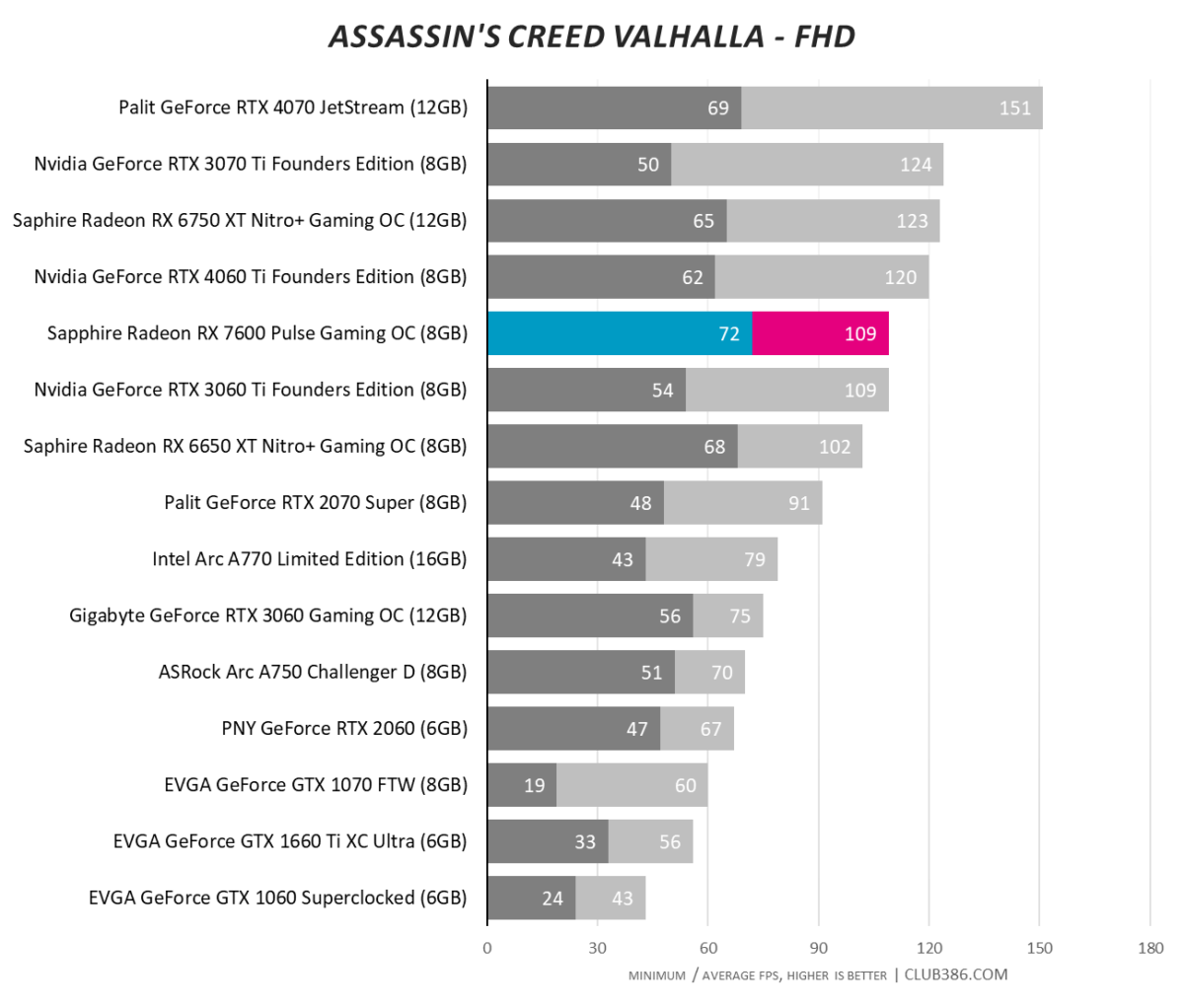 But who cares about synthetics when real gaming is where it's at. A little more than £250 gets you over 100FPS at the highest in-game settings on this demanding title. Nice.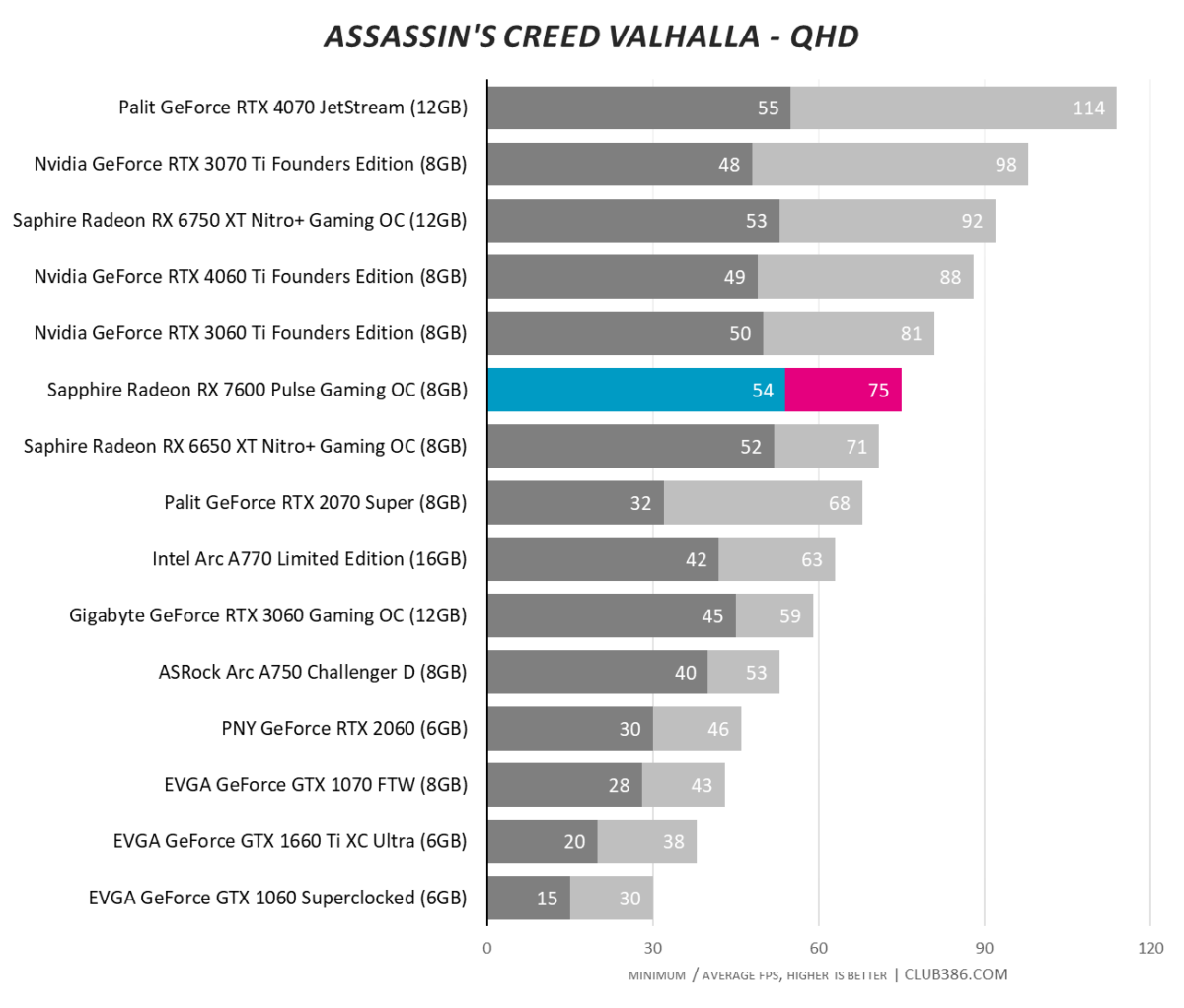 Positioned as an FHD card first and foremost, QHD is certainly within the performance remit on certain games.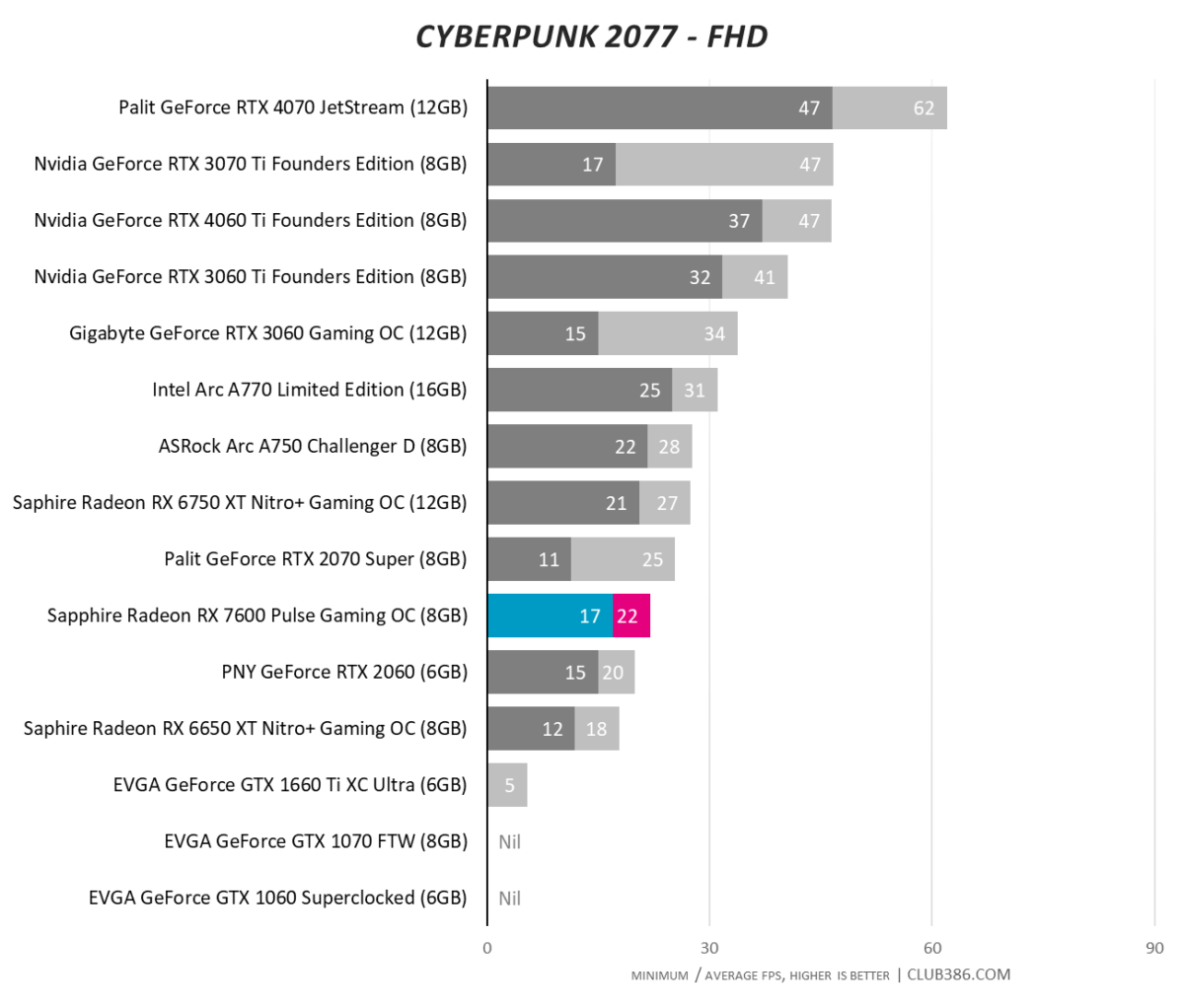 Can it run Crysis? is now replaced with can it run Cyberpunk with RT Ultra? Yes, it can, but not very fast. The lack of performance progress over a similar RX 6000 Series GPU is disappointing.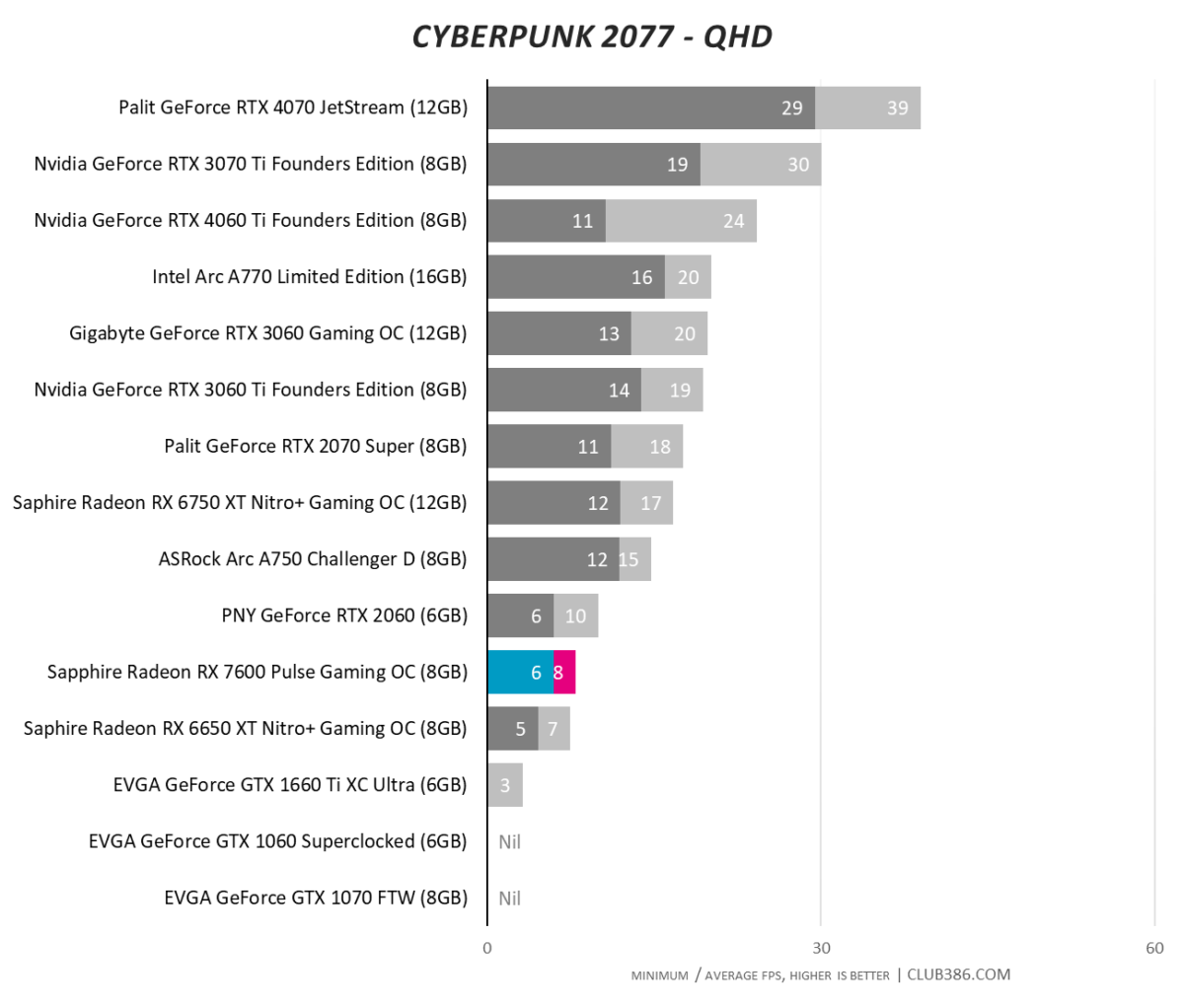 Gonna need some of that FSR lovin' for adequate framerates. That or drop ray tracing altogether, which is a shame in 2023.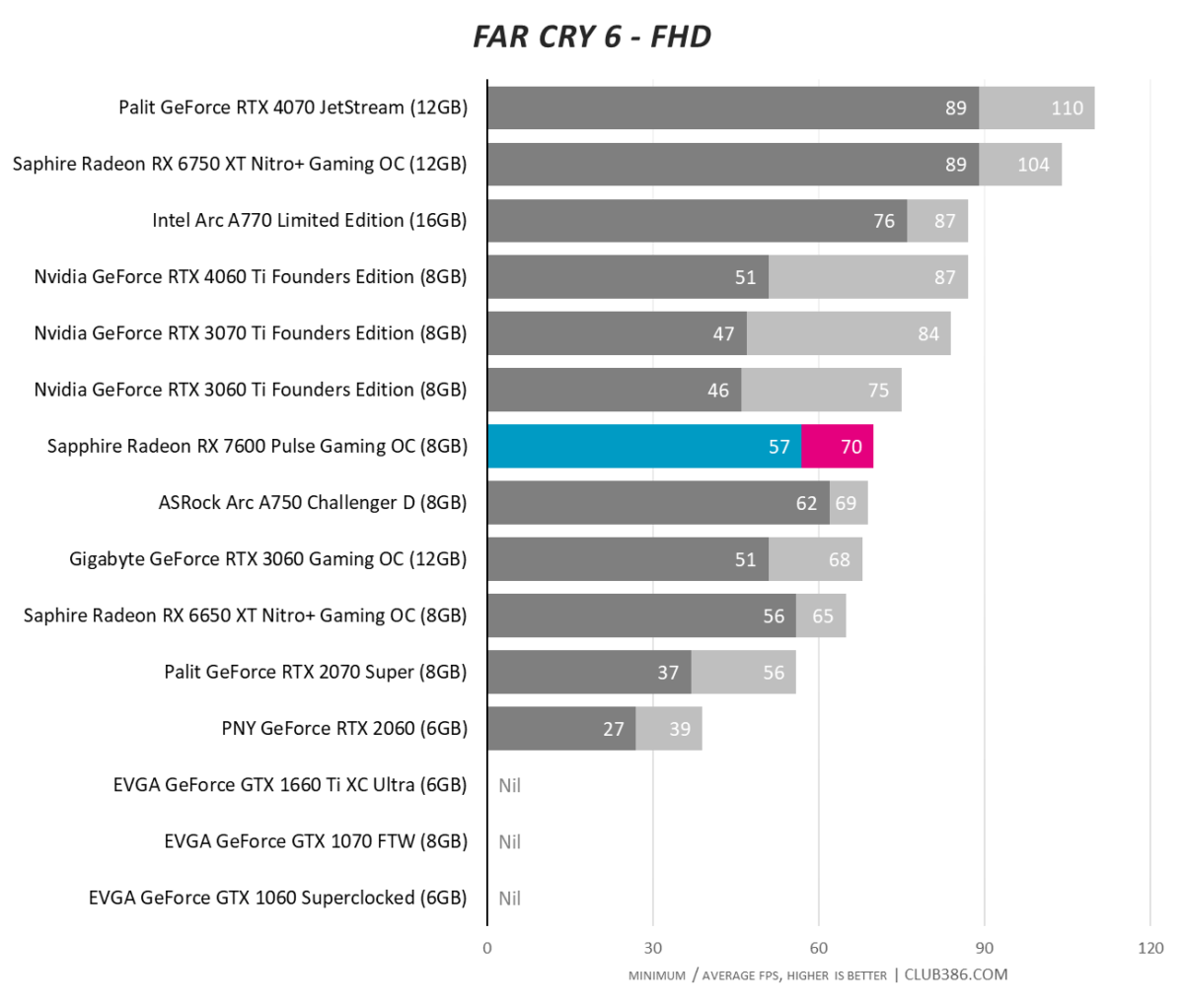 Carrying on the ray tracing theme in Far Cry 6. Sapphire's card neatly lines up behind a trio of dearer Founders Edition models.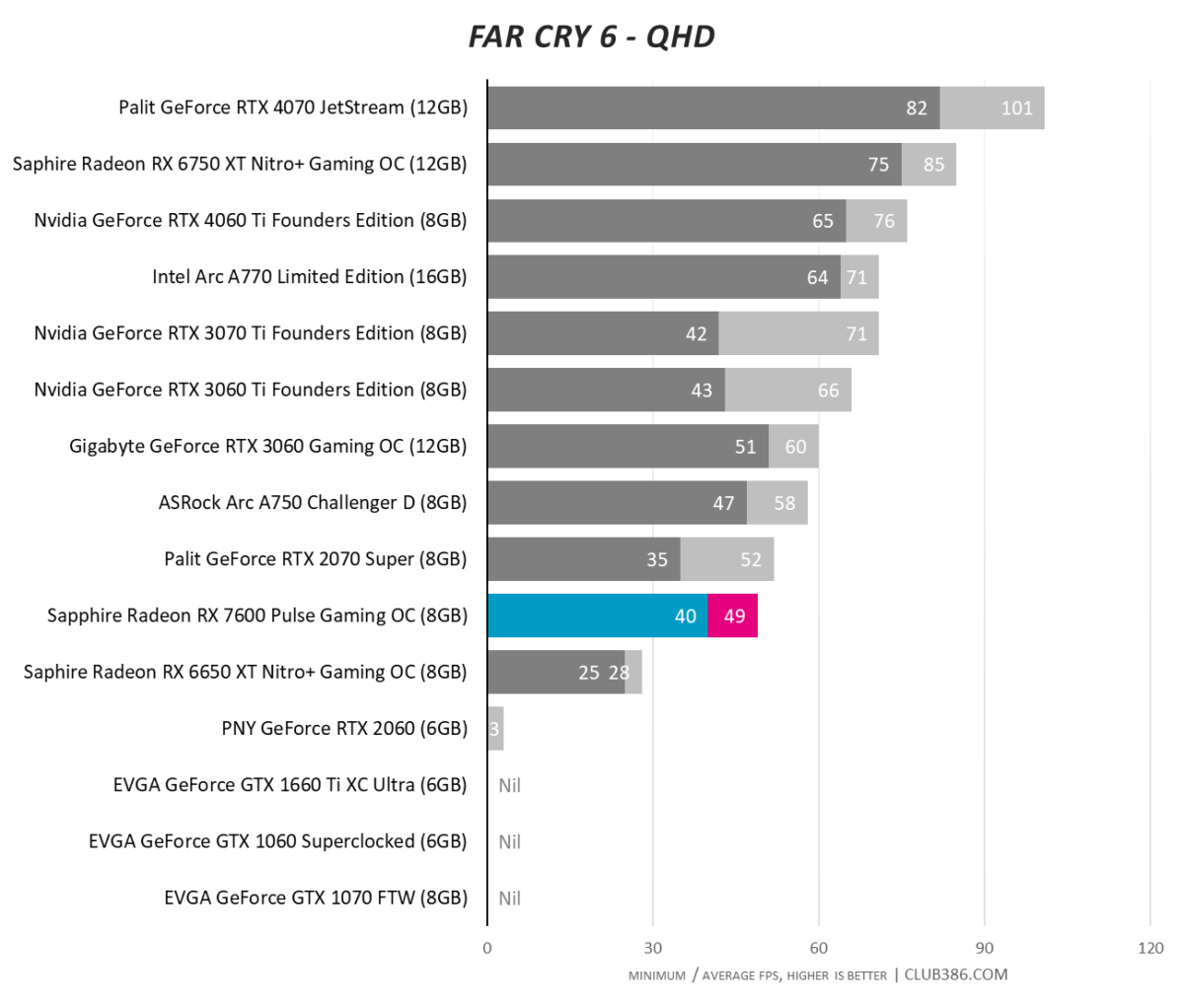 Something strange happens to the comparison RX 6650 XT here that's hard to explain. RX 7600 continues to show excellent upgrade potential from an RTX 2060. Do understand that any card with a sub-8GB frame buffer falls on its silicon sword in this title.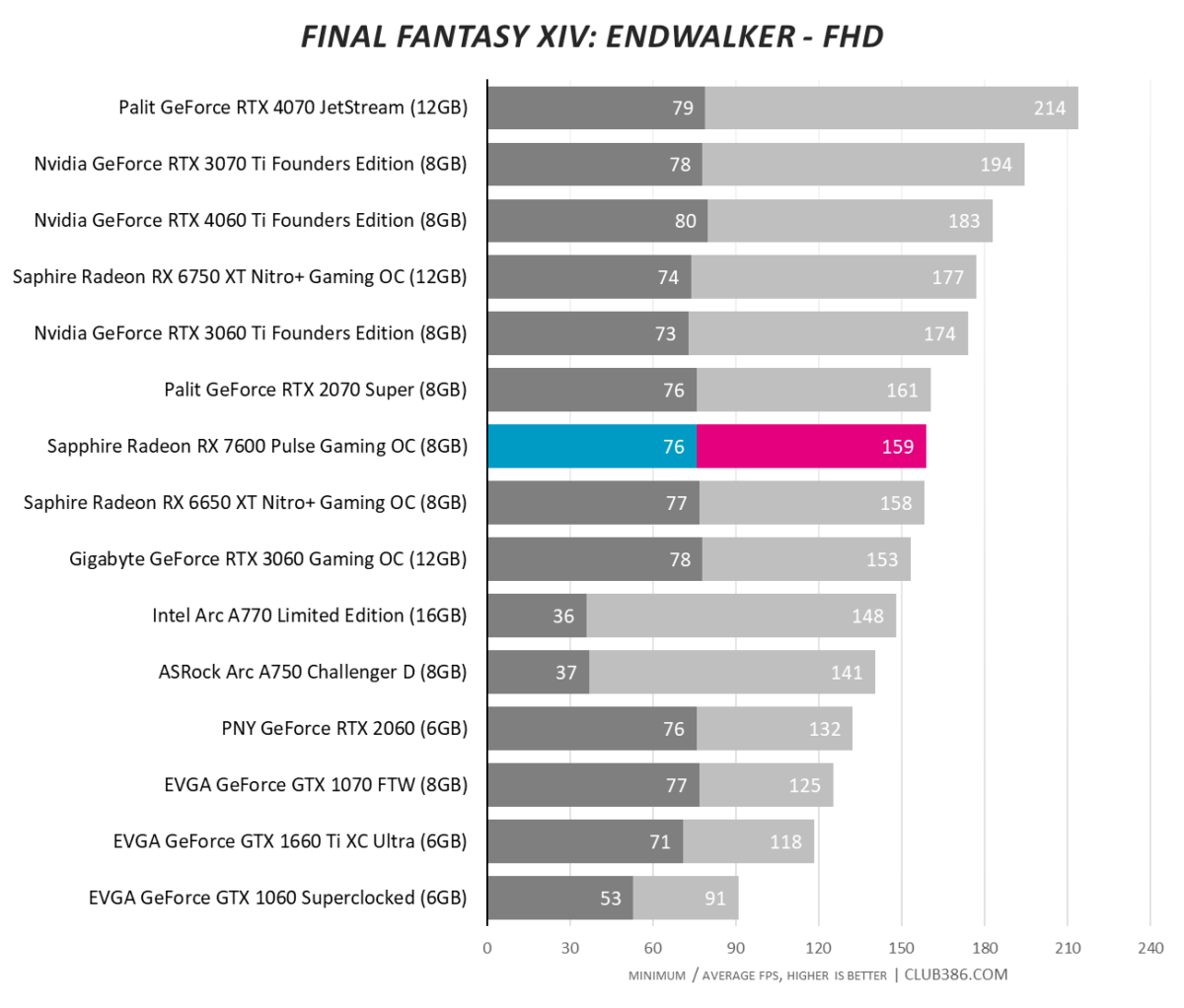 A great title representative of gameplay in a host of older games, we have no complaints here.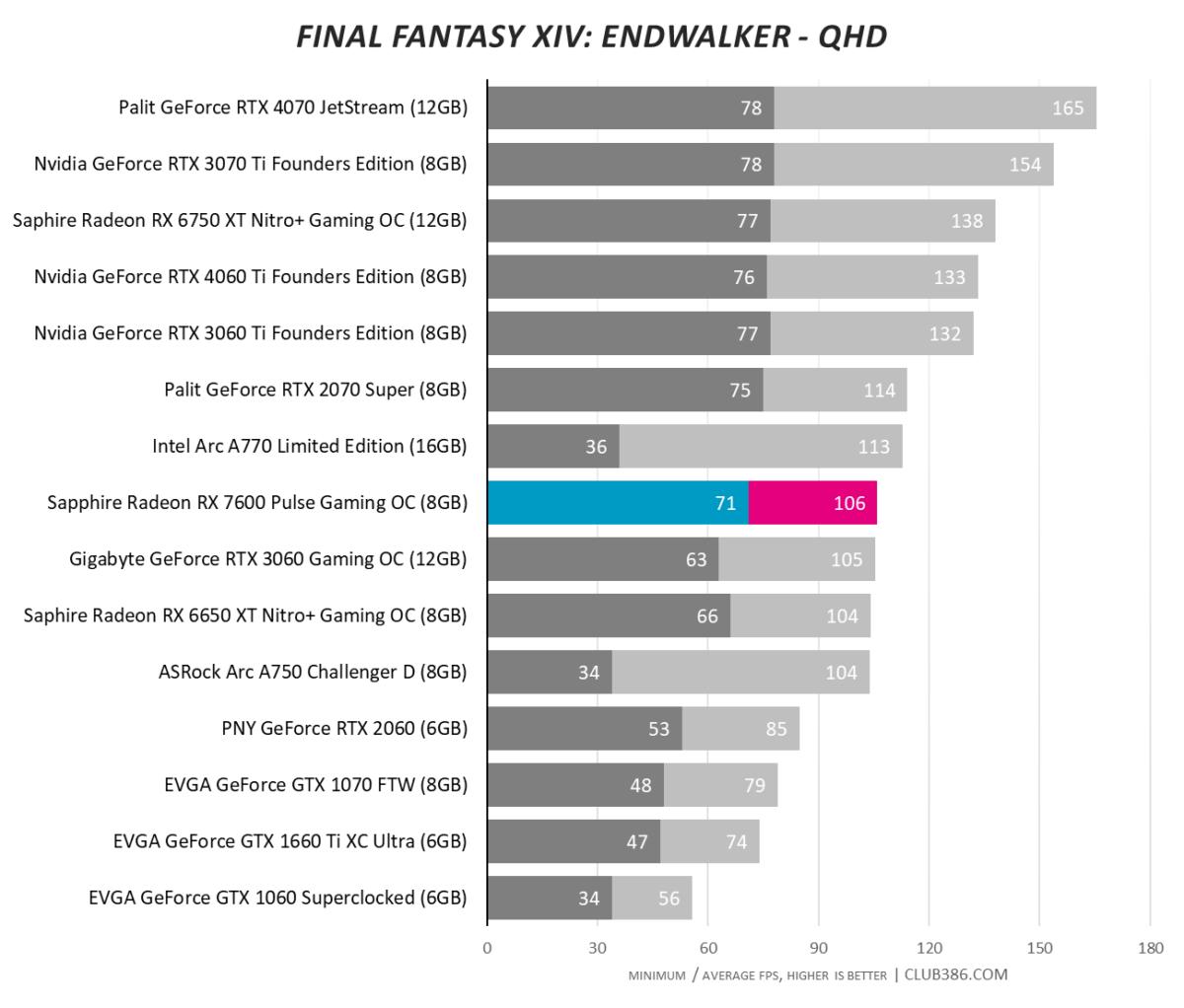 QHD100. No problem for the mainstream Radeon RX 7600 in Sapphire guise.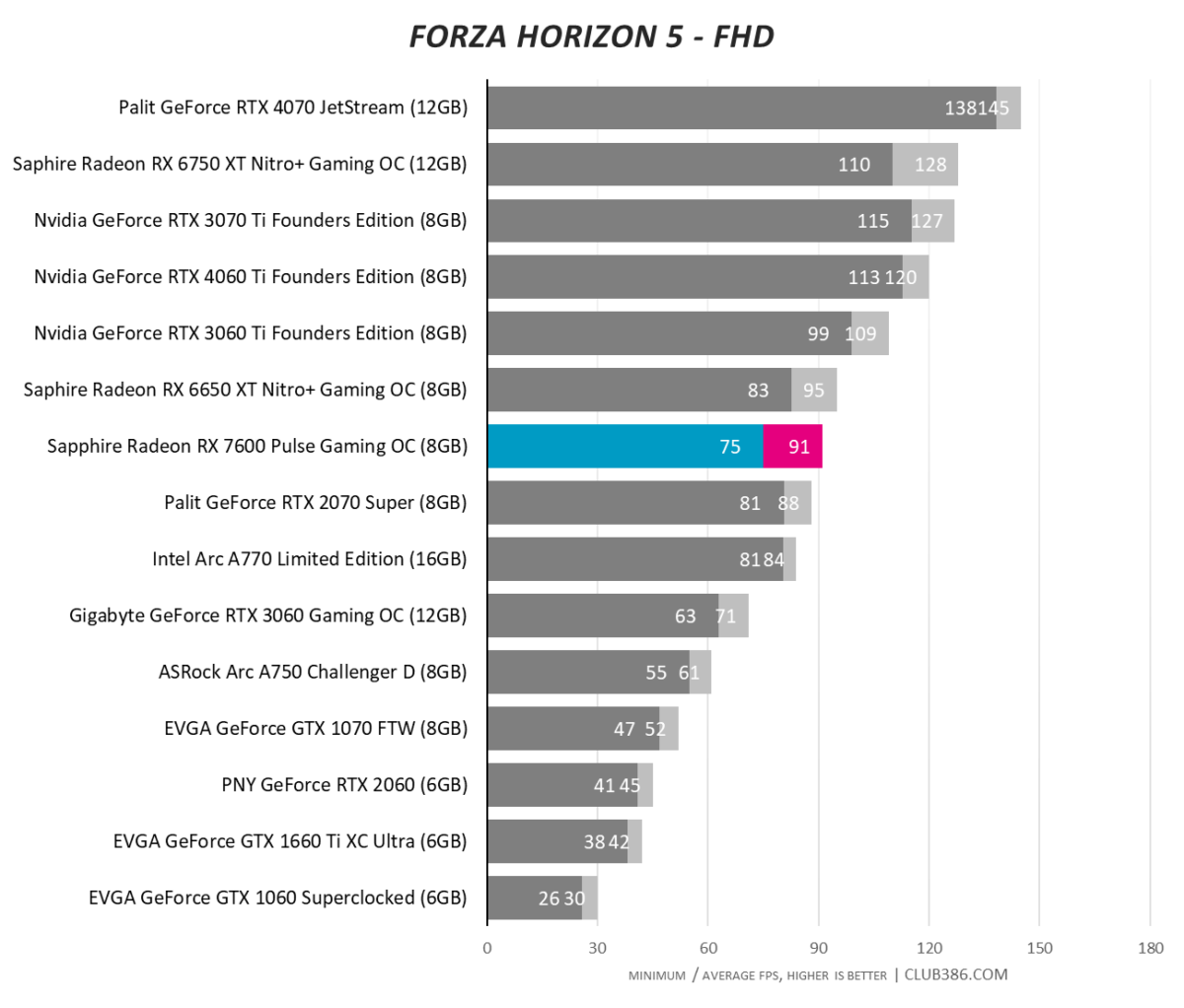 Guess what? AMD's not lying when it says this GPU was designed for great FHD performance. The game looks gorgeous when set to the Extreme preset, too.

Show your support for impartial Club386 reviews
Club386 takes great pride in providing in-depth, high-quality reviews built on honest analysis and sage buying advice. As an independent publication, free from shareholder or commercial influence, we are committed to maintaining the standards our readers expect.
To help support our work, please consider making a donation via our Patreon channel.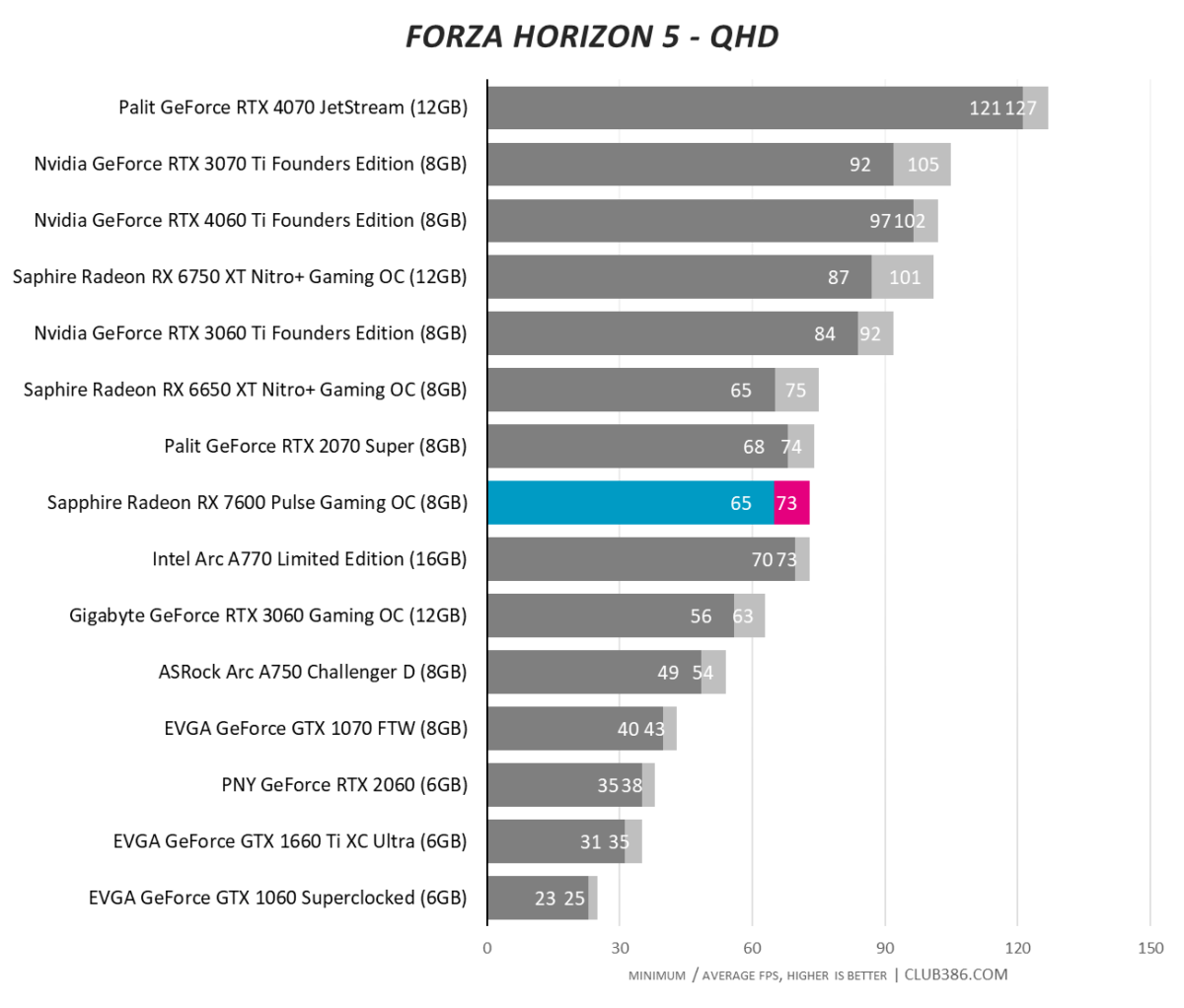 If you have a FreeSync monitor handy, the Sapphire RX 7600 Pulse Gaming OC is more than up to the task when 2560×1440 pixels need to be fed.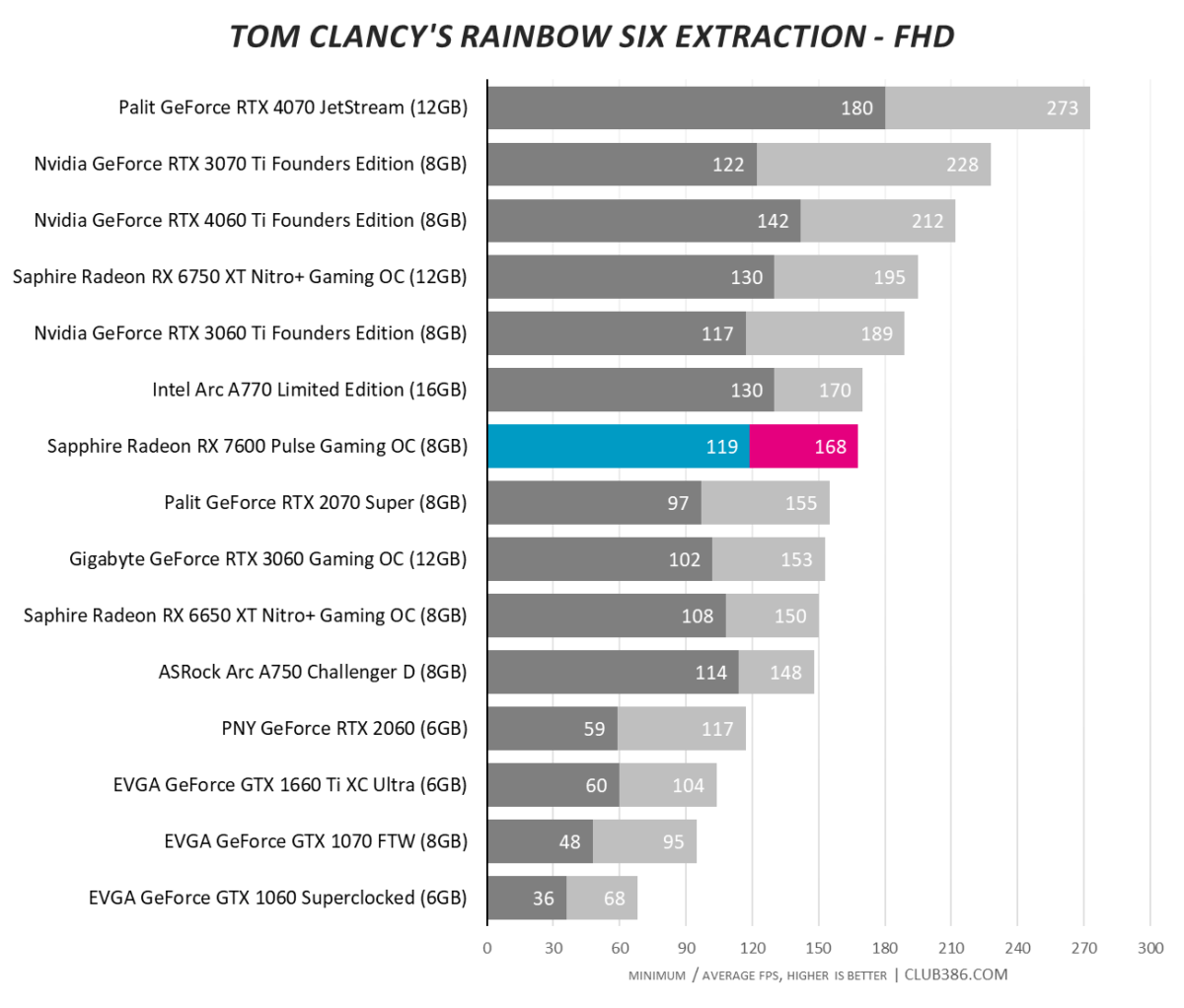 One can look at most of the graphs in two ways. The first is to say this $269 card isn't much faster than a $399 GPU (Radeon RX 6650 XT) from the last generation and released May 2022. That's okay as value absolutely trumps framerate.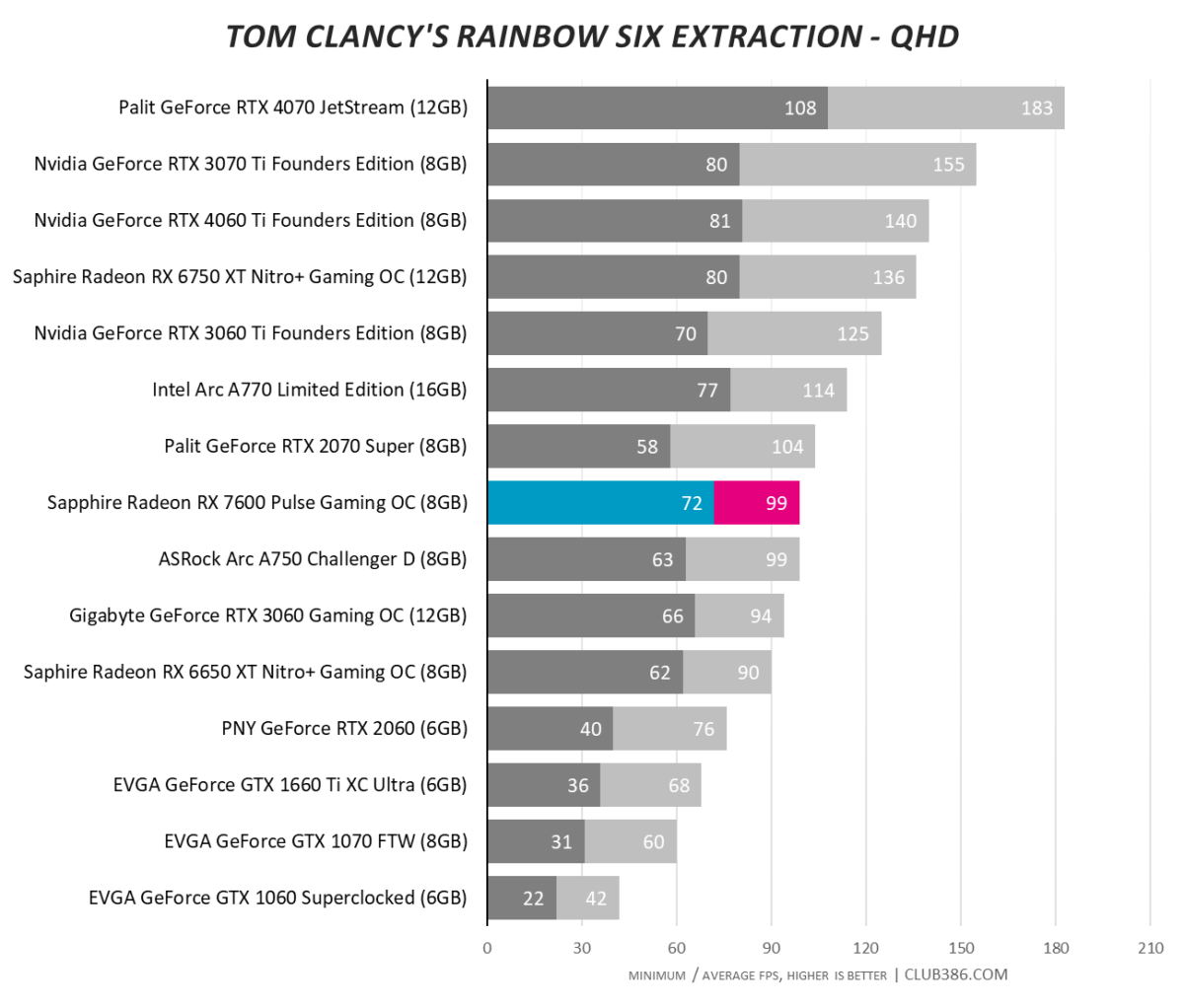 The other viewpoint is to show solid gains from older cards. That GTX 1070 not cutting it for you? Grab a whole dollop of more performance without breaking the bank.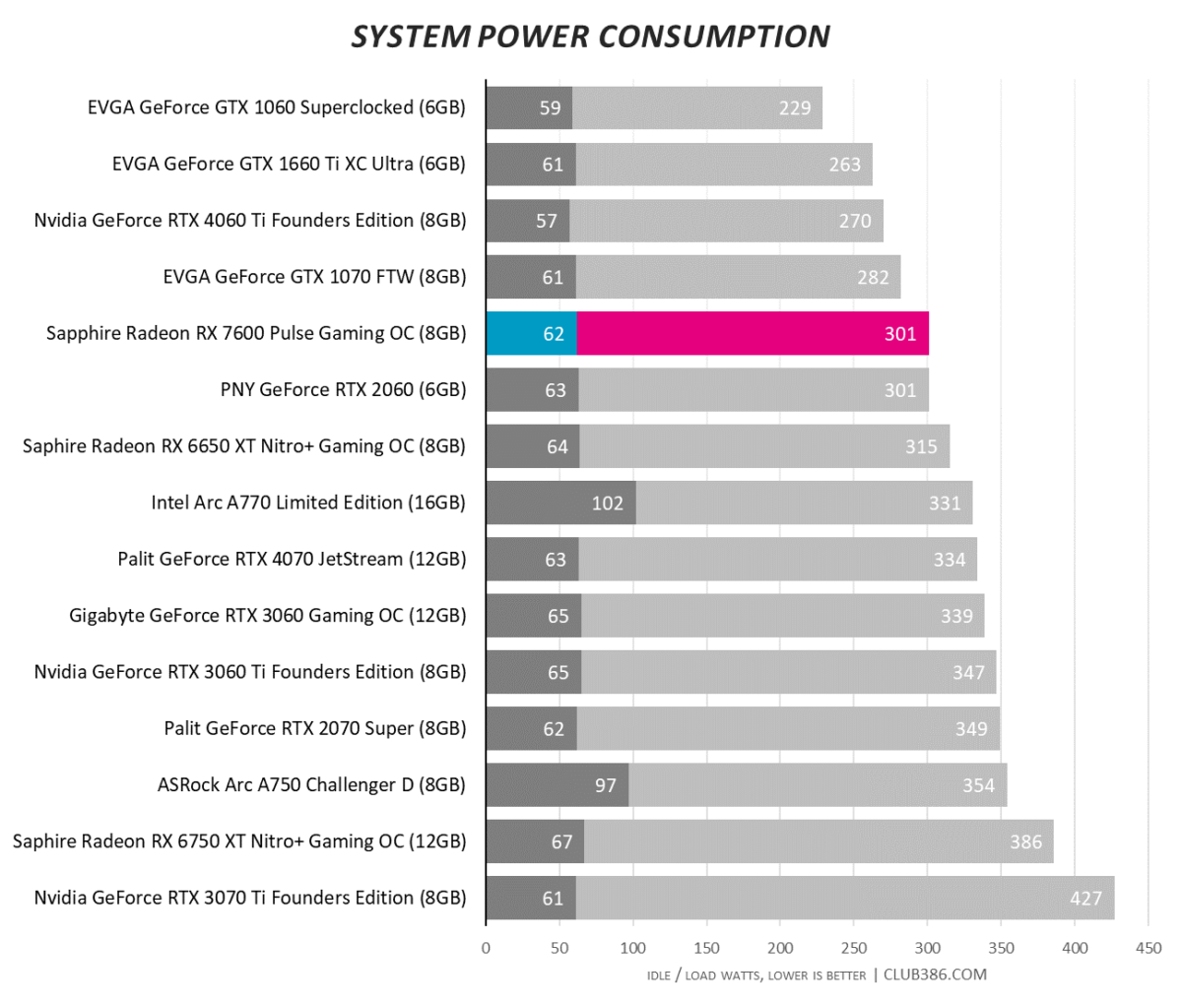 6nm monolithic RDNA 3 in Navi 33 form can easily be powered by a mainstream PSU.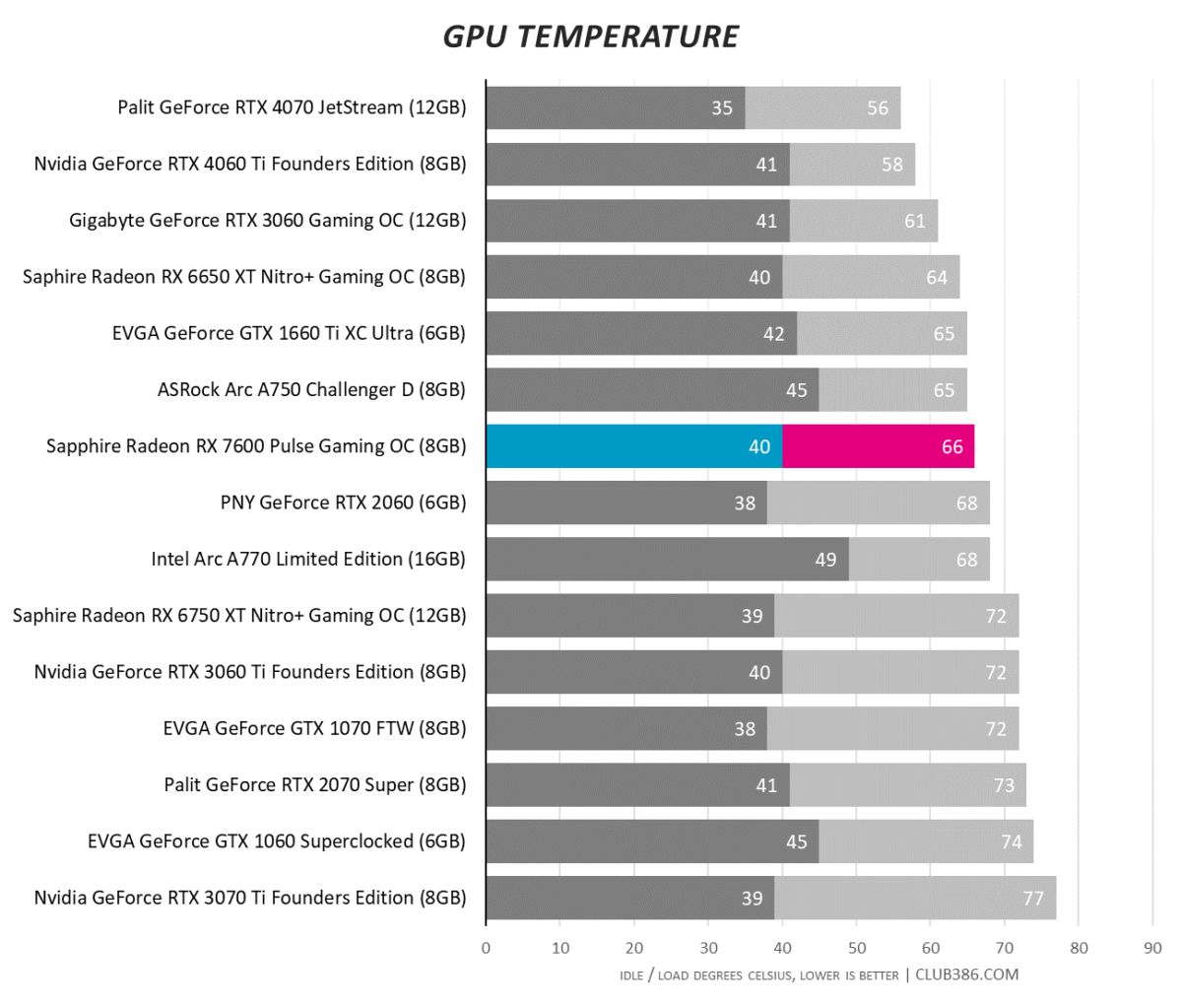 Sapphire's a dab hand at making high-quality coolers that keep GPUs in thermal check.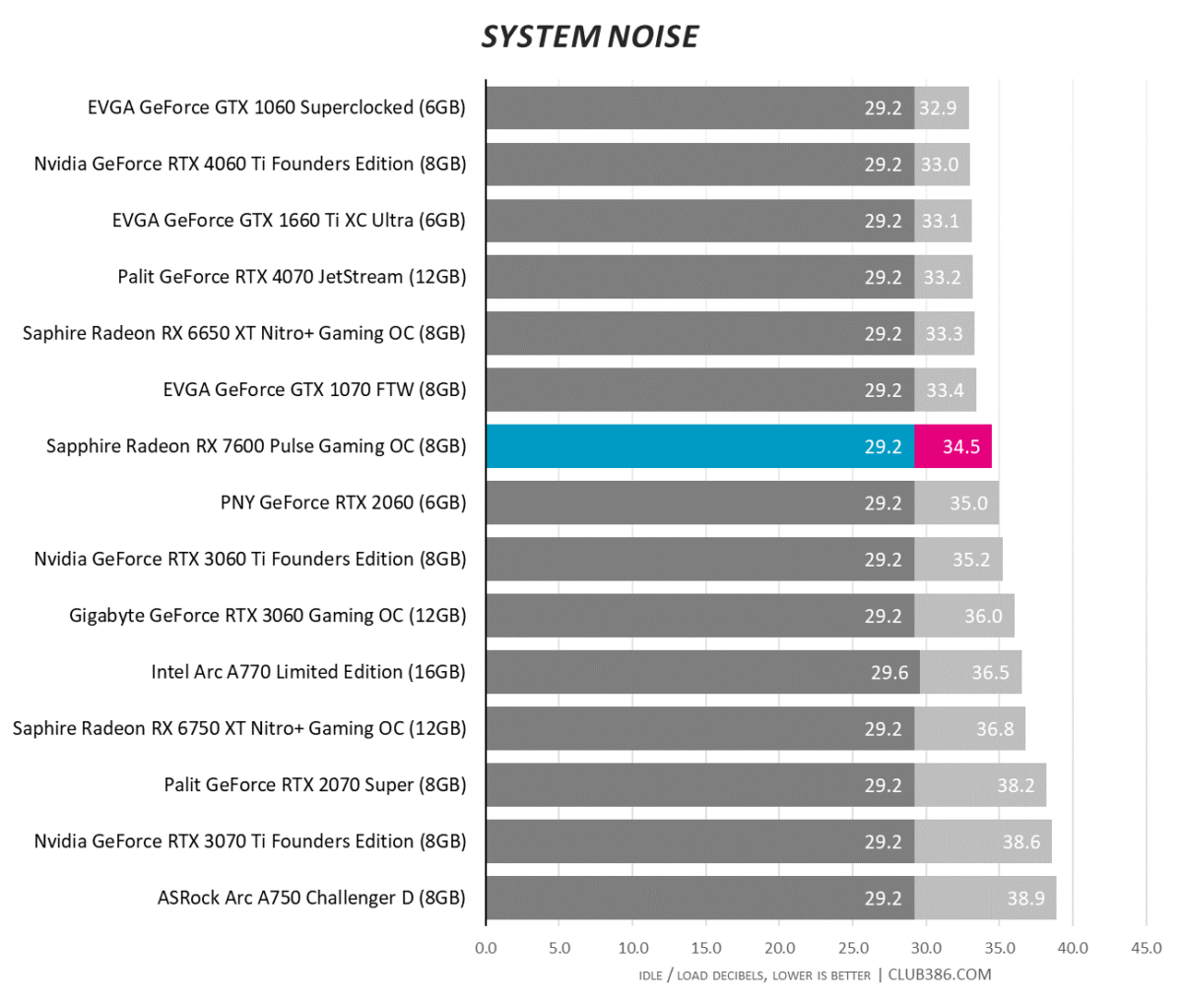 Whilst not the absolute quietest, Sapphire further strikes a decent balance between power consumption and noise.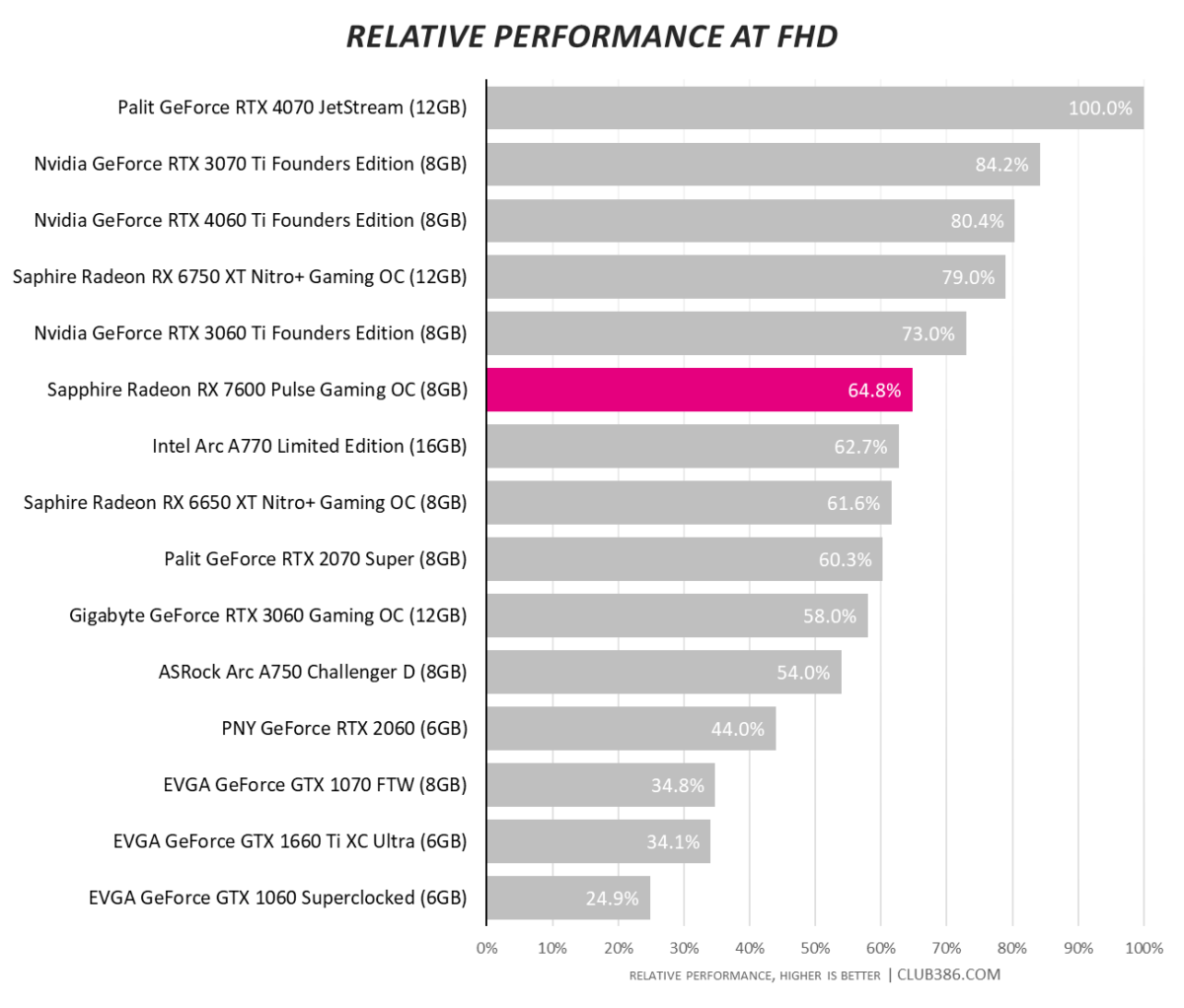 It's oftentimes easy to get lost in individual graphs and lose sight of what actually matters. Summing FHD framerates from our six games and looking at comparative performance, we see Sapphire's card achieve around two-thirds of the more powerful RTX 4070's numbers. Not bad.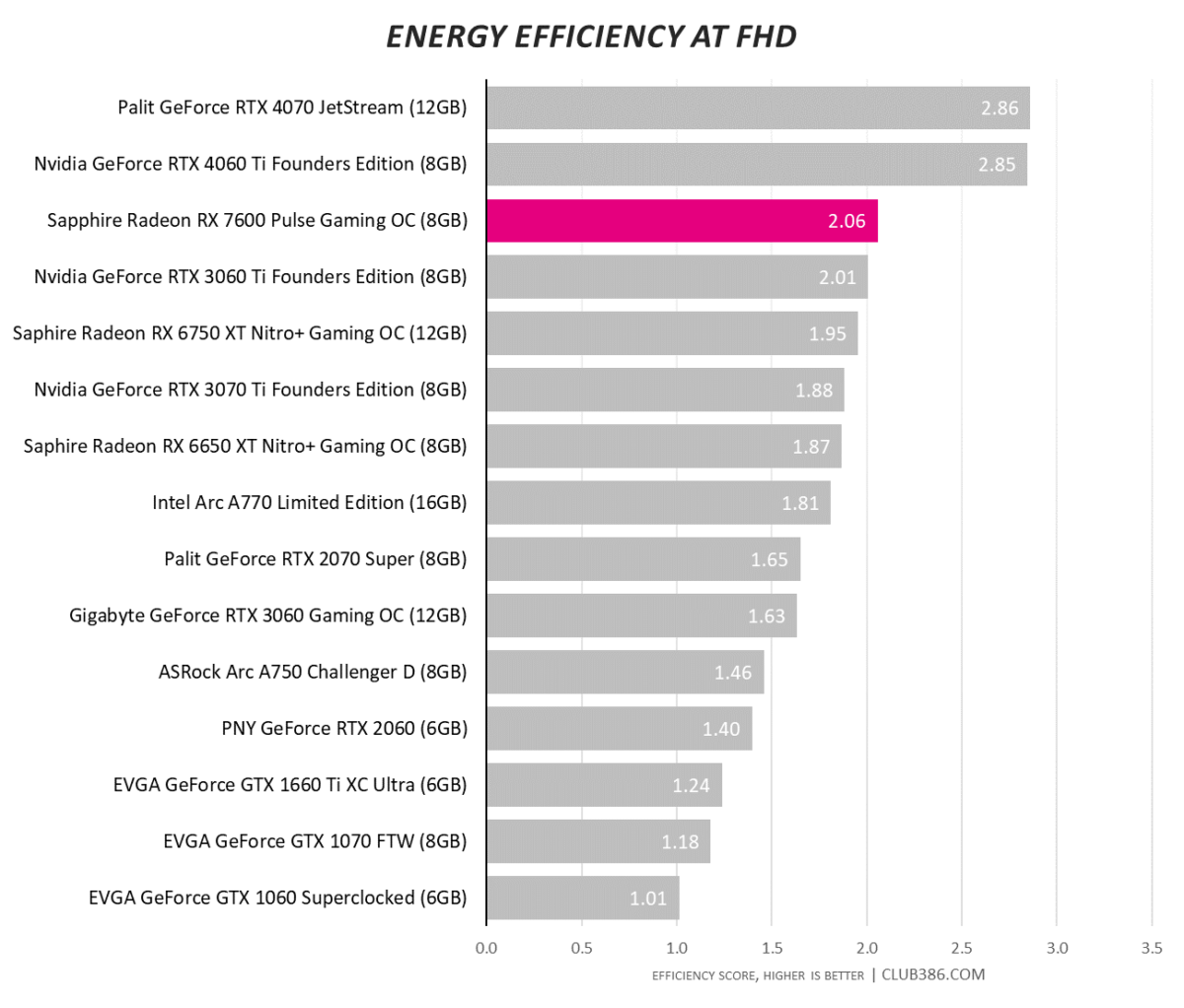 Here we take those aggregate framerates and divide them by system-wide power consumption. Nvidia must play MC Hammer's 'U Can't Touch This' when discussing efficiency.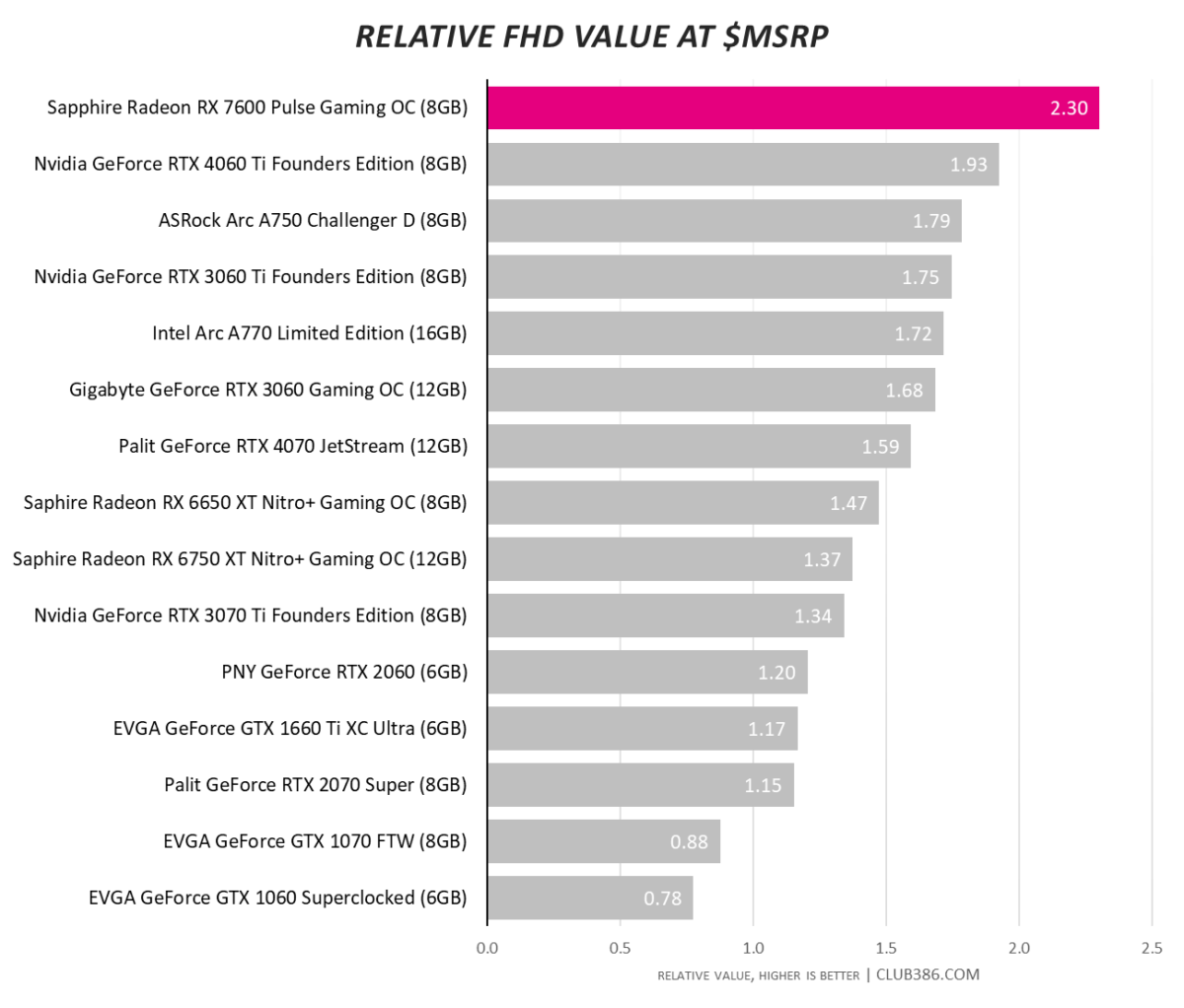 Sapphire's jukebox, meanwhile, blares out Prince's 'Nothing Compares To U' as far as launch value is concerned. This is what happens when a decent-performing card is mated to a great price. Makes the initial $399 price of the Radeon RX 6650 XT look positively absurd. We may soon see an AMD marketing slide stating RX 7600 offers '56 per cent more value than the immediate mainstream RX 6000 generation when launched.'
Are we being fair by comparing launch pricing of relevant cards? Surely, one can argue, the better metric for the would-be purchaser is to consider any card with respect to the current economic climate. For example, switching to Blighty pounds, an Arc A750 is available for a mere £229, while RTX 3060 12GB crops up for £299. A good question is what happens when we plot the Sapphire RX 7600 Pulse's £259 price against rivals framed in today's money.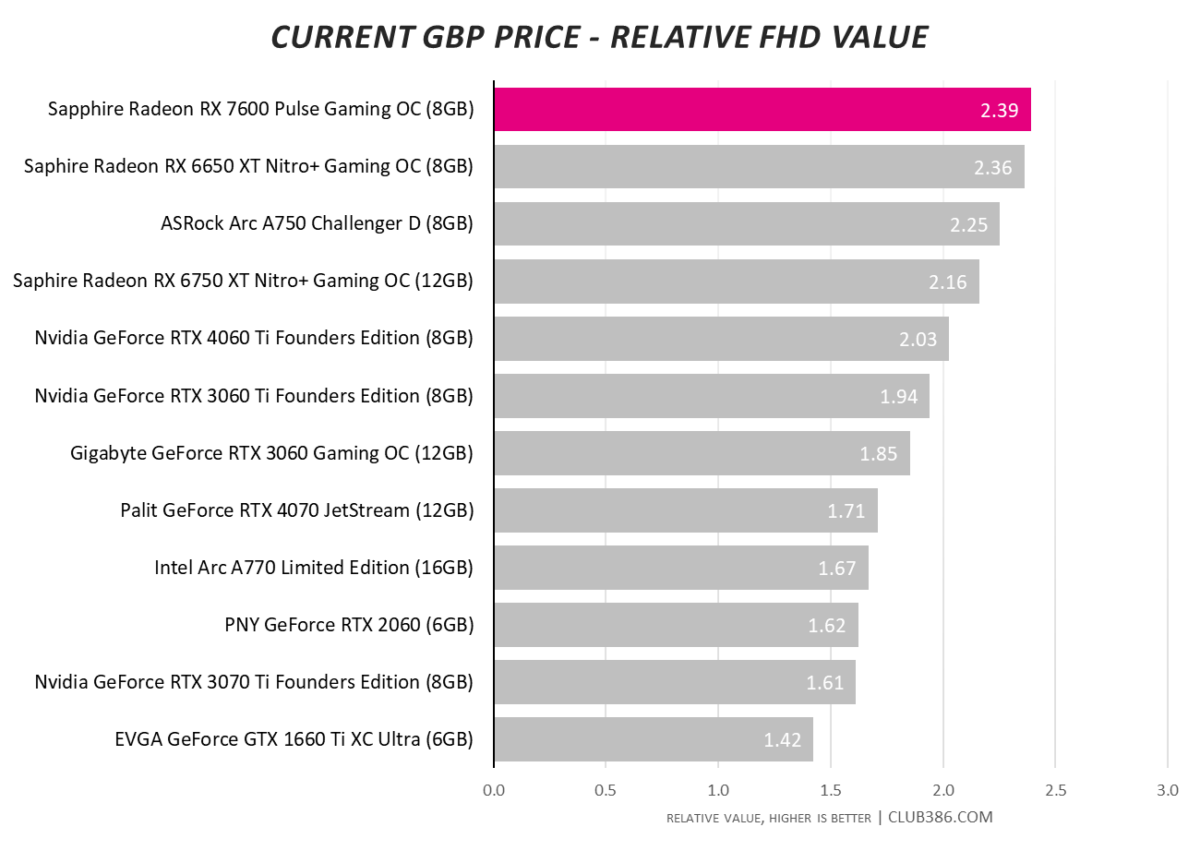 Removing older cards that are no longer available / viable brings us to this graph. Value is scrunched up as the best pricing for each GPU, right now, is taken into account. There are some clear movers – the RX 6650 XT is available for just £249 – but it still can't beat out the £259 Radeon RX 7600. Value is good by mid-2023 standards and spiffingly superb when compared to launch MSRPs.
Overclocking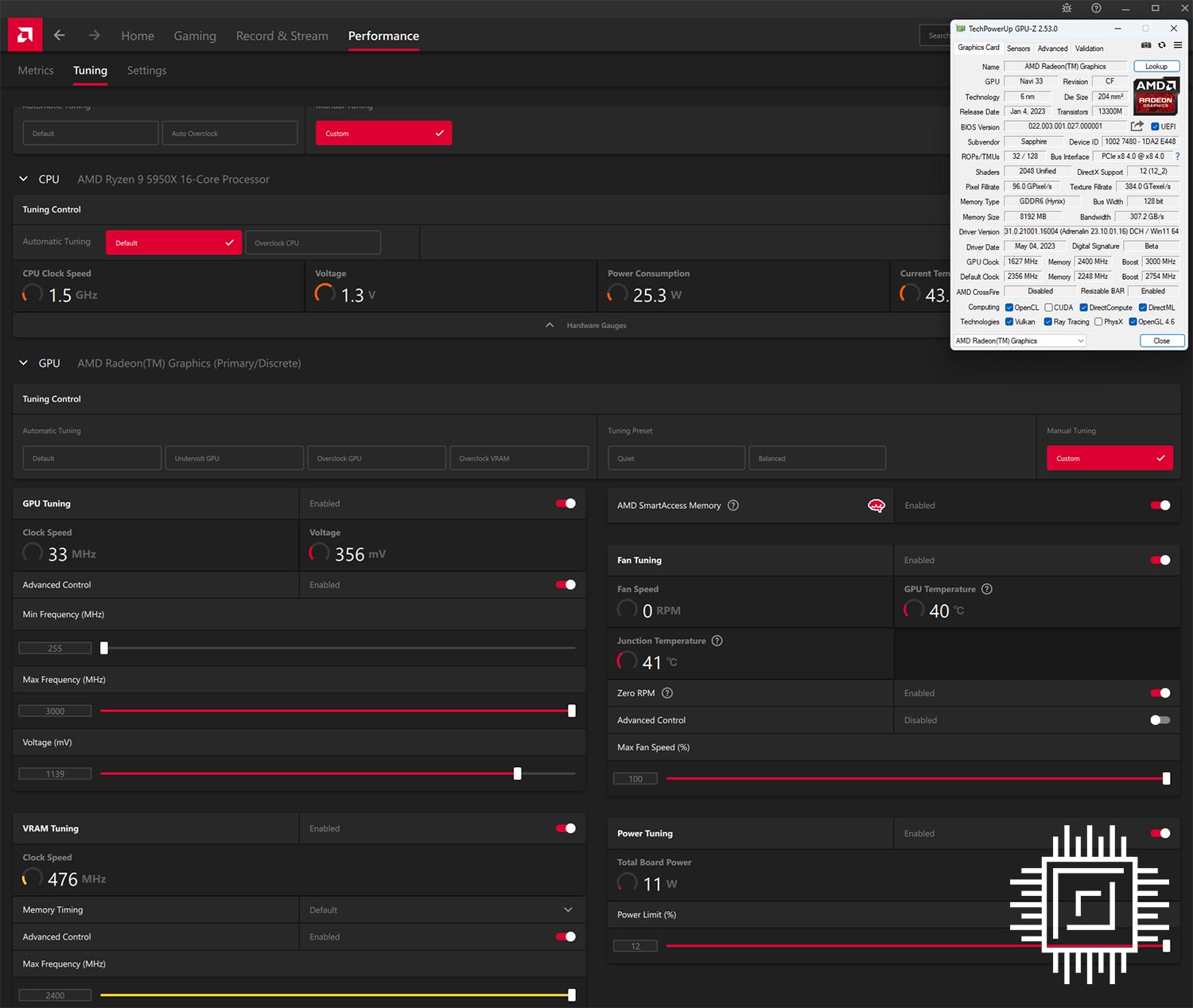 There's every reason to ask for more. We do so by increasing the power target by the maximum permissible 12 per cent, dropping core voltage so the GPU has room to install higher frequencies, and then raising memory and engine clocks.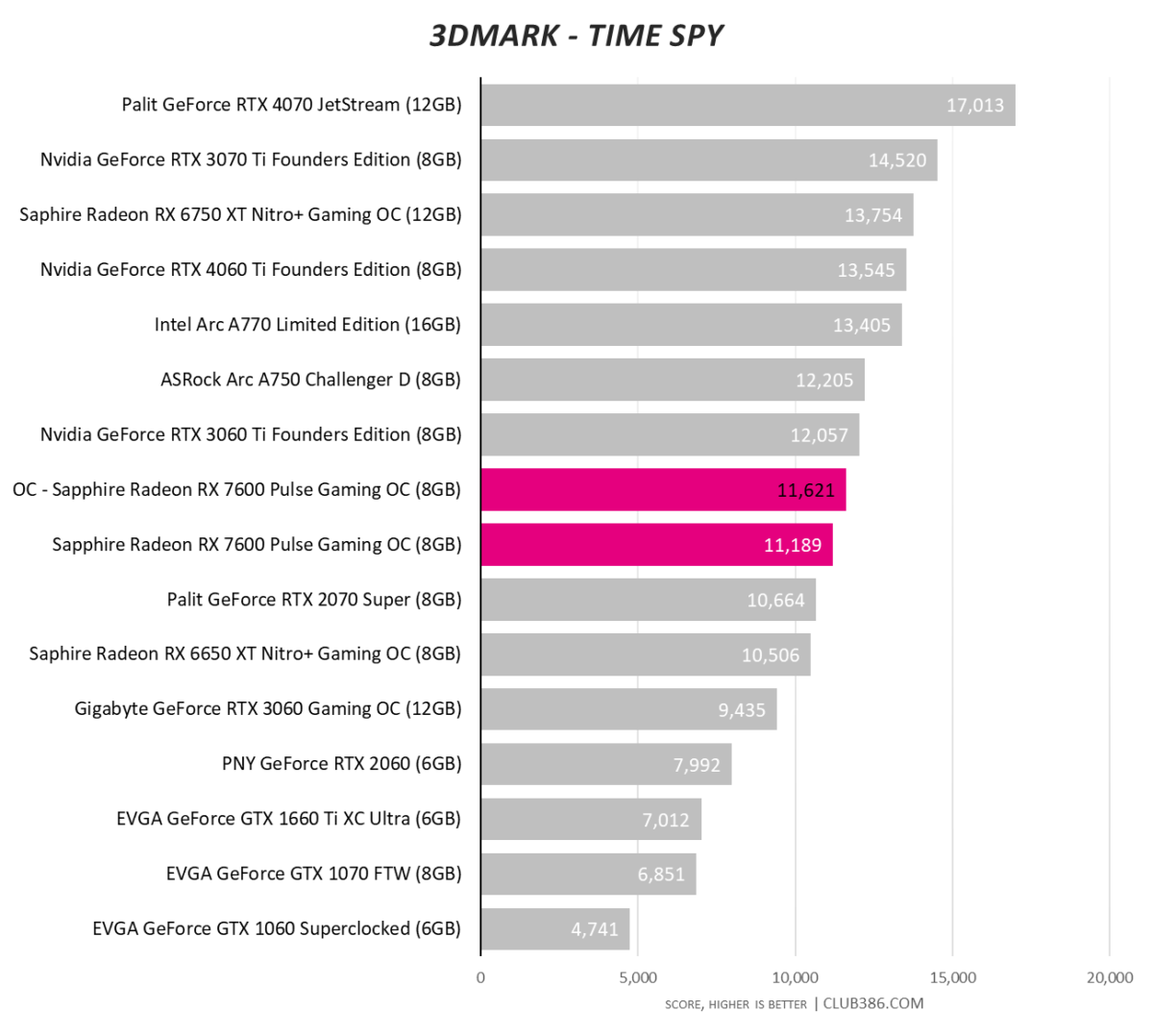 The GPU cranks along at 2,852MHz while memory escalates to 19.2Gbps.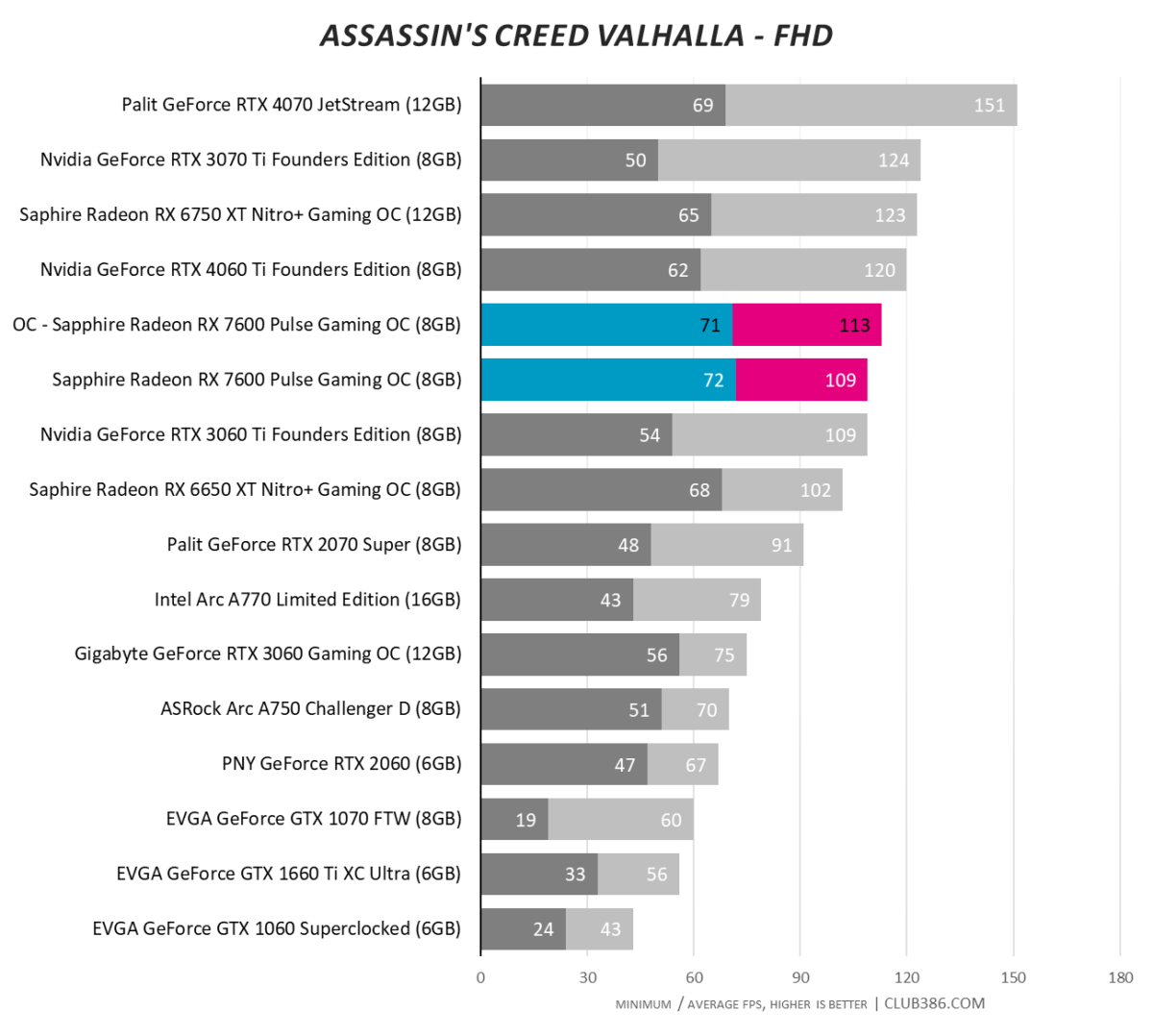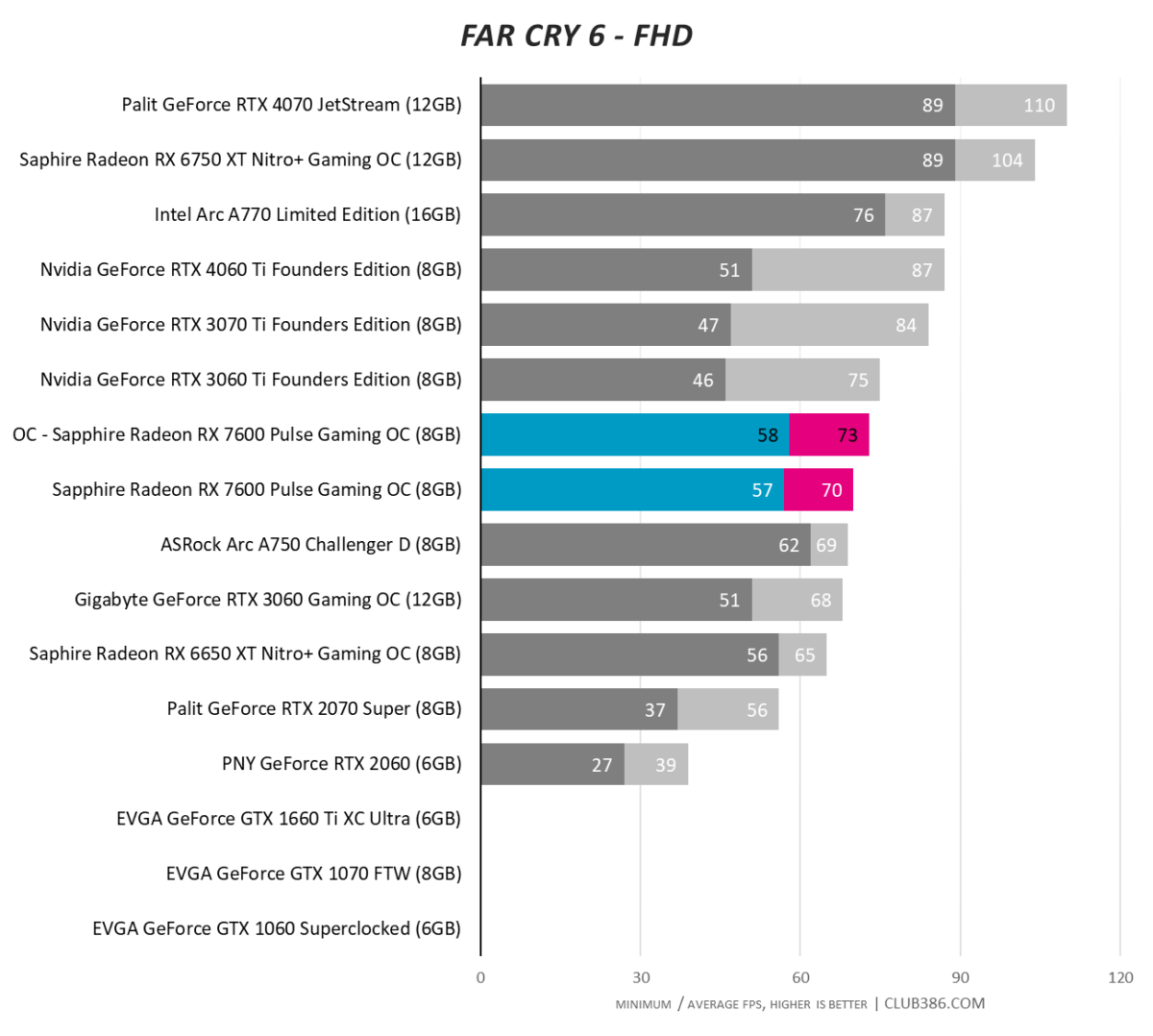 The simple truth is that overclocking won't get you the next GPU up, but as a famous supermarket opines, every little helps.
Conclusion
AMD has gone aggressive on launch value to tempt users of older cards to upgrade to Radeon RX 7600. It has to do this as the latest RDNA 3 GPU is only a modest improvement over the previous similar 6000 Series GPUs released two years' ago. That's a sobering observation in itself exacerbated by the rapidly dwindling retail cost of comparison cards. Truth is, AMD can't charge more than $269 / £259 for Radeon RX 7600 and expect to sell volume.
Evidenced by a comfortable chart-leading value score, AMD does succeed in providing solid FHD credentials at the most amenable price point, though continued sub-par ray tracing remains a worry for games able to leverage that image-enhancing option. You can't have it all, unfortunately.
Normal review service would berate AMD for equipping this card with an 8GB framebuffer when modern consoles carry far more, but that would be unfair on a card positioned this way. $269 is right for this level of specification, where it generally bests price-comparable rivals such as the Intel Arc A750 and, looking a bit higher up, GeForce RTX 3060. If you cannot compete on pure performance and forward-looking features, compete hard on price, and that's exactly what AMD intends. Lovers of VRAM are pointed towards Radeon RX 67×0 XT 12GB that starts at $359 / £349.
Yet the true mainstream landscape won't be complete without knowing how upcoming $299 GeForce RTX 4060 8GB behaves across our bevy of games. Slated for July, it's too far out to affect Radeon RX 7600 right now, so bringing out mainstream RDNA 3 first proves a wise move.
Sapphire does its usual efficient and highly professional job when translating an AMD GPU into a finished card. We expect nothing less, so if you have around £250 to spend on the next graphics upgrade and are coming from significantly older cards in desperate need of a performance hike, Radeon RX 7600 Pulse Gaming OC puts itself centre stage. Satisfying to see value to the fore at launch, isn't it?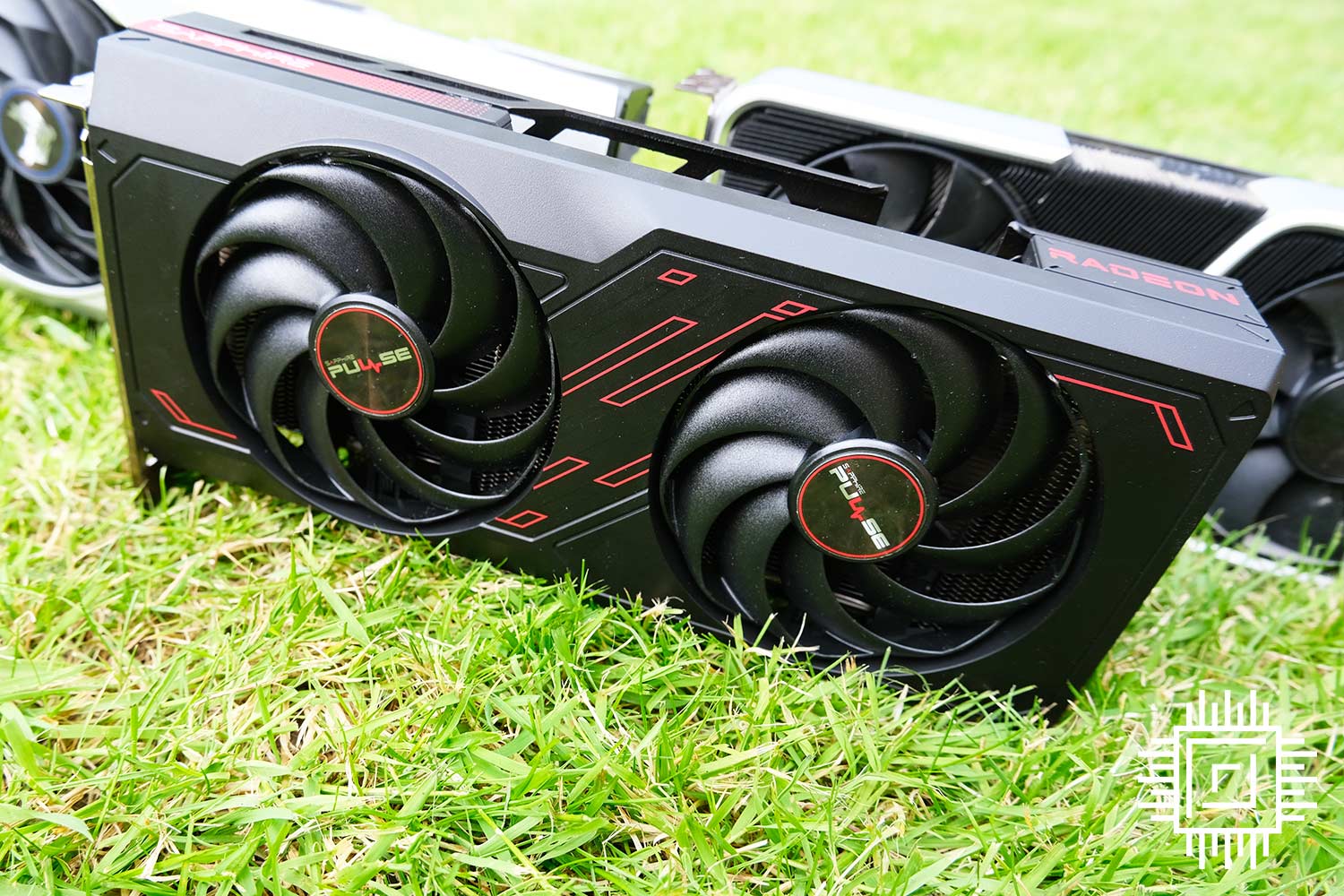 Sapphire Radeon RX 7600 Pulse Gaming OC
Verdict: Sapphire and AMD tempt the pocket rather than set benchmarks alight. A card for these economic times.
---
Pros
Attractive price
Cool and quiet
Great for FHD
AV1 encode
Cons
Ray tracing remains weak
Minor generational uplift
FSR 3 still not available
---
Club386 may earn an affiliate commission when you purchase products through links on our site. This helps keep our content free for all.
Rest assured, our buying advice will forever remain impartial and unbiased.