Jump to: Generations | JetStream | Performance | Conclusion
GeForce RTX 4070 is upon us and the verdict is unanimous. Nvidia's latest doesn't set the world alight, yet serves as a mid-range GPU that's quick, efficient, and, for all intents and purposes, perfectly decent at the $599 / £589 price point.
Trouble is, performance in pure rasterisation terms has taken a sideward step, and RTX 4070 isn't going to convince RTX 30 Series owners to rush out and upgrade. Rather, it's a sensible choice for those gamers who have waited patiently for an opportunity to upgrade from prior generations.
With that in mind, the first partner RTX 4070 has arrived at our labs and we've decided to tackle testing a little differently. We already know how the 5,888-core GPU compares to its peers, but what level of performance uplift do you get when migrating from generations past? To help shed some light, we've delved deep into the Club386 dungeons and unearthed a handful of x70 Series comparisons. In today's shootout, we'll pit RTX 4070 alongside RTX 3070 Ti, RTX 2070 Super and RGTX 1070. Four generations spanning seven years and multiple architectures. Plenty to digest, so let's break out the Table of DoomTM to get us started.
| GeForce | RTX 4070 | RTX 3070 Ti | RTX 2070 Super | GTX 1070 |
| --- | --- | --- | --- | --- |
| Launch date | April 2023 | June 2021 | July 2019 | June 2016 |
| Codename | AD104 | GA104 | TU104 | GP104 |
| Architecture | Ada Lovelace | Ampere | Turing | Pascal |
| Process (nm) | 4 | 8 | 12 | 16 |
| Transistors (bn) | 35.8 | 17.4 | 13.6 | 7.2 |
| Die size (mm2) | 294.5 | 392.5 | 545 | 314 |
| SMs | 46 of 60 | 48 of 48 | 40 of 48 | 15 of 20 |
| CUDA cores | 5,888 | 6,144 | 2,560 | 1,920 |
| Boost clock (MHz) | 2,475 | 1,770 | 1,770 | 1,683 |
| Peak FP32 TFLOPS | 29.1 | 21.7 | 18.1 | 6.5 |
| RT cores | 46 | 48 | 40 | – |
| Tensor cores | 184 | 192 | 320 | – |
| ROPs | 64 | 96 | 64 | 64 |
| Texture units | 184 | 192 | 320 | 120 |
| Memory size (GB) | 12 | 8 | 8 | 8 |
| Memory type | GDDR6X | GDDR6X | GDDR6 | GDDR5 |
| Memory bus (bits) | 192 | 256 | 256 | 256 |
| Memory clock (Gbps) | 21 | 19 | 14 | 8 |
| Bandwidth (GB/s) | 504 | 608 | 448 | 256 |
| L2 cache (MB) | 36 | 4 | 4 | 2 |
| Power (watts) | 200 | 290 | 215 | 150 |
| Founders MSRP ($) | 599 | 599 | 499 | 449 |
To say a lot has happened since 2016 would be an understatement. There's been a global pandemic, we've experienced unprecedented lockdowns, the UK withdrew from the European Union, and yet throughout all that, Nvidia has retained its stranglehold on the desktop PC graphics market.
Mid-range GPUs play a key part in that dominance, and at the time of writing, five x70 Series GPUs feature in Steam's top 20 most popular graphics cards. This is a product line clearly vital to Nvidia's strategy, and the goal is to keep gamers within that x70 circle; if you're still rocking a GTX 1070, RTX 4070 is positioned as a natural destination.
Perusing specifications is enlightening insomuch as the evolution of GeForce is clear to see. A smaller process node roughly every two years enables a significant uptick in transistor budget, culminating in more cores and higher frequencies. RTX 4070 touts over a 3x increase in CUDA cores over GTX 1070, while boost clock is elevated by nearly 50 per cent.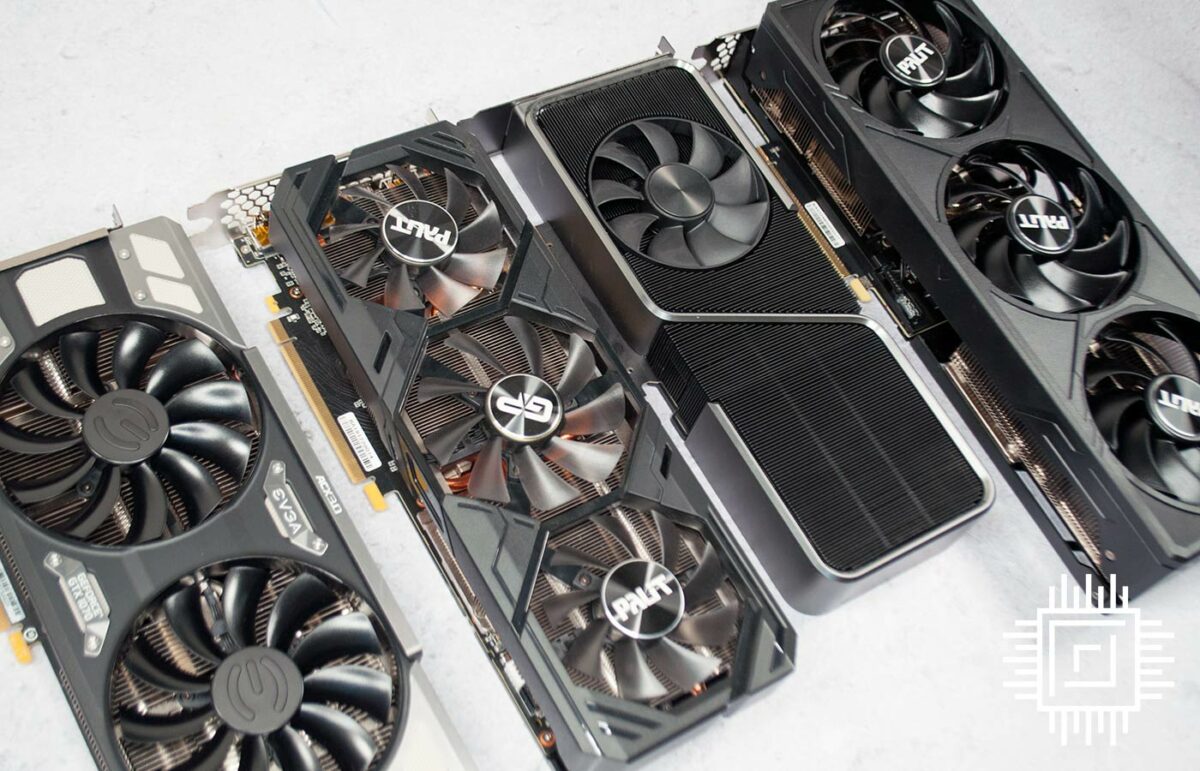 Expected gains, yet there's scope to do more, and with the introduction of RTX 20 Series back in 2018, Nvidia made the bold decision to allocate precious die space to forward-looking RT cores and Tensor cores. The fruits of such labours are now being keenly felt with best-in-class raytraced visuals, as well as impressive AI-based performance gains through DLSS.
Innovation is clear to see, yet in the memory department Nvidia has been relatively slow to move the needle. The shift beyond 8GB on an x70 Series card was long overdue, and 12GB on RTX 4070 may still be deemed insufficient to some. A debate that rival AMD is keen to highlight.
Looking beyond the spec table, revisiting older hardware highlights other, more subtle changes that could be overlooked. GTX 1070 and RTX 2070 Super aren't afforded support for Resizable Bar, yet both do feature connectors for Nvidia SLI – remember when multiple GPUs were a thing? We are also aghast to find the fans on some older cards spin to 100 per cent at system boot; an unwanted trait we absolutely do not miss.
It's the table's bottom row that will ruffle most feathers as reference pricing has risen from $449 to $599, and that only takes into account Founders Edition MSRPs. Partner GTX 1070s were intended to start at $379, yet even if we take the lower figure, the increase isn't far off inflation. Figures based on the Retail Price Index from the UK Office for National Statistics suggest the cost of goods and services has increased by 38.8 per cent since June 2016. By that rationale, a $379 partner card from back then ought to cost $526 in today's money, while a $449 Founders Edition would fetch $623. Horses for courses.
Palit JetStream
Lending credence to RTX 4070's value proposition is the fact cards are in stock and ready to buy. In stark contrast to the scarce availability and inflated prices of recent years, RTX 4070 is available at MSRP, and even partners are toeing the company line. Sure, you will get tarted-up variants fetching silly amounts, but feel free to ignore those; nobody should be spending more than £600 tops.
On the contrary, some partners are already undercutting Nvidia's beautifully built £589 Founders Edition. Palit is leading the charge with the RTX 4070 Dual, available at £550 if you shop around, and our review model, the RTX 4070 JetStream, offers triple-fan cooling for £599 here on UK shores.
Knowing it would be foolhardy to try and match the Founders Edition in terms of finesse, Palit takes the simpler route of bigger is better. Measuring 329mm x 131mm x 64mm and weighing 1,442g, JetStream is a veritable beast and claims 3.1 expansion slots. Better set aside four just to be on the safe side.
Plasticky construction is noticeably more pliable than the ultra-rigid reference card, and the size difference between the two is remarkable. There's really no need for the Palit to be quite so large – the underlying PCB is only half the length of the cooler – yet three fans and a mahoosive aluminium heatsink do keep noise and temps down to an absolute minimum.
All three fans switch off at low load, and despite the sheer scale, JetStream aligns with RTX 4070's mainstream positioning through a lack of value adds. There's no RGB lighting, you don't get a support bracket in the box, and power is sourced via a traditional eight-pin connector rather than newfound 16-pin 12VPWHR. No pesky adapters, yay!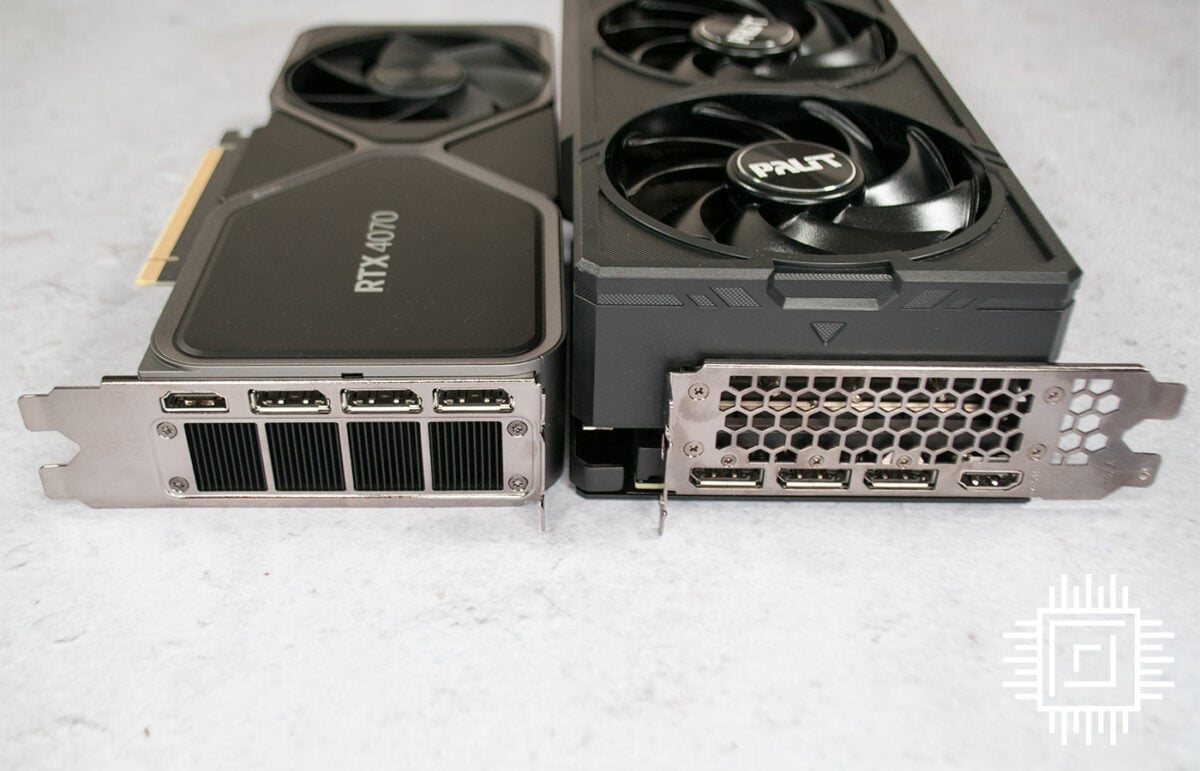 Shipping frequencies are kept at stock levels – 2,475MHz on core, an effective 21Gbps on memory – and display outputs comprise a familiar HDMI 2.1 and three DisplayPort 1.4a. There's no dual BIOS, indicating this isn't a partner card intended for tinkering, and the default BIOS does not allow a power limit increase, meaning overclockers will want to look elsewhere.
If the considerable bulk poses no problem for your build, Palit's card ticks the right boxes for a stealthy, all-black card that's especially quiet. All three fans spin into action smoothly, and remain barely audible even when gaming.
Performance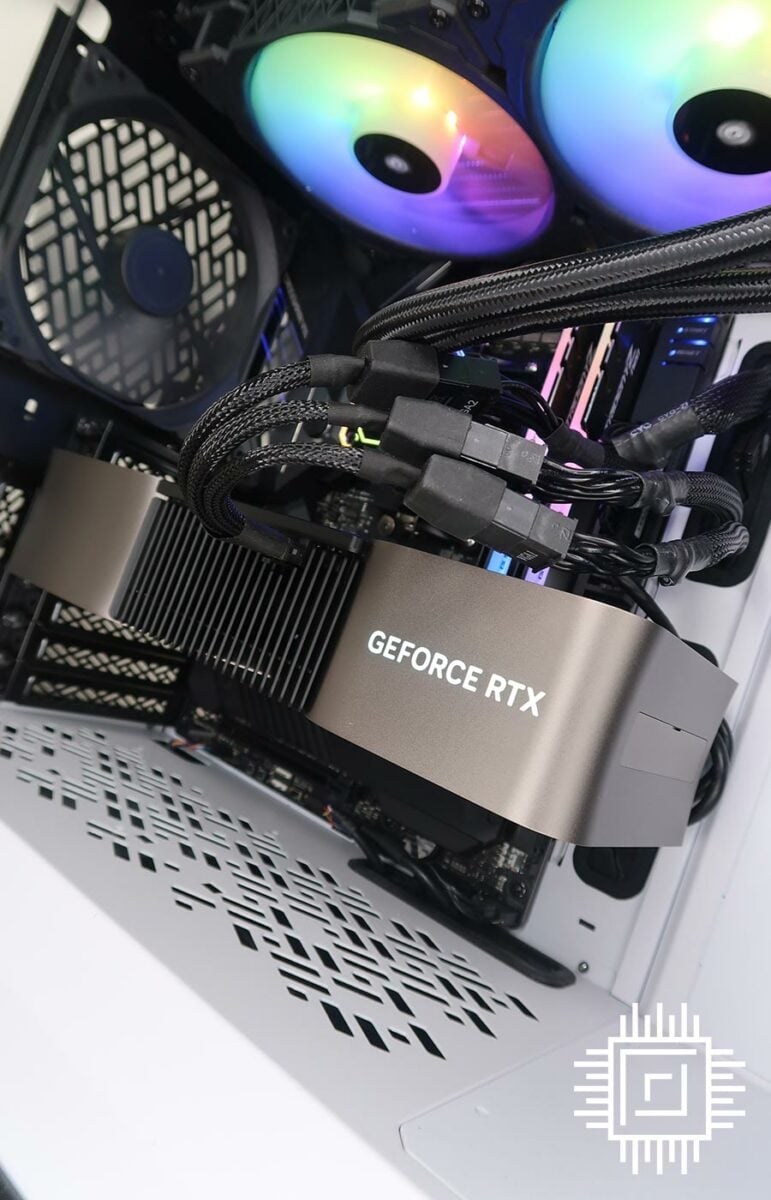 Our trusty test platforms have been working overtime these past few months, and though the PCIe slot is starting to look worse for wear, the twin AM4 rigs haven't skipped a beat.


You've held on to your trusty GTX 1070 for long enough, now the time has come to upgrade. A 165 per cent bump in performance paints RTX 4070 as an attractive destination.


The gap becomes even more pronounced when newer rendering technologies are added to the mix. Remember, GTX 1070 doesn't support hardware raytracing or mesh shaders.
Assassin's Creed Valhalla



x70 Series cards are all about real-world gaming, and in truth, the older parts have held up pretty well over the years. RTX 2070 Super puts in a fine showing in Assassin's Creed Valhalla, though RTX 4070 is the way to go if you want in excess of 100fps at 1440p.
Cyberpunk 2077



Want to play the most demanding of PC games? Cyberpunk 2077, with ultra raytraced quality settings, highlights the fact that x70 Series parts remain confined to the mid-range. You'll need DLSS smarts to achieve 60fps at 1440p.
Far Cry 6



Far Cry 6 with RT and high-res textures remains a useful test insofar as it helps weed out GPUs with inferior memory configurations. Previous-gen cards outfitted with 8GB of VRAM are off the pace at QHD and fall off a cliff at UHD.
Final Fantasy XIV: Endwalker



There really is little point in upgrading from RTX 3070 Ti to RTX 4070. Nvidia's latest makes most sense when migrating from much older cards.
Want to know how recent GPUs compare? Check out our full Founders Edition review for cross-comparable numbers, and pay particular attention to the Radeon RX 6950 XT, which takes on renewed interest following this week's epic price cut.
Tom Clancy's Rainbow Six Extraction



You may want to keep the EVGA GeForce GTX 1070 FTW as a collector's item – it's a very well made piece of kit – but the seven-year-old card is understandably struggling to maintain smooth minimum framerates. RTX 4070 is over three times as quick at 1440p.
Forza Horizon 5



74 frames per second at a QHD resolution with extreme quality settings suggests RTX 2070 Super should last a little while longer… unless, of course, you crave much higher framerates courtesy of DLSS 3.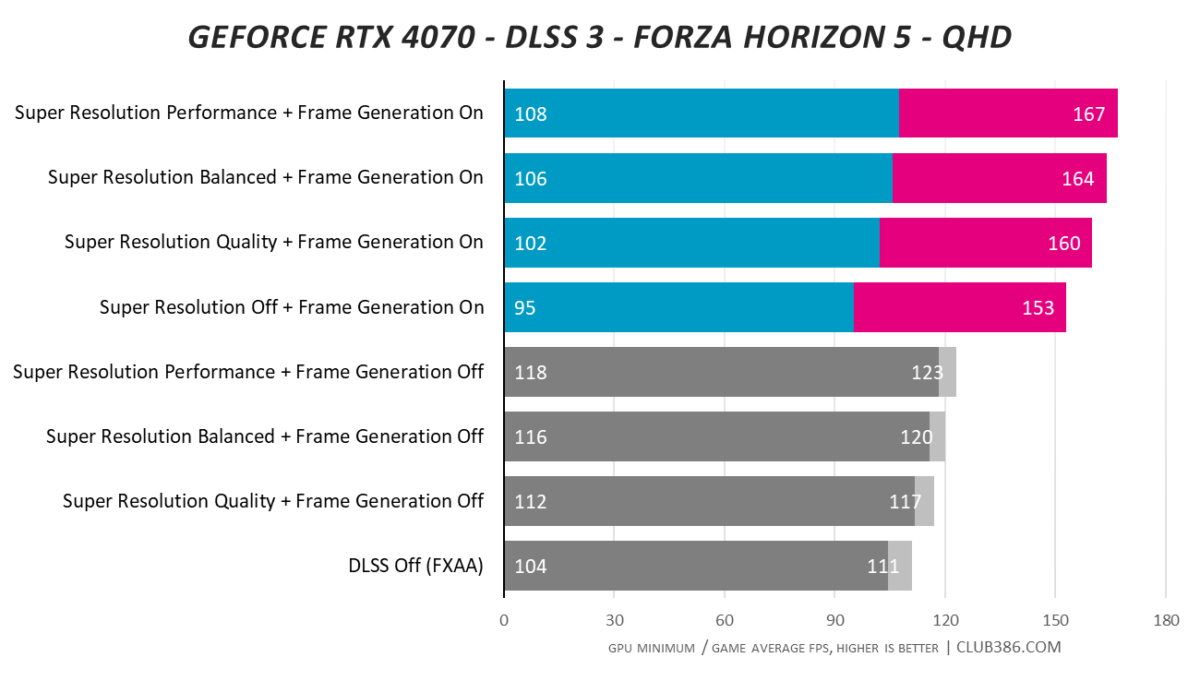 Revisiting the results from our initial review highlights just how potent Nvidia's frame-generation tech can be. Cranking quality settings to absolute maximum returns an average framerate of 111 in Forza Horizon 5 at QHD. Enabling DLSS 3 frame generation – a feature exclusive to 40 Series GPUs – sees RTX 4070 performance increase by as much as 50 per cent. Like it or loathe it, no other AI tech delivers this level of framerate boost or image quality.

Show your support for impartial Club386 reviews
Club386 takes great pride in providing in-depth, high-quality reviews built on honest analysis and sage buying advice. As an independent publication, free from shareholder or commercial influence, we are committed to maintaining the standards our readers expect.
To help support our work, please consider making a donation via our Patreon channel.
Power, Temps and Noise

Much has been made of RTX 4070's terrific efficiency, yet examining older cards provides important context. The thirst of RTX 30 Series makes Nvidia's latest appear relatively frugal, yet system-wide power consumption of under 350 watts used to be the norm.

Efficiency does bring other benefits, and there's no denying the cool credentials of RTX 4070. Palit's enormous triple-fan design ensures practically cold temperatures inside our real-world test platform.

Low power, cool temps, minimal noise. RTX 4070 JetStream scores well here.
Relative Performance, Efficiency and Value

To evaluate relative performance we average benchmark results at the QHD resolution in non-raytraced games to provide a level playing field. The results, once again, confirm RTX 4070 is a modest performance increase over the previous generation; you need to be upgrading from much older hardware for meaningful gains.

Dividing average framerate by system-wide power consumption confirms the inevitable; RTX 4070 is unmatched with regards to performance-per-watt.

Dividing average framerate by the Founders Edition MSRP of each SKU indicates pricing is returning to normal, despite rampant inflation.
Conclusion
Having examined RTX 4070 alongside its 40 Series peers, it is instructive to see performance compared to older cards that remain in wide circulation.
Testing the likes of GTX 1070 and RTX 2070 Super on the latest available drivers confirms that while performance still holds up in certain titles, RTX 4070 is an attractive upgrade path across the board. Pricing is in line with inflation, efficiency is excellent, and a generous uptick in rasterisation performance is bolstered through best-in-class raytracing and forward-looking DLSS.
Partner cards are readily available at competitive prices, and if there's room in your chassis, Palit's JetStream offers staid aesthetics, a single eight-pin power connector and ultra-low noise. Such credentials are hardly going to set hearts racing, yet if your GTX 1070 is beginning to feel the strain, RTX 4070 brings optimism without breaking the bank.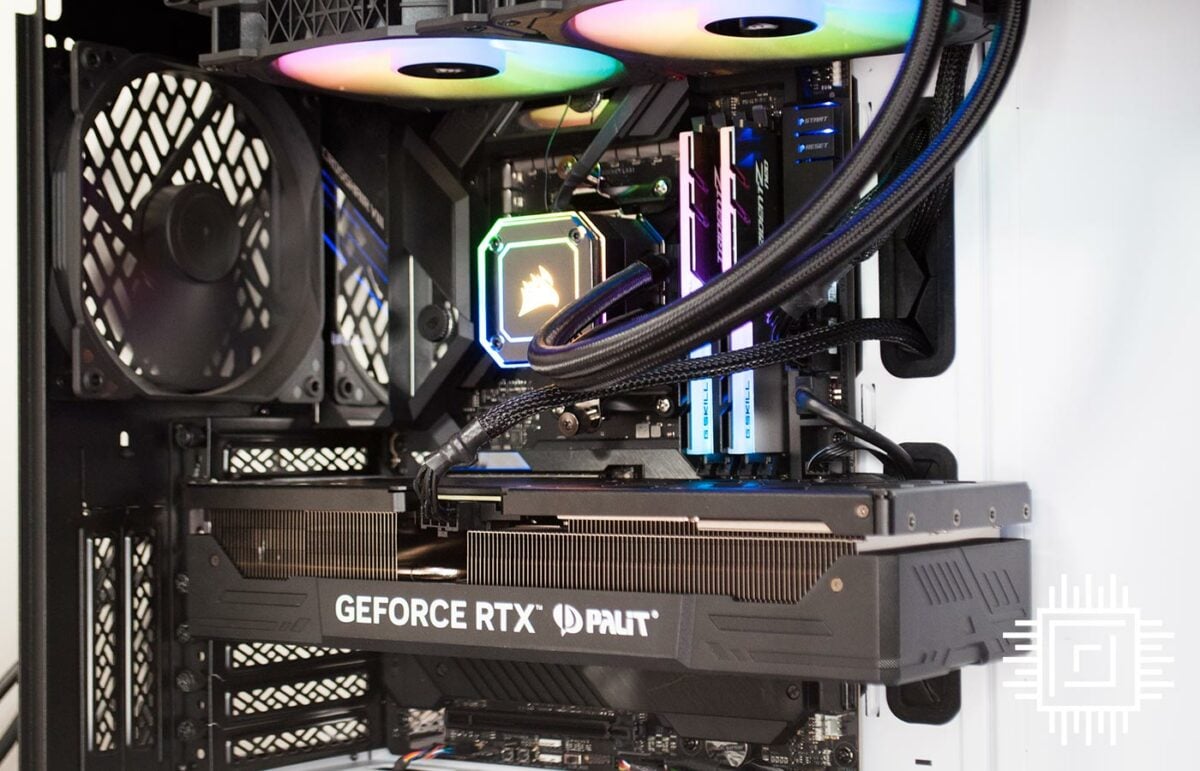 Palit GeForce RTX 4070 JetStream
Verdict: RTX 30 Series owners should stay put, yet RTX 4070 represents a useful upgrade from older generations.
---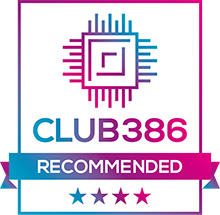 Pros
Excellent efficiency
Great for 1440p gaming
Ultra cool and quiet
Good 1070/2070 upgrade
Cons
Huge footprint
Only 12GB memory
---
Club386 may earn an affiliate commission when you purchase products through links on our site. This helps keep our content free for all.
Rest assured, our buying advice will forever remain impartial and unbiased.