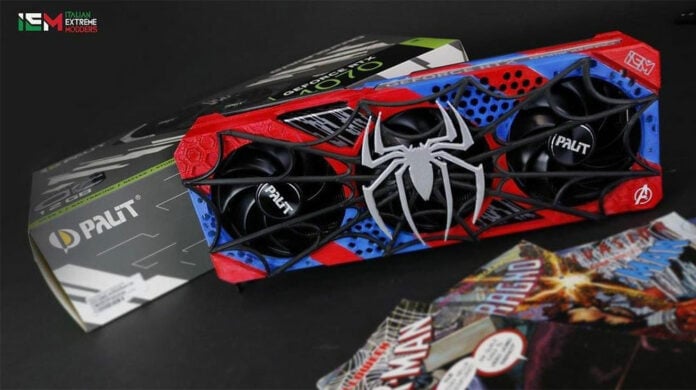 Remember the Palit Maker program we mentioned earlier in the year? Designed specifically for those PC DIYers who appreciate customisation, Maker brings downloadable 3D files for top covers on supported RTX 40 Series GPUs, enabling a streamlined makeover.
We've been intrigued to see what the modding community might do, and as always, they haven't disappointed! Some of the first Maker-made cards to do the rounds are absolutely fabulous.
Take, for example, the Spider-Man mod from the team at Italian Extreme Modders. Using a GeForce RTX 4070 GamingPro as a starting point, the card has been transformed into a triple-fan thing of beauty. Sure, the Spider-Man badge in the middle can't be doing much to help airflow, but no bother, RTX 4070 doesn't demand much cooling, and the mid-range GPU has never looked better.
Transforming a graphics card into a piece of work does require a fair bit of skill – check out the intricate paintwork in the video above – but the ability to fashion to a top cover without risking damage to the card is a definite plus.
If Spider-Man doesn't tickle your fancy, how about Sonic? Tech Raptor has not only restyled a Palit GeForce RTX 4070 Ti, but has fashioned an entire Sonic-themed build to suit.
We're impressed, now here's hoping there's a C3PO mod in the works, just so we can say thank the maker. Want to give it a go? 3D files for GamingPro and Dual graphics card models are available to download at palit.com/maker.