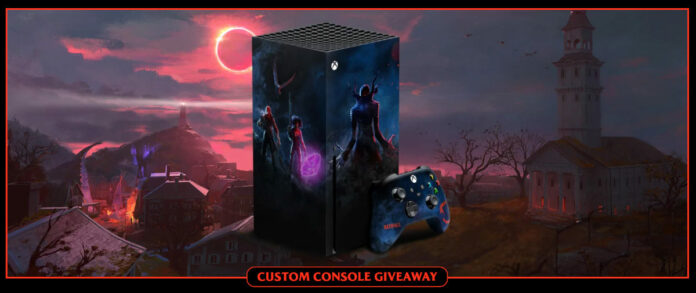 Arkane Studios, together with publisher Bethesda, has launched an interactive story that doubles as an introduction upcoming Redfall title and a sweepstakes that could see two lucky winners go home with a custom Redfall Xbox Series X bundle. Nice.
Announced via Twitter, the game is also a promotional tie-in to get gamers hyped up for Redfall's official release that's less than a month away, slated for May 2.
In terms of design, the console and controller features detailed artwork consisting of a black, dark grey and midnight blue gradient colour scheme, with the game's characters silhouette amidst smoky plumes. The design is both striking as it is gothic, fitting for a video game inspired by vampire slaying.
As for the interactive adventure, it is a simple choose-your-path-styled point-and-clicker that puts users in the shoes of one of the game's four main protagonists, Layla Ellison, and details her story before the events of Redfall through images, video, text and audio.
Once completed, an option is provided to share the interactive experience online via Twitter or Facebook, and a chance to enter the sweepstakes.
As for any competitions, there are rules. Firstly you need to be an adult over 18, and a legal citizen of these following countries for your entry to be eligible; United States, Belgium, Canada, Finland, France, Germany, Ireland, the Netherlands, New Zealand, Norway, Sweden, Switzerland, or the United Kingdom. Detailed rules and regulations can be found here.
Redfall will be released exclusively for PC and Xbox Series S|X. The sweepstakes is available from now until the titles official release on May 2, with two winners announced the following day on May 3. Happy hunting.